Yes, the latest horror games are great. But sometimes, it is worth reaching for slightly older titles that laid the foundations for the legendary series we love. So let's take a little trip in time to the golden age of the most memorable productions – the 90s!
The 90s were a time of massive innovations in gaming and the movie industry, which brought unexpected riches in the form of great titles – especially in the horror and thriller genres. So if you're looking for some creepy horror games for Halloween and don't mind retro – we've got you covered. Here is a ready-made list of the best 90s horror video games!
| | Game | Release | Developer | Sale | |
| --- | --- | --- | --- | --- | --- |
| | Sanitarium | 1998-04-30 | Dotemu | 0% | Read more |
| | Alone in the Dark Anthology | 1993-10-12 | Eden Games, Hydravision | 85% | Read more |
| | I Have No Mouth, and I Must Scream (GOG.COM) | 1996-10-31 | Cyberdreams | | Read more |
| | Resident Evil (REMASTER) | 2015-01-19 | CAPCOM CO., LTD. | 83% | Read more |
| | Resident Evil 2 (Remake) | 2019-01-25 | CAPCOM CO., LTD. | 87% | Read more |
| | Phantasmagoria | 1995-07-31 | Sierra | 61% | Read more |
| | Phantasmagoria 2: A Puzzle of Flesh | 1996-12-03 | Sierra | 56% | Read more |
| | Realms of the Haunting | 1996-12-31 | Gremlin Interactive | 63% | Read more |
| | Call of Cthulhu: Shadow of the Comet | 1993-01-01 | Infogrames | 20% | Read more |
| | Among the Sleep | 2014-05-29 | Krillbite Studio | 87% | Read more |
Silent Hill
| | |
| --- | --- |
| Release date: | 1999 |
| Genre: | Survival horror |
| Developer: | Team Silent |
Play the first installment in the legendary horror games series! Silent Hill is the essence of the perfect horror gameplay with a massive dose of depressing atmosphere and a scary setting.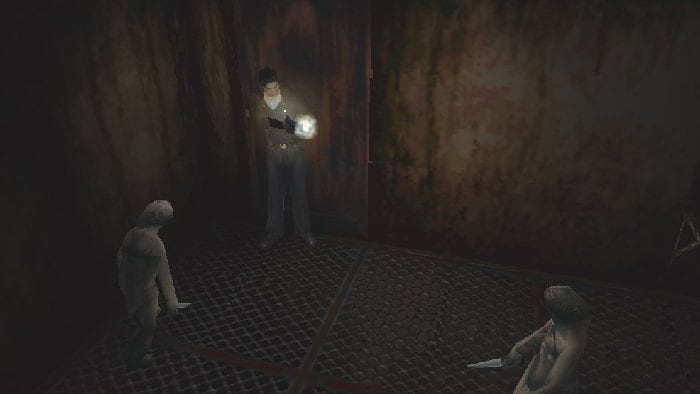 While driving a car, Harry Mason and his daughter Cheryl witness strange events on the road. When a man wakes up from an accident, he discovers his kid is gone. Desperate, he heads to the nearest Silent Hill to find her. It is the beginning of the riskiest adventure of his life, with five different endings. Explore, solve puzzles and fight grotesque beasts to survive and discover the town's darkest secret. This title is a masterpiece in the horror genre, guaranteeing an unforgettable experience thanks to the terrifying story and atmospheric music from Akira Yamaoka.
Key features
Play the first installment in a series of iconic horror games
Manage Harry Mason's actions and go in search of his daughter
Explore the misty Silent Hill and try to survive encounters with hideous creatures
Solve puzzles and discover one of the five endings
I Have No Mouth And I Must Scream
| | |
| --- | --- |
| Release date: | 1995 |
| Genre: | Point-and-click adventure |
| Developer: | The Dreamer's Guild |
It is a point-and-click adventure game based on the best-selling novel by Harlan Ellison – co-writer of the scripts for the Star Trek series and a world literature genius. Discover an alternative world after an apocalypse where only five humans survived.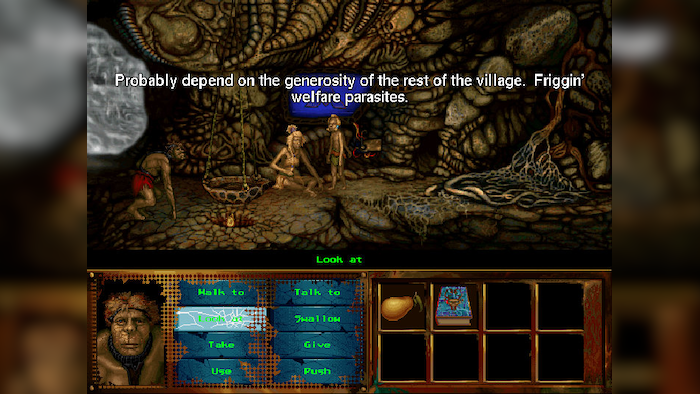 The time of humanity ended when powerful computers took over the nuclear resources of Russia, China, and the United States. They spared only five survivors for whom this was the worst time of their lives. The AM computer traps them, creating elaborate simulations made of their worst fears and nightmares. Guide their actions in each world and discover why evil AI has kept them for its experiments. It is a spine-chilling game for all fans of sci-fi scenarios about the end of humanity.
Key features
Play a brutal adventure game about the end of the world
Make decisions and solve puzzles in each of the five simulations
Lose yourself in the dreadful atmosphere of this inspiring story
See one of the many game endings
Resident Evil 1&2
| | |
| --- | --- |
| Release date: | 1996 |
| Genre: | Survival horror |
| Developer: | Capcom |
See the origins of the series that created the survival horror genre! These games are one thrilling story in two sections where you will become part of a spooky storyline set in the Raccoon village.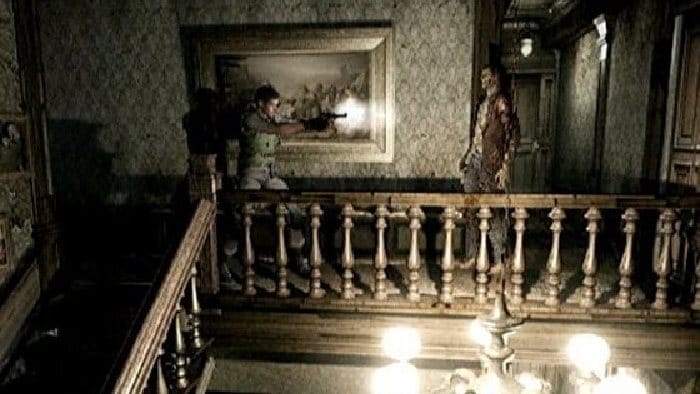 The town overrun by monsters is the beginning of a gigantic plot involving the legendary battle of the S.T.A.R.S. unit with the zombie epidemic. Control the actions of heroes destined to stop the virus and survive. Complete your arsenal, collect gear, and arouse the courage in your heart to eliminate the hideous monsters once and for all. 
Key features
Play the first two games in the epic survival horror series
Explore the Raccoon town and complete the equipment
Fight monsters to survive
Discover extraordinary stories of characters caught in a mysterious plot
Alone In The Dark
| | |
| --- | --- |
| Release date: | 1992 |
| Genre: | Survival horror |
| Developer: | Infogrames |
If you are looking for a game that will make you afraid of staying late at night – this is your best choice! Lose yourself in an intriguing storyline inspired by the works of H. P. Lovecraft and experience a horror adventure like never before.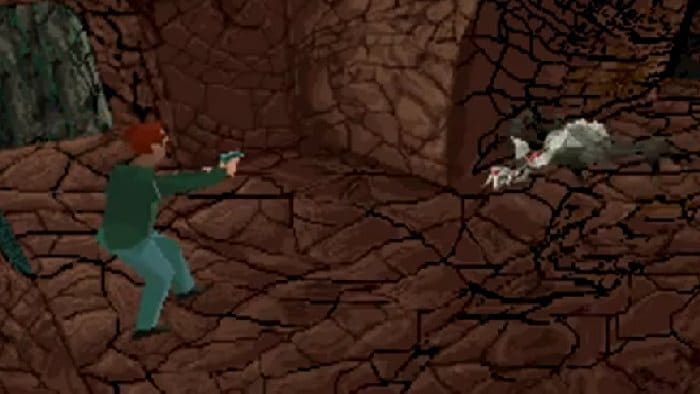 Go to the Derecto mansion to solve a mysterious suicide case. Choose your hero and set off on one of the two gameplay paths to face an ancient evil. Explore, solve puzzles, and fight, and you might be able to see the end of this story.
Key features
Play a terrifying survival horror inspired by the works of H. P. Lovecraft
Choose one of the two heroes and start the investigation
Explore the mansion, solve the mystery, and discover unimaginable monstrosities
Enjoy the creepy vibe of this disturbing adventure
Realms Of The Haunting
| | |
| --- | --- |
| Release date: | 1997 |
| Genre: | Adventure, first-person shooter |
| Developer: | Gremlin Interactive |
This game is a unique combination of a puzzle game with action-packed combat where you will face hordes of hellish beasts overrunning the world. Watch a dark story about the fight between good and evil – in an iconic 90s style!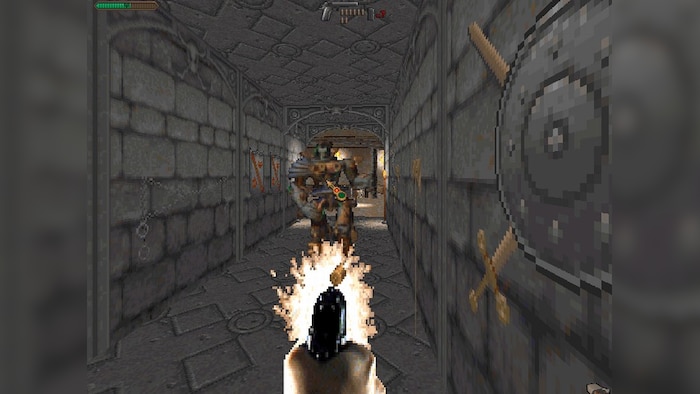 When Adam Randall travels to the village of Helston to investigate the mysterious mansion, he discovers the situation is worse than it might seem. The man finds a false priest with a plot of taking over the world. Performing dark rituals on the ruins of Satan's temple, he summons hundreds of hellish beasts thirsty for human blood. And you are the one who will have to fight them.
Key features
Play a thrilling adventure game about the fight between good and evil
Discover the details of a dark plot forged by an evil priest
Explore and solve challenging logic puzzles
Fight hordes of hellish creatures
Sanitarium
| | |
| --- | --- |
| Release date: | 1998 |
| Genre: | Point-and-click adventure |
| Developer: | DreamForge Entertainment |
Get ready for a grotesque atmosphere and a torturous storyline. If you are into a twisted story and unimaginably complex puzzles – you will love this retro game.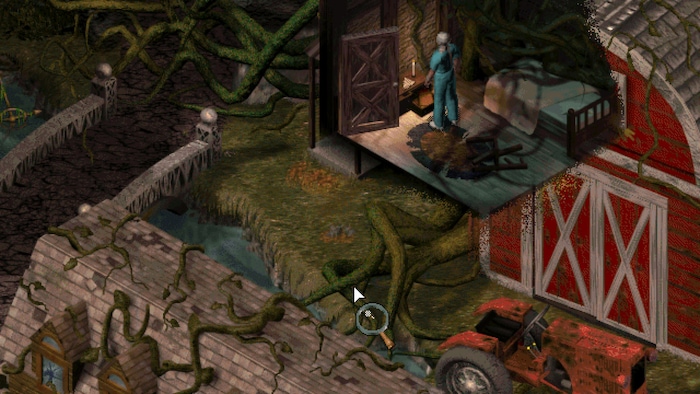 Lead the fate of Max – a man who lost his memory in an accident and found himself in a mysterious tower. Now, the hero must begin a series of disturbing trials to discover the secret of this place and understand who he is. Explore, solve puzzles and enjoy one of the most challenging horror PC games of the 90s.
Key features
Play as a gifted researcher suffering from amnesia
Understand the secret of the mysterious tower and discover who you are
Solve challenging puzzles
Lose yourself in the frightening atmosphere that surrounds this place
Phantasmagoria 1&2
| | |
| --- | --- |
| Release date: | 1995 |
| Genre: | Interactive film graphic adventure game |
| Developer: | Sierra On-Line |
Play interactive adventure games that show two stories of different people confronted with terrifying events. See seemingly familiar storylines that become the most surprising experience.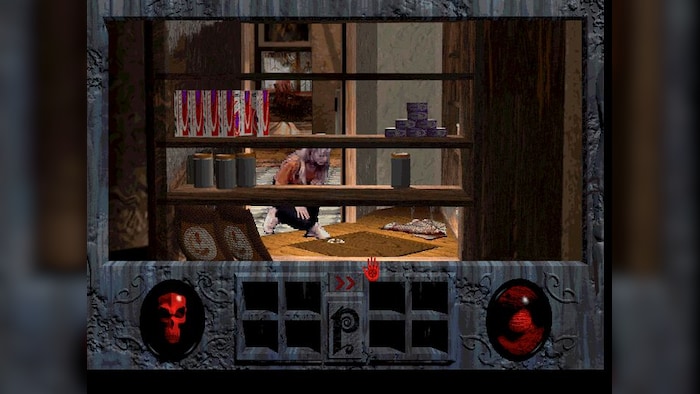 Play as Adrianne Delaney and uncover the dark horrors of a haunted mansion. Guide Curtis Craig's actions to discover the thin line between normality and utter insanity. Both games are classic point-and-click titles, full of dramatic intrigues and unexplained events that you will soon become a vital part of.
Key features
Play two point-and-click horror adventure games
Discover the stories of two heroes facing mortal danger
Unravel the mysterious intrigues and try to survive
Have fun with a dramatic atmosphere that you will remember for years
The best 90s PC horror games are the perfect source of psychological gameplay with many plot twists and challenging puzzles. It's a time when content triumphed over quality, delivering grim stories you won't find anywhere else. Fancy a real spine-chilling gaming night? Just play one of these video games and discover the horror magic of the 90s!