American football is undoubtedly one of the most popular sports in the USA, and the Super Bowl's popularity – the annual championship game of the National Football League – is solid proof of this.
Thanks to video games, players have the unique opportunity to lead their favorite teams to the finals and test their skills against the best of the best. Can you do better than real champions?
Check out some of the best American football games for PC on the list down below.
Madden NFL 20
| | |
| --- | --- |
| Release year: | 2019 |
| Genre: | Sports |
| Developer: | EA Tiburon |
If you're a fan of American football and you'd like to try it yourself, you can't go wrong with the Madden NFL series.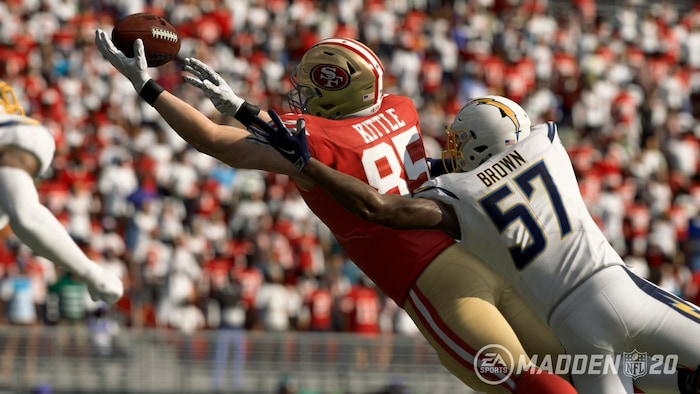 Madden NFL 20 is a perfect choice for those who are looking for a realistic American football experience. The series is being constantly developed and polished since 1988, and new Madden games are released every year on a regular basis. Developers are doing their best to make each game even better than the last one, adding new features and improving the existing ones, and Madden NFL 20 is no different. The most important change here is the introduction of Superstar X-Factor special abilities that make stars feel like real stars.
Key Features
Gorgeous visuals that make the game more immersive
Superstar X-Factor special abilities for the most popular football stars
Face of the Franchise mode that allows players to become a football player
Possibility to build a perfect team in the Ultimate Team mode
Mutant Football League
| | |
| --- | --- |
| Release year: | 2017 |
| Genre: | Sports |
| Developer: | Digital Dreams Entertainment |
Not every game has to be realistic to be fun. If you prefer a more ridiculous approach to American football, you have to try Mutant Football League.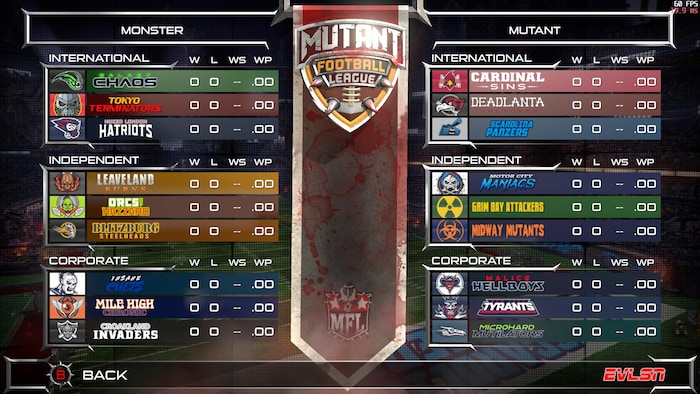 MFL takes American football to an alternate universe, where anthropomorphic mutants and other evil creatures are playing a more violent version of the popular sports game. It's more brutal, but also more humorous, so don't expect a dark and depressing atmosphere, as it's quite the opposite. The Dynasty Edition of MFL includes the base game as well as several DLCs that introduce new playable monsters and arenas. It also adds a new addictive Dynasty mode, where you can earn experience and manage your team in greater detail.
Key Features
A fantasy version of American football, where the role of football players is taken by various creatures
Combines violent gameplay with lots of humorous elements
Top-notch commentary
Dynasty Pack contains additional playable species, arenas, and a Dynasty mode
Axis Football 2020
| | |
| --- | --- |
| Release year: | 2020 |
| Genre: | Sports |
| Developer: | Axis Games |
Axis Football 2020 is a game made by a small indie company, which means that it may have some flaws, but it's quite a gem nevertheless, and it's certainly made with love.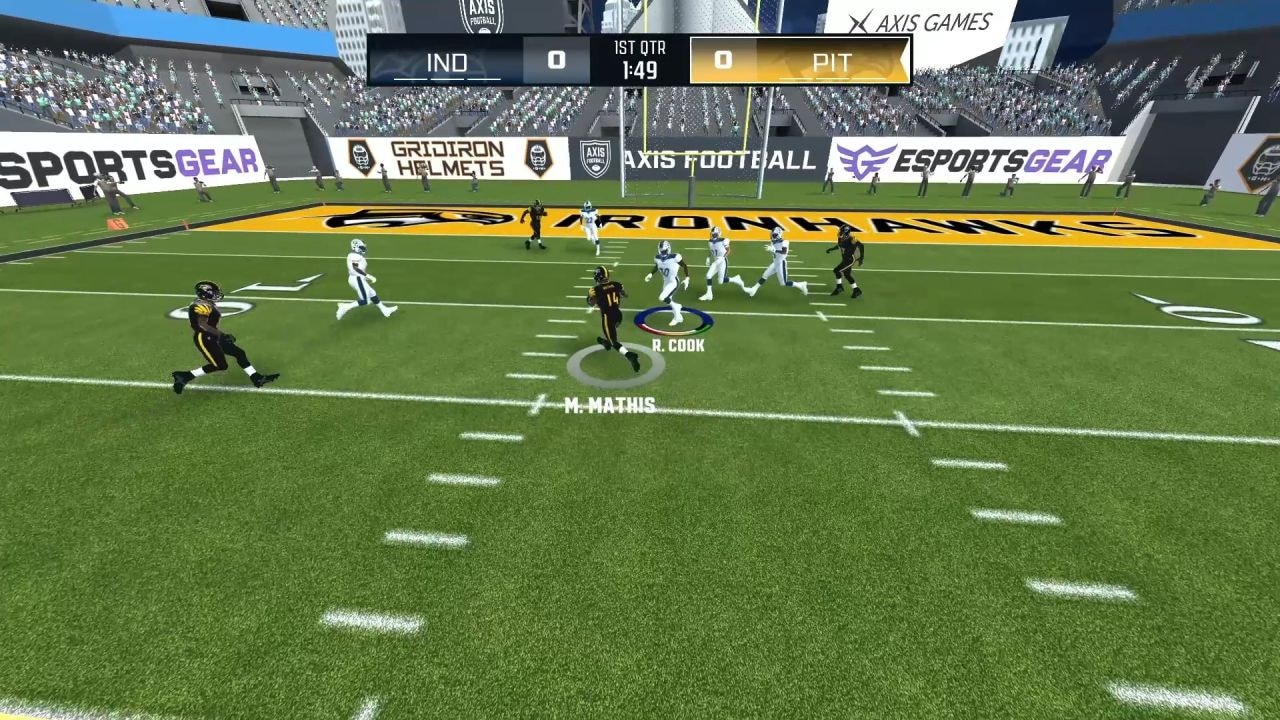 Axis Football 2020 is a fun project made by a group of hobbyists. Due to limited funds, developers had to go with simpler graphics, so don't expect a lot in that department, but doing so allowed the team to focus more on the other aspects of the game, namely – the simulation. It's quite impressive how well the game simulates the real thing, and if you could only forgive Axis Football's presentation layer, you'd quickly find yourself addicted, trying all the possible strategies and advanced tactics on the pitch.
Key Features
American football simulation with intelligent players and realistic behavior
Accurate tactics management
Over 30 playable teams to choose from
Franchise mode that allows players to manage and develop their team during the season
Blood Bowl 2
| | |
| --- | --- |
| Release year: | 2015 |
| Genre: | Sports, turn-based strategy |
| Developer: | Cyanide |
In certain aspects, Blood Bowl 2 is quite similar to Mutant Football League, but there is one fundamental difference between the two.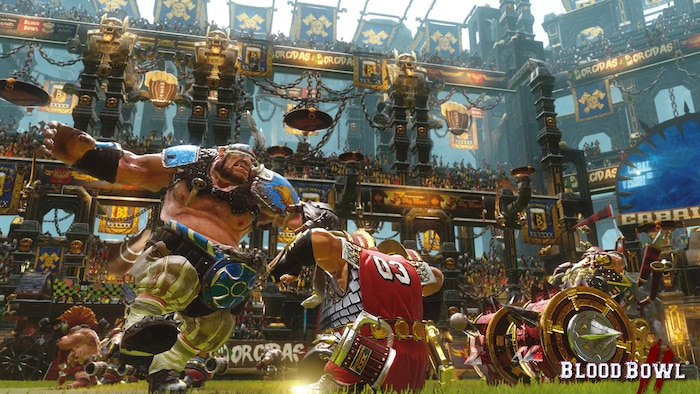 Some of us don't have the necessary reflexes to fully enjoy most of the American football games, where reaction time and pressing various keys in quick succession are what matters the most. What if we old-timers and thinkers wanted to enjoy some sports action, too? Blood Bowl 2 is the answer, as it turns a fast-paced sports game into a turn-based one, giving us more time to carefully plan each move. Keep in mind that it's a fantasy take on football, so we'll meet not only humans but also orcs and other creatures during play. It's also worth noting that Blood Bowl 2 contains violence combined with humorous dialogues, so it can serve as a great stress reliever.
Key Features
Turn-based sports title based on a classic tabletop game
Fantasy setting with several different playable races from the Warhammer universe
Violent and brutal gameplay but adds a lot of humorous elements to make the atmosphere lighter
Numerous unexpected twists that make each match unique
Legend Bowl
| | |
| --- | --- |
| Release year: | 2020 |
| Genre: | Sports |
| Developer: | Level Ready Games |
Fans of retro-style titles shouldn't feel left behind, as there's also an American football game that was made especially with them in mind. It's Legend Bowl.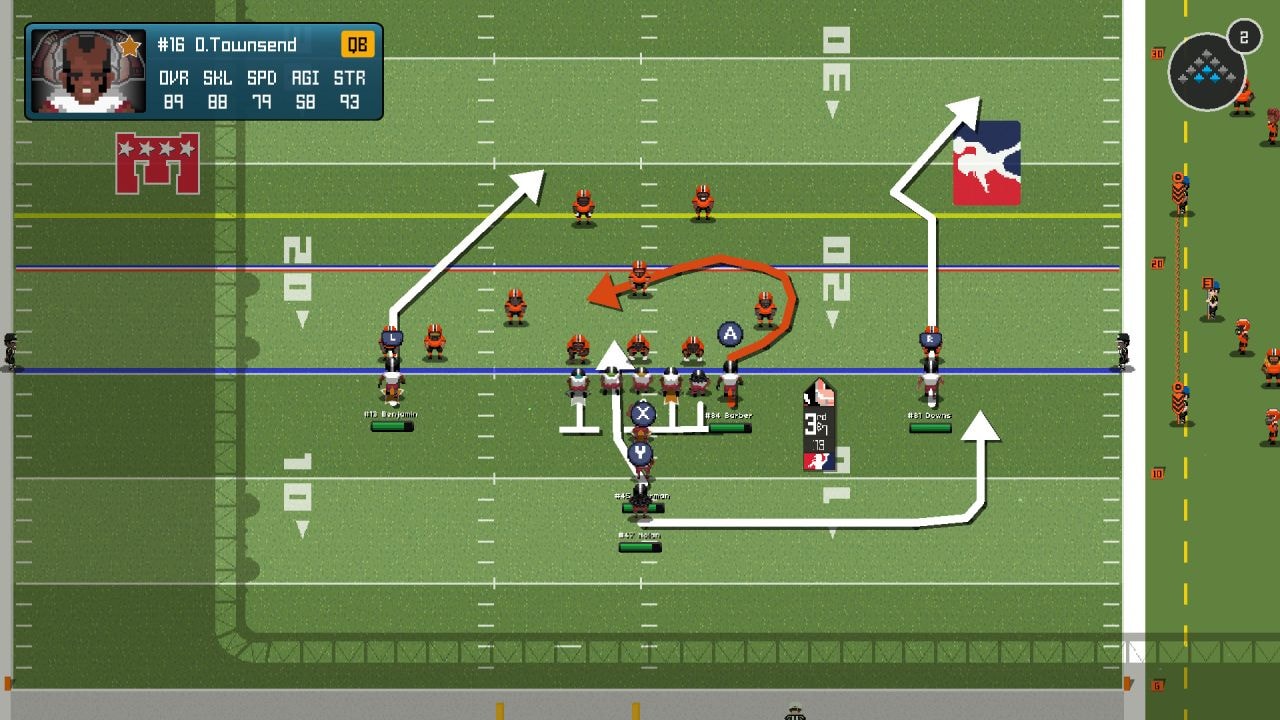 Legend Bowl is an old-school game that aims to incorporate certain modern solutions into classic gameplay. It's a small indie title, so it was decided to go with simpler 2D pixel art graphics and focus more on the fun factor through various gameplay mechanics. Legend Bowl achieved a balance between arcade and simulation, making it a game that is easy to learn and pick up by newcomers but also offers some good challenges for more experienced players. You can play through career mode, customize your team, and experience a weather system that can sometimes create surprising twists during play.
Key Features
2D retro-style take on the American football
Gameplay that strikes balance between arcade and simulation
Well-made pixel art visuals
Local multiplayer that makes the game a great party choice
Bowl Bound College Football
| | |
| --- | --- |
| Release year: | 2015 |
| Genre: | Sports, simulation |
| Developer: | Grey Dog Software |
For the final game on the list, we've got something really unique – a true college Football Manager experience.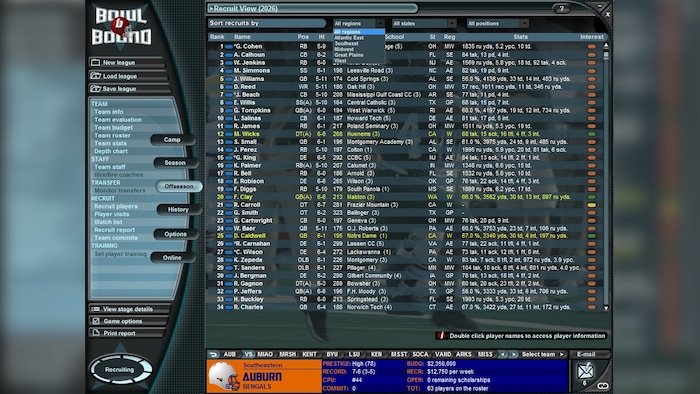 There aren't many American football manager games that focus on college football, and there are even fewer that turn the simulation aspect into the most important one. BBCF is an advanced simulation engine that fills the very specific market niche and does it in a surprisingly good way. It lets you become the coach and take control over one of many college football programs and tailor your very own college team in order to hopefully win the champion's title. It's mostly a text-based game with a multitude of complex options, but a friendly user interface makes it easier to quickly find whatever you may need.
Key Features
Advanced text-based college football simulation engine
Several distinct coaching philosophies and in-depth recruiting process
Customizable playbook with lots of different plays to try
Friendly user interface for easier and more convenient navigation
The Best American Football Games
Have you ever wanted to become a football player, but it was too much of an effort for you to really care, so you just gave up? Or maybe you were dreaming of becoming a coach and leading your team to victory, but you didn't get the opportunity to show your strategy skills to the others? Or maybe you sometimes felt so frustrated when your favorite team lost Super Bowl, that you wished you had a chance to personally control each move of every footballer to show them how it's done?
American football computer games allow players to experience the thrills of a real thing without the need to ever leave their comfortable chairs. All that's best about football is right at your fingertips, so you can just launch your favorite American football game and get down to business.
No matter if you prefer real-time fast-paced action or a slower tactical approach. It doesn't matter if you prefer realistic 3D visuals or gorgeous 2D pixel art. It doesn't even matter if you prefer to manage an entire team or become a star yourself – there's certainly a game for everyone, so pick your favorite from the list above and have a great time while tinkering with all the possibilities.