Cruel gods, bloodthirsty multi-headed beasts, heroic battles, and a search for destiny – this is the world of the Greek Myths. Set amid the sea waves and ancient ruins, they stimulate the imagination and deliver an immersion you will not find anywhere else.
Video games set in ancient Greece are a perfect opportunity to experience the adventures of the greatest heroes. Here you can command an army, influence history, or become one of the gods. Want to create your own legend in these epic sagas? Choose from the best ancient Greece video games to play!
Zeus Poseidon
| | |
| --- | --- |
| Release: | 2000-09-20 |
| Genre: | Strategy |
| Developer: | Impressions Games |
It is an iconic strategy game in which you will build a monumental Greek city. Move to Ancient Greece and become the ideal ruler of an impressive metropolis.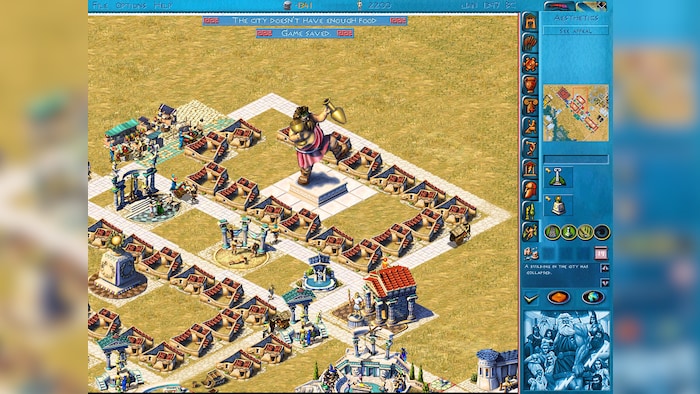 In this city-builder, you will not only develop a city but also ensure its efficient functioning. Build housing blocks and create the most vital centers of culture, science, and health. Take care of profitable trade and production of resources. Build a road network to improve the transport of goods and forge political alliances. Watch out because your city can be invaded by the enemy army or attacked by creatures based on Greek mythology at any time. Build temples and monumental wonders to ensure the approval of gods and heroes.
Key features
Build an ancient city
Manage thousands of citizens and their work
Build temples and architectural wonders
Take care of politics and trade
God of War
| | |
| --- | --- |
| Release: | 2022-01-14 |
| Genre: | Action |
| Developer: | Santa Monica Studio |
It is an adventure game from 2005, telling the impressive story of Kratos – a Spartan warrior at the service of the Olympian gods. Accept divine orders and fight face to face with the most monstrous mythological beasts.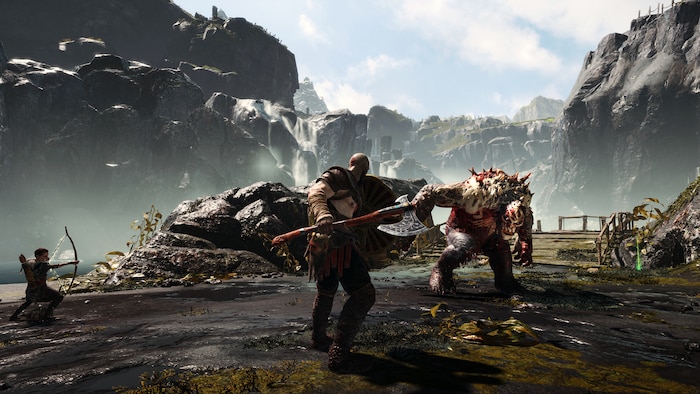 Driven by rage, Kratos is the ideal material for completing the most challenging tasks. Accept divine quests and travel the world of Ancient Greece to fight legendary monsters. Use the weapons and skills of Olympus to win. Some of the enemies you kill will give you their unique powers, so each completed mission equals developing talents.
Key features
Play as a warrior in the service of the Olympic gods
Wield deadly blades and eliminate targets
Create your history and place in ancient myths
Explore and discover a mythological world
Immortals: Fenyx Rising
| | |
| --- | --- |
| Release: | 2020-12-03 |
| Genre: | Action |
| Developer: | Ubisoft |
It is an open-world action game from Ubisoft. Play as Fenyx, a winged hero who fights monsters on the side of the Olympian gods.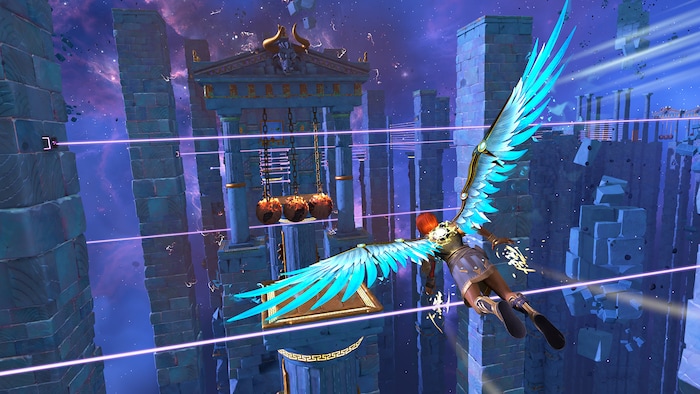 The cruel Titan, Typhon, hates the gods and desires their ultimate death. Fearless Fenyx will stand in his way, undertaking the task of restoring the gods' full power. Explore, fly, fight and complete quests. Fenyx Rising is a gorgeous world full of monumental Greek buildings, nature, and wild beasts taken straight out of myths. It is a humorous production, perfect for players from the age of 12.
Key features
Play as the winged hero
Complete quests to restore power to the gods
Fight in dynamic and epic battles
Explore the open world of Ancient Greece and enjoy entertaining commentary
Age of Empires II
| | |
| --- | --- |
| Release: | 2019-11-14 |
| Genre: | Strategy |
| Developer: | Forgotten Empires |
It is a roguelike action game in which you will play as the son of the God of the Dead. By giving up your current life, you will set off on a journey through the mythical labyrinth of the underworld to find your way to Olympus.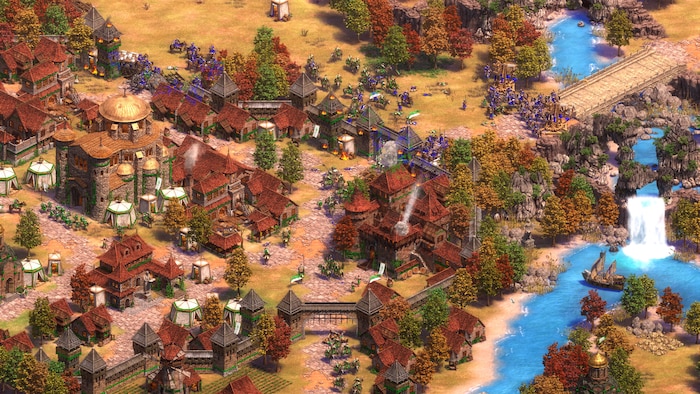 Hades is essentially dynamic, flashy fighting that takes combat satisfaction to a whole new level. Explore, fight and discover bits of the engaging storyline. On your way, you will meet dozens of fascinating allies and enemies. In this game, even replaying the scenario over and over will be just as exciting as the first time. It is epic and humorous gameplay for players from 12 years of age.
Key features
Play as the son of Hades himself
Explore the underworld to discover your destiny
Fight and develop skills
Enjoy amazingly spectacular battles
Total War Saga: Troy
| | |
| --- | --- |
| Release: | 2020-08-13 |
| Genre: | Strategy |
| Developer: | Creative Assembly |
It is your opportunity to lead one side of the Trojan War towards victory! Build your army, plan the strategy and send the greatest mythical heroes to battle.
The Total War series is famous for its details. The same can be said about Total War: Troy, which impresses with its polished features. Stand on one side of the Trojan War and rewrite the history. Plan attack strategies and take care of the economic part. Watch out because, in addition to the most famous heroes, you will also encounter mythical creatures that can significantly affect the course of the fight. Develop faith in the gods and gain their approval to tip the balance of power to your favor!
Key features
Lead the army in the famous Trojan War
Take care of strategy and economy
Develop your units and plan their deployment
Become part of the legend and history
Play solo or in multiplayer with up to 8 players
Assassin's Creed: Odyssey
| | |
| --- | --- |
| Release: | 2018-10-05 |
| Genre: | Action |
| Developer: | Ubisoft Quebec |
It is an open-world Greece RPG where you will travel a long way from exile to hero. Set off on a journey through ancient Greece and discover your place in this story.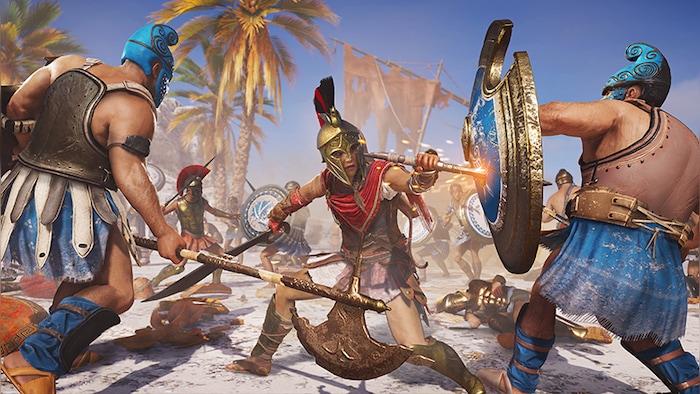 Play as one of the grandsons of King Leonidas and start your adventure in Ancient Greece. Explore new locations, meet famous historical figures and discover chapters of your story. As in other parts of the series, there will also be parkour, stealth, dynamic land battles, and epic sea voyages. This recommendation is probably the vastest Ancient Greece game world you will ever experience.
Key features
Play as one of King Leonidas' grandchildren
Make decisions to see the chapters of the story
Explore the open world of Ancient Greece and meet historical figures
Sneak, fight and take part in epic sea voyages
The possibility of living with the Greek gods themselves, participating in historical battles, and ordinary ancient everyday life – it all makes us want more. We want to know, experience, and discover.
For this reason, video games set in ancient Greece have incredible educational value. On the way, you will learn the history, geography of the country, religion, and even the weapons used by the troops of these times. Immerse yourself in the world of video games based on Greek mythology, and you will soon discover that ancient history has no secrets for you.