Ah, anime, the DNA of the soul. I love it, you love it, we all love it. Ah, but anime isn't video games (and historically video games based on anime have been as good as you'd think they would be), so what is a person not having enough anime in their lives to do when they want to play video games instead?
Well don't you worry, I have a handy dandy list here of games that are, let's say, anime-adjacent, so you can still enjoy animu, while you're enjoying vidya.
Now the thing is, I'm not gonna just put here 20 licensed games based on actual anime series. For one thing, that would be boring. For another, like I said, these games are for the most part pretty bad, that's the sort of curse that comes with licensing. No, I'm going to give you 20 games that evoke anime, but aren't affiliated with any specific series IP and I'll try to make it as varied in terms of genre and gameplay as possible. So, In order from the least anime, to the most anime.
| | Game | Released | Developer | Trailer | Sale | |
| --- | --- | --- | --- | --- | --- | --- |
| | HuniePop | 2015-01-19 | HuniePot | | -72% | Read more |
| | Tales of Symphonia | 2016-02-01 | BANDAI NAMCO Entertainment Inc. | | -81% | Read more |
| | SOULCALIBUR VI | 2018-10-19 | Project Soul | | -92% | Read more |
| | Bayonetta | 2017-04-11 | PlatinumGames | | -63% | Read more |
| | NEKOPARA Vol. 0 | 2015-08-17 | NEKO WORKs | | - | Read more |
| | GUILTY GEAR -STRIVE- | 2021-06-11 | Arc System Works | | -49% | Read more |
| | Metal Gear Rising: Revengeance | 2014-01-09 | PlatinumGames | | -79% | Read more |
| | FINAL FANTASY X/X-2 HD Remaster | 2016-05-12 | SQUARE ENIX | | - | Read more |
| | Attack on Titan / A.O.T. Wings of Freedom | 2016-08-26 | KOEI TECMO GAMES CO., LTD. | | -35% | Read more |
| | Attack on Titan 2: Final Battle | 2018-03-14 | KOEI TECMO GAMES CO., LTD. | | - | Read more |
| | BERSERK and the Band of the Hawk | 2017-02-21 | KOEI TECMO GAMES CO., LTD. | | -33% | Read more |
| | Bloodstained: Ritual of the Night | 2019-06-18 | ArtPlay | | -82% | Read more |
| | Code Vein | 2019-09-27 | Shift | | -86% | Read more |
| | Danganronpa 2: Goodbye Despair | 2016-04-18 | Abstraction Games | | -31% | Read more |
| | Danganronpa: Trigger Happy Havoc | 2016-02-18 | Abstraction Games | | - | Read more |
| | DRAGON BALL Z: KAKAROT | Deluxe Edition | 2020-01-17 | CyberConnect2 | | -73% | Read more |
| | JUMP FORCE | 2019-02-15 | Spike ChunSoft | | - | Read more |
| | Naruto Shippuden: Ultimate Ninja Storm 4 | 2016-02-04 | CyberConnect2 Co. Ltd. | | -77% | Read more |
| | Ni no Kuni II: Revenant Kingdom | 2018-01-19 | Level-5 | | -88% | Read more |
| | Ni no Kuni Wrath of the White Witch Remastered | 2019-09-20 | Level-5 | | -87% | Read more |
| | ONE PIECE: PIRATE WARRIORS 4 | Deluxe Edition | 2020-03-27 | Koei Tecmo Games | | -87% | Read more |
| | Monster Hunter World | 2018-08-09 | Capcom | | -81% | Read more |
| | NieR: Automata | 2017-03-17 | SQUARE ENIX | | - | Read more |
| | Phoenix Wright: Ace Attorney Trilogy | 2019-04-09 | Capcom | | -60% | Read more |
| | STAR OCEAN - THE LAST HOPE | 2009-02-19 | tri-Ace | | - | Read more |
| | SWORD ART ONLINE Alicization Lycoris | 2020-07-10 | Aquria | | -82% | Read more |
| | Sword Art Online: Hollow Realization Deluxe Edition | | Aquria | | -90% | Read more |
| | SWORD ART ONLINE: Fatal Bullet | 2018-02-23 | DIMPS | | -85% | Read more |
| | God Eater 3 | 2019-02-08 | Bandai Namco Entertainment | | -27% | Read more |
| | GUILTY GEAR Xrd -REVELATOR | 2016-12-14 | Square Enix | | -68% | Read more |
| | DRAGON QUEST XI S: Echoes of an Elusive Age - Definitive Edition | 2020-12-04 | | | - | Read more |
| | DRAGON BALL FighterZ | 2018-01-26 | Arc System Works | | -90% | Read more |
| | Battle Chef Brigade | 2017-11-20 | Trinket Studios | | - | Read more |
| | Dragon Ball Xenoverse 2 | 2016-10-27 | DIMPS | | -87% | Read more |
| | DRAGON BALL XENOVERSE | 2015-02-26 | DIMPS | | -82% | Read more |
| | NARUTO TO BORUTO: SHINOBI STRIKER | Deluxe Edition | 2018-08-31 | Soleil | | -93% | Read more |
| | NARUTO SHIPPUDEN: Ultimate Ninja STORM Legacy | | CyberConnect2 | | -79% | Read more |
| | Persona 5 Strikers | 2021-02-23 | Atlus | | -57% | Read more |
| | Persona 4 Golden | 2020-06-13 | Atlus | | - | Read more |
| | Disgaea 5 Complete | 2018-10-01 | Nippon Ichi Software | | - | Read more |
| | Disgaea 4 Complete+ | 2020-09-10 | Nippon Ichi Software, Inc. | | -49% | Read more |
| | GOD EATER 2 Rage Burst | 2016-08-29 | BANDAI NAMCO Studio | | -91% | Read more |
| | NEKOPARA Vol. 1 | 2014-12-29 | NEKO WORKs | | -22% | Read more |
| | NEKOPARA Vol. 2 | 2016-02-19 | NEKO WORKs | | -36% | Read more |
| | SCARLET NEXUS | 2021-06-25 | Bandai Namco Studios | | -79% | Read more |
HuniePop
| | |
| --- | --- |
| Release date | 2015 |
| Developer | HuniePot |
| Genre | Dating Sim |
Spicy. So let's start with something easy, and yet spicy. Huniepop is a game that has garnered a kind of controversial reputation, because yes, it is indeed an erotic game.
A subject to staunch criticism, Huniepop managed to gather a cult audience anyway, and for solid reasons.
What the game boils down to, is a fusion of a match 3 game and a visual novel where you interact with various Huniepop ladies, catering to various kinks. Despite being overtly sexual, it manages to be surprisingly tasteful and heartfelt on occasion, not to mention exceedingly hilarious. It's simple, yet satisfying, in all the right ways.
Key features
Dating sim with puzzle game elements
A pretty good match-3 gameplay underneath it all
Not safe for work
There's even some progression
Tales of Symphonia
| | |
| --- | --- |
| Release date | 2016 (Windows) |
| Developer | Namco Tales Studio, Ocean Interactive) |
| Genre | Role-playing |
Japan finally opening up to the western PC markets. A true classic that I had to include on this list and while it is indeed exceedingly anime, it has aged a bit over the years, which is why it isn't higher on the list.
Released by Namco back in 2003 it would be 13 years before it got a PC release, but it was an immediate success on Steam.
Tales of Symphonia tells an epic story of fantasy and adventure, but unlike the classic Final Fantasy games, it features a tactically complex, real-time combat system. However, the true selling point of the game is the beautiful art-style and graphics which miraculously didn't age a single day due to sheer finesse of their craftsmanship.
Key features
Classic jRPG from the early 2000s
Engaging battle system
A story about reinfusing the world with magic
Still looks very nice despite the passage of years
Soulcalibur VI
| | |
| --- | --- |
| Release date | 2018 |
| Developer | Bandai Namco |
| Genre | Fighting |
The soul still burns. With little effort I could have filled this entire list with fighting games, but that would be against the point of the article.
Honorable mentions include Dead or Alive and Tekken, but I decided on Soulcalibur for two reasons: the character design is fantastic and the game features guest appearances from other franchises, in this case, Geralt of Rivia, of The Witcher fame.
Soulcalibur is a fighting game whose gimmick revolves around an idea that, unlike in most fighting games, characters in Soulcalibur use weapons. Like a lot of weapons. Sometimes very creative weapons like a giant Chakram and crotch spikes (oh, Voldo). It's tight, complex and the latest part in the series has a very good multiplayer AND a character creator tool, so you can make your own, better anime, while you fight with very anime characters. Win-win.
Key features
A great instalment of a classic fighting game series
A great cast of characters
Epic storyline about a demon sword continues
Spectacular special attacks
Bayonetta
| | |
| --- | --- |
| Release date | 2009 |
| Developer | PlatiniumGames |
| Genre | Hack and Slash |
Jackpot. It was a genuine toss-up between Bayonetta and Devil my Cry here and while it was very difficult not to give the devil his due on this, ultimately I had to give this one to Bayonetta because of the one anime element it beats DMC hands down on—fanservice.
I mean the whole concept here is that the protagonist's clothes are made from her hair and as she fights the costume gets skimpier and skimpier. This is such a staple of anime I had to give this one to the best girl.
Bayonetta is a spectacle fighter game that is all about fighting hordes of enemies and looking super cool and sexy while doing it. Sure, it also features a dramatic story and entertaining, whacky characters, but the big drive here is the sheer thrill of combat and the titular protagonist being both engaging and fantastically designed.
Key features
A amazing action game from genre veterans
A delightfully ridiculous storyline
Unrelenting, spectacular combos, great to play with a controller
A great counterpart to the Devil May Cry series
Guilty Gear Xrd
| | |
| --- | --- |
| Release date | 2015 |
| Developer | Arc System Works |
| Genre | Fighting |
What is it with the Japanese and gears? We have another fighting game on the list, only barely beating Soulcalibur, but it does so for very good reasons: the character design in this series is just fantastic.
From straight forward characters like pirate girl May to whatever the hell Faust is (his special attack involves rectal probing with his fingers… I don't know why), there isn't one boring character in the roster and the game feels no shame about its musical references (which might be a Jojo reference, so here we are).
Guilty Gear is a series with much pedigree, but little actual renown outside of Japan. With 12 games total (before including the various remasters), the game is legendary. It would be impossible for me to explain its story, but it is best understood through these characters. It's over the top with its fighters, with its mechanics, with its music and with its story. It's also something of a guilty pleasure of mine (got it? Heh), so I had to put it in here.
Key features
Makes 3D characters looks almost indistinguishable from 2D
Some of the most spectacular specials in the series thanks to 3D graphics
Still as fast and technical as earlier instalments
Moves the storyline forward in a big way
Metal Gear Rising: Revengeance
| | |
| --- | --- |
| Release date | 2013 |
| Developer | PlatiniumGames |
| Genre | Hack & Slash |
Nanomachines son. You knew a Kojima game had to be on here. The man has this tendency to mock western storytelling with Japanese aesthetics in the most charming way. And while I could have put any of the Metal Gear games, I chose Revengeance, because of the sheer meme appeal of this game. Memes indeed are, the DNA of the soul, as Red Memesoon teaches us.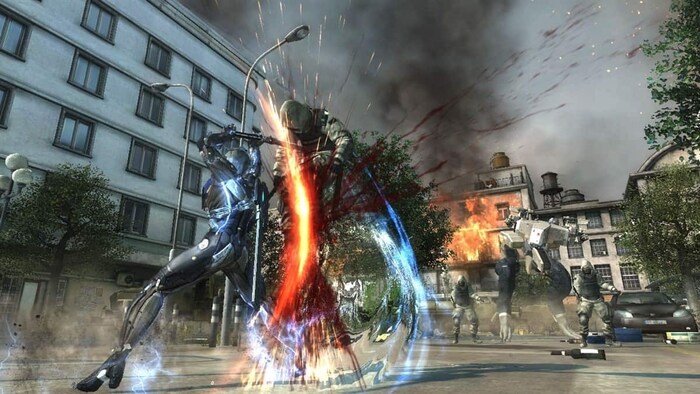 Revengeance is a fantastic action game oozing personality and style. Moreover, in a fashion of great anime it puts its themes and esoteric ideas first, wraps them up in aesthetics and only then concerns itself with a cohesive plot. The fighting is satisfying (the ingenious use of slow mo for in the Blade Mode is something else), the style is something to behold and the story gets strangely profound on occasion without once stopping the insanity.
Key features
Outstanding entry into the Metal gear franchise
The Blade Mode is absurdly fun to use on mundane objects
One of PlatinumGames' finest
Features cyborg-ised Raiden in the protagonist role
Final Fantasy XV
| | |
| --- | --- |
| Release date | 2016, 2018 |
| Developer | Square Enix |
| Genre | Action role-playing |
The best road trip in video games. I was reluctant to put Final Fantasy on this list, because while it is a staple of Japanese video games and each part of the series is (almost) entirely self-contained, these games are rather hard to approach for the western audience.
But that is not true for Final Fantasy XV, which has enough western influences in the core mechanics to pull that kind of audience in and keep them entertained.
Ostensibly, it's a game about four very pretty boys on a great road trip, a journey of adventure and self-discovery. It's a simple idea, but everything in the game works to make it shine. The turn-based combat of old FF games is replaced with a satisfying fighting engine occurring in real time and the visual presentation of the game is absolutely on-point. It's something of a love letter to the west, combining Japanese style with western senses, making it a fantastic synthesis of cultures.
Key features
A great story about camaraderie and road trips, also about reclaiming one's birthright
Looks great
Dynamic, visually satisfying combat system
Likeable characters
Doki Doki Literature Club
| | |
| --- | --- |
| Release date | 2017 |
| Developer | Team Salvato |
| Genre | Visual Novel |
Yes, we're here again. I had to mention this gem again, I just had to. While a list of compelling visual novels would be something that could exist on its own (and it will, it's still in my backlog), I couldn't have just filled this list with them. But this one game, oh this one I had to include.
Doki Doki Literature Club is a masterpiece of clever subversion of genre—ostensibly a dating simulator, Doki Doki Literature Club lulls the player into a false sense of security with its colorful cast of cliché anime tropes of characters, bright colors and soothing music. And then the other shoe drops and the blast radius is enormous.
Despite this, I chose this game specifically because doing what Doki Doki did is just so perfectly anime, which you know if you've watched a show like Madoka Magica. Though a fair word of warning: this one isn't the best point of entry into the Visual Novel genre, you're far better off starting with something much simpler like Stein's Gate or Kindred Spirits on the Roof. But for the seasoned veterans, this one is a serious treat.
Key features
A cute visual novel/dating simulator with a twist
As usual for visual novels, there is a good number of alternative scenes and endings
Isn't afraid to break the fourth wall
A neat poem-assembling minigame
This one is actually free. If you're ready for it. Get it here.
Attack on Titan 1&2
| | |
| --- | --- |
| Release year: | 2016 (AoT1), 2018 (AoT2) |
| Genre: | Action, hack and slash |
| Developer | Omega Force |
Pain in the neck The Attack on Titan series (both manga and anime) revolves largely around the remnants of humanity training an elite fighting force to field against giant ravenous humanoid monsters called titans.
It's an action-packed series, and the video game adaptations by Omega Force (a frequent developer on this list) captures it quite well, with room for original characters in the sequel.
Unlike the usual Omega Force game from the various "Warriors" lines, Attack on Titan captures the feeling of fighting giant enemies with the use of creative harness enabling omnidirectional movement. An interesting aspect is that you need to refuel your harness and restock on blades, because flying at speed through city streets and trying to get a good hit on a titan depletes your resources.
Key features
Two really cool adaptations of a hit anime
The second game features a fairly hefty character editor
The omni-directional mobility gear works really well and generates tense moments
You're taken on a ride through the series' essential early arcs
Berserk and the Band of the Hawk
| | |
| --- | --- |
| Release year: | 2016 |
| Genre: | Action role-playing, hack and slash |
| Developer | Omega Force |
Takes guts to survive so much Another of Omega Force's games' on the list, this time adapting a very different series, but in a style more familiar to the developer's long-standing followers.
Berserk is a manga created by Kentaro Miura, set in an unforgiving dark fantasy world. The protagonist, Guts, is a patron saint of brooding anime characters with a huge sword. A perfect setup for a Dynasty Warriors-style game.
Although the game doesn't have the large gallery of playable characters as a regular Warriors game, it features several of the fan favourites, such as Guts, obviously, or Nosferatu Zodd, who can even perform his metamorphoses if you get the combo counter going. The enemies are plentiful, each playable character is a devastating force on the battlefield, and a lot of great moments are adapted.
Key features
Captures a lot of the original manga's atmosphere and the anime's action scenes
It feels great to wade through hordes of enemies as Zodd, Griffith, or Guts
Lets you participate in some of the famous scenes from the manga
A Berserk license is a great fit for a musou game
Bloodstained: Ritual of the Night
Crystalvania Bloodstained: Ritual of the Night takes a ton of inspiration from the classic Castlevania games, as expected, given that it was produced by Koji Igarashi who worked on the classic series.
Bloodstained's crowdfunded success relied in big part on it being presented as Castlevania's spiritual successor, and the promise was fulfilled with flying colours and aggressively stylish and fashionable designs.
The story involves English industrial revolution, alchemists binding demons to humans, and a woman called Mirian, who in order to remove a curse crystallising her, needs to delve the corridors and chamber of a demon infested castle. The game is beautiful, following a somewhat different animesque aesthetic than its predecessor, and puts 3D models against 2D backgrounds in stunning 2.5D.
Key features
Tribute and spiritual successor to the classic Castlevania games
The player can customise the appearance of quite a few things
Unmistakably animesque aesthetic rendered in beautiful 2.5D
Creatively old-school storyline
Code Vein
| | |
| --- | --- |
| Release year: | 2019 |
| Genre: | Action role-playing |
| Developer | Bandai Namco Studios |
Bloody apocalypse, is what it is! The momet you launch Code Vein you know you're in for a very "anime" experience, and it begins with a great 2D intro created by the experienced anime studio Ufotable.
The game itself is in full 3D, of course, but the style carries over really well, and from the extensive character customisation to the attack animations and enemy designs, there's always a sense that Code Vein could be an anime.
The story involves a worldwide cataclysm, which left humanity in shambles, with vampiric fighters protecting them from deadly creatures beyond the wall of the last safe haven. As for the gameplay, CV takes a lot of inspiration from Dark Souls, but spices the formula up with special moves draining a local version of mana, and tweaking the build thanks to a form of multiclassing.
Key features
It fully embraces the anime aesthetic
The combat system is great and leaves room for customisation
Extensive character creation options with dozens of options and accessories
You get access to powerful and spectacular abilities
Danganronpa 2: Goodbye Despair
| | |
| --- | --- |
| Release year: | 2012 |
| Genre: | Adventure, visual novel |
| Developer | Spike Chunsoft |
The anti-Assassination Classroom Danganronpa is a series of Japanese visual novels featuring high school students being locked in a location and told that the only way to live is to murder another student and not be pinned as the one who did it.
In the second game, the location is a tropical island, and the sentient stuffed bear from the first Danganronpa has a companion: a similarly sentient stuffed rabbit.
The game is split into several segments. A student's day to day life, where the protagonist Hajime Hinata talks to other students and earns "Hope Fragments" used for the progression system. The Deadly Life segments are all about looking for clues about a murder scene, and both Daily and Deadly Life segment findings come in handy during the Class Trial, where you must identify the murderer.
Key features
Many minigames used especially during the Class Trial segment
Complex, interesting murder mystery storyline
The art tyle looks great
Brutal rules: you're only getting off the island if you correctly identify the murderer
Dragon Ball Z: Kakarot
| | |
| --- | --- |
| Release year: | 2020 |
| Genre: | Action role-playing |
| Developer | CyberConnect2 |
The life and times of Son Goku Although Son Goku is the most famous name, he was born named Kakarot. Having explained the title that might have been confusing to people now well-versed in the Dragon Ball series, we can move on to discussing the game, which details Kakarot's/Son Goku's life, as shown in the manga/anime series. Including many of the essential fights, recreated very well within DBZ:Kakarot's combat system.
In-between the epis-scale battle between exceptionally muscles energy-throwing fighters, the play is given control of Son Goku himself (and occasionally other characters, as the story need) as he goes around the world, completing quests, and interacting with some famous, fan-favourite people, allies and enemies alike. It's a really cool way to experience Goku's life in an interactive medium.
Key features
An interactive summary of Son Goku's mostly adult life
The battles are as flashy as you remember from the anime
Adapts one of the most famous manga and anime series of all time
Looks great, and captures well Akira Toriyama's iconic style
Jump Force
| | |
| --- | --- |
| Release year: | 2019 |
| Genre: | Fighting |
| Developer | Spike Chunsoft |
Ultimate crossover There might well not be a more "anime" game than Jump Force, a game featuring an ensemble cast drawn from the pages of Weekly Shōnen Jump, an incredibly popular, weekly manga anthology.
There is Ichigo Kurosaki from Bleach, Monkey D. Luffy from One Piece, Sasuke Uchiha from Bleach, and a number of other characters from these and other franchises, with many favourites featured and playable.
Jump Force is a fighting game, but one that prefers movement in three dimensions rather than in 2D and 2.5D, like Mortal Kombat or Guilty Gear. There is a total of 52 playable characters from over a dozen different series, and they have the abilities you would expect if you're familiar with the series they come from. The style of each series is preserved, making Jump Force an aesthetically diverse game.
Key features
Dozens of characters drawn from WSJ's most popular manga
Using your favourite characters in 3D battles feels great
The players get to create their own character
Solid tag-team system
Naruto: Ultimate Ninja Storm 1-4
| | |
| --- | --- |
| Release year: | 2008 (N:UNS1) – 2016 (N:UNS4) |
| Genre: | Fighting |
| Developer | CyberConnect2 |
No filler episodes Created by the developers who released DBZ: Kakarot, Naruto: Ultimate Ninja Storm is up to four instalments as of March 2020, and the games show the path a lonely orphan called Naruto Uzumaki went on from the point he was introduced in the first chapter, to the last battle of his era. And, of course, you also get to play as tonnes of characters from the series across all instalments.
The Ultimate Ninja Storm games are fighting games which throw characters on 3D arenas where they can manoeuvre freely in three dimensions. It allows many character's kits to truly shine, and lets the developers to show off the dynamic stages drawn from the manga and anime, often featuring some great battle or other impressive imagery in the background.
Key features
You get to play as a great number of characters from the Naruto franchise
Captures the anime aesthetic very well
Especially in the fourth game the battles can be truly spectacular
You get to participate in many iconic confrontations
Ni no Kuni 1, 2 (Wrath of the White Witch / Revenant Kingdom)
| | |
| --- | --- |
| Release year: | 2011 (Wrath of the White Witch), 2018 (Revenant Kingdom) |
| Genre: | Role-playing |
| Developer | Level-5 |
The Ghibliest games on any platforms Ni no Kuni: Wrath of the White Witch famously had its animated sequences done by the world-famous Studio Ghibli, known for many beautiful animated films, and the style carries over to the game itself, and even to the next title in line, Revenant Kingdom, where Studio Ghibli wasn't involved anymore. Both Wrath… and Revenant Kingdom are variations on the traditional jRPG formula.
In Wrath… the player controls a boy called Oliver, who quests into a wide magical world hoping to find a way to undo his mother's fate. In Revenant Kingdom we follow a young deposed king aiming to reclaim his kingdom. In both cases, the player is in for a very magical journey accompanied by cute spirits and great companions. The latter game also added kingdom management to the mix.
Key features
Two games featuring the beautiful art style typical of Studio Ghibli
Engaging, entertaining battles
You get to establish a new kingdom in Ni no Kuni 2
Plenty of friendly spirits you can discover and employ in battles
One Piece: Pirate Warriors
| | |
| --- | --- |
| Release year: | 2012 (Pirate Warriors 1) – 2020 (Pirate Warriors 4) |
| Genre: | Action-adventure, beat 'em up |
| Developer | Omega Force |
A pirate's life and a devil fruit for me Out of Omega Force's manga/anime adaptations, the One Piece: Pirate Warriors series is in the top tier. Set in the world of Eiichiro Oda's best-selling One Piece series, featuring a lot of bizarre pirates with odd powers. Filtered into a musou games formula, it results in the player racking up hundreds of kills in short order, using the iconic attacks you know from the anime.
OP Pirate Warriors games tend to feature a huge cast of playable characters, certainly the most important one, all given a moveset that reflects their abilities established in the source material. The game even makes note of the changes characters undergo in time skips, with new costumes, and new attacks, or variations of the old ones. The game's a joy, and the latest one launched in March 2020.
Key features
Your character from the manga/anime is most likely playable in Pirate Warriors
The killcounts gets potentially even more absurd than in Omega Force's other musou games
Each mission has optional conditions which are likely to grant an unlock
Covers a lot of the most important story arcs from the One Piece manga and anime
Monster Hunter: World
| | |
| --- | --- |
| Release date | 2018 |
| Developer | Capcom |
| Genre | Action role-playing |
A cat is fine too. You've heard about Monster Hunter World of course. I'm not just putting it on these lists because it's a new hot thing, I put it here because I truly believe in the game and wish to spread its merit to all corners of the world.
In essence I'm doing Capcom free promotion, but knowing them a copyright strike is already in the making… Aaaaanyway.
Monster Hunter World certainly presents its anime style proudly, with fantastic monsters, beautifully rendered backgrounds, ridiculously oversized weapons, great fight sequences and perhaps most importantly the strange ways in which the game can shit its tone from a serious, dramatic hunt to a lighthearted, fanservicey mini-game involving cute cats and food. More so than most games, this one feels like what being inside anime would actually be like, which is why it could only have been bested by…
Key features
Fantastic graphics
Deep combat system leaving a lot to learn about every weapon type
Exceptional continuous post-launch support
The Iceborne expansion big enough to be its own game
Nier: Automata
| | |
| --- | --- |
| Release date | 2017 |
| Developer | PlatinumGames |
| Genre | Hack & Slash |
Do Androids watch anime? Nier Automata. A game that is criminally unrecognized for the genius that it is (at least as far as sales are considered).
While I wouldn't recommend this game to anyone having to play with mouse and keyboard, as long as you do have a controller, the PC port is surprisingly competent.
Everything in Automata works to establish a cohesive whole, from its dark and somber themes of destruction and rebirth and to its anime style.
It also goes above and beyond what you would even expect a game to be with its meta-narrative, but herein we're reaching spoilers. And honestly, how many games do you know where the game will actively change your camera orientation if you attempt to score a panty shot? That's anime as hell, fam.
Key features
Diverse action sequences drawing from different styles
Stylish androids and philosophical questions
Multiple endings behind the robust New Game+
Unusual ending
Weeaboo to your to your heart's content!
There you have it, a top of anime-inspired games, specifically designed for the western audience. These games, sometimes classics, sometimes very experimental, but always having a serious cult following, are self-contained enough that one could enjoy them, without having consumed a ton of other products. Whether you're a hardcore anime fan, or just a person starting out, these stand out as solitary works that can scratch that anime itch without you having to involve Crunchyroll.
You can look forward to more on the subject in the future, as the market for anime-adjacent games is a vast one and containing a lot of sub-genres, each of which could provide for a list entirely on its own. Whether it be fighting games, RPGs or VNs, all of these are connected by the shared approach to aesthetic and the cultural space they occupy.