If you're looking for amazing arcade racing games, look no further. We've picked ten titles that should totally be an awesome new pick for you. It's a diverse mix, so expect different gameplay styles and themes, ranging from real-world racing to some futuristic stuff!
Now, what do we mean by "arcade?" No, we're not talking about old-school stuff from the 80s and the 90s. We're focusing on modern stuff that drops realism in favor of pure fun and excitement, just like the old stuff did.
Naturally, some of these games do have settings that make them more realistic, but when you pick them up, you don't expect a hardcore driving model, no. Instead, you want to have pure, unadulterated fun without having to worry about any of the aspects of "serious" racing.
The ten titles we've picked give you just that. They're beautiful, they're packed with content, they scratch various itches and are often perfect for multiplayer if you have friends who love racing just as much as you do. Let's take a look.
Forza Horizon 5
| | |
| --- | --- |
| Release date: | 2021-11-09 |
| Developer: | Playground Games |
The first game on our list is also the latest release. Forza Horizon 5 took the world by storm with its stunning audiovisuals and fantastic open-world gameplay that lets you explore a fictionalized version of Mexico freely in hundreds of beautiful, licensed cars.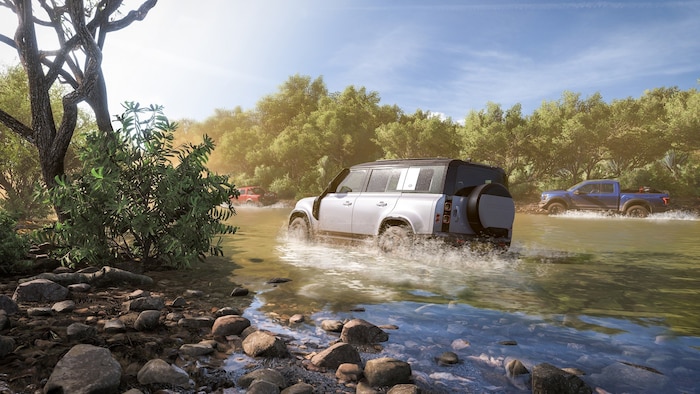 Mexico featured in the game is super diverse. It's a mix of jungles, small towns and larger cities, Mayan temples, heck, there's even an active caldera volcano. You can explore this gorgeous world as you see fit, but you can also choose to complete campaign missions and participate in multiplayer races.
There is quite a number of tasks and modes in the game. One of the most interesting ones is the Eliminator mode, introduced in Forza Horizon 4, which is basically a racing battle royale. You can also freely customize your cars and character, as well as purchase new houses which give you access to various rewards and fast travel.
Forza Horizon 5 is a massive game and if you love arcade racers, you should totally consider picking up this one.
Key features
Over six hundred licensed cars for you to drive
A vast open world rich with gorgeous locales and a wide variety of biomes
A new weather system is in here, too
Plenty of game modes to choose from and races to complete
Need For Speed Heat
| | |
| --- | --- |
| Release date: | 2019-11-08 |
| Developer: | Ghost Games |
Another open-world game that features a fictionalized version of a real-world locale, NFS Heat transports you to Palm City where you can participate in both legal and illegal races.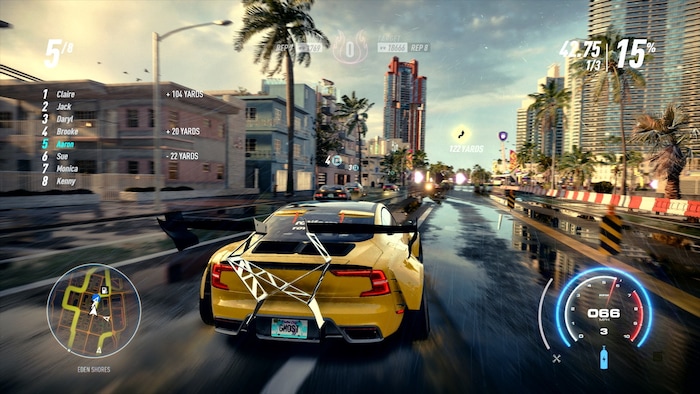 What's interesting about the game, though, is the fact that there is no day-night cycle in here. You can choose whether you want to race at day or night. Day races help you earn cash for new cars and upgrades, while illegal street races at night help you gain REP. They also attract the attention of a rogue police force that is tasked with shutting down the whole street race thing.
That's right, expect plenty of pursuits here. The police are determined to get you and your fellow racers, so you will have a chance to show off your driving skills here. There are 127 licensed cars in the game for you to drive, including a return of Ferraris. Heat also permits cross-play between various platforms as of June 2020.
A sequel, Need for Speed Unbound, is coming out in December 2022, so once it's out, you might want to pick up that one instead.
Key features
127 licensed cards that you can unlock, drive and upgrade
Palm City and its surroundings constitute the game's open world that you can explore as you see fit
Legal day races help you earn cash, while illegal night races are for gaining more REP
Police pursuits abound here as well and they're super fun, too
Dirt 5
| | |
| --- | --- |
| Release date: | 2020-11-06 |
| Developer: | Codemasters |
How about some off-road racing instead? Dirt 5 trades city streets for muddy racetracks. Ready to get your car really, really dirty?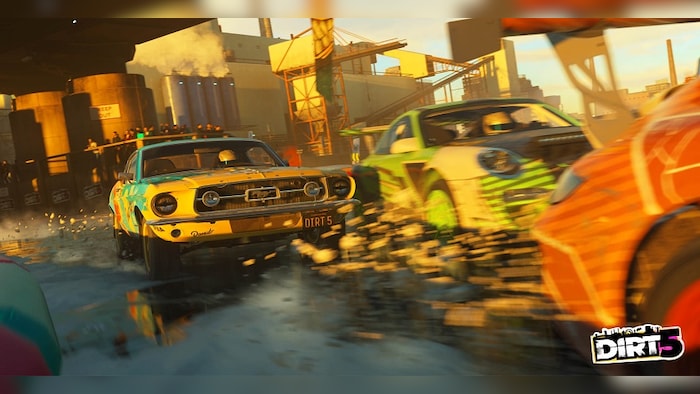 There's a bunch of disciplines available in the game: rallycross, ice racing, Stadium Super Trucks, and off-road buggies. Racetracks are located in various countries, such as the United States (New York City and Arizona), Italy, Norway, South Africa, Brazil, Morocco, Nepal, China, and Greece. As you can see, quite a diverse set of places. Dynamic weather and seasons are also featured here and they all affect your racing experience.
The career mode also features an actual narrative. Your character has to face a rival driver, Bruno Durand, and defeat him in various championships. If you're a fan of Nolan North and/or Troy Baker, you'll be most happy to learn that they voice Bruno and your in-game mentor, Alex "AJ" Janiček, respectively.
Dirt 5 has been well-received by critics, with some calling it one of the best games on PlayStation 5. If you're looking for a good party game, this one might be it, as it features a split-screen mode for four players.
Key features
Various disciplines to try out
Racetracks located in diverse parts of the world
There's a four-player split-screen mode available as well
You can also complete a narrative-driven career mode
Wreckfest
| | |
| --- | --- |
| Release date: | 2018-06-14 |
| Developer: | Bugbear Entertainment |
If you missed games like FlatOut or Destruction Derby, you'll be pleased with this title, a spiritual successor to the former. Let the Wreckfest begin!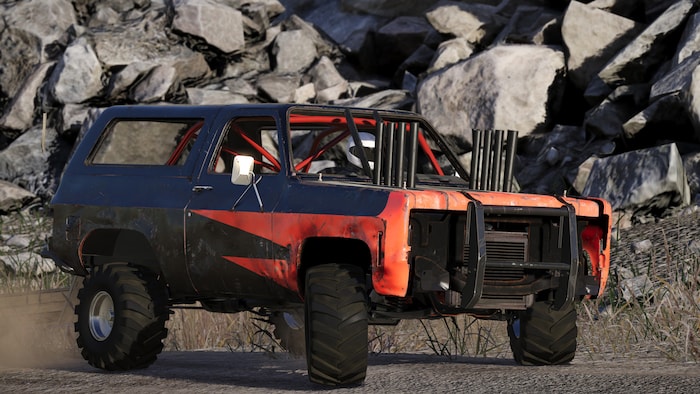 The rules here are rather simple and in line with most of the racing games on the market. Your goal is of course to win the race by being the first one at the finish line. You can choose from three modes to play: career, custom events, and multiplayer. There's also the finance aspect: you can buy, sell, customize and upgrade your cars.
The races themselves are true festivals of destruction, though. Winning a race will require you to either employ some defensive tactics in order to avoid enemy attacks or a flat-out (hahah) aggression: slamming into enemy cars and pushing them out of the road. Leave no opponent's car drivable!
Key features
A mixture of traditional racing rules and good old-fashioned vehicular combat
You can spend money on new cars and upgrades, as well as sell your vehicles
Win by either finishing the race first or destroying your opponents
Several game modes are available
Burnout Paradise Remastered
| | |
| --- | --- |
| Release date: | 2018-03-16 |
| Developer: | Stellar Entertainment, D3T (additional work on PS4 and XONE versions) |
If you want more wanton destruction, the Burnout series is one of the best choices in this department. Ready to cause the biggest car crash ever?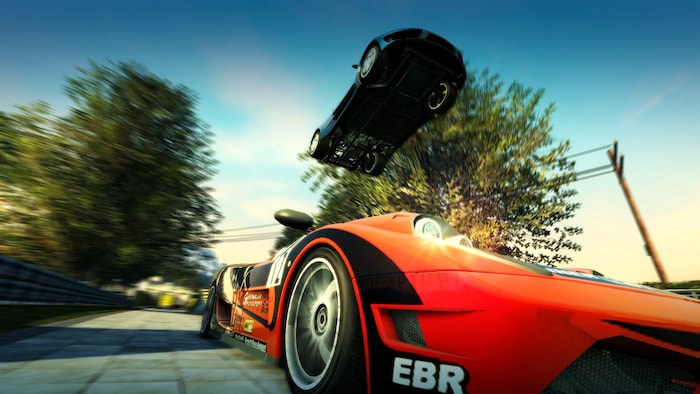 Billed as a truly next-gen Burnout experience, the game features an open world known as Paradise City that you can freely explore as you see fit and participate in all sorts of races. Free updates also introduced a day-night cycle, motorcycles. Paid DLCs, on the other hand, added more cars and a new location, the Big Surf Island.  There are modes like the pretty self-explanatory Cops and Robbers one or Showtime, a different take on the Crash Mode. Here you need to make your car bounce around as long as possible in order to gain more points, but obviously, you need to cause a major crash first.
The game has received a remaster in 2018, later ported to Nintendo Switch in 2020. Aside from updating the graphics, the remastered version features all extra content released so far minus the Time Savers Pack. All in all, Burnout Paradise is a fantastic game, considered by perhaps quite a lot of folks to be one of the best of all time. It's definitely a must-try if you love arcade racers.
Key features
Open-world environment of Paradise City
Various fictional cars inspired by real-world models for you to drive
Plenty of content and race types
Crashing your car is super fun
Onrush
| | |
| --- | --- |
| Release date: | 2018-06-05 |
| Developer: | Codemasters Evo |
More vehicular combat? Yeah, but this one is a completely unique game on this list.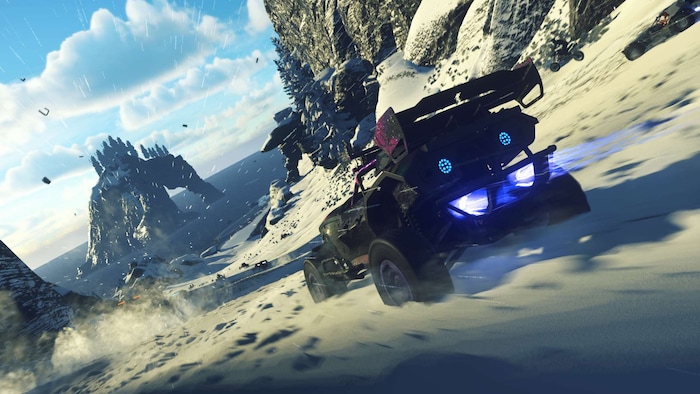 What makes Onrush so different from the rest of the arcade racers – all racing games, actually – is the fact that it completely does away with the whole reaching the finish line first thing. In fact, it borrows heavily from other genres, such as team-based action games, and pits two teams of racers who drive all sorts of off-road vehicles, such as motorcycles, against each other. Throughout the race, you can perform tricks and take out enemy players to earn a boost to your speed.
There are several modes to choose from. Overdrive is solely focused on boosting. If your team successfully reaches the score goal, it wins the match. The countdown is sort of more along the lines of traditional racing games. You have checkpoints and a limited amount of time to go through them. If your team's time counter gets to zero, the opponents get a point (and vice versa). There's also Lockdown, a King of the Hill-style mode, as well as Switch where each player gets three lives and the goal is to eliminate all enemies, so that only your teammates remain. What fun!
Onrush is an excellent game. It's just too bad that it sold poorly and was never released on PC, because it's one of the best arcade racers out there. We highly recommend checking it out if you own either an Xbox One or a PlayStation 4.
Key features
This game completely does away with traditional racing game traits – there's no finish line here to speak of
Slam into your opponents and perform cool tricks to earn a boost to your speed
Various different modes that borrow elements from other genres
Available only on PlayStation 4 and Xbox One, unfortunately
Danger Zone
| | |
| --- | --- |
| Release date: | 2017-05-29 |
| Developer: | Three Fields Entertainment |
No, this one doesn't have anything to do with Kenny Loggin's hit song from Top Gun, besides the title. In fact, it's more like "what if we took the Crash Mode from Burnout and made it into a separate game?" kind of stuff.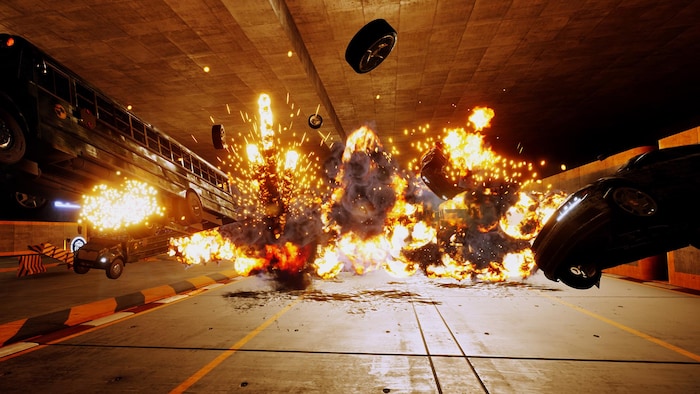 This basically sums it up. You have around twenty different scenarios during which you're supposed to wreak unimaginable havoc. The more stuff you destroy, the better, as you get more score. So you cause chain reactions and try to get as many points as possible while destroying indicated targets and whatever else is there in the Danger Zone.
While the game doesn't feature a multiplayer mode, you can compete with other players via online leaderboards. All in all, it's a nice game, but somewhat limited in its scope. However, if you love car-related destruction, it might be a perfect pick for you.
Key features
It's only about car crashes and the mayhem that ensues
About twenty different crash test scenarios where your task is to get as many points as possible
Made using Unreal Engine 4
It's a single-player-only title, but there are online leaderboards available
FlatOut 4: Total Insanity
| | |
| --- | --- |
| Release date: | 2017-04-04 |
| Developer: | Kylotonn |
This series is a cult classic, but it didn't have much luck when it comes to consistency in quality. FlatOut 2 is said to be the best in the franchise, while FlatOut 3 is considered one of the worst games of all time. How does FlatOut 4 fare?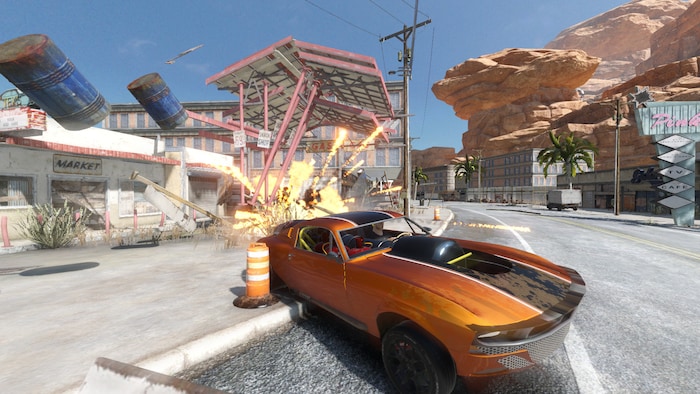 As always, you get to participate in destruction derby-style races here. You can choose from twenty-seven cars in total, including some fan favorites and new additions to the vehicle roster. Over twenty tracks fall into the following categories: traditional races, time trials, arenas, there are also levels for assault and carnage modes. You can even seek to recreate some of the classic stunts (also available as a hot seat competition).
OK, maybe it's not the best installment in the FlatOut series, but it's still a very decent game with lots of game modes to try out. It is also the latest one, which might be a plus if you're not into games older than a decade.
Key features
Twenty-seven cars to drive on twenty different tracks
Various game modes to try out, including racing, stunts, deathmatch, capture the flag, and so on
Twelve different drivers, both male and female
The Steam edition features some exclusive stuff
Trackmania Turbo
| | |
| --- | --- |
| Release date: | 2016-03-24 |
| Developer: | Nadeo |
Ah yes, one of the greatest arcade classics. Trackmania puts you in your car, tells you to drive as fast as possible, and perform as many stunts along the way as you can. It's truly an original racing experience unlike any other on the market.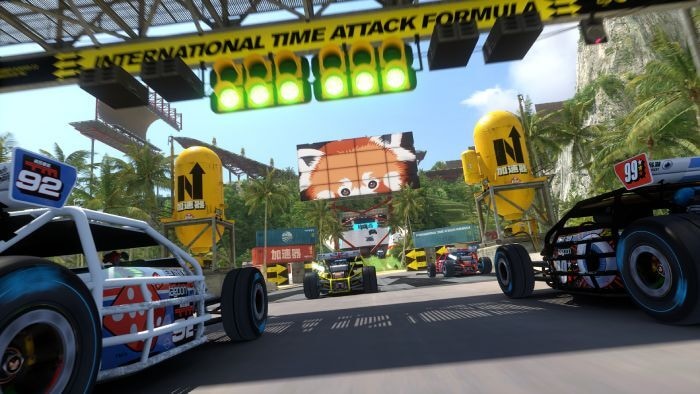 TrackMania Turbo gives you various single and multiplayer modes to try out. There is a campaign and there is Double Driver. The latter is a cooperative mode where two drivers control the same car. Crazy! There's also a split-screen for four players – a blast from the past and something very unusual among modern games – and the possibility to generate random race tracks using the in-game editor.
It's a super fun package for those who love insane speeds and the craziest of tracks. If you love making your own ones and tormenting other players with your creations, you'll love the track editor. Pick it up, you shouldn't be disappointed.
Key features
It's an intense, fast-paced racing experience
Various game modes, including a cooperative one named Double Driver – two players control one car
The track editor now lets you randomly generate levels
Four-player split-screen is also available for some local multiplayer if you're itching for an old-school experience
Redout 2
| | |
| --- | --- |
| Release date: | 2022-06-16 |
| Developer: | 34BigThings |
The last game on our list is a loving tribute to the classic arcade racers of the 90s. Remember F-Zero, Wipeout, Rollcage, Star Wars: Racer or POD? Even if you don't, you'll still be pleased by the game's exciting, ultra-fast tempo.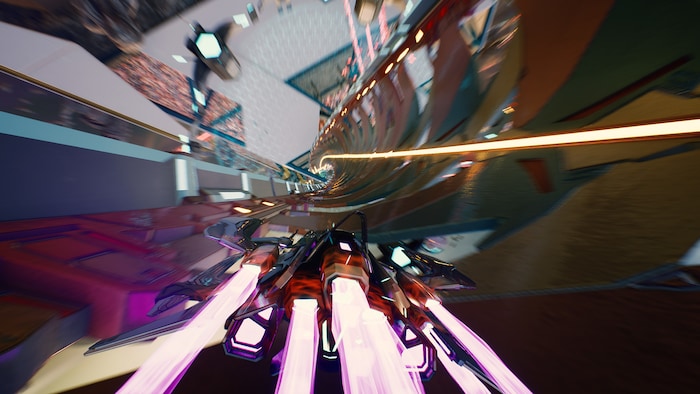 Expect a captivating single-player mode, as well as super fun multiplayer, coupled with great visuals and music. The game's racing model is both easy to learn and hard to master, which is a rewarding combination for those willing to put some time and effort into Redout 2.
There are several game types here, including traditional races and Last Man Standing contests. Thirty-six tracks – all of which can be reversed – are there for you to beat all sorts of records and prove your domination. You can also fully customize your hovership with all sorts of parts. It's an intense experience unlike most modern arcade racers on the market, so it's greatly recommended if you're looking for something rather unique.
Key features
Ultra-fast futuristic races in the vein of Wipeout and other classics of such sort
Thirty-six tracks to race on – and if you reverse them, you get another thirty-six
Fully customizable hoverships
Plenty of single and multiplayer modes to try out
As you can see, there's plenty of amazing arcade racing games and they come in all shapes and sizes! More traditional racers, open-world titles, destruction derby-style shenanigans, even some outright futuristic stuff – there's plenty to choose from.
Go ahead and grab some of these games. We're pretty sure you'll love them!