BioWare is one of the undisputable industry veterans. Over nearly thirty years the Canadian developer has been in the video game business for, they managed to release numerous fantastic games, some of which changed the way we think about role-playing video games. Let's take a look at the studio itself, its body of work, and what lies in the future for BioWare's franchises.
BioWare was founded in 1995 by two freshly minted medical doctors and few of their friends. Having originally developed a medical program, the team quickly switched to video games, which resulted in the creation of Shattered Steel, a mecha-piloting action game. Action games weren't however, where BioWare was to find their niche, despite having released MDK2 in 2000.
BioWare video games ranked
BW's breakout title was Baldur's Gate, released in 1998. It quickly gained massive popularity and stopped the declining popularity of RPGs as a video game genre. With the exception of MDK2 the Canadian studio has been making role-playing games ever since, including a few original IPs of their own. BioWare is known for writing stories which are usually epic in scale, and put a lot of emphasis on the dynamic between team members.
The studio tends towards fantasy themes, although as several games have shown, it doesn't shy away from science-fiction trappings either. Having explored BioWare's profile, we can move on to briefly discussing each game, in a subjective order from best to worst. We chose to focus on the role-playing games, as this genre is what the studio is best known for.
14. Anthem
| | |
| --- | --- |
| Release year: | 2019 |
| Genre: | Action role-playing |
| Multiplayer? | Yes |
| License | Anthem |
The latest title developed by BioWare is also the furthest from a typical BioWare experience. As a result, one could spot the places where the Canadian studio was noticeably out of its depth.
Anthem is a science-fiction game set on an alien planet, and the players control Freelancers, pilots of mechanized combat suits known as Javelins.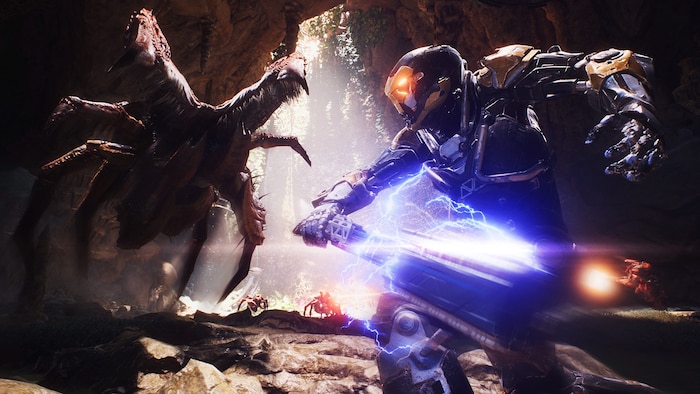 By default, Anthem is meant to be played in a group, ideally composed of all four Javelins. Freelancers can take quests and tasks from the hub city, Fort Tarsis, and then leave to explore the wilderness. Between exploration, fights with several enemy factions, and fights against powerful bosses, the players will start to piece together the mystery behind devastating Shaper storms, and the Anthem of Creation itself.
Key features
Four highly mobile armoured combat exosuits
Beautiful environments
Powerful bosses requiring good teamwork
There are mysteries to uncover
13. Mass Effect: Andromeda
| | |
| --- | --- |
| Release year: | 2017 |
| Genre: | Action role-playing |
| Multiplayer? | Yes |
| License | Original IP |
It's hard to follow up one of the most famous and well-received video game trilogies of all time, and the weight of expectations may have proved a little bit too much for BioWare to bear.
Andromeda is effectively a spin-off, since it begins in the background of the main trilogy's events, and then takes the action into another galaxy, 600 years after the events of the trilogy.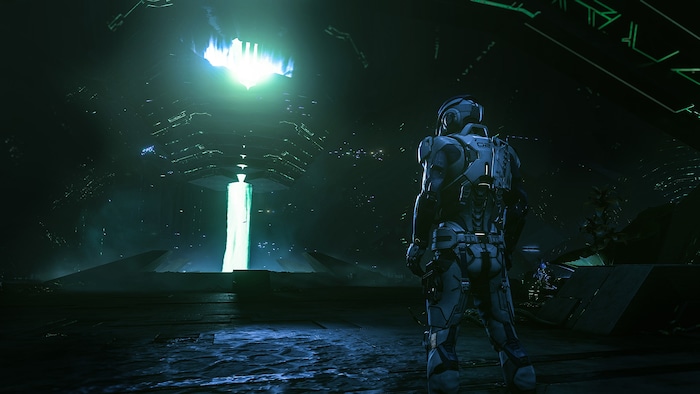 MEA tells the story of a colonisation force sent to the Andromeda galaxy to find new habitable planets for the species populating the Milky Way. Of course nothing goes well, and the protagonist, one of the Ryder siblings, becomes their ship's new Pathfinder. In addition to friendly and neutral new alien people, there are also the Kett, who want to take control of the system by using an ancient terraforming technology.
Key features
Planets to explore, companions to meet
Mysterious and dangerous Kett are the new enemies
Flexible, freeform character progression system
Jetpacks introduce verticality to combat and exploration
12. Jade Empire
| | |
| --- | --- |
| Release year: | 2005 |
| Genre: | Action role-playing |
| Multiplayer? | No |
| License | Original IP |
Jade Empire was undoubtedly an experiment on BioWare's part.
After a few straightforward RPGs based on either Dungeons & Dragons or Star Wars, they decided to completely switch gears and create a quasi-Chinese setting full of kung fu and animalistic demons. And an action game-like combat system with a quirky combo mechanic.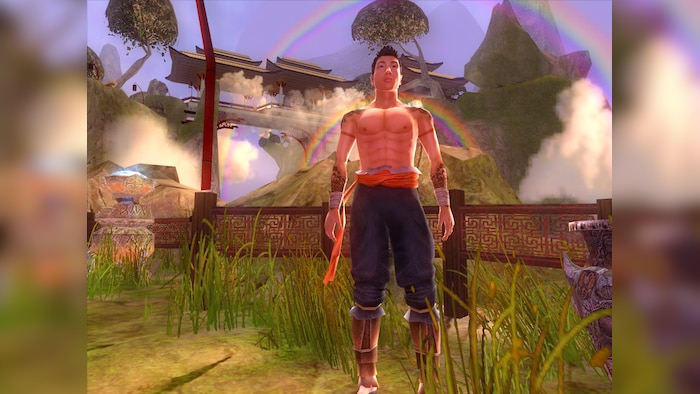 It was definitely interesting, and quite beautiful for its time. Although the fights tended to be on the slower side, it was balanced by the number of fighting styles the player character can learn and develop. Jade Empire also has an sincerely good plot twist, with great setup and resolution.
Key features
Martial arts and elemental magic
Very different from the usual BioWare specialties
Several interesting endings
Many martial art styles to choose from
11. Neverwinter Nights
| | |
| --- | --- |
| Release year: | 2002 |
| Genre | Role-playing |
| Multiplayer? | Yes |
| License | Dungeons & Dragons |
Neverwinter Nights harkens back to an old multiplayer game from the Gold Box era, under the same title.
In BioWare's hands it became a triple offering. One facet was a single player campaign. The other were the extensive modding tools. And finally the main course: a powerful multiplayer mode capable of supporting up to 96 players as well as one or more Dungeon Masters as overseers.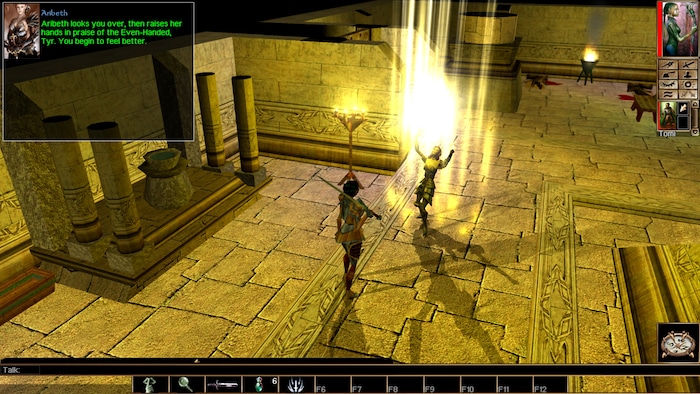 It's through the multiplayer that NWN1 still lives, with plenty of role-playing servers, some PvP arenas, and plenty of persistent worlds to build something unique in. There were also several singleplayer modules released, but they can't hold a candle to one of the first virtual DM Modes in video games.
Key features
Excellent modding tools
Powerful multiplayer segment
Plenty of additional adventure modules
Uses the 3.0 Edition of Dungeons and Dragons ruleset
10. Dragon Age 2
| | |
| --- | --- |
| Release year: | 2011 |
| Genre: | Action role-playing |
| Multiplayer? | No |
| License | Original IP |
Dragon Age 2 is a kind of an black sheep of the franchise.
After a very popular and acclaimed Dragon Age: Origins nobody expected a small-scale action-RPG with a Mass Effect-like dialogue wheel. But that's what we got, and the reused locations didn't help at all. But despite that rough side, more and more people express their fondness for DA2 as time goes by.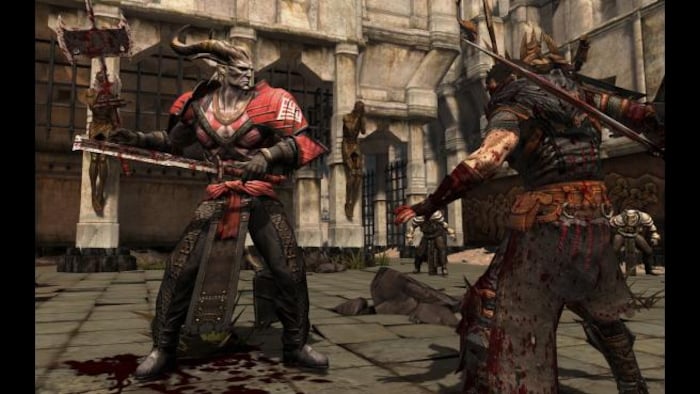 Ditching the world-saving plot of Origins, DA2 focuses on the story of a single city, a single family, and a couple of the family's friends. This makes things much more personal, and the story, broken up into several acts, takes about a decade of in-game time from start to finish.
Key features
The story unfolds over a decade
Great narrative frame
More action-focused than its predecessor
A more personal scale
9. Mass Effect 3
| | |
| --- | --- |
| Release year: | 2012 |
| Genre: | Action role-playing, third-person shooter |
| Multiplayer? | Yes |
| License | Original IP |
If it wasn't for the botched ending of the vanilla version, ME3 would definitely have scored a higher placement, but between this and a somehow number-crunching nature of its story, it's only fair to keep it around this point. That's not to say ME3 is bad, far from it, actually.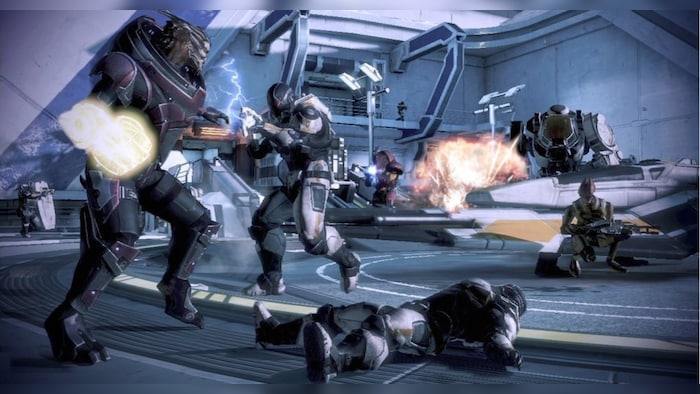 Mass Effect 3 is a natural evolution which took place over ME1 and ME2, and gameplay is fantastic, and set pieces of which there are plenty are tense, dramatic, and challenging. Your choices from previous games also play out in big and small ways, with old friends coming to say hello and contribute to the war efforts. It's just unfortunate that ultimately much of it is reduced to flat, soul-less numbers.
Key features
Culmination of dozens of hours of stories
Excellent, weighty set pieces
Polished gameplay
The final chapter of Commander Shepard's saga
8. Star Wars: The Old Republic
| | |
| --- | --- |
| Release year: | 2011 |
| Genre: | MMORPG |
| Multiplayer? | Yes |
| License: | Star Wars |
Star Wars: The Old Republic was a very expensive game to make, but nearly a decade later, it seems that it was well worth the trouble. It's an unreasonably ambitious project, and one that keeps producing new expansions, each better than the last.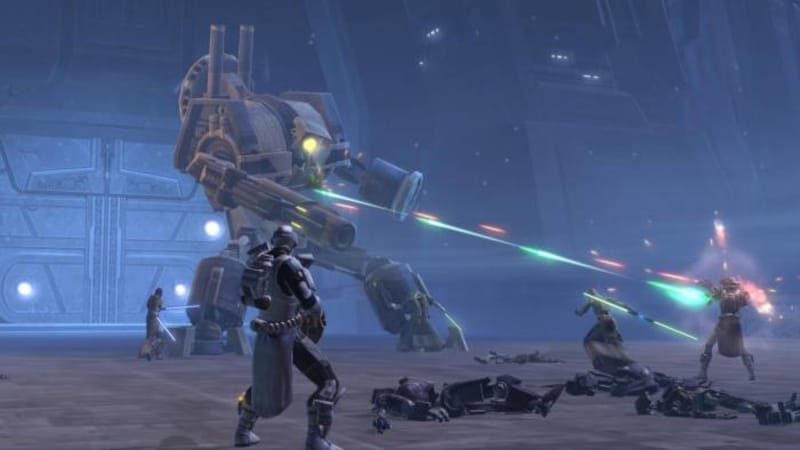 Where TOR's strength lies is in the fact that it is essentially a BioWare-style story-heavy game, except in a MMORPG form. And also in the fact that of eight classes (four per side of conflict) each of them has its own unique storyline. And better yet: each storyline has several different endings. That's a lot. Although the gameplay is an MMORPG standard, the interwoven narratives of each class is where the game really shines.
Key features
Eight stories, multiple endings, interwoven narratives
A quasi-sequel to the Knights of the Old Republic series
Fully-voiced dialogues, which can be shared with party members
Party-based story-heavy quests with special rewards
7. Dragon Age: Inquisition
| | |
| --- | --- |
| Release year: | 2014 |
| Genre: | Action role-playing |
| Multiplayer? | Yes |
| License | Original IP |
The third installment of the Dragon Age series returned to the grand scale of Origins and turned it up a couple of notches for good measure.
An ancient, powerful Darkspawn from DA2 has returned. There are tears in reality opening up all over Thedas. There are more dragons than ever before. And your character is the only one who can do anything about the tears, eagerly or hesitantly, doesn't matter.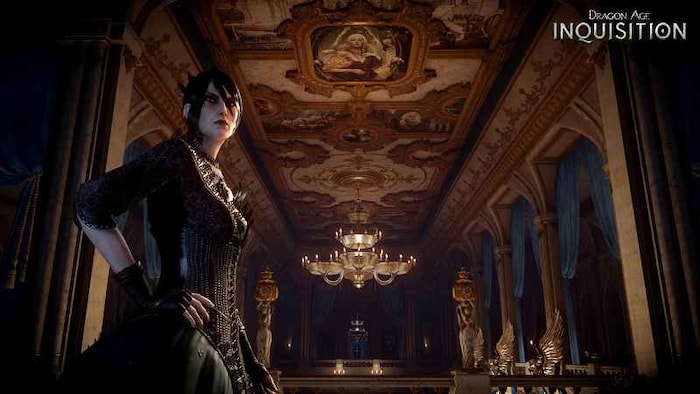 When the stories, main or otherwise, get going, DAI is aces. The main storyline involves interesting setpieces, such as a siege of a desert fortress, or a stylish crime investigation during a fancy ball held by local aristocracy. The combat system merges the tactical approach of Origins with DA2's action-packed style, and the active pause can effectively double as a photo mode.
Key features
Fantastic dragon battles
Epic-scale storyline cutting deep into the lore of the series
You get to command your own powerful organisation
A few great expansions
6. Baldur's Gate
| | |
| --- | --- |
| Release year: | 1998 |
| Genre: | Role-playing |
| Multiplayer? | No |
| License | Dungeons & Dragons |
The first game developed using the now-legendary Infinity Engine, and one that would change role-playing video game forever.
It was with Baldur's Gate that the isometric camera, pre-painted backgrounds, and real-time with pause combat became genre standards.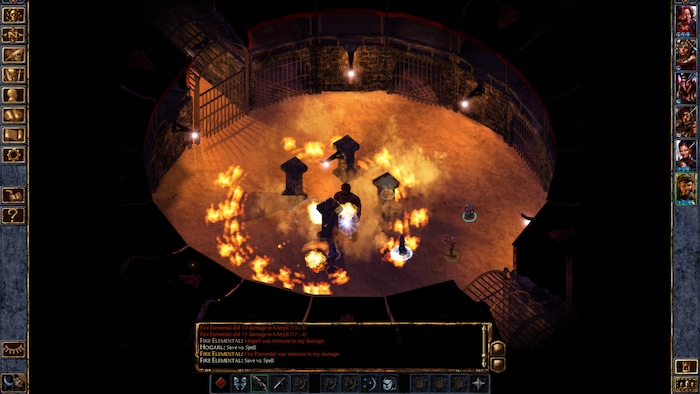 Baldur's Gate was not have been where certain ideas originated. It was very much inspired by 1988's Wasteland, and bore some resemblance to 1997's Fallout. But it certainly popularised them a lot, and brought them to a fantasy setting over from postapocalyptic worlds of Wasteland and Fallout.
Key features
The game that made computer RPGs cool and popular again
The beginning of the Baldur's Gate's saga
Set up a standard for other fantasy RPG for years
Translated the turn-based D&D ruleset into a more dynamic core
5. Mass Effect
| | |
| --- | --- |
| Release year: | 2007 |
| Genre: | Role-playing |
| Multiplayer? | No |
| License | Original IP |
Mass Effect was a big change of theme and style for BioWare, but it paid off handsomely very quickly.
It's Mass Effect that we can thank for making conversation wheels a standard in action RPGs, as well making conversation sequences much more cinematic and dynamic than they were before. It also introduced Commander Shepard, one of the most iconic player characters of the past decade or so.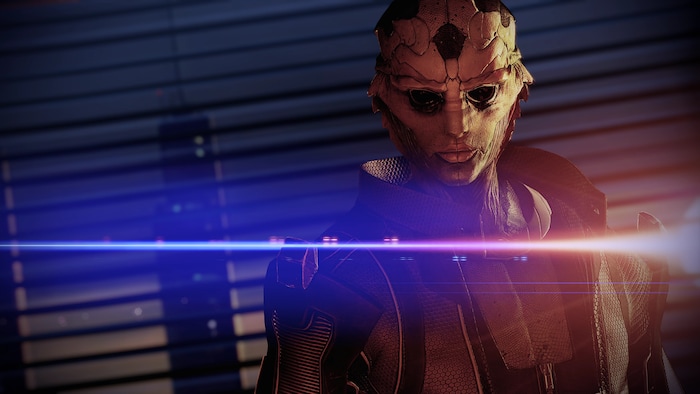 Gameplay-wise ME was a third-person shooter with active pause, which could be used to issue orders to your crew or precisely aim your abilities. It had decent progression system, with point-based ability upgrading and moddable weapons and armour. A bit forgotten now, overshadowed by ME2 and ME3, but it was an excellent game in its own right, and a herald of new standards.
Key features
Dramatic storyline and cinematic presentation
One of the most important protagonists in modern gaming
Customisable arsenal
A perfect setup for an excellent trilogy
4. Mass Effect 2
| | |
| --- | --- |
| Release year: | 2010 |
| Genre: | Action role-playing, third-person shooter |
| Multiplayer? | No |
| License | Original IP |
Mass Effect 2 has an improbably simple central premise: Shepard needs to gather a team for an extremely dangerous mission, from a list prepared by a shadowy benefactor. That's basically it.
There are recruitment missions, which introduce Shepard to the potential team member and secure their participation. There are also Loyalty missions, which tighten the bond between Commander and the crew, and their resolution is extremely important in the final mission.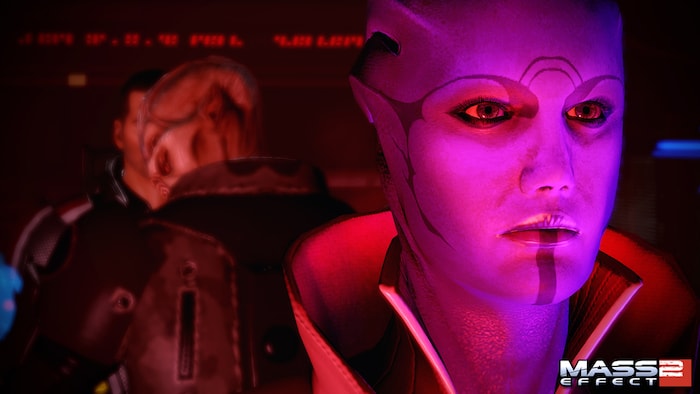 There are also sidequests, but many of them can be resolved almost absentmindedly by scanning planets for resources (a new mechanic), or while doing other missions. Nevertheless, playing ME2 is almost always like watching an exciting and dramatic science fiction show, each mission worthy of its own episode. The team members are amazing too, from Grunt to Mordin. It's basically Firefly & Serenity in a Mass Effect universe.
Key features
Great, diverse mission design
Memorable, likeable companions
Amazing, tense, and weighty final mission
A more focused gameplay than in the first ME
3. Dragon Age: Origins
| | |
| --- | --- |
| Release year: | 2009 |
| Genre: | Role-playing |
| Multiplayer? | No |
| License | Original IP |
Dragon Age: Origins was BioWare's return to fantasy team-based tactical RPGs of Baldur's Gate type. And it went fabulously.
One of the coolest feature of DAO were fully customisable combat tactics one could design for each character in the party. They included things like using a specific ability if the enemy is under a certain status, or complex buffing sequences.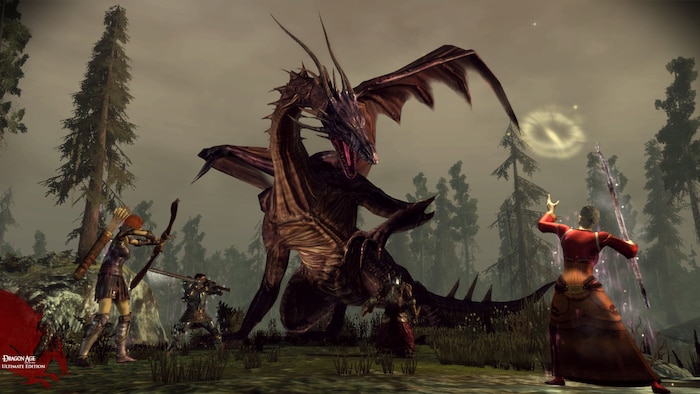 It also had several different origins for different combinations of ancestry and profession, to a human noble would have an origin story that's completely different from that of a dwarven commoner. There are six stories in total, two each for dwarven and elven characters, one for humans, and one for Mages (shared by elves and humans). DAO leaned into the quasi-realistic aesthetic, which lacks strong visual identity, but as far as the story and roleplaying go, it's aces.
Key features
Six unique origin stories
Customisable combat tactics
World-saving story blending Lord of the Rings with Game of Thrones
Memorable companions, many of which return in later games
2. Baldur's Gate 2: Shadows of Amn
| | |
| --- | --- |
| Release year: | 2000 |
| Genre: | Role-playing |
| Multiplayer? | No |
| License | Dungeons & Dragons |
Baldur's Gate II is what many people nowadays think about when they hear "Baldur's Gate". Not the first game, not the city in D&D's Forgotten Realms setting. They think about BGII. And they think about Irenicus' dungeon, specialized class kits, and talkative, fleshed-out companions.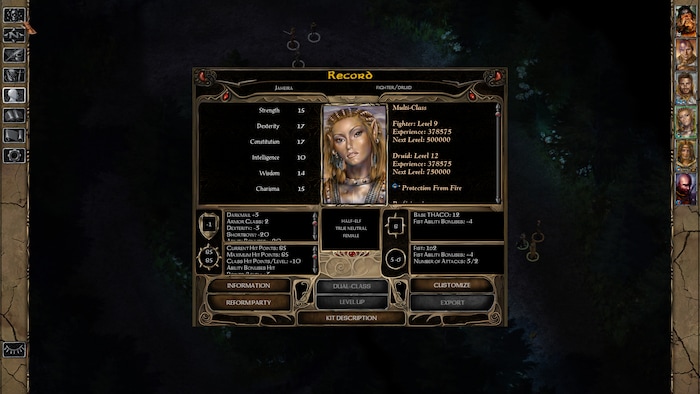 To this day Baldur's Gate II is brought up every time there's a discussion of the best PC RPGs, and RPGs in general.
It's a conclusion of the Bhaalspawn saga, doubly so, since it allows character import from the first game. There's also a Baldur's Gate 3 in production by Larian Studios, a new chapter in the city's storyline.
Key features
Massive improvement over BG1's adaptation of the rules
A story about gods and mortals
One of role-playing video game legends
Memorable companions
1. Star Wars: Knights of the Old Republic
| | |
| --- | --- |
| Release year: | 2003 |
| Genre: | Role-playing |
| Multiplayer? | No |
| License | Star Wars |
Star Wars: Knights of the Old Republic is a game where everything seemed to just click and work.
KotOR decided to take its action some four thousand years before the events of the movie trilogies, in the Old Republic period. This allowed BioWare writers and designers to let their creativity run almost unchecked, fleshing out the galaxy as we've never seen it before.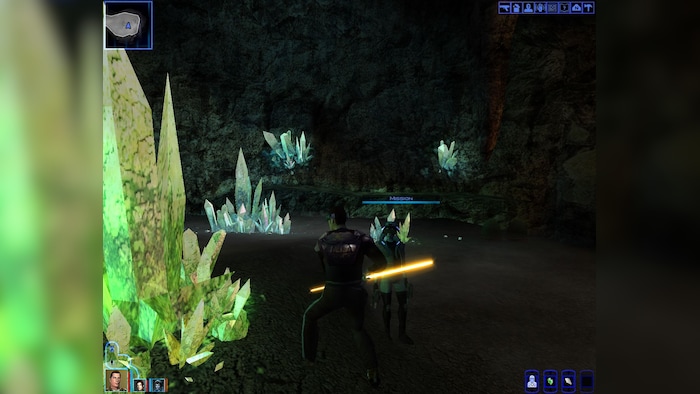 KotOR has wonderful storytelling, its plot captures the sense of wonder of the original trilogy and the grandeur of the later works. It's a pure, undiluted Star Wars experience, which introduced fascinating characters and an almost-brand new period in the Star Wars lore, ripe for deeper exploration.
Key features
Star Wars universe like never seen before
Gripping story
Several planets to visit
You can play as a genuinely despicable character
Closing slides
This concludes our ranking of the quintessentially BioWare games the Canadian developer released over the many years of its existence. As always, the relative positions on the list are subjective, but you should be very satisfied with any of the games from the top 5.