Bloober Team is a Polish studio with over a decade of experience making video games. Their early titles didn't gather much attention, but they persevered and hit their stride in 2016 with Layers of Fear. Since then Bloober Team became well known as creators of immersive, interesting psychological horrors.
More importantly: they were all quite well-received, easily the best work Bloober Team has done, and it doesn't seem like the Polish developers are going to slow down anytime soon. With that in mind let's take a look at…
Layers of Fear
PC
PlayStation 4
Xbox One
Nintendo Switch
| | |
| --- | --- |
| Release year: | 2016 |
| Genre: | Psychological horror |
Layers of Fear was Bloober Team's first hit game, and, incidentally, also their first horror game.
Layers of Fear puts you in the shoes (and mind) of a painter with a troubled history, returning to his house after a court hearing. The artist is plagued by horrifying hallucinations, which have been known to invade his body of work as well. In the game, it's expressed by twisting and warping environments.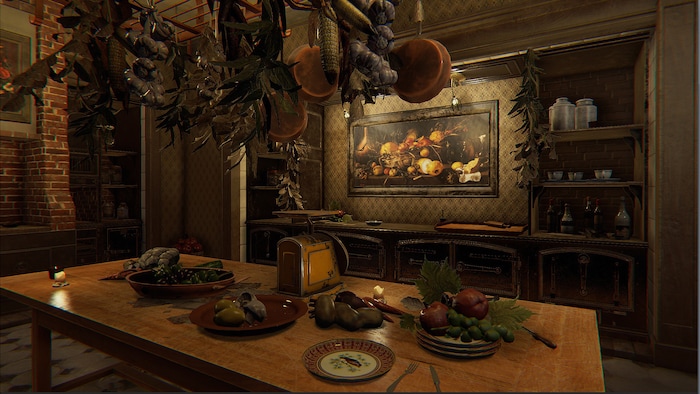 As you play the game you explore the house and discover, bit by bit, the tragic backstory of the painter and his family. There's also a DLC, Inheritance, which follows a female protagonist: the painter's daughter, coming back to the house decades after the core game ended. She can revisit her past and reinspect her attitude towards her father, and her conclusions lead her to one of two endings.
Key features
Three different endings driven by player actions
Dark, disturbing story
The environment is dynamic in all the most disturbing ways
A solid DLC
Observer
| | |
| --- | --- |
| Release year: | 2017 |
| Genre: | Psychological horror |
The second psychological horror in Bloober's portfolio, and definitely not the last. Observer takes place in Kraków, Poland in the year 2048.
You're playing Daniel Lazarski (portrayed by Rutger Hauer), an investigator who can hack people's minds and mine them for information. After receiving a call you're your estranged son tipping you off to a murder, you begin a gritty cyberpunk mystery.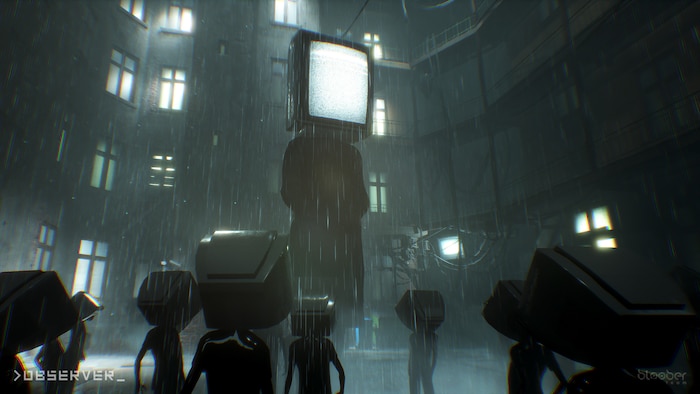 Much of Observer is about inspecting the environments and people with two types of augmented vision (one detects biological traces, the other electronic devices), and talking to NPCs. The story itself, however, touches on transhumanism and living outside of one's body thanks to the questionable marvels of technology. If you like hard cyberpunk stories, absolutely check Observer out.
Key features
Atmospheric setting and tense, dark atmosphere
Transhumanist, cyberpunk horror story
Stars Rutger Hauer in the leading role
Two endings
Layers of Fear 2
PC
PlayStation 4
Xbox One
Nintendo Switch
| | |
| --- | --- |
| Release year: | 2019 |
| Genre: | Psychological horror |
Despite the "2" in the title, Layers of Fear 2 isn't exactly a sequel to the first one.
It follows up on some ideas from the first game, but it's a new story, in a new setting, with all-new characters going through their own nightmares. This time you're playing as the Actor, a lead in a new movie being shot on an ocean liner. There are also obvious supernatural things going on influencing the Actor.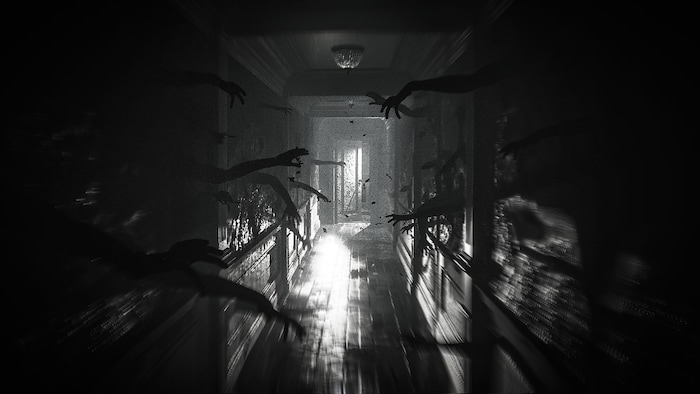 Like in the previous Layers of Fear, there is a strong element of questioning the reality of things happening to you on the ship. There's also a question of identity, tied to the Actor's traumatic past and weird forces working in the background. One of them is a certain link to the original Layers of Fear, this time taking a more active role in the psychological nightmare taking place in LoF2.
Key features
A horror story taking place on an ocean cruiser
Interesting story rooted in trauma
Several endings
Supernatural influence is now more obvious
Blair Witch
PC
PlayStation 4
Xbox One
Nintendo Switch
| | |
| --- | --- |
| Release year: | 2019 |
| Genre: | Survival horror |
Licensed from a classic found footage horror movie, Bloober Team's Blair Witch is an immersive survival horror putting you in the shoes of Ellis Lynch.
A young boy was lost in the Black Hills forest and you're a member of the search party. As you explore the forest, you'll find red tapes which allow you to manipulate time in real-world, fixing broken devices and removing obstacles blocking your progress.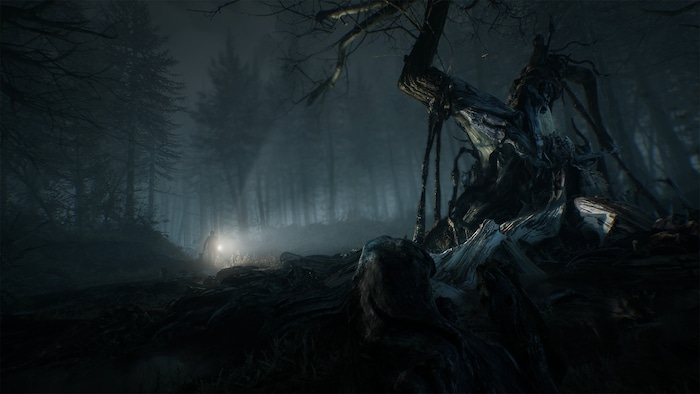 Blair Witch is an interesting departure from a typical, more linear, Bloober Team game. It lets you roam around the forest freely, looking for clues and flavourful items adding to the atmosphere. You also have a dog, to whom you can give simple commands, which can influence bits of the ending. The story hinges on the main character's PTSD from military service and his unresolved guilt as a police officer.
Key features
Semi-open world of the Black Hills forest
Interesting time-manipulating gameplay
In a typical Bloober fashion, it's more invested in psychology than supernatural elements
Set two years after the original movie
The Medium
PC
PlayStation 5
Xbox Series X/S
| | |
| --- | --- |
| Release year: | 2021 |
| Genre: | Psychological horror |
The Medium shook things up a bit, departing from the established Bloober Team presentation.
Instead of the first-person perspective, you're watching the action from a TPP camera. It's quite important because it ties into the second big change. See, you often see two worlds at once: the physical world and the spirit world your character, Marianne, can look into.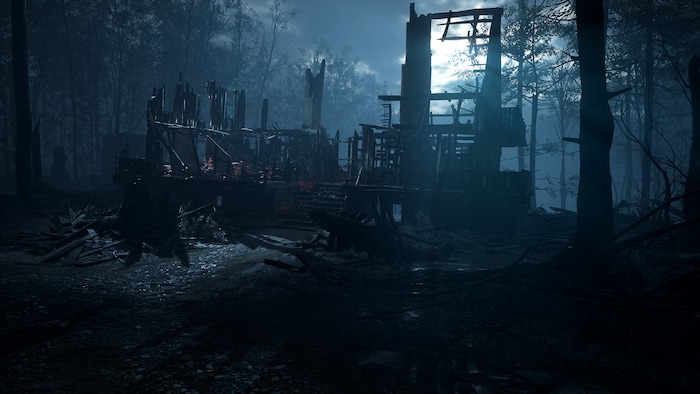 This dual-world approach creates interesting progress-blocking puzzles solvable in the spirit world. But despite the new presentation and the main character's powers as a medium, it's still a Bloober game through and through, rooted in trauma and psychological struggles. This time the setting is deceptively mundane: a dilapidated vacation resort in Poland of the late 1990s.
Key features
A third-person perspective psychological horror
You see two worlds at once
Dark, mortifying story
Your spirit medium powers can defend you in a pinch
More thrills are sure to come
This concludes our brief, but comprehensive look at the best games of Bloober Team. They've delivered five great horror stories so far, delved deep into the psyches of their characters, and experimented with presentation instead of clinging to the same formula. Blair Witch introduced a more open-world environment, which The Medium was a complete, interesting shift.
The future is uncertain, but whether we're going to get new Layers of Fear (which sounds ominous) or a new original game, given Bloober's current track record, it's going to be something worth waiting for.