We have some amazing AAA games planned to be released in 2020, and they most likely won't go easy on your PC. If you are wondering if your current gaming rig can handle the upcoming titles, maybe it's time to upgrade it?
Prepare for the next generation of visually stunning games with a brand new PC – check out our list and choose the one that's best for your needs.
Fierce EXILE Gaming PC with Ryzen 3 2200G
| | |
| --- | --- |
| A gaming rig bundled with 21.5-inch monitor, headset, and RGB mouse and keyboard | |
| Ryzen 3 2200G CPU with integrated graphics card Vega 8 | |
| 1 TB of storage for games and apps | |
Let's start with an affordable setup that will allow you to play the latest games. It's not the most powerful one out there, but it gets the job done, and it won't leave a hole in your wallet.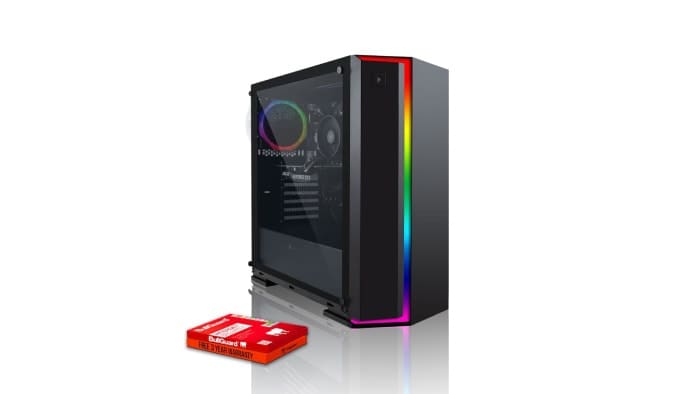 Keep in mind that this one doesn't have a dedicated graphics card. Instead, it uses an integrated one that comes together with Ryzen 3 2200G CPU. Don't be fooled, however, as it's much more powerful than an average integrated card, leaving Intel solutions far behind. This unit should be capable of running advanced 3D titles without problems, but lowering the graphics settings will be unavoidable in some cases.
Still, it's a cool cheap gaming PC you can get for less than 1000 USD, so not too shabby, right? And it comes with a Full HD monitor and a gaming mouse and keyboard, so you can start playing almost immediately once it arrives at your doorstep.
Fierce Alpha Gaming PC with Ryzen 5 2400G
| | |
| --- | --- |
| Ryzen 3 2400G CPU with integrated graphics card Vega 11 | |
| 240 GB SSD and 1 TB HDD | |
| 16 GB RAM clocked at 3000 MHz | |
Budget gaming is a thing, and this computer is proof. In terms of performance, it's slightly better than the previous one, but it still has only an integrated graphics card.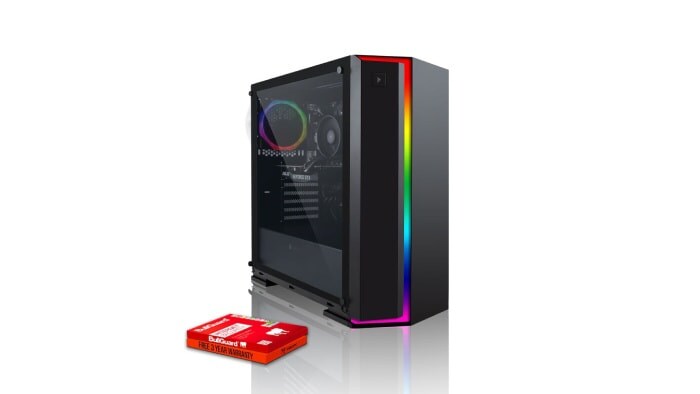 Fear not, however, as it's more than enough to run most modern games without any noticeable lag – Ryzen 3 2400G allows you to play the latest 3D titles and enjoy their beauty. It should also be mentioned that this PC comes with 16 GB RAM, which is more than enough to not only comfortably play games, but also run demanding apps and open a countless number of separate tabs in your favorite Internet browser.
Gaming PC with i3 9100F and GTX 1050 Ti
| | |
| --- | --- |
| Fast CPU from Intel – i3 9100F | |
| Entry-level gaming graphics card, GTX 1050 Ti from Nvidia | |
| Fancy illuminated tower case | |
If you are expecting a bit more power from your gaming PC and wish it remained fast enough for a while, then getting a computer with a dedicated graphics card is a must.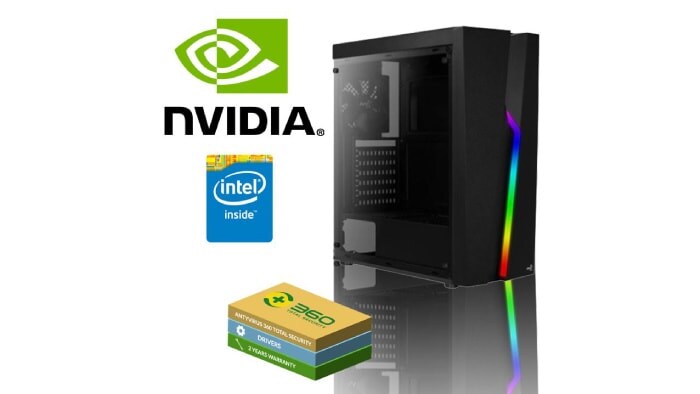 You don't have to invest huge piles of money right away, as there are some cards that can offer satisfactory performance for a low price. One such example is GeForce GTX 1050 Ti, an entry-level card that will easily handle most of the newest releases, including complex AAA games, and this PC happens to have this exact card. It's supported by Intel i3 9100F CPU – a fast processing unit that's also cheap, but as a drawback, it lacks integrated graphics card, so if for some reason GTX goes bad, you won't have any.
Fierce Enforcer Gaming PC with GTX 1660
| | |
| --- | --- |
| Powerful GTX 1660 graphics card | |
| AMD Ryzen 5 2600 CPU with 6 cores | |
| Cool case with a window that makes it possible to take a peek inside the PC | |
Here's where things get fun. This PC comes with GTX 1660 – a powerful graphics card that superseded a good old GTX 1060 6 GB.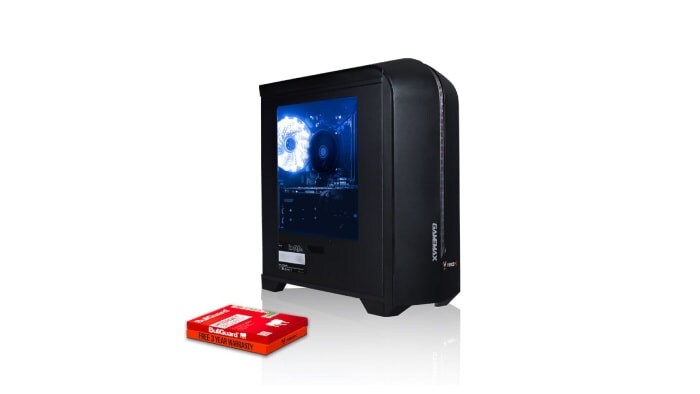 Those who are not familiar with the technicalities should know, that it was a card that for a very long time was considered the absolute king of performance to price ratio, making it one of the most popular choices among the players.
GTX 1660 is very similar, although noticeably faster, allowing you to play the latest games even on high graphics setting at stable 60 FPS or more. GTX 1060 dominated the market for quite a long time, and it's still a very solid choice when building a new PC, meaning that you can't really go wrong with its upgraded 1660 version. The installed CPU should also be noted, as Ryzen 5 2600 is commonly chosen for gaming stations, thanks to its performance and relatively low price.
Gaming PC with RX 570
| | |
| --- | --- |
| AMD Radeon RX 570 graphics card | |
| 6-core Ryzen 5 2600 CPU from AMD | |
| Solid State Drive that significantly speeds up the PC when compared to HDD | |
Those who, for some reason, don't like Nvidia graphics cards, may choose an alternative from AMD.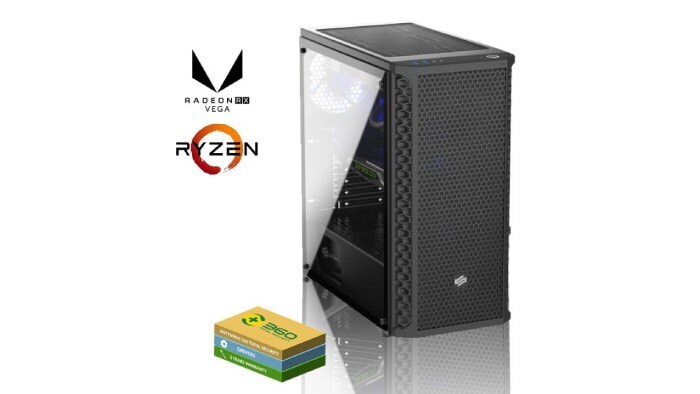 This PC comes with quite powerful Radeon RX 570 that can easily handle the newest releases. It's slightly slower than 1660 in most scenarios, but there are actually some games that in fact work better with this card. The PC comes with 8 GB RAM which should be more than enough to run demanding games, but if it turned out it's not enough for your needs, you can easily extend the amount of memory – it's probably one of the easiest things to modify in the computer when speaking of components.
Gaming PC with GTX 1660 OC
| | |
| --- | --- |
| Nvidia GeForce GTX 1660 OC graphics card | |
| Intel Core i5-9400F – no integrated graphics card | |
| ASRock H310CM-DVS motherboard and SSD | |
What if we told you that getting a gaming PC that will serve you well for years to come can be as cheap as 1000 dollars? It's exactly the case with this one.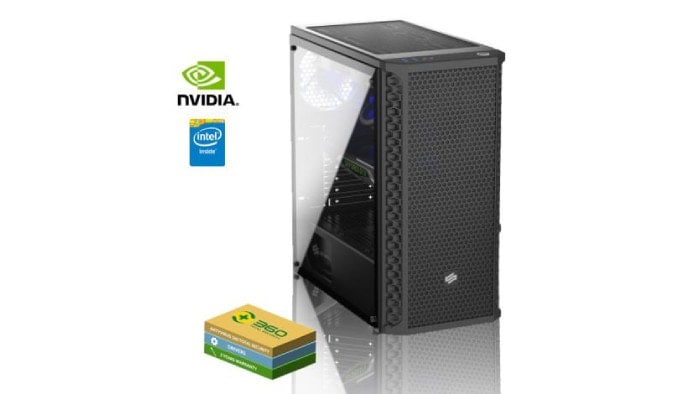 GTX 1660 was already mentioned earlier, so we won't write the same things twice – it's simply one the best choices if you want a card with an unbeatable performance to value ratio. This one, however, works together with a more powerful Intel Core i5 processor labeled 9400F. It doesn't have an integrated graphics card – this approach allowed Intel to cut the expenses and deliver a powerful gaming CPU for a competitive price.
Gaming PC with RX 580
| | |
| --- | --- |
| AMD Radeon RX 580 graphics card | |
| 8-core Ryzen 7 2700 CPU from AMD | |
| MSI B450 TOMAHAWK MAX motherboard | |
This is another possible option that includes a graphics card from AMD instead of the one from Nvidia. RX 580 is a powerful card that should be able to handle even the latest games without much problem.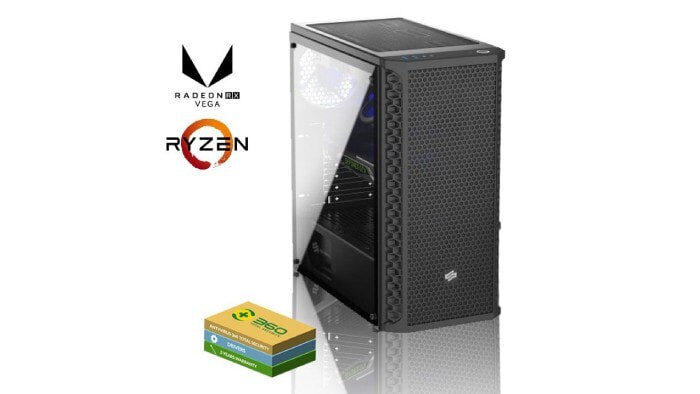 Unless you're looking for a computer that could run the newest AAA titles in 4K at 144 FPS, this one should be more than enough. Additionally, the PC comes with a powerful 8-core Ryzen 7 2700 processor that makes this computer a perfect choice not only for gamers but also for those who use the computer to work.
It's also worth noting that the PC comes with a professional gaming motherboard – MSI B450 TOMAHAWK MAX. It was optimized with gamers in mind, so your gaming experience will be even more enjoyable.
Gaming PC with RTX 2060
| | |
| --- | --- |
| RTX 2060 graphics card with ray tracing support | |
| AMD Ryzen 5 3600 | |
| B450 AORUS ELITE motherboard | |
For a few last entries on the list, we will enter the real-time ray tracing territory. This PC comes with an incredibly powerful RTX 2060 graphics card – it's the first computer on the list that supports the mentioned technology.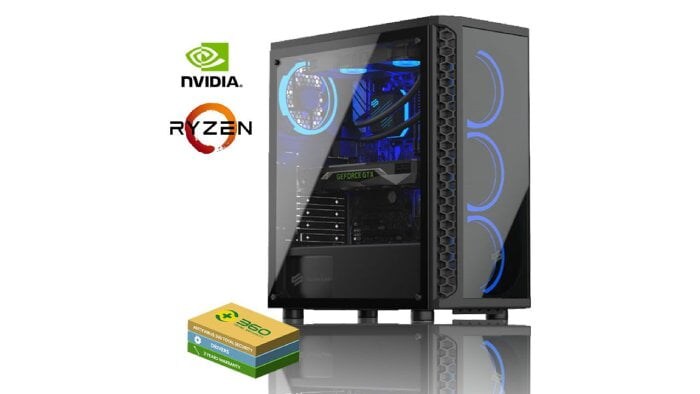 Ray tracing enhances the way in which light in games behaves, creating much more realistic visuals. It's a very demanding and power-hungry process, so you may want to turn it off for the biggest AAA games, as it can negatively impact the performance. In simpler games, however, you can give it a try and enjoy the technology that was used exclusively in animated movies until recently. But powerful GPU requires powerful CPU to avoid bottlenecks – thankfully, the PC is powered by AMD Ryzen 5 3600, which belongs to the latest generation of AMD processors.
Fierce Apex Gaming PC with RTX 2070 Super
| | |
| --- | --- |
| Nvidia GeForce RTX 2070 Super graphics card | |
| 6-core Intel Core i7 8700 CPU | |
| 1 TB HDD for all your storage needs | |
There is little room for improvements now, but it's possible with RTX 2070 Super, a graphics card that will allow you to seamlessly run the latest games without any issues, even on the highest settings.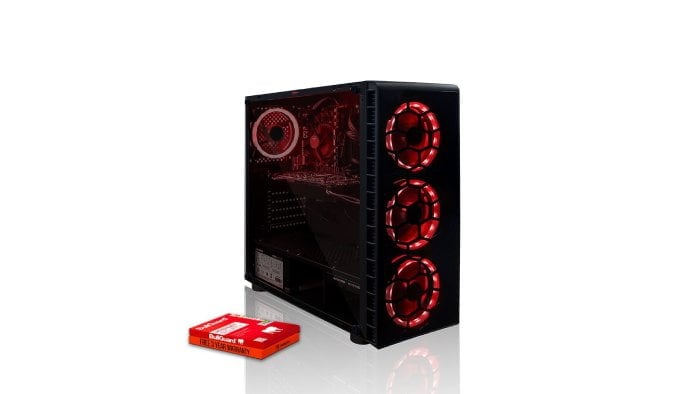 It's also fast enough to compute ray tracing, so with this PC, you can enable it even in more demanding titles. The GPU is supported by an i7 8700 CPU that will prove to be useful not only during playing games but also when you want to stream your gameplay to the world, for example. Can't call it the most affordable or cheap computer – that power has its price, but it's totally worth it.
Fierce Revenger Gaming PC with RTX 2080 Ti
| | |
| --- | --- |
| A gaming rig bundled with 24-inch monitor, headset, and RGB keyboard and mouse | |
| The holy grail of gaming graphics cards – RTX 2080 Ti | |
| Intel Core i7 9700K that can be overclocked | |
As a final entry on the list, we decided to put something for those players who expect to get the highest gaming performance possible, no matter the cost.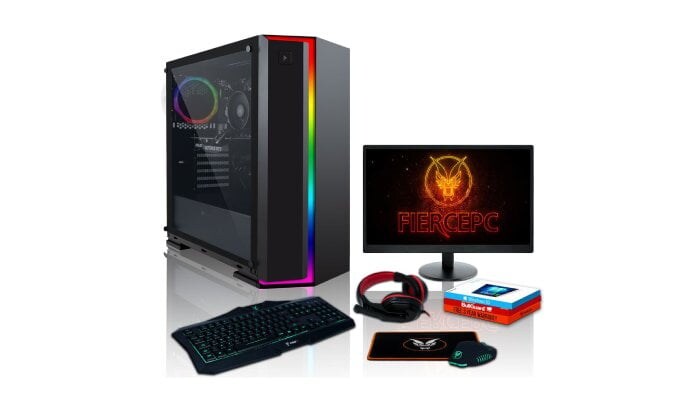 With this one you don't have to worry if the newest game will run smoothly – it won't just run, it will run seamlessly and you shouldn't ever experience any noticeable lag or stuttering. If this PC can't handle the certain game, then blame the game's poor optimization, as there's hardly anything better available on the market in terms of raw computing power.
This PC runs on the most powerful graphics card from Nvidia – RTX 2080 Ti. It's supported by a high-end CPU Intel Core i7 9700K that can be further overclocked to deliver even more power. It's worth noting that it's not just a PC. It's a gaming rig that also comes with a 24-inch monitor, a gaming headset, and a cool keyboard and mouse with RGB lighting – a setup that gives you full bragging rights.
Summary
Whenever you need to buy a new computer, an important question arises – do you want to build it yourself and choose the components on your own, or maybe you wish not to dive into the technicalities and just get one of the pre-built PCs and start playing right away without worrying about a thing?
Pre-Built Gaming PC vs. Custom Gaming PC
Both solutions have their pros and cons. For example, building a PC yourself may be cheaper, as you know exactly what parts you want. This way you can save some money on a component that doesn't need to be a top tier, and either enjoy a cheaper solution or use saved money on a component that does need a slight performance boost. Additionally, you can look for sales and special deals, or even purchase used parts, saving even more.
However, these potential savings come with a risk. If you don't have the necessary knowledge, you may end up with a PC that won't even boot, and there's no way in heaven you'll be able to locate the issue yourself. You will then need to bring the PC to service technicians and pay them to fix the problems you caused. And it's not even the worst thing that could happen. In some cases you can, for example, permanently damage the motherboard or other parts because of faulty PCU, forcing you to get a replacement, and spending more money.
Pre-built PCs, on the other hand, leave less room for customization, but you are ensured that the setup will work well with the parts chosen by the professionals. You save time on selecting the right parts, you save yourself the trouble of assembling the computer, and you also reduce the risk of getting a faulty device. This solution comes at a price, however. Literally. Pre-built PCs can be slightly more expensive due to the fact that someone had to spend time to build it, so you are not paying only for the parts, but also for the work done. Moreover, these PCs can often come with things you don't even need, like a DVD drive or an operating system. Maybe you don't need a drive, and maybe you already have an operating system – in these cases, you will pay extra for the things you don't need unless you manage to find a PC that does not include unnecessary components.
Building the computer is not an easy task for a beginner, so why risking the purchase of components that won't work well together, when you can get one of the pre-built PCs. No need to worry if the chosen PCU will be good enough to power your final setup, no need to worry about matching processor to a motherboard, etc. Simply browse the best gaming computers, take a look at their specs, and choose the one, that proves to be the most optimal choice in your current situation. Prepare for the new releases with a powerful PC that will allow you to enjoy the latest games in higher resolutions and with graphics settings being set to higher values for unforgettable gameplay experience.
Depending on your needs and personal preferences you might want to strike a balance between price and computer's performance. Perhaps you don't need an extremely powerful computer if all you want to play is League of Legends or CS: GO. If you are waiting for games like Cyberpunk 2077 or other AAA titles, however, you might want to spend some extra just to make sure that your new PC will handle the upcoming games without problems. Choose your new PC now and dive into the world of gaming.