There is little that can generate such a sense of power as a good city-building game. Starting with nothing, step by step, we create great metropolises and manage them however we want. Creativity, satisfaction, and watching our little work live its own life – that's what the top world building games for PC have to offer.
The desire to invent new stuff has accompanied humanity since the dawn of time. Not without reason, because we are a species that has an unquestionable knack for transforming inspiring visions into impressive constructions. Are you a fan of planning and management? We have something just for you! Here is a list of the best city-building video games you can play on Steam.
Tropico 6
| | |
| --- | --- |
| Released | 2018 |
| Genre | Simulation |
| Developer | Limbic Entertainment |
A recommendation for fans of politics and humor. Become El Presidente – the only righteous ruler of the banana republic!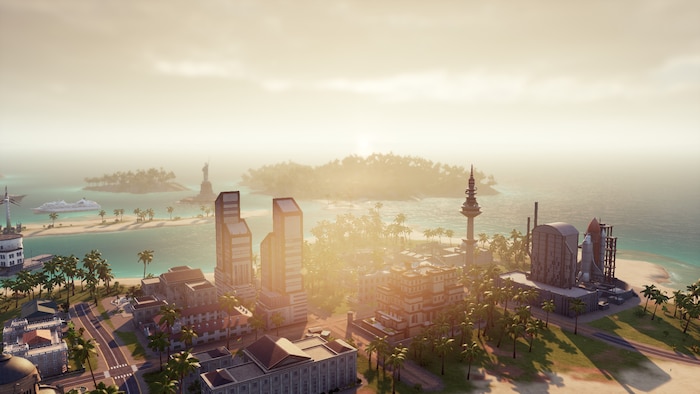 It is an economic strategy that puts into your experienced hands the fate of an entire archipelago of tropical islands. Accept the challenge and build a town to rule as you please! Create a public transport network and monitor the mood in the city. If your autocratic impulses get out of hand, the people may become upset. So take care of political relations or play as you like and steal technology from your neighbors! Tropico 6 is not only about building but also pure fun.
Key features
Become El Presidente and create your banana republic
Construct buildings, improve roads, design a transport network and the layout of major institutions
Maintain friendly political relations with other countries or be a ruthless dictator
Play solo or in multiplayer for up to 4 players
Aven Colony
| | |
| --- | --- |
| Released | 2017-07-25 |
| Genre | Indie |
| Developer | Mothership Entertainment LLC |
Your excellent chance to start a futuristic civilization on the distant Aven Prime planet. Travel beyond the solar system and establish a city in completely alien conditions.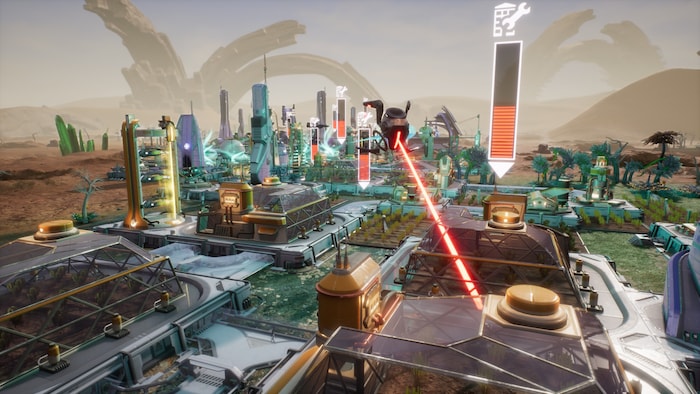 Take the challenge and build a colony on the distant planet Aven Prime. Start with a small settlement and turn it into an impressive city inhabited by fully satisfied citizens. Explore, lead expeditions, develop technologies and discover the secrets of this alien world. Be careful because you may encounter the native inhabitants of the planet here! The tasks will not be made easier by changing weather conditions and random events. Awake your inner ruler and face them all!
Key features
Establish a colony on the alien planet
Transform a modest village into a developing city
Discover the secrets of the new world and send out expeditions
Confront the life forms that inhabit the planet
Frostpunk
| | |
| --- | --- |
| Released | 2018-04-24 |
| Genre | Simulation |
| Developer | 11 bit studios |
A strategy game for those who miss a little bit of wintertime. In Frostpunk you will develop a city in extremely harsh steampunk conditions – during the Ice Age.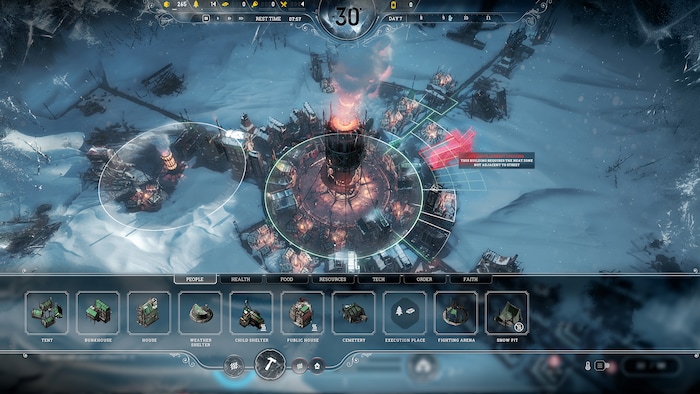 The giant heat generator will become the center of your future city. Build a town and create a shelter for all survivors! Welcome new people from the wasteland. Construct homes, institutions, and help centers. Prepare expeditions in search of valuable resources. Make sure everyone is warm and that the residents are happy. If you fail, you will be overthrown by the revolution. Good luck!
Key features
Build a city during the post-apocalyptic ice age
Expand your village to turn it into a haven for all survivors
Explore the snowy wastelands to find valuable resources
Maintain the moods in the city to become favorite ruler
Surviving Mars
| | |
| --- | --- |
| Released | 2018-03-15 |
| Genre | Simulation |
| Developer | Haemimont Games |
Some may say that survival on Mars is easy. Do you want to find out? Play Surviving Mars and create the first colony on the red planet!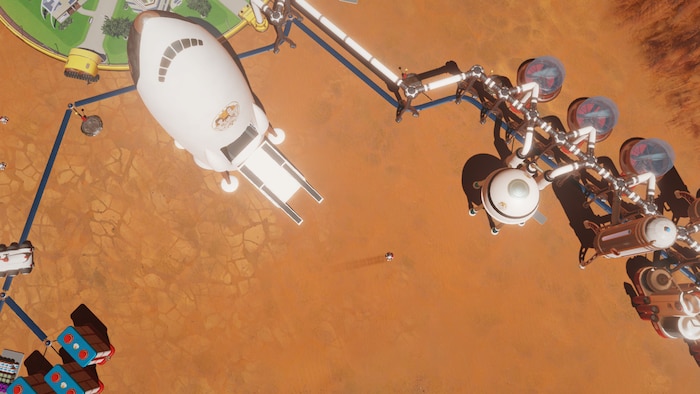 Foreign conditions require the development of entirely new technologies. Create the proper conditions for people to live and start developing your first city on the uninviting surface of Mars. Extract raw materials, build basic structures, take care of the supply of oxygen and water. Prepare the first arrival of people to your colony and watch how they cope in the alien conditions. Keep them happy and develop your colony! There is a lot of work ahead of you – but after all, that's what the best city-building games are all about, right?
Key features
Build the first-ever colony on Mars
Collect resources and ensure proper living conditions
Examine the mood of the inhabitants and provide them with everything they need
Explore and discover the secrets of the red planet
SimCity 4
| | |
| --- | --- |
| Released | 2003-09-22 |
| Genre | Strategy |
| Developer | EA - Maxis |
A city-building classic from EA Maxis. Play the most popular computer life simulator and become the best manager in your city.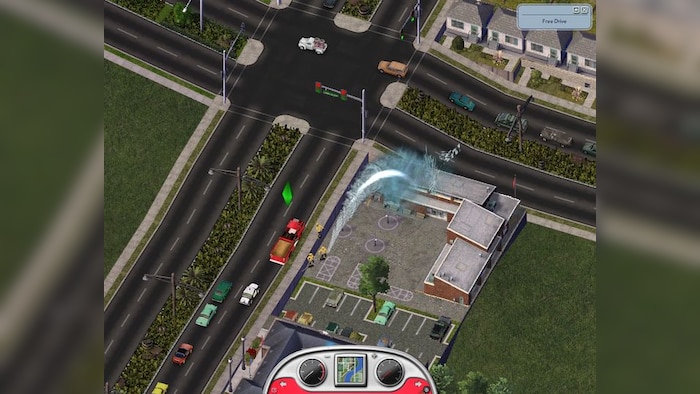 Play SimCity and see the management backstage of the most realistic metropolis. Choose the terrain, set up the first buildings, and develop your city to become self-sufficient. Design the road network and the location of service points. Take care of the satisfaction of the citizens and their education. Complete the challenges encountered by every creator of a great metropolis. What's more – you can play Sim City 4 both offline and online with your friends!
Key features
Design the city of your dreams and build it from scratch
Take care of every aspect of the proper functioning of your metropolis
Monitor your citizens' satisfaction and ensure they have access to all services
Play solo or in multiplayer for up to 16 people
Cities: Skylines
| | |
| --- | --- |
| Released | 2015-03-10 |
| Genre | Economy |
| Developer | Colossal Order Ltd. |
Develop a city that will live its own life! In Cities: Skylines, your task will be not only to design the metropolis but also to supervise its functioning.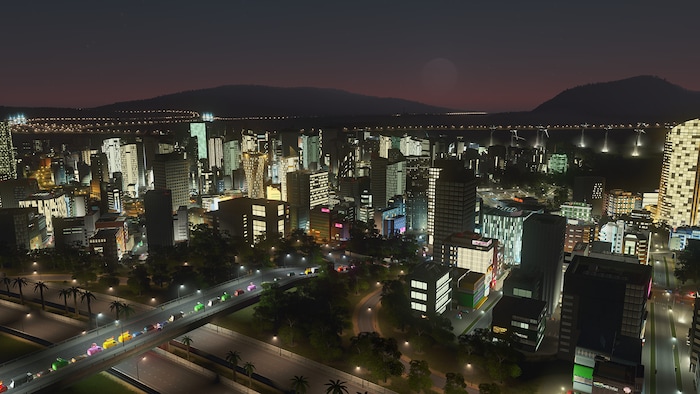 Create a truly impressive metropolis! Design buildings, arrange the most significant institutions, and provide your residents access to the most-needed services. Design a network of roads and public transport to keep your city traffic perfect. Take care of the ecology! Plan waste disposal, water usage, and electricity consumption. And all this while maintaining financial liquidity. Sounds interesting?
Key features
Build a well-functioning metropolis
Create residential, service, and educational centers
Design a road network and plan public transport
Take care of the ecological and financial aspect
Anno 1800
| | |
| --- | --- |
| Released | 2019-04-16 |
| Genre | Economy |
| Developer | Blue Byte |
Welcome to the time of the industrial revolution! It's your day to design a growing city and improve your production so that no one can beat you.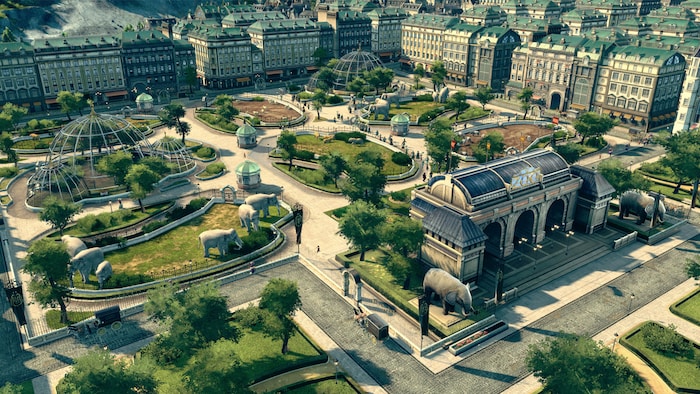 Bet on production! Build a city in one of the parts of the legendary strategy games series. Construct buildings, collect resources and plan the entire city infrastructure. Create factories and design efficient production chains. Produced goods mean trade, and trade means pure profit! And be sure to engage in diplomacy in your spare time. Is your neighbor getting on your nerves? Time for war!
Key features
Build a city in the golden age of the industrial revolution
Collect resources, construct buildings and take care of every aspect of city management
Keep your citizens happy and engage in diplomacy
Build factories and create production and trade chains
Play solo or in multiplayer for up to 4 players
Northgard
| | |
| --- | --- |
| Released | 2017-02-22 |
| Genre | Indie |
| Developer | Shiro Games |
A proposition for fans of fantasy real-time strategy games set in the realities of Nordic legends. Can you feel this call of adventure? Do you want to awaken your Viking nature? Be the first to conquer Northgard!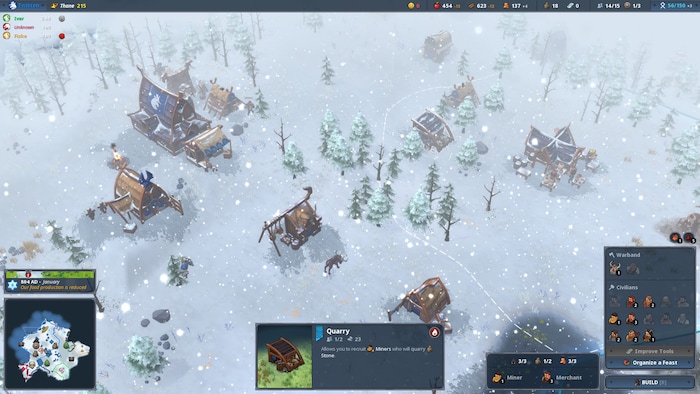 Venture to the far North to become one of the pioneers conquering Nortghard. Discover the details of the history of this mysterious place in an extensive story campaign and be the first to reach the center of the map. Build a village, develop it, collect resources and plan your battles. The other clans are unlikely to leave you alone in the race to succeed on the map. Defeat them all and become the ruler of the entire Northgard!
Key features
Venture to the North and conquer the most precious land of Norse legends
Build a settlement and fight for the survival of your clan
Collect resources, conquer your neighbors' lands, and grab as much land as possible for yourself
Play solo or in multiplayer for up to 6 people
Medieval Dynasty
| | |
| --- | --- |
| Released | 2020-09-17 |
| Genre | Simulation |
| Developer | Render Cube |
Become a medieval peasant and climb the ranks of fame to gain power! The harsh world will present you with many challenges and tasks, thanks to which you will become the master of survival.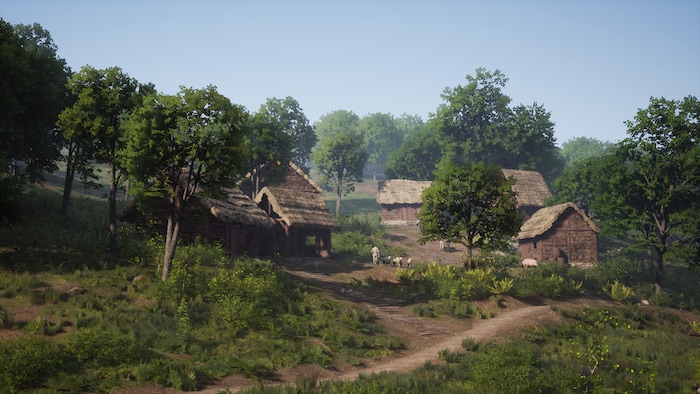 Set off on a journey as a young boy and try to survive in the cruel medieval reality. Explore, gather resources, invent tools, and get food. Build a base and develop it. Meet more and more other characters and invite them to your life to increase your reputation rating. Never look back, and you will become the ruler of a prosperous village that you will transform into a magnificent city.
Key features
Set off on a journey through the medieval countryside and fight for survival
Explore, collect resources and build your first home
Create a city and establish relationships for life
Complete tasks, gain experience, and increase your reputation rating
Islanders
| | |
| --- | --- |
| Released | 2019-04-04 |
| Genre | Indie |
| Developer | |
Are you interested in a relaxing build simulation with a colorful design? Play Islanders – casual gameplay for strategy fans who aren't looking for thrills.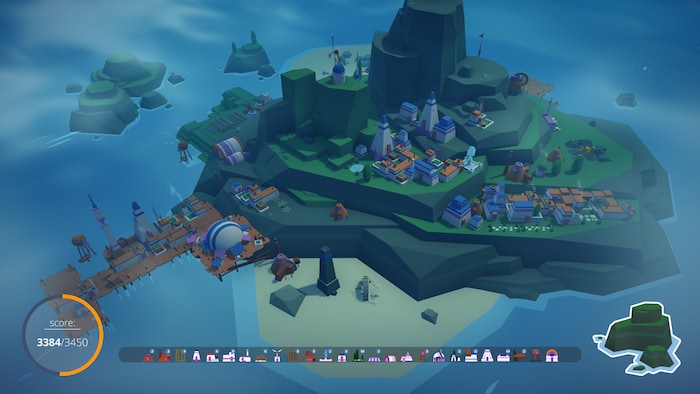 Set off on an archipelago of islands that will be your new home from today. Start with one island and gradually build a town so that soon a well-functioning city will emerge on this spot. Satisfied with your work? Jump to the other island! Continue your work on the various terrains of the following islands and create dream cities!
Key features
Play a relaxing city-building game
Build a village on the island and turn it into a beautiful city
Create stylistically diverse cities on new islands
Be amazed by the minimalist graphics and get satisfaction from your work
Townscaper
| | |
| --- | --- |
| Released | 2020-06-30 |
| Genre | Building |
| Developer | Oskar Stålberg |
A proposition for players who want to express their creativity and let their imagination run free. Townscaper is an experimental game in which the only victory is the satisfaction of creating beautiful things. Interested?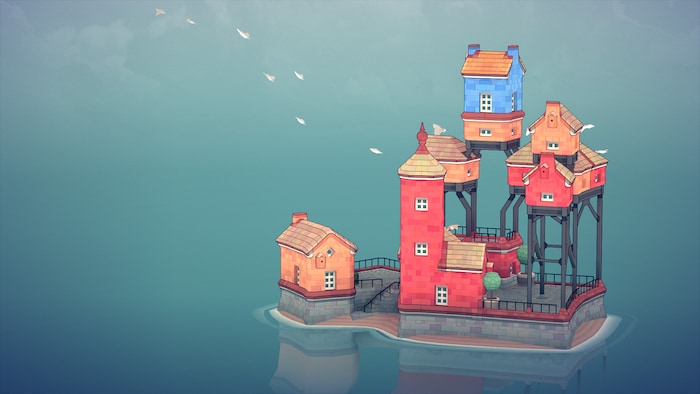 Choose the colors that delight your eyes, and design the first elements of buildings that you will arrange on the irregular network of the future city. Rotate, click and try new moves, and the algorithm will do the rest for you. Choose from many possibilities of creating architectural masterpieces and create a unique town that will be one of a kind. It is a perfect game for people of all ages!
Key features
Play one of the most relaxed city building games on Steam
Get carried away by your creativity and imagination
Create colorful objects and arrange them on an irregular network
Build the cities of your dreams, the beauty of which will delight you
Industries of Titan
| | |
| --- | --- |
| Released | 2021-06-21 |
| Genre | Building |
| Developer | Brace Yourself Games |
Would you like to play a real-time strategy game with space action? Do you enjoy building and war? Be sure to play Industries of Titan.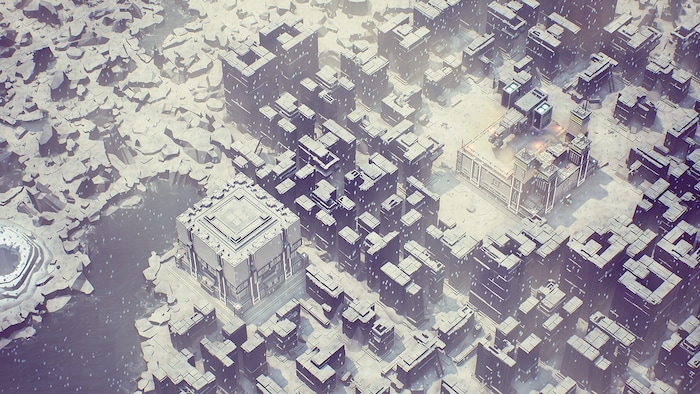 Travel to the largest of Saturn's moons, Titan. The colonization of the solar system is progressing, and your task is to build a perfectly functioning futuristic city here. Extract raw materials, produce goods, and earn money for newer technologies. But remember, your competitors will not let you relax! Create combat units and plan their placement to resist enemy attacks. There are no rules on Titan!
Key features
Go to Titan and build a massive colony
Mine resources, produce goods, and earn money
Develop the metropolis and keep its citizens happy
Build diplomatic relations or fight fierce wars
As you can see, the best city-building games offer quite a variety of possibilities in terms of world building. You can build a city and shoot spaceships. You can build a city and hunt animals. Or build a city and… just build a city.
No matter what you do apart from building the city, the most important thing about it is that you have so much fun doing it. Can you feel a rush of creative power? Would you like to create something, but you can't paint or compose impressive symphonic pieces? Build a city. It's not just a game where you mindlessly slay your enemies. This is a challenge for a born designer who can combine military and environmental crises with managing the economy. Or a relaxing easy game of clicking colored squares – always fun!