You like to move it, move it, and there is nothing like Saturday night fever? Awesome!
If you love computer games and singing or can't get enough of the dance floor – have a gaming party at home! There are so many dancing video games for consoles it can be hard to choose the perfect one. Luckily, you do not have to. Just put on your dancinRhythm & Actiong shoes and get into the groove with this list of best dance video games!

Dance Central Spotlight
Xbox One
| | |
| --- | --- |
| Release: | 2014-09-02 |
| Genre: | Rhythm & Action |
| Developer: | Harmonix Music Systems |
It is a perfect recommendation for Xbox One users, wanting to engage in the music with their entire body and soul.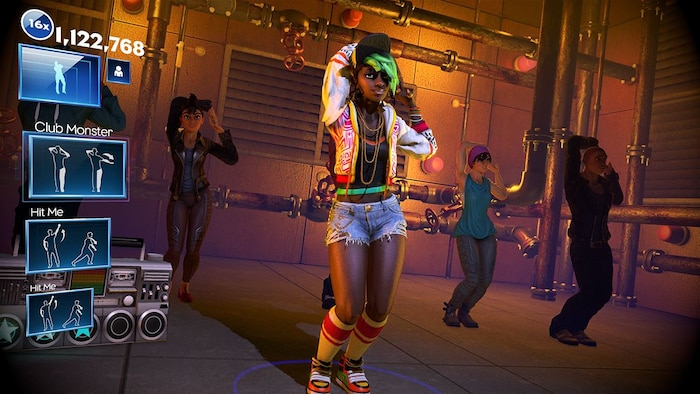 Play the fourth installment in the top-rated dance video games series, raising the entire genre to a whole new level of perfection. Thanks to the highest motion detection, this gameplay will be as rewarding and realistic as ever. Play as your favorite character and accept the challenge in the campaign of all your beloved songs. Or get in the multiplayer to play in co-op or competition with your family and friends.
Key features
Play the top-rated dancing video game
Try dozens of moves prepared by professional dancers, especially for Dance Central
Play in competition or cooperation with your friends for up to 2 players
Get access to additional downloadable content including even more of your favorite music
Exercise in fitness mode
Just Dance 2022
Xbox One
Xbox Series X/S
Stadia
PS4
PS5
Nintendo Switch
| | |
| --- | --- |
| Release: | 2021-11-04 |
| Genre: | Rhythm & Action |
| Developer: | Ubisoft Paris |
Play and exercise with the playlist of the hottest songs! Just Dance 2022 video game delivers modes for everyone and every occasion.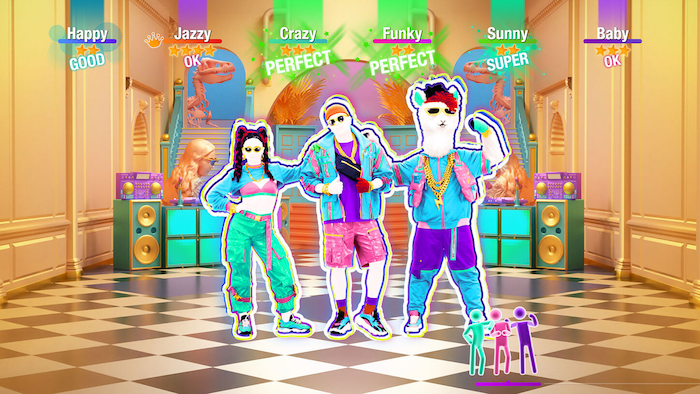 Pick your favorite song and do your best to copy moves showing on the screen. You can choose from the vast list of music featuring Lady Gaga, Katy Perry, or Taylor Swift. Learn, have fun and play with your family and friends. Thanks to many gameplay modes, you can dance, exercise, or play with your kids.
Key features
Learn some moves and become the brightest star on every dance floor
Select a mode for every occasion
Choose your favorite songs to create a playlist
Play solo, with your friends, or in multiplayer with people from all over the world
Rez Infinite
| | |
| --- | --- |
| Release: | 2017-08-09 |
| Genre: | Indie |
| Developer: | Monstars Inc. |
Enter cyberspace to become the god of rhythm. Follow the beat, fight and experience futuristic adventure.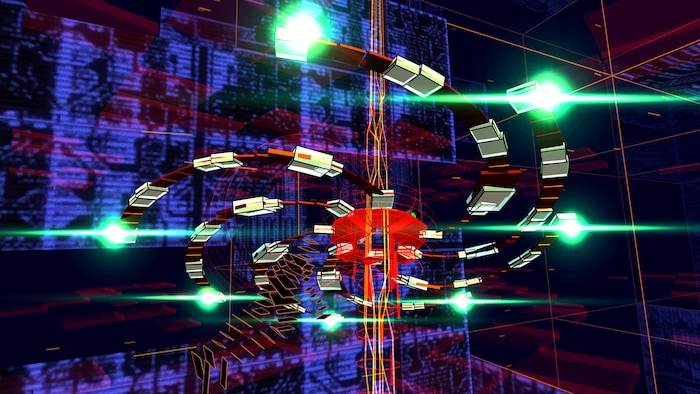 Travel through the realms of sounds, colors, and transformations. See stunning worlds full of enormous creatures and structures. Play on PC or dive into virtual reality to experience the magic of this game even better. It is the title that will show you an entirely new level of perception of all your senses.
Key features
Travel through levels to hack the artificial intelligence
Follow the paths and explode objects with the rhythm of the music
See, hear and feel this extraordinary world
Play on the desktop or VR
Fuser
PC (Windows)
Nintendo Switch
PS4
Xbox One
| | |
| --- | --- |
| Release: | 2020-11-10 |
| Genre: | Rhythm & Party |
| Developer: | Harmonix Music Systems |
If you love music and breathe music, this video game will become your precious number one. Play as the world-famous DJ and let your creativity run wild.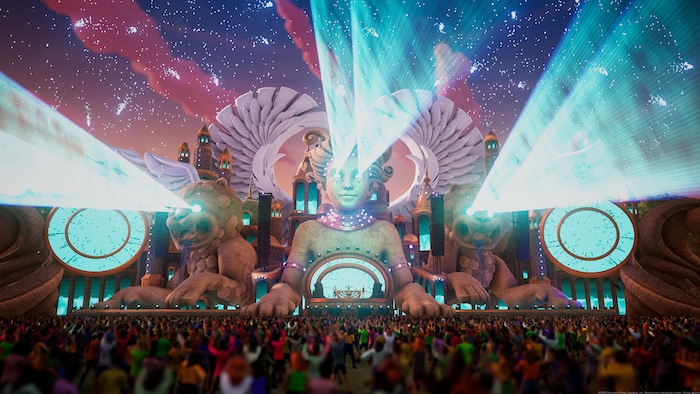 Discover all game modes to play as you please. Climb to the top in the campaign or mix your favorite songs in the freestyle mode. Collect points and compete in multiplayer with players from the entire world. Create, have fun, combine hundreds of rhythms and beats, share your work, and admire others' music online.
Key features
Become the best DJ in the world
Browse thousands of rhythms and melodies to find your favorite
Mix songs and enjoy countless possibilities of creating music
Choose the mode that suits you best and play with other people in the multiplayer
Rock Band 4
PS4
Xbox One
| | |
| --- | --- |
| Release: | 2015-10-06 |
| Genre: | Music & Simulation |
| Developer: | Harmonix Music Systems |
It is your day to become a living rock legend! Join the band and beat the score.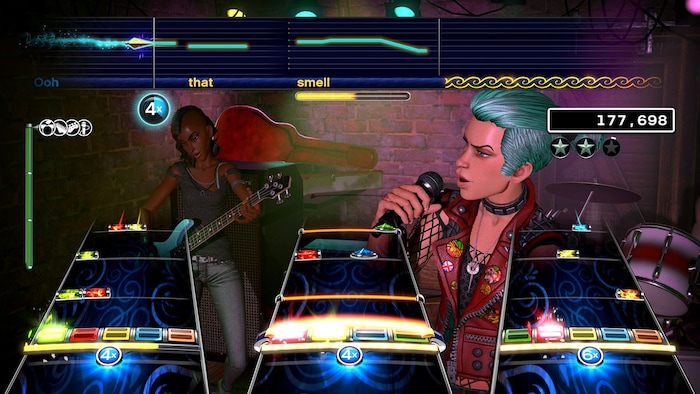 Grab your instrument and show us what you got! Play, sing and flow with the rhythm. Better performance means more points. Gather your friends and create the band, choose the difficulty level and become the audience's most beloved rock stars. You will discover hundreds of songs in this game, which makes this impressive experience last forever.
Key features
Choose your favorite game mode and immerse yourself in the world of sounds
Play the instrument, sing, and dance to score the best result
Choose from hundreds of the most popular songs of all times
Play solo or in multiplayer
Donkey Konga
GameCube
| | |
| --- | --- |
| Release: | 2003-12-12 |
| Genre: | Rhythm |
| Developer: | Namco |
It is a rhythm video game famous for unique controllers known as DK Bongos. Discover the power that hides in the bongos and get caught up with a beat.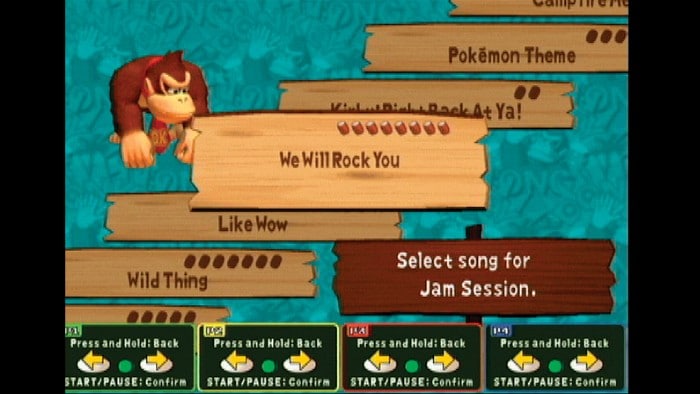 Play this iconic title to become a master of interactive bongo drums! Try yourself at legendary songs like We will rock you or Pokemon. Clap, hit the drums, and flow with a rhythm. Beat your score to become better and better. Practice solo or together with your friends and have the best party in 2000s style.
Key features
Play one of the most iconic rhythm video games ever
Practice to become faster and better
Copy the beat of classic songs to win
Play solo or in the multiplayer
PaRappa The Rapper Remastered
PS
PSP
PS4 (Remastered Version)
| | |
| --- | --- |
| Release: | 2017-04-04 |
| Genre: | Rhythm & Music |
| Developer: | Sony Interactive Entertainment |
It is the renewed version of the classic rhythm video game from the 90s. Play as PaRappa and become the coolest rapper to impress lovely Sunny Funny.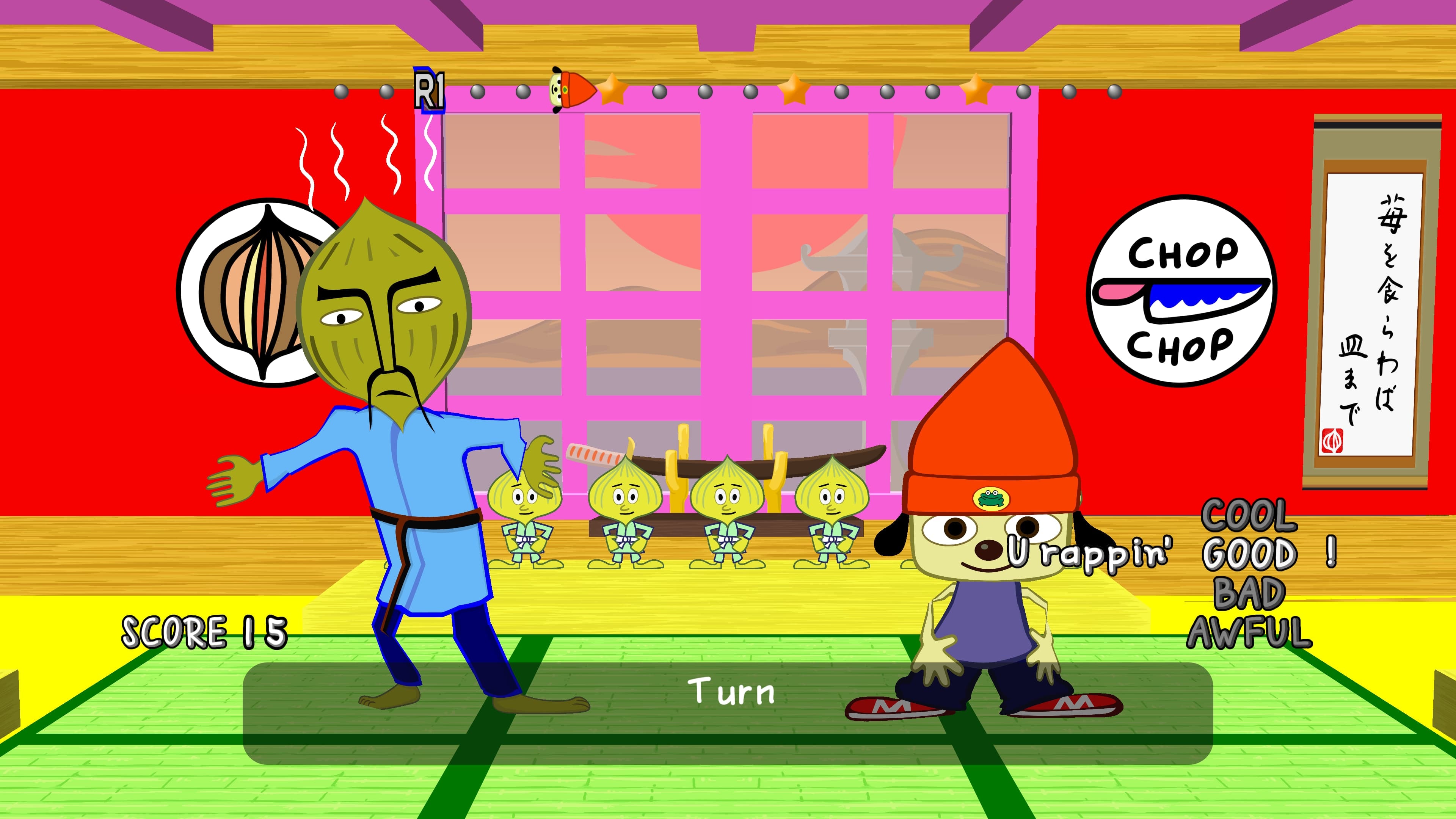 To steal the Sunny Funny's heart you will have to complete a series of missions like cooking, fighting, or riding a car. But the job is not so easy as it may seem, because you have to stay in the rhythm! Follow the beat, level up, and become the best of them all!
Key features
Play the remastered version of the iconic title from the 90s
Learn the story of PaRappa and his friends
Complete tasks to level up
Follow the rhythm and never fail
Space Channel 5: Part 2
Windows
Dreamcast
XBox 360
PS2
PS3
| | |
| --- | --- |
| Release: | 2011-03-04 |
| Genre: | Music & Exercise |
| Developer: | SEGA |
Play as Ulala to defeat evil Rhythm Rogues and save entire space. It is a rhythmic adventure, where you will meet Michael Jackson himself! Interested?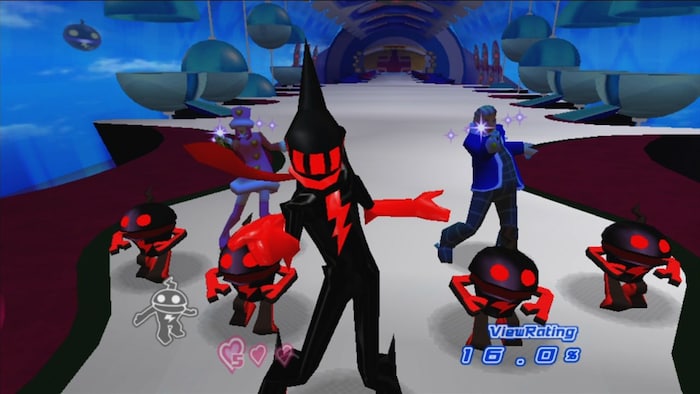 Discover the story of fearless Ulala, who travels through space to save her people. Aided by her friends, she stands up to music battles set in the groovy 60s style. Copy the moves presented on the screen and complete tasks to win! In this game, you will have to show precision and have a lot of fun.
Key features
Play the epic story of Ulala
Dance through the following music battles
Be fast and precise
Play solo or in multiplayer for up to 2 players
Dance Dance Revolution (DDR)
Bemani PC Type 4 (Windows XP Embedded)
| | |
| --- | --- |
| Release: | 1998-09-26 |
| Genre: | Rhythm & Simulator |
| Developer: | Konami, Bemani |
It is a 2000s shining dancing gem from Konami. Discover various music genres in one and only Dance Dance Revolution-style.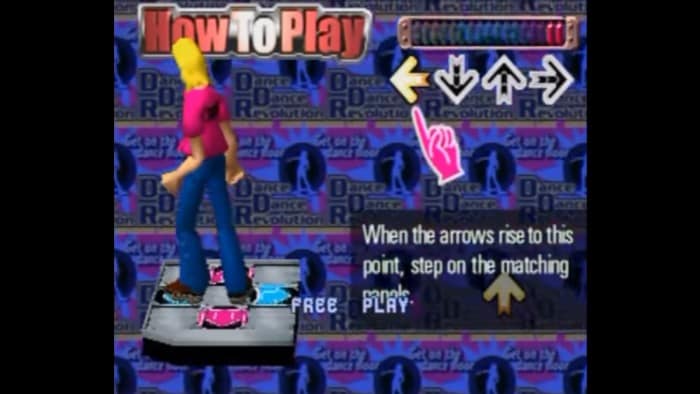 Press the buttons, or place your feet on the interactive pad and dance! Do whatever you can to copy the moves precisely and avoid any mistakes. The better the score, the higher level! It is an exciting recommendation for players who just love music challenges involving the greatest tunes of all time.
Key features
Play by pressing the buttons or dancing on the mat
Flow with the rhythm and follow the music
Do your best to copy the moves from the screen
Play solo or in multiplayer for up to 2 players
StepMania
PC (Windows, Linux, Mac)
| | |
| --- | --- |
| Release: | 2001-08-21 |
| Genre: | Rhythm |
| Developer: | StepMania Team |
It is a free-to-play rhythm video game designed for playing on a PC or the dancing mat. Follow the arrows and become a born dance floor star!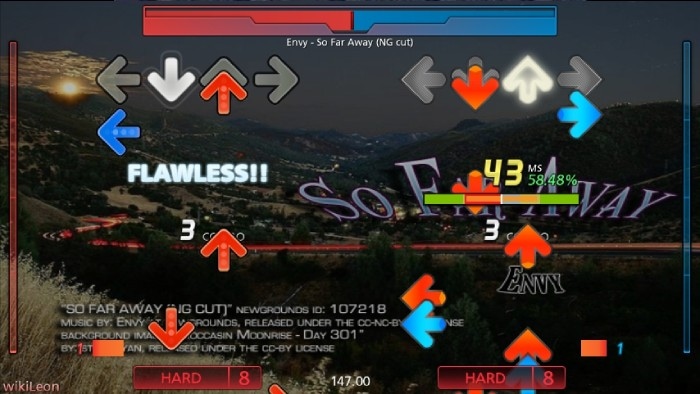 Courtesy: WikiLeon (https://commons.wikimedia.org)
The more accurate you hit the button on the keyboard or mat, the better will be your score. Listen to the beat and feel the rhythm of the music! Achieve combos, enjoy the audiovisual setting and characters, and constantly level up. It is a game where music meets passion and fun!
Key features
Play on the keyboard or mat
Follow the arrows and copy the moves
Flow with the rhythm to hit buttons more precisely
Play solo or in multiplayer
Dancing and making music is something that people have done since the dawn of time. It is something that brings joy but also serves to strengthen relationships. Also, good rhythmic fun significantly increases the level of endorphins while burning a lot of calories. And all these you can find in video game dancing, so pick a game and get up from the couch. These hot moves will not train themselves!