There is this video game genre that is just one of a kind. Whether you feel flirty or looking for a break from real life, there is only one recipe – dating simulators.
Dating games do not focus only on forging unique relationships between people. They are often set in absolutely bizarre worlds in which we can experience extraordinary adventures. Sometimes the action is shrouded in a weird aura of mystery or even horror. And sometimes the story is light and funny.
Their unique form makes the gameplay more addictive and exciting, and we can test our interpersonal skills along the way. Fancy a little romantic adventure? Believe us – all you need is love. Welcome to our list of the top 10 best dating sims!
Best dating simulation games
Doki Doki Literature Club!
| | |
| --- | --- |
| Release: | 2021-06-30 |
| Genre: | Visual novel, horror |
| Developer: | Team Salvato |
It is a popular free-to-play visual novel from Team Salvato where you will play as a young boy attending literature club meetings. Meet several school friends and establish unique friendships. But not so fast! It will soon turn out that nothing is as it seems.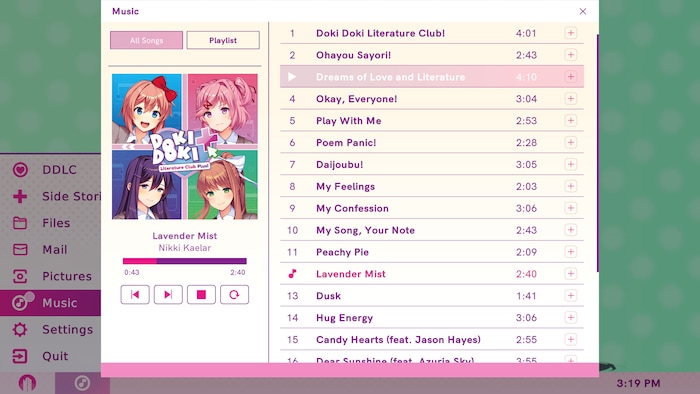 Meet energetic Sayori, shy Yuri, strong Natsuki, and charming Monika. Together with them, immerse yourself in the world of books, gossips, and fun. During the conversations, you will get to know the relationships between the girls and make friends for life! Sounds nice? Then watch out because the gameplay will completely change its character very soon. This game is not a recommendation for the faint of heart and children.
Key features
Play as a teenage boy and join the literature club
Meet four cute friends and make friends
Make decisions to discover the rest of the story
Enjoy unique gameplay that will surprise you at every step
HuniePop 2: Double Date
| | |
| --- | --- |
| Release: | 2021-02-08 |
| Genre: | puzzle |
| Developer: | HuniePot |
Set off on a journey to the hot Inna de Poona island to practice the art of love and save the world from destruction! It is the second installment of the 2021 series of puzzle-erotic games from HuniePot, where you will solve puzzles and practice interpersonal skills.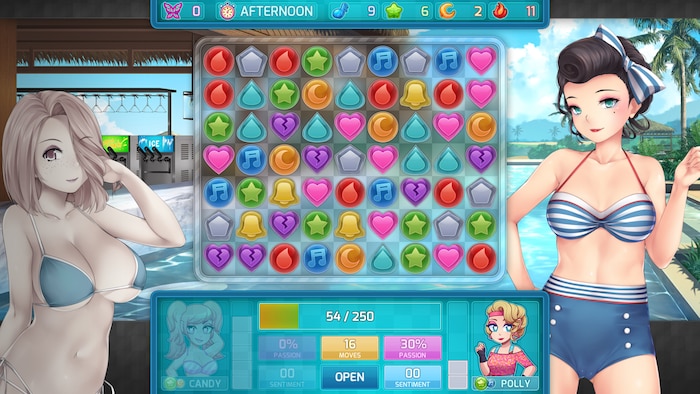 When ancient evil comes to life, only you will be able to stop it from devastating the entire world. Follow your fairy friend and complete love quests! Solve puzzles and score points to impress the sexy ladies of this tropical island. Divide attention because on each date you will deal with not one, but two girls! Do everything in your power to achieve success! Although the game may look like a colorful anime, it is only for players above 18.
Key features
Have a trip to a tropical island to become the ultimate casanova
Take part in double dates and earn points
Impress girls and receive unique bonuses
Save the world from coming destruction
Monster Prom 2: Monster Camp
| | |
| --- | --- |
| Release: | 2020-10-23 |
| Genre: | Dating sim, Adventure |
| Developer: | Beautiful Glitch |
Become the monster and date monsters! Pack your bags and go to summer camp to meet the hottest creatures out of this world. It is the second installment of the hilarious series from Beautiful Glitch which you can play both in single-player mode and online with other players.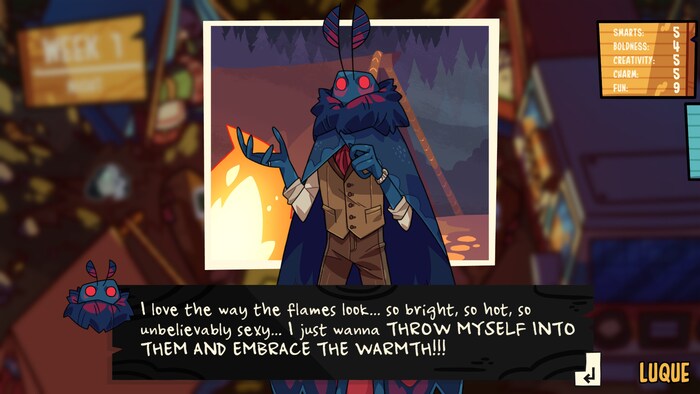 Monster Prom is an extensive dating simulator in which you can spend time exactly as you wish. Choose your character and join the fun at the monster summer camp. Gossip, flirt and seduce! Make decisions and develop your skills to achieve outstanding dating success! This game is endless fun for guys and for girls at 16 and above.
Key features
Take a trip to the summer camp for monsters and spend your time the way you like
Romance with hot creatures and fall in love
Take part in surprising events, make decisions and develop skills
Play solo or in multiplayer for up to four players
Senren Banka
| | |
| --- | --- |
| Release: | 2020-02-14 |
| Genre: | Visual novel, Casual |
| Developer: | Yuzusoft |
It is a Japanese visual novel by Yuzusoft where mythological adventure meets romance. Travel to the village of Hoori, discover the secret of the ancient sword and find the love of your life.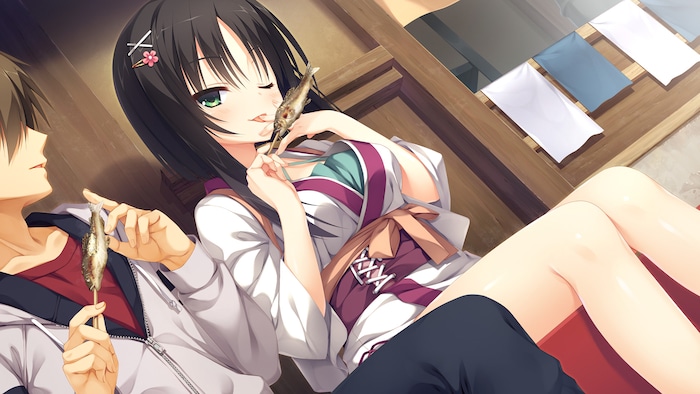 Play the role of a young man to set off to a distant village and join your fate with the destiny of a mysterious sword. In your adventure, you will be accompanied by four unique and incredibly charming girls. Each of them can become the chosen one of your heart. Become part of a supernatural legend, seduce cute girls, and create the life you have always dreamed of!
Key features
Play the role of a young boy and set off to the remote village of Hoori
Immerse yourself in a rich storyline about the supernatural secrets of this place
Make decisions and flirt with attractive girls
Complete the story and watch its magical ending
Hatoful Boyfriend
| | |
| --- | --- |
| Release: | 2014-09-04 |
| Genre: | Indie |
| Developer: | Hato Moa |
It is a unique visual novel in which you will play the role of a student at a prestigious school for birds. Chat with bird classmates, learn their secrets and find the love of your life! It is also the best dating sim on Steam!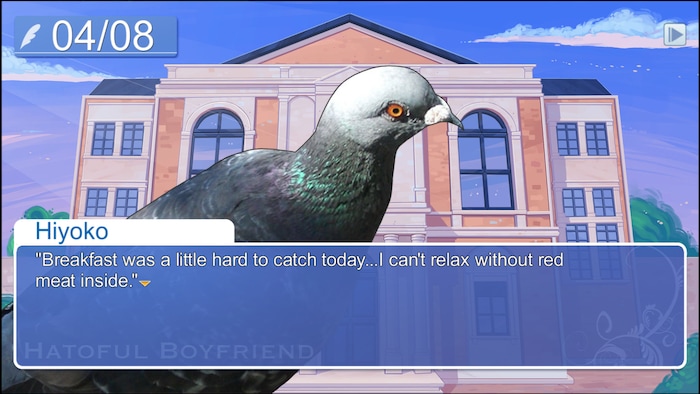 Welcome to a charming post-apocalyptic reality in which the Earth is almost entirely taken over by intelligent birds. Play the role of the main female heroine and start your new adventure in a bird school! Attend lessons, develop skills and make new friends. Who knows, maybe you will find the bird love of your life? It is one of the funniest visual novels for fans of weird titles.
Key features
Start bird school to find the love of life
Chat with colleagues and develop blossoming friendships
Learn new skills and get better at interspecies relationships
Play the main plot and an additional Bad Boys Love story
Boyfriend Dungeon
| | |
| --- | --- |
| Release: | 2021-08-11 |
| Genre: | Dungeon crawler, RPG |
| Developer: | Kitfox Games |
It is a unique combination of a dungeon crawler with visual novel and roguelike elements, released in 2021 by Kitfox Games. Explore gloomy dungeons where danger lurks at every turn. And date your weapons!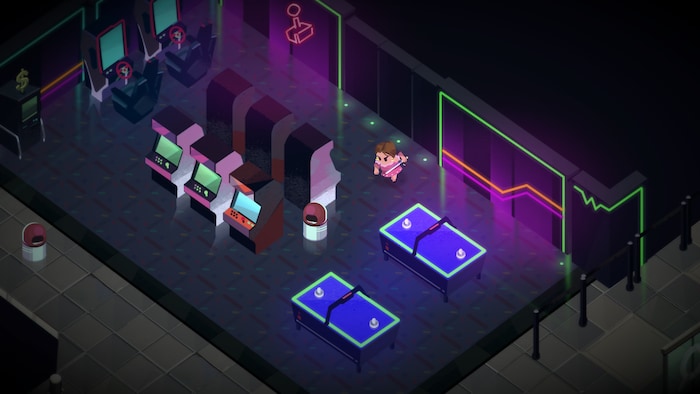 Boyfriend Dungeon is an original production where you can date your swords. Explore underground passages, encounter enemies and recover weapons that hide gorgeous men and hot girls. Use weapons in combat and choose your favorite! If the other half shares your feelings, you will find the love of your life.
Key features
Explore dark dungeons full of dangers and precious treasures
Disenchant people charmed in weapons and date them
Chat with your crushes to win their hearts
Use the favorite weapons as often as possible
Panzermadels: Tank Dating Simulator
| | |
| --- | --- |
| Release: | 2016-03-09 |
| Genre: | Adventure |
| Developer: | DEVGRU-P |
If you fear nothing in life will surprise you anymore, now you can say that you have seen everything. Play the dating sim from DEVGRU-P, join the army, and date tanks!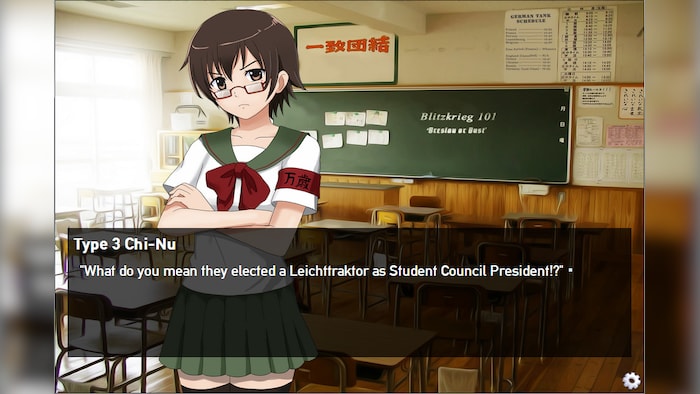 Play as Erwin Lemmor and start your military adventure in tank school. To prove your worth and skills, you will complete unusual tasks. And among them, you will find forging close relationships with school girls who are quite realistic tanks from World War II. Make decisions, chat, and see many possible endings to the game. Get that tank, soldier!
Key features
Join the army and learn all about tanks
Make decisions to see the rest of the storyline
Flirt with girls who are WWII tanks
Choose one of the six romance options and see many game endings
Dream Daddy: A Dad Dating Simulator
| | |
| --- | --- |
| Release: | 2017-07-20 |
| Genre: | Indie |
| Developer: | Game Grumps |
There is nothing like a sexy daddy by your side. In this indie dating RPG, you will discover the secret world of fathers, play the perfect daddy, and date hot single daddies in your area!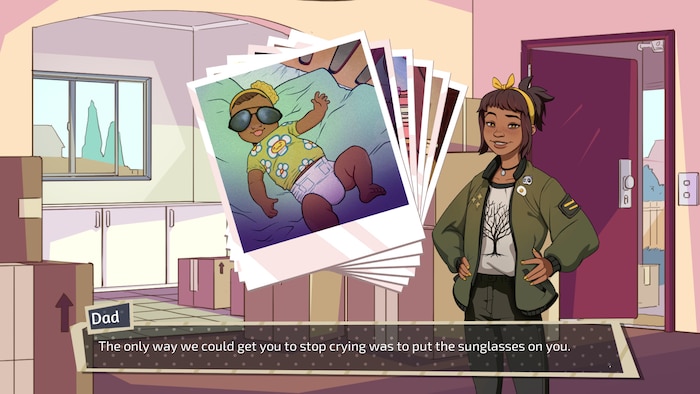 You and your daughter will move to a charming town full of single fathers. Date your neighbors and see if you can conquer their hearts. Develop interpersonal skills and take care of your daughter at the same time. Dream Daddy offers a broad range of character customization options and unique types of daddies to meet as well.
Key features
Become a dream daddy
Complete tasks and play mini-games
Win the heart of the hottest daddy
Take care of your daughter
Kitty Powers' Matchmaker
| | |
| --- | --- |
| Release: | 2015-04-22 |
| Genre: | Indie |
| Developer: | Magic Notion |
Unleash the power of infinite love in Kitty Powers' professional dating agency! Become her most trusted employee and help hundreds of lonely hearts find their significant other.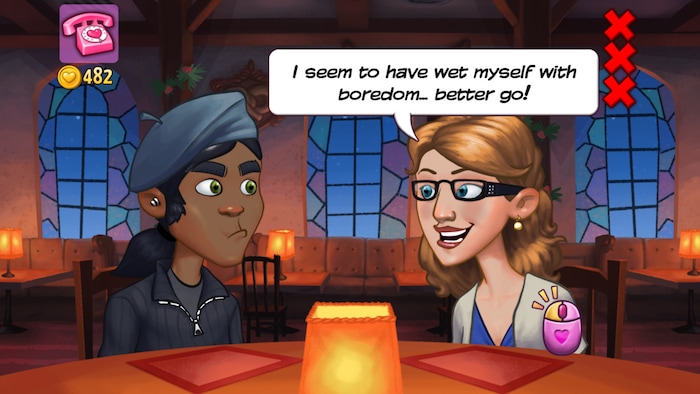 Meet the clients of a fabulous dating agency and do everything in your power to support singles on their way to discovering true love. Help them look good, convince them to date, and make the conversations go smoothly as ever. In this production, you can also try dating yourself!
Key features
Play as an employee of the Kitty Powers agency
Meet lonely hearts and advise them how to find love
Gain experience to complete tasks from the most demanding clients
Create a profile, perform a test and start dating
Purrfect Date
| | |
| --- | --- |
| Release: | 2017-12-15 |
| Genre: | Adventure |
| Developer: | Bae Team |
It is an adventure game from Bae Team, which is an excellent proposition for all cat people. Go to Cat Island, date unique feline characters, and discover the secret of this mysterious place.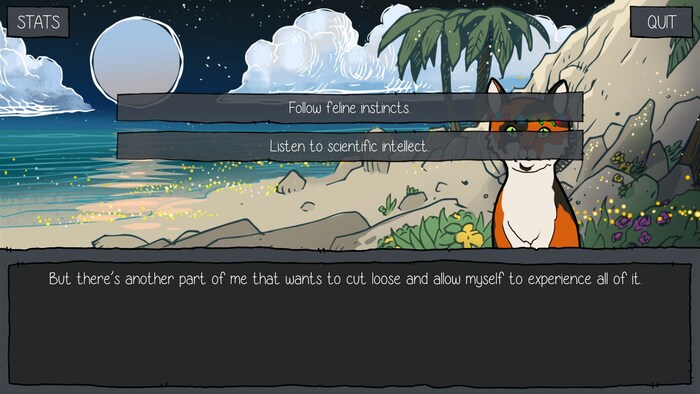 Play the role of a scientist exploring the distant Cat Island. Explore it and learn about the contrasting personalities of its inhabitants. Each cat has several things that he likes and dislikes. Chat with them and see that nothing is as it may seem.
Key features
Play as the scientist exploring the exotic Cat Island
Date cats to discover their intense personalities
Engage in a rich storyline and make decisions
Discover the mystery of the island and the laws that rule the world of cats
As you can see, love is not only in the air but also at your fingertips. Literally in every possible form! Best dating simulators offer an infinite variety of worlds, unusual characters, and possible story endings. It is an endless field for developers who can implement any project they can think of. Dating tanks and pigeons? Funny video games and apps just for adults? This is just the beginning! In the upcoming years, we can expect even cooler and more hilarious productions that will surely turn our heads and conquer our hearts.