Humans are strange creatures. They'd just get into trouble all the time and then don't know how to get out of it. If anyone can help them in such a condition, it is only man's best friend – the dog.
The company of a good boy in a video game is one of the most enjoyable happenings you can experience throughout the gameplay. Although usually, he cannot speak, the dog companion will always cheer you up, comfort you, amuse you and lift your spirits. Sometimes it is not his only superpowers if the game developers decided to equip our four-legged companion with some additional features. Are you curious in which video games you will meet your most loyal dogs? You will get introduced to them in the list below!
Most Loyal Good Boy Dogs in Video Games
Dogmeat - Fallout 4
| | |
| --- | --- |
| Release date: | 2017-09-26 |
| Genre: | RPG |
| Developer: | Bethesda Game Studios |
A stray German Shepherd who has helped quite a few characters in this post-apocalyptic series. As you travel through the endless wastelands, you can be sure that this good boi will not leave you even for a second.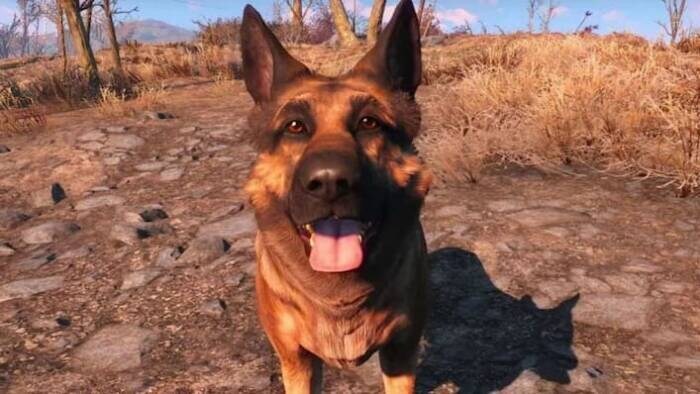 Dogmeat has an outstanding canine sixth sense, which will prove invaluable in completing tasks. Besides, he has no special skills, but he will love you wholeheartedly so you can trust him to the fullest. You can equip him with a variety of cosmetic items to emphasize his undeniable sense of style as you travel through a devastated world.
Key features
Play one of the most epic parts of the famous Fallout series
Create a character and distribute skill points
Venture out into the wastelands to fight for your survival
Complete quests, make decisions, and create your own story in a post-apocalyptic world
Barbas - Skyrim
| | |
| --- | --- |
| Release date: | 2016-10-27 |
| Genre: | Adventure |
| Developer: | Bethesda Game Studios |
A dog companion to the Daedric Prince Clavicus Vile who you meet in The Elder Scrolls video games. Your journey with him begins when you accept the quest of finding his master.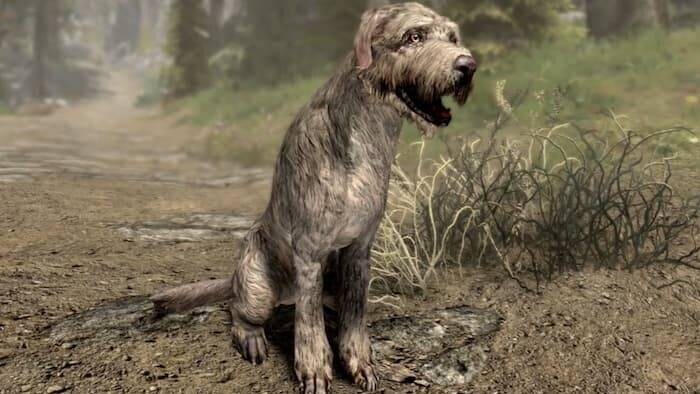 The Elder Scrolls series is famous, among other things, for the fact that the player's choices have a great impact on further gameplay. It is no different with the quest in which you will meet Barbas, so be prepared that another big decision awaits you here. During the adventure, you can be sure that although this loyal dog has a different master, he will do everything in his power to help you finish the mission with a success.
It is also worth mentioning Meeko, a lonely dog who is wandering around a shack in the woods after his owner has died. Meeko is not unkillable like Barbas, but looks almost exactly the same and has his own charm. There are also other dogs that can be adopted as additional companions, for example, fearsome Husky dogs like Bran with Dawnguard expansion installed, that prove to be very useful and good boi companions on our adventures.
Key features
Play the most famous part of the awesome The Elder Scrolls series
Choose from many races and classes and create your dream character
Use various fighting techniques and develop your skills
Make decisions and watch your story unfold
Duck Hunt Dog - Super Smash Bros. Ultimate
| | |
| --- | --- |
| Release date: | 2018-12-07 |
| Genre: | Fighting |
| Developer: | Bandai Namco Studios Sora Ltd. |
Whoever remembers the Duck Hunt game knows that love can be a rather tough subject sometimes. Though faithful and loyal, Duck Hunt Dog has always been able to successfully frustrate the player, ruthlessly teasing him in the face of failure.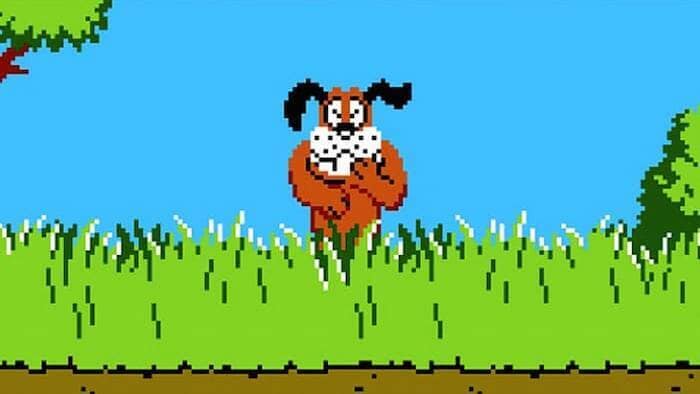 Guess what? Your favorite doggy is back in Super Smash Bros Ultimate! No longer as a mischievous assistant in the hunt but as a playable character. From now on, you can enter the fierce competition in the game and rush into the fight, sending your most disliked canine buddy into battle. Isn't that great?
Key features
Choose from over 70 playable characters
Play solo or with friends up to 8 players
Fight spectacular duels and level up
Play and unlock new playable characters
Growlithe - Pokemon: Let's Go Pikachu
| | |
| --- | --- |
| Release date: | 2018 |
| Genre: | Role-playing |
| Developer: | Game Freak |
One of the most majestic and loyal companions that can be found in the Pokémon franchise. He is truly the most faithful canine friend who will not abandon you even in the worst situations.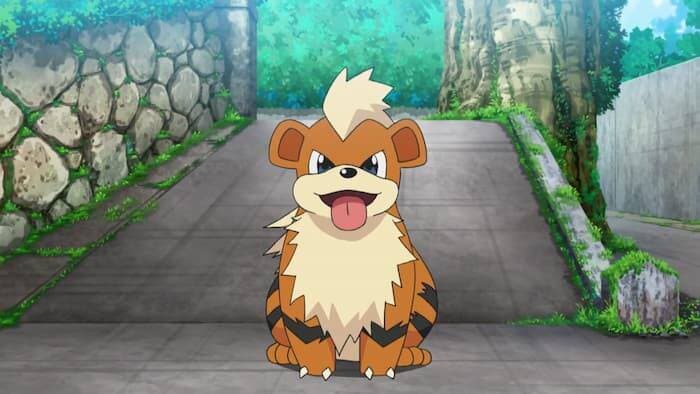 Growlithe's loyalty is so endless that this particular Pokémon even serves as a police officer. The anime series also tells the story of James, who, leaving his home, left his canine companion behind him. Growlithe, however, remained faithful to his trainer. This Pokémon is brave and will always defend his territory and trainer until the very end. Is there anything to add?
Key features
Play one of the top-rated games on Nintendo Switch
Become a trainer and catch them all
Train your Pokémon and put them to fight against other trainers
Play solo or in cooperation with your friend
Boomer - Far Cry 5
| | |
| --- | --- |
| Release date: | 2018-03-27 |
| Genre: | Action & Shooter |
| Developer: | Ubisoft Montreal, Ubisoft Toronto |
The man's best friend you will meet in the quest of the very same name. Boomer is a faithful and loyal dog that will efficiently help you eliminate your enemies.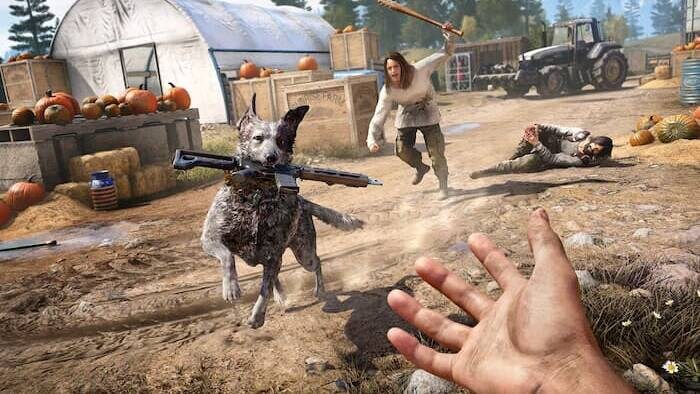 Almost at the very beginning of the game, you will meet him locked in a cage. If you release and pet him, he will become your reliable travel companion. Boomer is a valuable doggy friend as he can triumphantly sniff out enemies in your area. Recruit him, and the fight against the cultists will become much easier.
Key features
Explore the open world of the North of the United States
Create your hero's destination
Fight a dangerous religious cult
Play solo or in multiplayer
Polterpup - Luigi's Mansion 3
| | |
| --- | --- |
| Release date: | 2019-10-31 |
| Genre: | Action-adventure |
| Developer: | Next Level Games |
What do we need when we wander through a haunted hotel? A doggy! And where can you meet the coolest doggy that has ever existed? In Luigi's Mansion 3 for Nintendo Switch.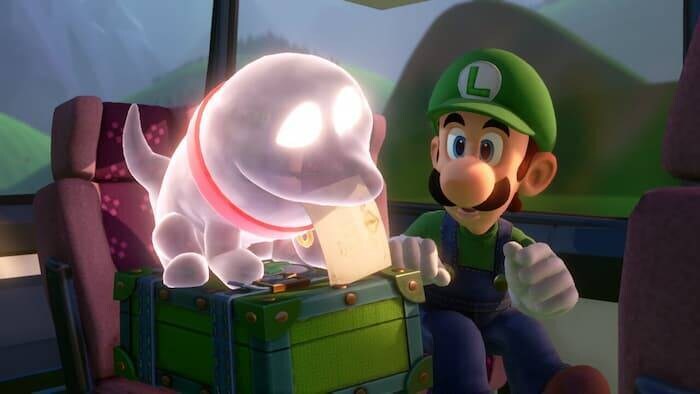 While like other ghosts, the Polterpup is also an astral entity, there is no need to fear him at all. He may be a little mischievous at first, but you will soon discover that nothing is as uplifting as his company. He is a good boi who can teach you a lot, and at the same time will amuse you by giving off his positive energy!
Key features
Play a ghost-filled adventure in the Mario universe for Nintendo Switch
Explore the haunted hotel and solve puzzles
Avoid traps and eliminate enemies
Play solo or with friends up to 8 people
D-Dog - Metal Gear Solid 5: The Phantom Pain
| | |
| --- | --- |
| Release date: | 2015-09-01 |
| Genre: | Adventure |
| Developer: | Konami Digital Entertainment |
From a sweet puppy to an effective killing machine. This is what D-Dog from Metal Gear Solid 5 is like. Take him in, and you will gain the most loyal companion for your dangerous missions.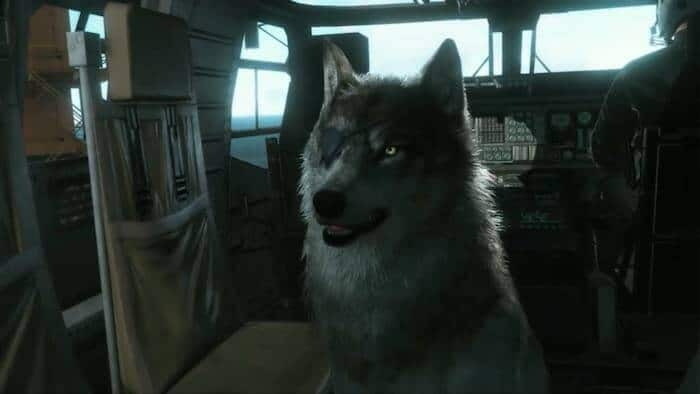 You will find D-Dog during the task when he is still a sweet puppy. If you take him to base, he will soon grow up and be ready to help you with your missions. This good boy is equipped with several great skills that will greatly help you locate people and objects in the area. And that is not all, because you will soon discover that D-Dog can develop his skills and will be able to surprise you with many more.
Key features
Play the fifth installment of the famous series of stealth games
Explore the open world and complete missions
Develop and expand the base to work faster and more efficiently
Have fun in the campaign alone or together with other players up to 16 people
King Cerberus - Devil May Cry 5
| | |
| --- | --- |
| Release date: | 2019-03-08 |
| Genre: | Action |
| Developer: | CAPCOM |
King Cerberus himself is not your in-game companion but a powerful boss you will have to face. This fierce fight will bring you great benefits in the form of the King Cerberus Devil Arm.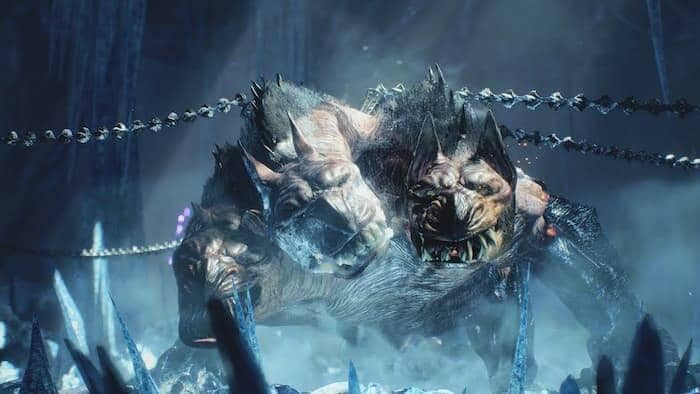 Like the three-headed dog, your new weapon can take the form of a three-piece nunchaku. As King Cerberus had fire, ice, and lightning powers during his lifetime, you will also be able to use them after acquiring this unique weapon. Defeat the doggy demon and become the master of all his powers!
Key features
Play one of the best installments of the awesome slasher series
Go into an epic battle against demons
Fight against mighty bosses to earn valuable weapons
Take part in massive battles against multiple opponents at the same time
Riley – Call of Duty: Ghosts
| | |
| --- | --- |
| Release date: | 2014-03-25 |
| Genre: | Action & Shooter |
| Developer: | Infinity Ward |
A German Shepherd Dog, who is not only a faithful companion but also a well-trained soldier in the service of the United States Army. Riley is so great he captured the hearts of fans long before the game was released.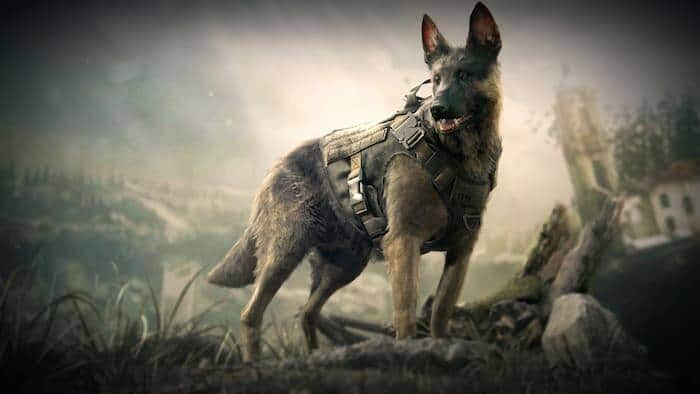 A reliable canine companion that will improve any mission and help you complete it successfully. He is equipped with awesome military gadgets, and his intelligence exceeds many trained soldiers. Riley will always find any traps and help you eliminate your enemies.
Key features
Play one of the installments of the famous Call of Duty series
Become part of an elite military unit
Play multiplayer and create your dream hero
Try out all game modes
Rush - Mega Man 11
| | |
| --- | --- |
| Release date: | 2018-10-02 |
| Genre: | Action |
| Developer: | Capcom |
Rush is man's best robotic friend in Capcom's famous series of platform action games. In his company, you can be sure that the gameplay will be fast, crazy, and blazing!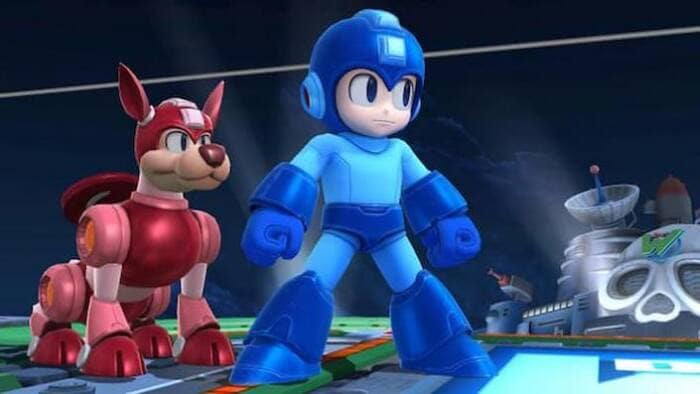 Rush is a canine companion who has some incredibly useful skills. He can not only sniff out or find useful items. Rush can change into absolutely anything you can dream of. If you are looking for a good boy with the most technologically advanced skills, you will find him in Mega Man 11.
Key features
Play a fast-paced and action-packed platform video game
Explore the levels and fight numerous enemies
Jump and avoid the traps
Take on powerful bosses and get weapons
Puppies are happiness. Puppies are love. Puppies are like a big cup of coffee and a warm hug on a sunny Saturday morning. Why do we love dogs so much? Silly question. How could we not love man's most loyal friends? Even dangerous John Wick loves dogs.
Why do we love these most loyal dogs in games? After all, they aren't even real. Well, the thing is, it makes no difference to the human brain. We automatically respond to friendly quadrupeds positively, whether they are real or made of pixels. Clever scientists even claim that humans have developed their way of seeing dogs in the family category. And when it comes to video games – well, even games can be a bit scary at times. Or difficult. Or overwhelming. And when you face another serious mission that the fate of the world depends on, there is nothing like having a loyal good boi at your side!