We all know that video games are a great way to spend free time. It's even better when you can share that experience with your family!
Video games will allow you to bond with your loved ones, experience amazing adventures, and create unforgettable memories. Below you will find a few of the best video games of various genres available right now, that you can play with your family of all ages! The fun is the only thing that matters!
Gang Beasts
| | |
| --- | --- |
| Release date: | 2014-08-29 |
| Genre: | Adventure |
| Developer: | Boneloaf |
Let's start with a hilarious video game called Gang Beasts, a multiplayer brawling game developed by an independent studio Boneloaf, and released in 2017. In the game, players will step into the role of funny, gummy-like, colorful creatures.
The main objective of the gameplay is to fight with other players and push them off the map. The game features several various levels with many traps, platforms, etc. It's worth mentioning that realistic physics plays a major role in the gameplay which often results in unexpected and hilarious situations. Gang Beasts features online, and local multiplayer modes, being a great addition to every house party.
Key Features:
Physics-based gameplay will create many hilarious situations
Play on various, exciting levels
Compete with other players in local and online multiplayer modes
Browse through various, original outfits, and make your character unique!
Minecraft
| | |
| --- | --- |
| Release date: | 2013-11-19 |
| Genre: | Action |
| Developer: | Mojang |
Another video game great for playing with your family is probably one of the most recognizable video games in the world.
Minecraft was released by Mojang Studio back in 2011, and it has become one of the most iconic video games in the whole gaming industry. This angular world, full of blocks and countless pixels world hides unlimited gameplay potential.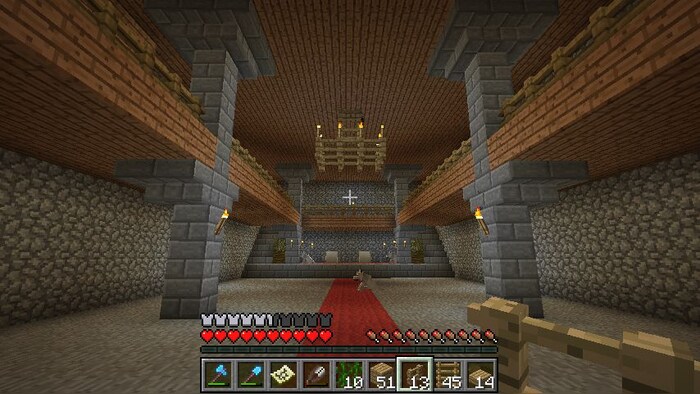 In the game, players can build literally anything they want – starting with simple constructions or houses and ending with monumental castles or even whole cities. The game features an extremely advanced crafting system, allowing you to create all sorts of items, tools, and objects. It's a game where your imagination is your only limit. Minecraft features an online multiplayer mode where you can experience your pixel adventure with your friends and family. It is worth adding that the game is ever-evolving and it is strongly supported by developers and a huge community of players.
Key Features:
Experience an amazing adventure in one of the most famous video games ever
Build amazing creations limited only by your imagination
Play by yourself, or join other players in the multiplayer mode
Explore huge randomly generated worlds made of countless pixel cubes
Super Mario Party
| | |
| --- | --- |
| Release date: | 2018-10-05 |
| Genre: | Card & Board Game |
| Developer: | Nintendo |
Super Mario Party is an extremely entertaining compilation of many minigames, where you can compete with your family and friends via local multiplayer mode. By many, it is claimed to be one of the best party games available for consoles right now!
The game was developed by Nintendo and released in 2017. Super Mario Party features 80 different types of minigames, and you can be sure everyone will find something for themself among them.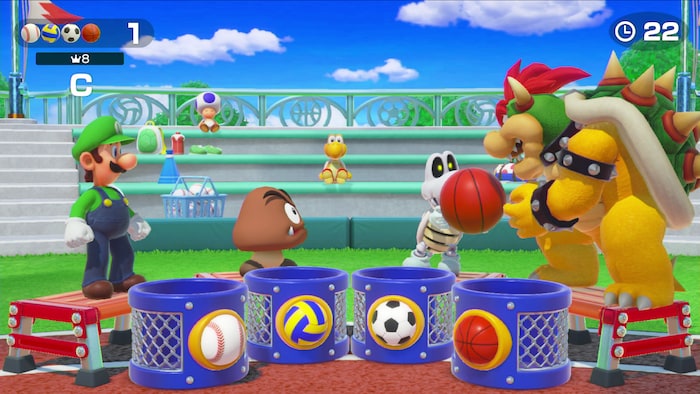 The game will deliver tons of fun not only for hard-core gamers – the rules of minigames are easy to understand and follow and they don't require god-like reflexes or skills. Since the game is a Nintendo Switch-exclusive title, developers made sure to make the best of every asset of this amazing device. Many minigames will support the Joy-Cons motion sensor, offering a unique gaming experience. While playing, we'll meet many iconic, famous video game characters from the Super Mario franchise. Besides the titular plumber and his brother Luigi, players will encounter the evil Bowser, Princess Peach, Goomba, and many others.
Key Features:
Explore dozens of fun minigames with famous Mario franchise characters
An amazing addition to your house party – prepare for tons of fun and laughs!
Compete with your friends via local multiplayer mode
Discover the amazing possibilities of the Joy-Cons controllers!
Mario Kart 8
| | |
| --- | --- |
| Release date: | 2017-04-28 |
| Genre: | Racing |
| Developer: | Nintendo EPD |
Mario Kart 8 Deluxe is another video game from the Mario franchise that even non-gamers will love.
It is an enhanced version of Mario Kart 8, originally released for the Wii U console. It includes the full content of the original game, including all the expansions, and numerous gameplay improvements. It's worth mentioning that the new Deluxe edition features completely new maps and many new playable characters.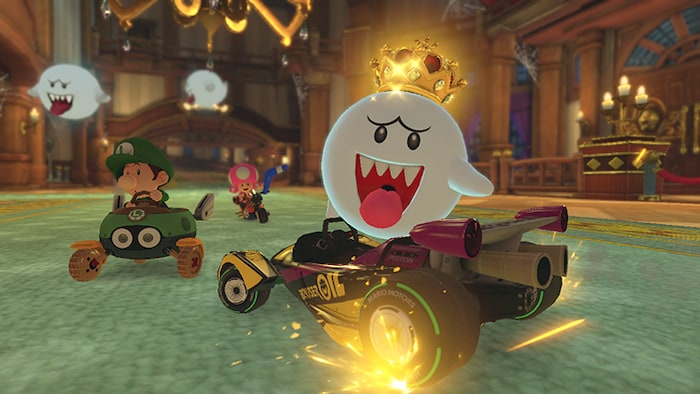 Players will have a chance to play as King Boo, Inkling Girl/Boy, Bowser Jr., and more! During the gameplay, players will take part in exciting, action-packed races, competing against famous characters from the Mario video games franchise. Racing tracks are full of various power-ups that will let you gain an advantage and make your opponents' lives miserable! Well-designed gameplay mechanics and a high level of replayability guarantee long hours of amazing fun for the whole family!
Key Features:
A new, and better version of the famous racing video game, starring Mario, Luigi, and others!
Compete with your friends and family during thrilling races
Use various power-ups scattered across tracks to gain an advantage!
Toad's Rec Room mode allows you to play using 2 consoles simultainlesly
Overcooked! All You Can Eat
| | |
| --- | --- |
| Release date: | 2020-11-12 |
| Genre: | Strategy |
| Developer: | Ghost Town Games |
If you are a team player and enjoy working with others, you should definitely try out Overcooked! All You Can Eat. This fun, cooperation-based video game was developed by Ghost Town Games. It is a compilation of both Overcooked games and their DLCs, offering the best gameplay experience.
In the game, players will travel to the Onion Kingdom endangered by the Flying Spaghetti Monster! The only way to stop him is to fulfill his infinite hunger. In order to do that, players will have to complete numerous challenging levels, by cooking various dishes for the monster. Just like in every real-life restaurant, the game requires well-organized teamwork in the kitchen. For example, when you are grilling the meat burgers, the other players should prepare, buns, pickles, and other ingredients for the full dish. Sounds logical and simple, but you will quickly realize that it's way harder than it looks. Especially when you add the time limit for each level, the constant risk of fire, and the growing frustration of other people playing with you.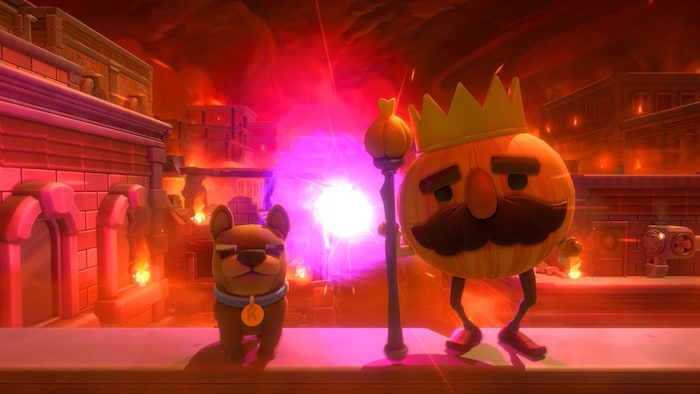 In Overcooked 2, you will once again have to save the Onion Kingdom. This time you will have to defeat hordes of the Unbread – an evil undead bread summoned by the Onion King by accident. The sequel continues using the gameplay mechanics known from the first game, however, it introduces a few novelties. For example, now we can throw ingredients directly to our friends or into the cooking pot. Players will visit even more diverse levels, cook new dishes, and face new challenges.
Key Features:
Experience the adrenaline rush during fast-paced cooking sessions
Dozens of diverse stages with different difficulty levels
Teamwork is the key to success – learn how to cooperate ASAP!
Simple, yet hard to master controls
Stardew Valley
| | |
| --- | --- |
| Release date: | 2016-02-26 |
| Genre: | Adventure |
| Developer: | ConcernedApe |
Here's something for those who crave a peaceful life in the countryside – Stardew Valley is a sandbox game with some RPG elements, created by Concerned Apple studio.
In the game, players take control of a young and ambitious farmer, whose goal is to create a big, and prosperous farm.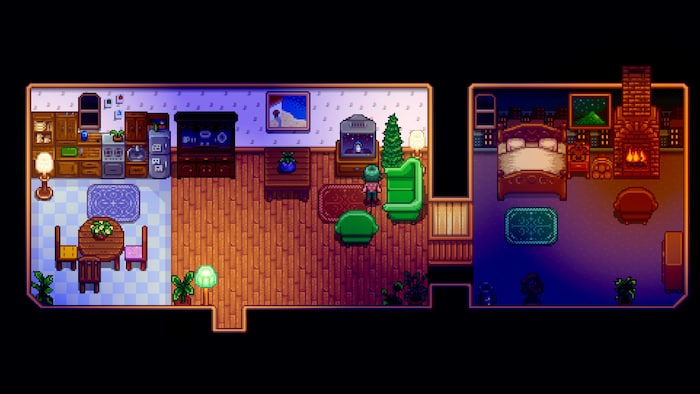 The story of the game focuses on a young employee of a big city corporation. One day, he gets a letter from his grandfather who asks for help in managing an old farm. Our protagonist decides to travel to the countryside and start a new, simpler, and slower-paced life. During the gameplay, players will spend most of their time fulfilling typical farm duties – the farm has been unkept for quite some time and there is plenty of work to do. As we progress in the game, we'll be able to plant new plants, take care of the livestock, as well as learn how to craft essential tools and items. Most of the time, players will have complete freedom in terms of gameplay – players can play the way they want!
Key Features:
An amazing adventure in a countryside
The multitude of engaging activities
Colorful, pixel-art-styled graphics
Up to 4-players cooperation mode
Sackboy: A Big Adventure
| | |
| --- | --- |
| Release date: | 2020-11-12 |
| Genre: | Platform |
| Developer: | Sumo Digital |
If you are a fan of arcade platformer games, Sackboy: A Big Adventure should get your attention.
In this colorful, adventure game developed by Sumo Digital, players take control of the titular Sackboy – the protagonist of the world-famous video game series from PlayStation consoles, Little Big Planet.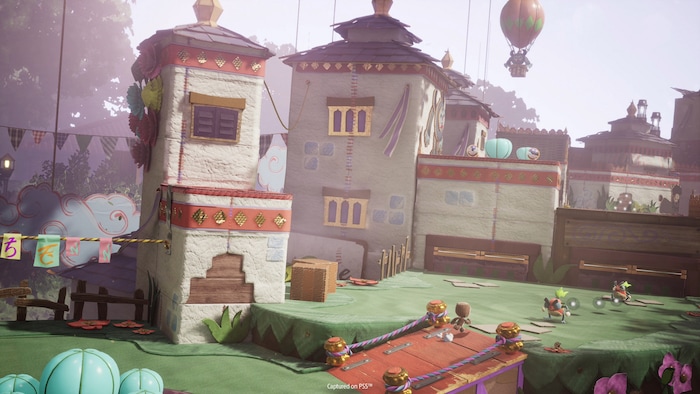 During the gameplay, players will travel through various colorful and diverse levels, with many secrets and environmental puzzles. Take part in an amazing, new adventure alongside Sackboy, whose goal is to save his friends and prevent malicious Vex from creating his evil machine! Besides the single-player mode, the game features co-op multiplayer mode in which we can play with up to 3 players. The new game with the iconic ragdoll offers a great experience for both, younger and older players, filled with hours of high-quality entertainment.
Key Features:
A completely new adventure, starring the famous Sackboy
Explore amazing, diverse levels
Discover various secrets and find dozens of collectibles
Embark on an amazing journey with your friends and family thanks to local multiplayer mode