There is something satisfying about looking after your own garden. Or field. Or the whole farm! Best of all, you don't even have to leave your home to engage in your favorite hobby.
The farm simulators are popping up like mushrooms. New titles meet the needs of more and more players. Some gamers focus only on growing plants, while others make new friends in their country community. Some people buy new agricultural machinery, while others go on quests. The possibilities are endless. Do you want to explore the rich world of activities offered by farm simulators? Be sure to check out our list of the best farming games ever.
10 Best Farming Simulator & Agricultural Games
Farming Simulator 19
| | |
| --- | --- |
| Release date: | 2018-11-20 |
| Genre: | Simulation |
| Developer: | Giants Software |
A 3D video game that most faithfully captures every detail of a modern farmer's work. If you are looking for an authentic experience and realistic graphics then Farming Simulator 19 does the job.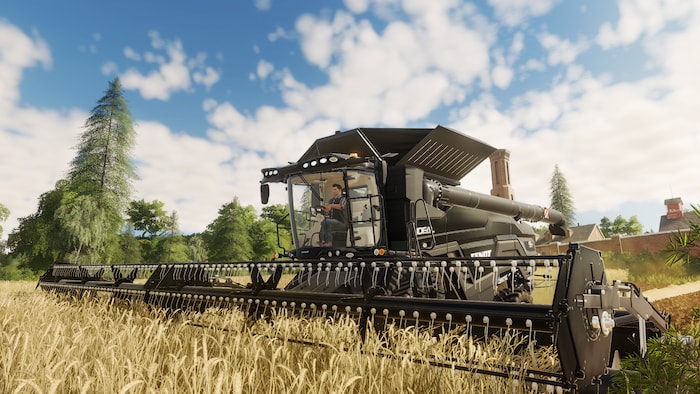 This farming simulator not only gives you a rich, open world that you can manage as you like. It also allows you to customize the appearance of your character so you can feel more at home. Take care of crops and animals, trade harvests, buy new lands and powerful agricultural machines. And if you want some company, you can invite your friends, because Farming Simulator 19 allows you to play in multiplayer up to 16 players.
Key features
Play the most realistic farm simulator
Trade land and crops to make your hard work pay off
Take care of the crops and look after animals
Manage the farm alone or in the company
Stardew Valley
| | |
| --- | --- |
| Release date: | 2016-02-26 |
| Genre: | Simulation, role-playing |
| Developer: | ConcernedApe |
A sandbox role-playing game in which you not only take care of your farm but can also engage in many other activities. It is a fantastic proposition for players who like to combine developing their property and role-play.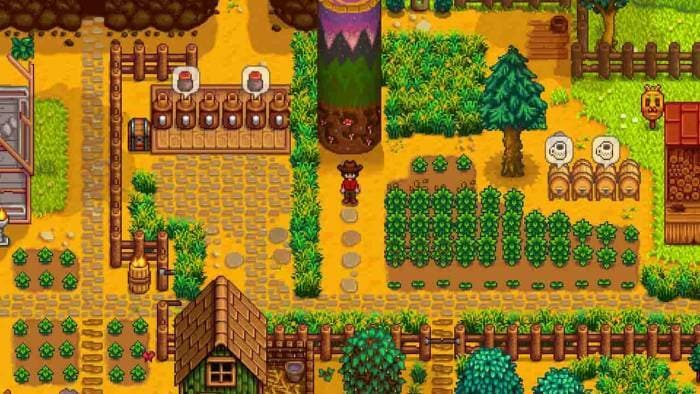 Play the role of a corporate employee who decides to change his life! You get a small farm in the countryside. So you move outside the city, where it turns out that the farm needs to be restored to its former glory. There is a lot of work ahead of you, but also a lot of fun! Meet the locals and become an important part of the community. Explore and get valuable resources. Go fishing or fight monsters. In Stardew Valley, you can do whatever you want!
Key features
Engage in economic gameplay in which you will make your farm as good as new
Make friends, do business, become part of the community, and get married
Explore the area, get resources and fight monsters
Play solo or in multiplayer with friends up to 4 players
Kynseed
| | |
| --- | --- |
| Release date: | 2018-11-08 |
| Genre: | Role-playing, farming simulation |
| Developer: | PixelCount Studios |
One thing's for sure – it is a game you will instantly fall in love with. Kynseed is cute, pretty, and incredibly addictive. If you like British folklore and a fairy-tale atmosphere, then this game will be the one.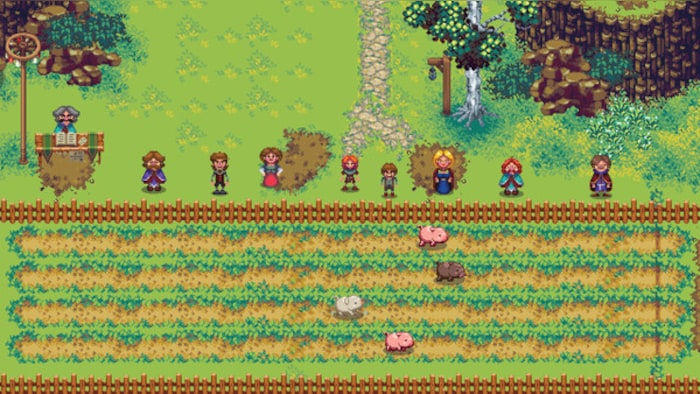 Play the role of a farmer and start your new life. There are as many options as you can think of. You can farm the field and take care of the land. You can go on a journey and experience fantastic adventures. Or you can make friends with other citizens and work with them for the better life of the entire community. And that is not all, because Kynseed is not only about pretty pixels and great gameplay. In this game time flies! So there is no repetition here for sure.
Key features
Farm the land, take care of the animals, and make yourself at home
Go on a journey, gather resources and artifacts, and experience great adventures
Open your own business
Become an important part of the community and start a family
Farm Together
| | |
| --- | --- |
| Release date: | 2018-02-22 |
| Genre: | Indie |
| Developer: | Milkstone Studios |
A farm simulator for fans of fun multiplayer gameplay. Farm Together is a simple but also very addictive game for anyone who is looking for relaxation after a tough day.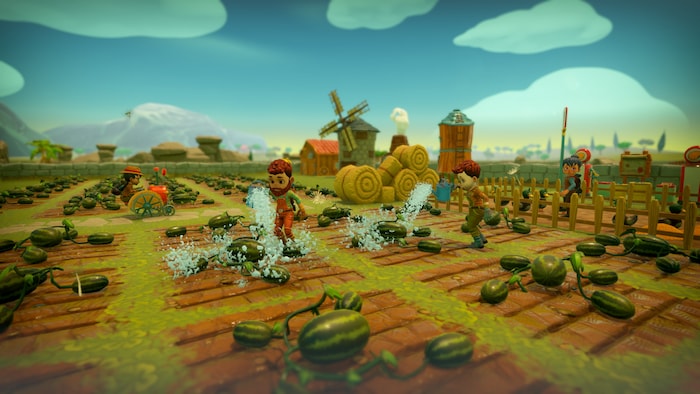 The goal is simple – you get a piece of land, and you can do with it whatever you want. Of course, it would be best if you try to expand your farm as best as you can, but nothing prevents you from playing the way you like best. Although your funds are rather modest at first, you will earn more and more as the gameplay progress. As a result, you will be able to afford better and better equipment and other things needed to run a smoothly prospering farm. Although the game is focused on multiplayer, you can also play solo. Your game, your playstyle.
Key features
Build your farm and shine in front of your neighbors
Crop your harvests and earn more and more money
Buy new agricultural machinery and decorations
Play solo or in multiplayer
Farmer's Dynasty
| | |
| --- | --- |
| Release date: | 2019-11-21 |
| Genre: | Simulation |
| Developer: | Toplitz Productions |
This game is not only a 3D farm simulator but also a realistic simulation of life. A unique and vivid experience beyond the definition of a standard RPG. Do you want to live a truly double life? Buy Farmer's Dynasty and let yourself be carried away by your own story.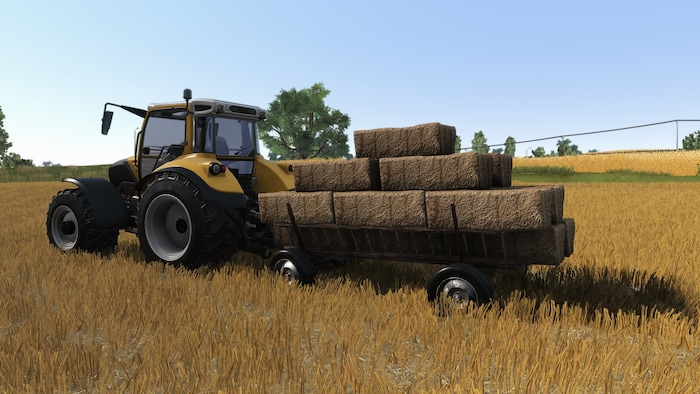 A familiar script, but a completely different performance. You inherit a farm and come to the countryside to conjure up a prosperous property from the ruins. In the beginning, keep your hand busy because there are many repairs to be done. You also need to earn money to be able to continue your work. But you will soon find out that the effort will pay off! That is not all, as Farmer's Dynasty's open-world offers many other activities. Complete quests from NPCs, start a family and continue the family legacy.
Key features
Renovate your farm and make it run like clockwork
Explore the map, discover the area and get to know your neighbors
Earn money to buy better and better farming machines
Start a family so that your farm will be passed from generation to generation
Voodoo Garden
| | |
| --- | --- |
| Release date: | 2016-08-04 |
| Genre: | Indie, simulation |
| Developer: | M. Hanka |
A slightly different take on the farm simulator genre. There are no idyllic villages and friendly neighbors here. There is a hut in the swamp because it is voodoo-style gameplay!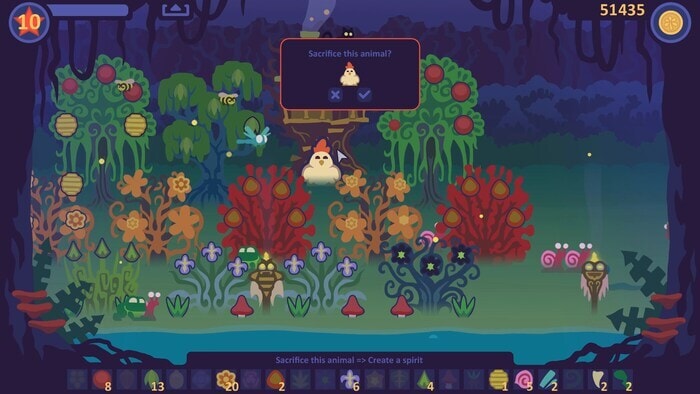 Welcome to the magical world of Voodoo Garden. You are as close to nature and magic as never before. You have a lot of work to do in the most relaxing atmosphere imaginable. Plant trees and weeds, collect fruits and create useful items. Catch animals, raise them, and sacrifice to summon helpful spirits. Voodoo Garden is a simple clicker set in a spectral atmosphere. So it is best for players who are looking for some good rest or kids age 7 and up.
Key features
Live in a hut in the swamp and become part of the magical world of voodoo
Plant the weeds and harvest the crops
Earn money and buy new items
Take care of cute pets and summon helpful spirits
Sakuna: Of Rice and Ruin
| | |
| --- | --- |
| Release date: | 2020-11-10 |
| Genre: | Action role-playing, simulation |
| Developer: | Edelweiss |
It is a beautiful platform game with elements of a farm simulator. If farm management alone is not enough for you and you want to have access to a variety of activities, then Sakuna: Of Rice and Ruin will meet your expectations.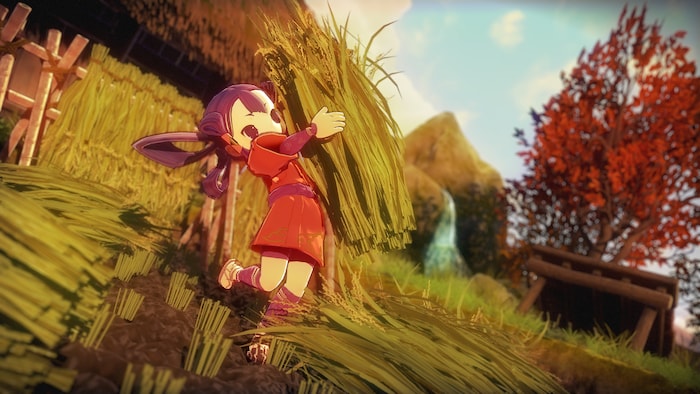 Welcome to Medieval Japan! You have a very important role to play here as you are the goddess of the harvest. Your people end up on an island where they have to start their lives from scratch and to help them is your most important job. Solve puzzles, explore the map and fight demons. Defeat your enemies with farming tools, craft new weapons, harvest rice, and cook food. This is the best opportunity to experience the life of a goddess in the Land of the Rising Sun!
Key features
Play the most beautiful game where you play as the goddess of crops
Construct your weapons, learn new fighting techniques and defeat demons
Plant rice, harvest it and cook the food
Take care of your people so that they have the best possible life
Don't Starve Together
| | |
| --- | --- |
| Release date: | 2016-04-21 |
| Genre: | Economy |
| Developer: | Klei Entertainment |
A bit dark and very mysterious gameplay with a gentle hint of horror. If you like Halloween-like games and want to keep your hands and mind busy, Don't Starve Together will not disappoint you.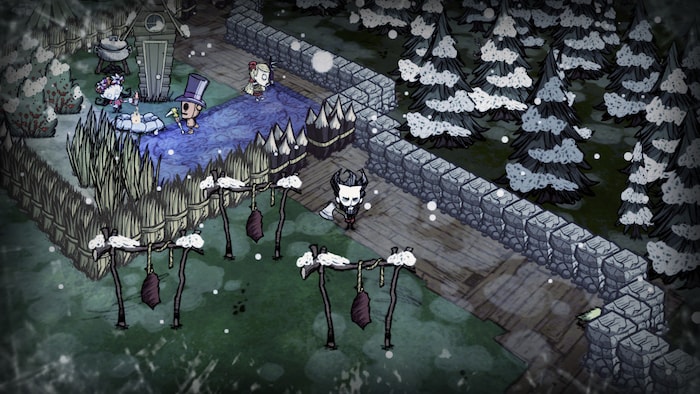 Play as one of several characters with a rich history and personality and enter the bizarre world of Don't Starve! It is a nicely drawn game that combines several genres. The main goal, however, is survival. To achieve this, you have to gather resources, build your base, get food, plant crops, cook meals and create better and better inventions. As if that was not enough, everything around wants to kill you, so you also have to fight various monsters. And watch out, the worst always comes when it gets dark.
Key features
Create a safe base where you can place all your inventions
Explore, get resources and food
Grow crops to have access to food all year round
Fight monsters to get valuable items
Staxel
| | |
| --- | --- |
| Release date: | 2018-01-23 |
| Genre: | Indie |
| Developer: | Plukit |
A sandbox RPG in which you can do whatever you want! You are a citizen of a quiet town where time has almost stood still. It is up to you what to do next.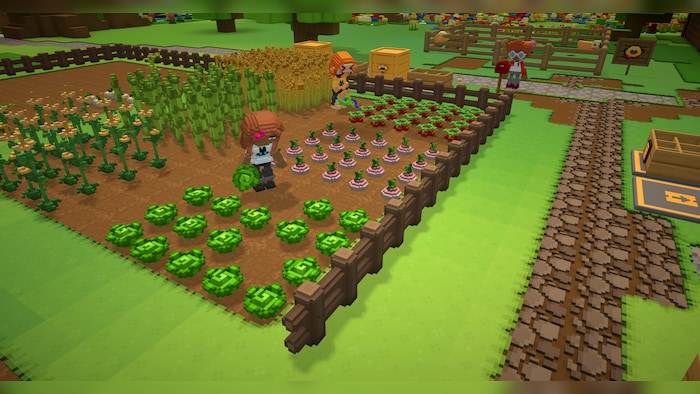 Become part of a friendly community and create your dream home. Plant crops, harvest them and trade with your neighbors. Improve your farm to make your life as pleasant as possible. Make friends to unlock new quests and items. Accept quests, explore and even fight monsters in the dungeons. You decide what you want to do! Staxel is a fantastic proposition for anyone who does not like or does not have the energy to devote themselves too much to the game but just wants to chill.
Key features
Play a game to relax after a hard day
Farm the field, harvest your crops, and sell them at the market
Explore the area, go underground and kill monsters to get treasures
Become part of the local community
Harvest Moon: Light of Hope
| | |
| --- | --- |
| Release date: | 2017-11-14 |
| Genre: | Adventure |
| Developer: | Natsume Inc. |
One of the parts of the hit series of agricultural games combining adventure and RPG elements. Become a local hero and restore the ruined village to its former glory!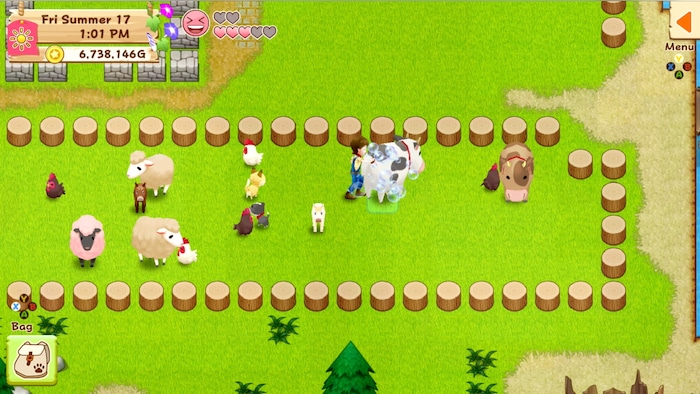 You crash on the shore of the island and are luckily found by the nice lady doctor. You discover that the village you are in is not in the best condition and that its citizens desperately need your help. So you happily get started with renovating buildings, improving the land, and raising animals. You also meet many friendly locals and can even start a family!
Key features
Play part of the famous Harvest Moon series
Help citizens improve their lives
Renovate, build, farm and make everything run like clockwork
Become a part of the community and create the history of the island together with your neighbors
Don't you wonder why farm simulators are so popular? Year after year, these video games collect very positive ratings on Steam. After all, it's just planting 3d plants and taking care of cattle. One might even be tempted to say that this is a mere waste of time, and many say so. Colossal mistake!
We live in times when, sooner or later, each of us experiences stress. The World Health Organization defined stress not only as a disease of civilization but even as a disorder of the century. What does a stressed-out person want? It's simple – peace of mind. And while farm simulators may seem like a trivial solution, they work. It is widely known that video games significantly reduce stress and mental tension. And a game where you can just wander around and drive John Deere tractors is a fantastic way to forget about everyday dilemmas. For a while, you can have fun without even paying much attention to the gameplay. Even more, you can play the farm simulator and have a conversation on the phone at the same time. Or invite friends to play together on PS4. Farm simulators are also usually a rather simple entertainment, which makes them popular also among seniors and perfect for kids. Gameplay for all generations!
As you can see, you don't always have to put unnecessary pressure on yourself. Sometimes the easiest way to achieve peace of mind is to simply click on some pixelated flowers. Is there more to say? Just chill and farm.