Looking forward to becoming a gamer girl? Well, you've come to the right place. We've picked nine games that we think might be fantastic entry points for you!
Better yet, they often offer fun cooperative modes for a couple of players (usually up to four). So, if you have some gal pals who you'd like to jump into gaming with, these are even more excellent choices. 
By the way, we don't think there are separate categories of games for males and females. Who said the fairer sex can't enjoy some shooters, for example?
Anyway, here are our picks of the best games for beginners:
Overcooked: All You Can Eat
| | |
| --- | --- |
| Release date: | 2021-03-23 (Overcooked! released in 2016, Overcooked! 2 released in 2018) |
| Genre: | Cooking sim |
| Developer: | Ghost Town Games (Overcooked! 1 & 2), Team17 (Overcooked! 2) |
If you love cooking and hanging out with your friends, the first game (two, actually, since it's a compilation) on our list will be a perfect pick for you. Just be warned, though: team efforts in the kitchen quickly become insanely chaotic!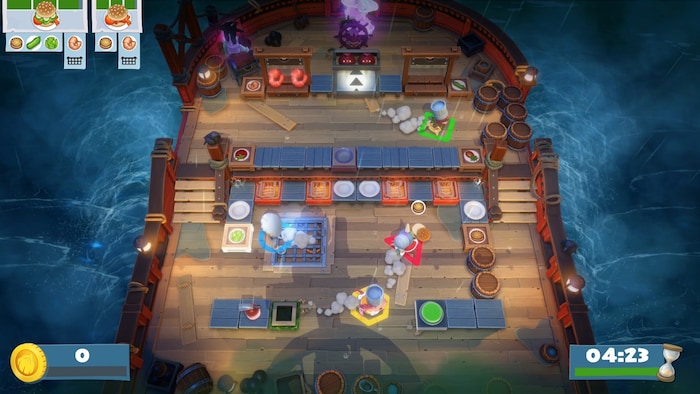 The Overcooked! games are famous for their frenetic pace and the amount of coordination between the players required to succeed in each of the restaurants you visit throughout the campaigns in order to save the world from the Ever Peckish or the Unbread. 
The gameplay is as follows: you are one of the members of a team of chefs (single-player is available here, but we don't recommend that) whose goal is to complete various orders within a certain time limit. Even coordinating your actions is difficult, but there are more obstacles along the way, including varied level layouts and other unforeseen contingencies! The All You Can Eat compilation will surely provide hours of zany fun. 
Key features
The craziest co-op cooking sims out there
Plenty of varied levels to complete
Coordinating your team's actions is surely challenging, but this is where the fun lies
Two awesome games in one package
Plants vs. Zombies: Battle for Neighborville
| | |
| --- | --- |
| Release date: | 2019-10-18 |
| Genre: | Third-person shooter |
| Developer: | PopCap Games (additional development by Motive Studios), QLOC (Nintendo Switch version) |
A representative of a super-popular gaming franchise, Plants vs. Zombies: Battle for Neighborville is the third installment in the Garden Warfare spin-off series. Join the fray as either a plant or a zombie and get ready to kick some butts!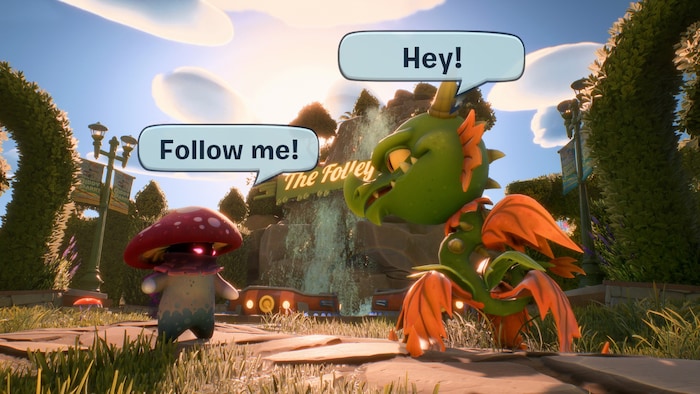 The game lets you play with twenty-four other players in both cooperative and competitive modes. Each of the character classes available offers new abilities and gameplay styles, so Battle for Neighborville will keep you entertained  for hours on end and surprise you with something new almost every time. 
It's a sweet little shooter that will most likely capture your heart with its silly gameplay, unique visual style, and iconic character designs. What a perfect way to start your adventure with action games!
Key features
A third-person shooter in the Plants vs. Zombies universe
Twenty different character classes 
Six gameplay modes
Various areas to explore
Traveller's Tales' LEGO games
| | |
| --- | --- |
| Release date: | LEGO Star Wars: The Video Game released in 2005,LEGO Star Wars: The Skywalker Saga released in 2022 |
| Genre: | Action-adventure |
| Developer: | Traveller's Tales (with other studios developing versions for different platforms) |
This series is a classic. A mixture of action-adventure/platform gameplay with the most popular franchises around and tons of zany humor, it has captured the hearts of gamers all over the world. Yours will most likely fall prey to it, too.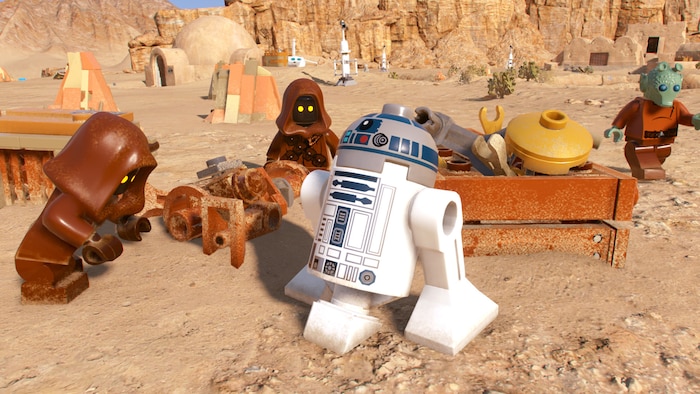 Star Wars, Harry Potter, Jurassic Park/Jurassic World, Indiana Jones, Pirates of the Caribbean, Lord of the Rings, Marvel, DC – these are the franchises that Traveller's Tales have skillfully transformed into lovely stuff for gamers of all ages. The premise of each game is simple. They're either a movie turned into a video game, with each scene recreated in a hilarious way (with a certain amount of artistic license) and mostly non-verbal, grumbled dialogues, or original stories with actual voice acting.
During missions you collect stuff, fight enemies, use your characters' special abilities (there are various types of heroes, each with different skills), jump around, build things, sometimes there are vehicular sections depending on the game, etc. Once you're done with that, you return to the main hub where you can unlock new characters and special power-ups, among other things.
This series has become stale over time, unfortunately, but if you're a newcomer, there's a huge chance you'll love it. Just pick the franchise you're most in love with and the game that seems the best to you. You should have lots of fun playing it!
Key features
Loving recreations of famous movies, with some original stories thrown in the mix
A silly, good-natured sense of humor in each of these games
Action-adventure gameplay with lots of unlockables and collectibles
Adaptations of different famous franchises
Rayman Legends
| | |
| --- | --- |
| Release date: | 2013-08-29 |
| Genre: | Platform |
| Developer: | Ubisoft Montpellier (Nintendo Switch version co-developed with Pastagames) |
Rayman is now a bit forgotten gem. Once one of the most legendary platform game characters, he's been somewhat shoved aside by those pesky Rabbids. Still, the core series is worth revisiting.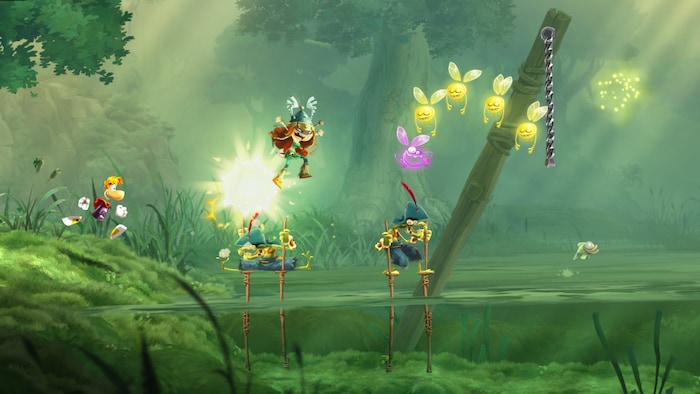 Set a century after the events of Rayman Origins, Legends sees the titular character return – along with his friends – to save the world once again, from Dark Teensies this time. Expect lots of precisely timed jumps, zany foes to beat, and peaceful inhabitants to save.
One of the game's most interesting features is the cooperative mode which lets up to four players play together. And there is plenty to explore, as Rayman Legends boasts way over a hundred levels, including remasters of stages from the previous installment. Heck, there's even a mode called Kung Foot, a variation on football. All in all, it's a title worth picking up.
Key features
Over a hundred levels to complete
Co-operative mode for up to four players
3D boss battles – a refreshing change from the 2D gameplay
Online challenges – this way you can compete with others
Spyro Reignited Trilogy
| | |
| --- | --- |
| Release date: | 2018-11-13 |
| Genre: | Platform |
| Developer: | Toys for Bob, Iron Galaxy (PC port), Sanzaru Games (Spyro: Year of the Dragon remaster), Insomniac Games (original developers) |
Another fantastic platformer on this list, Spyro used to rock on the first generations of consoles. Now, the young dragon has returned in a collection of wonderful remasters, though a better word here would be "reimagining."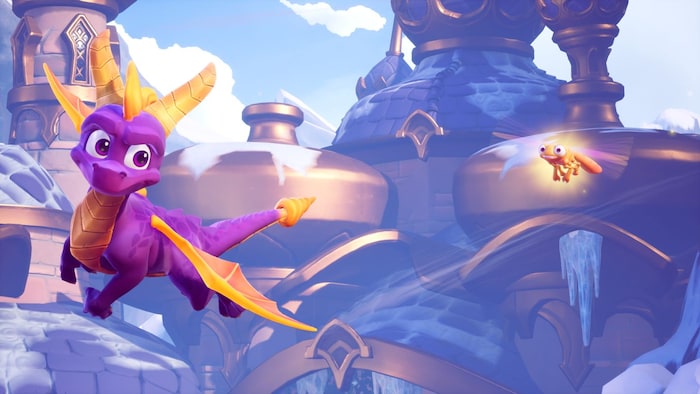 That's right: while each game in this collection stays true to the original, the changes are immense, making the experience feel fresh even if you're a longtime fan of the series. Among the changes are very, very detailed levels, gameplay features of subsequent releases applied to all three games (such as skill points or side rolls), new voice acting, more fleshed-out NPCs, and a dynamic soundtrack.
All in all, it's a faithful recreation of the Spyro trilogy that might be a fantastic pick for your first game.
Key features
Three classic platform games reimagined 
All sorts of "quality of life" upgrades
Remade levels look gorgeous
Dynamic soundtrack adjusting to your tempo
Minecraft
| | |
| --- | --- |
| Release date: | 2013-11-19 |
| Genre: | Sandbox, survival |
| Developer: | Mojang Studios, 4J Studios (console ports), Other Ocean Interactive (3DS port) |
This is the one title that we probably don't have to introduce. Minecraft took the world by storm with its stuff creation mechanics that let everyone unleash their creativity and build something totally amazing.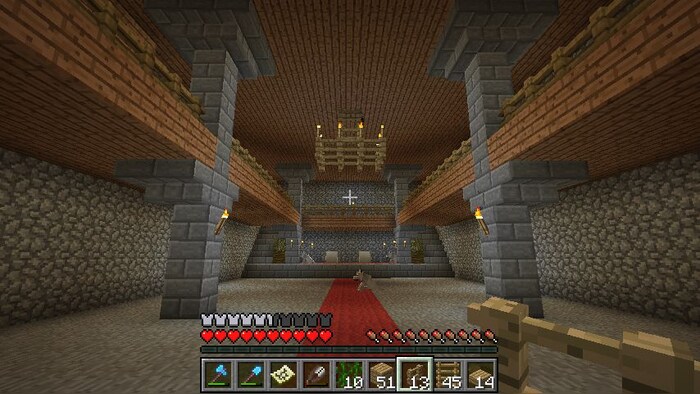 Naturally, the game has a survival mode where you need to gather the necessary resources, build a shelter and fend off attacking creatures, but where's the fun in that, right? The main strength of the game is it lets you build pretty much anything you desire. It can be something simple, like a rudimentary mud hut, or it can be something complex, like a castle or a recreation of a famous landmark or building. The sky's the limit!
If you seek to unleash your creativity, Minecraft might be one of the best ways to do so. Be sure to check it out. 
Key features
A fantastic game for both survivalists and creators
There's so much you can build here
Fantastic education potential
You can play it with your friends, too
Unravel Two
| | |
| --- | --- |
| Release date: | 2018-06-09 |
| Genre: | Puzzle-platform |
| Developer: | Coldwood |
While this game can be played solo, just like its predecessor, Unravel Two is best when you have a companion to help you out.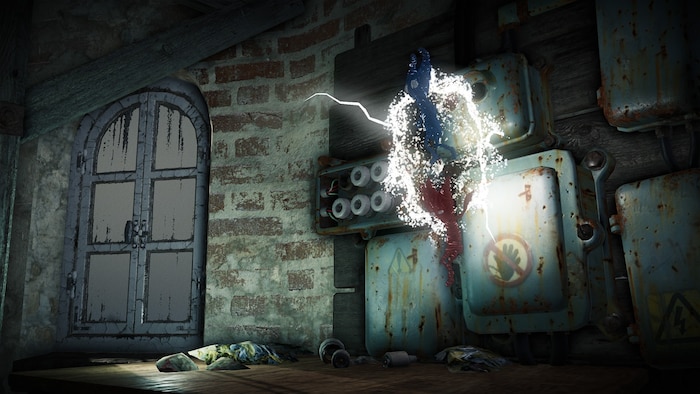 The red Yarny ends up stranded on some sort of a mysterious island. There, he finds a blue Yarny. They form a bond by connecting their dead ends. A spark then emerges, which they follow. This is how a touching and heart-warming adventure begins.
The gameplay is based around the two Yarnys working together to solve the puzzles they encounter and progress further. Unravel Two is a lovely little title with a heart of gold. If you love emotional stories and cutesy characters, this one will be a perfect pick for your first game.
Key features
A puzzle platformer for two players
But you can complete it in the single-player mode, too
Lots of challenges to overcome
It's so cute
Borderlands 3
| | |
| --- | --- |
| Release date: | 2020-04 |
| Genre: | First-person shooter/action RPG |
| Developer: | Gearbox Software |
Who said girls can't chill out by blasting stuff? If you're looking for a good shooter with frenzied action and tons of loot, you won't find a better game than Borderlands 3. Well, maybe aside from the other games in the series, of course.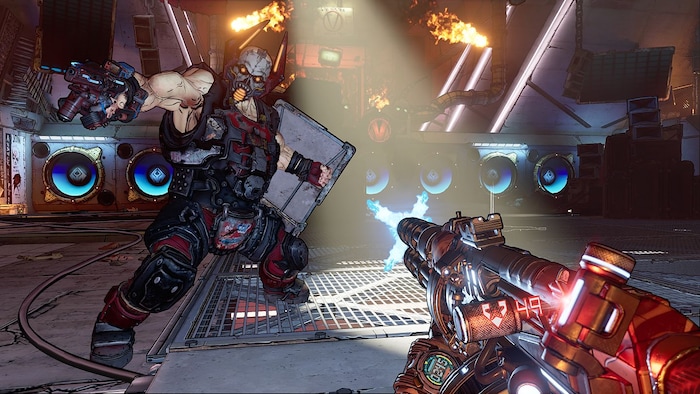 What's interesting about the game is the fact that Borderlands 3 will take you to places other than Pandora. Guess stopping the Calypso twins is an intergalactic quest or something. The aforementioned duo seeks to unite all bandit clans into a single, unstoppable force and this is something you cannot let happen.
What's great about the game is that if features bazillions of guns and their variations. This means you'll never run out of cool cannons to obliterate your enemies with. Anyway, if you're looking for a great action game to begin your gaming adventure with, this is a great pick, especially now that you can totally play it with up to three friends in the cooperative mode.
Key features
Bazillions of guns thanks to procedural generation
Co-op for up to four players
Four different characters to choose from
You'll get to visit places other than Pandora
Tiny Tina's Wonderlands
| | |
| --- | --- |
| Release date: | 2022-06-23 |
| Genre: | First-person shooter/action RPG |
| Developer: | Gearbox Software |
What if you blended Borderlands with a good, old-fashioned session of Dungeons & Dragons? Well, this is the answer. Tiny Tina's Wonderlands is a great twist on both.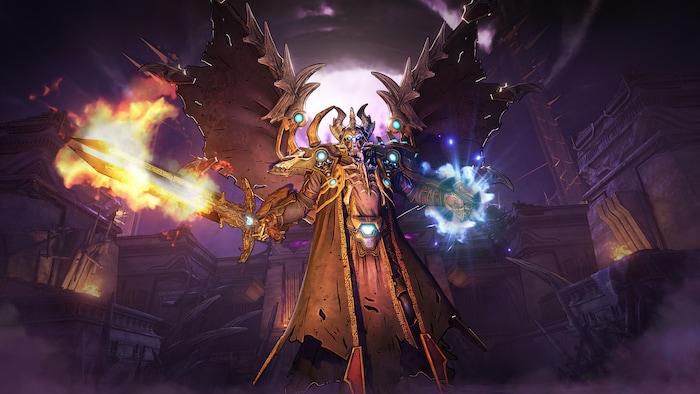 High fantasy? Check. Exploring an overworld, with random encounters, to boot? Check. Melee weaponry and spells in addition to procedurally-generated firearms? Check. As you can see, there's plenty to talk about here. Tiny Tina is the dungeon master here, so expect all sorts of ridiculously wild shenanigans.
All in all, it's a fun, unique game with tons of great humor. Even if the whole RPG session aesthetic is a bit on the hit-or-miss side, Tiny Tina's Wonderlands is a perfect choice if you're looking for a fun action game that you can play with your friends. Just like Borderlands 3, this one also lets you play with up to three other players.
Key features
An RPG session…but as a shooter and with Tiny Tina as the dungeon master
Expect lots of crazy twists
Melee weapons, spells and procedurally-generated guns
You can create your own character and pick one of the six available classes
As you can see, it's quite a selection of fantastic titles that'll be perfect to start your gaming adventure with. Just pick any of them and you should be good to go. We hope you'll love this hobby!