This month's packs quite a punch when it comes to cool games coming out. And we're halfway done with it, meaning you can play some of these titles already!
We've picked 9 games of all sorts of genres. There's something for sports fans, there's something for those who prefer shooting things up, there are some up-and-coming indie gems that you should check out if independent game development is your thing. All in all, it's a pretty strong month, just take a look at this list:
Best New Game Releases in March 2022
Shadow Warrior 3
| | |
| --- | --- |
| Release: | 2022-03-01 |
| Genre: | Adventure |
| Developer: | Flying Wild Hog |
What's to say about this one? An overpowered version of the 2013 reboot, Shadow Warrior 3 is bigger, better and more badass in pretty much every respect there is.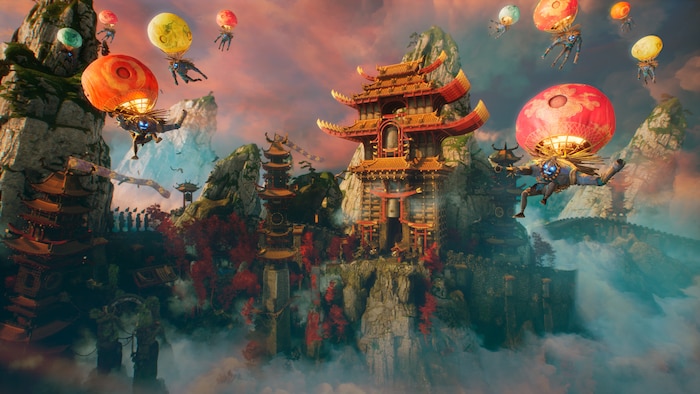 As usual, you control Lo Wang (this time voiced by Mike Moh, the actor who played Bruce Lee in "Once Upon a Time…in Hollywood") who runs and guns all sorts of baddies down using an impressive arsenal of weaponry, ranging from all sorts of firearms to his trusty katana. There's plenty of new traversal options, including grappling hooks and wall running. As usual, the game's loaded with lowbrow humor and cheesy one-liners.
If you're looking for a fun shooter to make you feel overpowered, grab Shadow Warrior 3. It's basically your martial arts/action movie fantasy made into a very, very decent video game.
Key features
You get to slay an ancient dragon
You get to wield a badass katana
You get to shoot tons of baddies
You get to be like a ninja
Elex 2
| | |
| --- | --- |
| Release: | 2022-03-01 |
| Genre: | Adventure, RPG |
| Developer: | Piranha Bytes |
The first Elex was fairly weird, to be honest, a science fantasy take on the Gothic and Risen series gamers love Piranha Bytes for.
You know, punishing and buggy, but extremely endearing role-playing games that captured the hearts of so many gamers all over the world.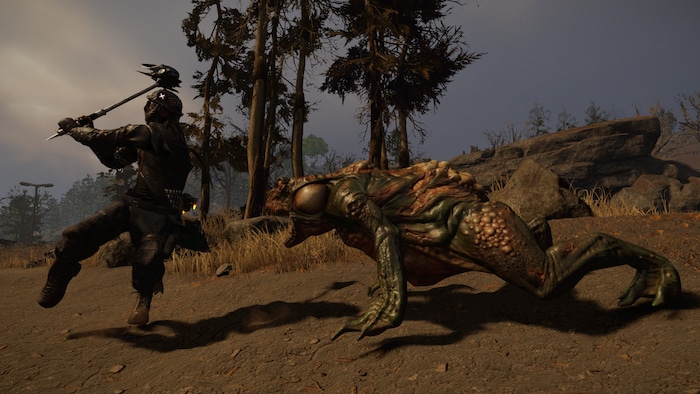 You return to the post-apocalyptic world of Magalan where wizards, dragons, laser rifles and jetpacks co-exist. Once again, you play as Jax who gets to save the day again. Your task is to unite all the factions on Magalan against evil invaders and find your son while at it.
What's great about the game is the degree of freedom you have in it. Every choice matters and the NPCs respond to your decisions, which means you need to tread carefully when in their presence. Aside from that, you can traverse the world using your jetpack, Boba Fett style. Combat's also been revamped to feel more fluid. In essence, Elex II is an attempt to outdo and improve the previous game in every aspect.
Key features
Various factions that you can interact with
NPCs watch your every move, so better be careful around them
Guns & magic
The jetpack!
Gran Turismo 7
| | |
| --- | --- |
| Release: | 2022-03-04 |
| Genre: | Sim Racing |
| Developer: | Polyphony Digital |
This part of the series is a return to the classic ideas, albeit in a refined, modernized form. For example, the single-player campaign, called the GT Simulation Mode, is back.
Plenty of other modes, cars and tracks have also been reintroduced and bundled together with fresh modes that Gran Turismo Sports brought, including the GT Sport Mode.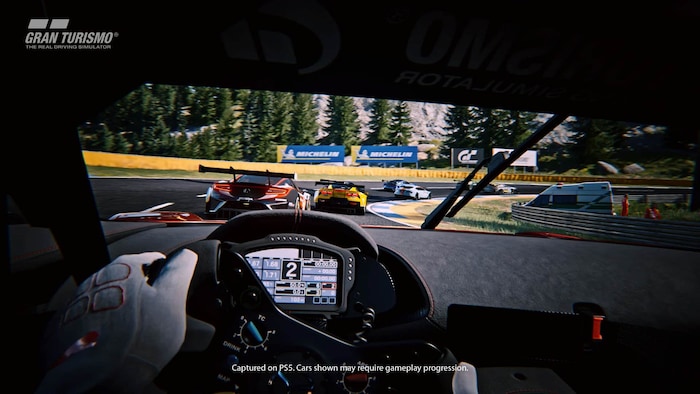 How did the game turn out? It's a very competent entry in the series, visually dazzling and just massively fun to play thanks to so many modes and ways to play. Reviewers weren't too fond of the time required to unlock all the cars (it's a massive title with tons of content) and noted some performance issues as well, but aside from that, GT7 is a very good release. If you need a great racing game for your PlayStation, look no further. There's a big chance Gran Turismo 7 will blow you away.
Key features
Impressive visuals
Tons of content
Many game modes to choose from
Simply a dang fine racing game
Syberia: The World Before
| | |
| --- | --- |
| Release: | 2022-03-18 |
| Genre: | Adventure, Exploration |
| Developer: | Microids Studio Paris |
One of the greatest adventure series of all time returns! Created by the late Benoit Sokal, Syberia was a masterpiece in all sorts of respects.
As Kate Walker, a lawyer-turned-adventurer, you explore Siberia's gorgeous frozen wilds, encountering all sorts of fantastical creatures and characters.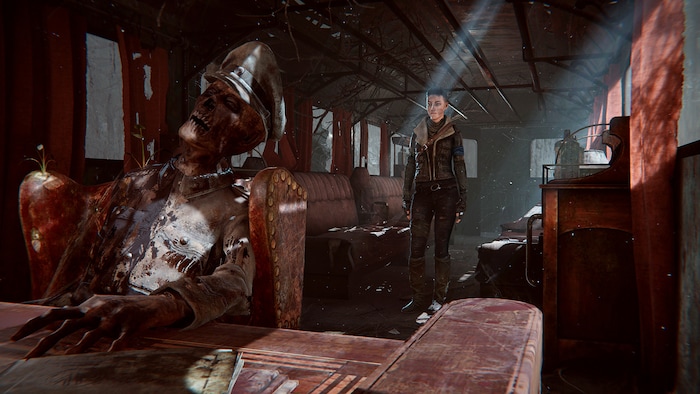 There are two timelines and two stories in Syberia: The World Before that interact with each other. The first tale is set in 1937 in Vaghen and is about a girl named Dana Roze. Just as she begins her career as a brilliant pianist, the Brown Shadow threatens Europe just before the start of World War II. The second story is set in 2004. Kate Walker is trapped in a salt mine and tries to survive… Syberia: The World Before is shaping up to become a great adventure game and a worthy addition to the revered series.
Key features
Two protagonists: Kate and Dana
Soundtrack by Inon Zur
Breathtaking visuals and locales
Complex and satisfying puzzles, as usual
Ghostwire: Tokyo
| | |
| --- | --- |
| Release: | 2022-03-25 |
| Genre: | Action, adventure |
| Developer: | Tango Gameworks |
This one's an interesting game from Bethesda. Ghostwire: Tokyo sends you to the capital of Japan where almost every citizen has mysteriously vanished. Instead, the city is crawling with all sorts of evil spirits.
Our protagonist, Akito, becomes possessed by a spirit detective by the name of KK and is granted supernatural powers that lets him defeat these weird ghosts.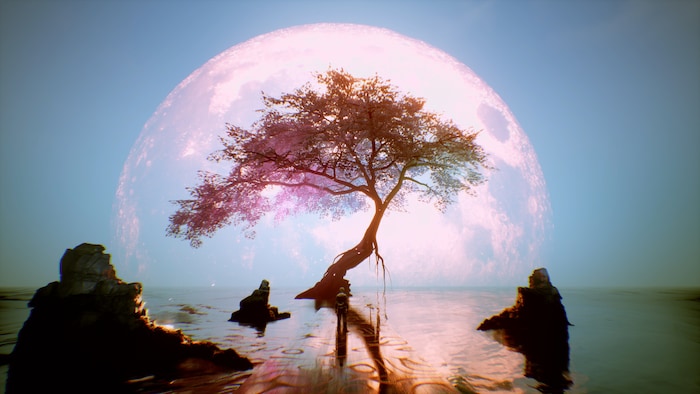 The game is a first-person action-adventure game where combat, described by the developers as "karate meets magic," is all about performing Kuji-kiri-inspired moves to cast spells that help you defeat the spirits, known as Visitors. Ghostwire: Tokyo is basically a fantasy take on cyberpunk, with bits of horror thrown in (although the game is by no means a survival horror, don't expect another Resident Evil here). Looks promising!
Key features
A cyberpunk ghost story
Cool-looking combat moves
A simulator of being possessed by a spirit
Probably a good way of exploring Tokyo if you've never been there
Tiny Tina's Wonderlands
| | |
| --- | --- |
| Release: | 2022-03-25 |
| Genre: | Action role-playing |
| Developer: | Gearbox Software |
Missed Borderlands? The series is back with a really cool-looking spin-off where you become a part of a tabletop fantasy RPG, with the titular Tiny Tina as its dungeon master. Knowing her, all sorts of fun occurrences will abound.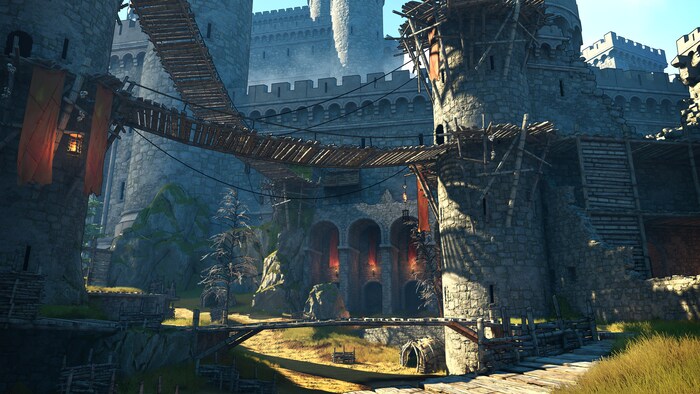 While an off-shoot of the Borderlands series, Tiny Tina's Wonderlands is going to differ substantially from the previous games. First off, instead of choosing one of the premade characters, you get to create your own avatar and customize them anyway you see fit. Second, there are melee weapons and spells in addition to the multitude of guns, courtesy of Borderlands' famous loot generation system. There's also an overworld, a feature known best from Japanese role-playing games.
In other words: get ready for a preposterously wild ride! Tiny Tina's Wonderlands is getting released this month, so stay tuned!
Key features
A D&D session turned into a first-person shooter
A plethora of wacky events
Myriads of weapons to wield
It's just one heck of a wild ride
WWE 2K22
| | |
| --- | --- |
| Release: | 2022-03-11 |
| Genre: | Sports, Simulation |
| Developer: | Visual Concepts |
WWE 2K20 was really, really bad, so bad that a planned sequel, WWE 2K21, got cancelled. The developers had to refocus on what really matters: the quality of the game (duh).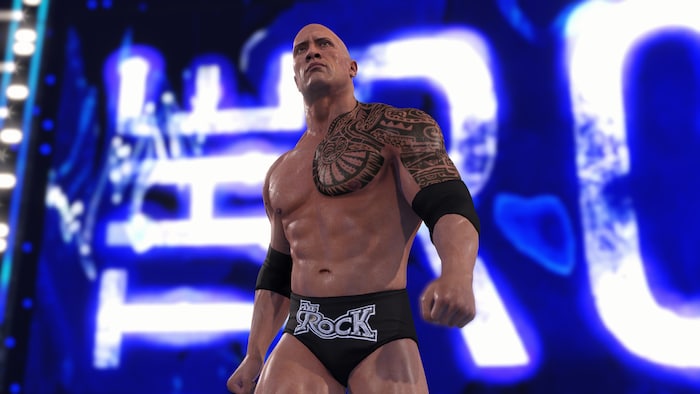 And thus WWE 2K22 was born. It features a bunch of upgrades and new features. There's the MyCareer mode, for example, now called MyRISE. You get to create your own wrestling superstar (either male or female, with each sex getting a separate storyline) and set out to rise to the WWE stardom. You can form alliances, you'll surely make a lot of enemies along the way and the choices you make will have an impact on your career.
There's a whole horde of real-life wrestling champions available to play as (including this year's cover superstar, Rey Mysterio) and numerous modes to try out. WWE 2K22 is surely an improvement over its lackluster predecessor. If you're a wrestling fan starving for a good pro wrestling simulator, this one's should be a very nice pick.
Key features
A return to form thanks to numerous improvements
Several game modes to pick from
You can build your own wrestling stable
Lots of wrestling legends featured
Core Keeper
| | |
| --- | --- |
| Release: | 2022-03-08 |
| Genre: | Adventure |
| Developer: | Pugstorm |
Survival? Check. Pixelated graphics? Check. Sandbox? Check. Indie? Check. While Core Keeper doesn't seem like the most original game around, it's still one worth looking forward to.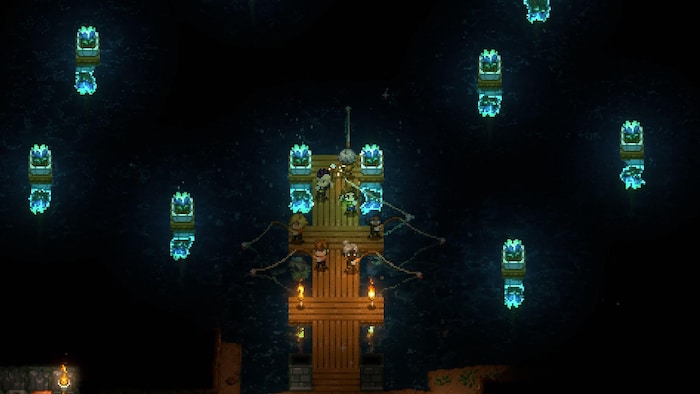 Core Keeper puts you in the shoes of an adventures who stumbles upon a fantastic network of caves during the search for a mysterious relic. These caverns are teeming with all sorts of creatures, resources and artifacts. There's mining, there's base building, there's lots of combat, all in order to power up the titular Core.
If you love fun indie survival games, Core Keeper is shaping up to be something really, really good. Keep in mind, though, that the game is in early access, meaning it's still in development.
Key features
An ancient world to explore
Crafting
Farming
Up to 8 players can play together
Have a Nice Death
| | |
| --- | --- |
| Release: | 2022-03 |
| Genre: | Action roguelite |
| Developer: | Magic Design Studios |
Not sure if this one's a roguelike or actually roguelite, but it's probably going to be a great addition to the indie platformer canon. Have a Nice Death, to quote one of the user reviews on Steam, is where you play as a skeleton.
It's as simple as that. But in all seriousness, the game puts you in the shoes of Death himself. Yes, the Death. And our protagonist is really busy.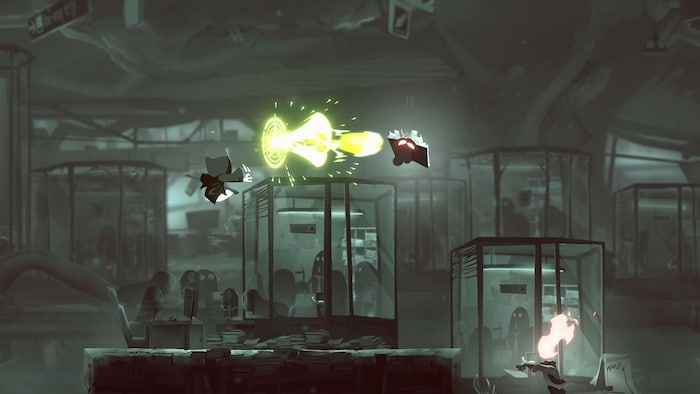 And he's busy not because there are so many souls to reap, no. His employees have all gone into #partymode, leaving Death with all the paperwork and such. So, you grab your trusty scythe and set out to get your subordinates back to work.
Have a Nice Death is a 2D roguelike platformer where you, well, do platforming, defeat monsters of all sorts, gain new skills and since Death can't die, you'll get numerous chances to improve your performance. There's also one interesting gameplay feature: Curses. Use these upgrades and the Labor Inspector might give your enemies a boost or change the cost of the items that are vital to your success. Have a Nice Death also sports a gorgeously cartoony look. If you like games like Hollow Knight and the like, this one seems like something right up your alley.
Key features
Procedurally-generated locations
Over 30 weapons and spells – upgradeable, too
Curses offer unique challenges
Pump Quinn
So, if you've been looking for new releases March 2022 has to offer, these should be right up your alley. Need more top games for 2022? Stay tuned for our list of the best titles coming out next month!