What if we told you that you can take gorgeous pictures and practice your snapshot taking skills in video games with no going outside involved? And we're not talking about just pressing the Print Screen button. We're talking about the most famous examples of the Photo Mode where you can become a master of virtual photography. 
What did we base our picks on? Well, two things, for the most part: the diversity of landscapes and scenes you can photograph, as well as the complexity and quality of these games' photo modes. But these titles are surely awesome games in their own right – you shouldn't be disappointed!
Games where you can be a photographer
| | Game | Release | Genre | Developer | Sale |
| --- | --- | --- | --- | --- | --- |
| | Red Dead Redemption 2 | 2019-11-05 | Adventure | Rockstar Games | 71% |
| | Days Gone | 2021-05-18 | Action | Bend Studio | 74% |
| | Horizon Zero Dawn | 2020-08-07 | Adventure | Guerrilla | 77% |
| | Death Stranding Standard Edition | 2020-07-14 | Sci-fi | Kojima Productions | 33% |
| | God Of War | 2022-01-14 | Action | Santa Monica Studio | 56% |
| | Ghost Of Tsushima Directors Cut | 2021-08-20 | Stealth | Sucker Punch Productions | |
| | Control Ultimate Edition | 2019-08-27 | Action | Remedy Entertainment | 75% |
| | Cyberpunk 2077 | 2020-12-10 | Action RPG | CD PROJEKT RED | 56% |
| | Super Mario 3d World Bowser Fury | 2021-02-12 | Action-adventure | Nintendo Entertainment | |
| | Final Fantasy Xiv Online Starter Edition | 2013-08-24 | Adventure | Nobuaki Komoto, Naoki Yoshida | 41% |
| | Assassins Creed Valhalla | 2020-11-10 | Action RPG | Ubisoft | 81% |
| | Assassins Creed Odyssey | 2018-10-05 | Action | Ubisoft Quebec | 83% |
| | Immortals Fenyx Rising | 2020-12-03 | Action-adventure | Ubisoft | 87% |
| | Forza Horizon 4 | 2018-10-02 | Racing | Playground Games | 70% |
| | Super Smash Bros Ultimate | 2018-12-07 | Multiplayer | Masahiro Sakurai | |
| | Shadow Of The Tomb Raider Definitive Edition | 2018-09-14 | Adventure | SQUARE ENIX | 82% |
| | The Legend Of Zelda Breath Of The Wild | 2017-03-03 | Adventure | Nintendo | |
| | Batman Arkham Knight | 2015-06-23 | Adventure | Rocksteady Studios | 83% |
| | Far Cry 6 | 2021-10-07 | Shooter | Ubisoft | 81% |
Shadow of the Tomb Raider
| | |
| --- | --- |
| Release: | 2018-09-14 |
| Genre: | Adventure |
| Developer: | SQUARE ENIX |
Perfect for shadowy jungle photos
Ah, yes, the final installment in the "Uncharted on PC" trilogy. Lara Croft has grown from an inexperienced adventurer into a master survivalist and combatant, a real jack-of-all-trades, but with none of the associated weaknesses. Well, almost none.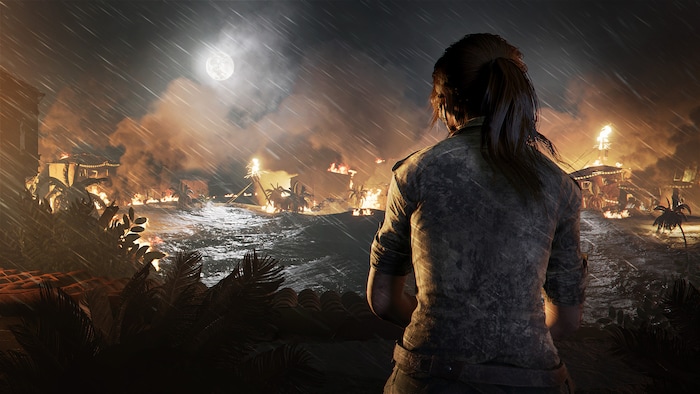 You see, after battling insane cultists worshipping a long dead Japanese banshee queen and duking it out with an incredibly ruthless secret society known only as Trinity, Lara seems to have developed some sort of savior complex. How much of a problem this is, you'll discover as soon as you complete the introduction to Shadow of the Tomb Raider. Tracking down Trinity to the island of Cozumel, Mexico, the fearless duo (Lara and Jonah) discover a Mayan temple containing the fabled Dagger of Chak Chel. Ignoring the warnings on the murals, Croft takes the dagger to prevent it from falling into the wrong hands. Too bad this triggers an apocalypse known as the Cleansing, with disasters foreshadowing the impending doom soon striking Cozumel.
As usual, the game is a mixture of some really good platforming in impressive locations, cover-based combat with emphasis on stealth and fear tactics, some minor survival elements, as well as a typical QTE and cinematics fest. Nothing really new, just some adjustments, so fans of the series (or any other modern action-adventure game for that matter) will totally feel at home.
But we're supposed to talk about the game's Photo Mode here, aren't we?
Key features
Lara kicks butts, as usual
A yet another incredibly epic adventure
Gorgeous visuals
The Photo Mode lets you take some seriously impressive pictures
Cyberpunk 2077
| | |
| --- | --- |
| Release: | 2020-12-10 |
| Genre: | Action RPG |
| Developer: | CD PROJEKT RED |
Perfect for those "Hey mom, I'm in Blade Runner!" shots
It took CD Projekt RED eight years to complete this one, a new addition to the studio's enviable portfolio, cherished among video game fans. The hype has been massive, with the game becoming probably the most awaited game of all time.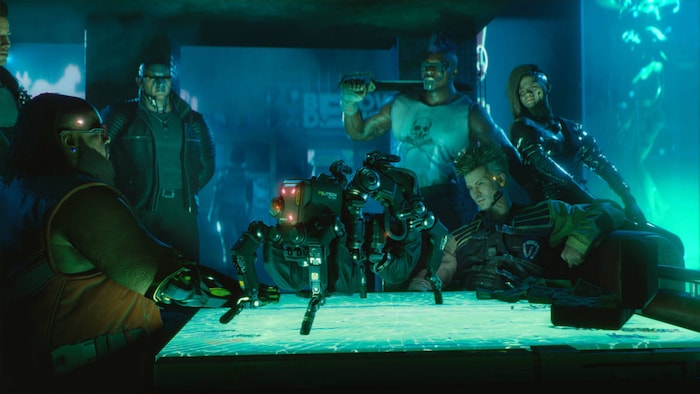 And we all know how it turned out: it was good, but didn't quite deliver on its promise. We all heard about tons of technical issues that plague the game – prev-gen console versions, especially – and probably to this day. Still, CDP RED is working on fixing all these and then giving us additional content.
Still, the game itself is a cyberpunk dream come true. Night City looks fantastic and is as beautiful as it is terrifying. The vision of the future in Cyberpunk 2077 is truly dreary, but we have to admit: it is still a captivating and awe-inspiring one. V and Johnny Silver's shenanigans are a great adventure to embark on. One more thing: it's entirely possible to complete the game without killing anybody. A combination of stealth, non-lethal weaponry and cyberwarfare let you avoid spilling blood, if it isn't your thing.
If you're looking for a great game to practice your video game photography skills in, you're in for a real treat! Cyberpunk 2077 features a robust Photo Mode that lets you take the most stunning screenshots ever. Accessing it is rather simple. If you're playing using a controller, you need to press down the L3 and R3 analog sticks at once. If you're playing using the mouse and keyboard combo, activating the Photo Mode takes just pressing the N key.
Key features
One of the best cyberpunk games to date
It's surely breathtaking, even if a bit buggy
The Photo Mode turns your screenshot into legit pieces of cyberpunk art
Keanu Reeves
Horizon: Zero Dawn
| | |
| --- | --- |
| Release: | 2020-08-07 |
| Genre: | Adventure |
| Developer: | Guerrilla |
Perfect for some post-apocalypse-meets-epic-fantasy shots
To this day, Horizon: Zero Dawn remains one of the most memorable and incredible action-adventure games boasting an open world. What is it, exactly? It depicts the United States in a distant future where almost all life went extinct and humans reemerged as primitive tribes fighting each other and hunting animal-like robots that roam (and dominate) the land. Is it tribalpunk then, sort of like Fallout? Perhaps, but then you have some absolutely stunning locales and views, as if it was, say, Azeroth from the Warcraft universe or another dreamlike fantasy setting. Zero Dawn is absolutely unique in its vision of a post-catastrophic Earth. It isn't bleak and dreary like Mad Max, for example, it's gorgeous, colorful and insanely memorable, with each sight prettier than the last. It's really easy to mistake this game for a high fantasy one!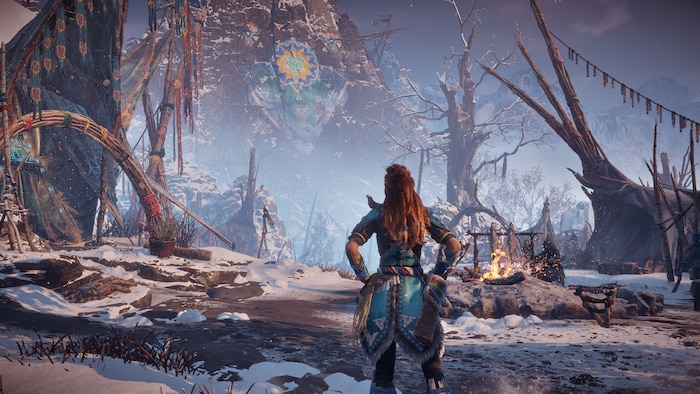 Horizon: Zero Dawn is all about exploring the world, collecting resources, crafting new tools, completing quests (with some minor decision making involved), and fighting the aforementioned robotic beasts known as the machines. These cyber-contraptions look like bovines, crocodiles, turtles, crabs, birds, heck, even dinosaurs! Battles in Horizon are truly epic, especially if you're taking on a bigger beast. There's plenty of dodging, aiming and shooting involved, in addition to scanning for potential weaknesses and crafting ammunition that will help you take down a machine easier. Yup, some are more vulnerable to fire, others to ice, there are enemies that can be easily killed with electricity, etc. Combat in Zero Dawn is simply killer. The only aspect that's kind of sub-par in this game is climbing, but it isn't too bad and besides, it's not the main focus. The story and characters aren't the most enthralling, either, for the most part at least, but Aloy is surely one of the most memorable video game protagonists ever.
But we're here to talk about photo modes and as a matter of fact, Zero Dawn also sports one. If you're done with grim, shadowy locales and futuristic streets, Horizon should offer a nice respite from these. The landscapes are absolutely jaw-dropping and each is a perfect backdrop for some sweet shots. The game offers a whole suite of settings and tools that let you craft that perfect picture. You can pose Aloy, change her facial expressions or just hide her altogether. You can adjust the field of view, dark/light levels, brightness, depth of field and focus distance. You can rotate the camera, add borders, vignettes and filters and set their intensity. You change the time of day, add borders and vignettes, even slap a little logo of Horizon somewhere on the photo. The game offers plenty of options for all the virtual photographers out there. If you're one of them, you should totally be pleased.
Key features
Absolutely stunning landscapes
Aloy is such a lovable protagonist
Impressive mechanical beast designs
Excellent combat
Grand Theft Auto V
| | |
| --- | --- |
| Release: | 2015-04-14 |
| Genre: | Adventure |
| Developer: | Rockstar North |
Perfect for "See, Mom? It's a driving game" photos
This is a classic that we shouldn't even be describing, but…if you've been living under a rock for the past nine years or so, here's a quick recap.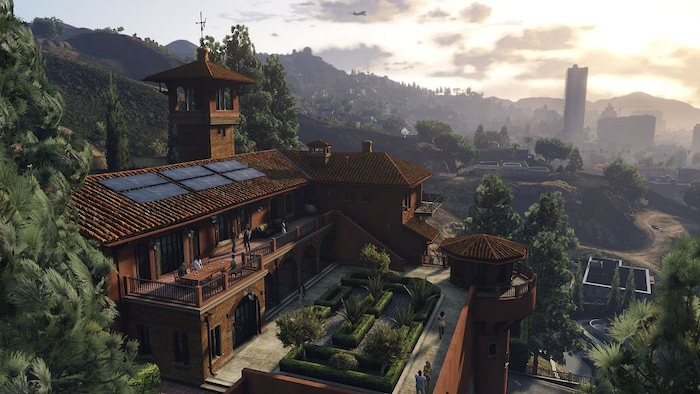 Grand Theft Auto V is the seventh main installment of the GTA series (and fifteenth overall). You do the very same things you did in the previous games: steal cars, bully pedestrians, wreak havoc and duke it out with the police in the fictional state of San Andreas (whose capital, Los Santos, is based on Los Angeles). The main difference from the previous games is that you have three separate characters that you can play as and switch between anytime: Michael DeSanta, a retired bank robber living with his family under a fake alias, Franklin Clinton, a street ganster, and – last but not least – Trevor Philips, the famous trigger-happy drug dealer with major psychological problems (by the way: never mention Canada when around him, you'll thank us later). GTA V is also focused on heists, but there's also plenty other missions of all sorts to complete.
There's also Grand Theft Auto Online, a multiplayer version of GTA V where up to 30 players can play together in various modes, either cooperative or competitive.
Still, we should talk about Grand Theft Auto V's Photo Mode, and there's a lot to unpack here.
Key features
Trevor Philips
The Photo Mode features a lot of options
Mom, this game is about driving cars, not crime
Complex heists to pull off (or die trying)
Red Dead Redemption 2
| | |
| --- | --- |
| Release: | 2019-11-05 |
| Genre: | Adventure |
| Developer: | Rockstar Games |
Perfect for those "I'm a cowboy, yeehaw!!!" shots
Red Dead Redemption is definitely one of Rockstar's most famous games. This "GTA, but with horses," released in 2010, totally blew people away. Red Dead Redemption II, interestingly enough, is a prequel.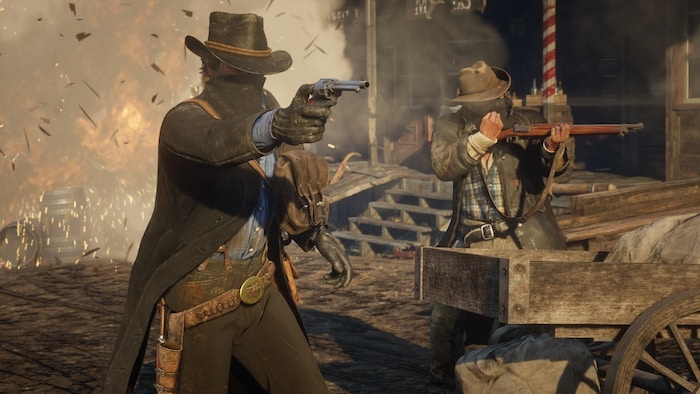 The game is set in 1899. The 20th century draws near, Wild West is on the decline, and the game's protagonist, an outlaw by the name of Arthur Morgan, is on the run from authorities and rival gangs who hunt him. You get to freely explore a fictional take on the Western, Midwestern and Southern United States where you complete various missions to progress the story, shoot the baddies, blow stuff up, shoot some more, hunt both animals and bounties, fish, swim (finally!), explore beautifully diverse landscapes, search for treasure, play poker and other classic card games, etc. There's plenty to do and no way to get bored around here. You also get to make choices that have at least some impact on the story.
Let's delve into the game's photo mode, shall we? It's a PC-exclusive feature, as console versions are limited to just simple screenshots. The mode itself features the usual stuff: all sorts of settings, filters and visual extras that you can add to your pictures, such as text, stickers or baroque corners. It's essentially a yet another excuse to roam the Wild West of RDR and find beautiful new scenes to capture. And boy is this game gorgeous! KTVZ even famously took an RDR2 screenshot for a photo of the actual outdoors. This happened twice! Can't blame the news crew, though.
As far as the photo mode is concerned, it allows your creativity to run wild. There was someone who attempted to recreate the iconic cover art of the previous Red Dead Redemption game. Another fellow took a jaw-dropping picture he dubbed "Outlaw," so beautiful that it even got retweeted by Rockstar! Aside from skill, this takes a lot of luck, too, as there's always something – a special effect or a non-playable character – waiting for the perfect moment to ruin a perfect shot.
Key features
Horses!
Cowboys!
The Wild West!
The Photo Mode is insanely good, of course
Real-life photography takes a lot of knowledge, skill and just plain luck and so does taking awesome gaming pictures.
What's great about that, though, is that you get to choose from so many different environments and themes! Ancient ruins hidden in deadly jungles, cyberpunk streets of the future, gorgeous post-apocalyptic landscapes, vast frontiers of the 19th century – there's plenty of options to choose from. So, pull out your digital cameras and let's get to taking some seriously breathtaking photos, people!