Have you ever dreamed of being a hacker, but didn't know where to start? Then why don't you try some hacking video games?
Sure, hacking in video games doesn't have too much in common with the real stuff, and it won't make you skilled enough to hack anything, but who cares. Real-life hacking is boring, but video games can turn this concept into a more entertaining experience.
Hack your way in those games
Cyberpunk 2077
| | |
| --- | --- |
| Release: | 2020-12-10 |
| Genre: | Action RPG |
| Developer: | CD PROJEKT RED |
Cyberpunk 2077 became a wildly popular game, but not necessarily for reasons that would make any developer proud. Jokes aside, the game got a number of crucial patches over the years, and now it's a very solid RPG.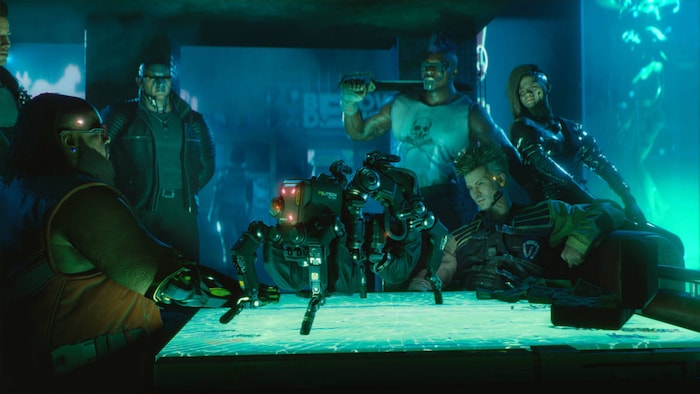 Cyberpunk 2077 is an open-world action role-playing game that takes place in Night City. Although the game doesn't focus on hacking, there are certain hacking activities available, mainly in form of hacking minigames.
However, hacking can play an important gameplay role and, considering the fact that you will be playing in a technologically advanced environment that is highly dependent on electronics and is full of cybernetic body implants, may be used as a deadly weapon. We're talking specifically about quickhacks – simple hack-related actions that include taking over certain devices, causing short circuits in enemy implants, or even forcing enemies to commit suicide. There is even a special hacker class available to play – a digital warfare specialist called a netrunner.
Key features
An action role-playing game with a dystopian futuristic setting
A huge open-world environment that feels alive and can be roamed freely
Character progression with lots of customization options, satisfying shooting mechanics, and 3 playable classes to choose from
Top-notch visuals with advanced lighting and special effects that create a unique atmosphere
System Shock 2
| | |
| --- | --- |
| Release: | 1999-08-11 |
| Genre: | RPG |
| Developer: | Irrational Games |
Another example of a solid hacker game that could interest you is nothing else but a classic title from 1999 – System Shock 2.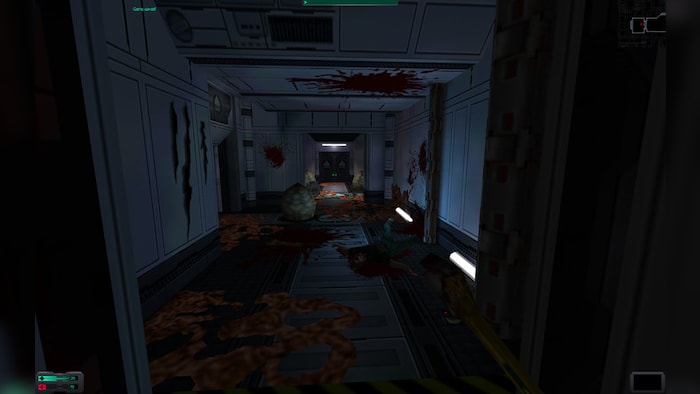 System Shock 2 is an old-school action role-playing game that allows players to board a starship in a cyberpunk setting. Tasked with investigating a spread of a mysterious infection, players will have to make use of their unique abilities to get to the bottom of the case and find a way to stop the disaster.
The game comes with some hacking elements – you can hack various types of devices to gain more loot from protected crates, unlock doors to locked rooms, lower the prices of items sold by vending machines, or use enemy defense turrets against your opponents. The advantages of hacking are pretty substantial, which makes it a powerful addition to every player's arsenal.
Key features
A classic RPG that is often cited as one of the genre-defining games
Gameplay that puts emphasis on exploration, thanks to large locations full of hidden secrets
A fun combat experience with a variety of different opponents that are vulnerable to different types of available strategies
Relatively high difficulty level
Watch Dogs: Legion
| | |
| --- | --- |
| Release: | 2020-10-29 |
| Genre: | Action |
| Developer: | Ubisoft |
Watch Dogs could also easily satisfy your needs for a good hacking game – say hello to the dystopian futuristic version of London and join the hacker syndicate known as DedSec.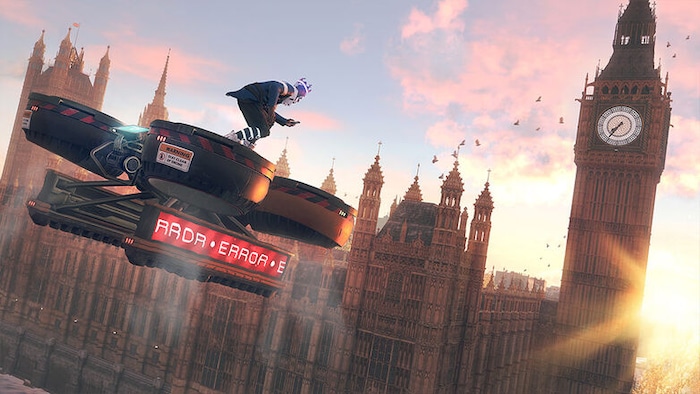 Watch Dogs: Legion is an action-adventure video game and the third entry in the Watch Dogs franchise. The game focuses on the DedSec hacker group as it tries to free the city from an oppressive private military company that came to power after a series of terrorist incidents.
The game features a huge open world that feels alive and turns exploration into a pleasant and relaxing experience, but it's the hacking part that makes things interesting. Considering the fact that the city is full of advanced technology, being trained in the ways of a hacker is a highly valuable asset that will make your life much easier. You can use hacking to distract enemies, steal personal information from pedestrians, manipulate traffic lights, or even cause other vehicles to crash – all with a single click from your smartphone. More advanced systems require passing various hacking minigames, but the rewards are well worth the hassle.
Key features
An action-adventure game with a huge open-world environment that can be explored freely
Gameplay that gives players a lot of freedom in terms of how they'd like to approach the missions
Multiple playable characters that you can recruit and switch between
Optional permadeath mode for those seeking an extra challenge, and a 4-player co-op for a fun team play experience
Hacknet
| | |
| --- | --- |
| Release: | 2015-08-12 |
| Genre: | Indie |
| Developer: | Team Fractal Alligator |
Hacknet could be an interesting choice if you're looking for something more realistic. You don't use hacking as part of the gameplay here – in Hacknet, hacking IS the gameplay.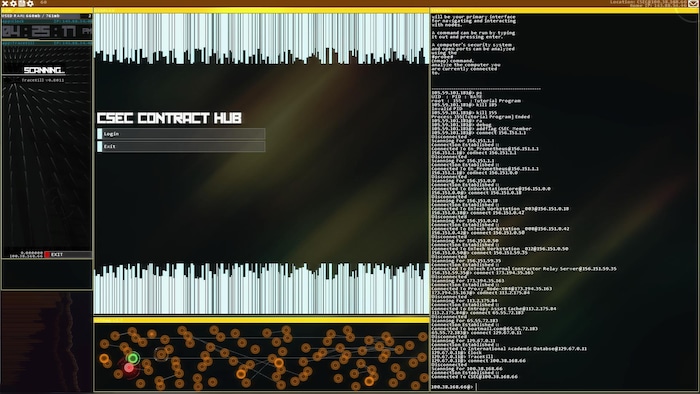 Hacknet is a hacking simulation game designed to give players a unique opportunity to feel like a true hacker. The entire game is played on a Unix-like operating system with several windows opened, including the terminal that displays the log and allows players to enter simple commands. It's still just a game, so don't expect to learn how to breach real-life systems by mastering the game's challenges, but it's definitely on the more realistic side of the spectrum of hacking-related games and therefore a noteworthy choice to consider if that's what you're after.
Key features
A well-made hacking simulation game that draws a lot of inspiration from real-world scenarios and computer systems
Gameplay that revolves around utilizing a variety of terminal commands to breach security and access other systems
Easy to learn – you don't have to be a computer or network system specialist, but logical thinking will help immensely
Simple, clear, and intuitive interface that gets straight to the point
Uplink
| | |
| --- | --- |
| Release: | 2006-08-23 |
| Genre: | Indie |
| Developer: | Introversion Software |
Speaking of realistically looking hacking games, Uplink also naturally comes to mind. If you're in for a pure hacking experience with no unnecessary fillers, this is the game for you.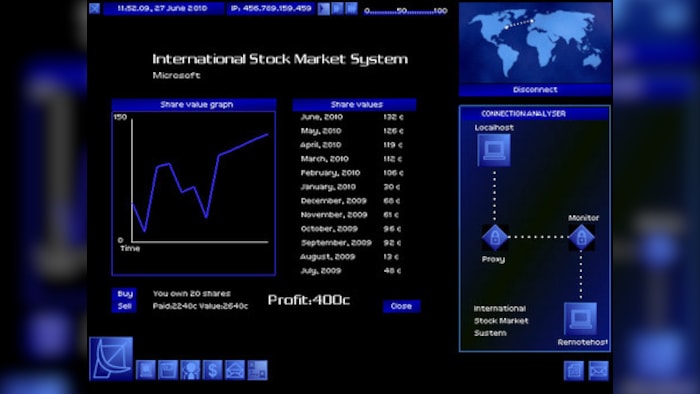 Uplink is a hacking simulation video game that focuses entirely on hacking-related elements. As a worker of the Uplink Corporation, you will be tasked with completing a variety of challenging scenarios that consist mostly of breaching into other computers in order to steal valuable data and perform other harmful actions. The game is played with the use of a simple interface that imitates a fictional operating system with some extra features that will help you compromise targeted security systems. As you play and complete the tasks, you will be rewarded with experience and money – this will allow you to upgrade your hardware and get future jobs done in a more efficient way.
Key features
A fun hacking simulator experience that puts emphasis on realism
Most of the game is played with the use of a text-based interface with buttons and some simple graphics
Earn money and experience to upgrade your system and get access to more challenging and more rewarding missions
A steep learning curve, but once you get a grasp of the basics, it becomes much more manageable
Deus Ex: Human Revolution
| | |
| --- | --- |
| Release: | 2013-10-25 |
| Genre: | Action & Shooter |
| Developer: | Eidos Montreal |
Deus Ex also deserves a place on the list of the best hacking games. Although hacking is not the primary gameplay element here, it's a nice addition that fits well in the cyberpunk setting.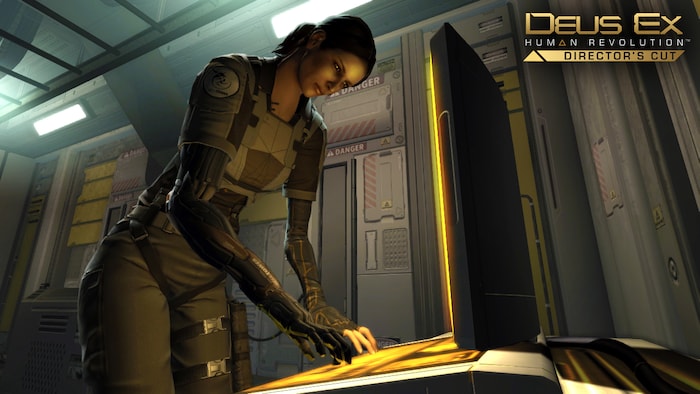 Deus Ex: Human Revolution is an immersive game that combines aRPG with FPS and stealth elements. As you play, you will find a variety of hackable devices. Once you decide to try to hack into a certain system, you will need to pass a hacking minigame that will pop up. Depending on the device you're currently trying to hack, the minigame's difficulty will vary, but it usually follows a well-known principle – the harder the task, the better the rewards. It's a fun and original puzzle designed to make your brain sweat a bit, but certainly not to the point of being annoyingly hard. You may want to watch a guide or two before trying, though.
Key features
A cyberpunk setting with numerous conspiracy theories being brought to life
Plenty of hackable devices that reward players for their hacking efforts
Character progression with an experience system and customizable loadouts
Puts emphasis on stealth elements and keeping a low profile
Exapunks
| | |
| --- | --- |
| Release: | 2018-08-09 |
| Genre: | Indie |
| Developer: | Zachtronics |
Those who are looking for a mind-bending experience should give Exapunks a try – it's a surprisingly addictive and challenging puzzle game.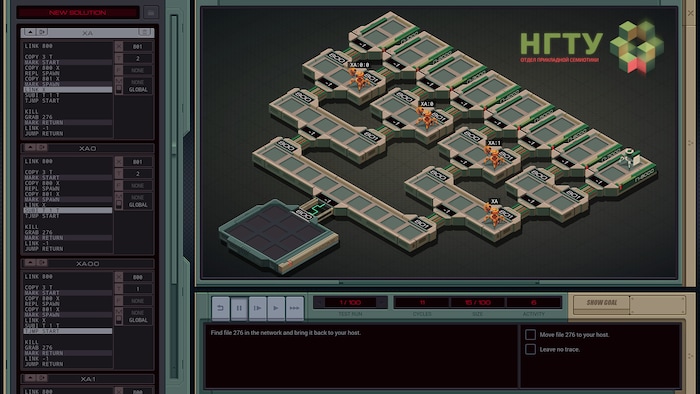 Exapunks is a programming game from the creators of Opus Magnum and SHENZHEN I/O, so if you're familiar with these, you know exactly what to expect from this one. Exapunks is not as much of a hacking game as it is a programming one – gameplay revolves around programming robots that will move around tile-based levels and perform all sorts of tasks. The basics are quite easy to learn, and completing the challenges shouldn't be too much of a problem, but it's not about finding just any solution, but the most efficient one.
There are in-game leaderboards that can be used to compare your score to the scores of other players, which encourages players to work harder and find solutions that can solve problems in the least number of performed actions possible.
Key features
A surprisingly complex programming game
Easy to learn but hard to master and become efficient
In-game leaderboards that allow players to compare their results to the scores of the rest of the community
A puzzle editor and an option to create games for the in-game Redshift console for virtually infinite fun
Grey Hack
| | |
| --- | --- |
| Release: | 2017-12-14 |
| Genre: | Indie |
| Developer: | Loading Home |
For a more unique and ambitious hacking game, you should check out Grey Hack – a title that hits a very specific market niche.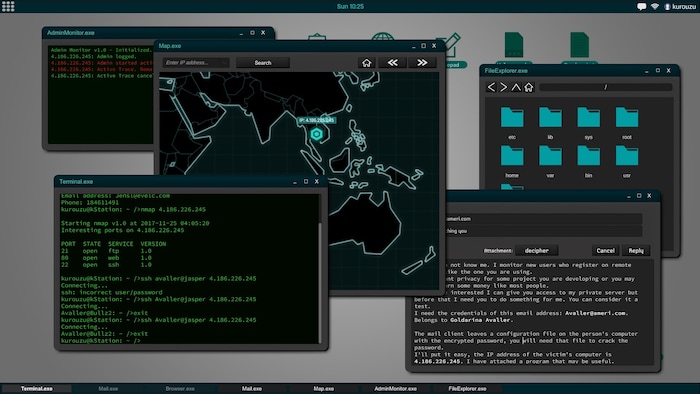 Grey Hack is a hacking simulation game developed with massive online multiplayer in mind. It's a surprisingly accurate hacking experience – the entire game is played as if you were operating a real PC with all kinds of tools and services available. There is even a special version of an in-game internet with pages you can browse. You can use it to create your banking or e-mail accounts, or do some shopping to upgrade your hardware.
Be careful, though – it's a multiplayer game, after all, which means that every time you visit an in-game website, you leave a trace on the server. It can be used by other players to track you and hack your system. It's worth being mentioned, that although the game is played best with other people online, an offline single-player mode also exists, allowing players to practice in a more friendly environment.
Key features
A unique MMO hacking simulation with a persistent online world
Open-ended gameplay – hack randomly generated systems or attack other players
Use the in-game terminal, upgrade your hardware, abuse vulnerabilities, and create your own exploits
An optional single-player mode is available
TIS-100
| | |
| --- | --- |
| Release: | 2015-07-20 |
| Genre: | Indie |
| Developer: | Zachtronics |
Zachtronics specializes in making complex puzzle games, such as Exapunks which we covered earlier. There is, however, one more Zachtronics game that fits our list.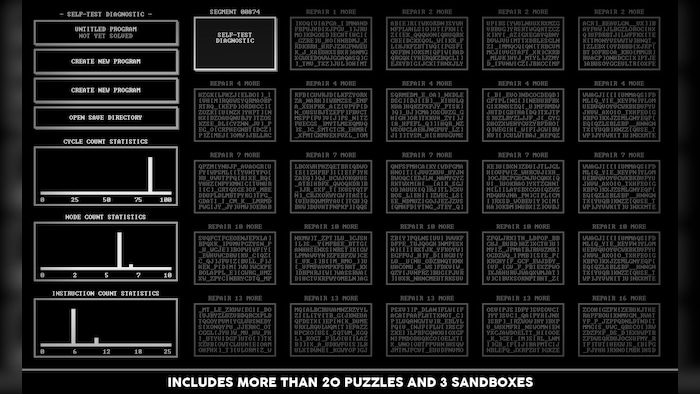 TIS-100 is a puzzle-programming game that fills a specific market niche – it's addressed to those who love to train their brains and are not afraid of a few programming challenges. The first thing you'll notice after starting the game is the game's crude and simple interface. Don't get discouraged though – it's one of those games that sacrifice visuals in favor of highly addictive gameplay.
While it's not strictly a hacking game, it's loosely related to hacking, making it certainly a title that's worth at least being mentioned on the list. Program the blocks to manipulate inputs in a specific way and get the desired results. Try to do this in as few steps as possible – optimize your solution to get a better score and beat other players.
Key features
The gameplay focused on programming and optimizing the final solution
Easy to learn but hard to master, just like the real-life programming
Don't get discouraged by a simple interface – it hides fun and challenging puzzles
Online leaderboards that allow players to compare their scores, encouraging them to try to find a more efficient way of solving a problem
NITE Team 4
| | |
| --- | --- |
| Release: | 2018-10-20 |
| Genre: | Adventure |
| Developer: | Alice & Smith |
There are more hacking simulation games out there if you're interested in a more immersive experience. Check out NITE Team 4, for example.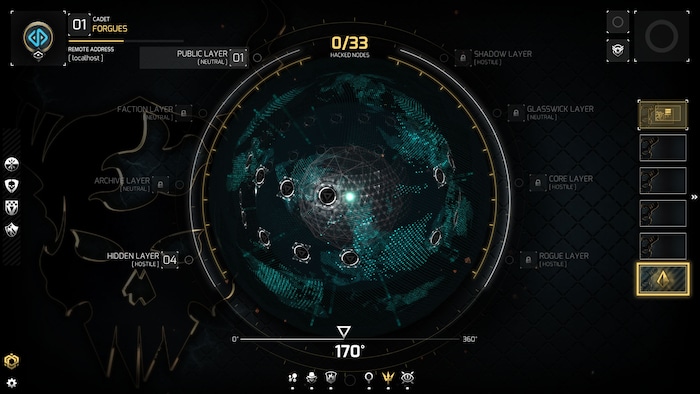 NITE Team 4 is a hacking simulation game, where you will be playing as a hacker tasked with helping out various famous intelligence agencies from all over the world. You will be responsible for attacking foreign systems in order to find valuable information that could be of use during the next phases of the operation. Your actions will give the special operations team the upper hand during their mission – you can open the doors for them, deactivate surveillance cameras, disable alarms, or even coordinate drone strikes. Successful missions will reward you with reputation and experience points that will allow you to get important upgrades and take part in more complex missions.
Key features
A surprisingly complex hacking simulation game
The gameplay focused on solving hacking puzzles with the use of a variety of in-game tools
An interesting story – a quite rare sight in hacking-oriented video games
Top-notch voice acting
Duskers
| | |
| --- | --- |
| Release: | 2016-05-18 |
| Genre: | Indie |
| Developer: | Misfits Attic |
For the final game on the list, we've got Duskers – a slightly different type of hacking game that revolves around commanding a drone fleet with the use of simple terminal commands.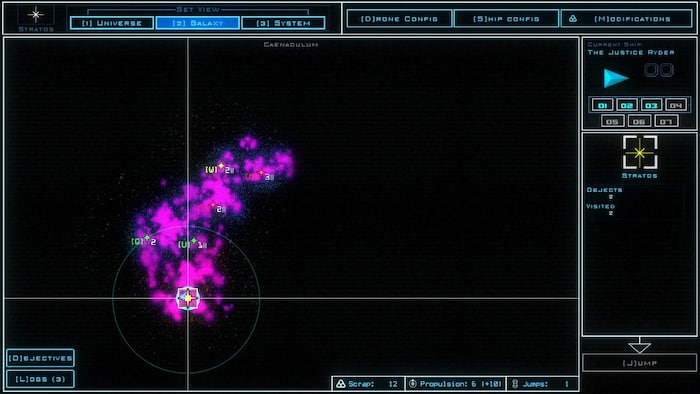 Duskers is a strategy game, where you will be able to command a number of drones as they explore seemingly abandoned spaceships in search of upgrades and other useful stuff. What's interesting about Duskers is the fact, that the game is played exclusively with the use of a keyboard.
You can control a drone manually, or you can type in commands in the terminal, which creates a more immersive experience. What's more, the game can be quite scary at times – you enter the great unknown, and the rooms can contain enemies. Your drones are usually defenseless, forcing you to find alternative ways to deal with dangers, such as taking over nearby turrets or sending the enemies into space by opening the airlocks. While it's not exactly a hacking game, it has some sort of a hacking vibe to it – give it a shot, and you won't be disappointed.
Key features
A fun strategy game that revolves around commanding drones and exploring abandoned spaceships
The gameplay focused on typing out all sorts of commands to order drones to move or perform tasks
Can get scary at times – danger can lurk around every corner, and usually, you can't face it directly
The game is played exclusively with the use of a keyboard, which adds a specific kind of hacker vibe to it
The Best Hacking Games on PC
Video games allow us to become virtually anyone, so it's not surprising to see some hacking games being developed as well. That's the only way for non-coders to dive into the hacking world and test their skills in a safe environment. Hacking in real life can get you into some serious legal trouble if you're trying to breach security systems without the system owner's consent – in video games, however, you can set your own rules. Of course, hacking in video games won't make you a real hacker, as gameplay-wise everything is usually simplified to make the game more fun and entertaining, but it's still your best bet if you want to get some immersive hacking experience without the need to learn how to code.
If you're looking for some of the best hacker video games, we've got you covered. Take a look at our list and you'll surely find something that will satisfy your hacker needs.