Harry Potter is one of the most popular fictional characters ever created, with his story being adapted into movies and video games alike. Speaking of games – which one was the best? Today we'll try to find out.
If you asked a random person if he knows any wizard by name, he would most likely come up with Harry Potter. Despite being a fictional character, this young boy with perpetually untidy black hair remains one of the most recognizable wizards in the world. He came to life thanks to the imagination of a famous British novelist, J. K. Rowling, and was further popularized by the actor Daniel Radcliffe, who played the titular role in the successful series of film adaptations.
Harry Potter series starts as a story of a young wizard who has yet to find out he has magical powers. He was orphaned as an infant by the evil wizard and the main antagonist of the entire series, Lord Voldemort, who was often mentioned as He Who Must Not Be Named or You-Know-Who, due to the unspeakable horrors he was responsible for. As a result, Harry had to grow up with the Dursley family, but it wasn't a pleasant experience, to say the least.
Soon enough Harry got a letter from Hogwarts School of Witchcraft and Wizardry and he had to attend it to learn how to use magic. It was a relief for someone living with such an abusive and disrespectful family to be able to finally leave home. In Hogwarts, he made some trusted friends with whom he had yet to experience a lot of exciting and dangerous adventures waiting ahead.
As the Harry Potter series rode a wave of popularity, developers started to make games with the young wizard from J. K. Rowling's works being featured as the main character. Some of these were more successful than others, and some were simply a synonym for an incredibly wasted potential.
Over the years Harry Potter references were put into other popular games in the form of easter eggs. We don't want to spoil the fun for you, but you might want to pay more attention to details in titles like Dying Light: The Following, Hello Neighbor, The Witcher 3: Wild Hunt – Hearts of Stone or Kingdom Come: Deliverance in case you missed the subtle wink from developers.
Hopefully, we've got you intrigued by now, but before you leave to replay the above-mentioned titles to find the hidden secrets, let's jump into the core section of the article where we'll take a look at the best Harry Potter games of all time.
8. Harry Potter and the Deathly Hallows - Part 1
| | |
| --- | --- |
| Release date: | 2011 |
| Genre: | Third-person shooter |
| Developer: | EA Bright Light |
Not the greatest entry in the franchise, but worth mentioning nevertheless, is the first part of the Harry Potter and the Deathly Hallows.
While it somehow fails to capture the essence of the story it had to tell, it's still a fun game to try, especially considering its a new and more refreshing Harry Potter experience, thanks to the transition to the third-person shooter genre. Combat takes most of the gameplay time but it's also worth noting the presence of stealth elements, thanks to the invisibility cloak.
7. Harry Potter and the Deathly Hallows - Part 2
| | |
| --- | --- |
| Release date: | 2011 |
| Genre: | Adventure |
| Developer: | EA Bright Light |
The second part of the final chapter of Harry Potter's story adapted into video game shares its weaknesses with the first part. This means the game still shines more gameplay-wise than story-wise, but some mechanics were improved to deliver more interesting experience.
Each of the spells you are able to cast in the game has different look and function, which combined with the third-person perspective and the new apparating ability is entertaining enough to keep you immersed. The whole is completed with an amazing soundtrack which accompanies you through the entire game.
6. Harry Potter: Wizards Unite
| | |
| --- | --- |
| Release date: | 2019 |
| Genre: | Location-based AR game |
| Developer: | Moamtoc, WB Games San Francisco |
If you liked Pokémon GO you may also want to try Harry Potter: Wizards Unite, which went a very similar route. To say Wizards Unite is just a Pokémon GO in the wizarding universe, however, would be an offensive oversimplification.
The core of the gameplay revolves around collecting Foundables and freeing them from the Confoundables to fill out the Registry which rewards you in various ways. This will require you to cast spells by drawing certain patterns on the screen as fast and as accurately as you can. GPS-based games are not everyone's favorites – that's why it didn't score higher on the list.
5. Harry Potter and the Sorcerer's Stone
| | |
| --- | --- |
| Release date: | 2001 |
| Genre: | Action-adventure |
| Developer: | KnowWonder (PC) |
Despite being quite an old game it is one of the best entries in the entire series. Maybe it's because of that first impression you can only make once? The first game usually appears to be better than its sequel, and this is seemingly the case with Harry Potter and the Sorcerer's Stone.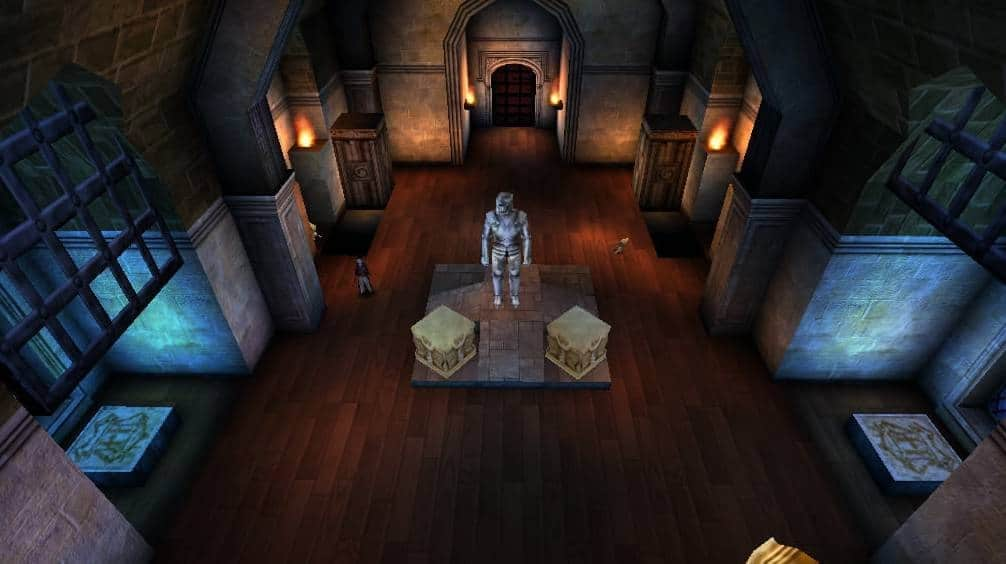 The game tries to maintain the balance between difficulty level and fun and it does it quite well. The gameplay is diversified enough to keep you engaged – you will need to attend classes, play Quidditch, explore the Hogwarts castle and solve simple puzzles.
4. Harry Potter: Quidditch World Cup
| | |
| --- | --- |
| Release date: | 2003 |
| Genre: | Sports |
| Developer: | EA UK |
It would be a shame not to mention a game entirely focused on the most famous and exciting sports in the wizarding world, Quidditch, especially taking into account how fun and unique it actually is in comparison to most of other Harry Potter games.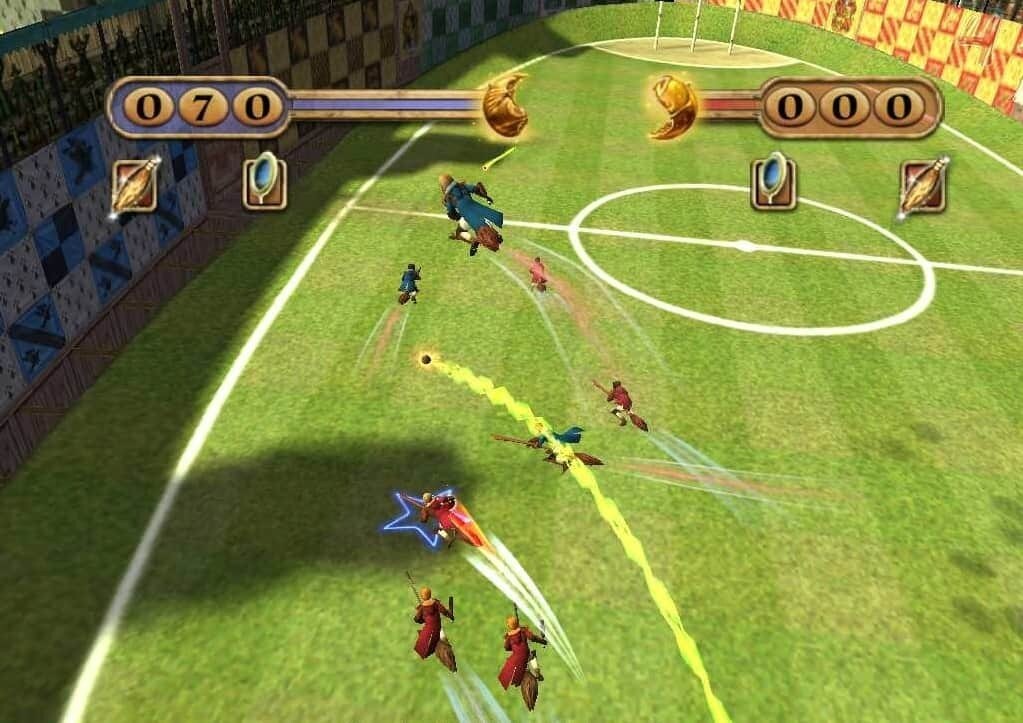 Quidditch World Cup allows you to compete against computer-controlled teams in the fast-paced adrenaline-filled matches where wizards are flying on their brooms in order to score goals by throwing Quaffle through the opponent team's loops. It's more to it than meets the eye and it's easier to understand when you play it yourself, so be sure to give this title a try.
3. LEGO Harry Potter: Years 1-4
| | |
| --- | --- |
| Release date: | 2010-06-29 |
| Genre: | Adventure |
| Developer: | TT Games |
You don't have to be a huge fan of LEGO blocks to fall in love with Harry Potter: Years 1-4. LEGO games were always packed with a dose of humor, aiming for a more casual and loose approach, and this is also the case with this title.
It presents the entire Harry Potter story in its own fashion, from the very beginning to the events known from the Goblet of Fire. If you didn't read the books or watched movies, you might be quite confused though, as characters in this game never speak – not even in the cutscenes. This makes following the story somehow difficult.
2. LEGO Harry Potter: Years 5-7
| | |
| --- | --- |
| Release date: | 2012-01-05 |
| Genre: | Action-adventure |
| Developer: | Traveller's Tales |
The second LEGO Harry Potter game is just as, if not more, fun as the first one, so it's not a surprise it also made its way to the list of best Harry Potter games of all time – it is only a matter of personal preferences which one should be on the top, really. The game depicts last years of Harry Potter in Hogwarts, including the final battle with You-Know-Who.
Years 5-7 will keep you entertained for most of the time, thanks to the varied activities you will take part in. Completionists will be glad to hear there are tons of hidden collectibles waiting to be discovered.
1. Hogwarts Legacy
| | |
| --- | --- |
| Release date: | 2023-02-10 |
| Genre: | RPG |
| Developer: | Avalanche Studios |
This one is shaping up to become the most ambitious Harry Potter video game project to date. A full-blown action role-playing title, Hogwarts Legacy lets you create your own wizardry adept and explore the world of 1890s Hogwarts. An ancient form of magic has re-emerged and it is up to you to discover why this happened.
The gameplay revolves around completing various tasks and challenges to level up your character and gain new skills. There's plenty of things to do, such as quests, classes during which you can learn new spells, exploration, etc. There are also beasts to tame and even ride. And if you need companions, you can befriend various characters at Hogwarts who will then accompany you and provide aid when needed.
The game will also let you explore the locations known from the franchise, including places never-before-seen on screen. While the story is original and takes place long before the events known from the novels and movies, you'll get to meet the ancestors of the characters you probably know well and love.
Hogwarts Legacy will be released on February 10, 2023 on PC, PlayStation 5, and Xbox Series X/S, with additional versions to follow later this year.
Summary
The magic and mysterious universe of Harry Potter was an inspiration for many interesting video games to be developed. Some of these were standing out from the crowd more than others – enough to be placed on the list of Harry Potter games. They are representing a wide array of genres, from third-person shooters, through sports games, to Tomb Raider-like adventures. This makes it possible for almost everyone to pick a game he will find fun and exciting to play, whether he liked the original Harry Potter story or not.