The unmistakable atmosphere of competition, the wind in your hair, and the speed. And even more speed! These are the features of all racing games where we can lose ourselves among dozens of adrenaline-fueled gameplay modes.
Kart racing gender is one of the zones where we can experience the excitement. What's interesting, it features characters from other video games or productions that we can guide on the racetrack. Often in a very charming audiovisual setting! Fancy some relaxing competitive entertainment? There is no better option than kart racing games! We've got something special for all adrenaline lovers – the best kart racing games on Steam!
Mario Kart 8 Deluxe
| | |
| --- | --- |
| Release: | 2017-04-28 |
| Genre: | Racing |
| Developer: | Nintendo EPD |
Mario is almost the definition of the best in kart racing games. From retro platformers to the latest installations – this franchise has entertained hundreds of players worldwide.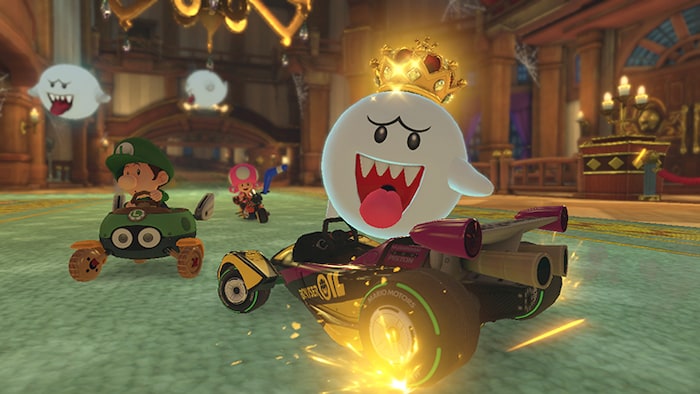 It is a refreshed adaptation of the game from 2014 – exclusively for Nintendo Switch users. Race on the track, underwater, or in the air! Ride the walls and earn as much cash as possible to become faster. Show off your impressive driving skills to friends as you control one of the many new characters like Bowser Jr. or King Boo. Keep going, train your skills and win in one of the best Mario Kart games!
Key features
Play an improved version of Mario Kart on the Nintendo Switch
Take control of your favorite characters from the series
Try new acrobatics and race even in the air or underwater
Play solo or in multiplayer
Crash Team Racing Nitro-Fueled
| | |
| --- | --- |
| Release: | 2019-06-21 |
| Genre: | Racing |
| Developer: | Beenox |
It is a polished version of the classic Crash Team Racing, equipped with even more routes and the options of personalizing the gameplay. Accept the challenge and race to save the whole world from destruction!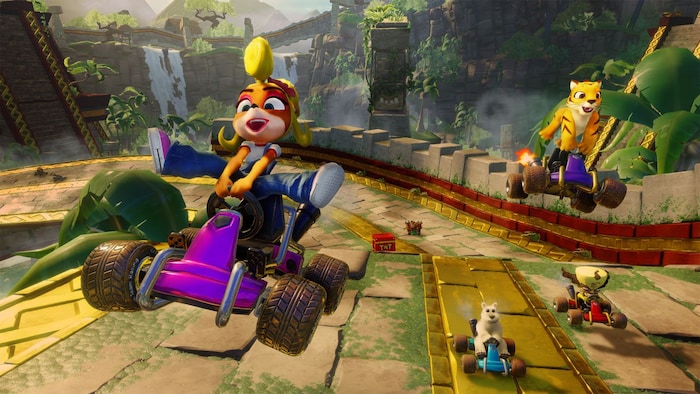 Enjoy many addictive game modes and choose your character to join the fierce competition on all crazy tracks. In Crash's world, it all depends on your skills! Learn to drive and discover the layout of the routes to outsmart your opponents every time. Collect power-ups and use them on your way to victory! It is a perfect recommendation for all fans of the coolest racing games.
Key features
Play an improved version of Crash Team Racing
Personalize your karts and discover new routes
Practice your skills and get better and better
Play solo or in multiplayer with up to four players
Sonic & All-Stars Racing Transformed
| | |
| --- | --- |
| Release: | 2013-01-31 |
| Genre: | Arcade & Platform |
| Developer: | Sumo Digital |
It is a unique racing game where all your knowledge of classic racing gameplay will turn upside down. Are you ready for mid-race vehicle changes?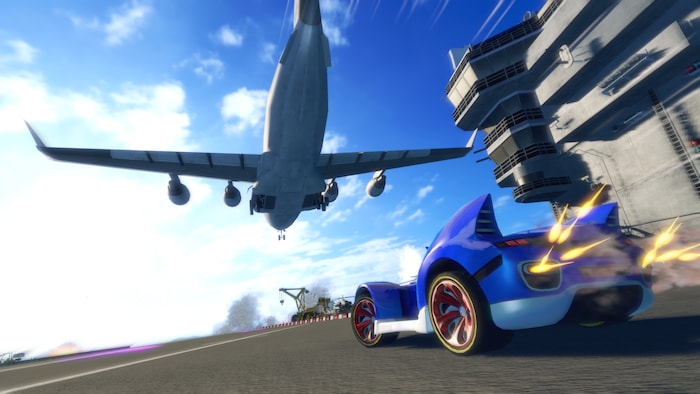 Guide Sonic or other characters from this legendary franchise and start the race for the most spectacular performance! There are tons of tracks from other Sega titles in the game – including Total War Shogun. Collect powerful items, get epic weapons and have fun like never before. Moreover, in this game, your vehicle will change its form during the race. Is that a car? Is it a plane? You never know!
Key features
Have fun in spectacular racing gameplay in the Sonic universe
Try many challenging routes
Gather collectibles and change your vehicle during the race
Play solo or in multiplayer
Super Indie Karts
| | |
| --- | --- |
| Release: | 2015-05-06 |
| Genre: | Indie |
| Developer: | One Legged Seagull |
It is a retro 90s-style racing game for PC where you will discover the most hilarious gameplay! Ready for the weirdest characters, bad pixel art, and totally ridiculous attacks? If you're looking for an old-fashioned video game – Super Indie Karts has it all.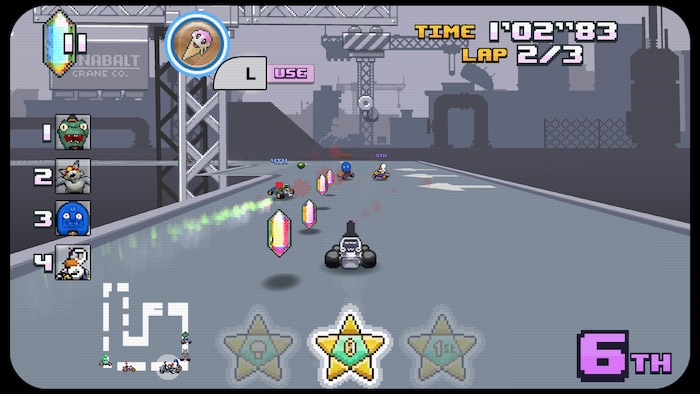 Race on colorful tracks full of unexpected obstacles and collectibles. Drive with the flow of a crazy soundtrack, gain enormous powers, and defeat your opponents on the most surprising tracks. This and more you can find in the many game modes encouraging the most creative way to complete the entire track.
Key features
Play an indie racing game
Feel the atmosphere of the 90s and enjoy pixel graphics
Choose from a variety of unique heroes and routes
Play solo or in multiplayer
Team Sonic Racing
| | |
| --- | --- |
| Release: | 2019-05-21 |
| Genre: | Racing |
| Developer: | Sumo Digital |
Want more Sonic the Hedgehog? You're welcome! It is the kart game released by Sega in 2019, where you will get the best out of the team competition.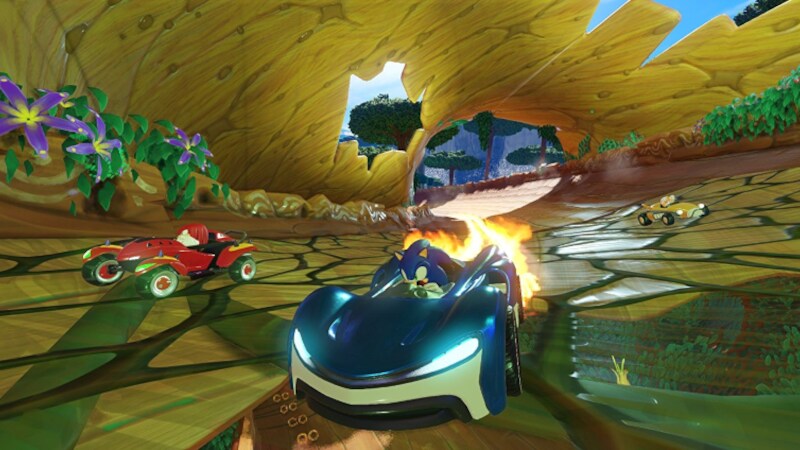 Choose from fifteen characters from the Sonic universe to join a thrilling race – alone or with other players. Personalize your car and discover the unique skills of each hero, which you can use on the track as you wish. Are you into a multiplayer games? In addition to the great solo campaigns, this game features many exciting modes to play with eleven other players.
Key features
Play a cooperative game set in the Sonic the Hedgehog universe
Pick one of fifteen characters and discover their skills
Try out a variety of tracks and game modes
Play solo or in multiplayer for twelve players
All-star Fruit Racing
| | |
| --- | --- |
| Release: | 2017-09-04 |
| Genre: | Indie |
| Developer: | 3DClouds.it |
Welcome to the incredible world of racing fruits! It is a colorful proposition for fans of hilarious titles with personalized vehicles and an addictive multiplayer mode.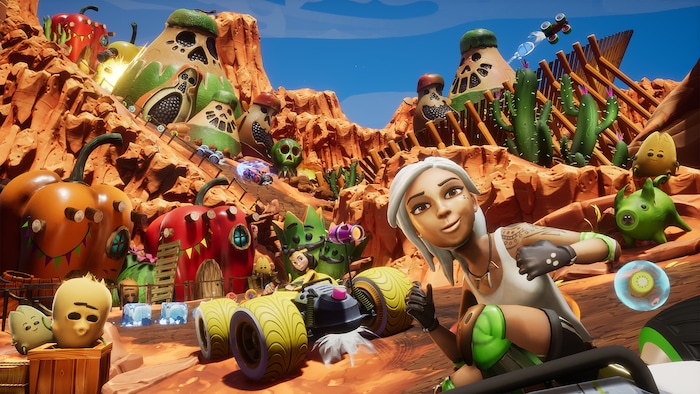 Choose from over twenty fruity characters and discover their skills on a bright race track. Collect power-ups and fruit juice to create explosive mixtures and surprise all your opponents. Choose one of the game modes or create your challenges and invite your friends to this legendary gameplay. And if you love personalizing your vehicles – we've got you covered. In All-Star Fruit Racing, you can customize your car in over thirty thousand ways!
Key features
Play the fruitiest racing game ever
Choose from unique heroes and challenging routes
Personalize your vehicle as you like
Try different game modes solo or with eight other players
Nickelodeon Kart Racers 1 & 2
| | |
| --- | --- |
| Release: | 2018 / 2020 |
| Genre: | Racing |
| Developer: | Bamtang Games |
If you like Nickelodeon, you'll love this game. Enter the world of your favorite cartoons, invite your friends, and have the fun of your life!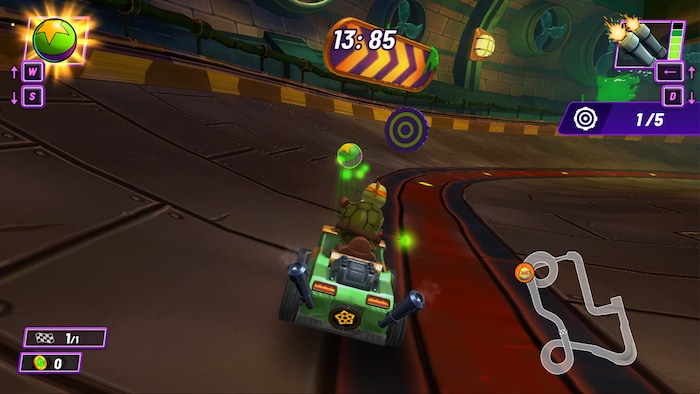 Nickelodeon Kart Racers is a classic series of kart racing games where simple mechanics will quickly introduce you to the world of intense competition or cooperation. Choose from your favorite cartoon characters and compete in spectacular races in the most recognizable locations on the Nickelodeon channel. The more victories, the better the rewards!
Key features
Lose yourself in the crazy world of Nickelodeon cartoons
Guide your favorite characters on the racetrack
Get power-ups and develop skills
Play solo or in multiplayer
F1 Race Stars
| | |
| --- | --- |
| Release: | 2012-11-14 |
| Genre: | Arcade & Platform |
| Developer: | Codemasters Birmingham |
Welcome to the game for all Formula 1 fans. If you're looking for realism blended with utter speed madness, this game has everything you desire.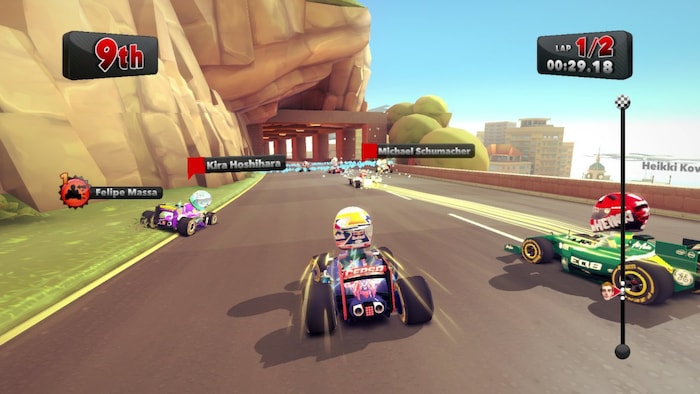 Play as Lewis Hamilton or Jensen Button and race on realistic Formula One routes equipped with completely unexpected obstacles. Collect power-ups, weapons, or balloons and do whatever you need to make your opponents' lives more challenging. It is a game for all players from the age of three, perfect for meetings with friends or family events! Enter the race together, choose your game mode and start your adventure in the adrenaline-fueled world of crazy Formula 1!
Key features
Play a fun Formula 1 game
Choose from real racers and test their skills on the track
Avoid obstacles and collect boosters
Play solo or in multiplayer for up to four players
Beach Buggy Racing
| | |
| --- | --- |
| Release: | 2014 |
| Genre: | Racing |
| Developer: | Vector Unit |
It is a free-to-play racing game for tropical competition enthusiasts. Get ready for fast-paced action, lots of sunshine, and a brutal battle for ultimate victory!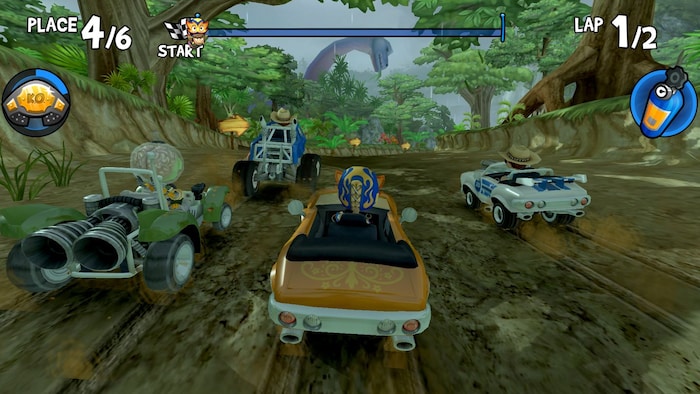 Travel to a tropical island to compete in fierce races on twelve routes. Train your skills to become faster and unlock better and better bonuses! Use an arsenal of traps and weapons to slow down your opponents. And if you are a personalization enthusiast, we have good news for you. In this game, you can collect the best cars and develop a dream team of the best characters.
Key features
Play a tropical racing game on Android
Race on twelve tracks and unlock new bonuses
Collect the best vehicles and surprise everyone with your driving skills
Play alone or with four other players
Garfield Kart - Furious Racing
| | |
| --- | --- |
| Release: | 2019-11-05 |
| Genre: | Racing |
| Developer: | Artefacts Studio |
Though Garfield loves to devour lasagne and do nothing, this game lets you manage his actions on the racetrack. Choose from eight characters from the Garfield universe and join the epic battle for first place.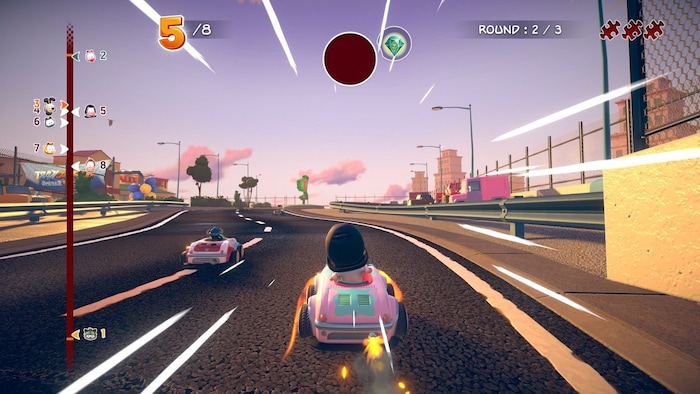 Play solo or in multiplayer and choose your favorite character from the Garfield universe! Each hero features special skills that you can successfully use on the racetrack. Race on various exciting tracks, select your game mode and use power-ups to defeat all your opponents. Show no mercy, get carried away by the madness of speed, and win!
Key features
Race in the legendary world of Garfield
Choose from eight playable characters and use their skills in combat
Collect power-ups and surprise your opponents
Play solo or in multiplayer with up to eight players
The best kart racing games are the essence of fun. At home, at a party, after work, and even in the middle of the night. This genre is simple mechanics and colorful visuals created for your pleasure. And when other games require intense deduction, questing, or epic sword-fighting, kart racing games require just that – racing. So if you want adrenaline set in extremely relaxing gameplay, kart games will make your dreams come true.