City-building and settlement management is one of the most popular game genres, for a good reason. While these games don't deliver epic storytelling or breathtaking gameplay thrills, they are the perfect type of games to unwind with after a long day. Seeing the settlement we're responsible for grow and prosper will put a smile on our faces.
The developers of such games strive to deliver a carried experience, setting their titles in various interesting locations. Some of them take place in fantastical lands, some of them take the player into space. This piece will focus on the titles that allow the player to rule over medieval villages and castles. Here's our list of top build-your-kingdom or village games. 
| | Game | Release | Developer | Video | Sale | |
| --- | --- | --- | --- | --- | --- | --- |
| | Going Medieval | 2021-06-01 | Foxy Voxel | | 71% | Read more |
| | Life Is Feudal Forest Village | 2017-05-26 | Mindillusion | | 88% | Read more |
| | Banished | 2014-02-18 | Shining Rock Software LLC | | 57% | Read more |
| | Airborne Kingdom | 2022-03-07 | The Wandering Band LLC | | 75% | Read more |
| | Yes Your Grace | 2020-03-06 | Brave At Night | | 94% | Read more |
| | Gnomoria | 2016-02-23 | Robotronic Games | | 15% | Read more |
| | Kingdoms And Castles | 2017-07-20 | Lion Shield, LLC | | | Read more |
| | Stonehearth | 2015-06-03 | Radiant Entertainment | | 22% | Read more |
| | Medieval Dynasty | 2020-09-17 | Render Cube | | 27% | Read more |
| | Tropico 6 | 2018 | Limbic Entertainment | | 83% | Read more |
| | Frostpunk | 2018-04-24 | 11 bit studios | | 83% | Read more |
| | Patron | 2021-08-10 | Overseer Games | | 83% | Read more |
| | Kingdoms Reborn | 2020-11-03 | Earthshine | | | Read more |
| | Timberborn | 2021-09-15 | Mechanistry | | 7% | Read more |
| | Foundation | 2019-02-01 | Polymorph Games | | 8% | Read more |
Yes, Your Grace
| | |
| --- | --- |
| Release: | 2020-03-06 |
| Genre: | Adventure |
| Developer: | Brave At Night |
| Game modes: | single-player |
Yes, Your Grace stands out from among other titles on our list as it takes the management of the player's kingdom to the base level.
In Brave At Night's production, the player controls King Eryk, the ruler of the medieval kingdom of Davern. The king spends his days welcoming visitors to his castle and accepting their requests. His tasks also include helping his family with their daily struggles.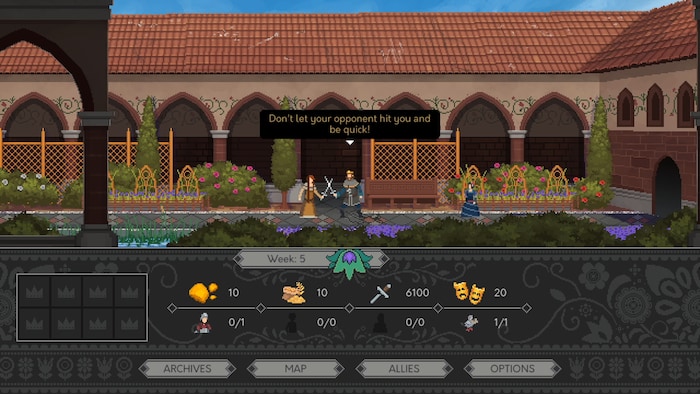 The setting of Yes, Your Grace blends reality and magic, which shows in what matters are brought for the king's consideration. Sometimes, it's about settling an argument between neighbors. Other times, the king has to lend a hand to a village attacked by monsters. The king will also have to please the local lords, whose help he might need in battle. Choosing sides in conflicts between your vassals will be crucial, and the game stresses that not everyone will be happy with the king's choices.
Key features
Open your throne room to villagers and lords, requesting your audience
Help them to the best of your ability, winning the favor of the people and support of the nobility
Settle petty squabbles and send help to villages attacked by monsters in the kingdom rules by law and magic
Enjoy the charming 2D art of the game
Banished
| | |
| --- | --- |
| Release: | 2014-02-18 |
| Genre: | Economy |
| Developer: | Shining Rock Software LLC |
| Game modes: | single-player |
In Banished, the scope of the player's action is broader than in the previous game on our list.
The player becomes responsible for a group of refugees, wh must make a living for themselves in the new country. Searching for resources and expanding the settlement into a thriving city is the key gameplay aspect of Shining Rock Software's title.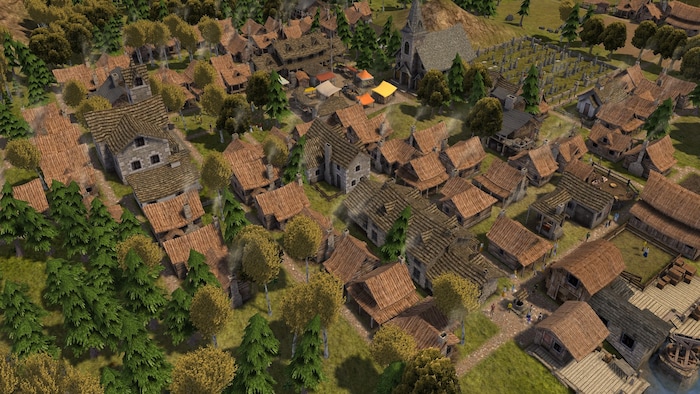 The broader scope means more things for the player to do. Instead of simply deciding on the cause to aid, the player can directly influence the fate of their people. The game features over 20 occupations and no skill trees, so any settler can be trained to perform any job. Each profession is equally necessary, so building farms, stores, and other facilities to make the settlement thrive will be the top of their priority. The poorly looked after settlers will soon fall ill and die, which could bode poorly for the player's town.
Key features
Make a fresh start in a new land
Grow your settlement from a small village to a bustling town
Build farms to grow crops and breed animals, stores to generate income, and other facilities to make your community prosper
Gnomoria
| | |
| --- | --- |
| Release: | 2016-02-23 |
| Genre: | Indie |
| Developer: | Robotronic Games |
| Game modes: | single-player |
Gnomoria gives the player a chance to let their imagination run wild.
Thanks to its sandbox nature, the player is not limited by anything in the quest to build a thriving settlement. Exploring the procedurally generated kingdom will yield new resources and help the player expand their growing kingdom.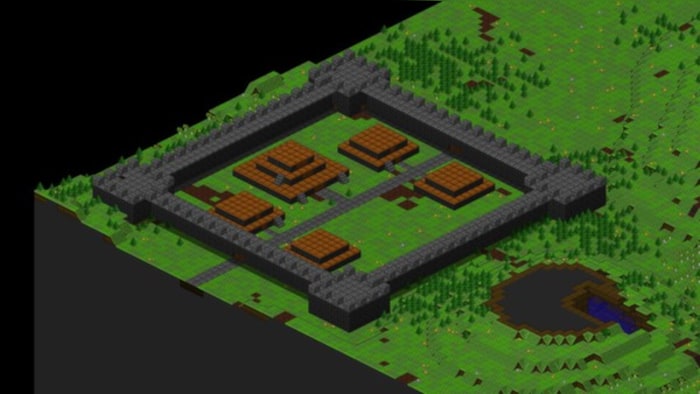 Gnomoria's closest counterpart in the world of big gaming would be Minecraft. Like in Mojang's production, the player has free reign in interacting with the pixel art environment. Everything can be dug into, chopped to pieces, and resued for crafting. Aside from regular items, the player can create complicated mechanisms using such craftables as levers and engines. Far from monotone and boring, Gnomoria is the perfect title for tinkering enthusiasts.
Key features
Explore the procedurally generated world of Gnomoria
Help the Gnomads build their village and see it grow into a thriving city
Dig deep into the land to unearth precious resources
Use levers and engines to create complicated machines
Stonehearth
| | |
| --- | --- |
| Release: | 2015-06-03 |
| Genre: | Economy |
| Developer: | Radiant Entertainment |
| Game modes: | single-player, multiplayer |
Conceptually, Radiant Entertainment's Stonehearth is very similar to Gnomoria. Both games feature procedurally generated open worlds and cute pixel art graphics.
The main differences can be seen in the gameplay mechanics. Gnomoria was a sandbox through and through, with the player mostly left to their own devices. Stonehearth gives the player a frame to work with, providing plenty of opportunities and fashions to develop their virtual settlement.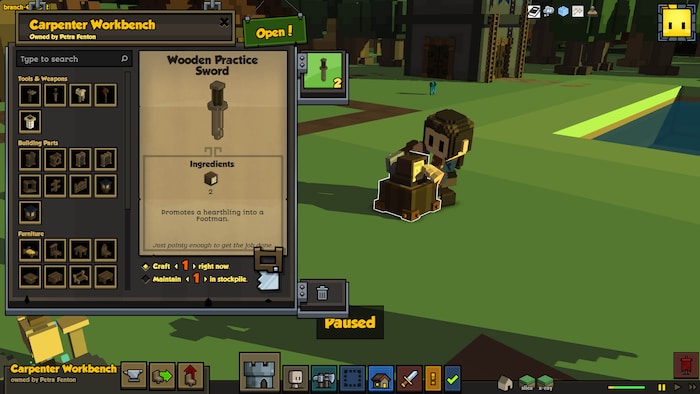 In Stonehearth, the player can decide on various factors related to their growing settlement, including what type of kingdom they want to rule – a sprawling empire or a trading town. Each settler can take on a specific job within the settlement – merchant, mason, etc. To give settlers particular jobs, the player must craft tools for them, later using them to improve the city. The game offers mod support, so the players interested in introducing their ideas to the world of Stonehearth can do that with the developer's blessing.
Key features
Procedurally generated world full of resources
A variety of directions the player can take their kingdom in
An expansive job tree related to the crafted tools
Mod support
Kingdoms and Castles
| | |
| --- | --- |
| Release: | 2017-07-20 |
| Genre: | Indie |
| Developer: | Lion Shield, LLC |
| Game modes: | single-player |
The last game on our list of top games where you build a kingdom is, ironically, Kingdoms and Castles.
This economic RTS takes the player to a faraway land where the player must build their settlement. K&C gameplay is similar to Banished and Stonehearth, with a few additional features that make this title worth playing.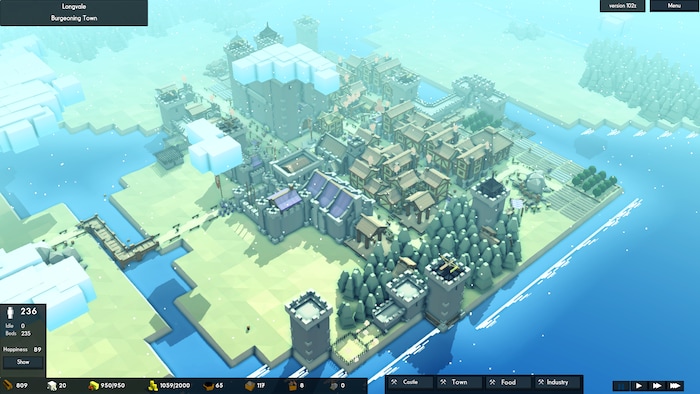 The main new features the players will find in Kingdoms and Castles are procedurally generated clouds and dynamic weather. The latter will cause the land to be covered in snow, making gathering resources difficult. Another interesting feature is the algorithm responsible for tree growth, which adds an additional layer of managing the natural resources. The rest of the gameplay is the usual fare of running the city, defending it from invaders, and preventing or counteracting minor catastrophes like the plague epidemic.
Key features
A variety of city-building tools allowing the player to build houses, squares, fields, as well as city defenses
Procedurally generated cloud system, which brings unexpected weather changes
Block-based castle building mechanics giving the player a lot of creative freedom
A living world where various algorithms control such aspects as forest growth
Little settlement on the virtual prairie
No matter what you call it – base-building games, village building games, build your kingdom games – the concept remains the same. Your job is to create a prosperous community thriving in their new settlement. Each of the games, while conceptually similar, offers different kinds of interesting gameplay mechanics the players are bound to enjoy. So if you're a fan of management games that offer a lot more than meets the eye, then pick up one of the titles from our list. They will provide you with hours of relaxing city-building entertainment.