Ah yes, LAN parties. One of the greatest things about gaming in the 90s. Still, it doesn't mean that you need to give up on that these days. Actually, technological advancements and the rise of powerful gaming laptops made throwing a LAN party way easier than ever before!
Back in the 90s computers were huge, heavy and setting things up required a whole lot of time, effort, even technological knowledge. Today, everything's a lot easier. Laptops are light and don't require that much space, so carrying them around isn't much of a hassle. Setting up a LAN game is super easy. All you have to do is just connect to Wi-Fi or some other network, fire up the title of your choice and have all your friends join the server you just created. It's very much like joining online sessions, with the only difference that yours is happening in one room or apartment. It's a perfect way to spend some quality time with your friends if you're all gamers.
But which games are the best for some amazing LAN parties? We've picked the top 10 best titles in this regard. You'll find the list below.
IMPORTANT: While a lot of these games are available on platforms other than PCs, LAN parties are predominantly a PC-exclusive experience (after all, consoles are where split-screen modes are more prevalent as far as local multiplayer is concerned). So, we won't be listing platforms this time around.
Counter-Strike: Global Offensive
| | |
| --- | --- |
| Release date: | 2012-08-21 |
| Genre: | Action & Shooter |
| Developer: | Valve |
Since every title on this list is legendary, there's no point in stating this obvious fact. Still, it should be noted that the Counter-Strike series is one of the most influential among first-person shooters and for a very good reason.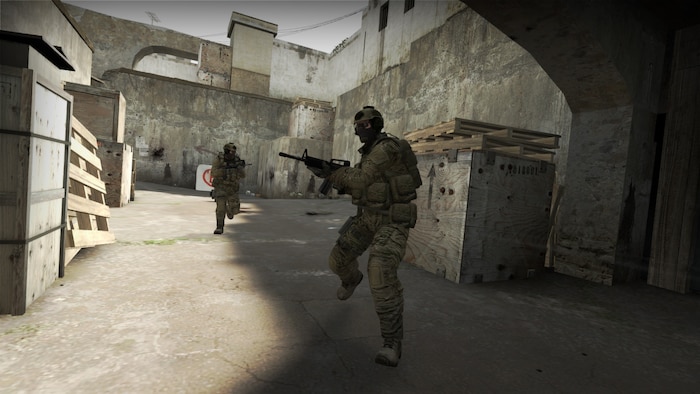 After all, the 90s were an era of arena shooters (whose best examples are also on this list) where your focus is to get the most frags – at least for the most part. In Counter-Strike, however, the main mode is a battle of two teams – Counter-Terrorists and Terrorists. One team must complete a certain objective within the time limit, while the other is supposed to stop them. Missions range from rescuing/capturing hostages to planting/defusing bombs. Once a round is won, players get money that they can spend on better gear to use in the next round. The team to win the most rounds wins the entire match.
CS:GO features other modes as well, including traditional deathmatch and Danger Zone, a battle royale-style mode. Since it's a free-to-play title, it's a perfect choice for a LAN party, especially now that it not just encourages, but actually demands some serious teamwork skills and not just good aim.
Counter-Strike: Global Offensive is a free-to-play game.
Key features
Various gameplay modes to choose from
The most famous one is obviously CT versus Terrorists
There's even a Battle Royale mode called Danger Zone
RUSH B
Unreal Tournament GOTY
| | |
| --- | --- |
| Release date: | 2000-10-25 |
| Genre: | Action & Shooter |
| Developer: | Epic Games, Inc. |
Another classic first-person shooter on this list, Unreal Tournament is the multiplayer counterpart of the original Unreal. The base game's online mode was found wanting, but UT surely delivered.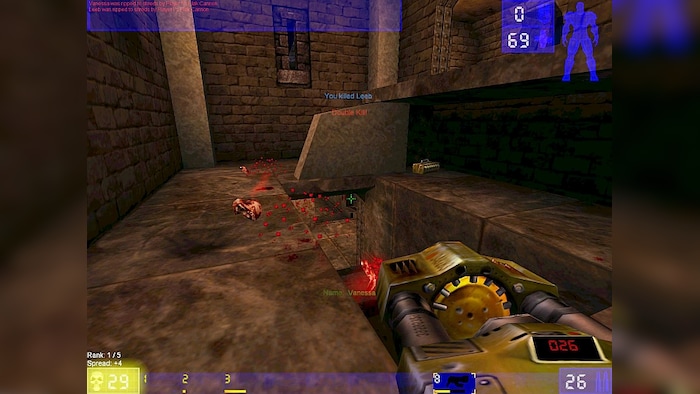 Unreal Tournament is an arena shooter where you run around the map shooting your opponents, collecting better weapons, and dodging enemy bullets. While it sounds simple, even primitive, it's far from it, as you require some insane skills, including good knowledge of the map you're playing on, item placement and so on in order to be able to control the arena and use the surroundings to your advantage.
There are various solo and team-based modes and the most unique one here is Assault: an objective-based mode where one team has to complete a certain set of tasks, while the other is to prevent them from doing so. Once a round ends, the roles are reversed. Sounds a lot like Counter-Strike, doesn't it? All in all, Unreal Tournament has it all: fantastic map design, lots of great weapons with secondary fire modes, excellent music, and so on. It's definitely a phenomenal pick for the fans of the genre.
Key features
Fantastic map design
Excellent weapons, each with an alternate attack mode
You can modify the gameplay to a great extent using various settings and mutators
Tons of fan-made content, such as new maps and character models
Age of Empires II: Definitive Edition
| | |
| --- | --- |
| Release date: | 2019-11-14 |
| Genre: | Strategy |
| Developer: | Forgotten Empires |
Let's move on to some other genres, shall we? Age of Empires II: Definitive Edition is the second remaster of this classic real-time strategy, this time with thoroughly modernized graphics, which make the game look truly beautiful years after its original release.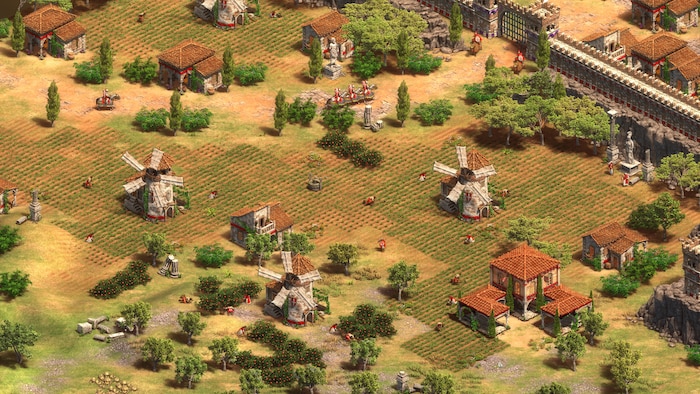 Age of Empires II is set in medieval times where you can pick from numerous civilizations and begin building your kingdom. There are different ways to win and a lot of them do not involve destroying your opponents. While the civilizations are largely similar to each other, there are many differences between them which make things more interesting (although you can't expect the same variety you'd find in StarCraft or Warcraft, for example).
With greatly improved graphics, plenty of additions which make the game even more playable, and tons of content, Age of Empires II: Definitive Edition is one of the greatest RTS titles which you can pick for a LAN party. Expect lots of challenges and strategic alliances!
Key features
Plenty of customization options when it comes to creating a session
A wide variety of civilizations to choose from, each with some special perks
Co-op campaigns are also available
It looks and sounds fantastic
Diablo II: Resurrected
| | |
| --- | --- |
| Release date: | 2021-09-23 |
| Genre: | RPG |
| Developer: | Blizzard Entertainment |
To this very day, Diablo II is considered the best in the series and probably the most amazing hack and slash in the world. No wonder it returned in a remastered form.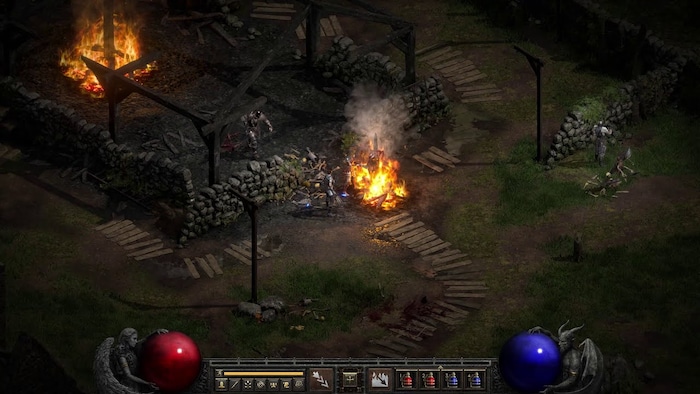 Resurrected is obviously the base game plus the Lord of Destruction expansion, but with high-definition graphics and various convenience upgrades, in addition to expanded network capabilities. Set in the world of Sanctuary, it pits you against the Master of Darkness, Diablo and his evil brother Baal.
Slaughtering hordes of baddies is so much more fun when you're with others, which is why Diablo II is so fantastic in multiplayer mode. Each character class complements the others, so with proper teamwork and skill distribution, you are able to turn your party into an unstoppable force.
Key features
A classic remastered
You get to defeat Diablo and Baal
Several character classes to choose from
You can also employ mercenaries to aid you in your quest
Quake Live
| | |
| --- | --- |
| Release date: | 2010-07-06 |
| Genre: | Action & Shooter |
| Developer: | id Software |
Unreal Tournament had a direct competitor back in the day: Quake III: Arena. It returned in 2010 as Quake Live, an updated version with tons of new maps and plenty of game modes to choose from.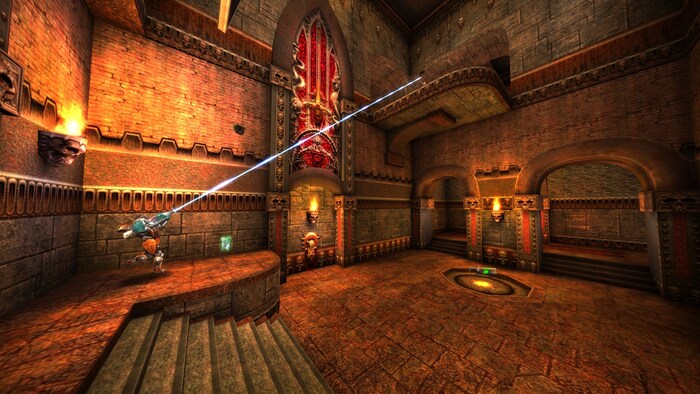 And to be honest, modes like Red Rover sound very interesting. Imagine a scenario where fragging an opponent puts them in your team. The goal is to completely eliminate the other squad. Quake Live also has plenty of more classic modes, such as deathmatch and its team counterpart, Capture the Flag, and so on.
So, which camp are you in? Quake or UT? You know what, why not both? Quake Live is a fast-paced experience which is pretty much just as fun as its Unreal counterpart. You and your buddies will surely enjoy any of these two if arena shooters are your jam. It's just a matter of preference, we suppose.
Key features
Unreal Tournament's famous competitor
Various game modes to choose from
Tons of maps
Rocket jumping
Warcraft III: The Frozen Throne
| | |
| --- | --- |
| Release date: | 2003-07-01 |
| Genre: | Strategy |
| Developer: | Blizzard Entertainment |
Reign of Chaos was Blizzard Entertainment's next masterpiece. It refined the formula of StarCraft, offering four totally distinct races, an epic storyline with greater emphasis on characters, and smaller-scale gameplay focusing on Heroes supported by a bunch of units as opposed to building giant armies, not to mention being the first 3D real-time strategy in the company's portfolio.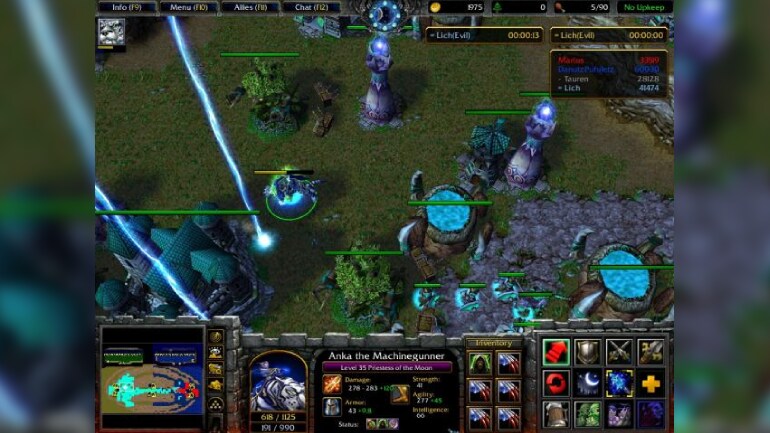 Yes, Warcraft III is totally different from its legendary predecessor, Warcraft II: Tides of Darkness. The game features four races: Humans, Orcs, Undead, and Night Elves, each with a different gameplay model, units and Heroes, but perfectly balanced, as all games should be (to paraphrase Thanos). The maps are also far more interesting than in its predecessors and StarCraft, as they are filled with gorgeous sights to see, monsters to defeat, including some really powerful ones, and various neutral buildings that can help you out for money, etc. The expansion, The Frozen Throne, provided even more additions to the gameplay and made things even more interesting.
All in all, it's a classic RTS and one of the most popular titles in esports that offers countless hours of fun. This is also thanks to the famous World Editor, known for its powerful level design capabilities which led to creating entirely new genres, including tower defense and MOBA. This means that you likely won't run out of fun maps to play anytime soon.
Key features
Four distinct races to choose from, each totally different from each other
Plenty of fantastic maps
Tons of fan-made content
One of the greatest real-time strategies of all time, hands down
Halo: The Master Chief Collection
| | |
| --- | --- |
| Release date: | 2014-11-11 |
| Genre: | Action |
| Developer: | 343 Industries |
If you're new to the Halo series, one of the most famous first-person shooter franchises, there's no better way to start than picking up this awesome collection, complete with visual upgrades for each of the games. Better yet, they pack a fantastic multiplayer mode to make your LAN parties even more amazing!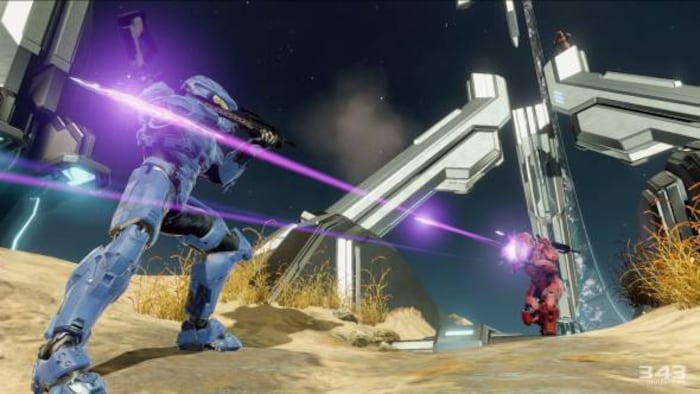 The Master Chief Collection features six Halo games in total: Halo: Combat Evolved Anniversary, Halo 2: Anniversary, Halo 3, Halo 3: ODST, Halo: Reach, and Halo 4, each with overhauled visuals and with all additional content released over the years, but without any changes to the gameplay. Why fix what ain't broken?
Each of the games in the collection packs fun multiplayer with all kinds of modes, ranging from rather standard fares like deathmatch and capture the flag to something more unusual. Vehicular combat is also an important component of the gameplay. Halo games are definitely some of the best first-person shooters in the online department, so you should totally give them a shot during your gaming sessions with friends.
Key features
Six remastered Halo games in a single package
They're great both in single-player and multiplayer modes
Extra content is also included
Vehicular combat is also a part of the gameplay
StarCraft: Remastered
| | |
| --- | --- |
| Release date: | 2017-08-14 |
| Genre: | RTS |
| Developer: | Blizzard Entertainment |
Before Warcraft III, there was StarCraft. Blizzard Entertainment's legendary RTS changed the genre and had a massive impact on esports. Heck, it's pretty much a national pastime in South Korea!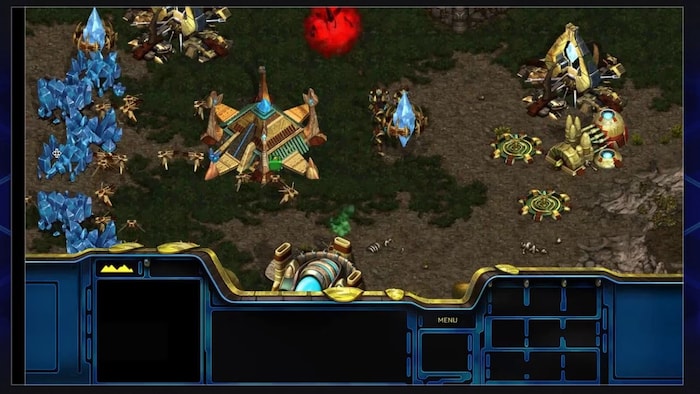 StarCraft famously lets you choose one of the races – Terran, Protoss, and Zerg – and duke it out on various maps. Each faction is totally different from each other, demanding a different playstyle and strategies. This alone warrants countless hours of fun with your friends.
StarCraft also boasts a robust map editor (or at least boasted it, as it disappeared from SC: Remastered). In fact, many creations of fans served as predecessors to those in Warcraft III (the whole DotA thing, for example – it all started with StarCraft). You'll find tons of new missions and levels, which means that even if you get bored with the base content, you can enjoy the game waaaay longer. And what's fantastic about SC is the fact that you can play the original version for free. So, if you love nuanced, fast-paced real-time strategies with excellent gameplay and design, be sure to give StarCraft and its fantastic sequel (also available for free) a shot.
The original version of StarCraft (released in 1998) is a free-to-play game.
Key features
Three different races to choose from
Tons of official maps
There's way more fan-made content
Many of the maps are in fact separate games
Worms World Party Remastered
| | |
| --- | --- |
| Release date: | 2015-07-16 |
| Genre: | Indie |
| Developer: | Team17 Digital Ltd |
Okay, this one doesn't exactly fit the bill, as it's a hot seat-type of game to be played on a single computer, but it still works, as a bunch of folks can enjoy it together. Worms are one of the greatest classics to play with friends, that's for sure.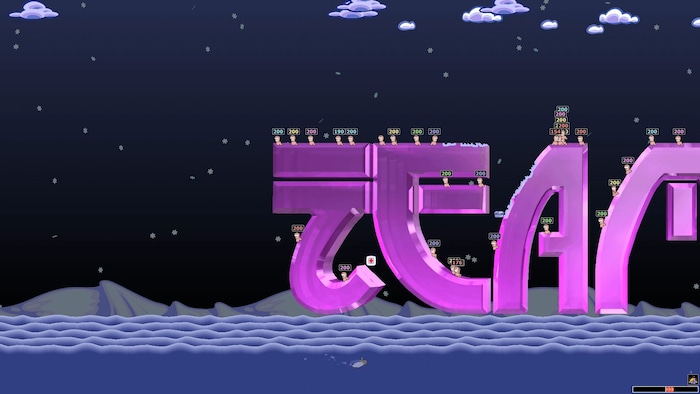 In case you're not familiar with the series, here's what's it all about: it's a turn-based artillery game where each player controls a team of worms, one per turn. You have a certain amount of time to move around and perform various actions, including firing at your opponent's worms. You have access to a huge arsenal of weapons and useful tools.
The game is known for its boatload of customization options. With countless levels that you can generate and pretty much unlimited gameplay schemes to try out, you can be sure that you and your friends will enjoy Worms World Party Remastered for a long, long time.
Key features
It's Worms!
A wide variety of weapons and tools to employ against your opponents
Thoroughly customizable gameplay schemes
This is probably the best installment in the series (although some might say it's Worms Armageddon instead)
Call of Duty 4: Modern Warfare
| | |
| --- | --- |
| Release date: | 2007-11-12 |
| Genre: | Action & Shooter |
| Developer: | Infinity Ward |
Modern Warfare is one of the best first-person shooters for multiplayer, offering frantic, dynamic gameplay which is somewhat reminiscent of the good old arena shooters.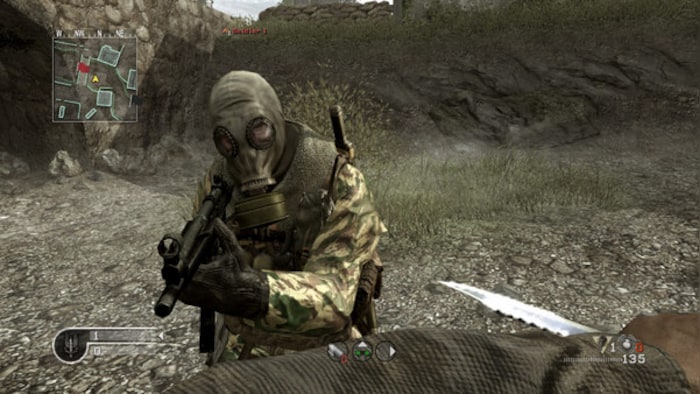 Modern Warfare offers a mixture of both team-based and deathmatch-type modes. Your performance during each match awards you experience points and leveling up gradually unlocks new weapons, perks, and so on. You can also use special killstreaks during the game, depending on how many enemies you are able to frag in a row without dying.
In general, all modern Call of Duty games offer fantastic multiplayer options, so you might as well pick the latest release in the series, Modern Warfare II. However, you might still enjoy this lovely classic, especially now that it's just as fun as it ever was, even if a bit dated by today's standards.
Key features
A nice selection of varied game modes
Your performance earns you XP to unlock new stuff
Killstreaks
Frantic pace
As you can see, first-person shooters and real-time strategies are dominant when it comes to the best LAN party suggestions. Still, there are plenty more gems as far as local multiplayer games are concerned that we encourage you to discover on your own. The racing genre, perhaps?
Anyway, these are probably the most amazing examples of the best LAN games. A lot of them can be considered "retro," but since they're getting re-releases, remasters and even remakes, this means their legacy lives on. Be sure to check them out!