Imagine yourself living your life peacefully but with a few tiny changes. Maybe in a world where you can bake the most delicious cupcakes? Or somewhere no one and nothing will disturb your daily routine?
Discover one video game genre that can do it all – life simulation. It knows everyday life can be exhausting. And playing another title about fighting zombies or saving humanity does not provide enough relaxation.
Instead, these life simulation games introduce gentle RPG, social, or farming stories that you can customize and play however you want. They are easy, forgiving, and made to aid your rest. And on this list, we've gathered all the life sim classics to help you build your simple life in the coolest of worlds.
Best Life Simulation Games
The Sims 4
| | |
| --- | --- |
| Release date: | 2014-09-02 |
| Developer: | EA Maxis |
It's a 3D video game where you have absolute control over everything that happens. When looking for the perfect life simulator, there's nothing like Sims!
Choose what Sims you want to create, and let your imagination run wild! Design your favorite family by personalizing their look, personality, and life aspirations. Then, build their perfect home by customizing accessories, furniture, and the stuff they need in the ideal environment. And what now? Play! You can try to make all your Sims' dreams come true or just let them be to see what happens. The Sims is a unique series scoring incredible success in the gaming world thanks to the unimaginable freedom and the ability to complete any scenario. And the many DLCs available make it even more addictive!
Key features
Play the most popular life simulator
Create the perfect Sims by designing their appearance and personality down to the smallest detail
Help them become part of the local community or embark on an adventure
Have fun with fully customizable interiors, looks, and every item you can think of
Animal Crossing: New Horizons
| | |
| --- | --- |
| Release date: | 2020-03-20 |
| Developer: | Nintendo Entertainment Planning & Development |
Animal Crossing is one of the games known for its beneficial impact on mental health. And with calming sounds, pleasant graphics, and a wholesome setting, it's the ultimate choice for those looking for relaxation.
Move to a village inhabited by anthropomorphic animals to start your dream new life. You will be responsible for expanding this place to make it charming and beautiful. Craft, plant crops, catch bugs, or go fishing! In Animal Crossing, time flows like in the real world, so you'll encounter some creatures or plants only at night or during a particular season.
Key features
Play one of the most relaxing games in the world
Explore the town and help the locals
Design your home and enjoy your time growing plants
Play solo or in multiplayer for up to eight players
Stardew Valley
| | |
| --- | --- |
| Release date: | 2016-02-26 |
| Developer: | ConcernedApe |
It is a shining gem among the best life simulators where you will become a simple farmer. Start your wholesome adventure and join the local community to fulfill your dreams and find love.
The plot of this game is simple – you inherit a farm from your grandfather and restore it to its former glory. Work hard to create the greatest place in this pixel world! Plant crops, look after livestock, trade, and get to know your neighbors better. You can go on an adventure or relax fishing – it's your choice. Stardew Valley is a beautiful game where players can enjoy their hobbies however they want, and there is always plenty to do.
Key features
Play one of the most popular games on Steam
Repair an old farm and create a dream house
Explore the area and meet new friends
Play solo or in multiplayer
Harvest Moon: One World
| | |
| --- | --- |
| Release date: | 2021-03-02 |
| Developer: | Natsume Inc. |
The next part of this appreciated series is an opportunity to experience a unique farming adventure. Learn about plants and save the world by constructing the farm you've always wanted.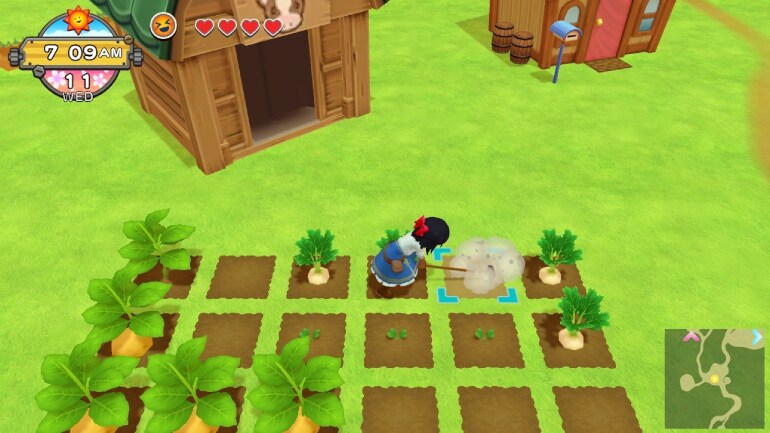 Harvest Moon is a series that combines the three cores of the perfect life sim: character development, an engaging story, and a sense of progression. In this game, you can do whatever you desire! Improve your farm, grow crops, travel, and meet new friends. Every action has a significant impact on the surrounding world. And it's full of chores that can take you days, weeks, or months – but never get boring!
Key features
Play one of the newest parts in the famous farm series with RPG features
Create a prosperous farm and become a member of the local community
Explore, discover, and grow as a person
Decide how your story unfolds
My Time at Portia
| | |
| --- | --- |
| Release date: | 2018-01-23 |
| Developer: | Pathea Games |
It may not look like it, but this game is a post-apocalyptic RPG where you will become part of a rebuilding world!
My Time at Portia equals freedom. Play as a young craftsman moving to town to start a new life. Develop your workshop, craft essential items, sell them, and make a profit. You will need resources, so embark on a journey to chop down trees and build the perfect farm. Or travel further and enter forgotten dungeons to fight for the most valuable treasures! And in your free time, have fun with addictive mini-games or learn more about the stories of other citizens to fall in love and start a family.
Key features
Start a new life as a young craftsman in Portia
Design your workshop and earn money for its further development
Explore, harvest resources, and build a farm
Make relationships for life
Tomodachi Life
| | |
| --- | --- |
| Release date: | 2013-04-18 |
| Developer: | Nintendo SPD |
It is a unique The Sims-based title, released on Nintendo in 2013. Name your island and create as many Miis as you want!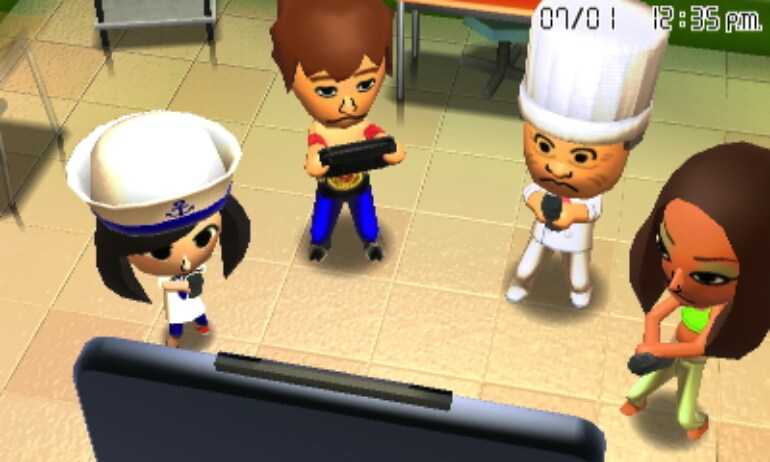 Miis are the inhabitants of your island whose lives you will follow during the game. Create many characters by customizing their appearance and personality. Each unique Mii has different hobbies, which can result in dramas or new friendships. It's your job to watch them closely and have the fun of your life!
Key features
Discover a unique life sim for Nintendo
Create Miis by customizing their looks and personalities
See how their lives unfold
Witness many funny situations
Life is Feudal: Your Own
| | |
| --- | --- |
| Release date: | 2015-11-17 |
| Developer: | Bitbox Ltd. |
It is a recommendation for players looking for something more challenging. It is not your typical life sim experience but a brutal medieval reality for the toughest!
Life is Feudal is an MMORPG where all that matters is your survival. Start an adventure in extremely unwelcoming medieval circumstances to develop your hero and fight enemies. This game has no specific goals – you design them yourself. Go anywhere and do whatever you want, but know it will be a challenging piece of fun!
Key features
Play an indie life sim set in the Middle Ages
Start as a lone hero and try to survive
Build a base, ensure your safety, and fight enemies
Explore and collect essential resources
Life simulators are an exceptionally beneficial guilty pleasure for everyone. Some say their advantage is the possibility of escaping from real existence, but this is not entirely true. By fulfilling our dreams of an ideal life, they help us understand what kind of person we want to be. We can connect with our inner child and gain supernatural powers of instantly fixing mistakes or changing careers. It all provides an intense sense of achievement – and there's no healthier impulse to get the human mind going.