Peter Jackson's titanic adaptation carried J.R.R. Tolkien's epic into the new millennium, sparking the love for the fantasy genre in a new generation.
Encouraged by the incredible success of the movies, many a video game development studio pitched their idea for a LotR game, and the modern wave of interactive adaptations of Tolkien's work followed. We are here to discuss the best of those Lord of the Rings pc games you could still (relatively) easily get online.
Lord of the Rings: War in the North
| | |
| --- | --- |
| Release: | 2011-11-08 |
| Genre: | Adventure |
| Developer: | Snowblind Studios |
Released at an inopportune time – between Dark Souls and Skyrim War in the North – was unfortunately overlooked, yet remained very fun RPG game.
It focused on a "story untold" type of plot, with the three playable characters making sure the North of Middle-Earth is safe from danger while most people focus on the southern conflict.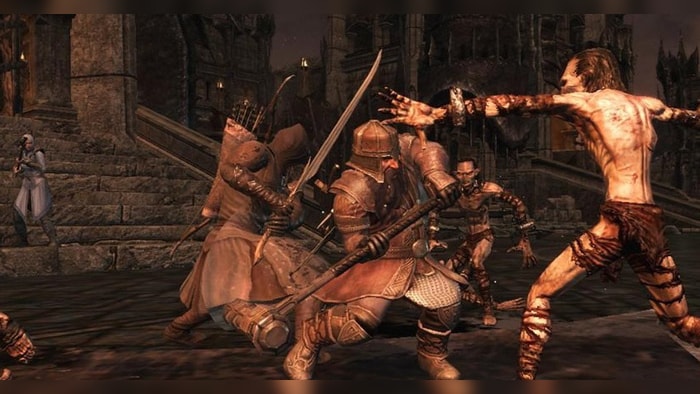 Best played in co-op, it follows the journey of a human Ranger Eradan, melee heavy hitter dwarf Farin, and spellcasting elf Andriel. Each has unique skillsets, including spotting different kinds of hidden caches and passages or creating potions. The game also respects the source material for the most part and includes a lot of trivia even about locations we don't visit.
Key features
Three specialized characters
An interesting sightseeing Middle-Earth trip
Many cameos from familiar characters
Entertaining combat system
LEGO Lord of the Rings & LEGO The Hobbit
| | |
| --- | --- |
| Release: | 2012-11-27 |
| Genre: | Adventure |
| Developer: | Traveller's Tales |
LEGO games are far from the mature and serious experience so many people seem to crave. But they are tons of fun!
They don't really make light of the movies (they are more in line with Peter Jackson's depiction than Tolkien's) but present them in a way that makes them great for introducing your child to LotR and The Hobbit without losing major story beats.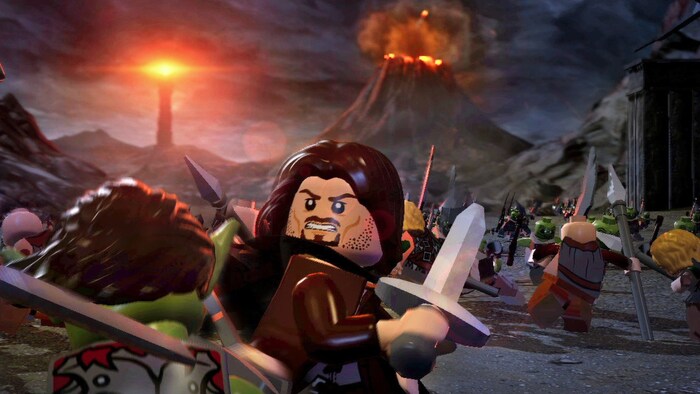 Most of what the cute LEGO representations of LotR and The Hobbit characters are going to do is defeat enemies, destroy the environment, and collect building blocks to build a solution to an obstacle on the road. Many characters have unique abilities required to discover secrets, and audio taken from the movies is put to good use, although veterans of LEGO games may miss humorous mumbling and exclamations from early titles.
Key features
Child-friendly version of Peter Jackson's two adaptations
Gameplay polished over many games
Many playable characters with unique abilities
Two large trilogies to play through.
Lord of the Rings Online
| | |
| --- | --- |
| Release: | 2007-04-24 |
| Genre: | Adventure |
| Developer: | Turbine |
If you think Lord of the Rings MMORPG you probably think it's a failed endeavor, and looking at the player count, it might seem like one.
But what if we told you that LotRO is probably one of the most faithful Middle-Earth experiences we've ever had in a video game form? Hard to believe, but that game gets it.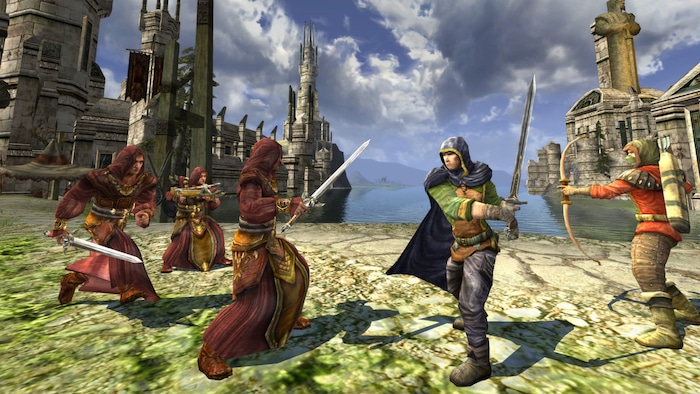 Lord of the Rings Online allows the player to play as one of the good peoples of Middle-Earth, contribute in one way or another to The Fellowship's journey, and interact with major characters. There's also a lot of tools for prospective role-players, including an absolutely delightful system for playing various instruments. It's a lovely game with an appropriate atmosphere and one that doesn't rely too much on combat.
Key features
Respectful adaptation of J.R.R. Tolkien's world
Unique classes and useful professions
Playable musical instruments
You get to play as the forces of Mordor
Middle-Earth: Shadow of Mordor & Shadow of War
| | |
| --- | --- |
| Release: | 2014-09-30 |
| Genre: | Adventure |
| Developer: | Feral Interactive (Linux) |
Although not particularly adherent to the book canon (especially the case for Shadow of War), the Shadow of… series is good open-world fun.
Mixed with an inspired Nemesis system letting you have fun turning the entire orc command structure on its head.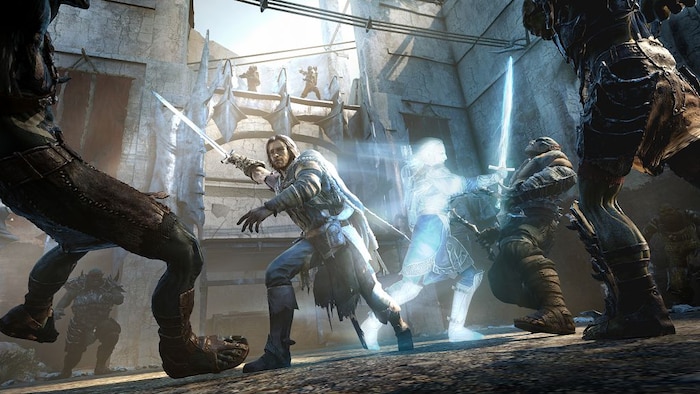 Both games are a comfortable mix of Assassin's Creed-style parkour, and Batman Arkham-type combat, albeit with melee weapons. The second game adds loot, expanding on the very light action RPG elements from SoM. There's also a strategic layer in the form of regions Talion and his army of dominated orcs and trolls can conquer.
Key features
Engaging and fluid combat system
Character progression; improved in SoW
Nemesis system creates unique foes and followers
A vision of Middle-Earth inspired by the movies
Games lost to time
Although we're done with the key part of the article, it's worth remembering games which did not manage to enter digital distribution. The first of those is 2003's Return of the King. It was a really, really good hack'n'slash game with the sensible and purposeful combo system. It also featured actual scenes from the movies, which would morph into in-engine cutscenes before giving control back to the player. Each playable character had unique combos, and there were some shared unlocks as well. The game was amazing.
The second is the dilogy of Battle for Middle Earth, a short-lived series of real-time strategies. They were more focused on the grand scale, with regions to conquer, armies to the field, and fortified camps to develop. Unfortunately, BfME was the last we've seen of Tolkien's world in a more tactical type of game and till this date is considered the best Lord of the Rings strategy game.