With one cyberattack every 39 seconds somewhere in the world, hackers are getting bolder in inventing new viruses and malware. But according to the latest research, about 90% of their successes are the effect of human error. It means our safety depends entirely on our good practices and decisions.
Malware is a broad term meaning all malicious software threatening electronic devices and their users. We can find Trojans, Adware, Keyloggers, Rootkits, and classic viruses among the known examples of such software.
Ransomware is currently the most dangerous form of malware cyber attack worldwide. Its effects affect both massive companies and individuals – especially Windows users. Its latest version — Clop — disables many applications on Windows 10 until the user pays the ransom to regain control of the device.
Trojans, fake news, Fleeceware, artificial intelligence attacks, and other dangerous threats are only a fraction of the hackers' neverending creativity.
So how do you protect yourself from malware? One of the most effective solutions is to buy a good antivirus. Although no anti-malware software provides 100% protection against cyber attacks, combined with common sense, it can give spectacular security effects. And here, you will find all the best antivirus software.
Bitdefender
It is one of the top choices among antivirus products, providing an advanced threat detection system. There is no better malware protection for Windows 10 or 11 PC users expecting all the essential features and tools like malware removal, password manager, VPN, parental controls, or remote webcam protection.
You can choose from four versions of this antivirus: Bitdefender Free Edition, Bitdefender Antivirus Plus, Bitdefender Internet Security for three, Bitdefender Total Security for five, and Bitdefender Family Pack for up to fifteen devices. If you're not planning to protect more than five devices, we highly recommend Bitdefender Total Security. It is ideal for Windows, Mac, Android, and iOS, providing all the innovative tools like firewall, antispam, anti-theft, safe online banking, and more.
Why is it such a good choice? Bitdefender features a powerful malware database using machine learning and artificial intelligence. It is cheaper than many competing antivirus software and is extremely easy to use. In addition to a basic set of standard features, Bitdefender offers the fastest VPN and best parental controls on the market. And you can use it as a cleaner! With OneClick Optimizer Bitdefender, you can instantly clean your computer of all unnecessary files or browser history and fix any registry errors. What's more, it almost does not burden the system's performance using cloud scanning and comes with a legible interface tailored to users' specific needs.
Bitdefender is one of the many antiviruses with the most customizable protection settings on the market, so you decide what defense your devices need. One thing you can be sure of – it's the best choice to stay safe in the face of increasing ransomware and malware threats.
Key features
Get your best antivirus for Windows, Mac, iOS, and Android
Protect from one to fifteen devices
Enjoy innovative tools using machine learning and artificial intelligence
McAfee
This award-winning antivirus comes in a completely new Total Protection version in several plans: Basic, Plus, Premium, and Advanced – for individual users and families. Achieving an extraordinary 100% detection rate, McAfee effectively spots and removes all viruses, ransomware, malware, rootkits, and more.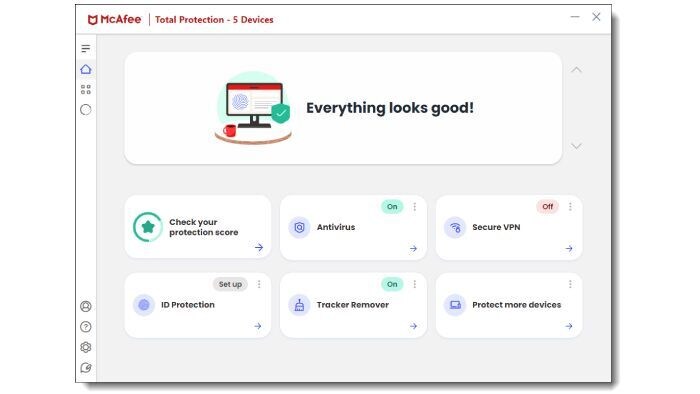 Choose your McAfee Total Protection plan for one or many devices to enjoy comprehensive device protection from day one. Not sure if it's right for you? Don't worry – you can always test it with a free trial to get to know these practical tools better. And get access to proven features like a fast VPN, password manager, disk encryption, file shredder, and parental controls.
McAfee focuses on online safety, providing excellent protection against phishing and a massive range of tools for Wi-Fi security. With Parental Controls, you will get a tool to track the location of your child's device and block any unwanted content. And it works on all Windows, Mac, iOS, and Android devices. It's an ultimate safety solution featuring easy-to-use antivirus software with all the modern qualities to protect against malware – while optimizing the computer performance.
Key features
Choose the best plan for one, multiple, or unlimited devices
Use proven tools for online safety
Discover innovative parental controls
Norton 360
Norton 360 comes in three unique plans: Standard, Deluxe, Premium, and For Gamers. Each focuses on delivering the highest protection level, running on a powerful engine that uses heuristic and machine learning analysis. Choosing the cheapest version, you can enjoy advanced protection against phishing and ransomware, a firewall, three scanning modes, and 2GB of cloud storage.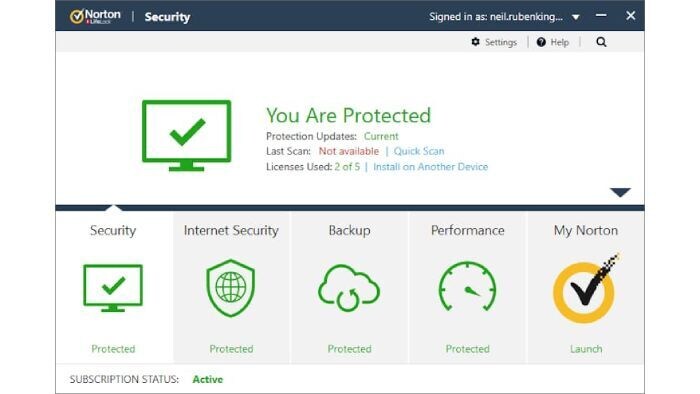 Norton 360 is unique in the antivirus market, offering tools you won't get from other vendors. By choosing the Standard plan, you will successfully protect one device and get a private VPN network connection. With Deluxe for five and Premium for ten devices, you'll unlock parental controls and groundbreaking Dark Web Monitoring. This way, your data will always be safe.
This antivirus is an excellent choice for parents and gamers, offering fast, full, custom and Norton Insight scans. Schedule the process whenever you want! But if you're watching a movie or playing a game, the program won't initiate the scan – and that's why it's the best antivirus for gamers. And those looking for advanced parental control tools will be delighted with new possibilities like monitoring YouTube or Hulu activity, tracking the location of mobile devices, or setting time and content limits for better education. All this with constant privacy monitoring, camera protection, and a set of epic features for gamers. And if Norton 360 leaks a virus, the support technicians will remove it immediately, or you will receive a full refund.
Key features
Choose from four plans designed for your personal needs
Discover new features for better gaming
Protect data with Dark Web Monitoring and use advanced parental control tools
Webroot SecureAnywhere
It is a small and light antivirus program for removing viruses and malware from computers with the Windows operating system. Its unique feature is the use of a tiny portion of memory, which makes it one of the lightest and fastest antivirus programs that have ever existed.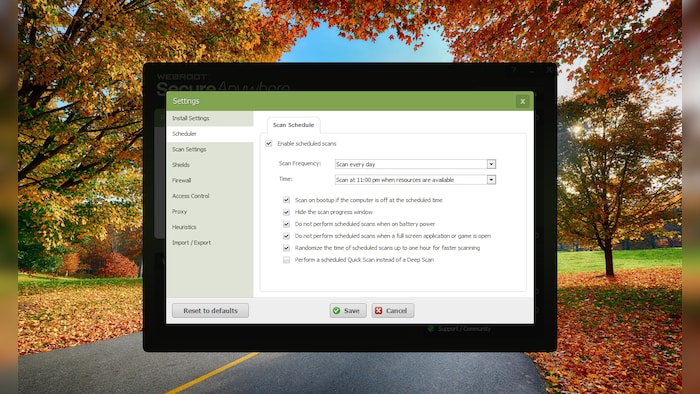 But that doesn't make it weaker! Webroot SecureAnywhere protects your device in real-time, providing non-stop protection against all types of viruses, trojans, ransomware, worms, and more. Finding a threat moves it to a secure quarantine where all protective processes take place to neutralize the possible danger.
Webroot antivirus is a fine choice for Windows users who care about maintaining fast device performance. This software features four malware scanner modes: quick, full, deep (for protection against Trojans or rootkits), and custom for checking selected disk areas.
In addition to the classic scanning function and password manager, Webroot provides several other mechanisms to protect your computer. Using it, you can occupy up to 25GB of cloud storage, flag suspicious websites with Web Shield, or enjoy USB protection with an advanced firewall. It's a perfect option for older hardware users that need lighter software. All installation and scanning processes are quick, with no CPU usage. In addition, it is easy to use, includes a clean interface, and works great with other antivirus software.
Key features
Try the lightest antivirus for Windows and older computers
Enjoy the classic functions for perfect protection of your device
Work, browse and play without any lag in PC performance
Malwarebytes
Malwarebytes is intelligent protection for home and business. In versions for one or five devices, it offers three Premium plans, with the most expensive one equipped with additional tools for better privacy. Providing real-time protection, it blocks 98% of malware with a secure Premium Privacy VPN. Malwarebytes is not as good as Norton or Bitdefender, but its low price and minimalist interface earn it a place on this list.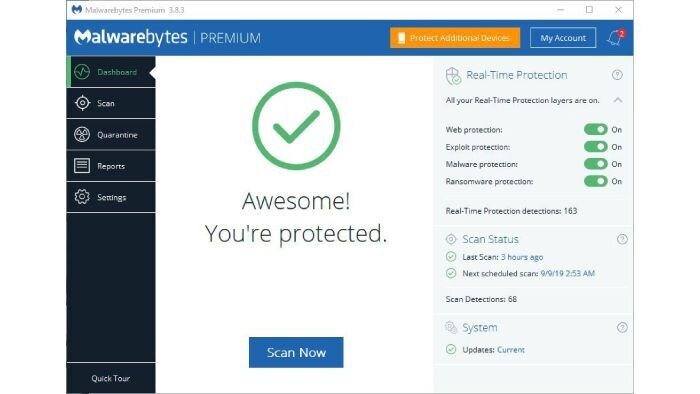 Malwarebytes features a classic division into quick, custom, and threat scans. Each scan takes exceptionally little time compared to the competition, and anti-malware effectively stops the attacks of the most unpredictable viruses, Trojans, worms, and more.
It's also a good choice for those who want online security. Malwarebytes' Browser Guard is a free browser extension that effectively blocks phishing sites and pop-ups. This software runs on Windows, Mac, iOS, and Android, working silently in the background, so it's good software for users who don't want to spend too much time learning its tools. And the Premium or Premium Privacy version is a slightly more expensive choice for more protective features.
Key features
Buy a proven antivirus for home and business
Choose from multiple subscription plans
Enjoy its quiet work in the background
Trend Micro Maximum Security
It is the best product from Trend Micro, providing the essential features to protect iOS, Android, Windows, Mac, and Chromebook devices. In this impressive version, you will discover protection for three devices with many surprising tools proving their power in the battle against the most evolved viruses, ransomware, and other threats.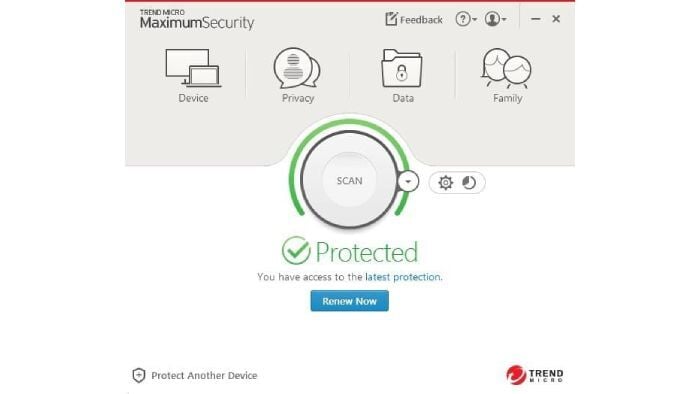 Let's start with the fact that this software is easy to operate – even for inexperienced users. Using artificial intelligence, Trend Micro Maximum Security blocks external threats and scans your device for hidden dangers stored in files or other programs.
It's the best security, with multi-layer protection against ransomware attacks. If ransomware is detected on your computer, Trend Micro will automatically back up all your files so that you can use them once the threat is eliminated. It also focuses on children's safety, providing many parental control tools like safe website selection and limited browsing time.
Key features
Get one of the best anti-malware software on the market
Protect online privacy and keep your kids safe
Use automatic backup in case of a ransomware attack
Viruses have been around since the beginning of the Internet. It is the best-known type of malware that attaches itself to a file or program and starts wreaking havoc when activated. But Trojan horses, ransomware, and worms are a whole different story. They are much more intelligent, running on their own and pretending to be something else. And you might come across them everywhere – even in your email or a seemingly innocent link from a friend.
That is why it is crucial to ensure two fundamental layers of security.
The first is the best antivirus. Compatible with the operating system, equipped with all the necessary functions and additional tools like VPN, firewall, and parental control, it will perfectly fulfill its role when regularly updated. Unfortunately, even the best antivirus will not keep threats at bay if it does not use the current virus database.
The second is you. Because by avoiding contacts with suspicious content and clicking on the wrong links, you can prevent consequences graver than damage to your favorite device.