Each year we've got more and more new modern games to enjoy, but sometimes it may be refreshing to return to some retro classics from the arcade machine era instead.
Thanks to the arcade emulator known as MAME, you can play old arcade games on your PC. Give it a go – there are probably plenty of amazing titles you've missed.
Introduction
MAME stands for Multiple Arcade Machine Emulator and is a result of the work of an Italian software developer, Nicola Salmoria, who wanted to preserve old arcade games and prevent them from being forgotten by future generations of players.
Even though MAME was released back in 1997, due to its simplicity and ease of use it remains one of the must-have programs for any retro gaming enthusiast. Although the original creator of the software doesn't seem to be involved in the project anymore, MAME still receives constant updates and now supports over 7000 old arcade games for your enjoyment.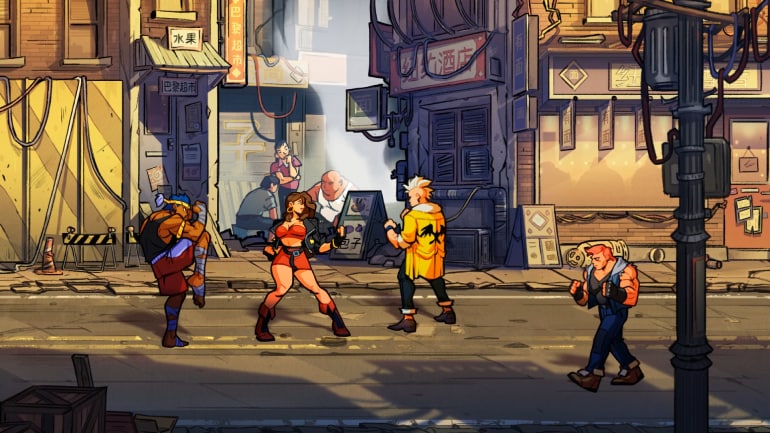 Factors to Consider when Choosing
Games that were available on arcade machines came in all shapes and sizes, although there was significantly less variety when compared to what we have today. Arcade games focused mostly on testing one's agility and reaction time – they were fast-paced and full of dynamic action. They were also fairly difficult, to make players spend more money – let's not forget that playing arcade requires a coin to begin the game. With each death you'd have to insert another one to continue, so it's in the arcade's best interest to not make things too easy. Thanks to MAME, however, you can retry difficult levels as many times as you want, without worrying about emptying your wallet.
Depending on how much of a challenge you're looking for, you may want to take that factor into consideration. The game's uniqueness can play an important role, too, especially if you want to broaden your gaming horizons. You should also consider the game's overall quality – the time we have to play games is limited, so it would be best spent on games that actually provide a valuable experience.
Without further ado, let's take a look at some of the best MAME games you can play right now.

Best Modern Arcade Style Games
Contra
| | |
| --- | --- |
| Release date: | 1988-02-09 |
| Genre: | Shooter |
| Developer: | Konami |
First on the list is Contra – simple gameplay formula, but an incredibly addictive one.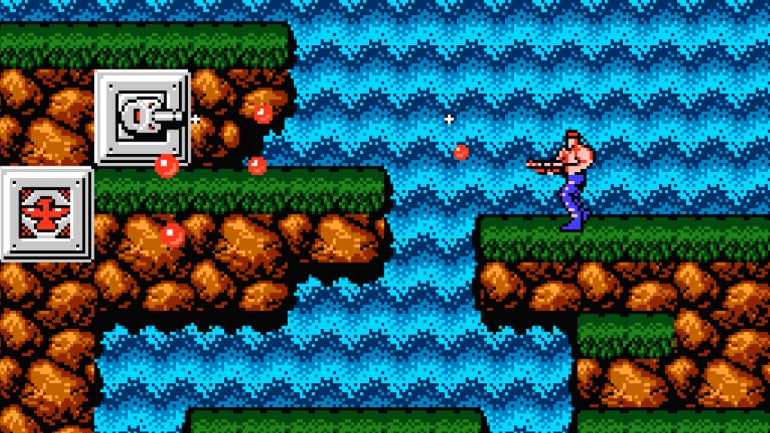 If run-and-gun games are your thing, you can't go wrong with Contra – a game, where your ultimate objective is to neutralize the alien threat. Equipped with a variety of weapons, you'll need to get through the hordes of enemies, avoid their attacks, pick up power-ups, and defeat fierce bosses to achieve victory – a true test of your gaming skills.
Key features
A platform game focused on shooting down enemies with the use of a variety of weapons
A satisfying gameplay experience with constant action and powerful bosses
A solid test for your reflex
Provides a reasonable difficulty level
Rampage
| | |
| --- | --- |
| Release date: | 1986-07-03 |
| Genre: | Action |
| Developer: | Bally Midway |
From more unique titles we have Rampage, where you'll be able to play as terrifying monsters tasked with destroying the city.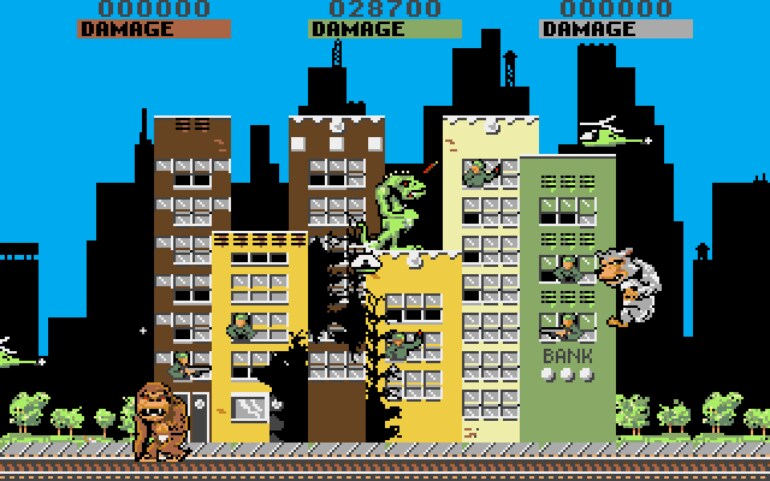 Rampage is certainly not a complex game, but it's built on an idea rarely seen in video games. The core gameplay revolves around controlling a huge monster who must wreak as much havoc as possible. Climb the skyscrapers, eat people, raze the city – leave no stone unturned and survive as long as you can.
Key features
Gameplay focused on destroying the city
A unique take on the action genre
Introduces a bit of randomness to make the game slightly less predictable and thus more fun
Co-op mode for up to 3 players
Punch-Out!!
| | |
| --- | --- |
| Release date: | 1987-09-18 |
| Genre: | Fighting |
| Developer: | Nintendo R&D3 |
Boxing games were quite popular on arcade machines – for example, Punch-Out!! comes to mind.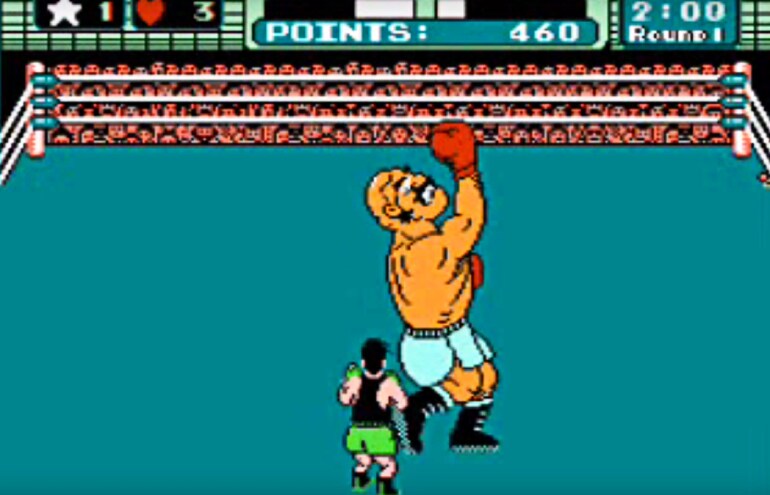 In Punch-Out!! you will be put in the boxing ring with increasingly difficult opponents. The rules are easy to learn but hard to master – you have to knock out the other boxer while avoiding his attacks before the time runs out. The key to victory is watching the opponent's moves closely. Look for subtle hints that may help you predict his actions. You must be quick, though – time your moves well and you may get a chance to emerge victorious.
Key features
A boxing game focused on 1 versus 1 fights
Requires good reflexes and perception
Can be quite challenging
Infinite game loop – aim for the highest scores
The King of Fighters '98: The Slugfest
| | |
| --- | --- |
| Release date: | 1998-07-23 |
| Genre: | Fighting |
| Developer: | SNK |
Fighting-oriented titles were also incredibly popular during the golden age of arcade games.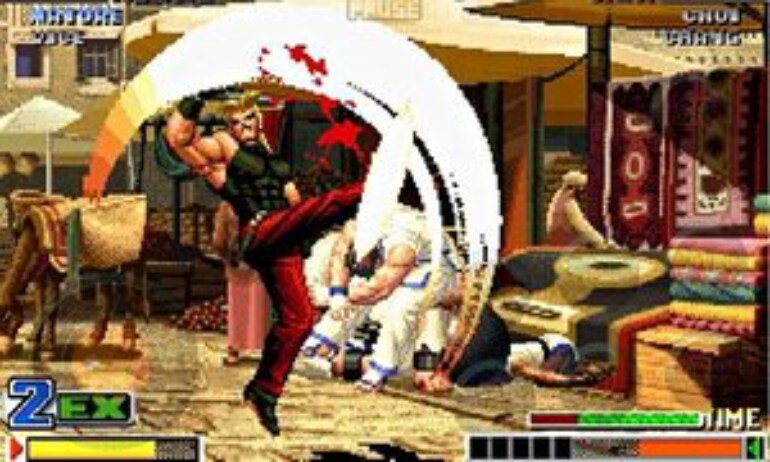 The King of Fighters will give you an opportunity to test your combat skills against a variety of enemies in fair but deadly duels. Choose your favorite characters, master their unique moves, and utilize their powers to the best of your ability to defeat all opponents and become the champion. Timing is the key – try to predict enemy actions and execute powerful combos to gain the upper hand.
Key features
A fighting game focused on 1 on 1 duels
Fast-paced action that puts emphasis on quickly executing correct moves
Dozens of playable characters to try and master
Japanese voice acting helps to build the right atmosphere
Metal Slug 2
| | |
| --- | --- |
| Release date: | 2016-04-14 |
| Genre: | Action & Shooter |
| Developer: | DotEmu |
A sequel to a well-received shooter comes with a variety of new features to make the game even better.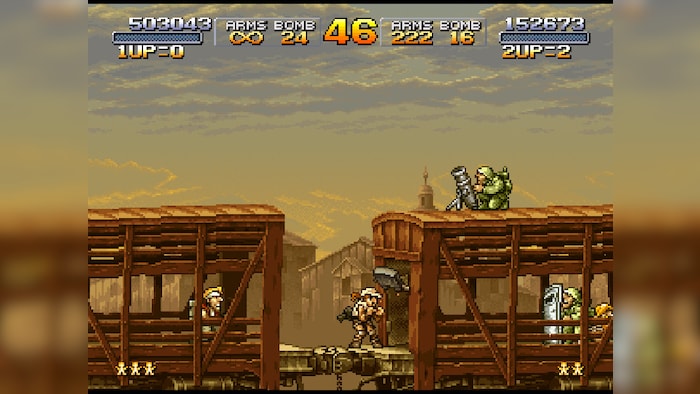 In Metal Slug 2, you will be playing the role of a real badass. You know that one-man-army type – muscular and armed to the teeth, a popular character archetype in the '80s. You'll have to get past continuous streams of enemies and eventually kill the final boss that guards the passage to the next level, which may sound easier than it is.
Key features
A run and gun video game that includes playable tanks
Challenging difficulty levels and constant action
Powerful bosses that serve as the ultimate test for your gaming skills
Soundtrack full of energy, which blends well with dynamic gameplay
Cadillacs and Dinosaurs
| | |
| --- | --- |
| Release date: | 1993-02 |
| Genre: | Shooter |
| Developer: | Capcom |
If you're in the mood to beat up some baddies, try this one.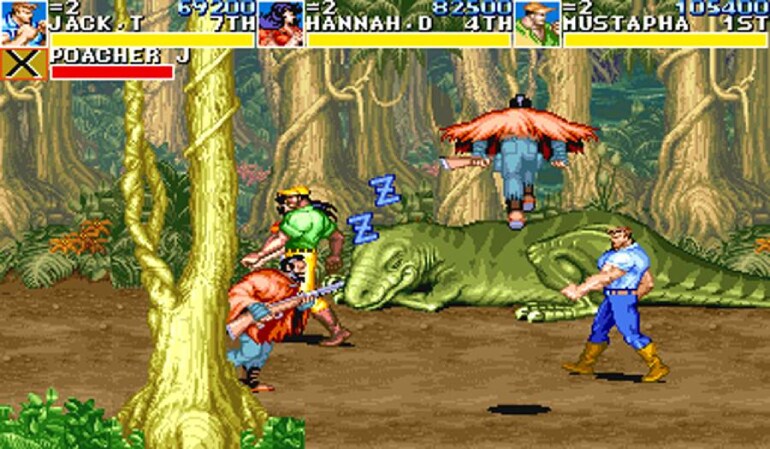 Cadillacs and Dinosaurs combines the two titular elements and creates a game around this uncommon theme, where you'll be fighting not only normal people but also these fierce prehistoric reptiles. It sounds hilarious and is just as much fun to play as you'd expect. The gameplay follows a simple formula and you'll quickly get the hang of it – although the difficulty level may surprise you at times, giving you a tough nut to crack.
Key features
An exhilarating side-scroller
Several types of weapons to utilize during play
4 different characters to choose from, each with their own strengths
Co-op mode with special team attacks, encouraging teamwork
Golden Axe
| | |
| --- | --- |
| Release date: | 1989-05 |
| Genre: | Beat 'em up |
| Developer: | Sega |
There are more beat 'em up arcade games that can be strongly recommended – here's another one.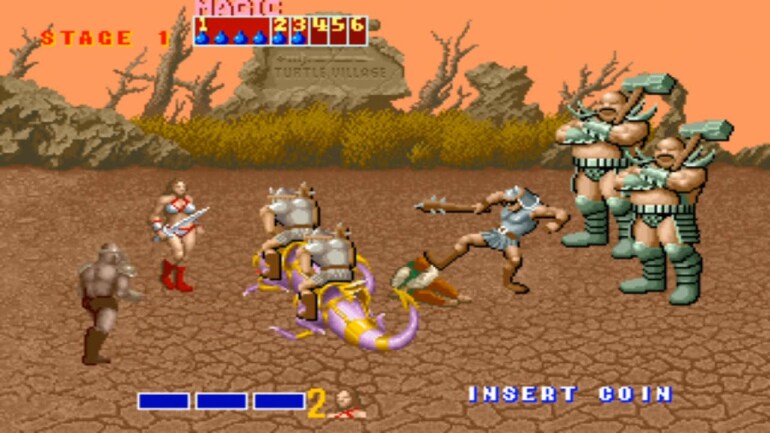 Golden Axe is a true classic and it spawned numerous sequels and spin-offs that kept the series alive for years to come. Your task here is to slash through hordes of enemies in order to rescue the king and retrieve a legendary artifact – that's the only way to bring back peace to the land of Yuria. Choose your weapon, challenge the evil forces, and achieve unachievable.
Key features
Classic beat 'em up experience with a twist
A high medieval setting with might, magic, and dinosaurs
Three playable characters that offer slightly different combat experience
Easy to learn and follow
Street Fighter II: The World Warrior
| | |
| --- | --- |
| Release date: | 1991-02-06 |
| Genre: | Fighting |
| Developer: | Capcom |
You can't have a list of top MAME games without mentioning Street Fighter.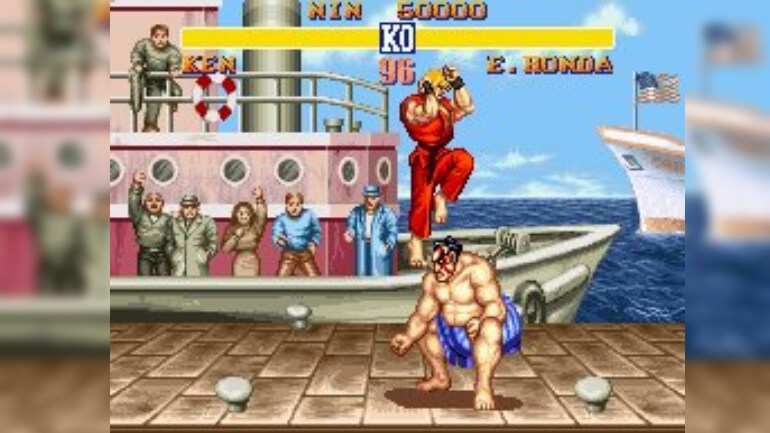 Street Fighter is arguably one of the most popular and influential fighting video game series of all time, and not without a reason. The sequel to the original game comes with some major improvements, including the combo system that needs to be mastered in order to defeat more demanding opponents. Try various characters and learn to play them effectively – discovering and mastering the moves of all duelists is part of the fun.
Key features
The best-selling game since the golden age of arcade
Smooth and fluid gameplay that rewards real skill
Several different characters to choose from
A perfect party title to play with friends
Space Invaders
| | |
| --- | --- |
| Release date: | 1978-04-01 |
| Genre: | Shooter |
| Developer: | Taito |
The top ten MAME games list simply cannot exist without Space Invaders.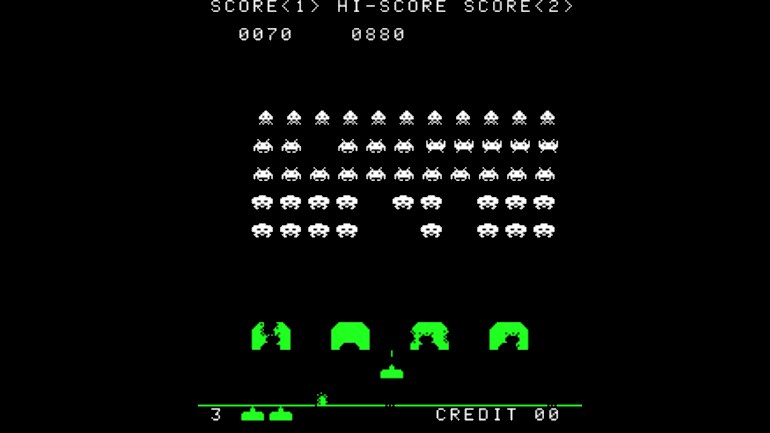 This one is so retro and so classic to the point that even non-gamers should be able to recognize it. The gameplay revolves around piloting a spaceship that can only move left or right and is equipped with a gun used to destroy alien ships that gradually get closer to the bottom of the screen. Eliminate enemies as quickly as you can and try not to get overrun – the fewer enemies remain, the faster they start to move.
Key features
A truly classic game from the genre of space shooters
Extremely simple gameplay, yet very addictive
Dynamic difficulty level – the stages get harder as you get closer to completing them
Endless gameplay loop focused on beating the high scores
Donkey Kong
| | |
| --- | --- |
| Release date: | 1981 |
| Genre: | Arcade |
| Developer: | Shigeru Miyamoto |
Last but not least, a game where quick thinking is a must.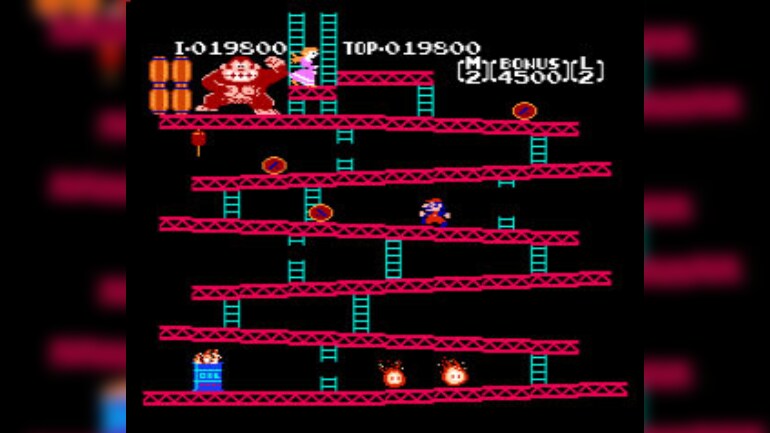 Even though Donkey Kong is not a complex game, it's still a bit more complex that a lot of other arcade titles. The goal here is to go through a simple maze from the bottom to the top while avoiding all kinds of obstacles that will kill you when touched. There's a bit of RNG element added, which ensures that no two playthroughs are exactly the same. You must think fast and act even faster to avoid getting hit and safely reach the destination.
Key features
A platform title that rewards players for their skill
Simple gameplay formula that leaves some room for unexpected twists
Can be tricky to beat at times
A game that gave birth to the most iconic plumber in the world – Mario
Honorable Mentions
If you feel like the list is incomplete, something is missing, or you didn't find what you were looking for, there are other games that deserve at least a brief mention.
Fans of sports games should try Track & Field from 1983. Ghosts 'n Goblins from 1985 is also something worth being recommended. Games like Frogger or Pac-Man could be a great choice to relive the past but they probably don't need any introduction. Galaga, Run and Gun, Mario Bros… There's a lot to try, including some rare and underrated jewels only waiting for you to discover them, so grab yourself MAME and enjoy the classic experience.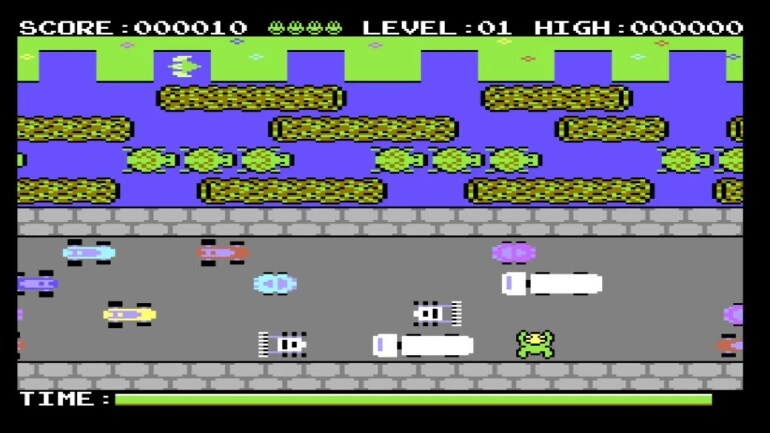 Conclusion and Final Thoughts
MAME is a great way to relive the past and immerse in nostalgia or experience something new and discover titles that shaped the video game market we know today. It may be a refreshing experience and a fruitful adventure, so don't hesitate to embark on this journey yourself.
However, you should remember that while MAME software is free, MAME ROMs are not, which means you usually need to own the games you want to play on the emulator. Depending on where you live, you may need to follow different procedures. There are also some free legal MAME ROMs to be found on the MAME website or other places online, so keep your eyes peeled.