Minecraft is a game that, despite being on the market for over 10 years, still enjoys great popularity and playability. It focuses on survival in a "blocky" world, allowing players almost unlimited possibilities and countless hours of fun. However, some players expected new experiences from the game, which led to the creation of thousands of various modifications.
One of such modifications is called shaders, which are special effects that allow changes in the game's appearance. Do you want to learn more about Minecraft shaders and discover some of the best ones? Read on and find out!
Minecraft Editions Deals & Sales
Gameplay
Minecraft is a game created for PC by Markus Alexej Persson, known as "Notch," and developed by Mojang Studios and Microsoft since 2011. Due to its enormous popularity, the title has been released on almost all gaming and mobile platforms available in the last decade.
It might seem that due to its simple graphics, Minecraft is a game intended for the youngest players. However, that is not necessarily the truth. It is a title that literally everyone can play, regardless of age. The game offers unlimited gameplay possibilities, allowing everyone to find something for themselves. While Minecraft primarily focuses on survival, it has many modes and gameplay options. In the game, you can build, craft, fight, breed animals, or grow plants – there is something enjoyable for everyone.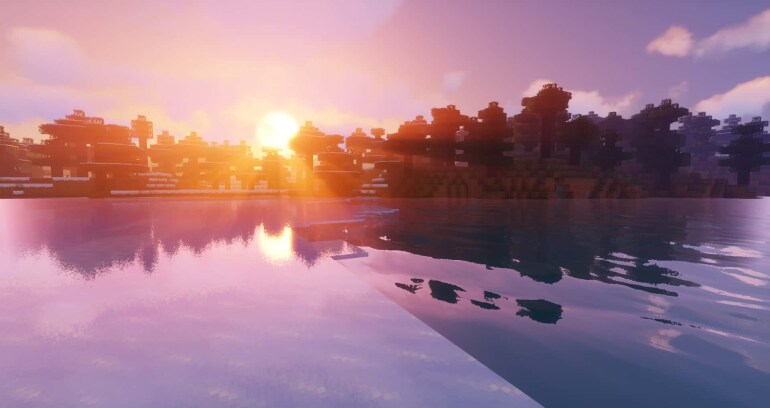 The added modifications have further diversified the gameplay. There are mods that add new characters and change the appearance of existing ones, mods with quests, new items, as well as those that can change the appearance of the world or modify the displayed image. This is where shaders come into play, which can give the game a more realistic or, on the contrary, an unrealistic look.
What are Minecraft shaders?
According to the definition, a shader is a program that describes the properties of pixels and vertices in three-dimensional graphics. It allows for much more complex lighting and material modelling on an object than standard lighting models and texturing. In addition to adding features such as refractions, mirror reflections, or HDR, it also enables advanced changes such as image blurring, noise, color changes, etc.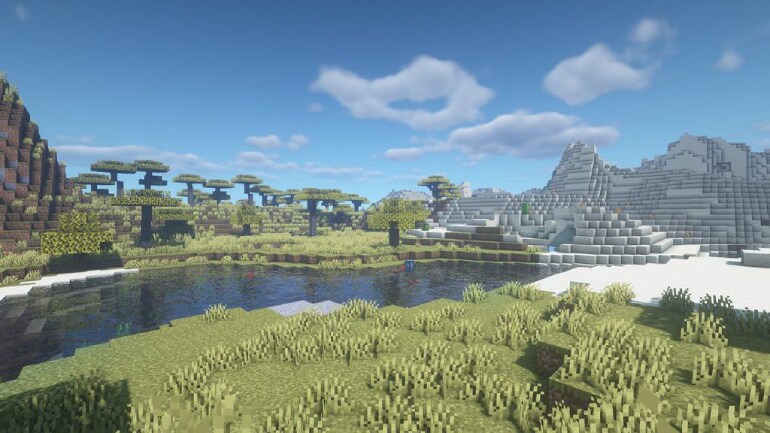 Initially, shaders were added to Minecraft in the form of community-created mods. However, starting from version 1.7.2, they became an official modification supported by the developers. By downloading and installing them, you can add various visual effects to the game. There are shaders that significantly improve the visual appearance of the world by adding realistic features such as natural sunlight rays, realistic water texture and animation, or real-life lights and shadows. There are also shaders that can transform the colorful environment of Minecraft into a pencil drawing, an 8-bit world in the shades of green, or an oil painting. There are shaders that rotate the image by 180 degrees, blur it, or make it swirl.
Both players who want to give their game a photorealistic look and improve its graphics, as well as those who enjoy retro aesthetics or seek challenges and difficulties, can find something joyful in the extensive collection of shaders.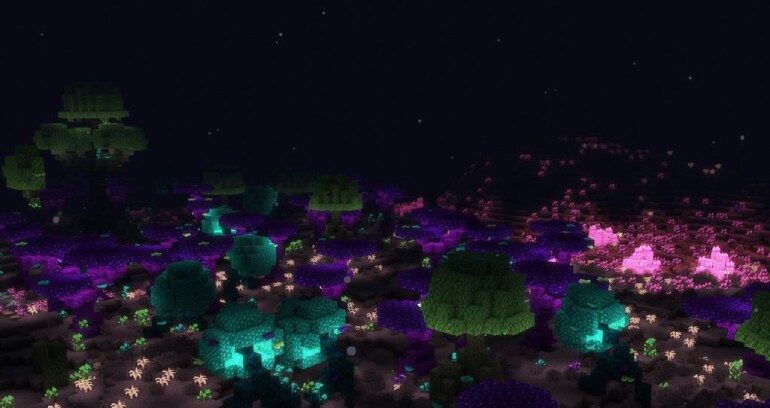 What are the best Minecraft shaders?
There are hundreds of shaders for Minecraft, and determining the best ones is a highly individual matter. Each player expects something different from the game and is interested in a different effect. However, for convenience, we have divided a few of the most interesting modifications into groups with similar characteristics. Here they are:
1. Shaders that give a realistic look to the world:
Sildur's Shaders
If you want your game to simply look good, choose Sildur's Shaders. They provide bright, beautiful colors, soft lights, and shadows. They improve the appearance of the sky and water, giving them a more realistic look. It is one of the least demanding realistic shaders that doesn't require a super powerful PC. You can download it from the CurseForge website.
BSL Shaders
This is another modification that improves the graphics, with features similar to Sildur's shaders, but with less vibrant and saturated colors. BSL also adds a subtle, "soft" effect resembling fog, which is easy on the eyes. You can download it from BSL's website.
Complementary Shaders
Shaders for the Minecraft Java Edition, based on BSL shaders, with a very similar appearance and significant optimization capabilities. They improved the appearance of water, enhanced the fog, and in version V3.X, they also added moon phases. You can download them, just like their predecessor, from BSL's website.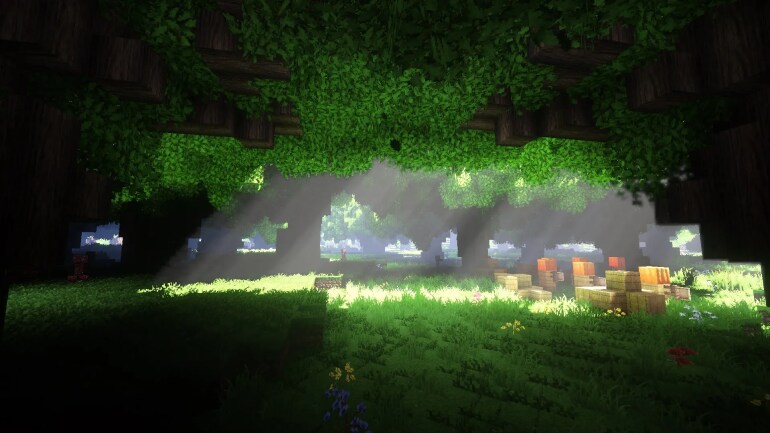 SEUS Shaders
SEUS shaders, also known as Sonic Ether's Unbelievable Shaders, give the game a more realistic look as well. The colors are brighter and more saturated than in BSL, but still slightly less than in Sildur's. SEUS PTGI adds natural lighting to the game, which, combined with rain, creates a beautiful glossy effect. Shadows also look fantastic, enhancing the appearance of the world at night, making it much darker and more immersive. SEUS PTGI is the most demanding, but similar effects can be achieved by installing less demanding versions like Legacy or Renewed. All of them are available for download on Sonic Ether's website.
Continuum Shaders
This is a demanding shader designed for those who expect photorealistic graphical effects. In this shader, everything is present: realistic water, real-life sky, natural lights, and shadows that adapt in shape and size to the movement of the sun. The team behind this improvement constantly strives to create an ultra-photorealistic effect, continually working on new versions of Continuum. You can find this unique shader on the official Continuum.graphics website.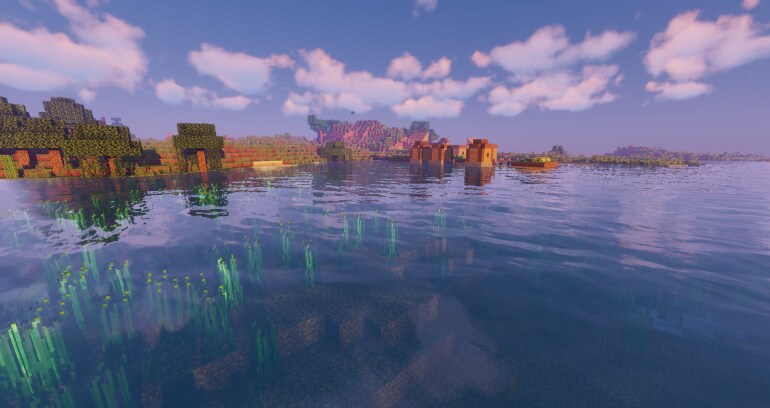 2. Shaders that slightly improve the appearance of the graphics:
Vanilla Plus
This is one of the shaders that improve the overall appearance of the world, but primarily focus on gameplay. It does not have realistic clouds or water, but the graphics are slightly less vibrant and simply prettier compared to the basic version of the game. It is a less demanding shader that can be easily downloaded from the CurseForge website and installed even on weaker hardware.
Sildurs Vibrant Shaders
A simple, classic shader that makes the graphics look nicer and more natural than in the base version, although it is still far from photorealism. It works even on less powerful hardware and is supported by many Minecraft versions (1.7.10 – 1.19.4). You can download it from the CurseForge website.
Nostalgia Shaders
If you want to keep the game close to the original but with a slightly prettier and more pleasant appearance, choose Nostalgia Shaders. It improves the look of light, sunlight rays, and water. It looks most beautiful during sunrises and sunsets. The pixelated blocky sky remains unchanged in this shader. It can also be downloaded from CurseForge.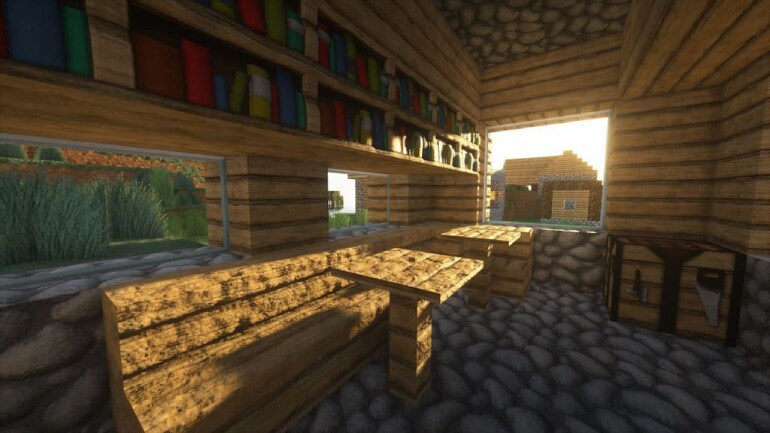 3. Shaders for cartoon, comic, and retro fans:
Naelego's Cel Shaders
This shader is designed for fans of cartoons and games with graphics similar to Borderlands or The Wolf Among Us. It gives the world a comic-book appearance, with pronounced outlines and subdued colors. The shader can be found and downloaded from CurseForge.
Pencil Shader
This effect resembles a pencil drawing. The world is devoid of colors (only greyscale white and black are visible), and all objects and characters have distinct outlines. This is one of the many shaders that can be activated through the Super Secret Options in the game.
NTSC Shader
Similar to the previous one, this is the default shader, activated through the Super Secret Options in the game. It gives the game a look reminiscent of the image displayed on old CRT monitors.
8-bit Shaders
These are also default shaders in the game, activated through the Super Secret Options. They give Minecraft the appearance of an old 8-bit game. They are available in a multicolored version (reminiscent of NES games) as well as in shades of green (likely to be appreciated by retro games and old Game Boy enthusiasts).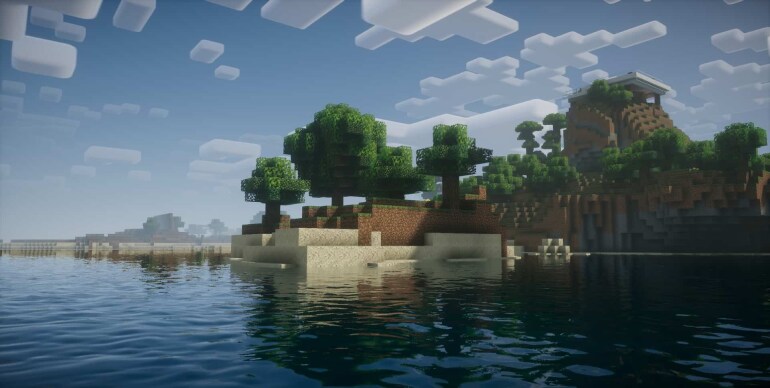 It is worth noting that most of the mentioned shaders require the prior installation of the OptiFine graphics mod to function correctly. OptiFine improves the game's performance, increases FPS, and allows for graphics changes. It should be downloaded from the official OptiFine.net website and installed in the Minecraft folder on your computer (similarly to other mods). After installation, a profile with OptiFine enabled should be available in the game's launcher. Just select it and click "Play!" to start the game.
How to install shaders?
Currently, shaders can be downloaded and installed quickly and easily. As you may have noticed while mentioning specific shaders, we have marked the platforms where they can be downloaded – mainly CurseForge and official creators' websites. However, these are not the only platforms that allow downloading these effects. Shaders are also available on official dedicated websites such as MinecraftShader.com and ShadersMods.com, among others.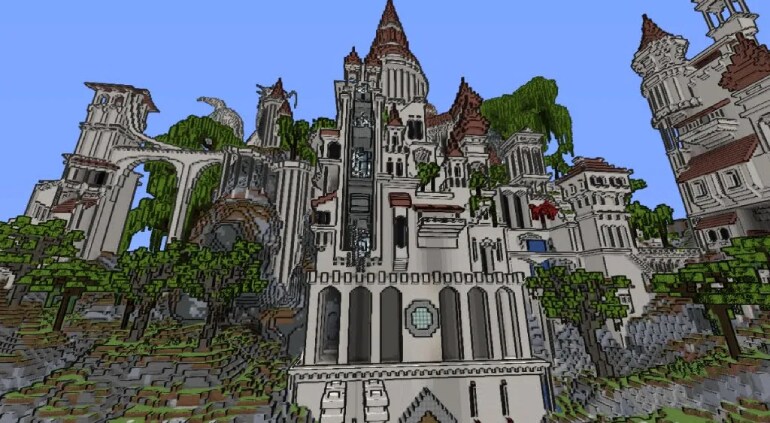 Downloading them is a piece of cake. Simply click the "Download" or "Save" button (depending on the platform) and save the files in .zip format directly in the Minecraft folder, just like any other mod. The difference is that shaders should be placed in the /Shaderpacks subfolder, not in /Mods. If the subfolder doesn't exist, or the shaders were downloaded to the "Downloads" folder or desktop, simply create such a folder and move the files there.
And… that's basically it! Once transferred to the /Shaderpacks folder, the shaders should be accessible in the game (launched with OptiFine enabled) by clicking Options > Video Settings > Shaders > Shaders Folder. Just select a specific effect from the list that interests you, and voilà! You can enjoy your Minecraft in an entirely new light!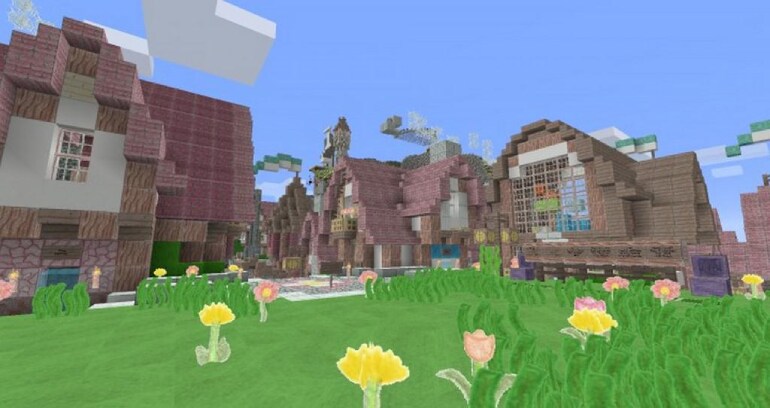 Conclusion
Shaders are a great way to diversify gameplay without interfering with the game's story or mechanics. They can open up new experiences, significantly improving or eccentrically transforming the graphics, and thereby making exploration of the world easier or more challenging, providing entirely new impressions. Either way, it's worth using this modification to enjoy your favorite game in a wholly new way for years to come.
What about you? Do you use shaders, or have you just discovered them?