There's nothing like going completely mad from time to time. Steam off, use some energy, have some fun – choose for yourself. And when circumstances or the weather call for you to spend time indoors, action games are your best bet.
Nintendo Switch users can often feel lost because discovering a game that meets their needs may require research. The number of awesome propositions on offer is constantly growing, and not everyone has to be eager to dig up the best titles in a time-consuming hunt for games.
Fortunately, that's what you got us for! If you're hungry for a fast-paced, full of action video game for Switch, you've come to the right place. Just take a look at the list of the best action propositions for your console and start the game.
Bayonetta 2
| | |
| --- | --- |
| Release year: | 2014 |
| Genre: | Action, hack and slash |
| Developer: | PlatinumGames |
| Modes: | Single-player, multiplayer |
Bayonetta equals action! This fantasy slasher is an absolute must-have for any Nintendo Switch user who craves crazy, fast-paced combat full of fierce gameplay.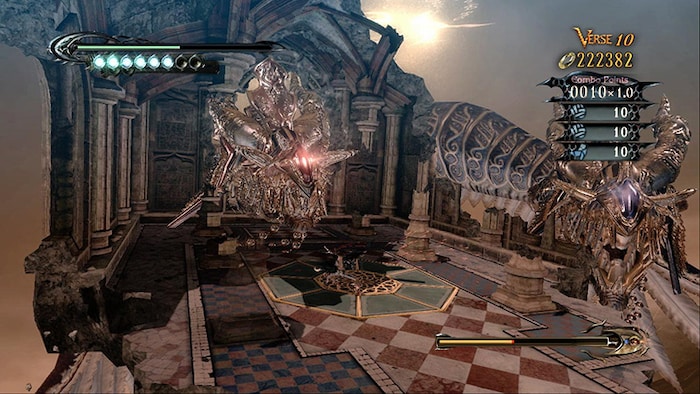 Play as the most powerful and beautiful witch to fight an epic battle between the demonic forces of darkness and the divine messengers of the heavens. Have bloodthirsty demons at your beck and call, use wicked powers, and try all badass weapons. If you miss the action in other games, you will find plenty of it here.
Bayonetta swiftly traverses locations, eliminating hundreds of enemies in acrobatic combat with swords, guns, and magic. There will be a fast pace, emotions, a sublime soundtrack, and fantastic views.
Key features
Play one of Nintendo Switch users' favorite action games
Use powerful weapons to eliminate enemy after enemy
Use the magic of your hair to summon demonic support
Gain experience and unlock special, even more powerful powers
Marvel Ultimate Alliance 3: The Black Order
| | |
| --- | --- |
| Release year: | 2019 |
| Genre: | Action role-playing, hack and slash |
| Developer: | Team Ninja |
| Modes: | Single-player, multiplayer |
If you're a fan of action and Marvel, or you like superheroes, you've just found a gem for yourself. In this action game, your favorite comics superheroes will face off in a legendary battle against the mighty Thanos.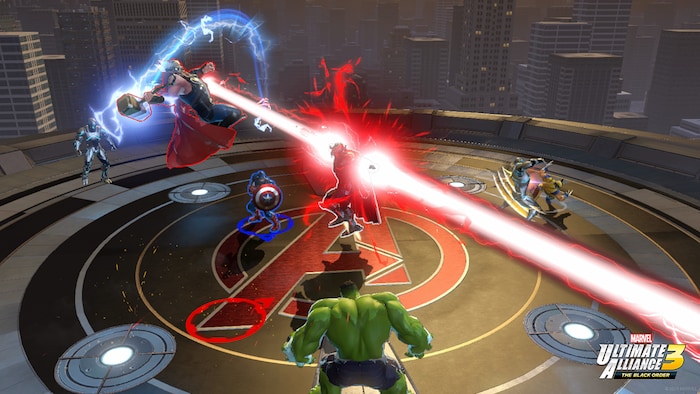 The Black Order and Thanos will do whatever it takes to collect all the Infinity Stones and use them in the worst possible ways. Create a team by choosing from dozens of heroes from Marvel comics!
Control your protagonists and decide on their actions to stop Thanos' sinister efforts at all costs. Become part of the world's most famous superhero universe and rush into the action-packed battle between good and evil!
Key features
Enter the world of Marvel and control the actions of your favorite superheroes
Take part in an epic battle against your ultimate enemy
Fight and develop your heroes' skills to grow in strength
Play solo or in cooperation with friends
Hollow Knight
| | |
| --- | --- |
| Release year: | 2017 |
| Genre: | Action-adventure, Metroidvania |
| Developer: | Team Cherry |
| Modes: | Single-player |
If you're a fan of platformers, Team Cherry's arcade Metroidvania will capture your heart! A magical tale will take you to mysterious locations where you will show some courage and gain glory.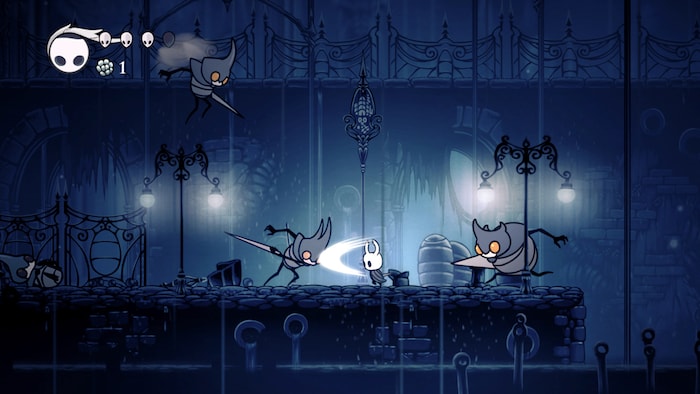 Play the role of a silent and brave Hollow Knight to go to the underworld full of treasures. The tunnels will lead you through a miniature world filled with insect-like creatures. Explore, meet the inhabitants of the underworld, and fight for your life.
The battles here are incredibly dynamic, fast, full of action, and require your superhuman dexterity. Your skills will be rewarded with incredibly smooth and effective animations of epic fights.
Key features
Experience an action-packed journey in the form of a platform video game
Travel to the underworld of the magical world to solve puzzles and discover its secrets
Meet friendly creatures
Fight against dozens of enemies and powerful bosses
Attack on Titan 2
| | |
| --- | --- |
| Release year: | 2018 |
| Genre: | Action, hack and slash |
| Developer: | Omega Force |
| Modes: | Single-player, multiplayer |
One of the most popular manga and anime ever in the form of a video game for Switch – yes, it's true!
If you are a fan of Shingeki no Kyojin, you probably already know that it has to work out. And if you haven't dealt with this series so far, it's high time to check it out.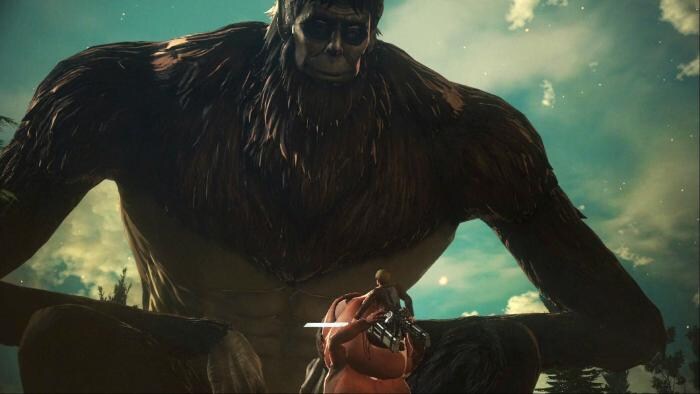 Attack on Titan anime is a production that is famous for the fastest and most exciting action scenes. Anyone who has seen this fierce battle dreamed of taking part in it at least once. This title makes this dream come true! Take on the role of a trained hero and use the 3D maneuver gear to swiftly move in all directions and defeat the titans before they notice what is going on.
Key features
Fight the epic battle with the titans, side by side with the heroes of the Attack on Titan franchise
Feel the emotions flowing from a touching story
Use 3D maneuver gear and become the fastest assassin of the titans
Jump, dodge, run, and don't get killed at all costs
Hades
| | |
| --- | --- |
| Release year: | 2020 |
| Genre: | Roguelike, action role-playing |
| Developer: | Supergiant Games |
| Modes: | Single-player |
A full of humor roguelike action RPG, set in a realm of Greek myths.
Go rebel, reject your father's will, and rush through dungeons full of dangers to find your way to Olympus.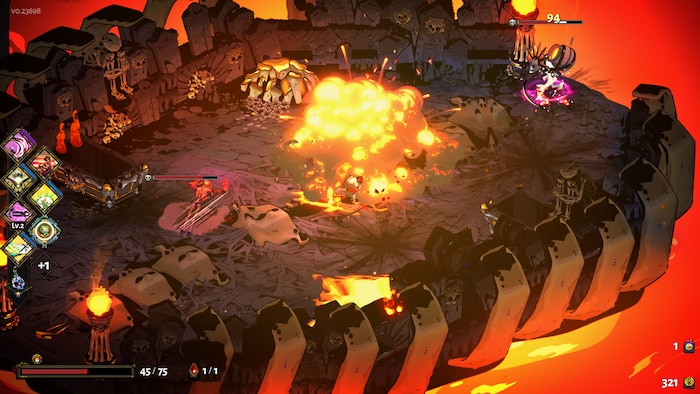 Play one of the most popular dungeon-crawlers of 2020. Your journey to Olympus will not be strewn with roses but with the blood of defeated opponents. You can be sure that there will be plenty of them on your way, and they will not be eager to negotiate for peace. Develop skills, eliminate your enemies and become the sole master of your fate!
Key features
Immerse in a mythological adventure full of gods, monsters, and demons
Cut your way through hordes of powerful enemies
Rebuild your history and your destiny
Develop your skills to earn powerful permanent upgrades
Doom
| | |
| --- | --- |
| Release year: | 2016 |
| Genre: | First-person shooter |
| Developer: | id Software |
| Modes: | Single-player, multiplayer |
A good proposition for tough fans of shooters, who like to play good dynamic sci-fi adventures.
If a dark plot full of fast pace and fierce combat is your thing, you should check out this title.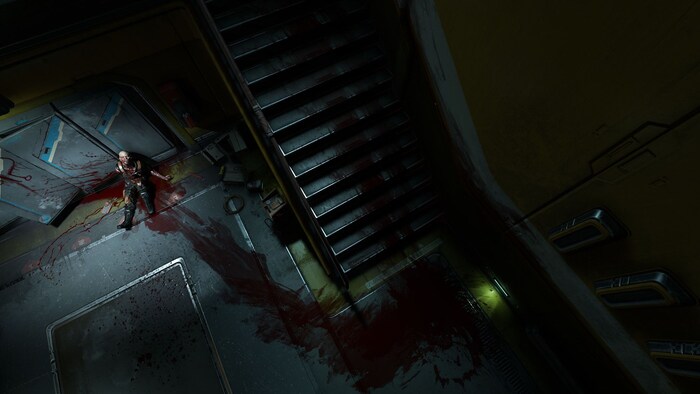 You are a soldier who will have to face his demons on a lonely journey on Mars. And the actually living ones too. As a result of an unfortunate accident, the surface of the planet was conquered by the invasion of beings from an unknown dimension. Your task will be to use every weapon available to slash your way through hordes of enemies and to discover the darkest secret hidden in the red planet's heart.
Key features
Play the fourth installment of the favorite series of action-horror games
Collect an arsenal of weapons with which you will eliminate all evil opponents
Use tricks and finishers, jump, dodge, and become invincible
Play solo or in multiplayer with your friends
The Legend of Zelda: Breath of the Wild
| | |
| --- | --- |
| Release year: | 2017 |
| Genre: | Action-adventure |
| Developer: | Nintendo EPD |
| Modes: | Single-player |
Action games are not all about the brawl in dark dungeons or shooting.
It's also immersive fantasy stories with RPG elements, set in breathtaking worlds full of magic. Play as Link from the excellent The Legend of Zelda series and become the ultimate hero!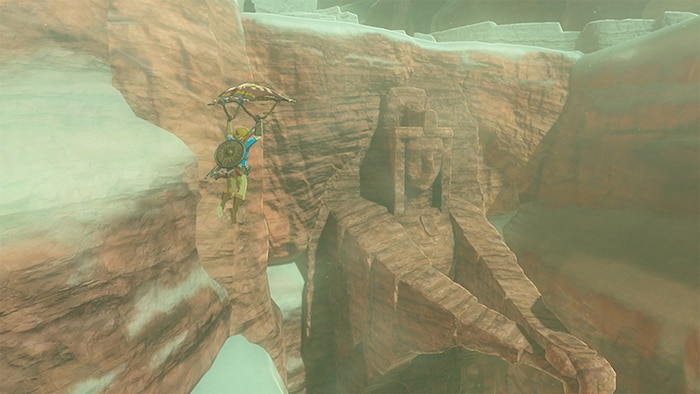 Become part of a beautiful, touching adventure. Wake up from your sleep and embark on a dangerous journey to save Princess Zelda and the entire kingdom of Hyrule. Explore a colorful land, get items and food, and gather the necessary equipment. After all, the fate of this world depends on your survival skills. Also, expect action-packed combat, in which you will need to show some sword-wielding skills and use the elements of the environment to your advantage.
Key features
Set off on an epic adventure through a stunningly bright fantasy world and save the Princess
Explore and discover new locations to continue your journey
Collect raw materials, items, and food you need to survive
Fight by defeating your opponents with your sword and skills
Video games are very different in terms of the genres they belong to. And that's cool – nobody likes monotony. This way you can play Nintendo Switch action games of the genre you like best. Or get out of your comfort zone and have fun trying something new.
The above list has been prepared in such a way that everyone can find something for themselves. These are the best titles for Nintendo Switch, backed by hundreds of positive reviews and high ratings, so absolutely each of the proposals should meet your expectations. So, enough talking, go choose something for yourself, and start the game right away!