Pokémon games went a long way since the release of the first two games in the series in 1996. Pokémon Red and Pokémon Blue were available exclusively on Game Boy consoles and they allowed players to start their journey as a young and aspiring adventurer who dreamt of becoming the world's best Pokémon trainer.
Pokémon games are all about catching the rarest of the titular "pocket monsters" in the wild and training them to battle other trainers for valuable badges that serve as proof of beating a powerful trainer and collecting them all may open the doors to the grand finals.
If you've got a Nintendo Switch console and you love Pokémon, then take a look at the list of the best Nintendo Switch Pokémon games you can play right now.
Pokémon Café Mix
NS
Android
| | |
| --- | --- |
| Released | 2020 |
| Genre | Puzzle |
| Developer | Genius Sonority |
| Game modes: | Single-player |
Let's start with a simple yet surprisingly fun one – a game where you'll be tasked with serving a variety of foods and drinks to your Pokémon customers.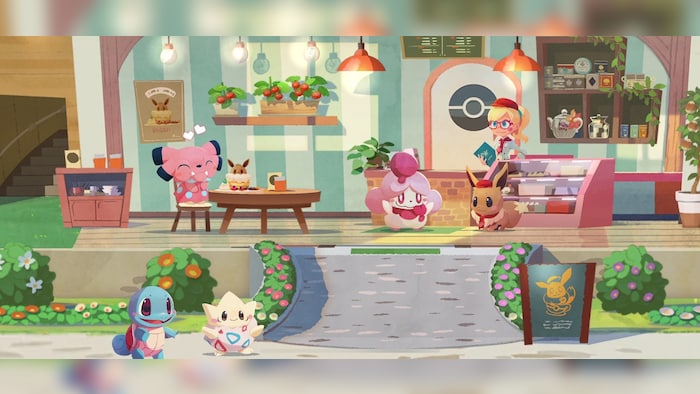 Pokémon Café Mix is a simple mobile game so don't expect super deep gameplay. However, don't also let this fact discourage you from giving it a try, because it's quite an addictive experience. The game is focused on running a restaurant and serving various dishes through the means of playing puzzle minigames. Your objective is to get a certain score and perform some additional tasks, such as removing a certain number of specific marbles from the board. As the game progresses, new rules are introduced, making the overall experience even more exciting.
Key features
Joyful atmosphere
Intuitive puzzle-oriented gameplay
Lots of restaurant upgrades to unlock and recipes to discover
Adorable and colorful visuals
Pokémon: Let's Go, Pikachu! and Let's Go, Eevee!
| | |
| --- | --- |
| Released | 2018-11-16 |
| Genre | Role-playing |
| Developer | Gamefreak |
| Game modes: | Single-player, multiplayer |
Now let's jump to more classic Pokémon games, where you can actually travel the virtual worlds and focus on what we love the most – collecting Pokémon, training them, and using them to fight.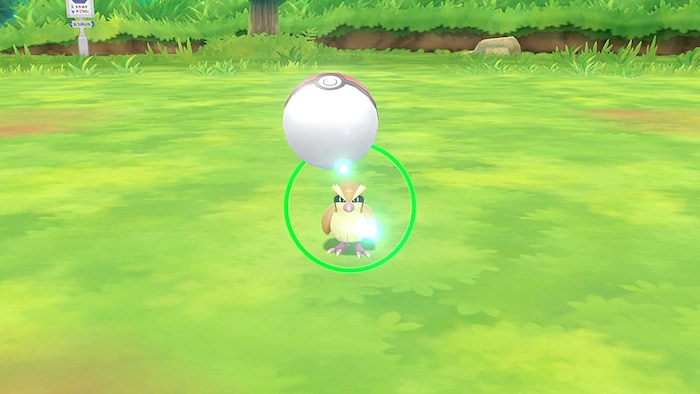 Classic Pokémon games are usually released in pairs. The idea is that both versions will have certain exclusive Pokémon that can only be found in one or the other, which encourages players to trade with others if they want to catch them all – and that's exactly the case here. The games were designed with a new generation of young players in mind – Let's Go, Pikachu! and Let's Go, Eevee! are oddly similar to Pokémon Yellow but at the same time they incorporate a lot of changes and even add elements and characters known from the original anime series. Older players will surely find the game fun too, as it's largely based on the very first generation of Pokémon with the addition of special forms, such as shiny and Alolan.
Key features
A great introductory game for those, who didn't play Pokémon before
Nostalgia-inducing experience, thanks to the game being based on the first generation of Pokémon
Beautiful 3D visuals with highly-detailed Pokémon and the surroundings
Possibility to use certain Pokémon as mounts and to make them follow the player character
Pokémon Sword & Pokemon Shield
NS
| | |
| --- | --- |
| Released | 2019-11-15 |
| Genre | Role-playing |
| Developer | Game Freak |
| Game modes: | Single-player, multiplayer |
If Pokémon Let's Go games are not exactly what you were looking for, then consider checking out Sword and Shield versions which were released later.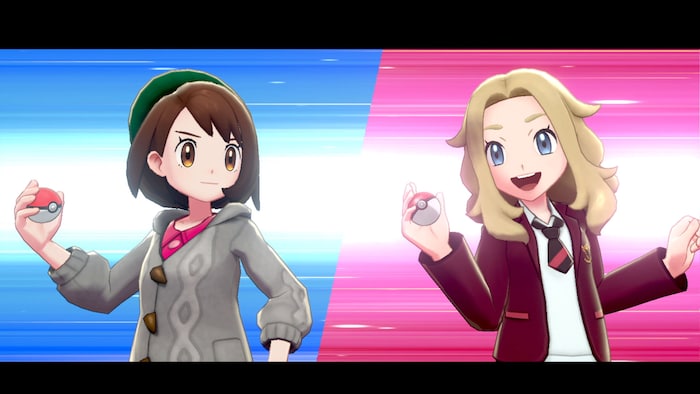 Some argue that Sword and Shield games are better than the Let's Go versions and there's nothing wrong with that. In fact, Sword and Shield are very solid titles that will give you dozens of hours of entertainment, but they offer a slightly different experience and are meant primarily for those who are already somewhat familiar with the Pokémon universe. Both games contain a large number of Pokémon from all generations and include Galarian forms of some. One of the biggest changes, however, is the introduction of special Dynamax and Gigantamax forms that temporarily turn Pokémon into enormous creatures during battles.
Key features
The Galar region invites aspiring Pokémon trainers to start a new exciting adventure
Great role-playing experience focused on catching and training rare pocket monsters
Relaxing and playful atmosphere with a fitting background music
Max Raid Battles – challenge powerful Pokémon alone or with up to three other players via multiplayer
Pokémon Quest
| | |
| --- | --- |
| Released | 2018-05-29 |
| Genre | Action-adventure |
| Developer | Game Freak |
| Game modes: | Single-player |
Some Pokémon games are vastly different from what fans of the original series are used to. Pokémon Quest, for example, takes the journey to a voxel-based world.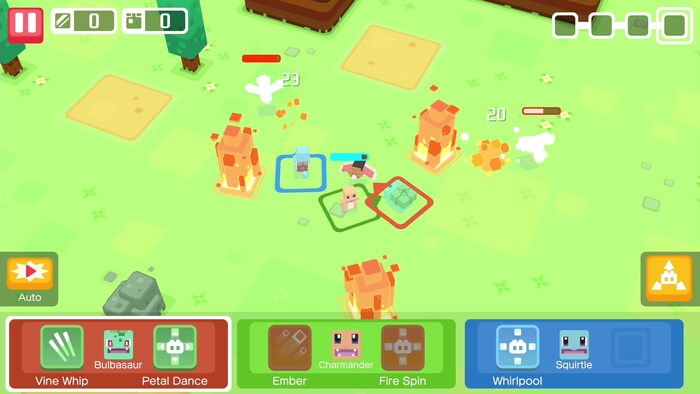 The first thing that players will notice when they enter the game is the fact that the game's design is blocky and voxel-based, which is quite unusual for Pokémon games, but it's also what makes the game feel fresh, new, and exciting. Of course, it's not the only thing that makes Pokémon Quest stand apart from other titles. The gameplay is entirely different – it revolves around real-time battles with other Pokémon, making the game something between an RTS, a hack & slash, and a MOBA. There are also RPG elements and base management included, so there's certainly a lot of fun to be had.
Key features
A great dose of nostalgia due to the fact that the game features only Pokémon of the first generation
Gameplay that combines elements of real-time strategy with action role-playing and base management
Pokémon training and customization options, cooking, expeditions, and more
Adorable voxel-based design
Pokémon Mystery Dungeon™: Rescue Team DX
NS
DS3
| | |
| --- | --- |
| Released | 2020-03-06 |
| Genre | Roguelike |
| Developer | Spike Chunsoft |
| Game modes: | Single-player |
This one is not an entirely new game – it's a remake of a game from 2005 of a similar title. So, what does this refreshed and enhanced version has to offer?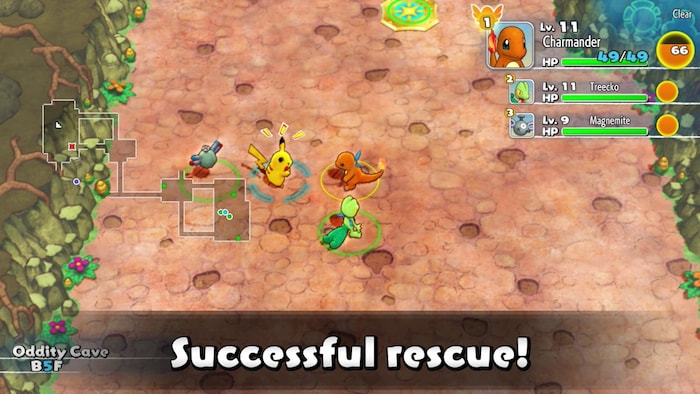 Pokémon Mystery Dungeon: Rescue Team DX is a roguelike where you'll be playing as a team consisting of Pokémon who have to navigate through increasingly difficult dungeon floors in order to complete a variety of jobs. What makes the game stand out from the crowd is undoubtedly its presentation layer – artistic paintings of both Pokémon and the surroundings result in a one-of-a-kind experience, and if you add addictive turn-based battles that require finding optimal strategy and favor a clever approach to encountered problems to the mix, you get a great tactical game that will surely steal dozens of hours of your free time before you can even notice.
Key features
A remake of one of the more interesting Pokémon games
Great roguelike experience with turn-based combat
Beautiful stylized visuals
Numerous improvements over the original game, including autosave, auto-mode, and Mega Evolutions
Pokkén Tournament DX
NS
Wii U
| | |
| --- | --- |
| Released | 2015-07-16 |
| Genre | Fighting |
| Developer | BANDAI NAMCO |
| Game modes | Single-player, multiplayer |
Usually, in Pokémon games, you are playing as a trainer who commands his own Pokémon to fight the opponents. But what if you could instead control Pokémon and participate in these duels yourself?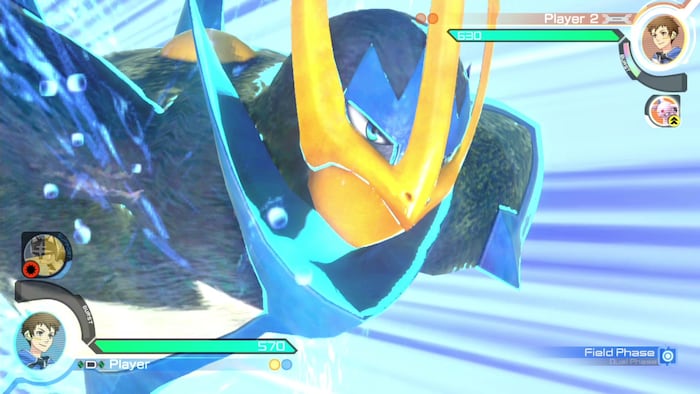 Pokkén Tournament DX is a super fun game that finally gives us the opportunity to become Pokémon and experience the thrills of a duel firsthand. Just like in other similar fighting games, there are several playable Pokémon to choose from, each with its own unique abilities and playstyle – mastering each character is a challenge in itself that will require a lot of patience and practice. But it's well worth it, considering that you can finally kick other Pokémon butts yourself. If, as a trainer, you're tired of your disobedient Pokémon, then now you get the chance to take over their bodies and show everyone how it's done.
Key features
A fast-paced fighting game focused on Pokémon duels
Semi-difficult gameplay that can be enjoyed by both hardcore and casual players alike
Over 20 different playable Pokémon to choose from, each having access to an entirely different moveset
Polished and detailed 3D visuals
New Pokemon Snap
NS
| | |
| --- | --- |
| Released | 2021-04-20 |
| Genre | First-person, Photography |
| Developer | BANDAI NAMCO |
| Game modes: | Single-player |
Last but not least there's a game that's not only a unique Pokémon game but a unique game overall.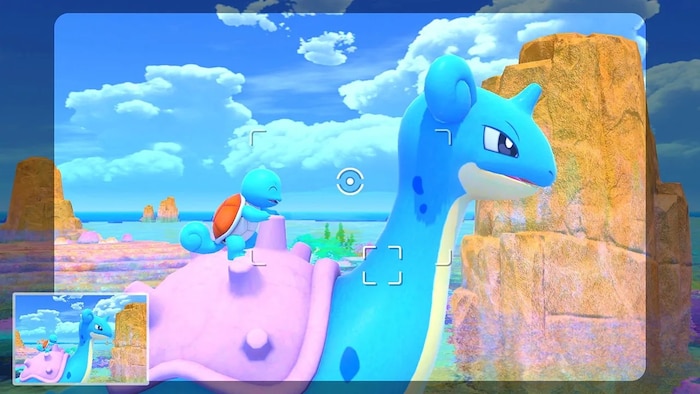 New Pokémon Snap is an entirely different take on the Pokémon universe, and judging by the game's favorable reviews, it's something that players were waiting for. Forget the duels, fighting, violence – here you won't even be able to catch Pokémon, at least not in a literal sense. That's because the game revolves around taking pictures of wild monsters as you explore new lands – the better the photo, the more points you will earn. In other words, you have to catch them all – but on the photos. It may sound simple but it's surprisingly fun and addictive, especially when you consider the fact that there are several different tools that can be used to lure rare monsters out or provoke them into uncommon and rarely-seen stances.
Key features
A game about photographing wild Pokémon
Numerous unique locations with their own specific kinds of Pokémon
Gorgeous visual style
Various filters for photos – polish your shots and share them on social networks
All Pokémon Games for Nintendo Switch
Pokémon, or pocket monsters, are the type of animals with special abilities. The Pokémon universe as shown in video games or the anime series often revolves around Pokémon trainers as they travel the world looking for rare Pokémon to complete their collection. However, Pokémon are much more than that. They are fighters and they are friends that can be relied on.
In Pokémon-related games it's usually all about catching them all, evolving them, training them to make them more powerful, and using them to fight other Pokémon. However, it's not always the case and sometimes the gameplay can be entirely different.
If you're wondering what other types of Pokémon games are out there, then take a look at our list of the best Pokémon games for Switch above – you are guaranteed to find something that will suit your needs, especially if you're a Pokémon fan.