Some people play video games to improve their skills and compete with others to prove who's the best player in the world. Others play to grind resources to make their character the most powerful in the game.
The Best Party Video Games
There are also people who play games to make some money by selling the stuff they found in the game. And finally, there are people who'd love to have some casual party action with their friends – today we'll take a look at some of the best party games to play in 2021.
Super Mario Party
| | |
| --- | --- |
| Release year: | 2018 |
| Genre: | Party |
| Developer: | NDcube |
There are at least a few amazing party-focused Mario titles on the market right now, but the newest Super Mario Party is the one we'd recommend trying, especially if you're looking for Nintendo Switch party games.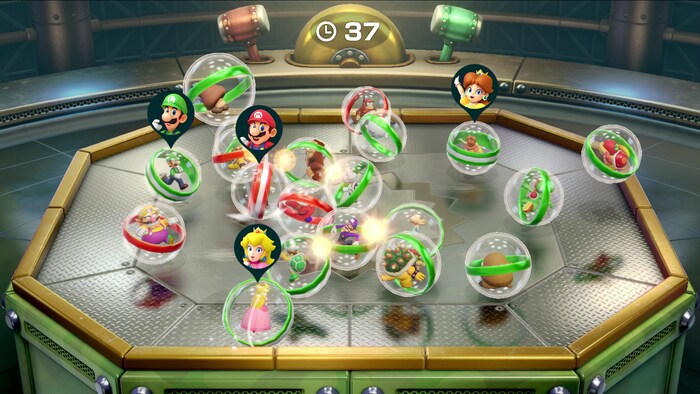 The rules are simple, yet incredibly fun and addictive. Up to four players can compete simultaneously – the game is played in a turn-based fashion, similarly to a board game where each player moves his character according to the number rolled on a die. What spices up the gameplay is the addition of mini-games – every round ends with a mini-game where players can earn coins and stars. The one who collects the most of these during the entire game will be declared a winner.
Key Features
Casual adventure in the Mario universe
Insanely addictive gameplay focused on fun and competitive minigames
Several playable characters with their own unique personalities to choose from
Can be played in a group of up to 4 players
The Jackbox Party Pack 7
| | |
| --- | --- |
| Release year: | 2020 |
| Genre: | Party |
| Developer: | Nintendo Switch |
The latest release of the popular Jackbox series brings a lot of funny moments to be had together with your friends.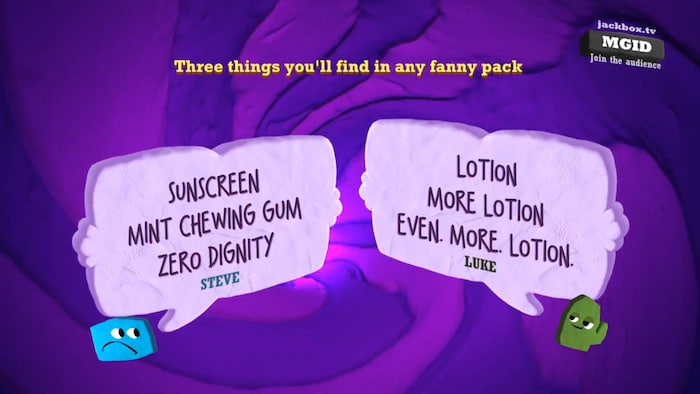 Jackbox Party Pack is a collection of five funny games designed to be played together with other players in groups of up to 8 people. The games require a bit of cooperation, but the individuals are also rewarded for their personal achievements.
For example, The Devils and The Details allows players to complete certain "evil" tasks that increase their own individual score but at the same time, it can make it harder for the whole team to complete the main goal, so players shouldn't push things too far in the selfish direction if they want to succeed.
Key Features
Lots of ridiculous humor and funny situations
Gameplay that combines cooperation with competition
Contains five unique games designed to be played in parties of up to 8 players
Can be played with help of the Twitch audience
Overcooked! 2
| | |
| --- | --- |
| Release year: | 2018 |
| Genre: | Simulation |
| Developer: | Team17, Ghost Town Games |
Although a game focused on cooking doesn't sound too appealing at first, you will quickly change your mind once you give Overcooked 2 a try.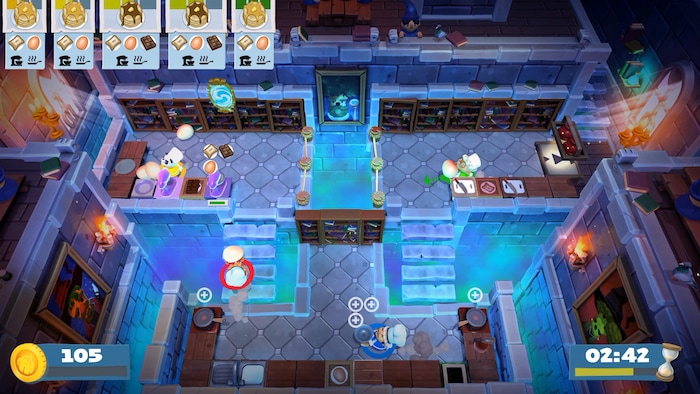 The game will test both your reflexes and teamwork skills. Each player plays the role of a chef tasked with preparing various dishes – you can't do everything on your own, though, so you need to communicate with others and help each other. One can wash dishes, the other can cut vegetables, and the other can serve the final product – it's up to you to find the best strategy.
What makes the gameplay interesting is the fact, that later in the game you will be playing in the most ridiculous restaurants possible, with floating rooms and temporarily unavailable areas, making it necessary to throw ingredients to other chefs, because running around takes too much time. It's a fun chaos experience you don't want to miss.
Key Features
Fun and light-hearted experience
Cooperation-oriented gameplay
Lots of unique restaurant layouts to play in
Requires fast reflexes for better scores
A Way Out
| | |
| --- | --- |
| Release year: | 2018 |
| Genre: | Action-adventure |
| Developer: | Hazelight Studios |
A Way Out is a bit more serious game – it tells the story of two prisoners as they work together to get out of prison. And it's a fun co-op experience, too.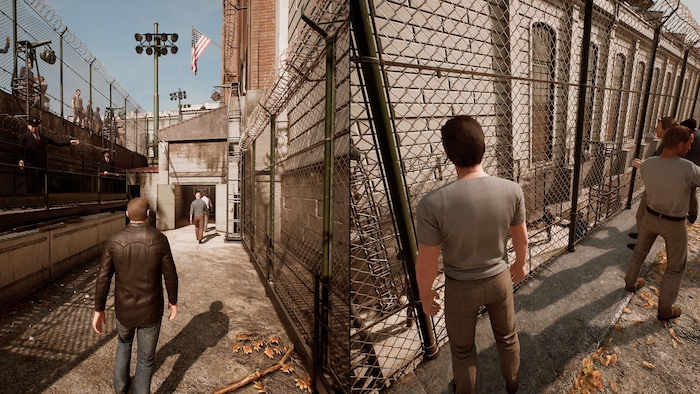 The game allows two players each to take control over a certain prisoner and cooperate their actions in order to make their escape. As it will turn out, however, leaving the prison will only mark the beginning of their adventures.
The game is rather linear and doesn't leave too much room for creative strategies, but player roles aren't fixed either. Still, it's more of an interactive movie you can enjoy together with a friend of yours, no matter if he's sitting next to you on the couch, or he's in an entirely different country.
Key Features
Great and believable story
Focused on cooperation between two players
Linear gameplay with strong interactive movie vibes
Must be played in co-op with another player, either online or in local split-screen mode
Gang Beasts
| | |
| --- | --- |
| Release year: | 2017 |
| Genre: | Beat 'em up, party |
| Developer: | Boneloaf |
Gang Beasts allows up to four players to fight each other in small arenas of all kinds. Utilize physics and knock the opponents out – remain the last man standing and win.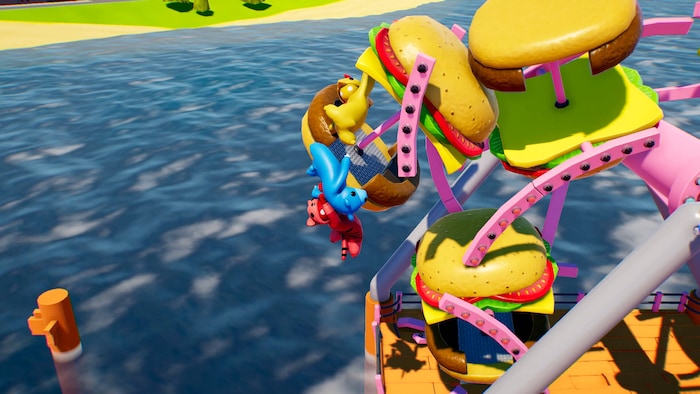 There is nothing much to say about Gang Beast – it's a very simple idea, yet can get extremely addictive, especially if you've got some good friends to play with. Up to four players meet on the arena with one goal in mind, and that's to make others fall while trying to not be the one who falls himself. The addition of physics makes the game very unpredictable and adds a lot of replayability value, as no two rounds will ever be exactly the same.
What makes the title even funnier and friendly-looking is the game's simple 3D colorful graphics and gelatinous characters that wobble with every move – often in a more or less ridiculous way.
Key Features
Physics-based gameplay focused on battling against up to 3 other players
Adorable 3D low-poly visuals
Numerous unique arenas available to play
Online and local multiplayer modes
Ultimate Chicken Horse
| | |
| --- | --- |
| Release year: | 2016 |
| Genre: | Platform |
| Developer: | Clever Endeavour Games |
It's an interesting one – UCH is not just a simple platform game, but also a game that allows the players to alter the level they're currently playing to their advantage. Or disadvantage.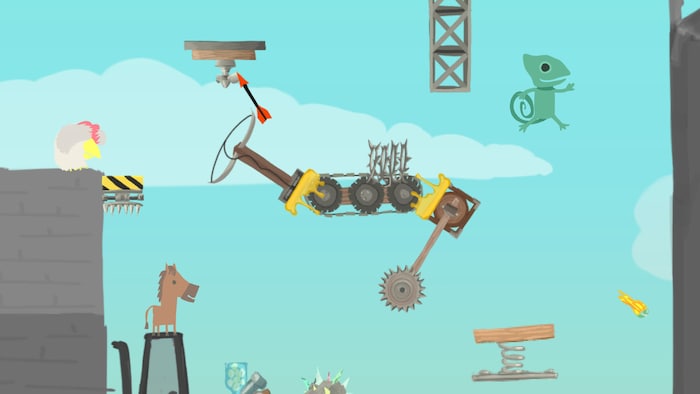 Ultimate Chicken Horse lets players control a character of their choice and compete in a series of real-time 2D platform races – reach the goal before the others to score some points, and get enough points to win the game. But it's easier said than done.
What makes the game unique and unpredictable is the fact that players can add various traps and obstacles to the course as they see fit in order to hopefully make the others fail. It's a fun system that can be used in a very creative way, but one should remain cautious when placing stuff around, or he may end up with a level that's too hard even for himself to beat. That's right – the traps you place will affect your character too.
Key Features
Fun and simple 2D platformer action
Several unique levels with their own unique features
Possibility to place various traps and obstacles
Appealing cartoony visuals
Castle Crashers
| | |
| --- | --- |
| Release year: | 2008 |
| Genre: | Beat 'em up, role-playing, action |
| Developer: | The Behemoth |
If you're looking for some cool PS4 party games, you won't be disappointed with Castle Crashers – also available on PC, Xbox, and more.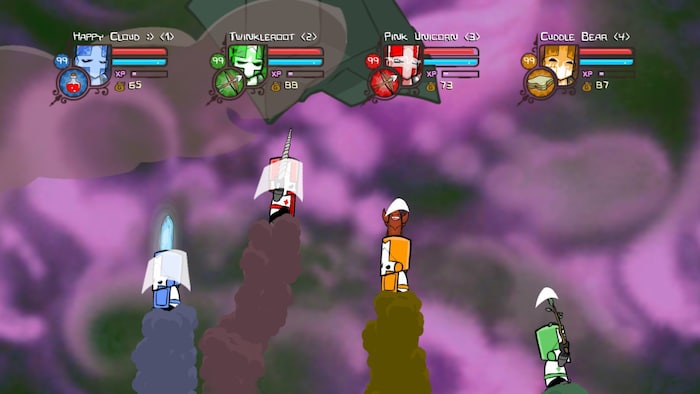 Castle Crashers is not the most difficult game out there, but it does offer some challenge and even has a special insane mode for those who think are skilled enough – you will be proven wrong soon enough. The game is a simple side-scroller, where up to four players can take on the various challenges together. It has character progression, equipment management, and even demanding boss encounters – all packed in a cartoony world that will keep you engaged for hours to come.
Key Features
A side-scrolling platformer with role-playing elements and character progression
Numerous difficult bosses to defeat
Detailed cartoon-styled graphics and visual effects
Online and local multiplayer
Fall Guys: Ultimate Knockout
| | |
| --- | --- |
| Release year: | 2020 |
| Genre: | Battle royale, platformer |
| Developer: | Mediatonic |
Imagine a game that combines Mario-style minigames with large-scale multiplayer battle royale. That's exactly what Fall Guys, in the simplest terms, is.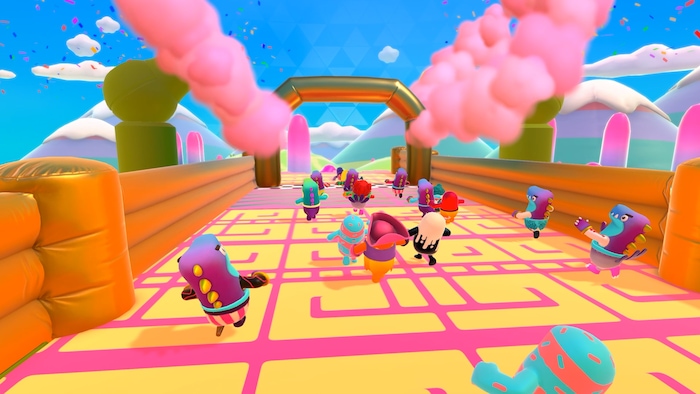 This fun production allows dozens of players to compete simultaneously in a series of short and addictive minigames that will test their reflexes and cunning skills. The goal is usually to get to the final destination before others or to remain on the stage longer than the others. Doing so is not an easy task, as no one wants to lose – you have to watch for various dangers in form of not only obstacles and moving parts, but also other players who will gladly knock you out of the platform if they only get a chance.
Key Features
The playful atmosphere and colorful visuals in a 3D environment
Competitive gameplay for dozens of players playing together
Focused on quick minigame-style challenges
Battle royale – there can be only one winner
Among Us
| | |
| --- | --- |
| Release year: | 2018 |
| Genre: | Party, social deduction |
| Developer: | Innersloth |
This one became extremely popular lately, so chances are you've already had a chance to play it. If you didn't, then now is the best time to change it.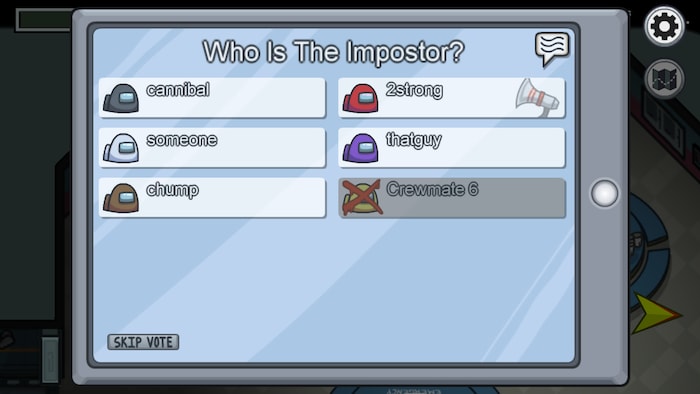 Among Us is a perfect choice if you're looking for some great Xbox One party games. The idea is simple – players find themselves in a space-themed environment and each is assigned one of the two possible roles. You can become either a Crewmate or an evil Impostor. Crewmate has to eliminate Impostors and perform certain tasks, while the Impostors have to kill the Crewmates and sabotage their actions.
The thing is, no one knows who's an Impostor, so it's a game where real bluffing skills are needed. Make others think you're the good guy, and strike when they expect it the least.
Key Features
A game of bluff and cunning
Simple yet appealing 2D visuals
Designed for groups of 4 to 10 players
Social skills required – involves chatting with strangers
Mario Kart 8 Deluxe
| | |
| --- | --- |
| Release year: | 2014 |
| Genre: | Kart racing |
| Developer: | Nintendo |
For the final game, we've got not only the Switch's best-selling game but also one of the best-selling games of all time.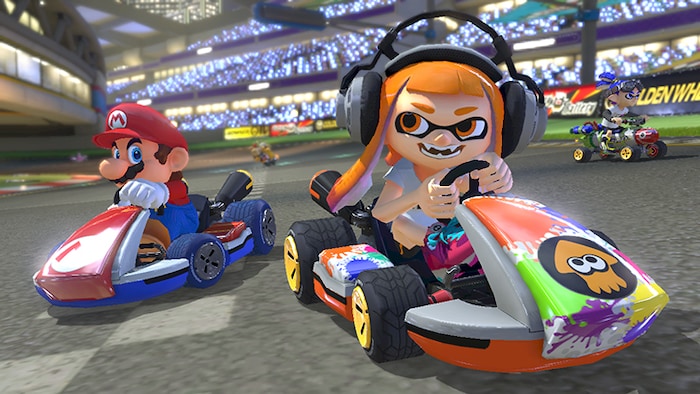 Although we've already got a Mario game on the list, this one is so different that it undoubtedly has earned its own place among the best party games. It's a simple racing game set in a Mario universe, and it's a perfect game to chill with friends. The rules are simple – pick your favorite character and start racing. Keep in mind, however, that it's not an ordinary race.
Here you'll find numerous bonuses scattered along the circuit. Use them wisely to gain an advantage, but keep in mind that your opponents will do the same. Don't get too cocky even if you're winning, because it all can change in a matter of seconds if you're not paying attention.
Key Features
A family-friendly production set in the universe of Mario
Fast-paced, racing-oriented gameplay
Beautiful and colorful 3D visuals
Numerous unique circuits to try and master
Party Video Games to Play with Friends
Playing video games is fun, but what's the point of playing if you can't share the moment with your friends? That's why party games exist – to allow you and your friends or relatives to have some great fun together. Compete or cooperate, the choice is yours, just don't forget that games are meant to be the source of enjoyment and not frustration.