World War 2-themed games have always been the centerpiece of attention in the gaming industry and the first one date as early as 1981. That year marked the premiere of the first game in the Wolfenstein series, Castle Wolfenstein, which is also the first modern video game set during the WWII.
Ever since then, publishers have fought for the highly coveted top spots on the "Best WW2 themed games". Series like Call of Duty, Battlefield or Medal of Honor have ruled the genre for many years and because of their games set in that time period, managed to become a well-established franchises, now sprawling dozens of video games set during various other historical conflicts.
In this article, we present the best video games set during the greatest conflict of our times – World War II.
Return to Castle Wolfenstein
STEAM
PC
PS2
Xbox
| | |
| --- | --- |
| Released in | 2001 |
| Publisher | Activision |
| Genre | First-person shooter |
| Modes | Single and multi-player |
Let's begin with the series that started it all. Return to Castle Wolfenstein quickly became one of the most memorable games about WW2.
It continued the series' tradition of interspersing first-person shooting and stealth. The game's plot combined the sci-fi and fantasy elements, sending the main character B.J. Blazkowicz on a chase after Nazi scientists planning to resurrect old German warlord and create bio-weapons of mass destruction, that would tip the scale of war to their side. Other titles from the franchise also proved to be quite good, but went more into the alternate history/science fiction genre, departing from the original World War 2 setting.
---
Key Features
Diverse arsenal
Engaging combat mechanics
Multiplayer mode
War Thunder
PC
macOS
Linux
PS4
| | |
| --- | --- |
| Released in | 2013 |
| Publisher | Gaijin Entertainment |
| Genre | Action, vehicular combat |
| Modes | Multiplayer, single player |
War Thunder, formerly known as World of Planes, is an action game where players are given control of various types of vehicles: tanks, airplanes, ships, etc.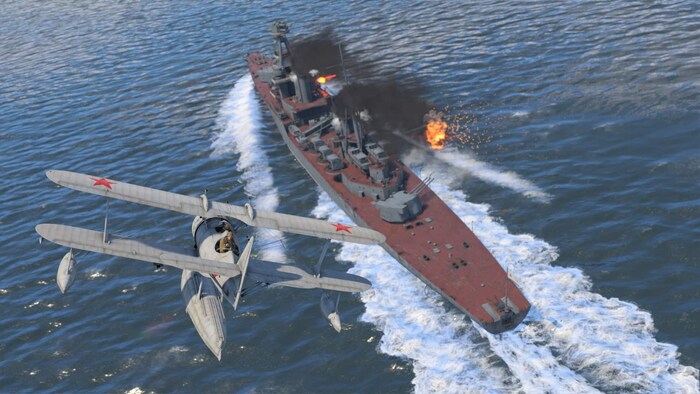 In War Thunder player chooses one of the 7 countries: USA, Germany, France, UK, USSR, Japan and Italy, leading them through the interwar and World War 2 period. The game offers several modes including arcade battles, PvE assault mode and two types of realistic battle simulations. War Thunder offers single player mode as well as cross-platform multiplayer.
---
Key Features
A diverse roster of playable vehicle units
Arcade and realistic game modes
32 player cross-platform multiplayer
Commandos 2: Men of Courage
STEAM
PC
PS2
Xbox
| | |
| --- | --- |
| Released in | 2001 |
| Publisher | Eidos Interactive |
| Genre | Real-time tactics |
| Modes | Single and multi-player |
First of the non-FPS games on our list, Commandos 2: Men if Courage is an RTT game which puts the player in the shoes of an officer in command of a unit.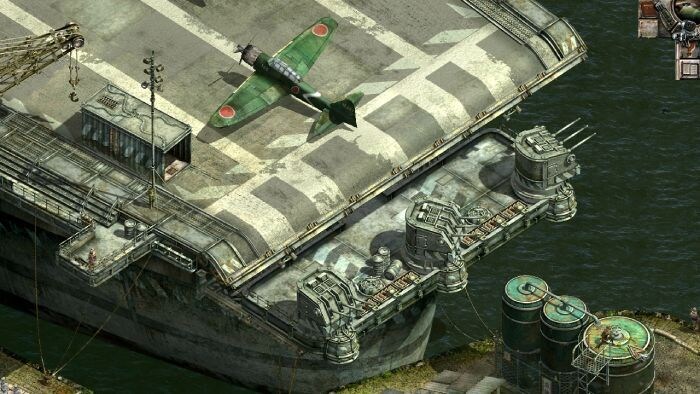 The player's unit is made of several specialized soldiers, and each of them has their specific use, e.g. the Green Beret specializes in fighting and action, Spy can distract enemy units, Sapper is perfect at finding and disarming mines, and Seductress acts as both Spy and Sniper units. The game includes both a single player campaign and multiplayer mode.
---
Key Features
Command several units with distinct skills
Choose your strategy of getting past the enemy
Fight against your friends in multiplayer mode
Hearts of Iron IV
STEAM
PC
Linux
MacOS
| | |
| --- | --- |
| Released in | 2016 |
| Publisher | Paradox Interactive |
| Genre | Grand strategy wargame |
| Modes | single and multiplayer |
Hearts of Iron IV is a strategy game with capital S. In Hearts of Iron IV player take command of the military resources of an entire nation and lead it through the events of the Second World War.
Players may choose the starting year of the game – either 1936 or 1939 – as well as choosing their side in the conflict between the Axis and Allies. Aside from the battle of conquest, Hearts of Iron IV requires players to maintain diplomatic relationships with other nations, such as signing pacts or forming unions against each other.
---
Key Features
Complex military strategy game with a multitude of factors to consider
A single player campaign spanning nearly a decade of warfare
Sniper Elite 4
STEAM
PC
PS4
Xbox One
| | |
| --- | --- |
| Released in | 2017 |
| Publisher | Rebellion Developments |
| Genre | TPP shooter, tactical, stealth |
| Modes | Single-player, multiplayer |
Sniper Elite 4 takes a less serious approach to WW2. The game incorporates elements of stealth gameplay, where players can use cover to move undetected to favorable sniping positions and quietly kill enemies.
Kills reward player with experience points, which allow leveling up the players' character. Like its predecessors, Sniper Elite 4 also implements the x-ray system, which shows the deaths of Nazi soldiers with gruesome details, encouraging the player to experiment. Multiplayer modes in the game are based around getting kills from the longest distances.
---
Key Features
A game that combines stealth and tactical action
Use the surrounding to your advantage when taking down enemies
Gain more experience with long-distance precision shots
Company of Heroes
STEAM
PC
OS X
| | |
| --- | --- |
| Released in | 2005 |
| Publisher | THQ |
| Genre | Real-time strategy |
| Modes | single player, multiplayer |
In Company of Heroes, players take control of the American military companies, with central characters being sergeant McKay and Lieutenant Conti.
The single player campaign takes the player through major events of US offensive. Like in many RTS games, the player must gather resources to develop their forces, which can be done by taking over points on the map. Some buildings can be taken over to serve as barracks and used to produce units. Multiplayer mode of the game allows for a battle between up to 8 players online or through LAN.
---
Key Features
Real-time strategy game set during the invasion in Normandy
Gameplay based on combat and gathering resources
Multiplayer mode with two selectable factions
Medal of Honor: Airborne
STEAM
PC
PS3
Xbox 360
| | |
| --- | --- |
| Released in | 2007 |
| Publisher | Electronic Arts |
| Genre | first person shooter |
| Modes | Single-player, multiplayer |
One of the "great three" of WW2-based games, Medal of Honor: Airborne brings a realistic experience of fighting behind enemy lines.
Airborne introduces the mechanic of dropping into the battlefield from the airplane. Player has a choice where to land – the well protected and supplied target zone, or right in the middle of the action. Each option has its own pros and cons, it is up to the player to decide which approach suits them best. Multiplayer of MoH: Airborne pits teams of players over 6 maps in various deathmatch modes.
---
Key Features
New parachute jumping mechanic
Upgrading weapons through kills
Innovative AI which adapts to players playstyle
Call of Duty: WWII
STEAM
PC
PS4
Xbox One
| | |
| --- | --- |
| Released in | 2017 |
| Publisher | Activision |
| Genre | first person shooter |
| Modes | single player, multiplayer |
Another series that made a glorious return to its roots – Call of Duty: WWII calls back not only to the war setting but also gameplay mechanics.
Health regeneration, a staple of the series is gone, replaced by health bar from the earliest installment. To restore lost HP players must now look for health packs scattered across the battlefield. WWII features both single-player campaign, set during the invasion in Normandy, multiplayer mode, where players are randomly selected to either Allies or Axis side of the conflict, and Nazi Zombie mode, where four players cooperate to survive against an undead horde.
---
Key Features
Series' return to World War 2 setting
Gameplay that combines classic mechanics with modern ones
Multiplayer and Nazi Zombie modes
Battlefield V
Origin
PC
PS4
Xbox One
| | |
| --- | --- |
| Released in | 2018 |
| Publisher | Electronic Arts |
| Genre | first person shooter |
| Modes | multiplayer, single player |
After years of modern war sceneries and incidental venture into the Great War, Battlefield returns to the familiar setting of the WW2.
The game focuses on multiplayer, offering various modes including traditional deathmatches and three new Tides of War, Firestorm and Grand Operations. Each of the new modes offers different gameplay mechanics, the core of which is still eliminating enemy players with a variety of weapons and vehicles. Similarly to Battlefield 1, V features a solo campaign mode – "War Stories".
---
Key Features
Battlefield series' returns to the WW2 setting
Enter vast multiplayer mode with several new match types
Relive the tales of the war's unsung heroes in "War Stories" campaign mode
Call of Duty 2
STEAM
PC
Xbox 360
macOS
| | |
| --- | --- |
| Released in | 2005 |
| Publisher | Activision |
| Genre | First-person shooter |
| Modes | Single and multi-player |
Like Medal of Honor and Battlefield, Call of Duty presented the Second World War with gritty realism. There were no space guns, nor robots no monsters – only soldiers thrown in the middle of the hellish battle.
Like its predecessor, the campaign mode of Call of Duty 2 presented three stories of soldiers fighting in the war: a Russian rifleman defending Moscow and Stalingrad, a British soldier fighting in Africa, and American ranger making his way through occupied France.
Many people may wonder how a title published in 2005 is still the best WWII video game of all time, but those who played it know exactly what we mean. Call of Duty 2 was the first game to fully capture the horror of the war and the setting of the biggest global conflict in human history. The game was groundbreaking at the time and till this day is considered one of the best FPS shooters of all time.
---
Key Features
A realistic approach to warfare
Three separate campaign stories
Multiplayer with a variety of modes to enjoy
Favorite war for gamers?
What makes the games based around the period of WW2 so appealing? Is it the gritty experience of fighting in the trenches, a chance to witness one of the greatest conflicts in the history of the world, or can it be boiled down to "boys will be boys, and will always play war"?
The fact of the matter is that since the good ol' Wolfenstein there have been a lot of games that tackled the subject of fighting with or against the Nazis. And there are definitely still more to come as Call of Duty and Battlefield franchises are among the most popular game series.