Although technology grows rapidly allowing developers to make bigger and more complex games because of the higher computing power they have at their disposal, the results are not always satisfying or good enough to appeal to a wider audience.
Sometimes all you need to do in order to create an amazing title is a bit of creativity and smart designing – graphics don't have to be photorealistic to give players an unforgettable experience. That's how games were made two decades ago, and that's what developers focused on. For this reason, we have a number of old games that aged so well that players enjoy playing them even a few decades later and today we'll take a look at the best of such games.
What Makes the Game Age Well?
Making a great game that will age well is not simply a matter of throwing big piles of money into the development process or using the latest fancy technologies available. If the game is not made with passion and does not have a soul it can even be on top for a while but it will be easily forgotten.
If developers want their game to age well, they can increase their chances of achieving it by focusing on elements that are not subject to the rapidly growing technology. Otherwise, the end product will be easily overshadowed by the games of the next generation, not to mention the generation that will come after. Great graphics are important but it shouldn't be a top priority – if the developer has to choose between graphics and gameplay, it's always a better idea to go with the gameplay. It's completely possible to beat AAA games that look amazing with a game that's slightly worse looking but amazingly fun to play. Gameplay, narrative, unique mechanics – these are all safe bets.
There are, however, certain elements that can't be easily modified to ensure the game will age well. For example, as years pass, our understanding of games and certain mechanics change. Games are teaching us certain things that are taken as granted later on. Imagine having a 3D shooter game with red barrels in it – today you can be sure they will explode once shot, but it wasn't always like that. And if you happen to launch one of the old games that had red barrels that didn't explode, you might be disappointed and get a false impression, that the game aged poorly, because it didn't even have such simple things implemented.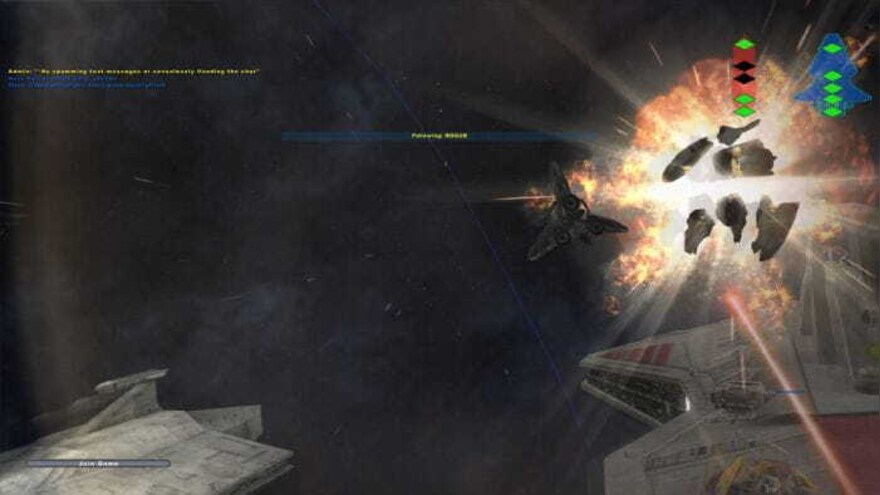 Extending Game's Life Through Mods and Remasters
If a certain old game was good, developers may at some point decide to create a refreshed, or remastered, version of it. The are various reasons why companies would want to do that – for example, creating a remaster is a lot easier and cheaper than making an entirely new game from scratch, allowing developers to cut the expenses and also release the finished product faster. And if the original game was really good, all the company has to do is to make it at least comparably good – it doesn't necessarily have to be better to become a success once again.
Remastered editions are often made to utilize the latest technologies, fix certain critical bugs or make some important gameplay changes that were requested by the community. This means that the remaster can be just as original, but with 4K resolution and real-time ray tracing support, with the possibility to utilize multiple CPU cores, or run on DirectX 12 to deliver better visuals and sounds. It can also have some quality of life features implemented that were missing in the original game, like the queuing of tech research in a strategy game or being able to rotate the camera freely in third-person shooter games, to name a few possible examples. Remaster can also address some balance issues, like some units or weapons being either too strong or too weak, too many enemies spawning in certain locations, and such.
Some of the most notable remasters that were released in the recent years include Dark Souls, TES V: Skyrim, Okami, Heroes of Might & Magic III, and Warcraft III, Age of Empires II, but there were many more.
An alternative way of extending a game's life lies in player-made modifications. Mods can alter the game in a significant way, sometimes even giving players an entirely new game within the game, and that undoubtedly helps the game to age well, as the possibilities are endless. Because mods are made by the community, it works best for games that are already good – good game means more people playing it, and the more people play the game, the higher the chances that someone will be interested in creating a new mod for it. It also helps a lot if the game natively supports mods. By simplifying the mod creation and installation process, developers can encourage players to tinker with their title and unleash creativity, possibly leading to more high-quality mods being available for that game.
Now, let's take a look at some of the best games that aged so well, that they are still incredibly fun to play, either in their vanilla version or a modded or remastered one.
Baldur's Gate II: Enhanced Edition
| | |
| --- | --- |
| Release date: | 2013-11-15 |
| Genre: | RPG |
| Developer: | Beamdog |
Baldur's Gate II: Enhanced Edition is a remaster of the classic RPG and its expansion pack to better fit modern times and support new technologies.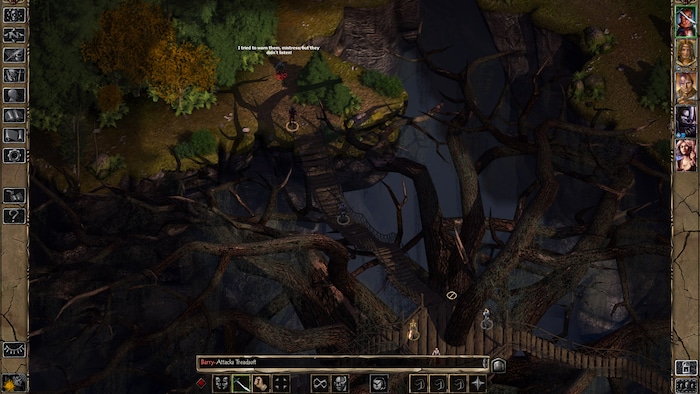 This means you can rediscover the epic fantasy world and defeat powerful creatures in a more convenient way, thanks to the native support of higher resolutions as well as widescreen. The game itself didn't change much in terms of content and mechanics, but there are some exclusive additions, such as two completely new characters never seen in the game before who have their own personal quests and can even be romanced.
Key features
New exclusive characters – Hexxat the Thief and Wilson the Bear
Higher resolutions and widescreen support, as well as better graphics
Cross-platform multiplayer
Age of Empires: Definitive Edition
| | |
| --- | --- |
| Release date: | 2019-08-19 |
| Genre: | Strategy |
| Developer: | Forgotten Empires |
The good old real-time strategy set in the medieval times returns in its full glory with the Definitive Edition.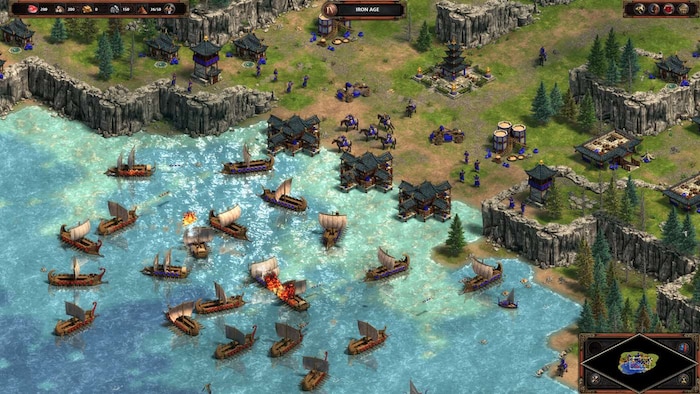 Once again you will be able to lead one of the several available civilizations through five different ages representing different periods in history, building your empire and recruiting the army capable of decimating the enemy forces while ensuring the safety of your own people. This time, however, the experience will be much more pleasant, thanks to the updated graphics, new content, and various quality of life improvements.
Key features
Complete AoE collection with new exclusive content – 3 new campaigns and 4 new civilizations
4K resolution support with updated graphics
Streaming support
Stronghold Crusader HD
| | |
| --- | --- |
| Release date: | 2012 |
| Genre: | Simulation |
| Developer: | FireFly Studios |
Possibly one of the greatest games of the 2000s, it is still incredibly fun to play and despite its age, it remains one of the best entries in the entire Stronghold franchise.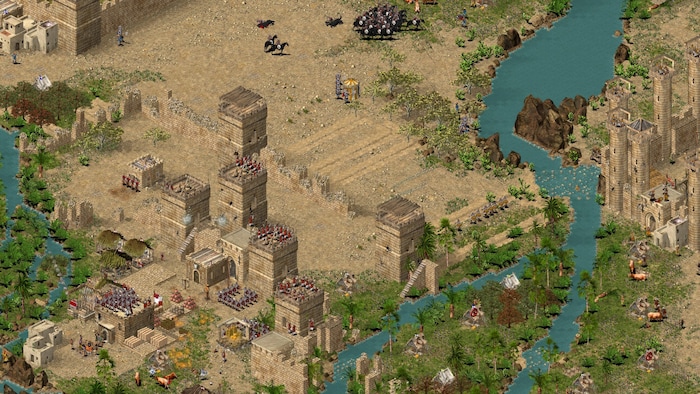 Set in the Middle East during the times of crusades it lets you build a fortified castle and repel the enemies storming the gates. The original game was released in 2002, but developers decided to release an HD version a decade later – a perfect gift for the game's 10th anniversary. Now it's better time for you than ever to jump back into this masterpiece and try your hand at demanding challenges that await you.
Key features
Focused on designing and building a stronghold with walls and fortified elements
100 unique challenges that require a smart approach and intensive thinking
HD resolutions support
Warcraft III: Reforged
| | |
| --- | --- |
| Release date: | |
| Genre: | |
| Developer: | |
It's also a great time to get back to Warcraft III: Reign of Chaos, thanks to its new and refreshed version called Warcraft III: Reforged that boasts various balance changes and quality of life features over the original release, not to mention top-notch graphics that breathe new life into the beloved strategy.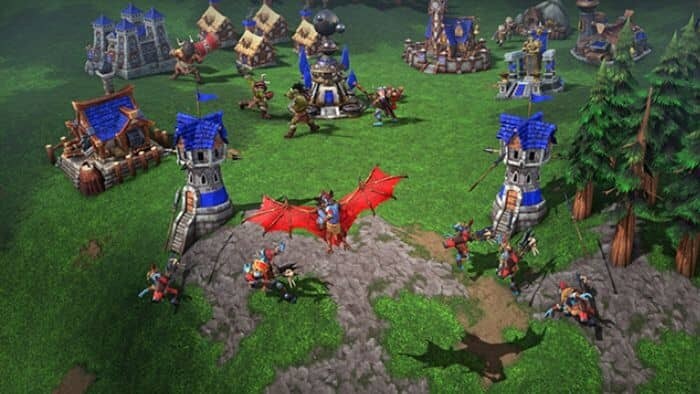 Revisit the world of Azeroth and follow the story of Arthas. Choose your race, build the base and lead your army to victory.
Key features
Greatly improved and more detailed graphics with higher resolution support
Hundreds of balance changes that address numerous issues
Modern multiplayer matchmaking
Half-Life 2
| | |
| --- | --- |
| Release date: | 2004-11-16 |
| Genre: | Action & Shooter |
| Developer: | Valve |
Half-Life 2 turned out to be so good it doesn't even need a remake to still be completely playable and it's as much fun as it was back in 2004.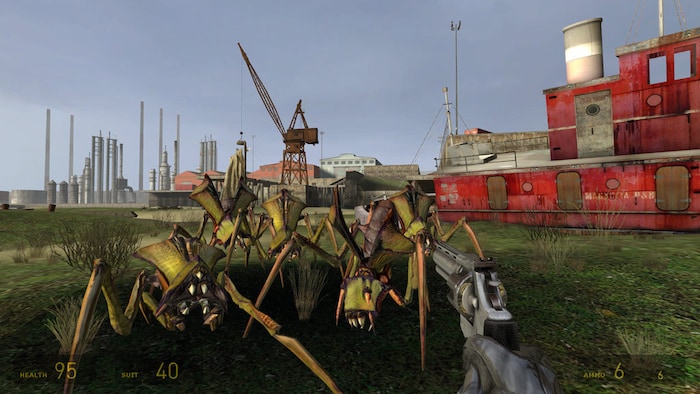 In Half-Life 2 you assume the role of Gordon Freeman who is tasked with finding a way to deal with hostile aliens who managed to conquer the Earth. The game uses advanced physics simulation that is an inseparable part of gameplay and even some puzzles found in the game are physics-based – playing with gravity gun is incredibly fun.
Key features
A diverse set of enemies that require a different approach to defeat
Advanced physics with physics-based puzzles
Linear gameplay with optional areas that can be entirely missed or avoided
World of Warcraft
| | |
| --- | --- |
| Release date: | 2022-11-28 |
| Genre: | |
| Developer: | |
World of Warcraft was released in 2004 and it's still one of the most, if not the most, popular MMORPGs out there – Blizzard keeps to actively support the title by constantly developing new major updates that introduce new features and additional content for players to experience.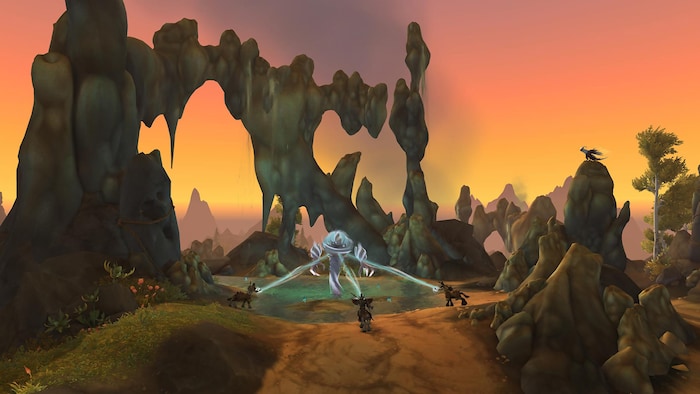 WoW is undeniably one of the fullest MMORPG experiences available on the market, and despite its slightly outdated graphics, it's guaranteed you will have a lot of fun, as there are a lot of things to do and countless beautiful locations to explore.
Key features
One of the fullest and most complete MMORPG experiences available
Possibility to join either Horde or Alliance, two main hostile factions existing in the game
Subscription business model
Rome: Total War
| | |
| --- | --- |
| Release date: | 2004-09-22 |
| Genre: | Strategy |
| Developer: | The Creative Assembly |
Rome: Total War is unique when compared to other strategy games because it combines real-time strategy with a turn-based one.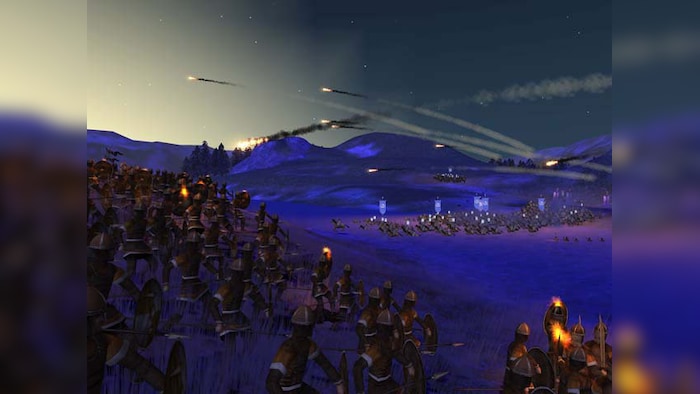 The main campaign takes place on a map of Europe and parts of Asia and Africa where you can make orders, like moving your armies around or declare battles on the armies of your enemies. Once a battle is declared you can then resolve it by taking direct control over participating units in real-time on a battlefield. Alternatively, you can use auto-resolve, allowing you to focus entirely on the management of your empire.
Key features
A unique combination of turn-based strategy with real-time battles
Large scale battles where thousands of soldiers can participate simultaneously
The short and long campaign as well as custom scenarios
Star Wars: Battlefront II
| | |
| --- | --- |
| Release date: | 2005-11-01 |
| Genre: | Action & Shooter |
| Developer: | Pandemic Studios |
Another game that does not need a remaster to remain fully enjoyable is Star Wars: Battlefront II from 2005, a successful sequel to the first Battlefront, boasting a lot of additional content and features over its predecessor.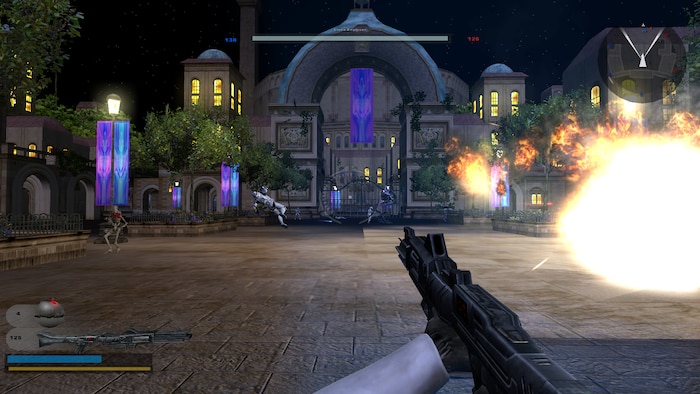 It's a perfect game for both Star Wars fans and those who are not yet familiarized with the universe. Gameplay-wise the game focuses on relatively big scale battles where you play as an Imperial Stormtrooper during certain important events from the SW timeline.
Key features
Set in the universe of Star Wars during the era of Clone Wars and Galactic Civil War
Six playable classes with different loadouts to fit any playstyle
Dynamic and engaging combat
Call of Duty 4: Modern Warfare
| | |
| --- | --- |
| Release date: | 2007-11-12 |
| Genre: | Action & Shooter |
| Developer: | Infinity Ward |
Call of Duty 4: Modern Warfare also aged quite well, so it earned its position on the list.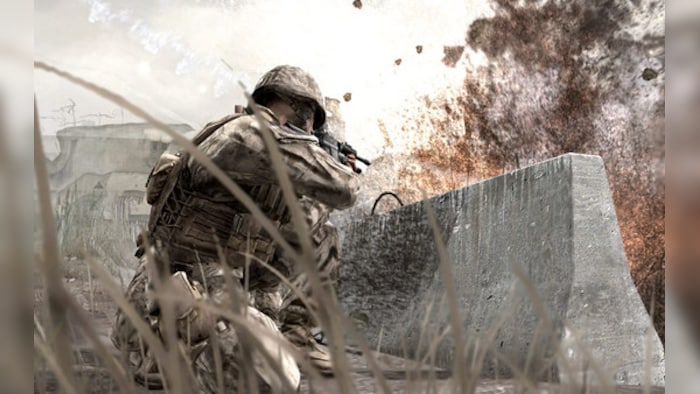 Set in 2011 it lets you control a U.S. Force Reconnaissance Marine and a British SAS commando during secret operations in various locations across the world. Players are given modern equipment to increase their chances of succeeding. You will be able to even utilize airstrikes and helicopter support to gain an edge during combat.
Key features
Modern equipment and tactical gear including night-vision goggles, gas masks, flares, and grenades
Various missions, with some requiring a sneaky approach
Addictive team-based and deathmatch-based multiplayer mode
Grand Theft Auto: Vice City
| | |
| --- | --- |
| Release date: | 2002-10-29 |
| Genre: | Adventure |
| Developer: | Rockstar Games |
When speaking of the best games of the 2000s that aged surprisingly well, one can't forget about GTA: Vice City – it's amazing how playable the game from 2002 can be today.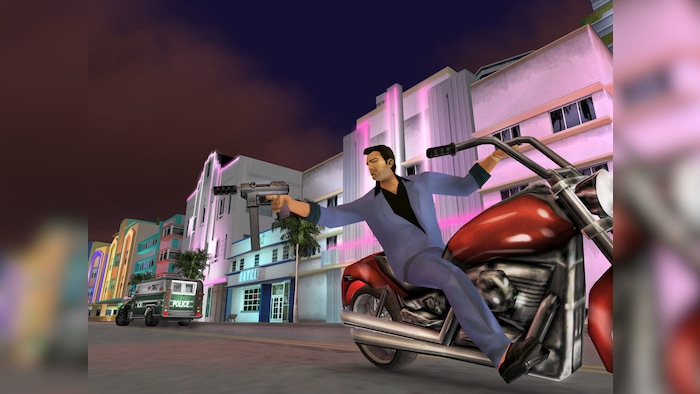 But this one, unlike the previous games on the list, could use some modding help to further improve the gameplay. GTA games were always more of a sandbox experience and gave players an enormous amount of freedom, but with mods such as Tsunami Flood Mod, Recruit Someone, or Skateboarding Mod, there are virtually endless possibilities to have fun.
Key features
Set in 1986 and takes place in a fictional Miami-based city
An open-world 3D environment with a huge amount of freedom
Amazing classic soundtrack
Grand Theft Auto: San Andreas
| | |
| --- | --- |
| Release date: | 2005-06-06 |
| Genre: | Action & Shooter |
| Developer: | Rockstar Games |
GTA: SA joins the list as well due to how well it aged. Despite not looking as amazing as 15 years ago, it still has that something that keeps you entertained for a really long time.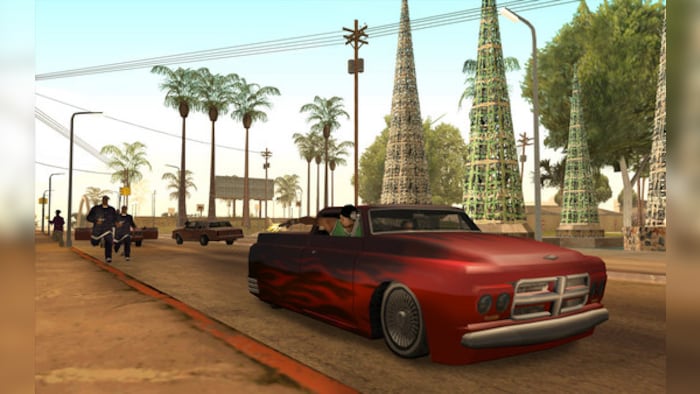 But, just like in the case of Vice City, if the base content is not enough for your taste, there are also numerous fun mods available. For example, there is a gravity gun that works just like the one from Half-Life 2, a first-person mod that lets you experience the game from the first-person perspective, or ENB that overhauls game's graphics.
Key features
A huge open-world environment with collectibles scattered around
Dozens of missions, both main and side, some with unique rewards
Character customization through clothing, hairstyle, and certain skills that can be upgraded
The Elder Scrolls Morrowind Renewal Project: Skywind
| | |
| --- | --- |
| Release date: | TBA |
| Genre: | RPG |
| Developer: | Fan-Made Mod |
As a bonus entry on the list, it's worth giving this one a mention. Skywind is an ambitious project led by a team of enthusiasts and fans of The Elder Scrolls games who decided to voluntarily spend their free time on developing it.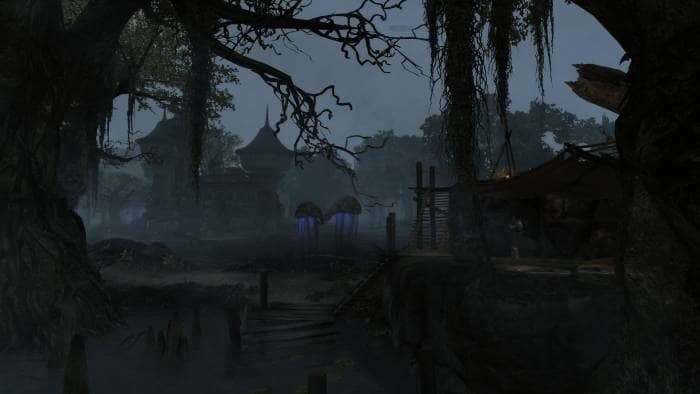 The goal is to recreate almost the entire Morrowind game (2002) on the Skyrim (2011) engine, hence the project's name. This includes original locations, creatures, NPCs, items, and quests. It won't be a 100% copy, as Skyrim engine has its limitations, but modders are trying their best to make the experience as close to the original as possible.
While the release date is yet to be announced, it's also worth mentioning that people who are behind Skywind also work or worked on Skyblivion (Oblivion in Skyrim) and Morroblivion (Morrowind in Oblivion), with the former reportedly being in the final stages of development, while the latter is already released, so while waiting for Skywind, you can give Morroblivion a try.
Summary
As you can see, some of the old video games can still be the source of fun because of how well they aged. Sometimes even the poor graphics is not enough to hold you back from returning to some classics, and if it does, there is a small chance that in the near future you'll get a remastered edition of your favorite game if it wasn't remastered yet. And if it doesn't, there are still modders that spend hours upon hours squeezing as much valuable content from certain games as possible, so why not giving these a try instead?