Using controllers, mostly gamepads, or a mouse and keyboard while playing video games can be a very subjective choice.
Many gamers rely on only one type of equipment and are ardently defending their choice.Typically, PC games are played with a mouse-keyboard combo, however they commonly and widely support controllers.
That means you can play video games with a gamepad, joystick, PS4, or Xbox controller. Is it worth to give them a try? Well, depends on type of the game, its features and type of gameplay.
There are a plenty of PC games with controller support that work quite good with a gamepad or other controller and some that even are better when played with controllers than with a mouse-keyboard set.
FPP versus TTP
One of the most popular types of games are first person and third person perspective shooter games. In FPP, as the name suggests, the player acts from a first person perspective, seeing through the eyes of the character. In third person perspective the entire or most of the silhouette of the character is visible, and the player moves the camera around the protagonist's model.
FPP games are easier to play with a mouse and keyboard as the player can take better aim with less effort. Controllers don't have the ability to stimulate the aiming process so well and often rely on some degree of aim assist.
With TPP though, the opposite is the case – coordinating attacking, moving around, and controlling the camera position is usually much easier with a gamepad.
Controllers are smoother to operate, and the player can make more elaborate moves, and they were designed specifically to fit in a hand, while keyboards were designed as a typing implement.
So, if you have a controller compatible with PC games that are third person perspective – try ditching a mouse-keyboard combo for a gamepad, joystick, steering wheel or Xbox, PS4 controller (depending on the genre) and see if it suits you better.
What About Specific Genres?
When it comes to games, some genres basicaly require a mouse and keyboard usage, others are working better with controllers. Usually it depends on the input complexity: keyboards are great for games which benefit from hotkeys, mice are better for games which require preciosn and speed, and controllers are better from games which require smooth gradation of movement, multi-button actions, and snap actions. QTEs are a thing, and they usually work better on controllers, with everything under your thumb.
Generally speaking, racing, sport, combat and action games are perfect for controllers. Racing is much better when the player has a steering wheel or at least a gamepad, because even a simple analog stick offers gradual control over speed or turn angle.
When it comes to sports games, like football or basketball, shooting and aiming for a goal is much more straightforward with a controller. Also, you can do some advanced moves with the ball. There are more keys on a keyboard than buttons on a pad, but when a motion requires pressing a few buttons or moving a joystick together with pressing buttons, controllers are irreplaceable. The 360° movement provided by an analog stick is also a major boon, compared to the eight directions available on a keyboard.
Fighting games work fine with a keyboard-mouse set, but controllers offer easier operation as buttons are closely located – when deadly fights required complicated moves, a gamepad beats traditional PC equipment. A good rule of thumb is that if a fighting game maps some of its controls to triggers and shoulder buttons, it's probably not going to be very easy to play on keyboard.
As for RPG games, it depends on the specific title. Some RPGs are hard to play with a gamepad or other controller, often you need to select units, or your actions are mapped to a dozen hotkeys. With a keyboard, options broaden. When it comes to other RPGs – especially action RPGs – controllers might be of use. In some of them, a gamepad can make things simpler, so you're only challenged by the game, not the device you control it with..
What genres are bad for or can't be played with a controller?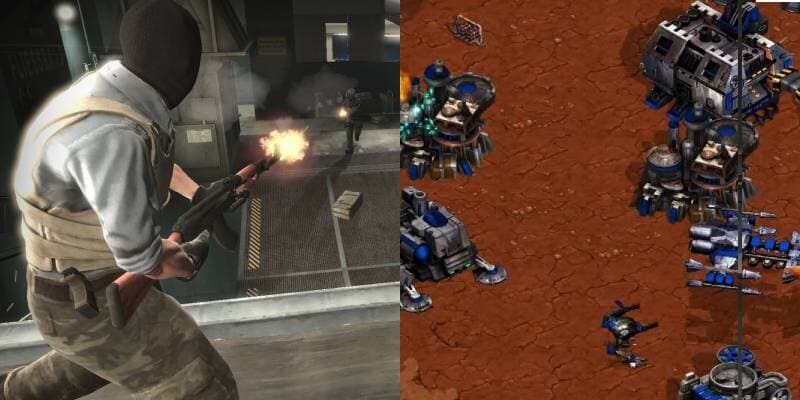 Twin sticks of success
That concludes our list of games, which are great on their own, but get even better if you have a gamepad to play them. Controllers were designed specifically to fit comfortably in human hands, if your favourite games don't really benefit from the number of keys of a keyboard, or the precision and speed of a mouse, give controllers a chance, you might be pleasantly surprised.
Ultimately, of course, the victor of the Mouse and Keyboard vs Controller battle is decided by personal preference, which trumps all advantages and features, and that's okay.