The market is full of various racing games, making it quite hard to choose the one you should try next, especially if you are new to the genre.
For your convenience we decided to compile a list of the best racing games available to play – take your pick and have fun on the road!
| | Name | Released | Developer | Sale |
| --- | --- | --- | --- | --- |
| | F1 2021 | 2021-07-16 | Codemasters | |
| | DiRT Rally 2.0 | 2019-02-26 | Codemasters | 67% |
| | F1 2020 | Standard Edition | 2020-07-10 | Codemasters | 1% |
| | F1 22 | 2022-07-01 | Codemasters | 57% |
| | The Crew 2 | 2018-06-29 | Ivory Tower | 87% |
| | DiRT 4 (PC) | 2017-06-09 | Codemasters | 29% |
| | Forza Horizon 5 | 2021-11-09 | Playground Games | 47% |
| | Forza Motorsport 7 | 2017-10-03 | Turn10 Studios | 18% |
| | Need for Speed: Most Wanted | 2012-10-30 | Criterion Software | 34% |
| | Need for Speed Heat | 2019-11-08 | Ghost Games | 82% |
| | Assetto Corsa Competizione | 2018-09-12 | Kunos Simulazioni | 78% |
| | Assetto Corsa | 2014-12-19 | Kunos Simulazioni | 81% |
| | Grid 2 | 2013-05-27 | Feral Interactive (Mac) | 83% |
| | GRID (2019) | 2019-10-11 | Codemasters | 94% |
| | MotoGP 22 | 2022-04-21 | Milestone srl | 73% |
| | MotoGP 21 | 2021-04-22 | Milestone | 76% |
| | WRC 7 | 2017-09-15 | KT Racing | 94% |
| | Need For Speed: Undercover | 2008-11-18 | EA Black Box | |
| | Need For Speed Rivals Origin | 2013-11-21 | Ghost Games & Criterion Games | 37% |
| | Need For Speed Payback | 2017-11-10 | EA Gothenburg | 32% |
From arcade to simulation. From head-to-head illegal street racing to special stages on dirt and rubble. From instantiated gameplay to open-world exploration. The racing genre can come in different shapes and sizes, making it possible for every motorsport fan to find the game he will truly enjoy.
Forza Horizon 4
| | |
| --- | --- |
| Release year: | 2018 |
| Developer: | Playground Games |
The fourth Forza Horizon game in the series follows the style of its predecessors, but it introduces some new important mechanics that spice up the challenge.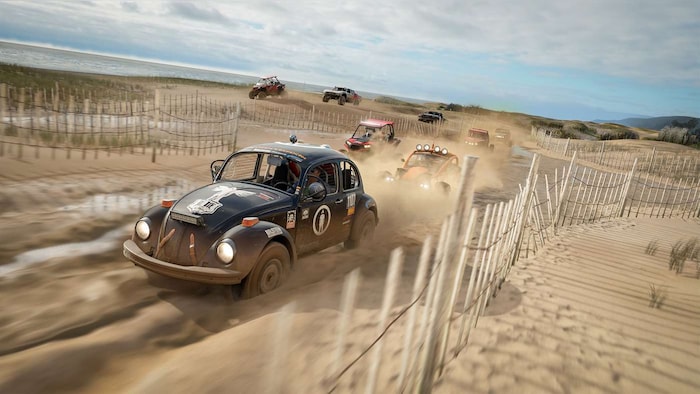 The most notable one is the addition of seasons that change periodically and affect the environment, opening new routes that would be otherwise inaccessible, such as the small islands on the Derwent Water, that can be reached during winter, when the lake is frozen. Forza is known for a huge collection of cars included, and it's no different in FH4, where you will be able to drive over 400 different vehicles.
Key features
The open-world in the fictionalized representation of Great Britain
Dynamic seasons that impact driving conditions
Route Creator which allows to design custom race routes
DiRT Rally 2.0
| | |
| --- | --- |
| Release year: | 2019 |
| Developer: | Codemasters |
If you are into rallying, then DiRT Rally 2.0 is definitely the game you should try. This racing simulator allows you to take part in a series of rally and rallycross events on real circuits, where you will need to stand against not only other drivers but also the weather, as the rain affects the grip and makes the track even harder to pass.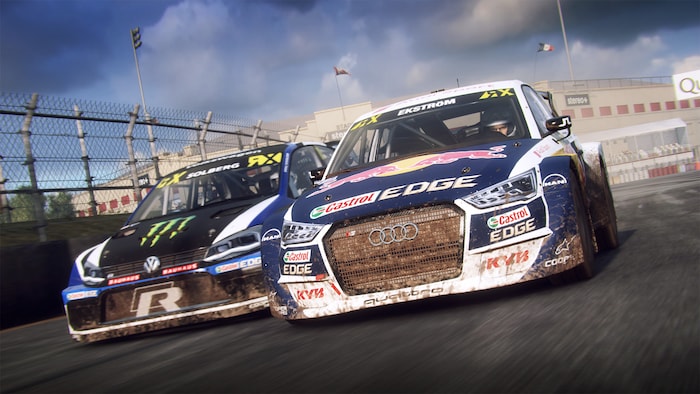 You will need to drive fast, but also carefully, as the game features damage system that can negatively impact the performance of your car if you crash too much. To achieve success, you will need to master creating custom car setups to match the current driving conditions.
Key features
Gameplay focusing on off-road and tarmac rallying and rallycross
Challenging and sophisticated driving physics
Dynamic road conditions that change with the weather
Forza Motorsport 7
| | |
| --- | --- |
| Release year: | 2017 |
| Developer: | Turn 10 Studios |
Comparing to the Forza Horizon, Forza Motorsport is more of a simulation racing game, where open-world was left in favor of fictional closed street circuits, on which you can drive in one of the hundreds of vehicles, including hypercars, monster trucks, racing trucks, and Formula E.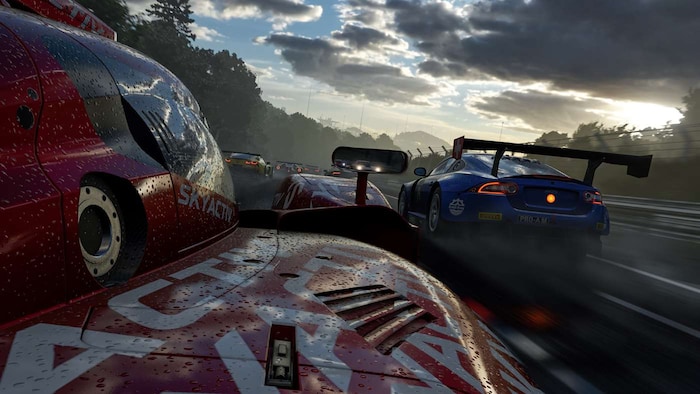 It's worth noting the dynamic weather system, which makes sure no two races are exactly the same, which significantly increases title's replayability. The game offers an amazing driving experience, which is even better when played using the steering wheel.
Key features
Gorgeous and detailed graphics that allow to fully enjoy the dynamic weather effects
A huge collection of over 700 drivable cars, including racing trucks
Support for all fan-requested steering wheels on the market
F1 2019
| | |
| --- | --- |
| Release year: | 2019 |
| Developer: | Codemasters |
If you ever wanted to sit behind the wheel of a real Formula One car and see what it's like to be under the constant pressure resulting from driving at high speeds, where even the slightest mistake can cost you the race, then there's your game, as hardly anything compares to the F1 series from Codemasters.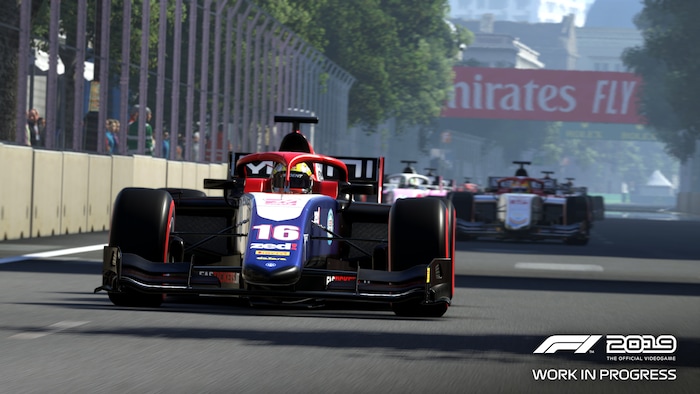 If you are already familiar with the franchise, you will be pleased to know that there's also Formula Two included, which can be played separately to the career mode.
Key features
Realistic F1 and F2 experience with official teams and real circuits
More personalization with customizable car liveries
Online leagues that bring the best players from around the world together
Gran Turismo Sport
| | |
| --- | --- |
| Release year: | 2017 |
| Developer: | Polyphony Digital |
Gran Turismo Sport continues the over two-decades-long franchise and lets you drive over 300 different vehicles from popular brands, such as Ferrari, Toyota, Peugeot, and even, for the first time in the series, Porsche. The game focuses on circuit racing, with many circuits being the real-world ones.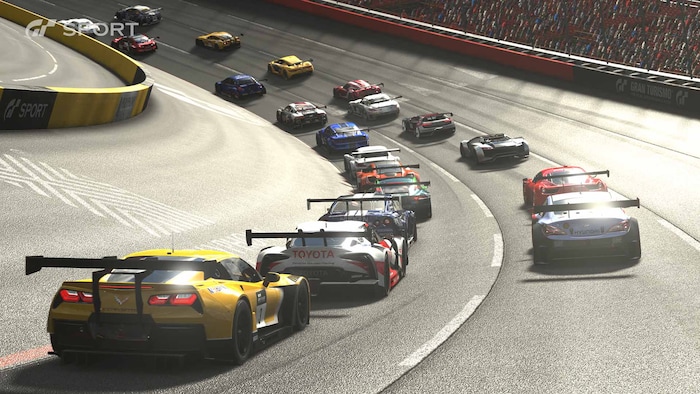 It can be played alone or together with other players online. In fact, GT Sport features two online racing championships held simultaneously throughout the year, and the winners are honored at the annual prize-giving ceremony in Paris.
Key features
Constant content updates – over 300 drivable cars and counting
Many available circuits, including the real-world ones, such as Mount Panorama
Competitive online racing supported by the FIA
The Crew 2
| | |
| --- | --- |
| Release year: | 2018 |
| Developer: | Ivory Tower |
The Crew 2 is a unique game, because it allows to race not only on the ground, but also in the air, and on the water, which combined with the open-world environment, gives players an enormous amount of freedom.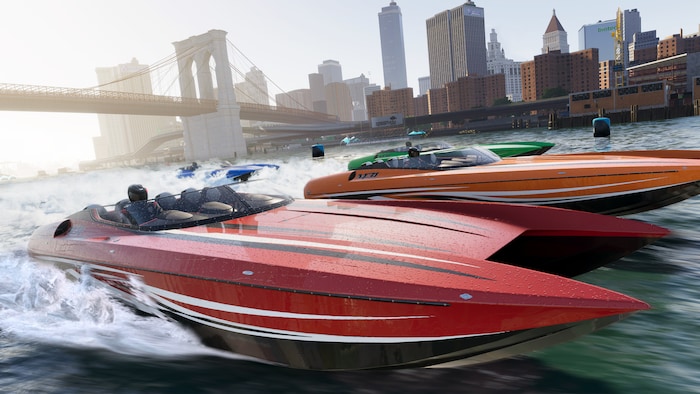 The gameplay is divided into four parts, each taken care of by a different family – street racing, pro racing, freestyle, and off-road. Each of these is further split into several specific racing events, such as drag races, drift, motocross, and powerboat.
Key features
An open world that can be traveled using either ground, air, or water vehicles
Tons of licensed real-world machines to choose from
Engaging multiplayer with emphasis put on interaction between players
DiRT 4
| | |
| --- | --- |
| Release year: | 2017 |
| Developer: | Codemasters |
DiRT 4 focuses on rallying and rallycross, which means you will find a lot of titular dirt, mud, and rubble there, but also tarmac circuits and races on closed roads, all of which take place in varying weather conditions.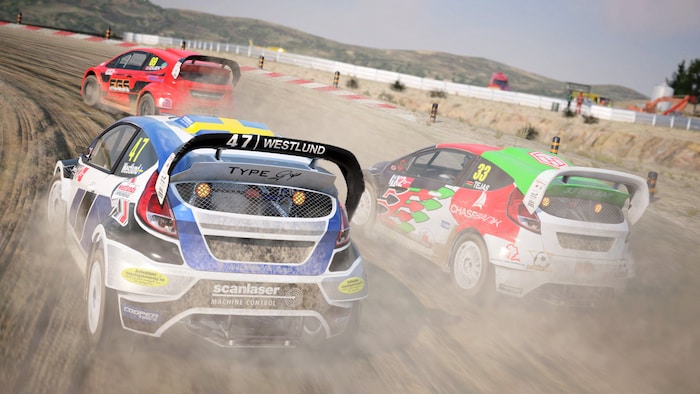 Achieving success in DiRT 4 means not only mastering the driving itself, which is not an easy task, but also being able to prepare the car for the upcoming event. This includes hiring specialists and managing the entire team, which will be responsible for repairing the car, adjusting the car's setup, or securing profitable sponsor deals.
Key features
One of the most credible rally and rallycross experiences
Your Stage mode with procedurally generated rally stages
Competitive online play in the form of community events and Pro Tour live ranked multiplayer
Wreckfest
| | |
| --- | --- |
| Release year: | 2018 |
| Developer: | Bugbear Entertainment |
While most simulation racing games implement some kind of realistic damage model, it's hard to find the game that would take this concept and made the whole gameplay revolving around it.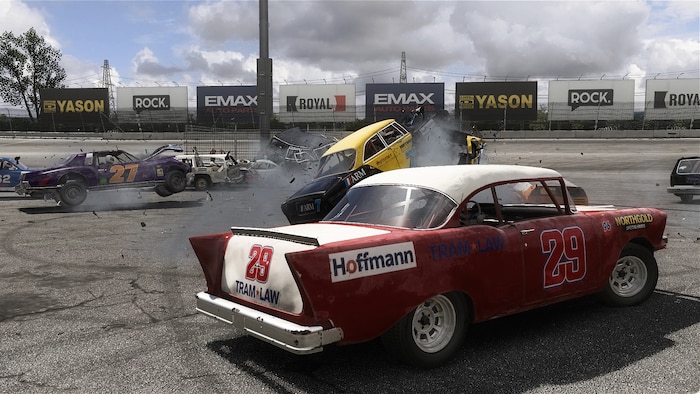 That's what makes Wreckfest unique – there are no rules on the road, so instead of avoiding contact with other drivers, you are encouraged to smash their cars until they are no longer a threat. Be careful not to destroy your own in the process, though. Besides the traditional racing, there is also demolition derby mode included, so you can focus entirely on crashing and admiring the physics engine.
Key features
Gameplay that encourages car crashing and destroying the opponents
Realistic physics and damage model
Possibility to play both racing and demolition derby
Need for Speed: Underground 2
| | |
| --- | --- |
| Release year: | 2004 |
| Developer: | Electronic Arts |
The list wouldn't be complete without mentioning the good old NFS: Underground 2, a very well made sequel to the NFS: Underground, which for the first time in the NFS franchise focused on illegal street racing and even included the career mode with complete storyline.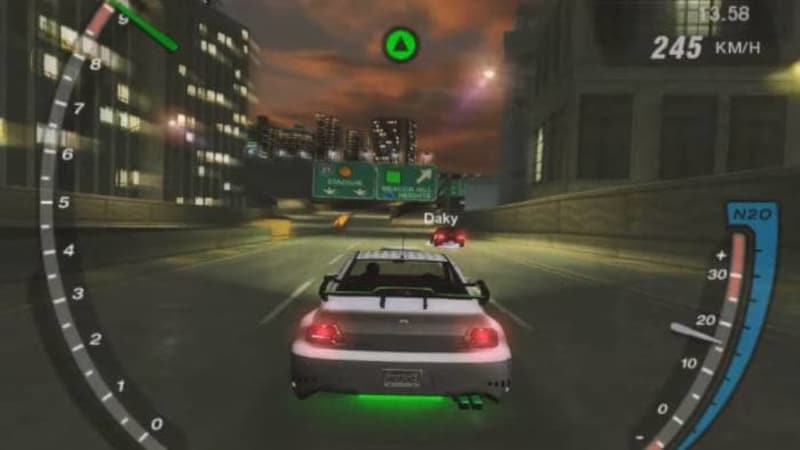 It was kind of a breath of freshness, and the sequel managed to further improve and polish existing ideas and mechanics. The main innovation was the introduction of an open world, which can be roamed freely. Car customization was also greatly improved and played a huge role in the game.
Key features
The large city of Bayview – open world environment which can be freely explored
Detailed car customization, covering both visuals and performance of the vehicle
Multiple racing modes, including circuit race, drifting, and drag racing
Need for Speed: Most Wanted
| | |
| --- | --- |
| Release year: | 2005 |
| Developer: | EA Canada |
Speaking of old but gold, Need For Speed: Most Wanted from 2005 also deserves to be placed among the best racing games. Just like NFS: Underground 2 it took the arcade approach to deliver more dynamic and exciting gameplay.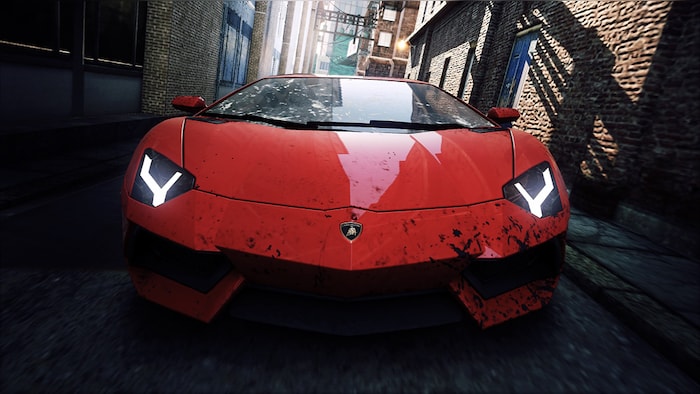 Among the few notable features, it's worth mentioning police pursuits, illegal street racing, self-refilling fuel in nitro engine, and the speedbreaker ability that allows to slow down time which is useful to maneuver out of though situations. Moreover, the game takes place in the open world, a city of Rockport, which is divided into three major districts for easier navigation.
Key features
Open world awaiting to be thoroughly explored
Illegal races and police pursuits
A wide selection of licensed real-world cars with lots of customization options
Summary
Before we dive into the list of the best racing games, let's take a quick look at some of the most important factors that make the racing genre so largely different from game to game. This way, hopefully, you'll be able to get a better understanding of what you could expect from such games, making it possible for you to know exactly what you're looking for.
Arcade and Simulation
When it comes to racing games, the main difference is the type of implemented driving mechanics. Developers can choose between either the arcade and simulation approach, and both of these have their pros and cons you should be aware of when choosing the game you wish to play.
Simulation racing games, as the name may suggest, are trying to deliver a realistic experience of driving the car, allowing you to feel like a true driver. They work best with a dedicated steering wheel. Here you can expect polished and realistic visuals, but more importantly, realistic gameplay elements such as complex physics and damage model. This type of racing game is usually recommended for more advanced players.
Arcade, on the other hand, may look realistic at first, but the driving mechanics are not kept as close to the reality as one could imagine. Arcade racing games are usually more forgiving. For example, crashing may allow you to keep driving, sometimes even without losing speed at all, or without damaging the car in any way. Arcades may allow you to take turns without need to slow down. They can also refill your nitro engine automatically over time.
Developers may sometimes try to combine the best of two worlds. The end product may offer somewhat realistic driving, but with simplified or altered gameplay mechanics. It could make the title less demanding, and thus more appealing and accessible to the wider audience, but striking the perfect balance is not an easy task.
Instantiated Gameplay and Open World
Instantiated racing games are the ones where you simply select the next available racing event – you will immediately find yourself behind the wheel, and the race will begin in a matter of seconds. There is no free ride or exploration, unlike in open-world racing games, where you can just drive around the town for fun. The open-world is often found in games relying heavily on multiplayer and interactions between players, but it's not the rule.
Special Stage-Based Gameplay and Head-To-Head Racing
Some racing games focus solely on special stage rallying, where you are left alone on the track and you have to drive from point A to point B as fast as you can. There are still other drivers taking part in the race, but they are only visible on the leaderboards – you can compare your time with theirs, but you can't meet their cars on the track. It's only you and the road, so you can't blame the others if you crash your car.
If you rather wish to compete with others head-to-head and fight for higher places by pushing others out of the road, then you might want to avoid special stage-based games and lead towards racing games or rallycross instead. Certain games can include both special stages and head-to-head racing for more diversified gameplay.
Depending on what you're looking for, you might want to lean towards more realistic or more arcade racing games or the ones that are trying to find the balance between realistic driving and dynamic gameplay.
For all the rally and rallycross fans out there DiRT 4 and DiRT Rally 2.0 are the obvious choice. Those who prefer circuit racing might want to try Forza Motorsport 4 or Gran Turismo Sport. F1 fans don't have much of a choice and F1 2019 is the way to go. And in case you like illegal night racing, you can't go wrong with good old Need for Speed: Underground 2.