Shooter games can be a real test of pure skill, especially if we're talking about highly competitive titles, but there's something for casuals to enjoy as well.
Here are some of the best PC shooter games you can play right now.
Titanfall 2
| | |
| --- | --- |
| Release date: | 2016-10-28 |
| Genre: | Action & Shooter |
| Developer: | Respawn Entertainment |
Let's start with the big guns. Take control over powerful exoskeletons and unleash their true potential on the battlefield.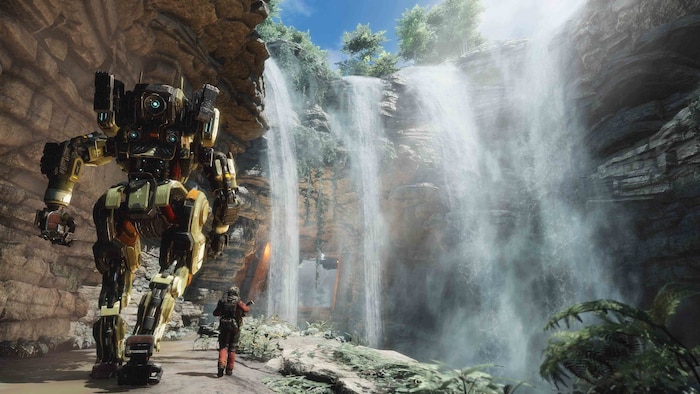 Titanfall 2 is an FPS-focused on mecha-style combat where players can take control of powerful titan battle suits to fight each other in a variety of futuristic environments. Each playable titan comes with different abilities that allow players to try different combat approaches during play. In addition to that, players can also control their human pilots outside the titans – they're more vulnerable to enemy fire but they're also more agile and can utilize tools such as grappling hooks to get to seemingly unreachable places. The game is best played with friends online but there's also a single-player campaign for lone wolves if that's what you're looking for.
Key features
A sci-fi FPS focused on mecha-style battles
Gameplay that puts emphasis on fast-paced action
Several unique titans to choose from, each with their own unique playstyle
Has a single-player campaign but shines in multiplayer
Valorant
| | |
| --- | --- |
| Release date: | 2020-06-02 |
| Genre: | FPS |
| Developer: | Riot Games |
Whenever Riot Games releases a new title, it ends up being quite successful and this unwritten rule holds true for their FPS – Valorant.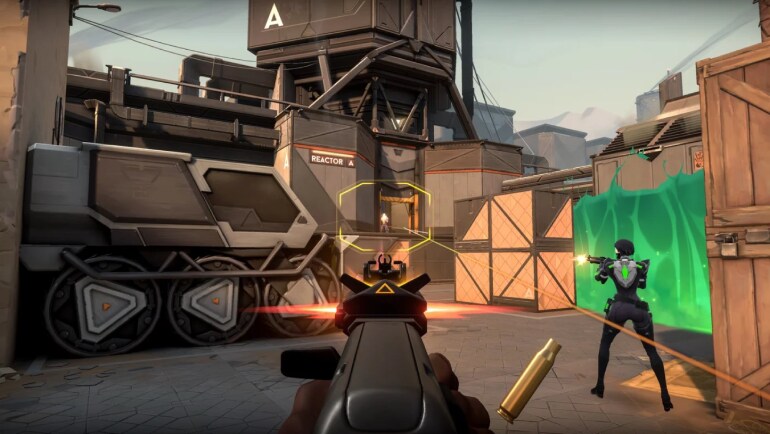 If you know what's Counter-Strike about, you'll quickly figure out Valorant, which is, colloquially speaking, futuristic CS with extra steps. The most important difference is the fact that here you'll have to pick one of the playable heroes to fill different roles during play. Each character comes with their own unique abilities – learning how to play all characters and mastering their moves adds a lot of replayability to the title. The game is focused on multiplayer and requires close cooperation with teammates to achieve success so you better check your microphone before jumping into action.
Key features
A sci-fi multiplayer-oriented hero shooter
The gameplay focused on fast-paced team arena battles
A number of different characters with unique skills to choose from
Requires close cooperation with other team members
DOOM
| | |
| --- | --- |
| Release date: | 2020-03-20 |
| Genre: | Action |
| Developer: | id Software |
Those of you who missed the classic Doom experience surely had a reason to rejoice in 2016 as that's when Doom returned in its fullest glory.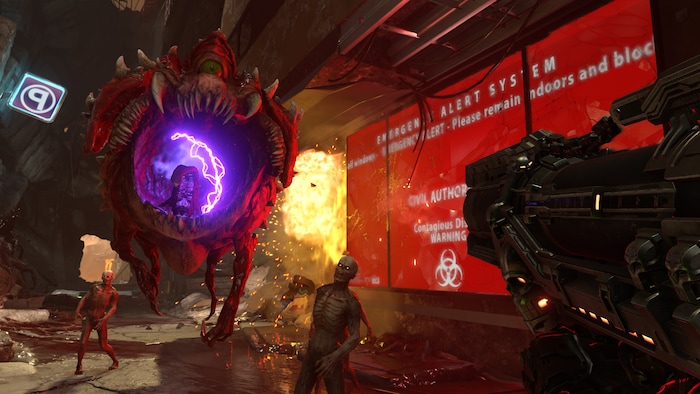 Doom is a first-person shooter where your objective is quite simple – to get to the objective while piercing through the hordes of hellish creatures with the use of a variety of sci-fi weapons. The game managed to perfectly capture the spirit of the two original games, focusing more on the action rather than the survival horror approach. Judging by the overwhelmingly positive feedback from the community, taking this route and getting back to the roots of the franchise was the best decision the developers could've made.
Key features
A game from the popular classic FPS franchise that returns to the roots of the series
Action-packed gameplay focused on eliminating hordes of demons
Upgradeable weapons, suit upgrades, and powerful runes to make you even more efficient at your job
Visually stunning with top-notch effects and sound design
Call of Duty: Black Ops Cold War
| | |
| --- | --- |
| Release date: | 2020-11-13 |
| Genre: | First-Person |
| Developer: | Treyarch |
Let's take a break from fantasy and sci-fi settings for a second – there are plenty of shooters set in modern times available as well.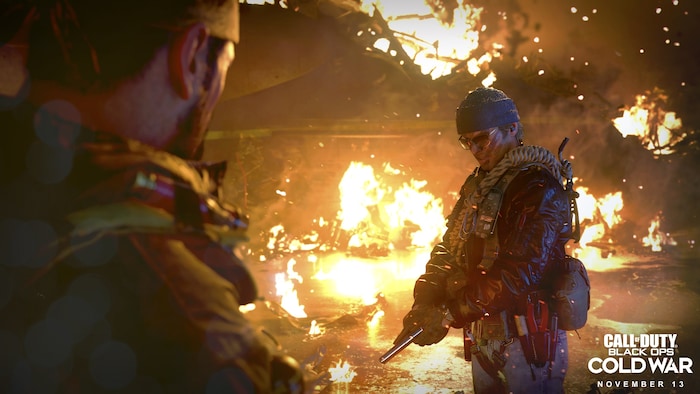 CoD: Black Ops Cold War is a first-person shooter video game set in the early 1980s and it focuses on the conflict between the USA and the Soviet Union. The gameplay focuses on carrying out various secret tasks and operations, but don't expect a typical stealth game as there's a lot of direct combat involved. The single-player campaign is fun and features a captivating story but it's rather short which makes it clear that the title was made with online multiplayer in mind, just like most of the other entries in the CoD franchise.
Key features
A first-person shooter set during the late Cold War era
A single-player campaign with meaningful player choices that may lead to different outcomes
Realistic-looking environments
Shines even brighter in multiplayer
Counter-Strike: Global Offensive
| | |
| --- | --- |
| Release date: | 2012-08-21 |
| Genre: | Action & Shooter |
| Developer: | Valve |
The Counter-Strike series is undoubtedly among the most popular FPS franchises ever made, so it wouldn't be fair to not include it on the list.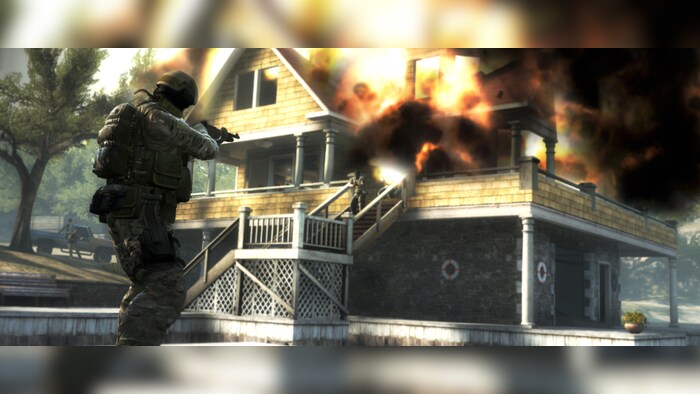 Counter-Strike: Global Offensive is the most recent entry in the Counter-Strike franchise and it still receives updates on a regular basis which helps to keep the game interesting. The game's default and most iconic mode focuses on the short matches between teams of terrorists and counter-terrorists, where the former must successfully plant and detonate the bomb in one of the designated locations on the arena, while the latter must secure the detonation sites and prevent the explosion. The game puts a strong emphasis on multiplayer where players can either play casually or climb the ranked ladder in a highly competitive environment.
Key features
A multiplayer-oriented tactical first-person shooter
The gameplay focused on short matches between teams of terrorists and counter-terrorists
Requires communication and cooperation with others to achieve success
Can be very competitive
Destiny 2
| | |
| --- | --- |
| Release date: | 2017-08-28 |
| Genre: | MMO |
| Developer: | Bungie |
Back to the future, we've got Destiny 2 – an action-packed shooter that will test your reaction time to the limits.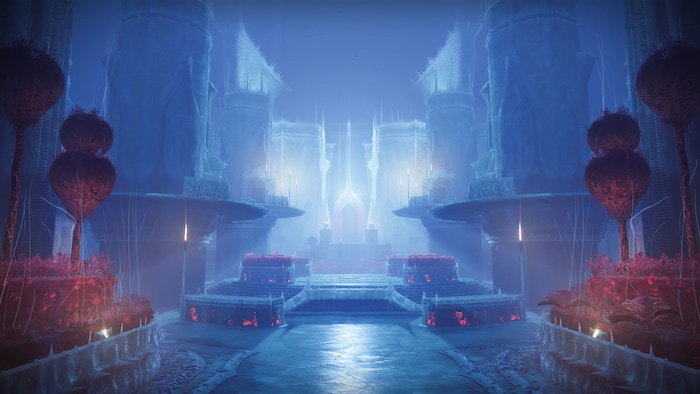 Destiny 2 is a sequel to the original Destiny from 2014. Although some people may argue that the first title was better in a number of ways, this is a PC list and, sadly, the original Destiny was available exclusively on consoles. The sequel, however, was released on PC as well and so PC gamers were finally given a unique opportunity to jump into the fray and get a first-hand experience of the popular franchise. Thankfully, Destiny 2 holds an incredibly high level of quality, so even though its predecessor may seem to do some things better, playing the sequel is nothing to be ashamed of.
Key features
A futuristic shooter with tons of action
Gameplay focused on combat and exploration, including limited free roaming
Character progression and three customizable character classes
Lots of online activities, both PvE and PvP
Superhot
| | |
| --- | --- |
| Release date: | 2016-02-25 |
| Genre: | Action & Shooter |
| Developer: | SUPERHOT Team |
From a more unique side of the spectrum of shooter video games, we've got Superhot – it's a one-of-a-kind experience you wouldn't want to miss.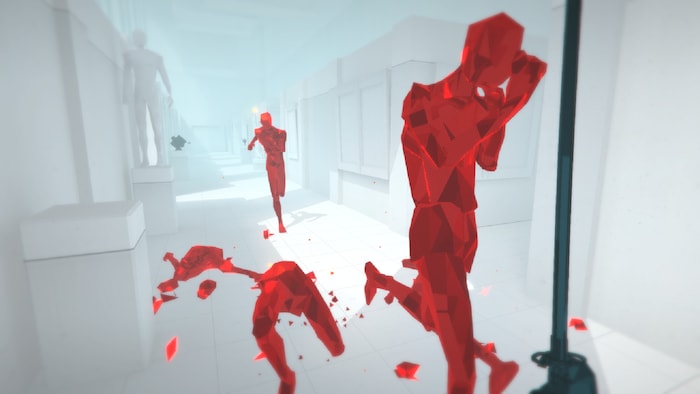 Superhot is a first-person shooter that may seem very simple and raw or even unpolished to a degree if you look at the screenshots only, but don't let the looks fool you – it's an incredibly fun game that's most likely hardly comparable to anything you've played before, and it looks much better once you're in the game. What makes this title so special, apart from the very minimalistic visual style, is the gameplay itself. You'll have to complete increasingly difficult levels, where your objective is to take out all the enemies in the area. The catch? The world around you, including the enemies, moves only when you're moving, which gives you some time to plan your next action.
Key features
An addictive combination of first-person shooter, puzzle, and strategy
Unique gameplay that revolves around controlling the flow of time
Different ways to complete the levels – get creative
The minimalistic low-poly visual style
Halo: Combat Evolved
| | |
| --- | --- |
| Release date: | 2020-03-03 |
| Genre: | Action |
| Developer: | Gearbox Software |
Even if you're not a regular gamer, the name Halo may sound familiar. This classic FPS series became an inspiration for countless developers – some influence can be seen even in modern games.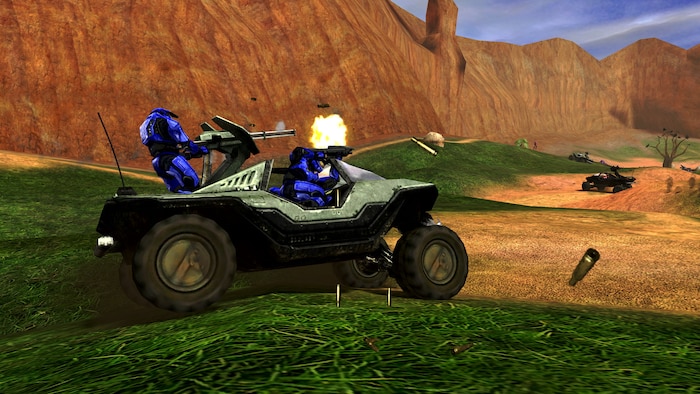 Halo: Combat Evolved is a 2001 sci-fi first-person shooter that follows the story of the Master Chief, who, assisted by AI Cortana, tries to solve the mystery behind mysterious artifacts. The journey is filled with danger, mainly in form of hostile aliens, but the protagonist character is not a freshman when it comes to combat. As a cybernetically enhanced super soldier trained in using futuristic weaponry, he'll brave the unknown and learn the dark truths hidden in the furthest corners of the galaxy.
Key features
A classic nostalgia-filled first-person shooter experience
The gameplay focused on combat and exploration with the addition of vehicles
A selection of unique sci-fi weapons, each serving a different purpose
Can be difficult at times – to replenish health you have to find health packs
Warframe
| | |
| --- | --- |
| Release date: | 2013-03-25 |
| Genre: | Action & Shooter |
| Developer: | Digital Extremes |
All of the previous shooters were first-person ones, but third-person shooters also exist – take a look at Warframe.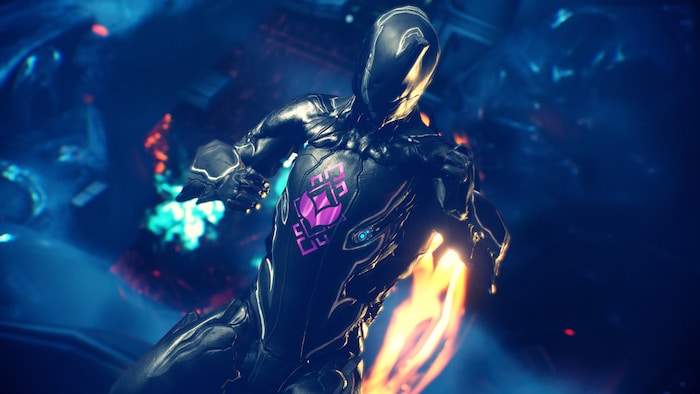 Warframe is a third-person shooter that gives players the opportunity to control Warframes – enhanced battle suits that give the user unnatural strength and abilities. There are dozens of unique playable Warframes to choose from and customize further, which adds a great deal of replayability to the game – mastering them all is part of the fun, but you can also focus on the ones you like the most. Hone your skills, collect new weapons, and show other players who's the boss.
Key features
An addictive third-person shooter designed for online play
Gameplay focused on action and combat with the use of guns, melee weapons, and parkour skills
Features a combination of open-world areas with procedurally generated levels
Supports cross-platform play
Escape from Tarkov
| | |
| --- | --- |
| Release date: | 2017-07-27 |
| Genre: | Shooter |
| Developer: | Battlestate Games Ltd. |
Among more hardcore gun games there's Escape from Tarkov – make sure to bring your friends as it may be quite difficult to play alone.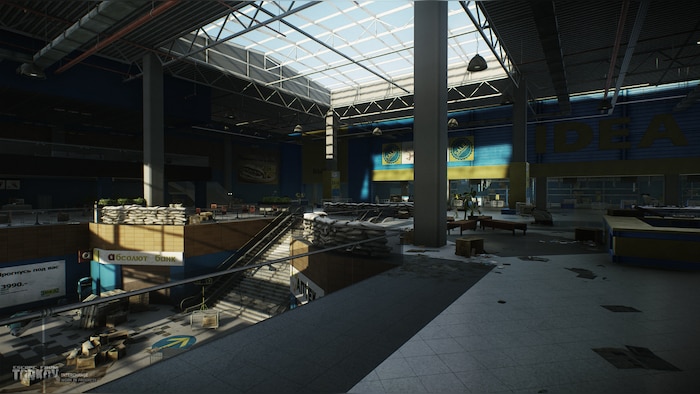 Escape from Tarkov is a first-person shooter that puts more emphasis on realism and survival. The main objective is to safely get to the extraction point while eliminating other players and NPCs, as well as looting all kinds of useful items on the way. If you escape successfully, you'll keep whatever you found during the game, so you can use it in later games. If you die, you'll lose whatever you had with you. Such a gameplay formula encourages players to take a careful approach – you have to sneak around and avoid drawing unnecessary attention if you want to make it out alive.
Key features
A multiplayer-oriented third-person shooter
Gameplay that puts emphasis on survival – sneak, camp, keep a low profile
A wide choice of modern weaponry to choose from and utilize during play
Unforgiving difficulty level
Borderlands 3
| | |
| --- | --- |
| Release date: | 2020-04 |
| Genre: | RPG, FPS |
| Developer: | Gearbox Software |
Some video games take a more light-hearted approach to the shooter genre – you can expect a lot of dark humor and funny dialogues in this one.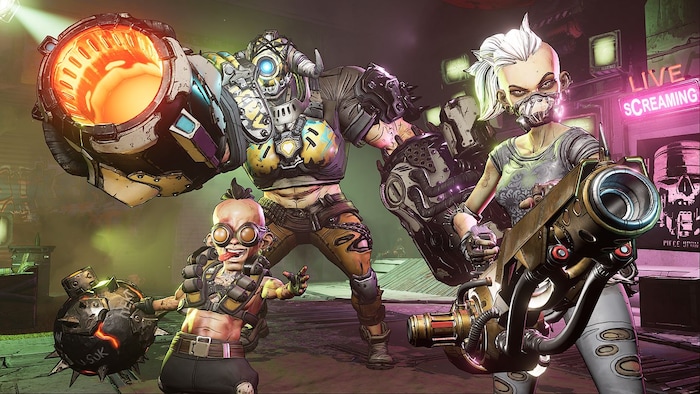 Borderlands 3 is a first-person shooter with numerous role-playing elements, including character progression and customization. One of the most notable features of the Borderlands series is the randomly generated loot of varying rarity levels, and this system exists in Borderlands 3 as well, which adds a little bit of unpredictability to each playthrough. Farming certain places for the better gear is not something unusual but if you're in just for the story and exploration, you should be fine without spending extra time on specifically hunting for min-maxed upgrades.
Key features
A huge open-world environment that can be roamed freely
Randomly generated weapons and four different playable classes that can be further customized
Distinct comic-book-like art style combined with dark humor
Fun co-op mode for up to 4 players
Battlefield V
| | |
| --- | --- |
| Release date: | 2018-11-20 |
| Genre: | First-Person |
| Developer: | DICE |
You can't have a list of the best PC shooter games without mentioning a game from one of the most popular FPS franchises of all time.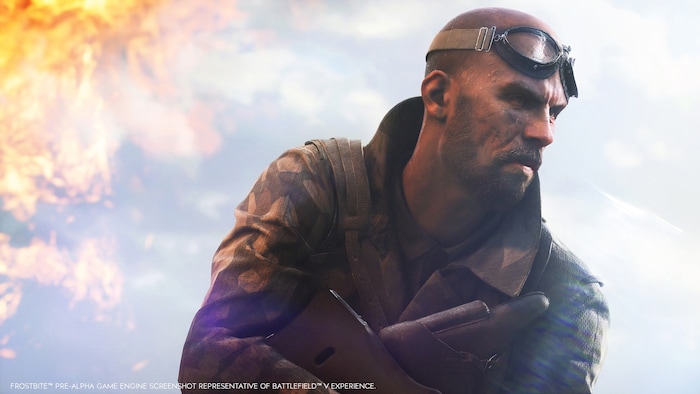 Battlefield V is a first-person shooter set during the WW2 era. It's not a military simulation game, so don't expect too much realism here – it exists, to a degree, and maybe even more than you'd find in other Battlefield games, but clearly the priority here was to make the gameplay exciting. The developers simply value the fun factor and constant action more than providing players with an overly realistic experience that could become exhausting and boring after a while. It's worth noting that BFV has its own battle royale mode as well, so if you enjoy highly competitive environments where dozens of players must face each other and fight to the death until only one remains, here's that.
Key features
Polished, high-quality WW2 experience
Extremely satisfying and rewarding gunplay
Great visuals that help to significantly increase immersion
Puts emphasis on teamwork
Quake
| | |
| --- | --- |
| Release date: | 1996-06-22 |
| Genre: | Action & Shooter |
| Developer: | id Software |
There are also some classic FPS games that must be mentioned due to their influence on entire generations of future shooters.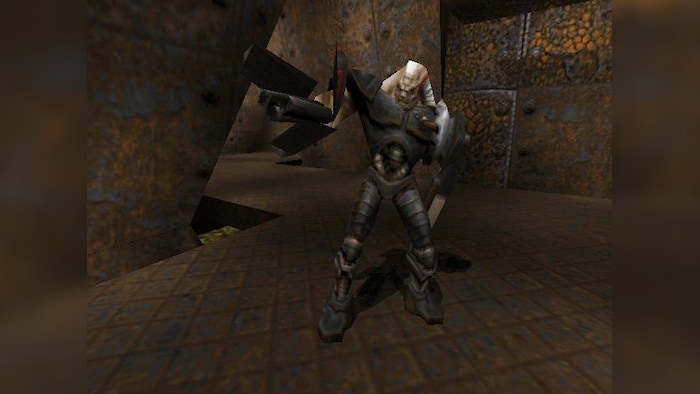 Quake is a 1996 first-person shooter that's undoubtedly an important part of childhood for a lot of players. If gameplay full of dynamic action is what you're looking for, you won't be disappointed. It's worth noting that the game received a remastered version not that long ago, so now you can enjoy this classic experience even on the most recent generations of consoles. The remaster comes with a lot of extra features, including cross-play, enhanced visuals, and controller support. The strength of the original lies in the availability of all the classic mods that make the game even more exciting.
Key features
Single-player campaign with hidden secrets to discover
Fast-paced gameplay focused on eliminating evil hordes
Well-thought level design
Incredibly addictive multiplayer
Tom Clancy's Rainbow Six Siege
| | |
| --- | --- |
| Release date: | 2015-12-01 |
| Genre: | Adventure |
| Developer: | Ubisoft Montreal |
Usually, you can't simply engage in direct combat, as it would be too risky, leading to unnecessary casualties. In RS Siege you'll have to use your head to come up with a clever plan first.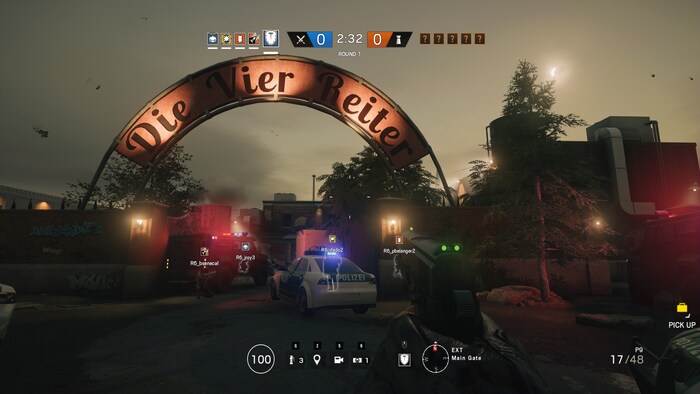 Rainbow Six Siege is a tactical shooter that puts great emphasis on teamwork and cooperation – if you want to win you must trust your teammates and help them when they need you. The game focuses mostly on carrying out special operations in order to eliminate terrorists, defuse bombs, rescue hostages, and so on. One of the coolest features here is the fact that plenty of environmental elements can be destroyed. You can destroy walls to create an alternate entrance to a room or make a hole in the wall to take a peek, for example.
Key features
An excellent tactical shooter focused on the work of modern special task units
A tactical single-player campaign where using clever strategy is more valuable than engaging the enemies directly
A destructible environment that gives more options for surprising the opponents during play
Addictive, action-packed multiplayer with virtually unlimited replayability
Unreal Tournament
| | |
| --- | --- |
| Release date: | 2000-10-25 |
| Genre: | Action & Shooter |
| Developer: | Epic Games, Inc. |
Finally, one more legendary title. Unreal Tournament may be over two decades old already but it's just as fun to play today as it was when the game was officially released.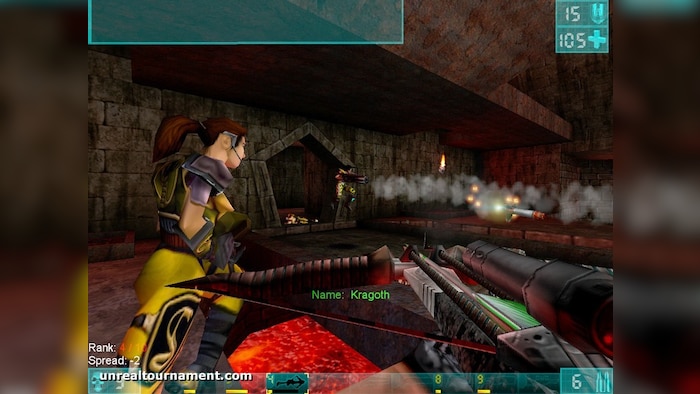 Unreal Tournament is a 1999 first-person shooter that focuses on pure gameplay full of dynamic action. In all honesty, the only time when you'll be able to take a breath is when you're waiting for your character to respawn. It's a true test of skill, where you'll have to focus fully on the task, which is usually eliminating the opposing team with the use of a variety of available weapons. The original UT also looks incredibly good, considering its age – it shouldn't be too hard to pick up even if you value good graphics in your video games.
Key features
An iconic first-person shooter from the Golden Age of home video games
Gritty industrial environments with elements of sci-fi
Well-thought level design with a great variety of available maps
A wide choice of unique weaponry, including a futuristic shock rifle
The Best PC Shooter Games
Shooter games provide players with a solid dose of action-packed experience, but there are also shooters that put more emphasis on choosing the right strategy or leveling the character up to be able to withstand more demanding challenges.
For your convenience, we've chosen some of the best shooting games available for computers and compiled them into a list – feel free to pick your favorites and have fun.