Although there are more and more games with realistic graphics at the highest level, pixel art indie productions rise like a phoenix from ashes. Why is this happening? And what pixel video games are really worth playing today?
Pixels arouse sentiment in all of us. It's like the good old days playing the latest console games after school. However, you don't have to reach for old titles to plunge into the retro world once more. More and more new fantastic pixel games are easily available on Steam. In this particular category, you will find everything: horrors, farm simulators, RPGs, arcade games, fantasy and much more.
However, so that you don't have to waste time searching yourself, check out our ready-made list of the best pixel games.
| | Game | Release | Genre | Developer | Sale | |
| --- | --- | --- | --- | --- | --- | --- |
| | Stardew Valley | 2016-02-26 | Adventure | ConcernedApe | | Read more |
| | Terraria | 2011-05-16 | Adventure | Re-Logic | 52% | Read more |
| | Undertale | 2015-09-15 | Indie | tobyfox | 28% | Read more |
| | Blasphemous | 2019-09-10 | Adventure | The Game Kitchen | 83% | Read more |
| | Owlboy | 2016-11-01 | Adventure | D-Pad Studio | 78% | Read more |
| | Shovel Knight Treasure Trove | 2014-06-26 | Action & Shooter | Yacht Club Games | 38% | Read more |
| | Celeste | 2018-01-25 | Adventure | Matt Makes Games Inc. | 69% | Read more |
| | Broforce | 2015-10-15 | Adventure | Free Lives | 67% | Read more |
| | Octopath Traveler | 2018-07-13 | RPG | Square Enix | 64% | Read more |
| | Moon Hunters | 2016-03-10 | Adventure | Kitfox Games | 90% | Read more |
| | To The Moon | 2011-11-01 | Adventure | Freebird Games | | Read more |
| | Rakuen | 2017-05-10 | Indie | Laura Shigihara | 77% | Read more |
| | Axiom Verge | 2015-05-14 | Adventure | Thomas Happ Games LLC | 40% | Read more |
| | Dead Cells | 2017-05-10 | Action & Shooter | Motion Twin | 63% | Read more |
Stardew Valley
One of the most popular pixel RPGs, that constantly receive overwhelmingly positive ratings on Steam. Leave your boring city life behind and embark on a new fabulous adventure on a country farm!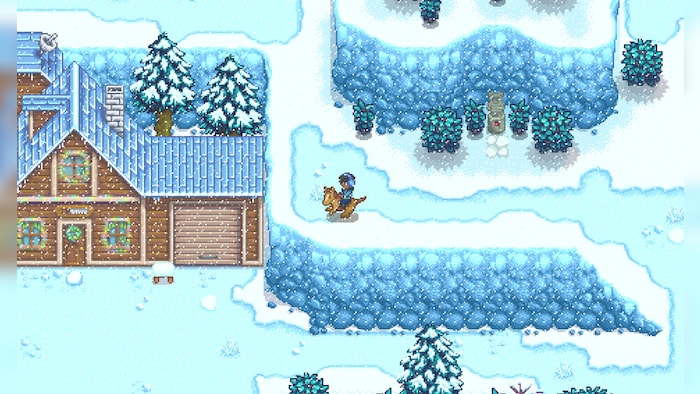 You inherited a farm. So you set off outside the city, where instead of a valuable legacy from your grandfather, you find a complete ruin. Roll up your sleeves and get ready to work! Renovate your farm, cut down trees, pull up weeds, and create your new home in the countryside.
Explore the area and collect resources. Or fight monsters. Or meet representatives of the local community and unite your life with them for good. In this economic sandbox, nothing limits you, and the opportunities to dedicate yourself to new activities multiply spontaneously. Chill out in Stardew Valley and rearrange your entire world.
Key features
Renovate the old farm and restore it to its former glory
Explore to get resources and valuable treasures
Meet your neighbors and establish friendly relations
Play solo or with friends in co-op up to four people
Terraria
Pixel platform game for PC in which you design the world around you. Do you happen to dream of letting your creativity run wild in a beautiful pixel sandbox? Play Terraria.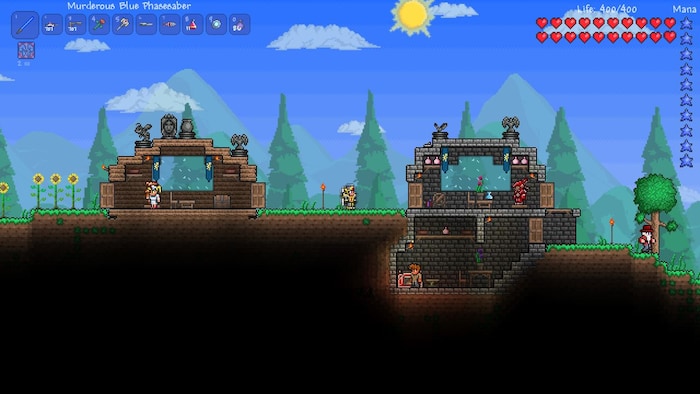 Explore, build and fight. Your enemies will let you know about their existence at the very beginning, but as the game proceeds, you shouldn't have a problem dealing with them. However, powerful bosses will appear soon, and your task is to prepare for the heroic battle. Build a base, gather resources, and complete a decent arsenal of weapons.
Discover new environments and go underground to find infinite secrets and rare items of this world. Or build beautiful houses. Your possibilities in Terraria are literally endless – in this game, you can achieve anything! This is confirmed by the fact that it is one of the most beloved games on Steam, in which players spend not only hundreds but thousands of hours.
Key features
Explore a procedurally generated world of endless possibilities
Collect resources and build whatever you want
Travel to fight bosses and discover many secrets and rare items
Get the necessary equipment and set out to conquer Terraria
Undertale
An indie RPG game, developed with the help of a Kickstarter fundraiser, in which humor and parody are an axis of the entire title.
Play as a kid who finds himself in the wondrous world of monsters. If 8-bit retro games evoke particularly fond memories in you, Undertale will make you feel at home.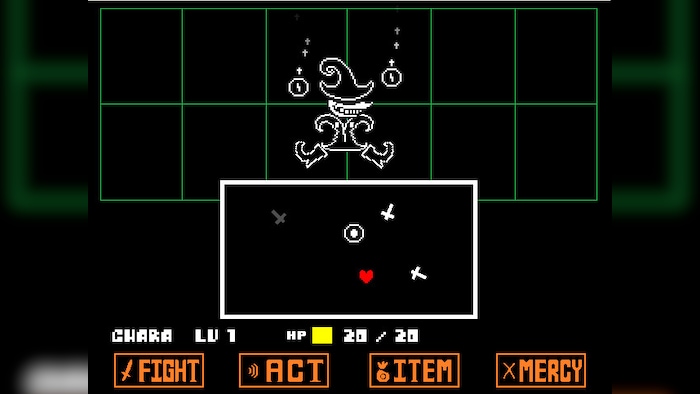 Explore, discover and engage in dialogues with the inhabitants of the land of monsters. The world you find here will be bizarre, fun, and full of unusual solutions. The further development of events depends on each of your decisions. You can interact with monsters and bosses, but also with elements of the environment.
At every step, you will be surprised or interested in something. A significant part of the game is combat, which often depends on the character of the opponent. Sometimes the fight outcome depends on your dexterity, and sometimes it can be clever and skillful use of the opponent's weak points. And that's not all, because Undertale is a game that allows you to complete the mission without getting into a fight at all. It entirely depends on you. And all this in a nice 8-bit musical tribute setting reminding of good old classics for consoles.
Key features
Learn the details of a mature story intertwined with fun experiences and jokes
Manage dialogues where absolutely anything can happen
Decide to fight or play a game in peaceful mode
Explore and interact with map elements
Blasphemous
Extremely dark, platform action game created with the support of Kickstarter fundraiser, made by the independent Spanish studio – The Game Kitchen.
The title is set in a heavy climate of religious tradition, penance, and sorrow for sins. If you are interested in the topic of blasphemy and the Souls-like atmosphere set in Metroidvania platformer, then be sure to play Blasphemous.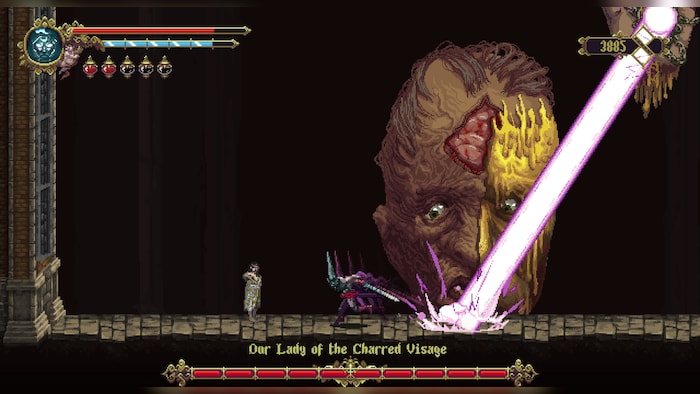 Play as the Penitent One and travel to a mysterious land, where omnipresent depravity has brought everything to ruin. Although your story will not be certain at the beginning, you will learn more and more of its details and twists during the gameplay. Grab your sword and fight the hideous beasts!
Explore the levels, gather equipment, develop skills and eliminate enemies. The real-time combat in Blasphemous is dynamic and spectacular. Visually, your opponents may be quite revolting, but your task is to cleanse this world of all filth.
Key features
Explore the grim world and discover its dramatic secrets
Practice your deep faith to survive in this gloomy reality
Eliminate hordes of enemies and fight bosses
Learn the secrets of your story and the history of the entire land of Cvstodia
Owlboy
An audiovisually beautiful 2D platform game, that will capture the heart of every fan of a good adventure game.
Play as Otus – the Owlboy who embarks on a fantastic journey to stand up to the heroic fight against evil.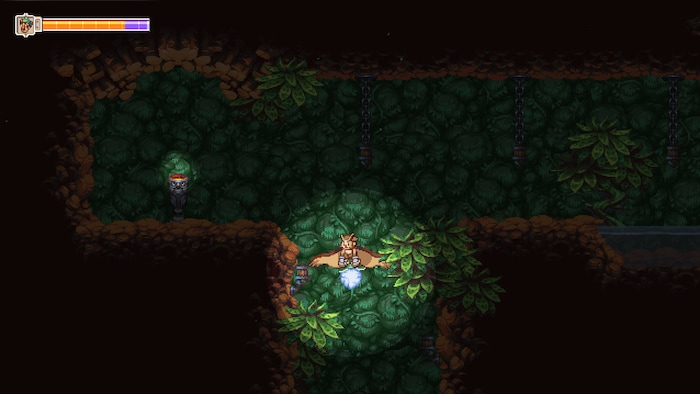 When the pirates attacked Owlboy's home village, it turned out that only he can really solve this problem. Although lacking the ability to speak, Otus can fly, which is a massive advantage on the battlefield. Travel, go on adventures and face evil Sky Pirates. Jump on platforms and avoid traps.
Meet new travel companions who can prove extremely helpful in combat. The game is set in beautiful pixel-art graphics, which are not lacking even the smallest detail. D-Pad studio spent nine years working on the project, and this is proven by every step of the gameplay. It is a rather easy game, so it is perfect for kids or adults hungry for some 8-bit-like epic adventure.
Key features
Experience a fantastic platform adventure flying on Owlboy's wings
Enjoy the beautiful pixel-art audiovisual setting of the highest quality
Meet companions who will support you in the fight against pirates
Explore and discover the treasures and secrets of this lovely, colorful land
Shovel Knight: Treasure Trove
The complete release of all fantastic platformers from Yacht Club Games.
Become the mighty Shovel Knight and experience a series of adventures that truly transport you back to the times of 8-bit NES games. If you like retro, play retro and breathe retro – this is your absolute must-have.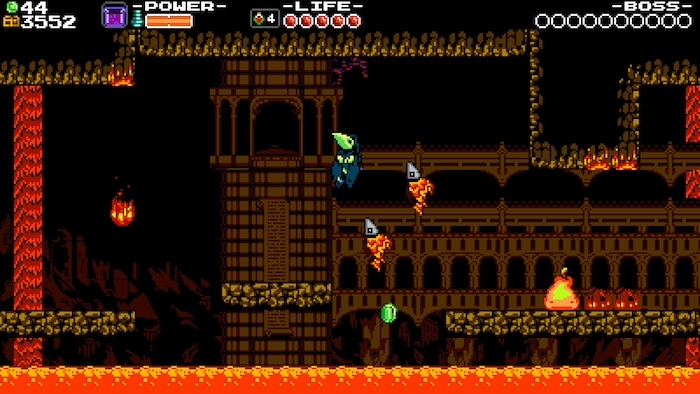 Armed with a shovel and your brave heart, fight evil forces in one of Steam's favorite games. Explore the rich fantasy world, engage in entertaining dialogues, travel levels, and defeat enemies. It is all about dexterity! Each level is a unique set of traps and enemies.
The gameplay may resemble Mega Man or Dark Souls, but it hosts a special, one-of-a-kind atmosphere. By playing Shovel Knight, you will move to the land of epic combat, fabulous setting, classic RPG villages, extraordinary adventures, and charm that only well-crafted pixel-art titles provide.
Key features
Play the complete edition of all Shovel Knight games
Get carried away by the audiovisual setting and mechanics straight from the 90s.
Explore, find secret passages, discover treasures, and fight
Play solo or in cooperation with a friend
Celeste
Platform action game where agility and acrobatics are everything. Play as Madeline and embark on a dangerous journey to the top of a great mountain. It is a proposal for players who like decent challenges and appreciate a simple but polished audiovisual setting.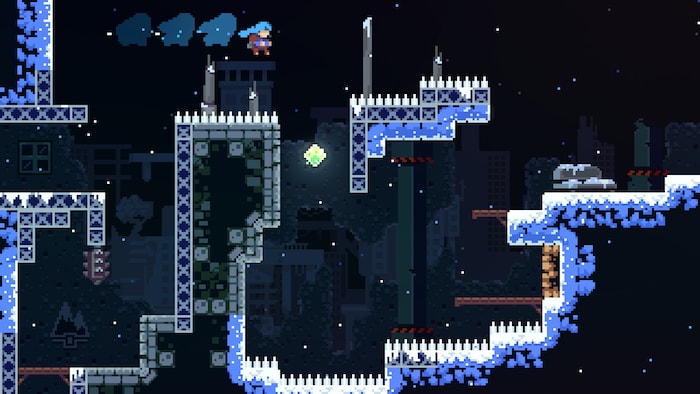 Celeste may be challenging, but that's just the first impression. The title offers several tutorials to help you quickly master new moves and use them as you continue your journey. The goal of the game is to overcome levels full of obstacles, traps, moving platforms, and various creatures.
The elements of the environment are divided into those that should be avoided and those that can be used while jumping over the platforms. Also, the heroine has some skills, such as dashes, that allow her to create various acrobatic combinations. It is also worth looking for strawberries, which often reveal the presence of hidden chambers or levels.
Key features
Play a cute and enchanting game where dexterity and cleverness truly count
Explore maps full of secret passages, hidden rooms, and items
Master your skills to make the most of them while traversing the map
Avoid traps and use the elements of the environment to your advantage
Broforce
Among the best pixel-art games, there is one shining star that takes players to the golden times of the manliest men known from movie productions of the 90s. Broforce! In which, together with Brobocop, Bro Lee, or Indiana Brones, you will demolish the entire map.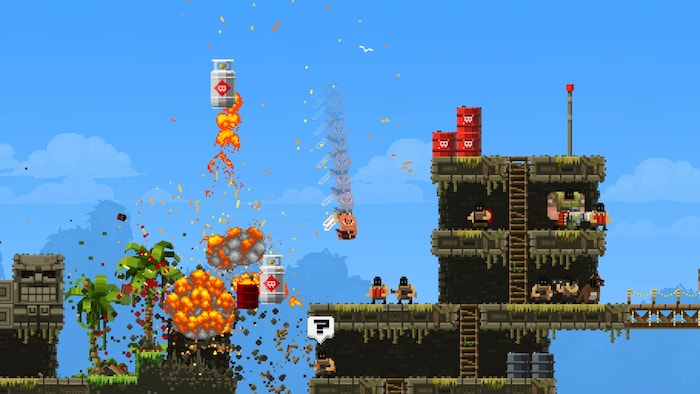 Broforce is a 2D action platform shooter in which explosions, flying bullets, and muscles are basically the whole game in a nutshell. Armed with weapons and a few grenades, you hit the very epicenter of all destruction at the very beginning. Your task is to travel through the levels, eliminating enemies and freeing your bros from captivity.
Explosions play a big role in this game because the more you smash, the better. This way, you can clear your way of obstacles and unwanted enemies. Also, Broforce can be played in multiplayer for up to four players. Gather your friends and start the battle side by side with Brominator, Brommando, MacBrower, and many more!
Key features
Play as the heroes of classic action movies from the 90s.
Use weapons and grenades to wreak maximum havoc
Free your bros from captivity
Play solo or in a group of up to four players
Octopath Traveler
A turn-based fantasy jRPG in which, as one of the eight heroes, you will experience a wonderful adventure in a graphically stunning world of pixel art mixed with a 3D background. Play Octopath Traveler and rewrite your story!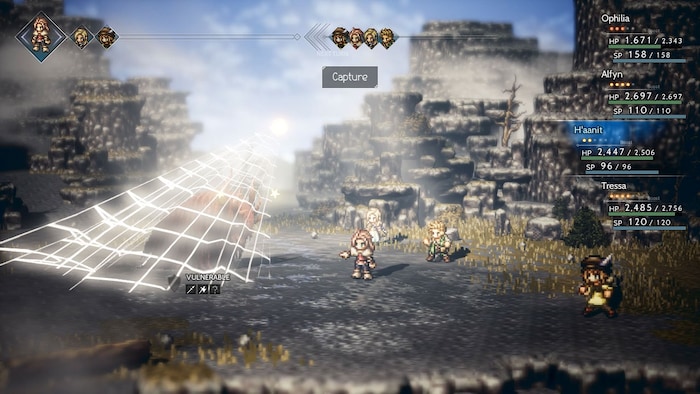 Choose from eight characters and indulge in the unique story that will smoothly guide you through this world. Each of them has a different nature and practices unique skills. Embark on an epic journey where you will encounter interesting new people and dangerous enemies.
The fights take place in turn-based mode, and their successful outcome significantly boosts gained experience. It is a proposition for fans of fantasy RPGs, in which immersing and exploring the world play the main role.
Key features
Choose from eight characters and guide them in the vibrant world of Orsterra
Explore, discover new locations and meet interesting characters
Fight in the turn-based mode and gain a better and better experience
Enjoy beautiful, magical 2.5D pixel graphics
Moon Hunters
A pixelated 2D game focused on cooperation, which takes place in a procedurally generated world of magic and extraordinary stories. Enter the fantastic land of Mercuria and find the lost Moon.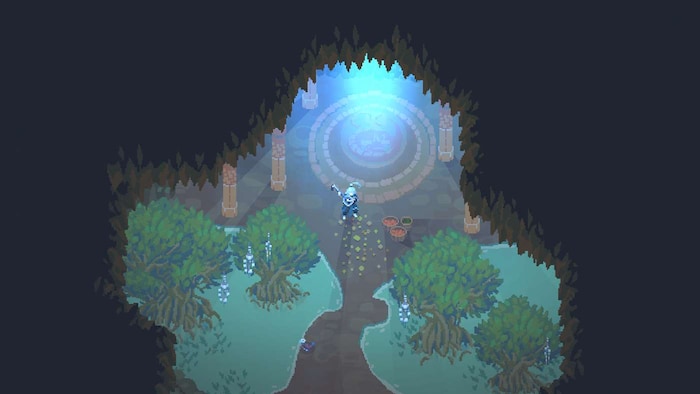 Choose from several specialized classes and become a member of the Moon cult. Unfortunately, the balance of this world has been disturbed, and chaos creeps into everyday life when it turns out that the Moon has disappeared. The prime suspects in the affair are evil Sun cultists who seek the cultural unification of the entire land. Gather a party of up to four players and set off on a journey to find the Moon!
Explore, discover, fight and build your reputation. Craft items, investigate the magical world, and learn the secrets of productive cooperation. It is up to you to decide whether you will be recognized in legends as a hero, or forever lost in the memories of many.
Key features
Gather a team of up to four players and embark on an adventurous journey
Build an arsenal of weapons and powers to win the battle against the Sun cultists
Make decisions that will affect the progression of your adventure
Gain experience and develop your unique skills
Gamers love pixels
Developers of pixel-art 2D games possess a wide range of possibilities. Every solution and every idea can be transferred to the old-school pixel world – and this is exactly what they do. By learning the mistakes of their predecessors, using modern technologies and improved mechanics, they create wonders polished and simply beautiful. The success of best pixel art games these days depends not only on the sentiment towards old titles but also on a decent performance.
Why do gamers love pixels so much? Well, the form has a significant impact on the gameplay itself. And the simple design of the pixelated game will always ruthlessly reveal every fault because, at its core, it is pure gameplay. There are no distractions or the possibility of masking the flaws with flashy graphics. We get raw, pretty gameplay that makes some cool sounds. And its creators are mostly independent studios made of authentic enthusiasts and people who know their craft very well. Players from all over the world can appreciate good work. There is only one conclusion – sometimes less is more.