Whether you're craving a spooky adventure or want to scratch that nostalgic itch, we've got you something absolutely epic. Let's travel back in time to discover all the best PS1 horror games!
PlayStation 1 was never the best console, but it was one of the most groundbreaking inventions in the history of gaming. Exploiting its innovative capabilities, developers paved the way for epic titles on the next PS generations, and we can enjoy successful games like Elden Ring or God of War. And today is a brilliant day to appreciate our favorite console. If you're looking for a super terrifying retro adventure, check out the best PS1 horror games!
Resident Evil 2
| | |
| --- | --- |
| Release date: | 21-01-1998 |
| Genre: | Survival horror |
| Developer: | Capcom |
A mysterious epidemic took over a peaceful Raccoon City, and the lives of its citizens have turned into an actual nightmare. Only Claire Redfield and Leon S. Kennedy can do something to turn the tide of tragic events.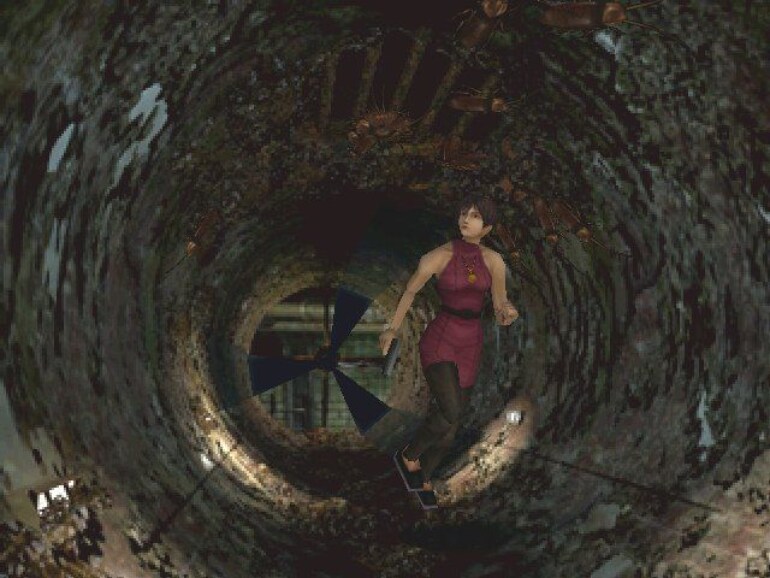 Choose from two playable characters to discover a unique zombie outbreak story from Claire and Leon's points of view. Explore a devastated town, gather an impressive arsenal of weapons, collect equipment and defend yourself against the attacks of mutated enemies. Danger lurks everywhere – only your reflexes and judgment can help you explain the mystery of the grim epidemic and survive. Resident Evil is an absolute must-have for fans of the series and all players who want to experience a classic PS1 horror adventure or try a remake.
Key features
Choose one of two heroes and begin your adventure in Raccoon City
Explore and collect an arsenal of destructive weapons
Collect more clues to learn the mystery of the zombie epidemic
Fight or run to survive
Silent Hill
| | |
| --- | --- |
| Release date: | 31-01-1999 |
| Genre: | Survival horror |
| Developer: | Konami |
Play the first iconic title in one of the best PS1 style horror games series to discover the dreariest town in gaming history. Silent Hill is a thrilling tale with five surprise endings that will stay with you for life.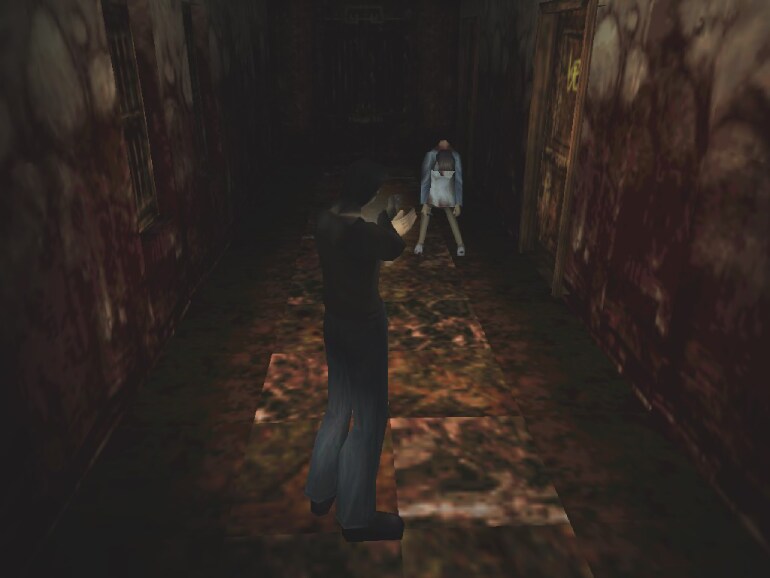 As a result of an accident, Harry Mason loses his beloved daughter and decides to find her in the mysterious town of Silent Hill. Soon, the man will discover it was the worst decision of his life. Explore abandoned buildings, acquire weapons and equipment, and do whatever it takes not to get killed by grotesque monsters from your ghastliest nightmares. Know the success of this mission depends entirely on your decisions, and the chances of survival are extremely low.
Key features
Play the first game in the legendary survival horror series
Explore the abandoned Silent Hill and discover its hideous secrets
Collect equipment and fight or run from monsters
Solve puzzles and uncover the forgotten secret of the town
Echo Night
| | |
| --- | --- |
| Release date: | 13-08-1998 |
| Genre: | Adventure |
| Developer: | FromSoftware |
It is a short and mysterious video game for all fans of unexplained events and unpredictable stories. Play as Richard Osmond to experience the most incredible journey through time on the forgotten Orpheus ship.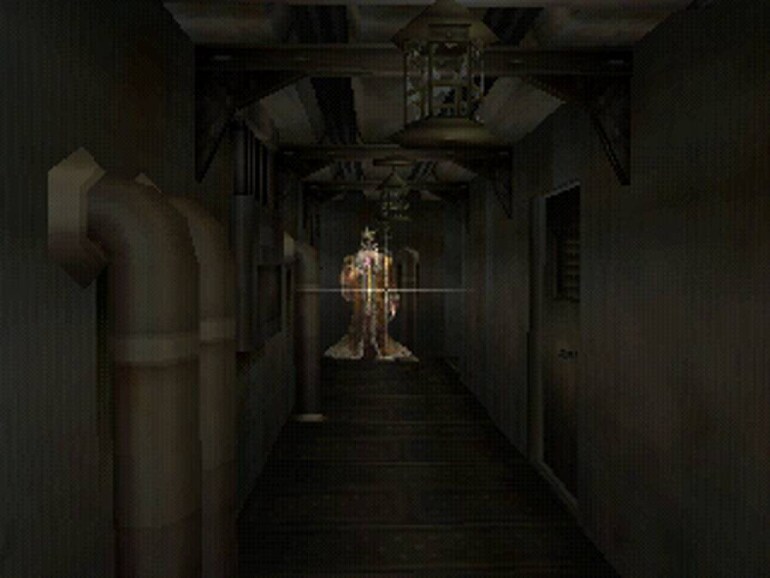 When Richard finds himself on a lost ship, he must embark on a series of tricky trials to discover his way home. But it won't be an easy adventure as Orpheus is a home for monstrous creatures that can cause instant death. In addition, the protagonist must solve a series of challenging puzzles to discover one of four endings to the story.
Key features
Play a dark survival horror from FromSoftware
Explore a lost ship and discover its secrets
Avoid encounters with ghosts and learn how to survive
Solve puzzles and see one of four endings
Koudelka
| | |
| --- | --- |
| Release date: | 30-11-1999 |
| Genre: | Horror, RPG |
| Developer: | Sacnoth |
It is an excellent recommendation for horror RPG enthusiasts featuring an extremely addictive storyline. If you like Silent Hill games, you will definitely enjoy this dark adventure!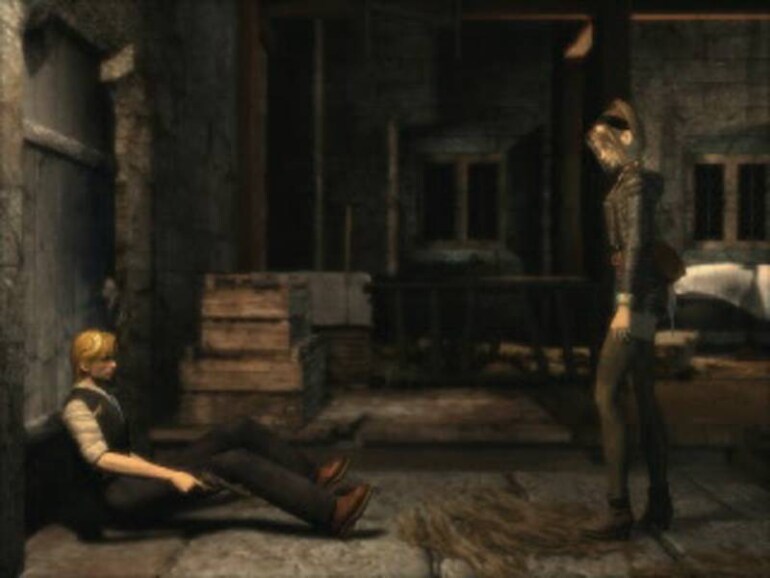 Travel to 1898 to direct the fate of a young woman summoned by a mysterious voice to an ancient monastery. It is a gloomy place with a forgotten prison history in the background. But it is not entirely abandoned, and soon, the heroine will discover the terrible secrets hidden within the walls of the building. Explore, prepare, discover secrets and fight to gain the necessary experience and learn the mystery of this terrifying place.
Key features
Play the 1999 Japanese horror RPG
Manage the Koudelka's actions and discover the secret of the old monastery
Explore to collect equipment and clues
Gain experience and become stronger
Mizzurna Falls
| | |
| --- | --- |
| Release date: | 21-12-1998 |
| Genre: | Adventure |
| Developer: | Human Entertainment |
You'll find everything in this game if you're a fan of suspense and crime puzzles. Embark on the most desperate adventure of your life in Mizzurna Falls town, and solve the controversial case to alter the fate of all citizens.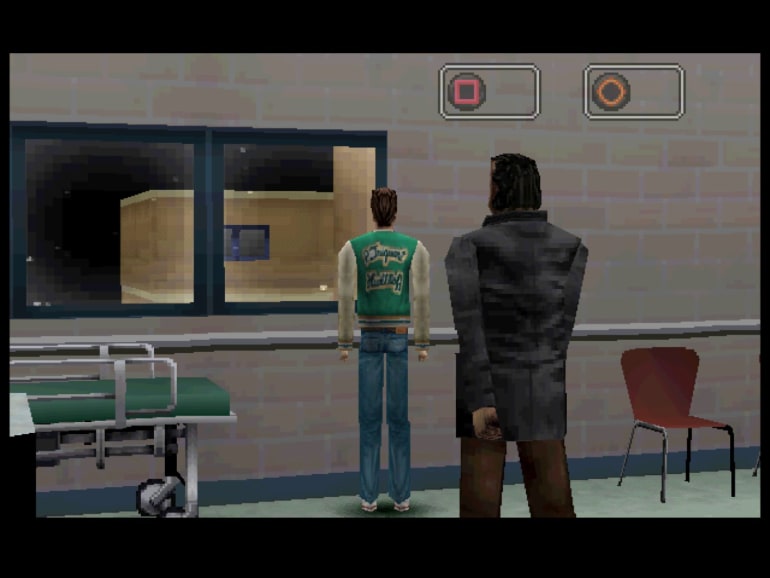 When two students from a local school mysteriously die, their friend decides to solve the case. Direct Matthew's actions, explore the town and watch the citizens' behavior to unravel a dark mystery. Hurry up because there is a time limit. If you don't complete the mission, the whole game will end in the worst possible way!
Key features
Explore Mizzurna Falls to solve a shocking case
Observe the citizens' behavior and collect clues
Visit nearby locations and try to survive
Enjoy a captivating adventure in a polished open world
Parasite Eve 2
| | |
| --- | --- |
| Release date: | 16-12-1999 |
| Genre: | Survival horror |
| Developer: | Square Enix |
It is a direct continuation of the legendary horror game with science-fiction features, where you will follow the further fate of the fearless Aya Brea. Witness a new chapter of her dark adventures and discover grotesque horrors you never dreamed of.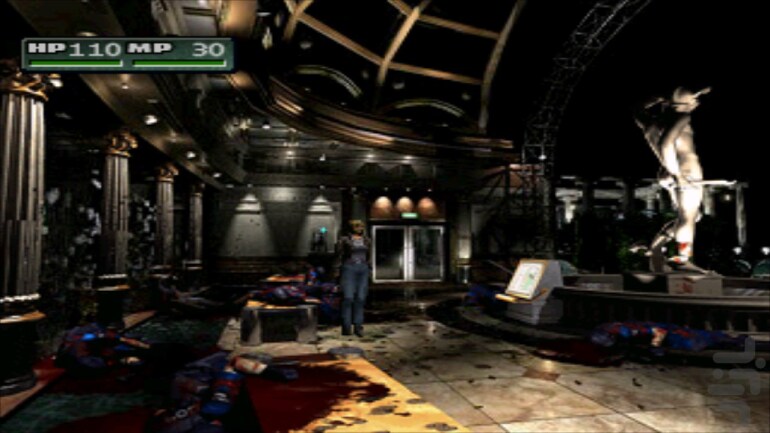 Aya Brea embarks on a special mission to the Akropolis Tower. It turns out that the place swarms with hideous monsters endowed with supernatural capabilities. The protagonist must do everything she can to unravel the mystery of their unclear origin and survive this mission. Explore the monster-infested building, gain practice, and use unique powers to unlock the content of extra modes for an even better horror experience.
Key features
Play the sequel to the famous horror video game on PS1
Solve the case of bloodthirsty monsters
Explore a secret research facility and collect clues
Gain experience and enjoy a high level of brutal gameplay
Alone in the Dark: The New Nightmare
| | |
| --- | --- |
| Release date: | 2013-10-29 |
| Genre: | Adventure |
| Developer: | Darkworks |
Travel to the faraway Shadow Isle to examine your friend's mysterious research and avenge his cruel death. Prepare for a spooky adventure that you can play in two different ways!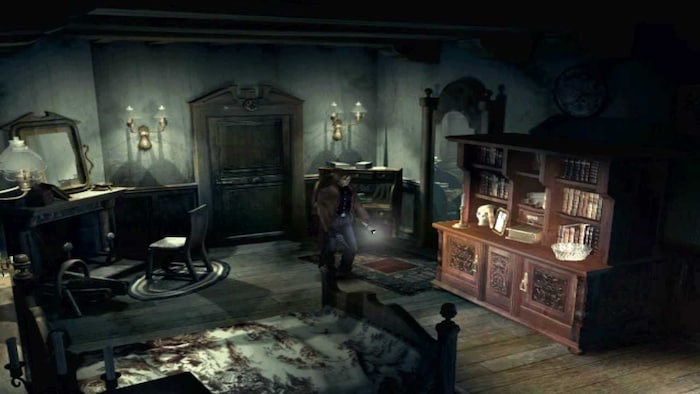 Take control of Edward and Aline as a helicopter crashes them apart on a mysterious island. Each has a unique gameplay style and abilities, so you can expect addictive horror fun with terrifying monsters in the background. It is an excellent recommendation for fans of paralyzing fear, described by Steam players as the last good game in this series.
Key features
Direct the actions of the two protagonists and try to survive
Explore a mysterious mansion and discover its secrets
Enjoy different gameplay styles
Fight dreadful monsters and collect valuable clues
Nightmare Creatures
| | |
| --- | --- |
| Release date: | 25-06-1997 |
| Genre: | Action |
| Developer: | Kalisto Entertainment |
When a black magic experiment fails, London swarms in chaotic masses of bloodthirsty monsters who crave only human blood. Enter this mad world and do whatever it takes to save the citizens and not die.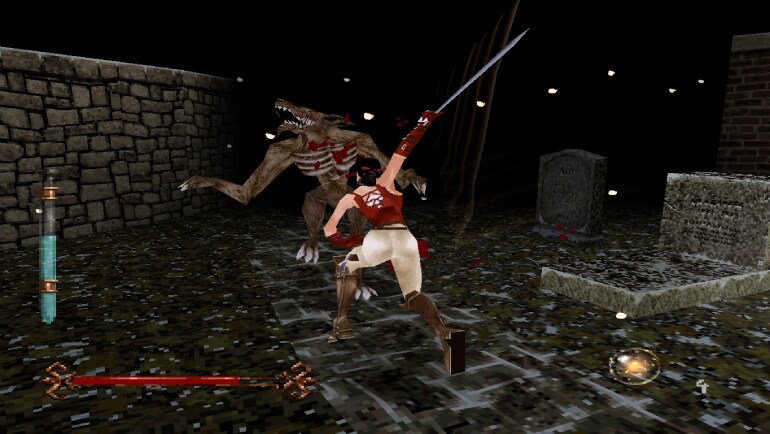 Play as the strong Ignatius or the fast Nadia and engage in adrenaline-fuelled combat against hordes of repulsive foes. Your rich arsenal of weapons is the only hope for survival in this abnormal situation. Solve the sinister mystery of a dark experiment, fight and defeat powerful bosses to witness the creepy end of this story.
Key features
Play a thrilling action video game about a failed experiment
Explore London and fight hordes of enemies
Choose from two different playable heroes
Monitor your adrenaline meter to survive
Clock Tower: The First Fear
| | |
| --- | --- |
| Release date: | 17-06-1997 |
| Genre: | Adventure |
| Developer: | Human Entertainment |
It is the sequel to the terrifying PS1 horror game where you can follow the continuation of Jennifer Simpson's story. Surviving the clock tower events, the heroine returns to regular life, haunted by traumatic memories.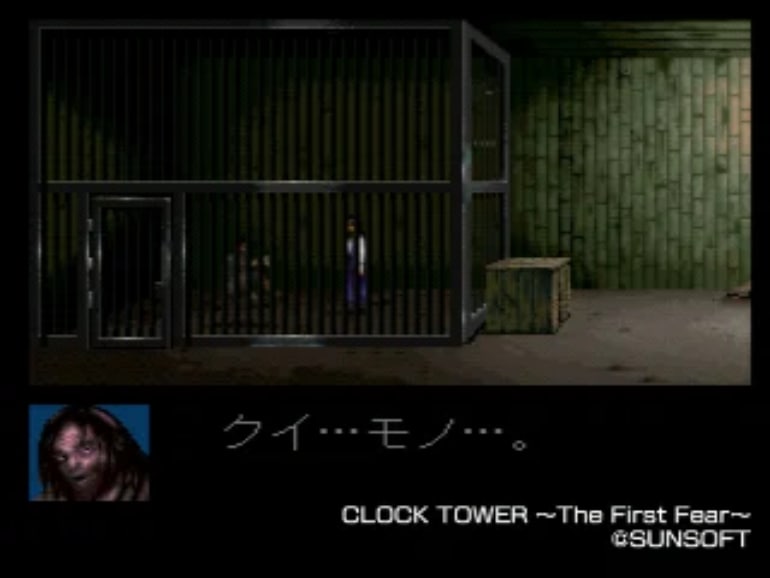 Make the most significant decisions of your life to see how this terrifying story unfolds. Meet Jennifer Simpson – the only survivor of the horrific events in the clock tower. Now, the heroine tries to live a peaceful life but has to run from the crazy Scissorman. Take control of all the playable characters in this addictive gameplay and experience one of ten surprising endings.
Key features
Play the second part in the epic horror series
Take control of the various characters in this dark tale
Avoid violent encounters with the crazy Scissorman to survive
Make decisions and see one of ten endings
Blood Omen: Legacy of Kain
| | |
| --- | --- |
| Release date: | 01-11-1996 |
| Genre: | Horror |
| Developer: | Silicon Knights |
Play an action-adventure game with a top-down perspective. It is a classic fantasy adventure with horror elements, perfect for retro PS gaming enthusiasts!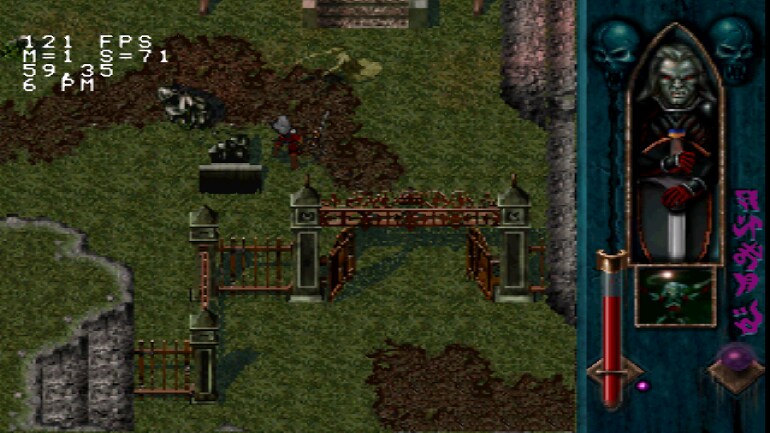 When Kain dies, a necromancer resurrects him as a vampire. Unfortunately, the children of the night are strongly oppressed, and now he will do anything to remove the terrible curse. Explore a magical land, fight powerful enemies and use supernatural vampire powers. Legacy of Kain is an addictive and refined game concealing dozens of fascinating secrets.
Key features
Play a classic vampire action game
Explore a magical land and discover its secrets
Fight hordes of enemies and enjoy extraordinary skills
Discover the ending of Kain's story
There is something magical about playing old games. To witness the beginnings of a genre or a successful console – this is what it's all about. And while PS1 horror video games don't impress with their breathtaking aesthetics, graphics, or overall performance, it's worth going back to and experiencing fear in its purest form. Because deprived of the potential to distract with a nice appearance, these titles captivate with their refined content.