Horror games are a fun way to entertain yourself and make your heart go racing in a safe environment. No need to risk your life in extreme sports to get a healthy dose of adrenaline. But what games are worth playing on PS4?
Let's take a look at some of the best scary PlayStation 4 games you can play right now.
Amnesia: The Dark Descent
| | |
| --- | --- |
| Release date: | 2010 |
| Genre: | Survival horror, adventure |
| Developer: | Frictional Games |
A game that could already be considered one of the classic horrors would be a great way to start the list, so take a look at Amnesia – a title that was a common choice for content creators to stream and record.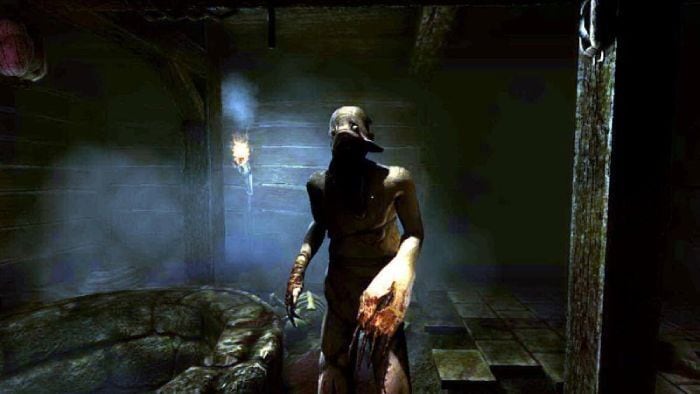 Amnesia is a solid choice for a PS4 horror game. It represents the kind of horror game where your only way of surviving is to avoid danger by hiding and running away. You don't have the means to defend yourself against the evil stalker, so try not to draw his attention. Try to stay calm – the game features physics-based puzzles, where even opening the door may be difficult if you're panicking. Make sure to also take a look at Amnesia: A Machine for Pigs, also available as part of the Amnesia: Collection bundle that contains both the original game and the sequel.
Key features
An immersive survival horror experience
Physics-based puzzles
A lingering atmosphere of fear and danger
Scary sound effects that further enhance the gameplay
Resident Evil 2 (2019 Remake)
| | |
| --- | --- |
| Release date: | 2019 |
| Genre: | Survival horror |
| Developer: | Capcom |
Old games occasionally come back to life thanks to remakes and that's exactly what happened to Resident Evil 2 – now you can enjoy this classic horror game in an entirely new way.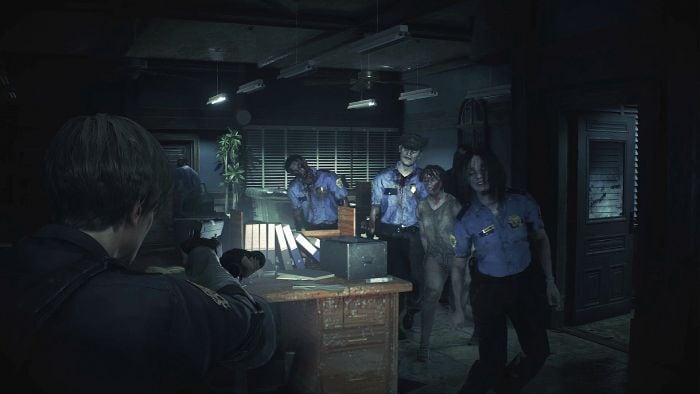 Resident Evil 2 is not simply a remake, it's a reimagined version of the original game. Most notably, tank controls and the static camera were replaced with solutions that are much more convenient to use. In RE2 you won't be entirely defenseless, but the ammo is scarce so you should try to find a way to overcome the challenges without relying on your weapon. You can also check out other games from the Resident Evil series – it's a popular horror video game franchise and not without a reason.
Key features
An action-filled survival horror that stays true to the original
Engaging gameplay with lots of blood
Top-notch graphics
Can be challenging for newcomers
Outlast
| | |
| --- | --- |
| Release date: | 2013 |
| Genre: | Survival horror |
| Developer: | Red Barrels |
Outlast is also an interesting option to choose if you're looking for a good and scary horror game on PlayStation 4.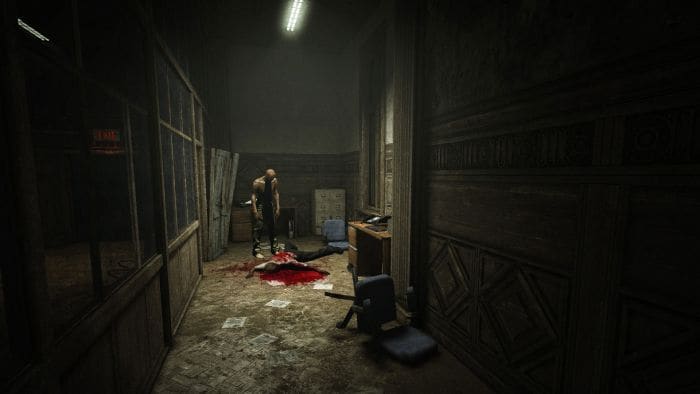 Outlast focuses on exploring the seemingly abandoned ruins of a psychiatric hospital, which by itself can send a shiver down the spine. You will find out soon enough that the place is far from being deserted but it's certainly not the type of environment you'd want to throw yourself into willingly. You've got a mission to complete here though, so there's no turning back now. Alternatively, you may also want to try Outlast 2 – there are a lot of differences between the two games so you could give it a try even if you didn't like the original.
Key features
A first-person survival horror
Gameplay that puts emphasis on stealth and avoiding dangers
Incredibly immersive
Heavy use of jump scares
Until Dawn
| | |
| --- | --- |
| Release date: | 2015 |
| Genre: | Adventure |
| Developer: | Supermassive Games |
Fans of interactive dramas shouldn't indifferently pass by this one.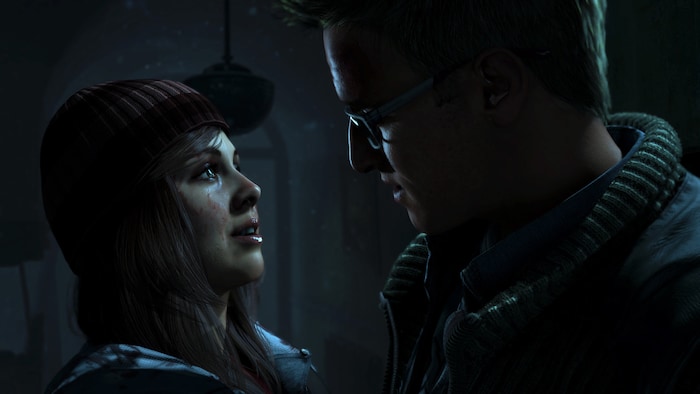 Until Dawn feels more like watching a movie rather than playing a game, but it's not necessarily a bad thing. The game's strongest points are the story, the characters, and the worldbuilding, but it's not where the strengths end. The game stands out thanks to its non-linear gameplay – you'll be facing a lot of difficult choices throughout the game and you'll have to live with the consequences. A bad decision can cost someone's life so try to keep a cool head if you want to see the group survive until dawn.
Key features
An interactive drama with charismatic characters
An intriguing story that will keep you engaged
Meaningful player choices
Quick-time events that add a bit of action to the game
Dying Light 2
| | |
| --- | --- |
| Release date: | 2022 |
| Genre: | Action role-playing, survival horror |
| Developer: | Techland |
If running away from danger is not your play style and you prefer to fight back, this one's for you.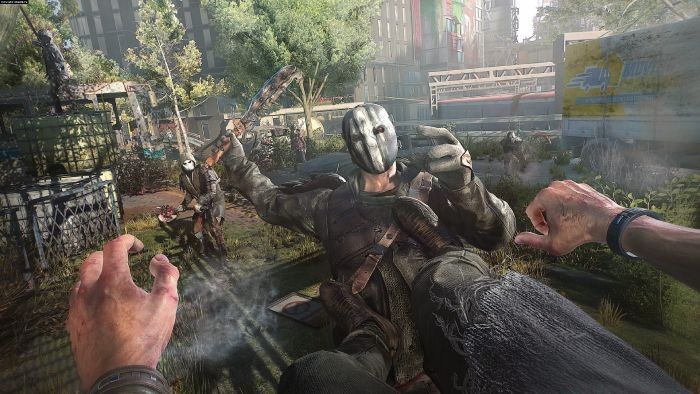 Dying Light 2 is a combination of survival horror and action role-playing game where you will have to face hordes of zombies and survive in a hostile environment. The task won't be easy, but at least here you can fight back. Combat is mostly melee which means that it won't always be possible to face the overwhelming numbers of enemies head-on, but you can always resort to your parkour skills to make an escape when things don't go as smoothly as planned.
Key features
A survival horror in a modern zombie apocalypse setting
An open-world environment that can be roamed freely
Strong emphasis is put on utilizing parkour skills
Melee-oriented combat but long-range weapons also exist
The Quarry
| | |
| --- | --- |
| Release date: | 2022 |
| Genre: | Survival horror, interactive drama |
| Developer: | Supermassive Games |
Interactive dramas have more in store for the fans of the genre and The Quarry is a great example of how such games should be made.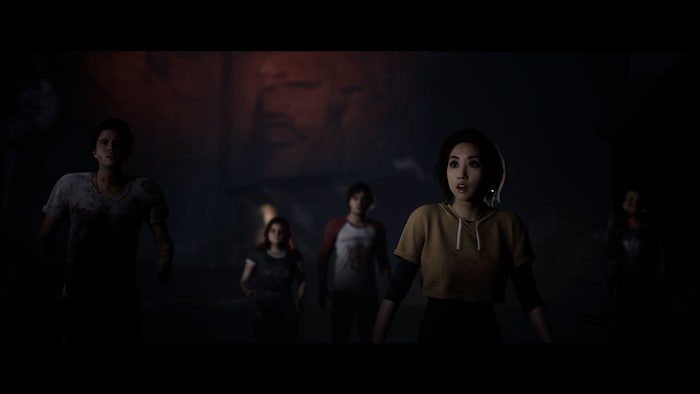 The Quarry revolves around a group of teenagers who're about to throw a party but things quickly take an unexpected turn and friends find themselves in a scenario where they must fight for their lives. As a player, you will have to lead them and help them make correct decisions to increase their chances of surviving.
Key features
Interactive drama with local and online multiplayer
A compelling horror story
Player choices – make decisions and live with the consequences
Top-notch visuals and facial expressions
Layers of Fear
| | |
| --- | --- |
| Release date: | 2016 |
| Genre: | Psychological horror |
| Developer: | Bloober Team |
There are also great horror games from the so-called walking simulator sub-genre and Layers of Fear happens to be one of them.
Layers of Fear is a game that follows the story of a painter as he tries to finish his magnum opus. To complete his work, he'll need to discover the secrets hidden within the mansion and learn the truth about his own past. The game puts emphasis on exploration and solving simple puzzles while adding a generous number of pieces of art to admire during play. Although the first game holds a special place in the hearts of players, you can also give the sequel a chance – it also has its strengths, like improved gameplay.
Key features
Psychological horror in a Victorian-inspired setting
The gameplay focused on exploration and solving puzzles
A lot of real and original art
Tense atmosphere that makes the experience even scarier and more immersive
The Evil Within
| | |
| --- | --- |
| Release date: | 2014 |
| Genre: | Survival horror |
| Developer: | Tango Gameworks |
The Evil Within will try all kinds of tricks to scare you – jump scares, twisted creatures, sowing uncertainty, disturbing scenes of blood and gore, this game has it all.
The Evil Within is a game that follows the story of detective Sebastian Castellanos as he tries to solve a certain case of mass murder. As the game progresses, you'll realize that you can't trust anything you see – the danger in various forms can be lurking behind any corner and your options for defending yourself are quite limited. Anxiety-inducing atmosphere, constant action, and horrifying views are a recipe for an experience you wouldn't want to miss.
Key features
Survival horror with demonic creatures and gruesome scenes
An engaging story that will keep you busy for hours to come
A truly horrifying experience in a world you can't trust
Great use of sound effects that help to build the right atmosphere
Visage
| | |
| --- | --- |
| Release date: | 2020 |
| Genre: | Psychological horror |
| Developer: | SadSquare Studio |
If you're looking for a truly scary experience, look no further – Visage with its false sense of security got you covered.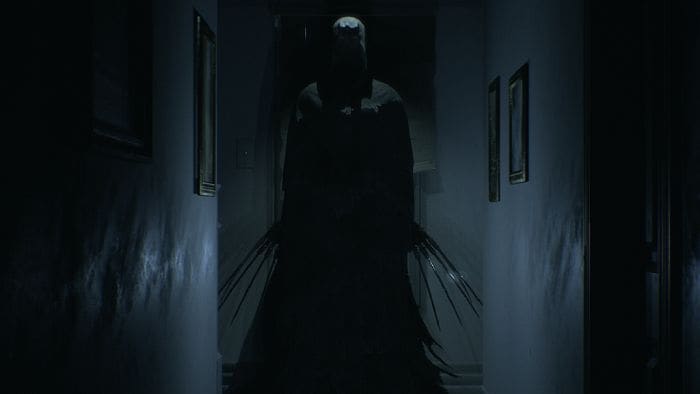 Visage is a horror game that revolves around paranormal phenomena. It builds an atmosphere of anxiety and uncertainty, where you can't really feel safe anywhere. The game also makes use of the sanity mechanic – if you don't pay attention to your sanity, you may go insane. It's quite difficult for this type of game – dying is not uncommon, so prepare for a challenging experience.
Key features
A challenging psychological horror
Slow-paced gameplay that makes all encounters more meaningful and memorable
Involves paranormal activity
Sanity mechanic – keep a cool head and stick to the lights
The Last of Us Part II
| | |
| --- | --- |
| Release date: | 2020 |
| Genre: | Action-adventure |
| Developer: | Naughty Dog |
You may also be interested in checking out The Last of Us – undoubtedly one of the most popular PS4 exclusives.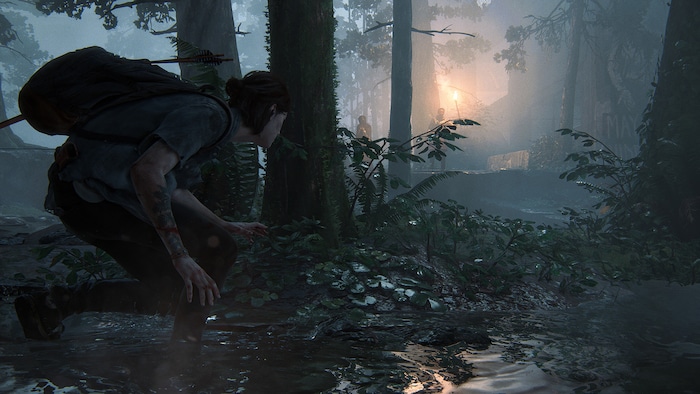 The Last of Us Part II takes place five years after the events from the original game. Once again, you'll find yourself in a post-apocalyptic version of the United States where deadly creatures roam the world but with the proper use of improvised weapons and stealth tactics, you may be able to survive the crisis. The game received a lot of praise for a variety of elements, including gameplay, audio design, and characters – give the game a go and you'll see for yourself.
Key features
An action-adventure game set in post-apocalyptic US
Gameplay that combines stealth with action sequences
Crafting and upgradeable equipment
Character progression with skill trees that make the experience feel more personal
The Vanishing of Ethan Carter
| | |
| --- | --- |
| Release date: | 2014 |
| Genre: | Adventure |
| Developer: | The Astronauts |
While it's certainly not the scariest game on the list, it's still worth being mentioned when speaking of horrors just for its eerie atmosphere alone.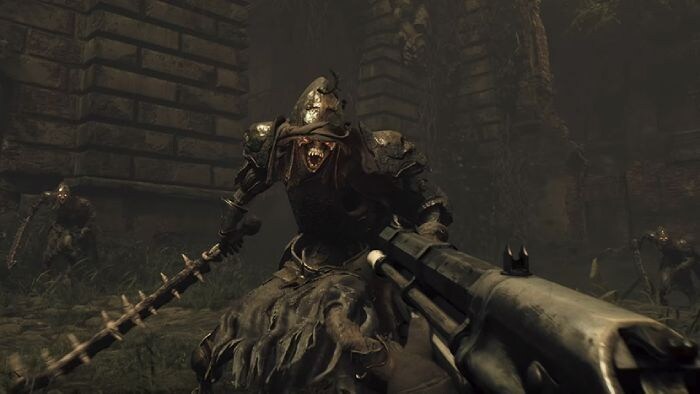 The Vanishing of Ethan Carter focuses on the adventures of Paul Prospero, a paranormal investigator, who'll be trying to solve the case of a missing boy, the titular Ethan. As the game progresses you will learn the dark truths behind his disappearance but it won't stop you from digging deeper. The game can be quite difficult as it purposefully avoids explaining too much of the game's mechanics, but it makes finding solutions so much more rewarding.
Key features
An adventure game with an unsettling atmosphere
An open-world environment with good and detailed graphics
Non-linear gameplay that refuses to hold the player's hand
Involves paranormal phenomena
The Best Horror Games PS4
Horror games come in all shapes and sizes. There are a lot of factors to consider when picking up a horror game – different settings, storytelling methods, gameplay, and so on. Depending on your own taste and preferences, you may find one game to be better than another. Hopefully, if you're not sure which game to pick, our list of the best PS4 horror games will be of use to you. Have fun!