PlayStation 5 delivers many new features to make gaming even more fun. But to truly discover its powerful capabilities and realistic gameplay experience, you should definitely consider playing PS5's scariest horror games.
Use the extraordinary graphics and sound level of your favorite console to enjoy the scariest moments of your life! Whether you're a horror fan or not, it's worth losing yourself in the genre on PS5 to grasp the horrifying vibe that users on other platforms cannot.
We are all different – some of us fear ghosts and others the constant insecurity. To bring you the spookiest content, we've compiled a complete list of the best PS5 horror games!
Resident Evil Village
| | |
| --- | --- |
| Release date: | 2021 |
| Genre: | Survival horror |
| Developer: | Capcom |
If you haven't played this title but have seen memes with a tall lady in a white dress, know she will be one of the iconic characters you will meet in this game. It is an unforgettable PS5 horror experience that everyone should play at some point.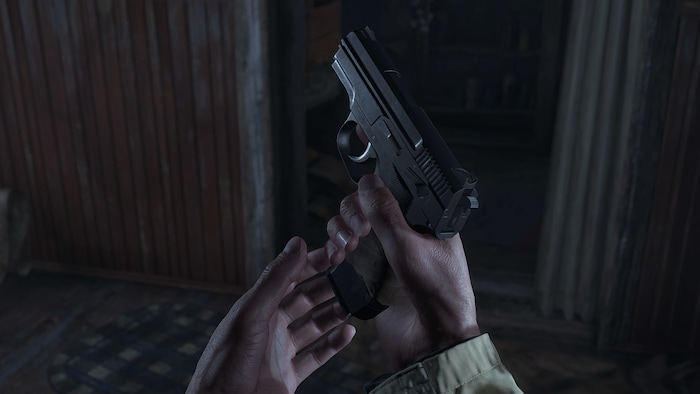 After surviving the horrific events in Louisiana, Ethan and his wife move to Romania to welcome their baby and start a happy life. Unfortunately, as a result of unbelievable events, the man finds himself far from home, and his wife is dead. To discover the reason for this mystery, he travels to an ancient village to find four dark locations, like a forgotten factory or Dimitrescu's castle. Explore, solve puzzles, and use the available weapons to defeat powerful bosses and find a way out of this desperate situation.
Key features
Play the eighth part in the legendary Resident Evil series
Manage Ethan's actions to solve the mystery and find his daughter
Explore gloomy locations and confront mighty enemies
Play multiplayer in Resident Evil RE: Verse
Alan Wake Remastered
| | |
| --- | --- |
| Release date: | 2021 |
| Genre: | Survival horror |
| Developer: | Remedy Entertainment |
If you love Stephen King's books, you will enjoy this game. Play as a horror novelist and embark on a trip to a small town to discover supernatural events and uncover the darkest secrets of your mind.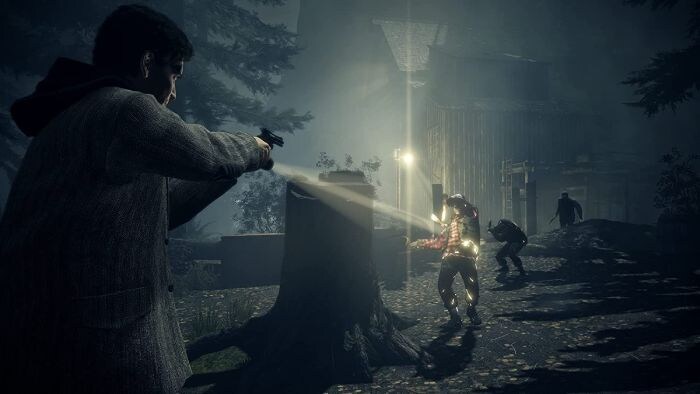 Alan and his wife travel to Bright Falls to get rest and inspiration. However, the woman soon disappears, and the protagonist discovers bizarre phenomena. Take your flashlight and explore the depths of darkness to examine the cause of unexplained events! Alan Wake Remastered is a refreshed version of the incredibly popular title from Remedy Entertainment, supplemented with additional content and realistic graphics.
Key features
Play as a lone writer uncovering the sinister secrets of a small town
Explore, search for clues and solve puzzles
Discover the following chapters of this grim tale
Play extra content from The Signal and The Writer DLCs
The Medium
| | |
| --- | --- |
| Release date: | 2021 |
| Genre: | Psychological horror |
| Developer: | Bloober Team |
Travel to 1990s Krakow to solve the case of mysterious child murder. It's time to explore the darkest secrets of an abandoned hotel and the heroine's supernatural abilities.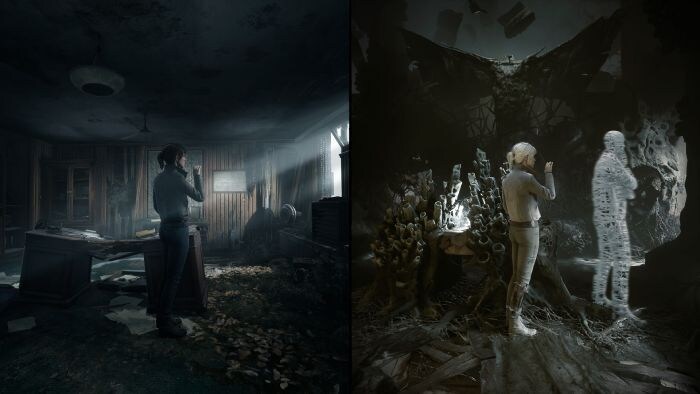 Play as Marianne – a medium that can move between the worlds. Like the famous Silent Hill or other horror titles, the gameplay focuses mainly on careful exploration and searching for clues. The only difference is you can expect scary, even psychedelic visions inspired by the work of Zdzisław Beksiński. If you are ready for a lonely horror adventure in merciless circumstances – play this game!
Key features
Direct the actions of Marianne – a medium endowed with supernatural powers
Investigate the death of an innocent child
Explore an abandoned hotel and encounter the horrific creatures
Search for clues, solve puzzles and discover the truth about your destiny
Soma
| | |
| --- | --- |
| Release date: | 2015 |
| Genre: | Survival horror |
| Developer: | Frictional Games |
This title became famous as one of the scariest horror games ever. Play the thrilling survival horror game from the creators of Amnesia to escape from an undersea facility overrun by a deadly AI.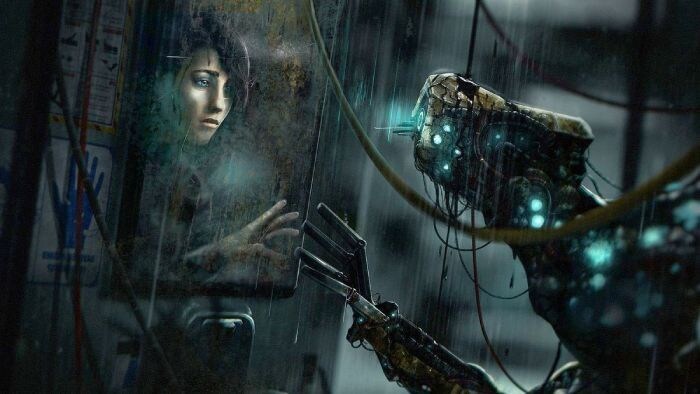 You will love this game if you are into claustrophobic locations and science-fiction fun. Lead Simon Jarrett's actions to escape from the abandoned facility and solve the mystery of its employees' disappearance. You are trapped here, and bloodthirsty beasts of unknown origin follow your trail. Explore, solve puzzles and do your best to survive and learn the inevitable fate of humanity that brought artificial intelligence to life.
Key features
Play the legendary survival horror game and escape the abandoned research facility
Explore claustrophobic rooms to discover the secrets of this place
Avoid encounters with monsters and collect information from robots
Enjoy high-level audiovisuals that make the entire gameplay even more terrifying
Fatal Frame: Maiden of Black Water
| | |
| --- | --- |
| Release date: | 2014 |
| Genre: | Survival horror |
| Developer: | Koei Tecmo |
Become part of a story inspired by Japanese horror movies and guide the fate of three heroes searching for something on Mount Hikayama. Prepare for supernatural creatures, grotesque events, and thrilling encounters with the inhabitants of this possessed place.
Yuri Kozukata, Miu Hinasaki, and Ren Hojo embark on a journey to find someone or something on the side of a mysterious mountain. Uncover the details of their fate by searching for clues and using extraordinary skills. It is not just any typical horror game. In Maiden of Black Water, you fight with the Camera Obscura. Watch out – your opponents lurk everywhere, and the slightest mistake will prevent the heroes from reaching their destination.
Key features
Control the actions of three heroes and discover their stories
Explore massive locations and look for clues
Take photos of your enemies and outsmart them in combat
Immerse yourself in the mystical atmosphere of this chilling storyline
Tormented Souls
| | |
| --- | --- |
| Release date: | 2021 |
| Genre: | Survival horror |
| Developer: | Dual Effect |
When Caroline Walker receives a strange letter, she decides to travel to the town of Winterlake to solve the mystery of the missing twins. But she doesn't expect this seemingly simple investigation to become her worst nightmare.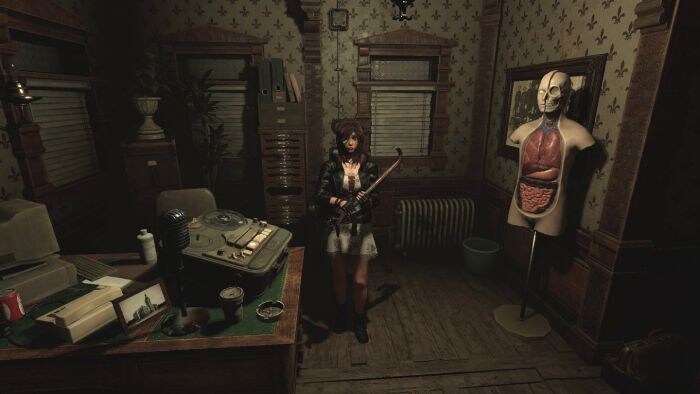 Caroline wakes up in an abandoned hospital completely naked, with no memory, and attached to a strange machine. Wanting to regain her memories, she explores the spooky corridors to discover the core of this mystery. The protagonist will encounter various monsters, puzzles, and clues. She can also explore an alternative reality to learn what happened and what role she has to play in the story.
Key features
Embark to an abandoned mansion for the most suspenseful adventure of your life
Guide Caroline's actions and help her regain her memories
Explore alternative dimensions
Investigate, solve tricky puzzles and discover clues
The Evil Within 2
| | |
| --- | --- |
| Release date: | 2017 |
| Genre: | Survival horror |
| Developer: | Tango Gameworks |
It is the sequel to the excellent 2014 survival horror game, revealing the further fate of Sebastian Castellanos mourning the death of his daughter. But there is still hope, and the tormented detective sets off to the town of Union to confront his gravest fears once again.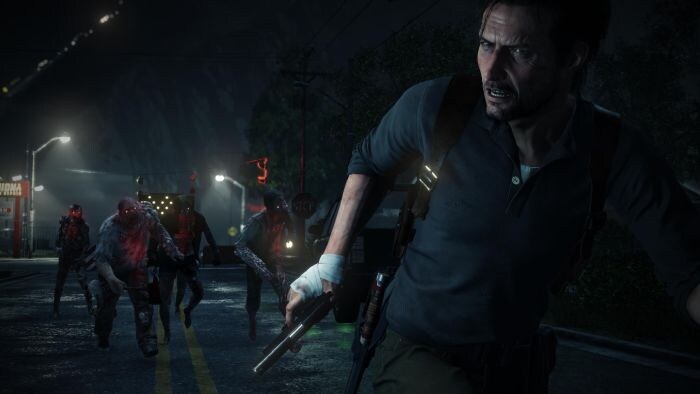 As it turns out, the main character's daughter is still alive but kidnapped. The protagonist must re-enter the horrendous virtual dimension to survive and get his daughter back. Choose from three difficulty levels and embark on your terrifying adventure! Explore, craft, eliminate enemies by surprise and use your communicator to receive clues. The Evil Within 2 is an improved gameplay known from the first part, featuring even scarier monsters and atmospheric graphics.
Key features
Play the second part of the famous survival horror to discover the continuation of this story
Guide Sebastian's actions and find his daughter
Explore an alternative virtual world and face its abominations
Solve puzzles, collect clues and discover a surprise ending to this horror tale
Dead Space 2023 Remake
| | |
| --- | --- |
| Release date: | 2023 |
| Genre: | Survival horror |
| Developer: | Motive Studio |
Play the upcoming remake of the epic survival horror to experience a terrifying space adventure in a refreshed audiovisual setting created for ninth-generation consoles. Engage in a desperate fight for survival and face dangers unknown to humanity.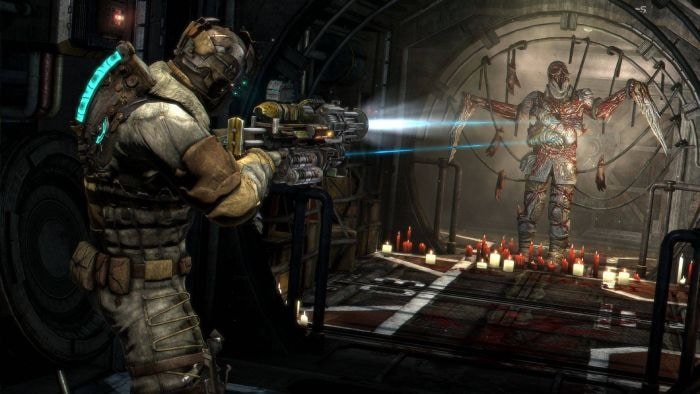 Isaac Clarke departs to the USG Ishimura to repair the ship and safely return to his home shuttle. When arriving, he discovers the entire crew has been brutally slaughtered, and his girlfriend is missing. With no way out, the man explores this claustrophobic place to fight hideous beasts and save his loved one. It is a fantastic recommendation for all fans of sci-fi titles, featuring shocking visions about the future of humanity in space.
Key features
Play the remake of the 2008 horror classic
Solve the mystery of the murdered spaceship crew
Explore dark rooms and find your beloved
Use tools to eliminate bloodthirsty enemies
Amnesia Collection
| | |
| --- | --- |
| Release date: | 2016 |
| Genre: | Survival horror |
| Developer: | Frictional Games |
Play three iconic games from one of the best horror series – Amnesia: The Dark Descent, Amnesia: Justine DLC, and Amnesia: A Machine for Pigs. Get them all and live the complete horror experience with your new favorite video game!
Discover the mysterious stories of Daniel, a woman taking a psychological test, and Oswald Mandus after his failed trip to Mexico. They all have one thing in common – suffering from complete memory loss. Recalling only scraps of memories, they begin exploring dark locations inhabited by monsters. But it's not the enemies that are the gravest threat to their lives in this story, but the steady loss of sanity leading to complete madness.
Key features
Play the complete collection of three games in the legendary horror series
Take control of three heroes entangled in bizarre situations
Explore, sneak and avoid encounters with your enemies
Do whatever it takes to survive and discover the dark end of your horror adventure
Bloodborne
| | |
| --- | --- |
| Release date: | 2015 |
| Genre: | Action role-playing |
| Developer: | FromSoftware |
If you're a soulslike video game enthusiast, Bloodborne is your must-have. This extremely dark tale presents an entirely independent story and a world overrun by a hideous plague.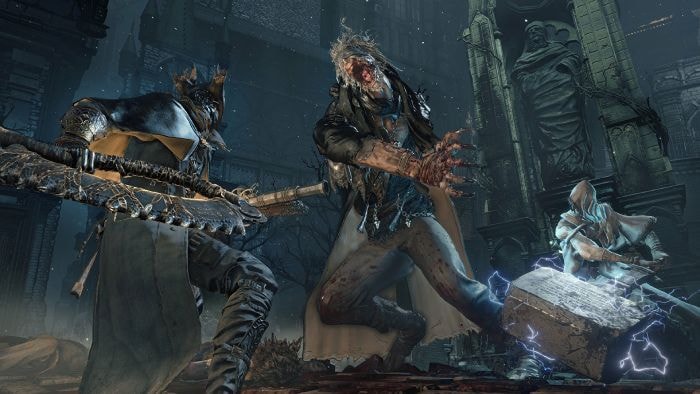 Travel to 19th-century Yharnam to become part of a deadly challenging gameplay set in an unimaginably brutal reality. Explore a filthy city, discover the secrets of a mysterious plague and fight bloodthirsty enemies using (for the first time in the franchise) guns. Bloodborne is the definition of unforgiving, brutal, and incredibly challenging gameplay, perfect for players looking for hours of absolutely unforgettable fun.
Key features
Enter the ruined world of 19th-century Yharnam and witness a true desperation
Explore and discover the secrets of a mysterious plague
Collect valuable loot and fight multiple enemies at once
Play solo or in multiplayer
Horror fans never rest – they're constantly seeking something scarier and more memorable. Whether it's books, movies, or video games – we are always thirsty for more. And will do everything to experience good shivers down our spines! And that's why the horror genre will never die – it's simply one of the most requested content.