Today some manufacturers sell fully-functional replicas of their classic consoles, slightly modified to better fit modern times, allowing us to travel back in time and rediscover the beginning of the gaming era. These remade consoles often feature USB and HDMI ports – things that weren't even invented in the 80s and 90s.
We are pleased to present to you the list of these devices – check out the refreshed versions of some of the greatest retro consoles below.
Sony PlayStation Classic
A miniaturized version of the first PlayStation console
Comes with 20 preloaded games
Includes HDMI cable and two wired controllers
Let's start the list with PlayStation Classic from Sony. The company decided to recreate its most influential console that played a huge role in popularizing video games among the people across the entire world.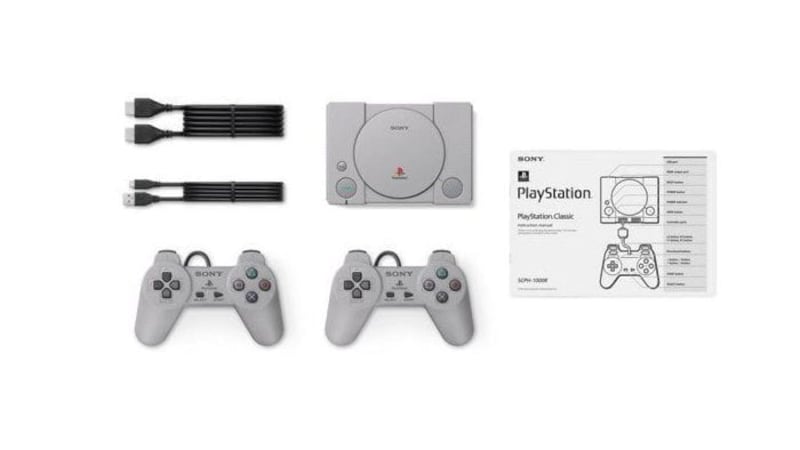 Keep in mind, however, that it's not exactly the same console we used to play on – this one is 45% smaller than the original and it can't play discs. Instead, the console comes with 20 preloaded titles, so all you have to do is plug the console to your TV via HDMI cable, choose your favorite game, and start playing. Among the included games you will find some of the most iconic titles, such as Grand Theft Auto, Metal Gear Solid, Tekken 3, and Rayman. Another important difference is a lack of physical memory cards – instead, the console allows you to save your progress in the built-in memory, which is a more convenient solution.
To make the experience even more retro, there are two classic PlayStation controllers included in the package and they look just like the original gamepads – grey color, simplistic design, comfortable construction, shoulder buttons, and no analog sticks.
CoolBaby RS-20 FC Game Children Handheld Player
Multicolor 2.6-inch display
600 built-in games
Possibility to plug the console into a TV
If you want to be able to play some of the best retro classics wherever you are, then you should choose one of the handheld gaming consoles, and CoolBaby RS-20 is one of the possible choices.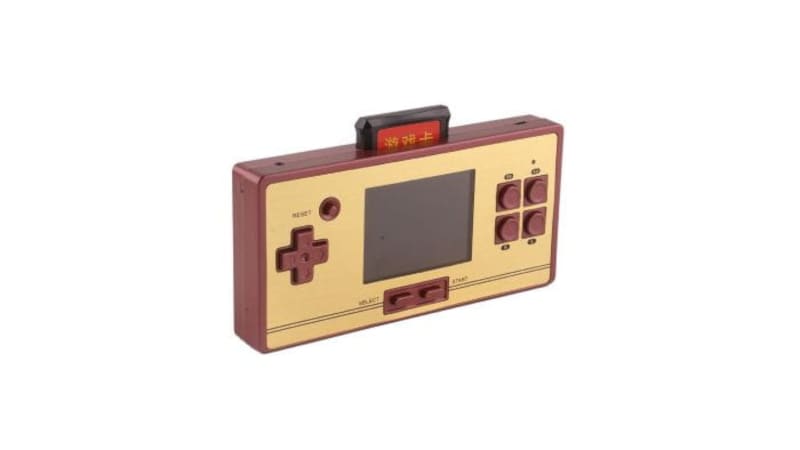 One of the cool features of this console is the fact that you can plug it into your TV, meaning you are not forced to play on a small 2.6-inch display if you have access to a bigger screen. On the other hand, if you are traveling often, then you can still enjoy your favorite games, thanks to the portable nature of the console. The device comes with an amazing number of 600 pre-installed games, including classics such as Contra, FIFA 2004, Boulder Dash, Arkanoid, and Super Mario Bros. Having so many titles ready to play at any time you want ensures you will have a lot of fun for long hours to come.
Commodore 64 C64 Mini Console
Connection via HDMI cable
CRT display filter
Includes classic joystick and 64 games
Fans of Commodore 64 from 1982 might want to check out its refreshed version – THEC64 Mini, a 50% scale replica of the legendary computer we used to play games a long time ago.
It's a simplified version of the original C64 and it does not feature a working keyboard, meaning that if you want to type, you need to connect an external one via USB. Keep in mind, however, that there are only two USB ports, so you may need to choose between the keyboard or a second joystick for another player. THEC64 Mini can save game progress and it outputs high-definition images. Additionally, it comes with a cool feature of CRT display filter – once enabled, the output will look just as it would on an old CRT display. There are 64 games included to ensure long hours of joy – Boulder Dash, California Games, Jumpman, and Paradroid are just some of the great titles you'll find there.
Pegasus
Uses cartridges to play games
Includes a light gun for shooting-oriented games
Saving game progress is not possible
If you want to give a try a console that was wildly popular in Poland, Serbia, Bosnia, and the Czech Republic in the early 90s, or you grew up in one of those countries, then Pegasus is something you're looking for.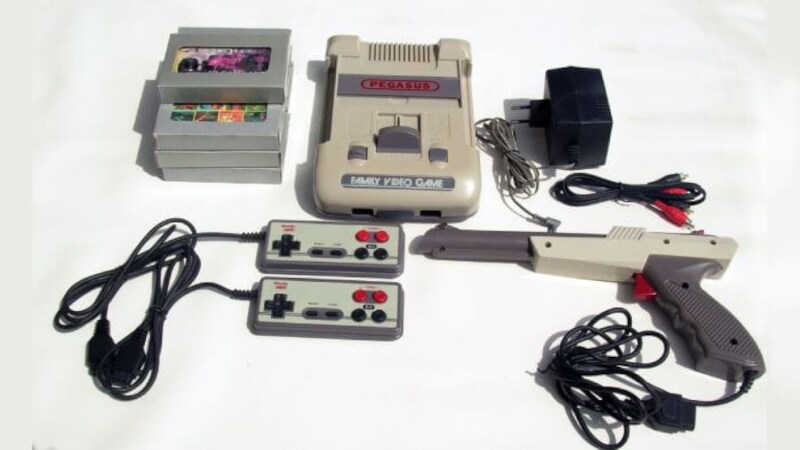 Pegasus was a clone of NES, built in Taiwan to resemble Nintendo Famicom, and received the iconic status in the above-mentioned countries. Pegasus was a popular alternative to other consoles as it was much more affordable – so were the game cartridges that were easily bought for a fraction of the price on the flea markets. Despite the fact that Pegasus was cheaper, it wasn't bad and it allowed the younger audience to enjoy solid gaming experience without spending a fortune.
Pegasus does not seem to be sold anymore, but if you happen to find a deal, then you may want to get it – especially if the console was present in your childhood life, allowing you to relive the past and play your favorite games once again.
Super NES Classic
SNES replica with two retro controllers
Rewind – an all-new feature that allows players to rewind a minute or more
Comes with 20 games, including the never-released Star Fox 2
A refreshed version of the iconic SNES console is a sure way to bring nostalgia to those who were lucky enough to grow up playing on SNES. Super NES Classic comes with two classic controllers, so you can play your favorite games with friends.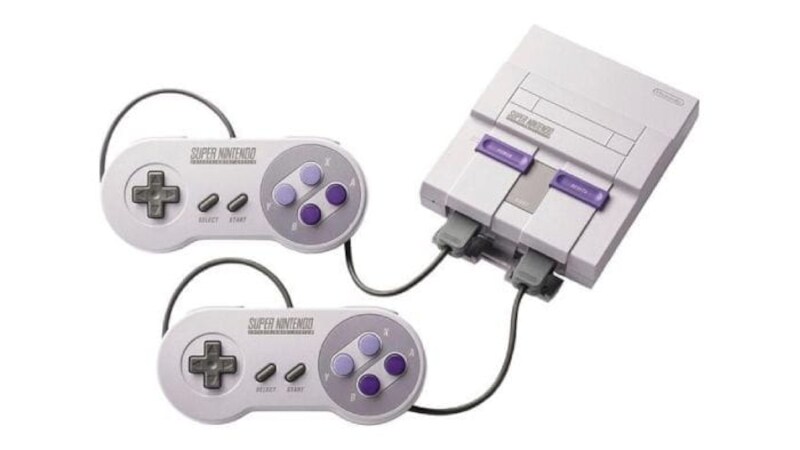 There are 20 games ready to play, and among included titles, you will find an interesting position called Star Fox 2. It's a sequel to the Star Fox and it was never released despite being ready and complete. The release was set for 1995 but was canceled due to the game's 16-bit 3D visuals being considered too far behind the competition that could offer more impressive 32-bit graphics. Now you have the unique opportunity to try the game that Nintendo shelved for over 20 years.
Atari Flashback 8 Gold Deluxe
720p HDMI video output
Includes 2 wired paddles and 2 wireless joysticks
Comes with 120 games
Not a chance we could forget about Atari, as it comes back with a Flashback 8 Gold Deluxe version, allowing us to rediscover some of the best Atari 2600 classics.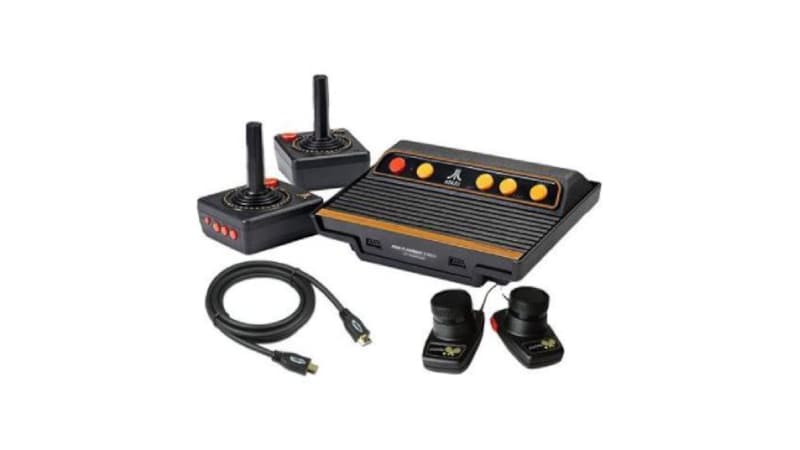 Unlike other consoles, however, the return of Atari is not surprising – Atari Flashback series started back in 2004 and new consoles are released every few years. Gold Deluxe version combines Gold and Deluxe releases inside one package. This means you get the benefits of both – 720p high-quality video output, 2 wired paddles in addition to 2 wireless controllers, access to pause, rewind, and save game options, and 120 classic Atari games, including Enduro, Kaboom!, Megamania, Decathlon, and Beamrider.
HD TV Game Consoles Built-in 600 Retro Classic Games with 2 USB Joystick
Connection via HDMI cable
600 built-in popular HD games from SNES, NES, GBA, and more
Includes 2 controllers
The last position on the list is a console that allows you to play some of the best games from good old SNES, NES, GBA, and others. This makes it a great choice if you want to have all of your favorite games stored in one place.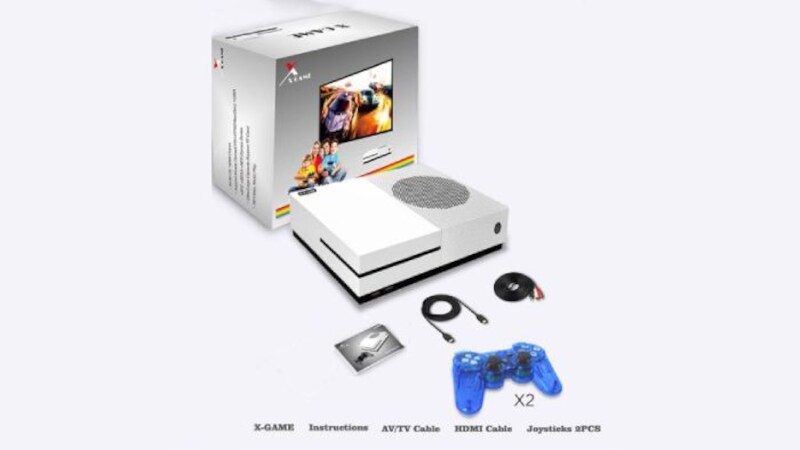 The device connects to the TV via HDMI cable, which ensures a high-quality image. The console comes with 600 games ready to play out-of-the-box, so all you have to do is plug the device to your TV and start playing. In the library of titles, you will find some of the best retro games that were wildly popular a few decades ago but are still surprisingly good and fun to play, including Super Mario Bros., Pokemon Fire Red, Dragon Ball, and Sonic Advance. The console also includes two gamepads, so you can play together with your friends and family. Share the joy of retro gaming with the ones you love.
Summary
Although a lot of time has passed since the introduction of first commercial gaming consoles and home computers, nostalgia still lives strong in those who were lucky enough to grow up in the 80s and 90s. Now, thanks to the various companies bringing these classic devices back to life, it's possible to travel back in time and rediscover some of the most memorable games that people were playing a few decades ago. Today we bring interest to the refreshed versions of classic consoles, so you can make your pick.
The era of home gaming consoles began in 1972 with the appearance of the Magnavox Odyssey console, though the idea of gaming on electronic devices wasn't entirely new. The first game, Tennis for Two, appeared in 1958 and it was played on an oscilloscope, but even this one wasn't the first – there was also a chess simulator called Turochamp, developed in 1948. The thing is, it existed only on paper for a very long time, so it doesn't really count.
The golden era of gaming started a few years later with the second generation of video game consoles and the legendary Atari 2600 from 1977. And then they started to pop out of nowhere. NES and SNES, Commodore 64 GS, Game Boy, N64, PlayStation…
Most of the time, gaming consoles are either handheld and portable, or they are more of a stationary box that needs to be connected to the TV and requires external wired or wireless gamepad in order to play. And believe it or not, the consoles were like that for a few decades now. They didn't change much since they first appeared on the market, at least in terms of how they look and work on the outside – the technology changed drastically, obviously. Modern technology is much more advanced – to the point where our smartphones are millions of times faster than the combined power of NASA computers at the time of sending the man to the Moon.
The most notable difference that's easy to spot simply by looking at some old and new dedicated consoles is the fact, that both require something else to insert inside to start playing. Old consoles used bulky cartridges, while modern consoles use discs to load the desired game. And speaking of games, they were also much simpler due to the hardware limitations – old consoles simply weren't able to handle all the computing as efficiently as modern computers do.
There are many ways to relive your childhood, with one of them being able to play on one of the retro consoles. Even if you didn't have one of these back in the old days, you might still want to try them as a way to experience the golden era of gaming – take a moment to appreciate the classic games that influenced and shaped the entire gaming industry. Atari, SNES, PlayStation – make your pick and have fun rediscovering the classics.