Football, soccer, that ball game with two goals and eleven players per side. As the World Cup is spinning up to deliver hours or excitement, joy, and in many cases probably anger, let's take a look at all the ways this noble sport has been adapted to video games over the years.
It certainly has been in gaming for around four decades at this point, and so there are many, many games to talk about. But who has time for that? Instead, we're going to give you a rundown of the best and most important football games out there. Be ready to witness both the latest hits and the undisputed classics which don't deserve oblivion cast upon them by the passing years.
Without delaying things further, let's kick off our list of the best soccer video games of all time.
Virtua Striker
| | |
| --- | --- |
| Release date: | 1995 |
| Genre: | Sports |
| Developer: | Sega |
The Virtua Striker series ran from 1995 to (technically) 2006, and for that decade, it's been a fantastic option for soccer fans… at least in places that had arcades. Only two games of the series were launched for home platforms (specifically for Dreamcast and Gamecube), which substantially hurt the series' popularity.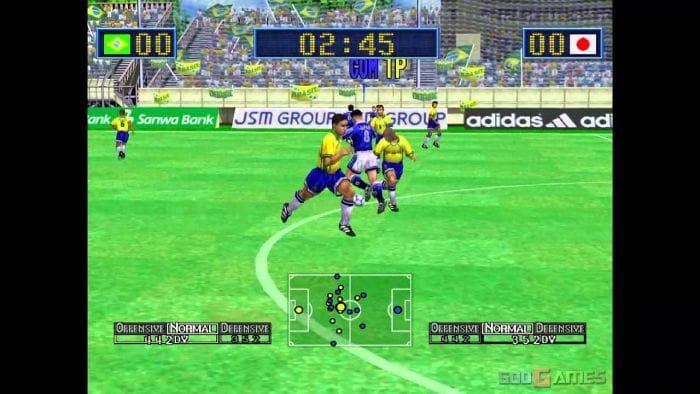 VS matches were usually very quick, typically lasting just between 2 and 3 minutes, and for simplicity's sake used a simple control scheme, with dedicated buttons for passing and tackles, another for long shots, and another for charged shots. It's not enough for hardcore simulationists, but back in the day, for quick arcade games? It was perfect.
Key features
A soccer classic from the era of arcades
Simple controls
Very fast matches
Unfortunately lost to the mists of time
Championship Manager 03/04
| | |
| --- | --- |
| Release date: | 2003 |
| Genre: | Sports |
| Developer: | Sports Interactive |
Before Sports Interactive started making Football managers (more on the later), it ran the Championship Manager series, starting in the long-forgotten year 1992. The culmination of this particular brand of football sim was Championship manager 03/04, released in 2003. It had all the elements that would later define the successor franchise.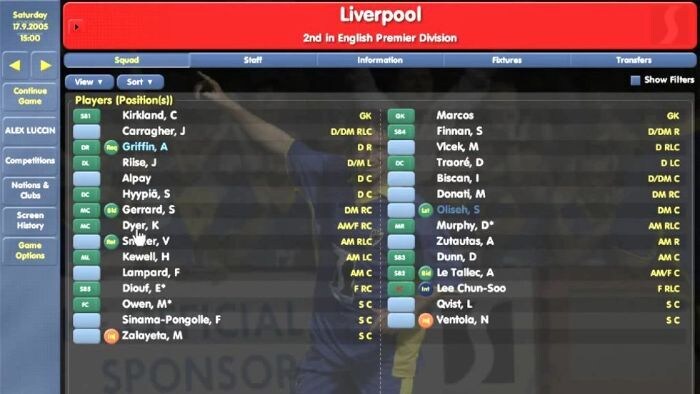 It had a database of 200.000 players across 43 countries and many different divisions, all with detailed stats. The match simulation wasn't as visually advanced, of course, but other than that CM 03/04 remains a solid management sim if you are fine with players lists outdated by almost twenty years. But hey, there's a database editor, so nothing stops you from making an up-to-date list!
Key features
Precursor of the Football Manager series
The last of a series dating back to 1992
The matches are simulated in an easy-to-read 2D form
A large, customizable database of players, leagues, divisions
FIFA 10
| | |
| --- | --- |
| Release date: | 2009 |
| Genre: | Sports |
| Developer: | EA Canada |
With so many FIFA games out there, it's hard to pick the best one, and everybody's going to have their own preferences. But for the purposes of this list, we've decided to put the spotlight on FIFA 10 (AKA FIFA Soccer 10) by the virtues of its high ratings from critics and fans alike. However, since the series doesn't innovate a whole lot between installments, you might swap it easily for another entry.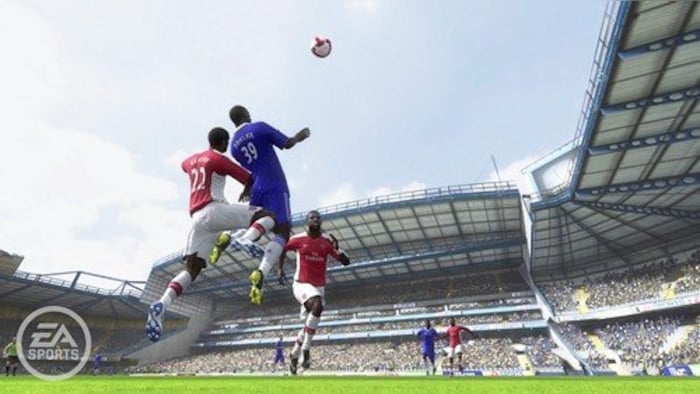 No matter which FIFA game you pick, you're in for one of the most polished football (soccer) match simulators in gaming. They have detailed animations, a faithful recreation of famous players, complex (yet accessible) on-field gameplay mechanics with lots of nuances, and splendid multiplayer. And FIFA 10 might have the perfect balance between feature creep and feature polish.
Key features
A Manager mode for people interested in the nitty-gritty of the soccer business
Detailed simulation of soccer matches
Not as technically impressive as the latest games, but holds up really well regardless
You can create your own unique Player to use in the game's various modes
Football Manager 2023
| | |
| --- | --- |
| Release date: | 2022 |
| Genre: | Sport |
| Developer: | Sports Interactive |
Back to the manager's office! This time with Football Manager 2023, the latest(at the time of writing) installment of Championship Manager's successor series. FM23 is vast, complex, and incredibly detailed. It's an absolute treat for everyone who thinks that the matches themselves are less interesting than the deals which make them happen in the first place.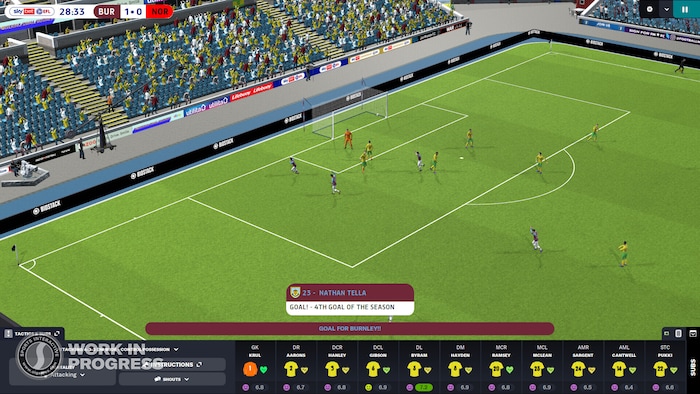 So hop in, scour the game's absurdly large database for star players and promising newbies, arrange transfers and training, and handle game plans. All that effort in order to emerge victorious at the end of the season! FM23 definitely looks modern, with a slick UI, realistic match simulation, and plenty of metrics and insights to analyze. And there's even a demo you can use to check the game out!
Key features
Very in-depth simulation
Realistic AI of NPC managers and other teams
Massive gallery of leagues, players, teams, etc.
Well-developed system for interactions with your team's fans
Pro Evolution Soccer/eFootball
| | |
| --- | --- |
| Release date: | 2017 |
| Genre: | Sports |
| Developer: | PES Productions |
For much of the 2000s and 2010s, the Pro Evolution Soccer series was a solid competitor to FIFA, held back mostly by FIFA's claim on the juiciest licenses. While not quite a competition on the graphical front, where PES often triumphed over FIFA was the responsiveness of controls, leading to more precise, faster gameplay, which is something always worth striving for in sports games.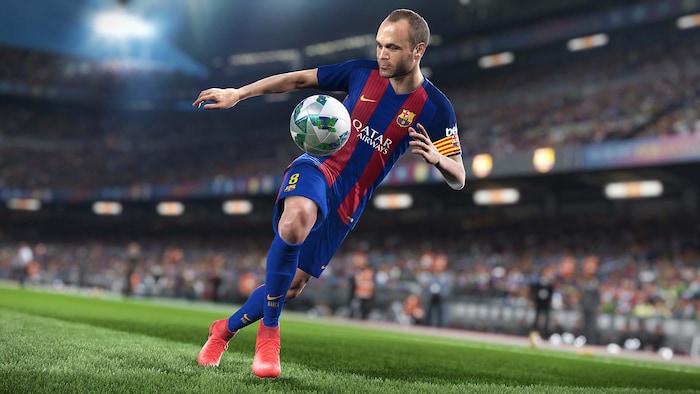 As a result, if you're in the genre more for tight gameplay than official faces and teams, you might find what you look for in PES. The series has been recently rebranded to eFootball, but the series' glory days rest mostly with the Pro Evolution Soccer name.
Key features
Polished gameplay
A great alternative to FIFA
Got rebranded as eFootball following PES 2019
Lacks official licenses for players and teams, but you can make your own edits
Sensible World of Soccer
| | |
| --- | --- |
| Release date: | 1994 |
| Genre: | Sports |
| Developer: | Sensible Software |
Sensible World of Soccer flew under the radar for many people, undeservedly so. It was a sequel to Sensible Soccer, a classic in its own right, and expanded the purely on-field style of its predecessor by a great management mode. The series ran for a few installments, from 1994 to 1997, and even got a 2007 remake for Xbox Live Arcade, back when that was still a thing.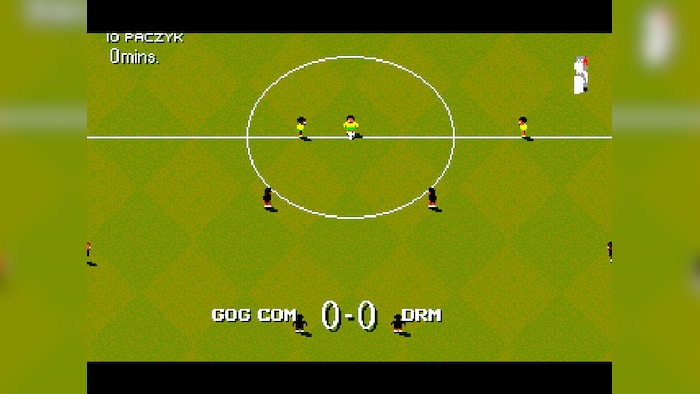 The control scheme across the series was relatively simple but made up for that with satisfying context-sensitive options. Gameplay was improved in the '95/96 sequel, but otherwise, the changes from edition to edition revolved mostly around updating the player and team database, a practice familiar to any fan of FIFA or Football Manager.
Key features
Simple controls with solid context-sensitive actions
Sensible Soccer's successor
Made it to a 2007 list of ten most important games of all time
Got a remake in 2007
Super Mario Strikers
| | |
| --- | --- |
| Release date: | 2005 |
| Genre: | Sports |
| Developer: | Next Level Games |
Super Mario Strikers is far removed from the serious, realistic, down-to-earth soccer games that populate the list, but it doesn't mean it's a bad soccer game! It just means it is not up to code, but who needs code if you can help Luigi step out of his brother's shadow to score a gnarly goal against a team captained by his purple enemy, Waluigi?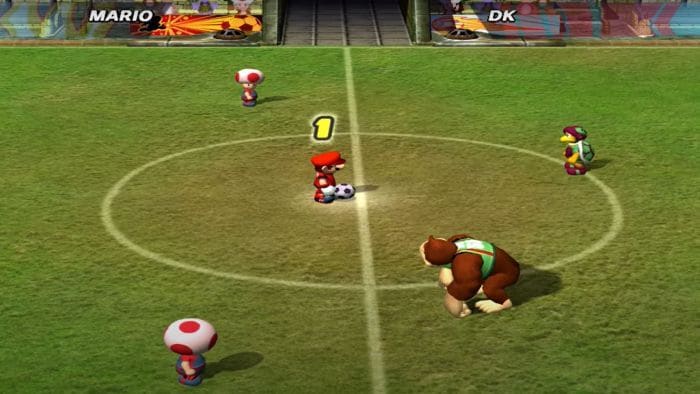 Each character has their own special shots, like Mario's Fire Strike, or Yoshi's Foot of Fury, and there are power-ups and items allowing you to attack other team members. As a result, the game can get quite chaotic, but that's an issue, is it? Super Mario Strikers launched for GameCube in 2005, got a Wii sequel in 2007, and a mildly contentious second sequel to Switch in 2022.
Key features
A less serious take on soccer simulation
Plenty of items to boost your team or impede your opponents
Bowser can occasionally pop in to add some extra chaos
Two sequels
Kick Off 2
| | |
| --- | --- |
| Release date: | 1989 |
| Genre: | Sports |
| Developer: | Dino Dini |
The Kick Off series is older than dirt, having started in the late 80s, and has continued through the 90s, with one unsuccessful revival project in 2016. So, in a way it's yet another memorable soccer classic on the list, one of the series that walked so others could run. Kick Off 2 was a great iteration on the original game, introducing more polish to a game that changed football sims for the better.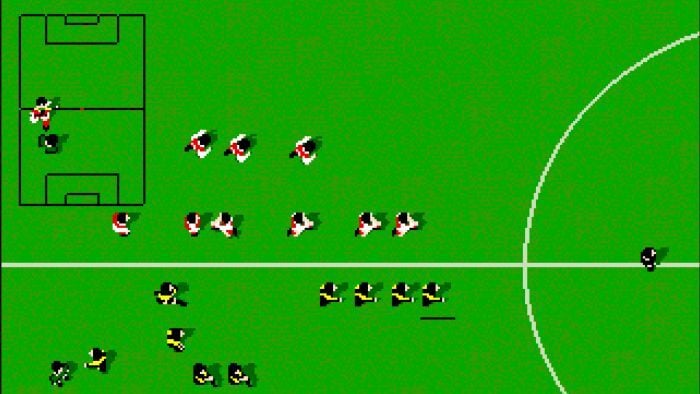 Kick Off 2 also featured a neat feature of letting players import their Player Manager (the developers' other game) teams to use in KO2. Sure, now that feature isn't useful, unless you're really into retro gaming, but it was almost revolutionary at the time. You won't find Kick Off 2 anywhere, outside of garage sales perhaps, but this game was substantial to the genre's development.
Key features
A bird's eye view of the scrolling pitch
Importable Player Manager teams
The series continued until 2002
More complex than the graphics could convey
Nintendo World Cup
| | |
| --- | --- |
| Release date: | 1990 |
| Genre: | Sports |
| Developer: | Technōs Japan |
This is the last ancient classic before we close off with something significantly fresher and, depending on your sensibilities: cooler. Anyway, Nintendo World Cup! Released in 1990 for NES, and, despite its English title, it's actually about a soccer tournament between 14 Japanese high schools. That's right, this game has a plot, main characters, AND a fun soccer gameplay.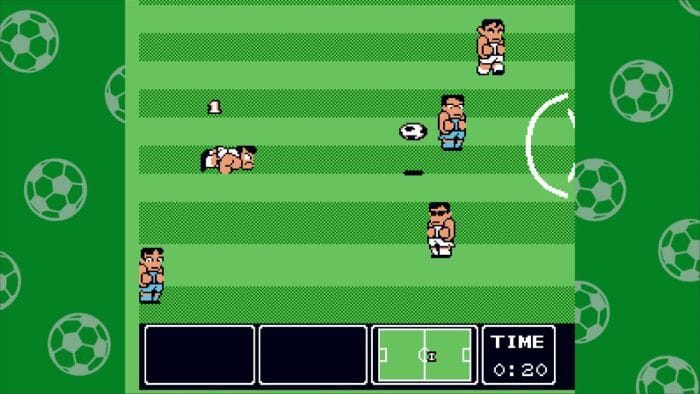 If you've ever played Goal 3, then you pretty much know what Nintendo World Cup looks like and plays, since they are in the same series. The teams are small, with six players each, and you control only one character. On the flip side, you also can unleash special shots transforming the ball into various objects and giving it extra oomph as it flies at the opposing goalkeeper.
Key features
A soccer game with a plot!
You can launch super-powered shots, but only a few times, so make them count
Small teams: only 6v6
An ancestor of the better-known Goal 3 (Kunio-kun's Nekketsu Soccer League) from 1993
Rocket League
| | |
| --- | --- |
| Release date: | 2015 |
| Genre: | Race |
| Developer: | Psyonix, Inc. |
It is… technically soccer, right? It has two goals, a ball, and a large field. You score goals by putting the ball in the goals. The difference is that instead of human players you get cars with jet propulsion which lets them perform aerial acrobatics. Sure, it is a significant difference, but consider this: Rocket League is one of the best sports games in history, and its default mode is clearly based on soccer.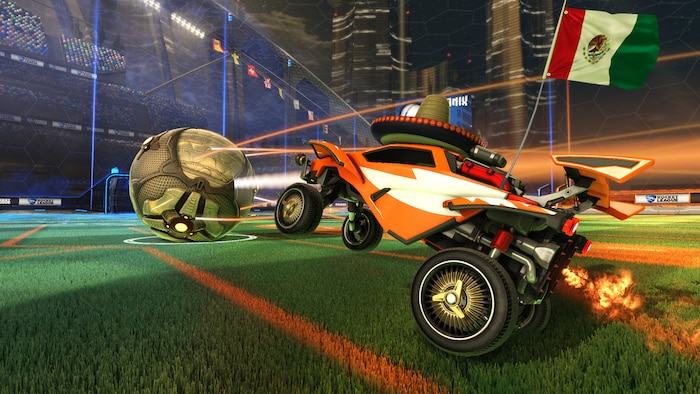 RL is a ton of fun in any mode you choose to play it, but can't go wrong with the classics. The game has a phenomenally high-skill ceiling, as well as an actual ceiling over the arena, and the ball is just bouncy and buoyant enough to make you spend a lot of time in the air, trying to nudge it towards the other team's goal. Oh, and there are even custom modes with fun modifiers!
Key features
Satisfying car customization
The cars casually defy gravity
High-level play looks ridiculously impressive
The final score
This concludes our collection of some of the most important and best soccer games to ever grace this hobby. Hopefully, you've found something fresh to try, perhaps even found a new motivation to try your hand at retro gaming to see where modern football games came from.