The universe is, by all accounts, a pretty big place, but as far as we know, there isn't a whole lot happening in it, life-wise. Unless we go to science fiction, space opera, or space-fantasy genres, which are blissfully full of cultures, civilizations, and all kinds of weird life forms.
In the context of video games, the usual form of interacting with these universes is to shoot whatever comes at you from behind the corners, and a lot of this vastness and complexity is lost. But it doesn't have to be this way. Indeed, there are many games happy to provide a broader look on the universe.
While the title speaks of strategy games, we've actually chosen to approach the topic creatively, because, truly, not all games which require a great deal of strategizing are classified as strategies. Therefore, in this list of space-friendly games we have 4X games, RTSs, colony sims, and even an odd megafactory simulation for good measure.

Surviving Mars
| | |
| --- | --- |
| Release date: | 2018-03-15 |
| Genre: | Simulation |
| Developer: | Haemimont Games |
Let's start this thing off on a relatively relaxed note. "Relative" is the operative word here, because although Surviving Mars is a mostly chill colony-building game, there's still a lot of plates to spin and a lot of planning to do, because wouldn't you know, establishing a self-sustaining colony on Mars is hard, and it'll take a lot of hard work from cute retrofuturistic-looking robots.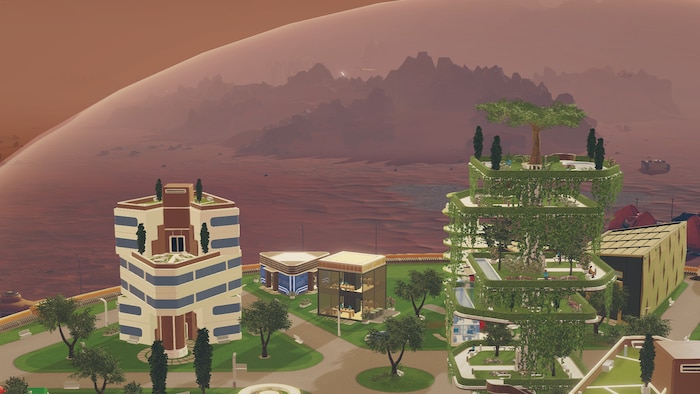 You'll have to set up power generators, build insulated habitats, work on hydroponic farms, mine resources, and worst of all: keep your silly little colonists happy and productive. On top of that, you'll have to scout the planet, investigate weird phenomena, and more. Surviving Mars is a fantastic game, with just enough realism to sell the premise, and enough abstraction to be very accessible.
Key features
Looks great
An interesting take on a colony sim
Pretty low-scale as far as strategies go
Robust research tree
Homeworld (series)
| | |
| --- | --- |
| Release date: | 2015-02-25 |
| Genre: | Adventure |
| Developer: | Gearbox Software |
The Homeworld series dates back to 1999 and has received three installments since the original title. The core series is about a planetary civilization forced to go on a lengthy journey across the galaxy in search of their ancestral, well, homeworld. The problem is that since they've accidentally broken an ancient treaty, there's no lack of people who want to cut the journey short.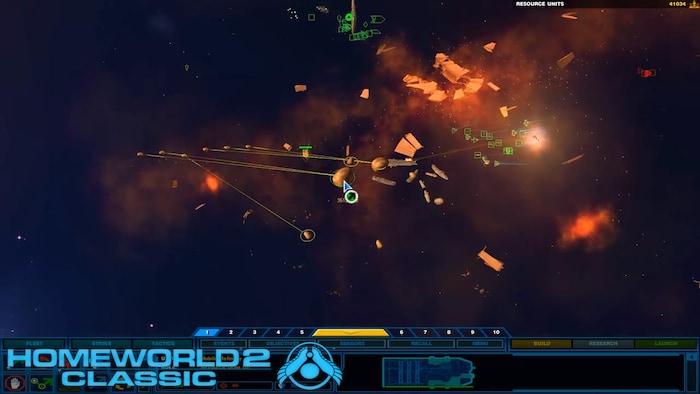 Homeworld 1 and 2 are fascinating, fully 3D space combat real-time strategies, with a usual twist of your forced being persistent. Should you end one mission on a Pyrrhic victory, you're going to have a bad time in the next one, scrambling to create more units. HW games are fantastic RTSs, with an interesting story and amazing gameplay. There's even a Homeworld 3 in the works!
Key features
Forces persistent across mission
Great story involving old conflicts and new troubles
3D space RTS battles
The sequel is coming
Endless Space 2
| | |
| --- | --- |
| Release date: | 2016-10-06 |
| Genre: | Strategy |
| Developer: | AMPLITUDE Studios |
The first, but certainly not the last 4X on the list, Endless Space 2 is a fantastic sequel to an already solid Endless Space. It's a galactic-scale story in a rich universe once populated by the eponymous Endless, a precursor species which left only ruins and artifacts behind. As it may be apparent, Endless Space 2 is more of space fantasy than science-fiction, and it's great at it!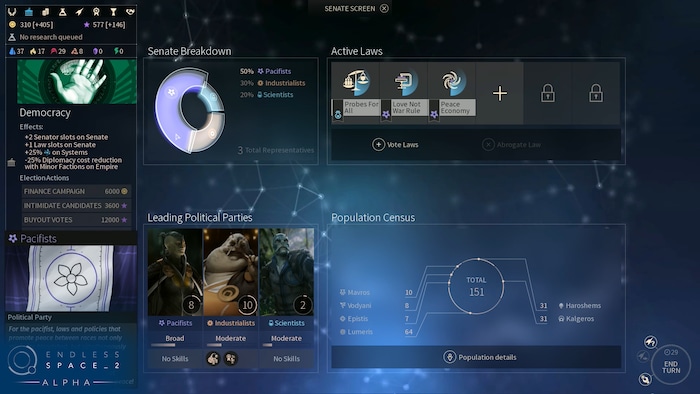 Endless Space 2 is a turn-based game, which is a good thing, because it probably would be hard to manage in real-time. Between diplomacy, expansion, research, and spectacular battles, you have a lot to deal with. There's even a great system for spaceship customization in case you want your fleet to be truly unique.
Key features
A satisfying choice of pre-made factions, each predisposed towards a certain playstyle
Looks wonderful
A rich universe full of mysteries to uncover
Customizable ships
Stellaris
| | |
| --- | --- |
| Release date: | 2016-05-09 |
| Genre: | Strategy |
| Developer: | Paradox Development Studio |
Stellaris is another 4X on the list, and where Endless Space 2 was relatively chill about scale and scope, Stellaris has absolutely no chill, and it's happy to throw players at the gameplay complexity typical of Paradox grand strategies. And unlike ES2, Stellaris isn't turn-based. Although you do have a way to control the speed of time, you exist on the same timeline as everybody else.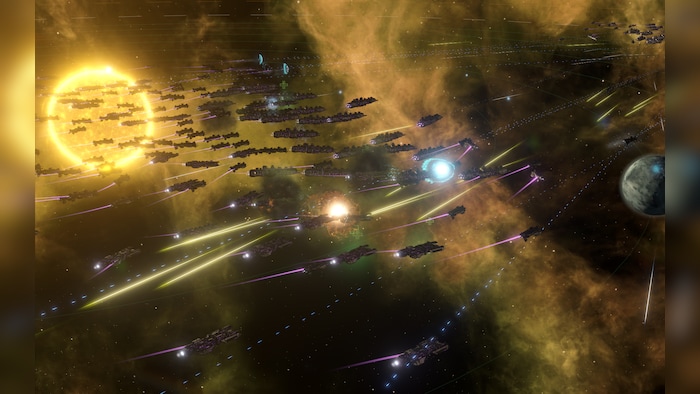 Although Stellaris launched way back in 2016, it received extensive updates over the years, and quite a few DLCs expanding an already fantastically rich content with more species, factions, and events. And all of that happens on the stunningly beautiful map of the galaxy, full of planets, stars, mysterious objects, and many places and cultures ripe for exploration and colonization.
Key features
Exciting endgame, filled with galaxy-changing mysterious events and crises
Extensive DLCs adding a ton of new options and opportunities to an already fleshed-out core
Gorgeous map
Complex political and diplomatic systems
Dyson Sphere Program
| | |
| --- | --- |
| Release date: | 2021-01-21 |
| Genre: | Colony builder |
| Developer: | Youthcat Studio |
In some games you build an empire. In Dyson Sphere Program you build an interplanetary factory with the goal of creating the titular megastructure. Of course, building the universe's largest solar panels takes a lot of effort, so it's your job is to design all the infrastructure necessary to acquire resources, process them, and ship them off to factories for assembly.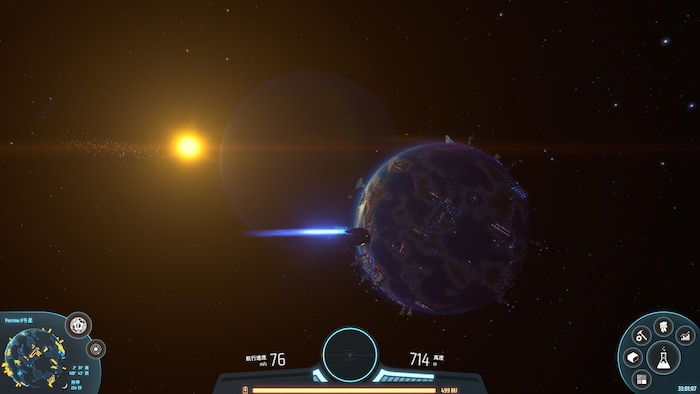 Structurally, DSP isn't too different from sims like Factorio, but it deserves a place on this list because of the scale alone. As your construction expands, you'll be seeing shipping routes stretching across the entire system, and dedicated factories covering entire planets. Eventually, you'll be running a massive industrial empire, all to provide power to power a truly galaxy-brained computer.
Key features
The largest factory any game has ever allowed you to build
It's not all construction: exploration is an important part of the game
Procedurally generated universe
You won't conquer anything except technological limitations
Ixion
| | |
| --- | --- |
| Release date: | 2022-12-07 |
| Genre: | Colony builder |
| Developer: | Bulwark Studios |
IXION is a strategy in the same way Frostpunk is. You're given the overseer role in a closed-off community amid a hostile environment. Except instead of the last warm place on Earth, you're running a massive space station hurtling through space after Earth became uninhabitable. You have only six sectors to build in, and a galaxy to cross, you have your work cut out for you.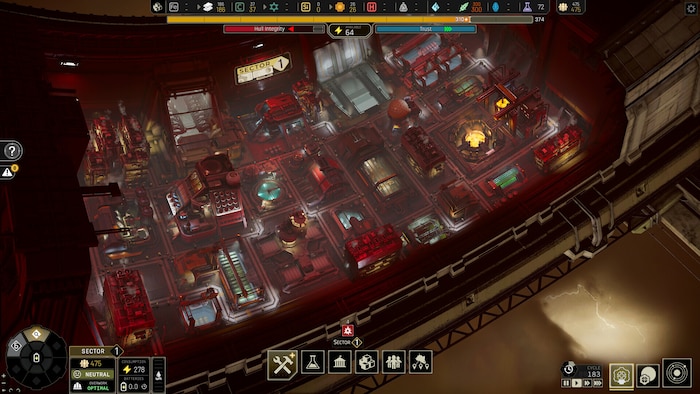 You'll have to provide housing for the station's population, provide docks for ships you send to acquire resources and investigate random encounters, and make sure your crew is safe, satisfied, and trusts your leadership. IXION is not an endless game, however: it has a specific storyline, so it'll end eventually, because you're either a crappy administrator, or you find a new home for humanity.
Key features
A paradox: limited space (to work with) in an Infinite space (of the cosmos)
Managing the station is a difficult balancing act
Plenty of random events you can encounter along the way
A science fiction story about traveling to a habitable exoplanet
Starcraft (series)
| | |
| --- | --- |
| Release date: | 2017-08-14 |
| Genre: | RTS |
| Developer: | Blizzard Entertainment |
Hard to talk about space-age strategies without mentioning StarCraft, one of the world's most venerated real-time strategy series. Set in the grim darkness of the far future of the 26th century, it tells an epic tale about the conflict between human Terrans, psionic Protoss, and swarming Zerg hivemind. And, more importantly: it's a finely balanced RTS with three very distinct playstyles.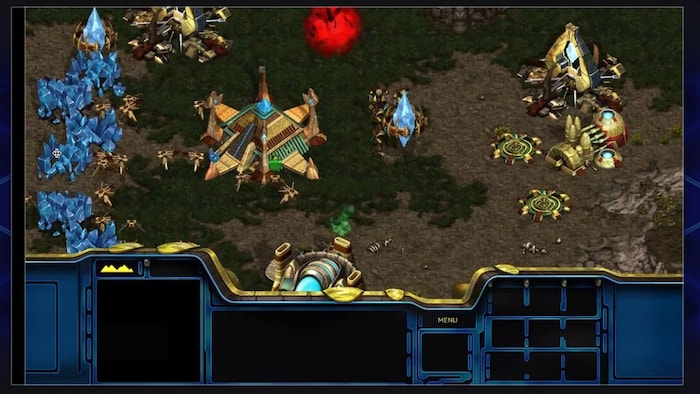 While some games prefer factions that are mostly symmetrical with minor differences, Starcraft has never been keen on that, and Terrans, Protoss, and the Zerg all play in very different ways. If you've heard of a Zerg rush, this is where it comes from. StarCraft has also always been also a legendary e-sports fodder, ever since the original game from 1998. Truly a landmark sci-fi RTS.
Key features
Three very distinct factions
An epic-scale sci-fi story, with every faction getting time in the limelight
Excellent multiplayer
Two games, several interwoven campaigns
Galactic Civilizations (series)
| | |
| --- | --- |
| Release date: | 2015-05-14 |
| Genre: | Indie |
| Developer: | Stardock Entertainment |
Bringing back the turn-based experience, Galactic Civilizations is a 4X strategy with two decades of experience and three installments under its belt. Well, technically four, but GalCiv4 is in early access at the time of writing. The GC series has all the best parts of the 4X genre put on a large map filled with alien species, civilizations, and engaging challenges to solve one turn at a time.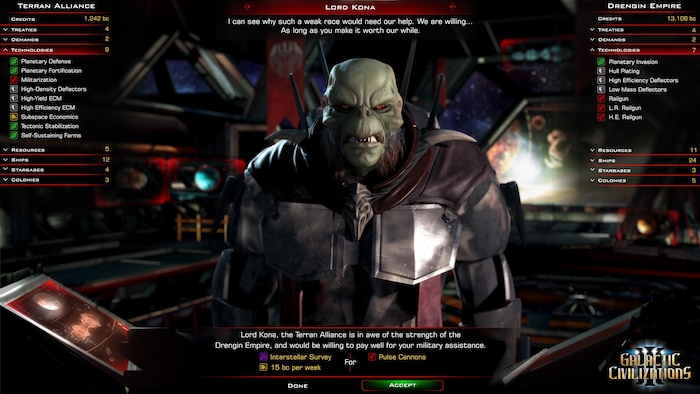 Like other 4Xs on the list, Galactic Civilizations is happy to allow players to make their own alien culture if they feel dissatisfied with the existing selection, which makes the sandbox mode infinitely replayable. There's also a storyline casually evolving since the first game, but following it is not necessary to enjoy the game, the systems are deep and there are many paths to victory.
Key features
Up to three full installments, with the fourth in development
GCIII has many DLCs adding even more content to the game
Deeply customizable civilizations
There is a story, but you don't have to care about it if you don't want to
Battlefleet Gothic: Armada (series)
| | |
| --- | --- |
| Release date: | 2019-01-24 |
| Genre: | Strategy |
| Developer: | Tindalos Interactive |
Although we already used the "in the grim darkness of the far future" Spiel on StarCraft, it would be much more apt to use it here, since Battlefleet Gothic: Armada games are set in the famous Warhammer 40k universe, the source of that grim tagline. It focuses on tactical space combat between small nimble craft, titanic ships miles-long, and anything in-between. It's glorious.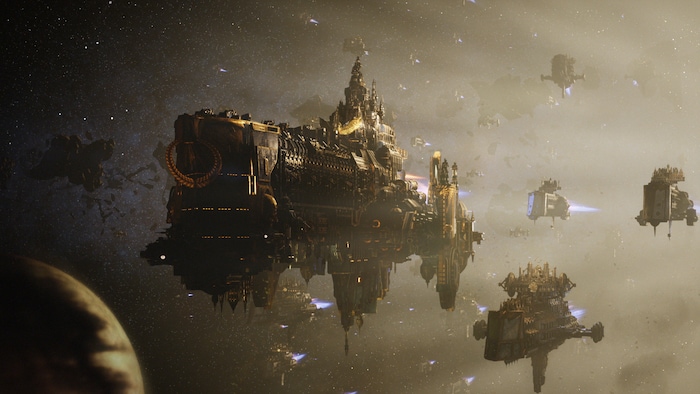 There are several factions, are there should be, including the human Imperium and, of course, the corrupted, twisted Chaos. The sequel has a whopping 12 factions, including even the Tyranids! The battles play out in real time, looking like naval battles, except in the vastness of space. That means no 3D combat, sadly, but it also makes the game a great adaptation of a classic wargame.
Key features
12 very distinct factions in the sequel
Excellent space-naval tactical battles
Set in the epic Warhammer 40.000 setting
The story depicts elements of a major event in the setting's history: the 13th Black Crusade
Sins of a Solar Empire
| | |
| --- | --- |
| Release date: | 2012-06-12 |
| Genre: | Indie |
| Developer: | Ironclad Games |
Sins of a Solar Empire is a cousin of Galactic Civilizations: its publisher is the developer of GC. Unlike that game, however, Sins… is a real-time game, not a turn-based one. Currently there are two available SofSE games available: Trinity, which is a bundle of the original game and the first two expansions (Entenchment and Diplomacy), and Rebellion, which is a standalone expansion.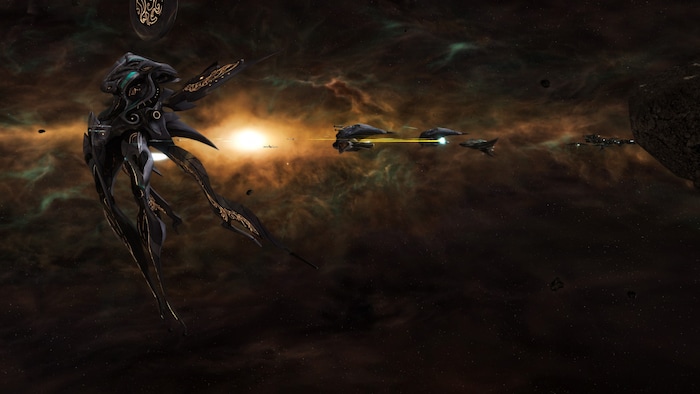 Whichever option you choose, though, you're in for a complex and satisfying 4X strategy, with several factions to choose from, a pretty galaxy map, and robust support for research and diplomacy. In 2022 Sins of a Solar Empire 2 was announced, but at the time of writing this is pretty much the extent of available info.
Key features
Real-time space 4X
Fully 3D maps
A sequel is coming
Available as the original game 2 expansions, or a single standalone expansion
Plans are worthless, planning is everything
This concludes our quick glance at strategy-heavy games which are happy to take you away from the safe confines of a cozy home planet and dump in some extraterrestrial, hostile place. Hopefully, our selection contains something that matches your tastes, and you're already planning to start your interplanetary conquests.