Steam, gears, flying vehicles, and timeless Victorian style. This is Steampunk – an alternative version of history and technology development. A story that captured the imagination of many authors around the world. Including video game developers.
Steampunk is an incredibly popular theme for works of literature, movies, music, and video games. During the showtime of Cyberpunk 2077, you can discover its elements in so many other productions! And no wonder, because this genre, like no other, stimulates the imagination! Incredible inventions, technological breakthroughs, magic, and delightful Victorian creations. Clever heroes, foggy England, and immersive crime scenes! Can you resist such a fiery mixture? There is only one answer – not at all. So let's dive into the inspiring world of the magical era of the industrial revolution. Here is a list of 10 titles to make you addicted to steampunk computer games!
The Best Steampunk Themed Games
Dishonored 2
PC
Xbox One
PlayStation 4
| | |
| --- | --- |
| Release: | 2016-11-11 |
| Genre: | Action |
| Developer: | Arkane Studios |
It is a 2016 first-person action game in which, together with Emily Kaldwin, you will discover the backstage of the intrigue taking place in the cities of Dunwall and Karnaca. Use the full set of your amazing abilities and put power into the hands of her rightful heir!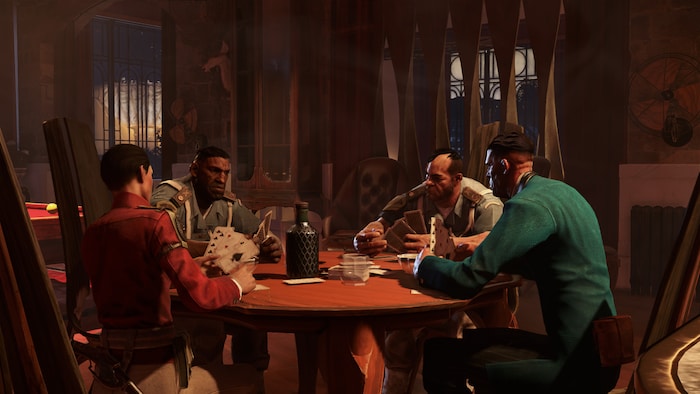 Play as Corvo Attano or Emily Kaldwin. Dark intrigue and secret allies will allow you to gain access to extraordinary skills. Sneak, fight and eliminate enemies. Always dreamed of being able to stop time? This video game makes it possible! Just like many other tricks with which you can defeat even the most dangerous enemy.
Thief
PC
Xbox One
Xbox 360
Nvidia Shield
PlayStation 3
PlayStation 4
| | |
| --- | --- |
| Release: | 2014-02-27 |
| Genre: | Action |
| Developer: | Feral Interactive (Mac) |
Always wanted to try your hand at the risky profession of a professional thief? Your time has just come! Play this FPS stealth game and explore the mysterious City to ignite the fire of revolution!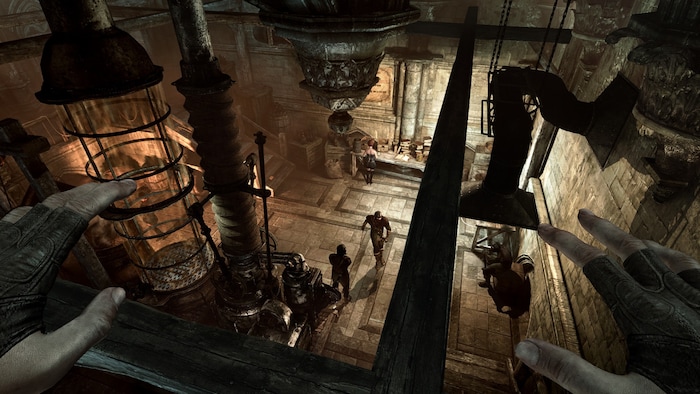 The City is ruled by the Baron – a ruthless dictator whose cruelty knows no bounds. Your hero, Garret, returns to the streets of the City to loot, steal and get rich. However, you will quickly notice nothing is just as perfect as it may seem. Stormy moods bring the song of the coming revolution! What will you do when the worst comes to it?
Iron Harvest
PC
Xbox One
PlayStation 4
| | |
| --- | --- |
| Release: | 2020-09-01 |
| Genre: | Strategy |
| Developer: | KING Art Games |
Do you know these Internet graphics depicting scenes from the First World War and huge mechs in the background? This is Iron Harvest. In this RTS, the fate of the greatest European conflicts will rest in your hands.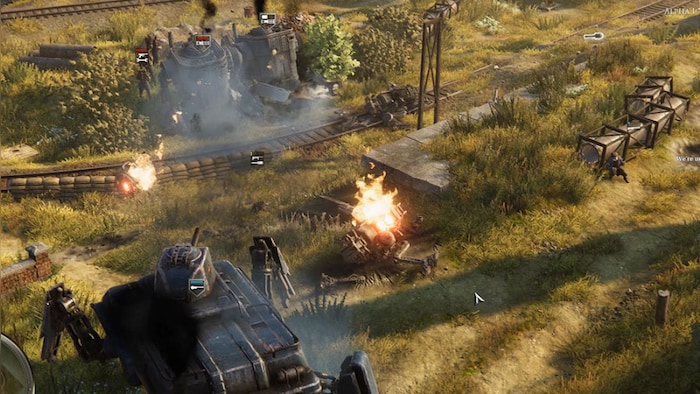 Choose the Republic of Polania, Rusviet, or the Empire of Saxony. Lead your army into battle and gain influence across the map! Each faction offers a separate campaign in which you will learn about both the strengths and weaknesses of your empire. It's up to you how you use them. What do you have up your sleeve? Mechs! Your army is not only troops but also mighty walking machines, equipped with rocket launchers, flamethrowers, and much more. And you can play it online. Sounds like fun?
Machinarium
PC
PlayStation 3
PlayStation Vita
Android
iOS
| | |
| --- | --- |
| Release: | 2009-10-16 |
| Genre: | Adventure |
| Developer: | Amanita Design |
An award-winning adventure game from the Czech Amanita Design studio. Would you like to experience an incredible journey through the graphically stunning steampunk world of robots? Play Machinarium!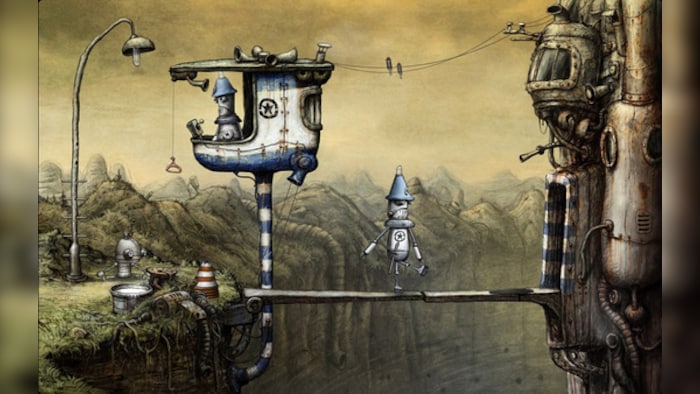 Your hero ends up in a garbage dump. This is the moment when you find yourself in a world where every element of the environment is a robot. And this is where your adventure begins! Return to the city and defeat the evil Black Cap Brotherhood to save the ruler and your girlfriend. The task will not be easy, but full of unexpected events, exciting puzzles, and absolutely fantastic music.
The Incredible Adventures of Van Helsing
PC
Xbox One
PlayStation 4
| | |
| --- | --- |
| Release: | 2013-05-22 |
| Genre: | Action & Shooter |
| Developer: | NeocoreGames |
Play as Van Helsing and embark on a dangerous role-playing journey through the monster-infested Borgovia to restore the balance between science and magic. Play a fantasy RPG from Neocore Games to personally rewrite the legend of the Van Helsing family!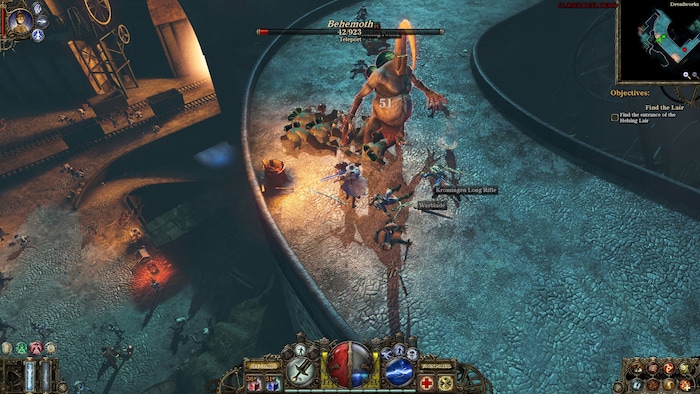 Play as the son of the famous doctor Van Helsing and, accompanied by Lady Katarina, set off on a journey to distant Borgovia. Explore the mountain wilderness, engage in exciting intrigue, and stop Fulmigati's evil plan. Use a full arsenal of weapons and tricks to defeat the bloodthirsty monsters created by the mad scientist. The success of the entire mission and the restoration of peace to this wilderness lays in your hands!
Opus Magnum
PC
| | |
| --- | --- |
| Release: | 2017-12-07 |
| Genre: | Indie |
| Developer: | Zachtronics Industries |
It is one of the steampunk puzzle PC games from Zachtronics Industries in which you'll prove yourself as the most talented alchemist of your generation. Exercise your unique skills, create weapons and potions and discover the secrets of an intrigue involving the oldest and wealthiest families in the city.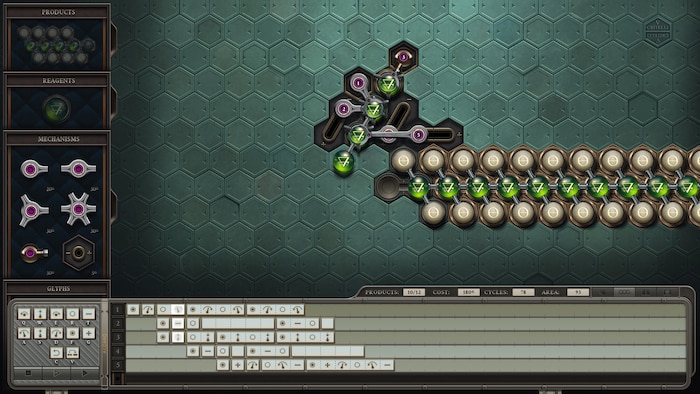 The base of Opus Magnum is board gameplay on hexagonal fields. Put the pieces together to create machines, potions, and cool weapons. To win, you need to control the expenses, resources, and number of moves. The gameplay, however, is not just a puzzle game but also an action-packed and engaging story that will bring you straight to the heart of an exciting plot.
Bioshock Infinite
PC
Xbox One
Xbox 360
PlayStation 3
PlayStation 4
Nintendo Switch
| | |
| --- | --- |
| Release: | 2013-03-25 |
| Genre: | RPG |
| Developer: | Irrational Games |
It is an action-packed first-person shooter set in the amazing sky city of Columbia. Play as Booker DeWitt and engage in the dynamic development of events in the most incredible of circumstances!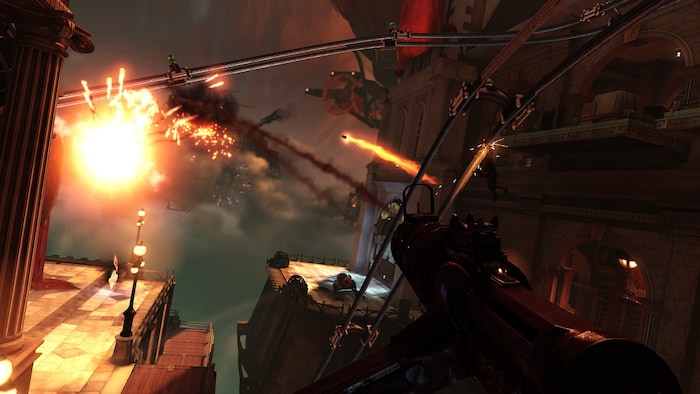 Your task is to free the mysterious Elizabeth. Unfortunately, Columbia won't make it easy for you. A woman is chased by many mysterious organizations. This amazingly gorgeous place will quickly turn into the eye of the cyclone, plunging the streets of the city into chaos. Use your extraordinary skills and a reliable arsenal of weapons and bring things to an end once and for all!
They Are Billions
PC
Xbox One
PlayStation 4
| | |
| --- | --- |
| Release: | 2017-12-12 |
| Genre: | Strategy |
| Developer: | Numantian Games |
Post-apocalyptic future on an alien planet? A zombie sci-fi steampunk game? That's what They Are Billions is. And more! A strategic video game from Numantian Games that will captivate you for hours of engaging gameplay.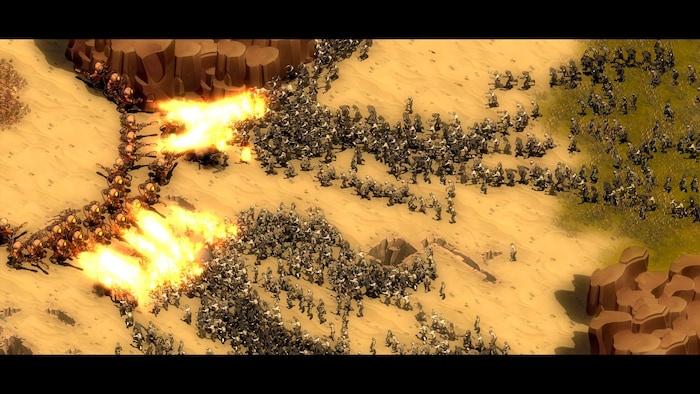 The zombie outbreak took over, and only a few thousand people remained on the planet. Your task is to build a well-functioning base and stop the incoming undead armies at all costs. Even one infected person can lead to the destruction of the entire city! React instantly, construct defenses, send out mercenary troops and fight against gigantic enemy armies. If you love strategy and steampunk computer games – this will be the game just for you!
Frostpunk
PC
Xbox One
PlayStation 4
iOS
Android
| | |
| --- | --- |
| Release: | 2018-04-24 |
| Genre: | Simulation |
| Developer: | 11 bit studios |
A strategic city-builder with survival elements from the creators of This War of Mine. The earth is covered in ice, and here comes the Ice Age. It's up to you to decide if the remaining people will survive and rebuild the entire civilization.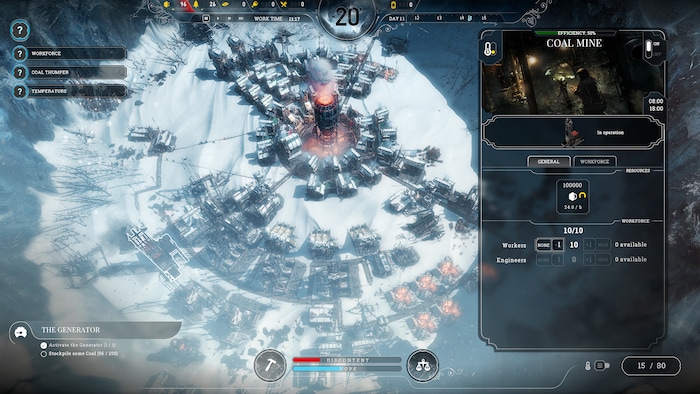 In Frostpunk, all the action revolves around the heat generator, which is the last stronghold of hope for all mankind. Take control of the rest of the survivors and establish a city! Construct buildings, create hospitals and workshops. Explore the icy wastelands and discover new sources of supplies. And most of all – make decisions! Time will chase you, so you will be forced to move to some non-ethical actions. However, survival is at stake, and it is priceless. Will you become the greatest ruler? Or maybe you will fall under the pressure of the approaching rebellion?
SteamWorld Heist & Dig 2
PC
Xbox One
Nintendo 3DS
PlayStation 4
PlayStation Vita
Wii U
Nintendo Switch
Stadia
| | |
| --- | --- |
| Release: | 2015-12-10, 2017-09-21 |
| Genre: | Adventure |
| Developer: | Image & Form |
These are steampunk productions from the Swedish Image & Form studio, in which you will direct the actions of robots. Both games take place in the unique world of SteamWorld and lead you to experience adventures you have never dreamed of before.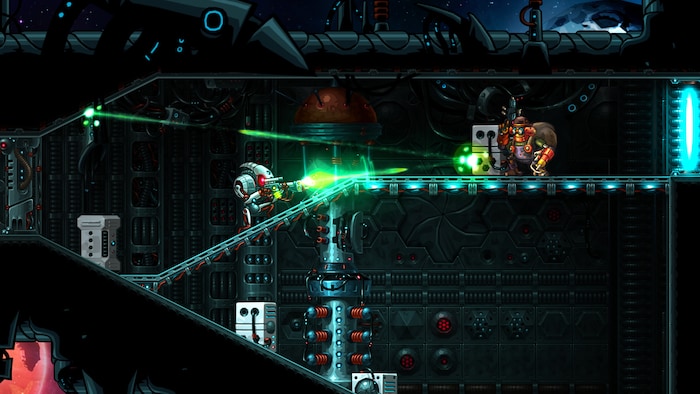 SteamWorld Heist is a strategic game that will allow you to control a group of robots dealing with the pirate job. The world around you is beautiful but extremely hostile. So use every weapon and every opportunity to win! SteamWorld Dig 2 is an arcade platform game in which you will play as a female robot that embarks on an adventure full of dangers. It is a great proposition for fans of platformers with a fascinating story and masses of opponents to defeat.
Steampunk games on Steam are not only an infinite field for creators from every possible genre. It is also the endless possibilities for the players themselves! And absolute freedom of choice. Are you looking for an underwater city builder in a horror atmosphere of steam and magic? No problem. Are you an adventurous traveler and a hunter of the most unusual contracts? Here you are!
It's a genre that can be put into literally any reality, and it will fit there anyway. And then create newer and better opportunities for action. One thing we can be sure of – whatever direction Victorian era video games continue to develop in, it's worth keeping a finger on the pulse.