Being a superhero is a dream of many. Flying around in a spandex uniform, decking villains in the jaw and saving the world from falling into chaos – who wouldn't wanna do that?
And while real-life superheroics are the domain of doctors, firefighters and your mom trying to get you to move out of her basement, the gaming world has given us plenty of opportunities to put on the pointy-eared cowl of Batman, spin a web around New York City's skyscrapers as Spider-Man and take on Thanos as the Avengers.
Here you will find the best games in the wide "superhero" genre. While most connect the term with the characters from Marvel and/or DC, many other games featured protagonists who could contend for the title of a superhero. Whether they are better or worse than established vigilantes, you'll have to find on your own.
Superhero Video Games List
Marvel's Midnight Suns
| | |
| --- | --- |
| Release date: | 2022-12-02 |
| Developer: | Firaxis |
This one went under the radar, which is a shame, really. As it turns out, it's one heck of a superhero game and a great choice for RPG fans.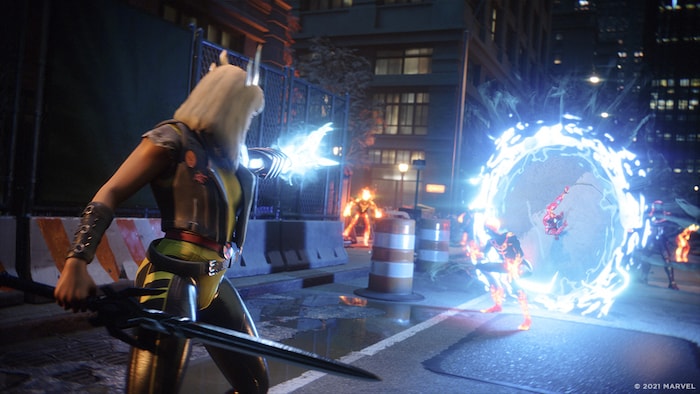 Midnight Suns lets you create your own character, known as The Hunter, and choose from dozens of available superpowers. Once you're done, you embark on a quest to defeat a villain named Lilith. Other superheroes join you in your efforts, of course, since APES TOGETHER STRONG.
The game features an interesting combat system, which is a combination of X-COM style turn-based combat and deck-building games in the vein of Slay the Spire. Every superhero in Midnight Suns, including your character, boasts a customizable deck of eight cards. You can take three other heroes with you when you embark on a mission. All decks combine into one which you can then use to gain an upper hand during the battles.
You can also upgrade your base, The Abbey, acquire new cards, and interact with other characters. Aside from The Hunter, there are twelve other superheroes, with an additional four available via DLCs. Marvel's Midnight Suns is an excellent tactical RPG. While it's been a commercial flop, unfortunately, it doesn't take away from the fact that it's a really well-made superhero game – probably one of the best, actually. If you're looking for one, Midnight Suns should be one of your top priorities.
Key features
You can create your own superhero, The Hunter
A dozen other characters to choose from, including some of the most famous Marvel superheroes, such as Iron Man, Hulk, Blade, Captain America, and Spider-Man
Turn-based combat with a strong deck-building influence
DC Universe Online
| | |
| --- | --- |
| Release date: | 2011-01-11 |
| Developer: | Dimensional Ink Games |
An MMORPG with superheroes and supervillains? There is one! DC Universe Online lets you become either a defender of justice and peace or an arch-baddie, depending on whether you're feeling heroic or mischievous.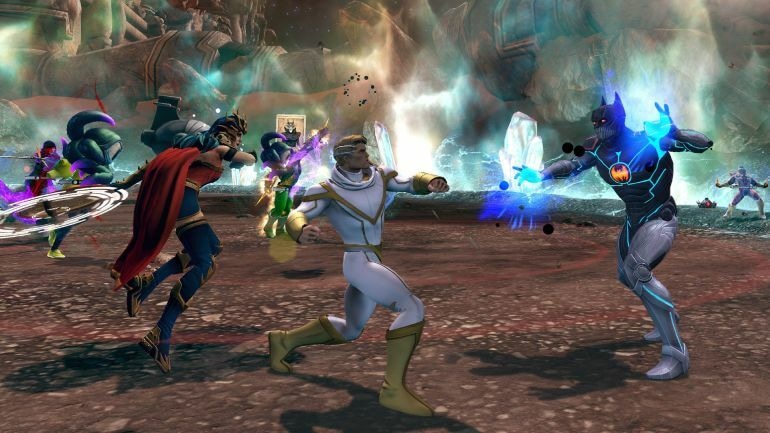 So, you begin your adventure by creating a character. You can customize the following: gender and body type, personality, the way your hero moves, signature weapon and powers. Next, you end up on Brainiac's spaceship and you need to escape from it, which serves as the tutorial. Ultimately, you end up in the world DC fans know well and love: places like Gotham City and Metropolis, as well as Arkham Asylum and many more.
There, you will get to meet a wide variety of famous heroes and villains, including the likes of Batman, Superman, Joker, Harley Quinn, Lex Luthor, and so on and so forth. Expect a whole lot of missions and combat. Ultimately, it's one of the most interesting MMORPGs out there. You should definitely give it a shot, especially now that the base game and all the Episodes (DLCs expanding the in-game universe with new missions) are available for free.
Key features
You get to create your very own superhero
You get to fight alongside (or against) iconic heroes and villains from the DC Universe, including Batman, Superman, and the famous arch-baddies
You get to explore iconic locations, such as Metropolis and Gotham City
DC Universe Online is a free-to-play game.
Spider-Man: Miles Morales
| | |
| --- | --- |
| Release date: | 2022-11-18 |
| Developer: | Insomniac Games |
If you loved the Spider-Man: Into the Spider-Verse movie, you're going to love this game. Spider-Man: Miles Morales puts you in the shoes of the titular character who needs to fight in order to defend his new home, Harlem.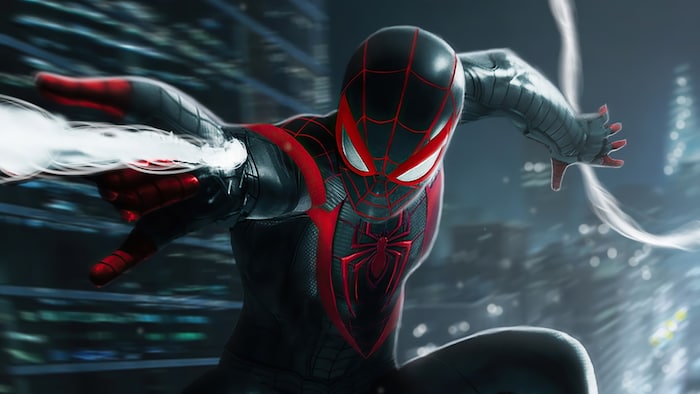 As it turns out, it has become a battleground. Roxxon Energy Corporation and the Underground, a criminal organization led by the Tinkerer wage war which might destroy Miles' neighborhood. It is up to him to stop them, all the while working to balance his superhero duties and regular life stuff.
And so you explore snow-covered New York – its the holiday season, after all! – and accept missions, interact with various NPCs, and unlock new gadgets and suits. Miles plays more or less the same as Peter Parker, but he has a couple of new moves and abilities at his disposal. It's a great action-adventure game overall, even if a bit on the short side when it comes to the length of the campaign. If you loved the previous Spider-Man game, you'll surely enjoy the next installment in the series.
Key features
You get to explore snow-covered New York City
Miles Morales has a couple of new tricks at his disposal
Various improvements to the combat system
Saints Row IV
| | |
| --- | --- |
| Release date: | 2013-08-22 |
| Developer: | Deep Silver Volition |
What began as a Grand Theft Auto clone transformed into a series with its own wacky personality. Saints Row IV continues this trend and turns the titular street gang of Saints into superheroes stuck in a simulation designed by evil aliens known as the Zin.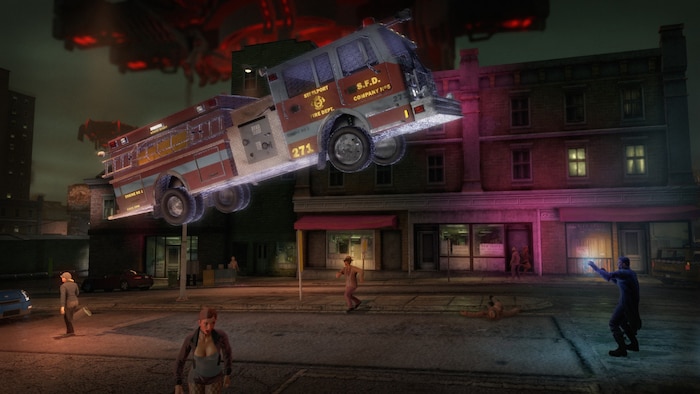 Your character, the leader of the Saints who also gets elected President of the United States, must escape the said simulation, rescuing his friends along the way, and then defeat the extraterrestrial baddies. Everything is over-the-top here, ranging from the superpowers and weapons at your disposal to the missions you get to complete.
Saints Row IV also parodies various other games and movies, such as Mass Effect 2 and other works by BioWare (especially in the romance department), Metal Gear, Zero Dark Thirty, The Matrix, and so on. The title packs tons of content and a robust character editor. All in all, one of the best games on this list, be sure to check it out.
Key features
Tons of crazy, over-the-top humor
You're essentially a superhero stuck in a simulation made by evil aliens
Lots of insane weapons that you can use against your enemies
Marvel's Guardians of the Galaxy
| | |
| --- | --- |
| Release date: | 2021-10-26 |
| Developer: | Eidos-Montréal |
No, don't expect Chris Pratt or Dave Bautista or anyone else from the movies here. Marvel's Guardians of the Galaxy is an all-original story which is a fresh take on some of Marvel's most beloved characters.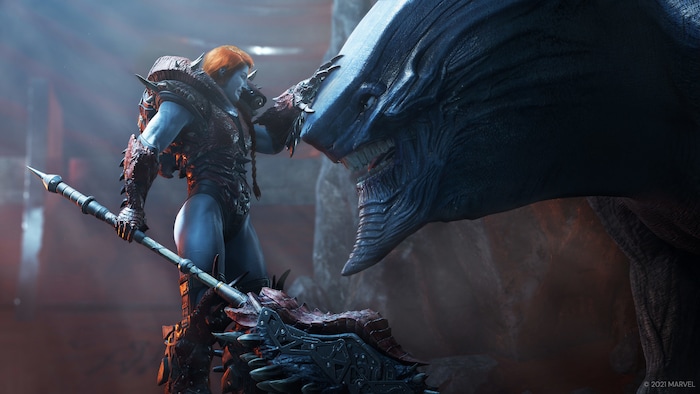 We find our heroes completing a mission for a wealthy collector: their task is to capture a certain beast. Things go wrong, however, and the universe is threatened with a catastrophe. Guardians must then clean up their own mess.
Marvel's Guardian of the Galaxy is an action-adventure game where you play as Peter Quill, AKA Star-Lord, who wields elemental guns with alternate firing modes, each offering different advantages. You can also issue commands to other Guardians who also have their own special abilities which you can use to take down your enemies easier.
Marvel's Guardians of the Galaxy didn't get that much attention before its release due to Marvel's Avengers being very, very average. Luckily, it turned out really, really fine and is now one of the most interesting titles that you can check out if you're looking for awesome superhero stuff.
Key features
A pretty fresh take on the Guardians of the Galaxy
All the iconic GotG characters are featured here
Each hero has special abilities that you can combine to a great effect
LEGO Marvel Superheroes
| | |
| --- | --- |
| Release date: | 2017-11-14 |
| Developer: | TT Games |
Traveller's Tale Lego series is a perfect example that developers are only limited by their imagination. Combining simple platforming mechanics with a ridiculous sense of humor and Lego bricks aesthetic gave birth to many interesting titles, Marvel Superheroes among them.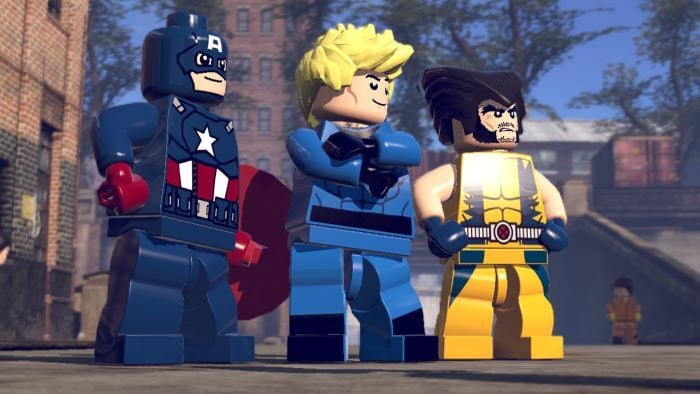 In the game, like in many other Lego titles, the player controls one of nearly 200 characters from the Marvel comic book universe. These include fan-favorite teams like the Avengers, the Guardians of the Galaxy, the Fantastic Four and others. Each character possesses unique abilities, which help them in moving around the LEGO Marvel version of New York and completing various quests and side missions. The story of the game features Galactus – The Devourer of Worlds, whose arrival on Earth is heralded by the Silver Surfer. Marvel superheroes must unite to fend off the threat.
The game received positive reviews and was considered one of the best games based around the characters from the Marvel line of comic books.
Key features
More than a hundred playable characters
An epic story of Marvel superheroes uniting against the threat of Galactus
Classic Lego series gameplay, featuring open-world exploration and combat using a variety of character skills
Injustice 2
| | |
| --- | --- |
| Release date: | 2017-05-11 |
| Developer: | NetherRealm Studios |
The awesome Injustice: Gods Among Us hit like a bolt from a clear sky. A competent fighter game, based on the mechanics of Mortal Kombat and featuring the characters from DC Universe, fighting against each other for global domination, was something fans haven't seen since the mediocre Mortal Kombat vs. DC Universe.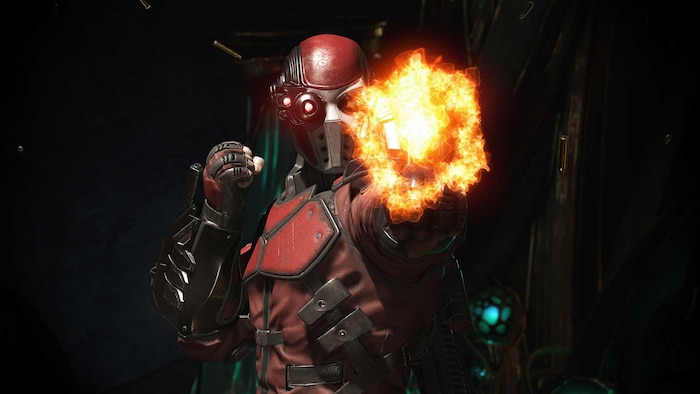 The sequel, Injustice 2, capitalizes on the success of its predecessor introducing a new story and more interesting gameplay features. The core gameplay mechanics remain the same – 1-v-1 battles similar to those in Mortal Kombat series are fought between the characters like Batman, Superman, Wonder Woman, Green Lantern and others. I2 introduces a new loot system, with the player gaining new gear to put on their favorite characters. Combining the pieces of gear alters the character's look and gives them unique perks.  The game also features a leveling system, which rewards won fights with experience points, increasing the player character's stats.
Injustice 2 received a positive note from critics who praised the compelling story and gameplay mechanics. However, it was also met with criticisms for the uneven loot system and microtransaction mechanics.
Key features
A fighting game featuring the characters from DC Universe
A compelling story of a battle between the heroes
Gameplay mechanics based on those of Mortal Kombat series
South Park: The Fractured but Whole
| | |
| --- | --- |
| Release date: | 2017-10-17 |
| Developer: | Ubisoft San Francisco |
Probably the only game in history that managed to get away with having the word "butthole" in the title, even inf only as a pun. TFbW continues the story of Cartman and his pals, this time throwing them into the world of superheroes.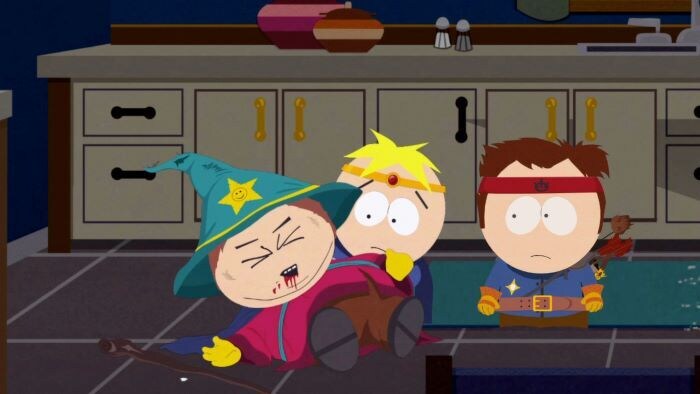 As the New Kid, the yer joins the protagonists of the series in their quest to start their hero franchise. What ensues is plenty of gross-out humor and ripping-off the pop-cultural franchise frenzy.
The mechanics of TFbW remain similar to those in the Stick of Truth, with several changes added to fit the superhero theme of the game. The player chooses from one of 10 character classes, including Speedster, Brutalist, Psychic and more. Each class has unique skills and statistics. The New Kid can also use his farts to alter time: the player can use this ability to influence the environment by fixing objects, skip turn during combat and in other specific situations.
South Park: The Fractured but Whole received critical acclaim for balancing the humor of the series with competent gameplay mechanics.
Key features
The New Kid returns, joining Cartman and his friends to start their superhero franchise
Choose from one of 10 classes based on various superhero types
Try out new skills and abilities, including time-changing farts
Ultimate Marvel vs. Capcom 3
| | |
| --- | --- |
| Release date: | 2016-12-03 |
| Developer: | CAPCOM CO., LTD. |
At first, combining the superheroes of the Marvel universe and the protagonists of Capcom games seems like a crazy idea. But Marvel vs. Capcom series is a reality and a pretty good one at that.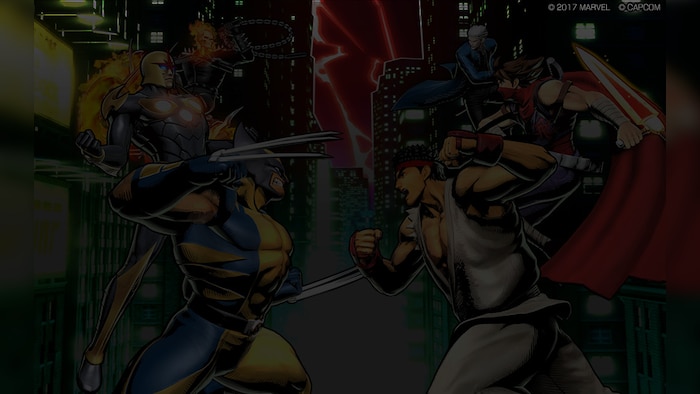 Featuring the most popular heroes of both worlds, like Iron Man, Deadpool, Wolverine, Dante, Ryu and Akuma, among many others, the game offers a unique chance to experience the wildest matchups between pop-culture titans.
UMvC 3 is an updated version of MvC 3:Fate of Two Worlds, and features may of its core gameplay mechanics. The player chooses a team of three characters out of 48 available fighters and takes on other teams of three. The game includes several modes, like classic Arcade and Versus, and Training.
UMvC 3 received solid reviews. The critics praised the diverse roster of characters, easy-to-learn gameplay mechanics and online features of the game.
Key features
The clash between the heroes of Marvel and Capcom
Choose from over 40 playable fighters, including Iron Man, Dante, Ryu, and Spider-Man
Try out single-player modes or take your battle online
Marvel Ultimate Alliance 3: The Black Order
| | |
| --- | --- |
| Release date: | 2019-07-19 |
| Developer: | Team Ninja, Nintendo |
Marvel Ultimate Alliance 3: The Black Order is a game that is the closest to the gaming equivalent of MCU on our list. MUA 3 features over 40 playable characters, made up of various marvel team-ups: Avengers, Guardians of the Galaxy, Inhumans, X-Men and others.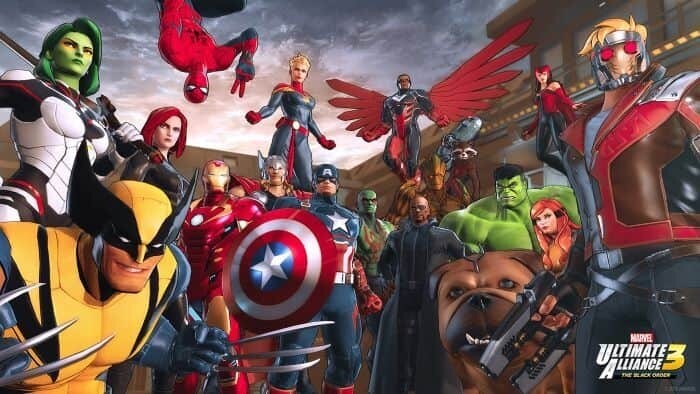 The plot of the game focuses on the Mad Titan Thanos and his Black Order, searching the galaxy for the Infinity Stones and the Earth's Mightiest Heroes rising to stop him.
Gameplay-wise, MUA 3 focuses on cooperation and combat. Up to 4 players can participate in the game, working together to clear the area of enemies and fulfill other objectives. The game features a leveling system which rewards defeating grunts and bosses with experience points, which increase the player's stats and allow developing their skill tree. Special ISO-8 crystals can also be used to give the player passive perks.
Marvel Ultimate Alliance 3: The Black Order received solid reviews and was praised for its cooperative mechanics and overall fun gameplay experience.
Ultimate Alliance 3 is only available for Switch Platform.
Key features
Face Thanos and his Black Order and stop them from destroying the universe
Select one of over 40 Marvel universe characters
Play solo or with friends online in 4-player cooperative multiplayer
Batman: The Telltale Series
| | |
| --- | --- |
| Release date: | 2016-08-02 |
| Developer: | Telltale Games |
Batman: The Telltale Series offers a unique look at superhero games. While the previous titles on our list focused on action, B: TTS emphasizes story, introducing new twists to the tale of the Dark Knight. In the game, the player control both Batman and Bruce Wayne, providing insight into the millionaire-vigilante's daily life, often even darker than his nightly escapades.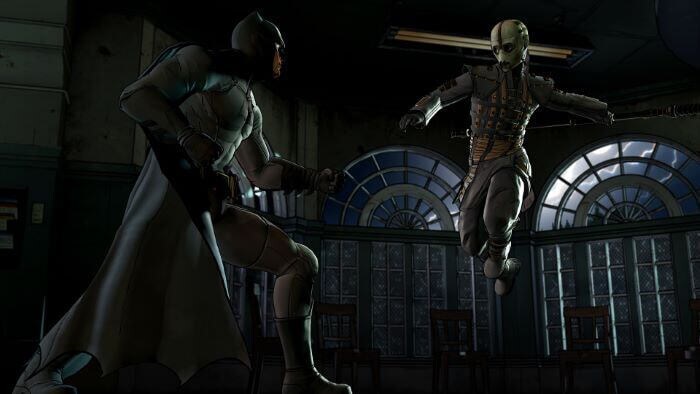 B: TTS follows the gameplay mechanics typical to other games developed by the studio. The player controls the character, interacting with objects and NPCs, choosing dialogue options pushing the story forward, and performing quick-time events. The game introduces two new elements – investigation mechanics, which have the player examine the crime scene in search of clues and crowd play, which allows the player to influence each other's playthrough.
Batman: The Telltale Series received positive reviews from the critics.
Key features
Adventure game featuring the Dark Knight
A compelling story where nothing is as black and white as it seems
New gameplay mechanics freshening the Telltale Games' formula
Infamous: Second Son
| | |
| --- | --- |
| Release date: | 2014-03-21 |
| Developer: | Sucker Punch Productions, Sony Interactive Entertainment |
Infamous: Second Son might not be the superhero story from the pages of the comic books, but it certainly could be. The story of Delsin Rowe, a young rebel possessing supernatural powers, feels like many of the superhero origin stories that fans of the genre know and love.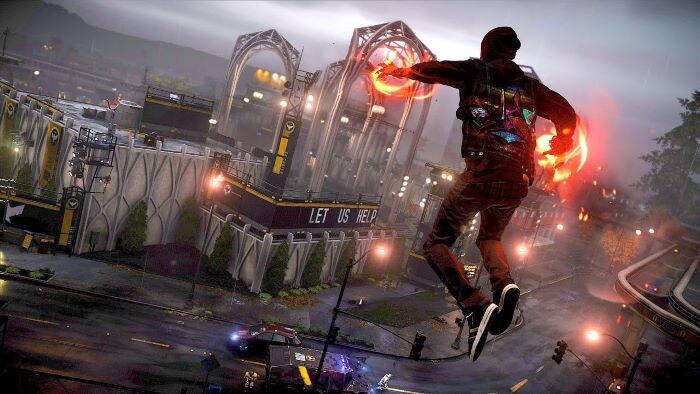 The plot takes Delsin on a wild ride in a futuristic Seattle, where people like him, named Conduits, are hunted down and imprisoned. He joins forces with his fellow Conduits and decides to stick it to the oppressive government.
A unique feature of I: SS is Karma. By performing certain actions, the player shifts their Karmic balance towards good or evil. Positive actions influence good Karma, wrongdoings fuel the bad one. Depending on the player's goo/bad Karma levels, the ending of the game will be different.
Infamous: Second Son was met with solid critical reception, with reviewers praising the visuals of the game as well as its gameplay mechanics.
Key features
Witness the story of a superpowered revolution
Explore the futuristic Seattle and find everything that it has in store
Walk the line between good and evil
Batman: Arkham City
| | |
| --- | --- |
| Release date: | 2012-09-07 |
| Developer: | Feral Interactive (Mac) |
Arkham City is widely considered to be a game that put the Dark Knight back on the map of electronic entertainment. Its predecessor, Arkham Asylum, introduced some fresh gameplay ideas and intriguing mechanics. AC builds up on that, further expanding on the world of Arkham.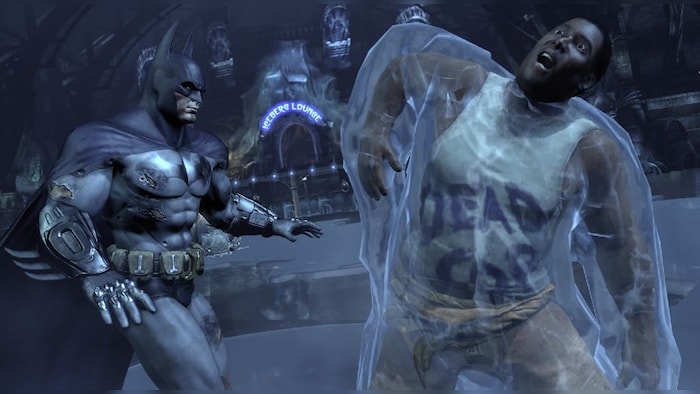 The story follows Batman as he encounters his most formidable opponents in the Arkham City – part of Gotham turned in to a prison by Dr. Hugo Strange. There he discovers that the Joker, thought to have perished  is still alive and plots a new scheme to take down the Dark Knight.
B: AC introduces new mechanics mostly based around the exploration of the open-world environment of Gotham City. Batman can now glide in the air and use the grappling hook to reach elevated areas within seconds. The "free-flow" combat mechanics of the previous game have been upgraded, allowing the Dark Knight to take on several enemies at once, and use variety o gadgets in combat. The Detective Mode also makes a return, helping Bruce Wayne solve environmental puzzles.
Batman: Arkham City received positive notes from the critics, who praised expanded gameplay mechanics and the open-world environment.
Key features
Don the mask of the Dark Knight and save Gotham City
Improved combat mechanics allow for faster battles and quicker takedowns
Explore Arkham City from the air using a grappling hook and cape glider
Marvel's Spider-Man
| | |
| --- | --- |
| Release date: | 2018-09-07 |
| Developer: | Insomniac Games, Sony Interactive Entertainment |
Friendly Neighborhood Webslinger had to wait long before getting a decent video game. But in this case, the wait was worth it- 2018's Spider-Man is one of the best superhero video games in decades. Everything works here – from excellent gameplay mechanics and visuals to the compelling story.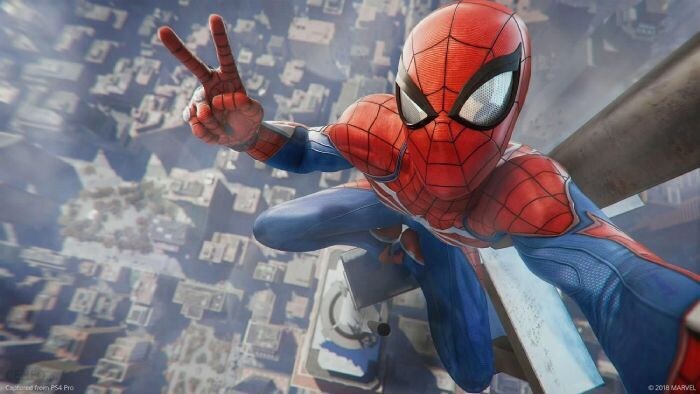 The game is set 8 years into Peter Parker's mission to protect New York as Spider-Man. After taking down the notorious crime boss, Kingpin, Peter believes that his city is finally safe and he can get some well-deserved vacation. But the power vacuum is quickly filled with a new threat – the Demons gang and their nefarious leader, Mister Negative. No rest for the virtuous, Spidey!
Spider-Man features a nearly 1:1 representation of New York City, filled with references to other Marvel comic book series. The player can travel from place to place on the ground but the true fun begins in the air – swinging from building to building, zipping across the air, and diving from the Empire State Building are only a few things our wallcrawler is capable of. The combat mechanic is based on dodging attacks and countering enemy attacks while using a variety of Spidey-Gadgets.
Marvel's Spider-Man was met with universal acclaim. Critics praised the story of the game, the intuitive combat mechanics, and above all else – the open-world environment filled with content.
Key features
Explore open-world New York and find all collectibles and references to other Marvel IPs
Experience a brand-new story of Spider-Man facing off against Mr. Negative and his gang of Demons
Batman: Arkham Knight
| | |
| --- | --- |
| Release date: | 2015-06-23 |
| Developer: | Rocksteady Studios |
So far the last installment of the Arkham series culminates the story started in Batman: Arkham Asylum in an explosive fashion. The plot of the game will take the Dark Knight on the quest to stop Scarecrow, threatening to release his fear toxin upon the citizens of Gotham City. But Batman will also have to fight his personal demons, as the Joker tries to take over his mind and body.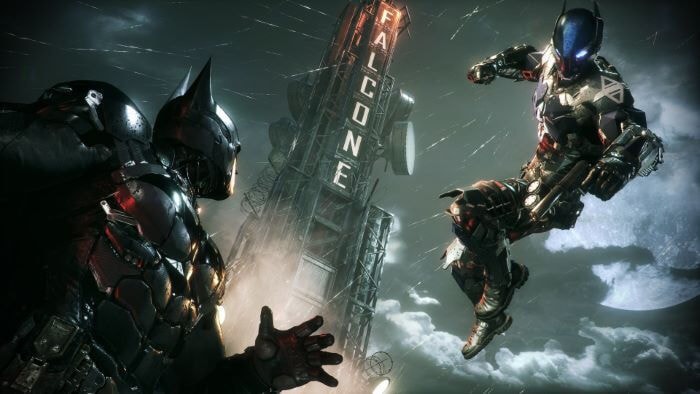 Arkham Knight's gameplay mechanics including free-flow combat, exploration of an open-world environment, and completing story missions and side quests. The game adds one unique gameplay feature – the Batmobile and vehicular combat. The player can take Batman's trademark car on a wild ride across town or take on the criminal suing the vehicles tank mode.
Batman: Arkham Knight was met with universal acclaim from critics and players alike and is considered to be the best installment of the series, and one of the best games about the Dark Knight in history.
Key features
Explore Gotham City like never before – behind the wheels of the Batmobile
Take on the Dark Knight's rogue's gallery, including a brand-new villain – the titular Arkham Knight
Enjoy the free-flow combat and other familiar mechanics that decided on the Arkham series' popularity