Superman is one of the three most recognizable comic book characters in the world, currently belonging to the DC Comics Universe. He was created in 1938 by Joe Shuster and Jerry Siegel and made his first appearance in Action Comics vol. 1 #1.
The hero who conquered the video game market
The character of Superman has had many inspirations, ranging from a super-villain created by Shuster and Siegel a few years earlier, to biblical figures and those inspired by Greek mythology, as well as real individuals and events from the lives of the comic book artists. Superman has also served as inspiration for the creation of many other superheroes and works – comics, books, movies, animations, TV shows, and, of course, video games.
Superman can boast a fairly extensive library of video games related to his character. Since the release of the first title featuring him, nearly 30 games have been created in which the character of Kal-El appears or that are fully dedicated to Superman. Today, however, we will take a look at the 10 most interesting and best Superman games!
Games where Superman is the main character
To start off, here is a list of titles in which Kal-El takes the lead
Superman (1979)
| | |
| --- | --- |
| Release date: | 1979 |
| Genre: | 2D Action |
| Developer: | Atari |
We start the ranking with a classic that cannot be missed on this list – the first video game featuring Superman as the main character!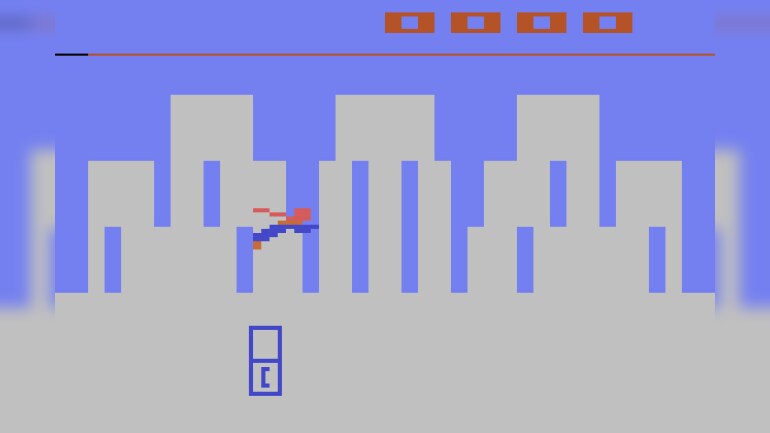 In this game, players assume the role of Superman, whose task is to find three pieces of a bridge destroyed by Lex Luthor. The superhero must repair the bridge, capture the villain, and return to the Daily Planet office as Clark Kent on time.
The mission must be completed as quickly as possible. Along the way, various obstacles and challenges are encountered, such as kryptonite satellites that cause Superman to revert to his "earthly" form.
Key features
Arcade-style game
The first Superman game
Time-based gameplay
One of the first games that could be paused
Superman: The Man of Steel (1989)
| | |
| --- | --- |
| Release date: | 1989 |
| Genre: | Action |
| Developer: | Tynesoft |
This game was a real treat for fans of the DC universe. Besides featuring vertical and side-scrolling exploration and combat sections, the game also introduced 3D graphics during flying sequences.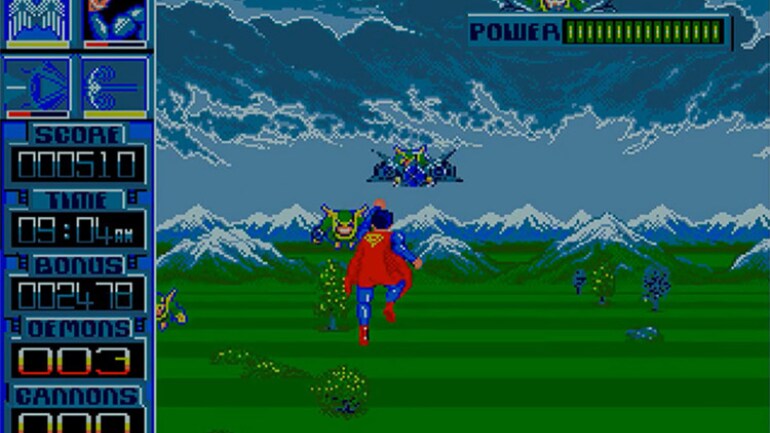 In this game, players take on the role of Superman and face several challenging tasks. They will have to defeat hordes of Para-Demons attacking S.T.A.R. Labs, save Clark's beloved Lois Lane from terrorists, and encounter two main boss villains – Lex Luthor and Darkseid.
Key features
3D graphics sections
Several challenging missions
Multiple characters known from the comics
Two main enemies
The Death and Return of Superman
| | |
| --- | --- |
| Release date: | 1994 |
| Genre: | Side scroller action |
| Developer: | Blizzard Entertainment |
An interesting beat 'em up game based on the DC Comics classic: "The Death of Superman."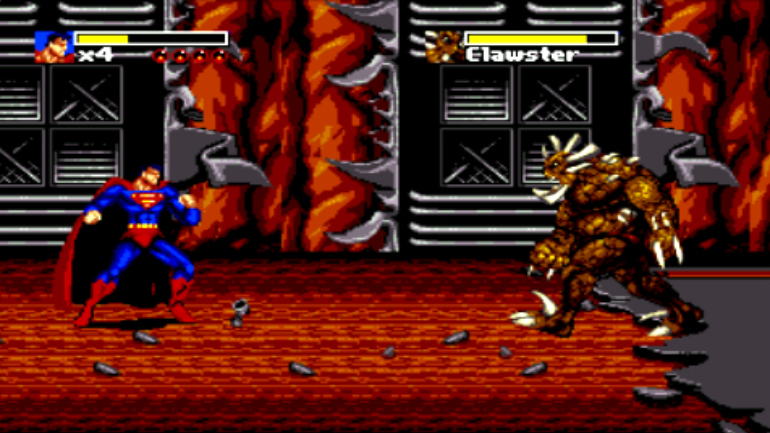 As a typical beat 'em up game, it does not have a highly complex story and mainly focuses on missions where players must defeat all the enemies appearing on the screen.
The game features several playable characters, including Superman, Superboy, and Cyborg Superman. Each character has their own unique abilities.
Key features
Story based on the comic
Multiple playable characters
Unique abilities for each character
Superman: Shadow of Apokolips
| | |
| --- | --- |
| Release date: | 2002-09-25 |
| Genre: | Action |
| Developer: | Infogrames Sheffield House |
Superman: Shadow of Apokolips is a game released by Atari in collaboration with Warner Bros. and DC Comics. It is based on the "Superman: The Animated Series" TV show.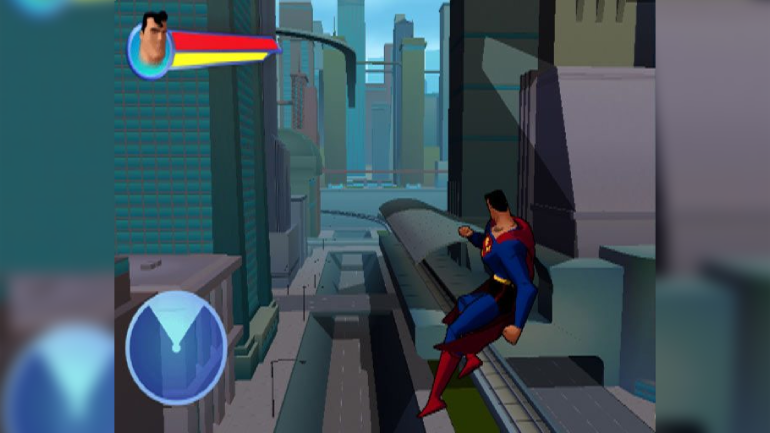 Superman discovers that the creatures terrorizing Metropolis are robots using the methods of the old crime organization known as Intergang. However, it quickly becomes clear that his arch-enemies, Lex Luthor and Darkseid, are behind the attacks, and the weapons they possess are from the planet Apokolips.
The game features captivating graphics inspired by the animated series and includes numerous cutscenes. Despite its age, this title remains the best Superman game for many fans of The Man of Steel.
Key features
Game based on the animated series
Engaging storyline
Cartoon-like graphics
A game that will appeal to contemporary children and teenagers
Superman: The Man of Steel
| | |
| --- | --- |
| Release date: | 2002-11-12 |
| Genre: | Action-Adventure |
| Developer: | Circus Freak |
Another game released by Atari, and an exclusive for the first Xbox. Unlike many of the previously mentioned games, this one is based on the comic book mythos.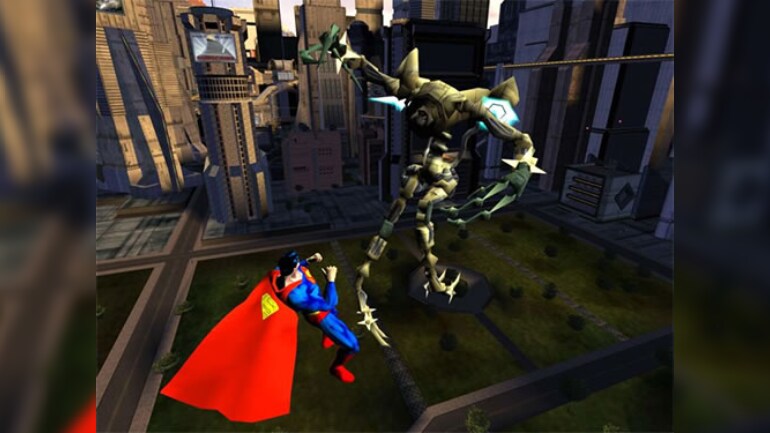 The storyline strongly references the "Superman: Y2K" comic, in which Metropolis is infected by a mysterious technological virus. Superman manages to stop Brainiac, who is responsible for the attack, but despite this, Metropolis is transformed into a high-tech City of Tomorrow.
However, it turns out that this was Brainiac's goal all along, and after some time, he returns to the city, attempting to harvest technology, which leads to chaos that Superman must stop…
Key features
Rich storyline
References to classic comics
Expanded superpowers of the main character
Engaging audiovisual layer
Superman Returns
| | |
| --- | --- |
| Release date: | 2006-11-20 |
| Genre: | Action |
| Developer: | EA Tiburon |
This title, released by Warner Bros. and DC Comics, is based on the film of the same title.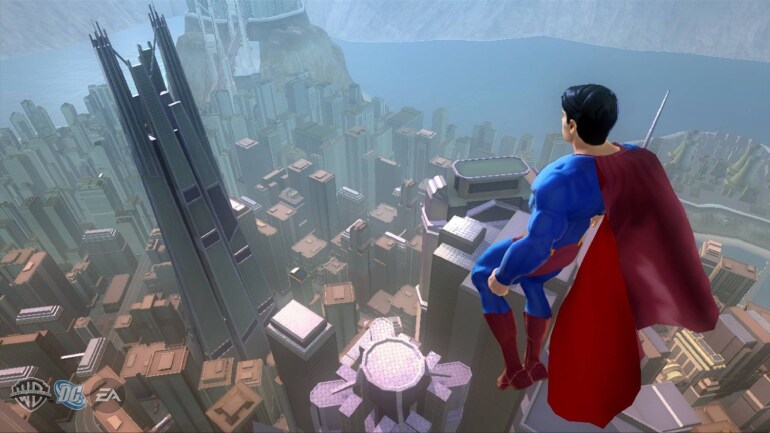 Superman sets out to investigate whether anything survived the destruction of Krypton. He only finds ruins of the former civilization and returns. However, on the way back, he is intercepted by Mongul and forced to compete in gladiatorial combat, which he easily wins before returning to Earth.
But cosmic gladiatorial battles were just the warm-up because in Metropolis, more challenges await Kal-El… Throughout the game, players will face various villains known from the Superman comics and TV shows.
In addition to several titles dedicated to Superman, he can also be found in many other productions dedicated to characters from the DC universe.
Key features
Story based on the film
Rich narrative
Numerous enemies known from the comic series and movies
Expanded combat and flying mechanics
Injustice: Gods Among Us
| | |
| --- | --- |
| Release date: | 2013-11-29 |
| Genre: | Fighting |
| Developer: | High Voltage Software |
Released by Warner Bros. Interactive Entertainment, this fighting game is the first installment of the Injustice franchise, based on characters and events known from the DC Universe.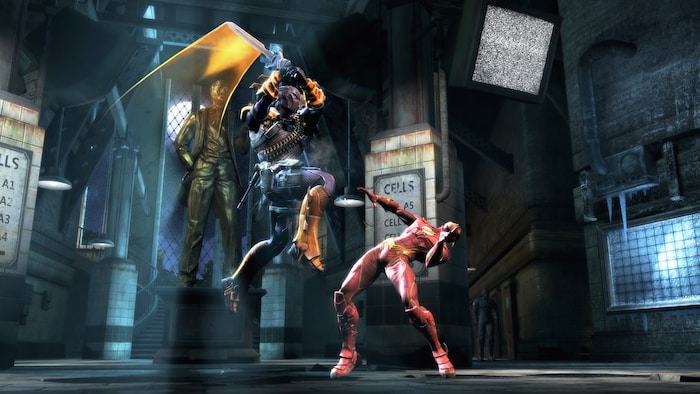 Tricked into the murder of Lois Lane, Superman goes mad. Several years after this tragic event, he establishes the One Earth Regime with a few other heroes and villains, imposing a semblance of peace on Earth. However, he rules as a ruthless dictator who cold-bloodedly kills anyone who opposes him. At some point, the Dark Knight stands in his way.
The game's storyline is designed to explain the correlations and reasons for the fights between the different characters.
Key features
Many exciting battles
Characters known from DC comics and TV shows
Engaging plot
The first instalment of a popular franchise
Lego DC Super-Villains
| | |
| --- | --- |
| Release date: | 2018-10-16 |
| Genre: | Adventure |
| Developer: | TT Games |
A humorous adventure game under the LEGO brand, set in the DC universe. In this title, players take on the roles… of villains.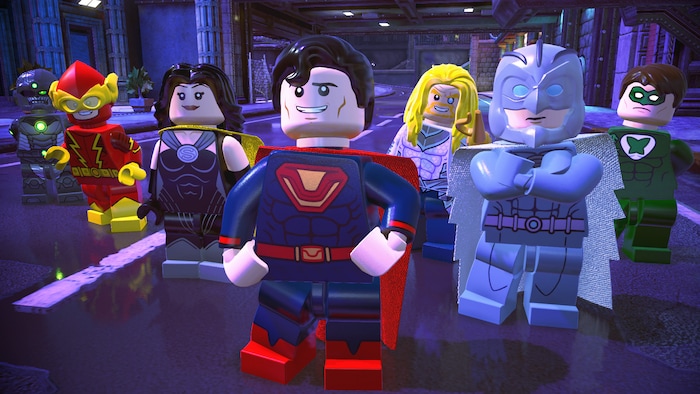 The Justice League disappears under mysterious circumstances, leaving Metropolis and Gotham in the hands of supervillains such as Joker, Harley Quinn, Lex Luthor, and Zoom. The Crime Syndicate from another dimension, led by Ultraman (Superman's counterpart), tries to stop the villains, but it quickly becomes clear that their intentions are not sincere…
Like all LEGO productions, this game is great for playing together with younger players.
Key features
Interesting storyline
LEGO game mechanics, including building
Wide range of characters
3D platformer elements
Lego Batman 3: Beyond Gotham
| | |
| --- | --- |
| Release date: | 2014-11-11 |
| Genre: | Adventure |
| Developer: | Feral Interactive (Mac) |
The third instalment in the LEGO series of games dedicated to Batman. This title combines elements of action, platform, and arcade games.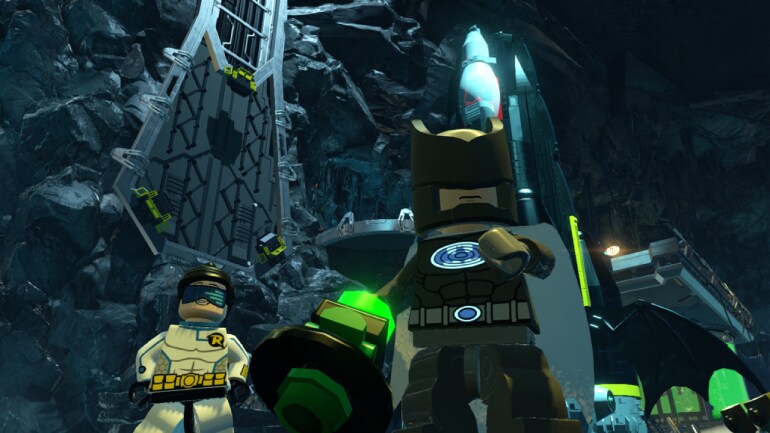 Brainiac, using the stolen Green Lantern Rings, has shrunk Earth and added it to his collection of trophies. The Justice League, led by Superman and with Batman's support, embarks on a cosmic journey to save the planet.
Presented from a third-person perspective, the blocky world provides an interesting background for the events in the game.
Key features
LEGO game
Combination of action, platform, and arcade gameplay
Expanded plot
Fun for the whole family
Lego Batman 2: DC Super Heroes
| | |
| --- | --- |
| Release date: | 2012-06-22 |
| Genre: | Adventure |
| Developer: | TT Games |
A prequel to the previously mentioned LEGO Batman 3, also set in the LEGO DC universe. The game combines elements of platform, action, and arcade games.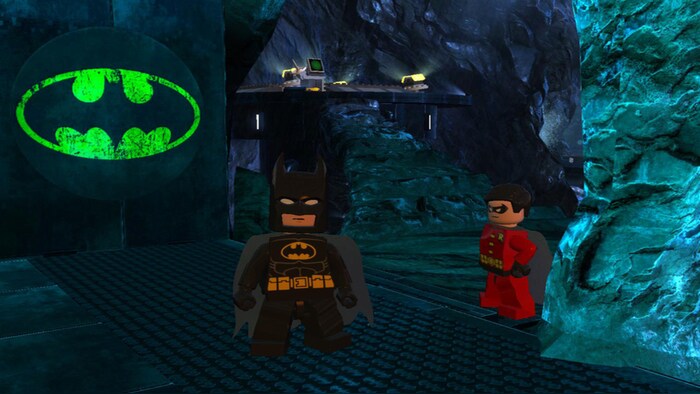 The game mainly focuses on traversing the streets of Gotham, performing various simple tasks, and fighting villains. In addition to Batman's faithful companion, Robin, the game also features other heroes and villains from DC Comics, including Superman and Wonder Woman.
In this title, players have the opportunity for almost unlimited exploration of the map, collecting various collectibles, and creatively solving puzzles.
Key features
LEGO world
Semi-open world
Logical puzzles
Large pool of characters from the DC universe
Summary
Since the release of the first Superman video game, many fantastic titles have been created over the years. Among these games, everyone will find something for themselves, regardless of age, favourite genres, and gameplay preferences. Is there a "best" Superman game? According to us, each of them is great and perfect in its own way, and the one you choose depends on you!