If you look for addictive games where every decision will affect the rest of the story – you are in the right place. Tower defense titles are a fantastic proposition for those who love to be in the very center of the action!
Tower Defense is a genre combining quick reflexes with the sense of a born strategist. The games may differ in additional gameplay features, such as the tactics difficulty level or role-playing elements. The core, however, remains the same – defending your units against enemies coming in waves from all sides. Sounds like fun?
Welcome to our list of the top-rated base defense games PC & Steam
Bloons TD 6
| | |
| --- | --- |
| Released | 2018-12-17 |
| Genre | Strategy |
| Developer | Ninja Kiwi |
Lead the monkey gang and defend yourself against the invasions of the Bloons! Play offline in single-player mode or in multiplayer with hundreds of other players.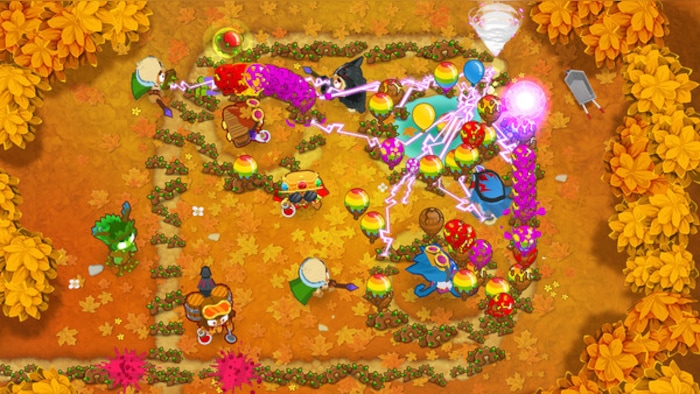 Bloons is fast-paced tower defense gameplay for mobiles and PC that will make you fall in love with strategy games. Use the unique skills of your heroes and play dozens of maps. Apply combinations of attacks and defenses and try every possible combat tactic. Bloons will not stop invading, so embrace yourself!
Key features
Play one of the best tower defense games on Steam
Lead an army of monkeys and defend yourself from the Bloons' attacks
Decide on the deployment of your units on dozens of maps and develop the towers
Play solo or in multiplayer
They are Billions
| | |
| --- | --- |
| Released | 2017-12-12 |
| Genre | Strategy |
| Developer | Numantian Games |
Zombies and steampunk? Yes, please! Establish a human settlement in the unfriendly world of living death and do whatever it takes to protect it.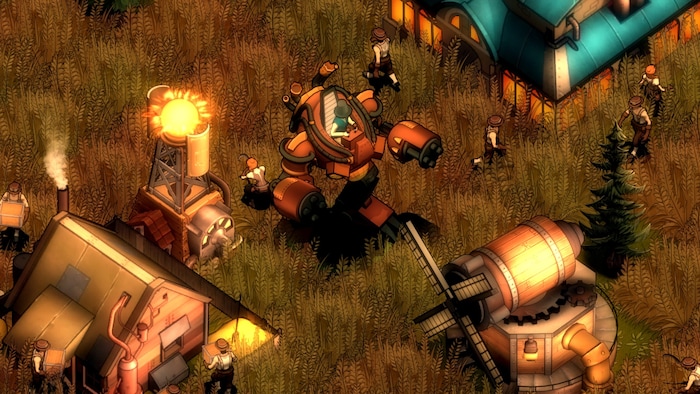 The future of humanity looks rather grim, but the mad survivors will do anything to never fall under the plague. Build a colony and develop it to bring as many inhabitants as possible. Collect resources, explore and send scout units to the area. Be ready for anything because danger can come from any direction. And one infected equals the destruction of an entire settlement!
Key features
Build a colony that will bravely face the plague of the living dead
Play in real-time with an active pause and carefully plan every next move
Build your settlement and repel zombie attacks
Direct the actions of hundreds of units
Plants vs. Zombies
| | |
| --- | --- |
| Released | 2005-09-05 |
| Genre | Action & Shooter |
| Developer | PopCap Games |
Can plants win in the fight against zombies? Yes, they can! Mix your farming and strategy talents to stop the undead from invading your home.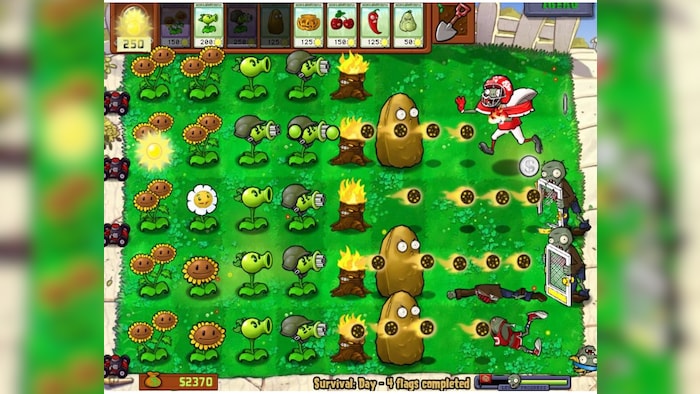 Seed plants and defend your farm against zombies. Hordes of invaders may not seem too threatening, but it is better to prepare in advance. Discover a variety of plant species that will become your main line of defense. Use their extraordinary abilities and plan their location on the map to block each opponent's way. It is a whole new level of farm gameplay!
Key features
Seed plants to defend your home against the zombie army
Learn plant species and their skills
Gain experience and discover new methods of defense
Play dozens of scenarios across different game maps
Orcs Must Die!
| | |
| --- | --- |
| Released | 2011-10-11 |
| Genre | Indie |
| Developer | Robot Entertainment |
Let your creativity run wild and use every trap you can to fight off the attacks of the green-skinned creatures. It is a recommendation for fans of action-packed castle defence games set in a classic fantasy world full of dynamic combat.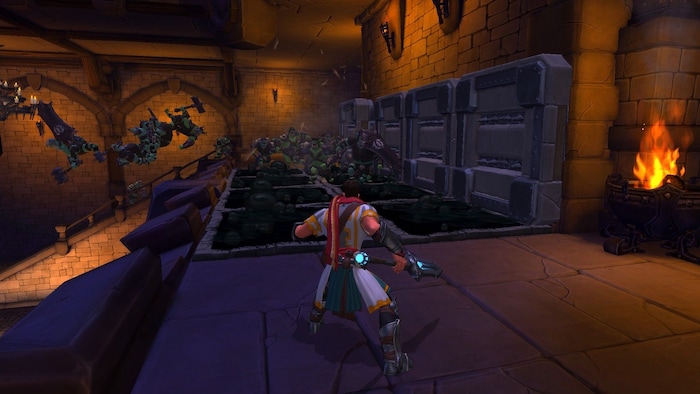 Play as one of the war mages whose task is to defend the most vital strongholds from attacks by orcs and other filthy creatures. Use weapons, spells, and various traps. Use the elements of the environment and surprise your enemies. There is no time for overthinking here – act and defeat your enemies one by one. And for those who have already enjoyed this title. Orcs Must Die 3 came out on July 23, 2021!
Key features
Play as a powerful war mage fighting monsters
Complete the game scenarios and become the best fighter in the game
Combine combat with weapons, spells, and the use of deadly traps
Kingdom Rush Vengeance
| | |
| --- | --- |
| Released | 2020-10-15 |
| Genre | Strategy |
| Developer | Ironhide Game Studio |
Travel to the extraordinary realm of magi, where you will fight an epic battle to win. But on the side of evil!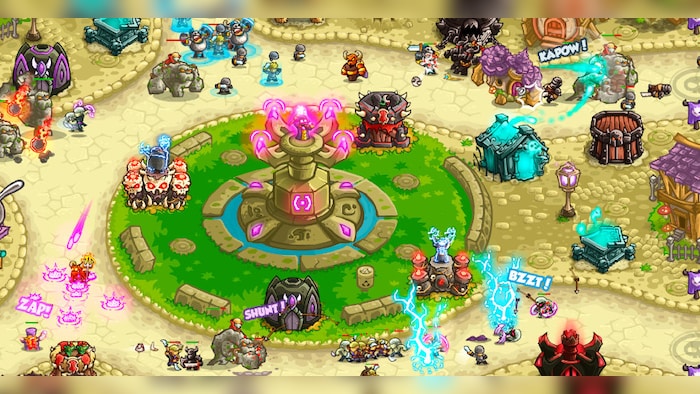 The dark forces hadn't been lucky lately and had been miserably failing on the battlefield. Take command of this army and ensure its victory. Explore beautiful locations and get carried away by the raging fire of war. Send mighty heroes into battle, develop skills and defeat epic bosses. Let the forces of an evil win once and for all.
Key features
Take the side of evil and change the course of history
Send brave heroes to battle and develop their skills
Explore the delightful and colorful world
Plan the placement of defensive fortifications and military units
Castle Story
| | |
| --- | --- |
| Released | 2017-08-17 |
| Genre | Indie |
| Developer | Sauropod Studio |
It is a strategy video game set in the voxel world, in which you will design and build your fortress to defend it against hostile attacks.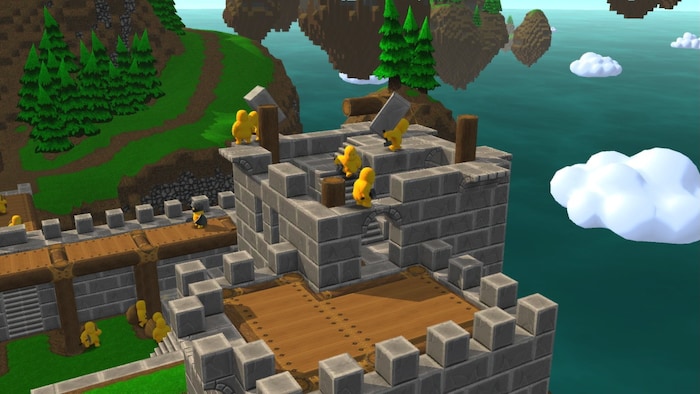 Gather resources, transform the area as you like, and build a fortress so strong no one can conquer it. The clock is ticking and there is a lot of work to be done! Assign workers to tasks, design passages, and walls, and create defence buildings and traps. Your enemies are already appearing on the horizon – can you fend off their attack?
Key features
Build a mighty fortress to keep your settlers safe
Transform the terrain, set up defence buildings, and get ready to fight an army of enemies
Build combat machines and fortifications
Mindustry
| | |
| --- | --- |
| Released | 2019-09-26 |
| Genre | Strategy |
| Developer | AnukenDev |
It is a pixel art proposition for players looking for strategy video games like Factorio. In Midustry, you will build a factory and then use your tactical sense to defend it.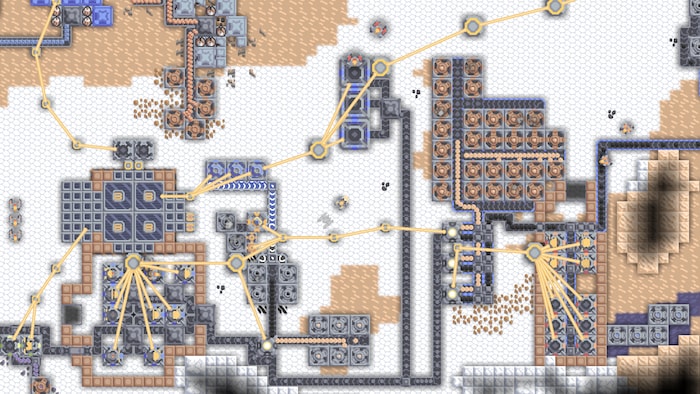 Build an efficient factory and organize a transport and production chain to achieve the best production results. Mine resources and manufacture valuable goods. Produce ammunition and arm defense turrets – this strategy will ensure victory.
Key features
Build a factory to make a profit
Construct defenses to repel enemy attacks
Collect resources and improve production
Choose from four game modes and play the way you like
Defense Grid: The Awakening
| | |
| --- | --- |
| Released | 2008-12-08 |
| Genre | Indie |
| Developer | Hidden Path Entertainment |
It is a tower-defense game for PC, especially for fans of spectacular explosions and action-packed gameplay. Defense Grid is the essence of the genre!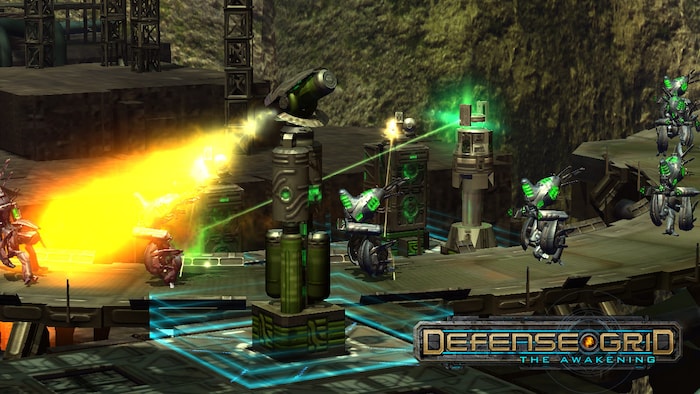 The task is simple – defend yourself against enemy attacks. However, your opponents will not give up without a fight, launching ever more powerful waves on your base. Manage your units wisely, and you may prevent the plans of the murderous robots. Design a strategy, upgrade your turrets, and do not be surprised by stealthy attacks. Defense Grid will offer you everything that every classic tower defense fan dreams of.
Key features
Develop a defense plan against invasions of robots
Try different kinds of towers and fight all types of enemies
Level up and develop your defense
Defend and eliminate your enemies by surprise
Creeper World 3: Arc Eternal
| | |
| --- | --- |
| Released | 2014-03-27 |
| Genre | Adventure |
| Developer | Knuckle Cracker |
Battle the most unpredictable opponent – the destructive purple liquid. It is a game in which the success of the mission will depend entirely on your strategic skills.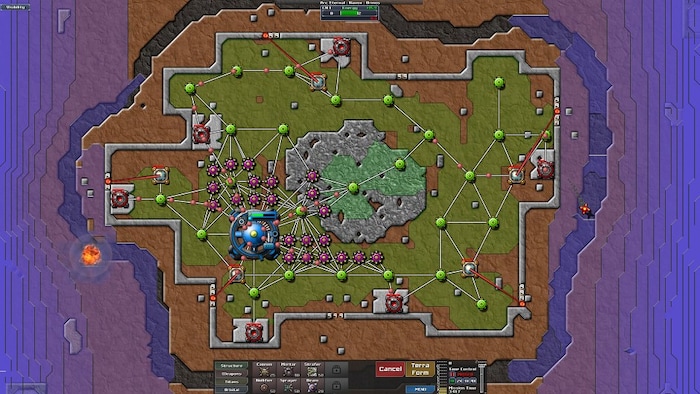 The behavior of the murderous liquid depends on many factors, including terrain shape. Explore the map and prepare fortifications that will stop your unusual enemy from wrecking the entire base. Find the source of the mysterious liquid and destroy it to clear the map out of danger. Play hundreds of unique missions, discover elements of a forgotten story and immerse yourself in this addictive world for many rewarding hours.
Key features
Create a base and defend it against the purple liquid
Build fortifications and defenses
Destroy the emitters of the murderous liquid to get rid of it once and for all
Discover new technologies and innovative defense strategies
Sanctum 2
| | |
| --- | --- |
| Released | 2013-05-15 |
| Genre | Adventure |
| Developer | Coffee Stain Studios |
Become humanity's last hope and defend the power core from a murderous alien invasion. It is an exciting first-person shooter with real-time strategy elements for every fan of dynamic and spectacular battles on a wide variety of maps.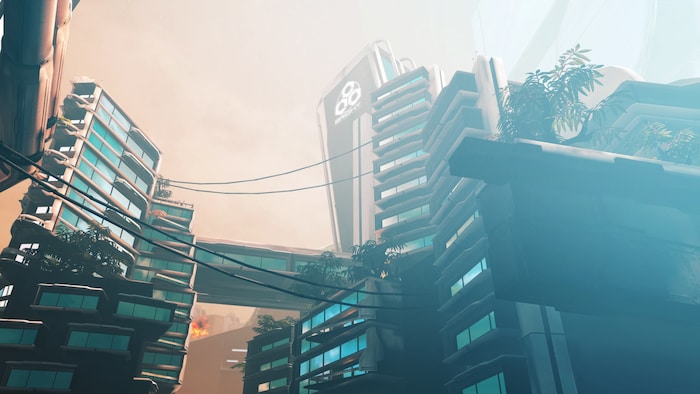 Use your strategic sense to resist alien attacks. Choose from four classes, engage in the brilliant history of this world, and develop your skills to unlock even more combat possibilities. All this while setting up defense towers and fortifications to ensure your success on the battlefield.
Key features
Choose from four playable classes
Decide the placement of units and defend the energy cores
Use all available options in the fight against aliens
Defenders Quest: Valley of the Forgotten
| | |
| --- | --- |
| Released | 2012-10-30 |
| Genre | Adventure |
| Developer | Level Up Labs, LLC |
It is an indie retro-style story set in a magical fantasy world that blends tower defense and RPG elements. Travel to the Valley of the Forgotten and see what secrets this wicked world full of dangers hides.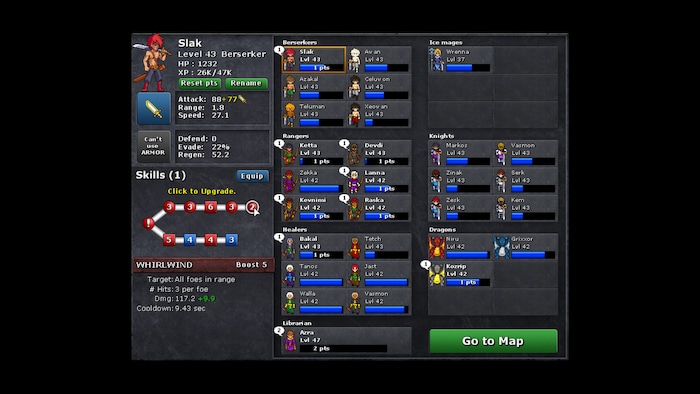 Play as Azra – a young girl who ended up in the world of the dead but did not die herself. This alien realm is full of amazing stories but also dangerous enemies. It may be impossible to fight them alone, but you always have friends! Explore, meet new heroes, and use their unique skills to fight hordes of enemies. It is a recommendation for fans of the tower defense genre with a rich history and great humor!
Key features
Set off on a journey to the mysterious Valley of the Forgotten and find your way home
Make friends and use their skills on the battlefield
Fight hordes of undead enemies
Get carried away by a fascinating  afterlife story
Rock 'N' Roll Defense
| | |
| --- | --- |
| Released | 2016-08-10 |
| Genre | Strategy |
| Developer | NukGames |
The rock concert continues, but will the music protect itself against the evil influences of other genres? The show must go on, so do your best to defend rock and roll!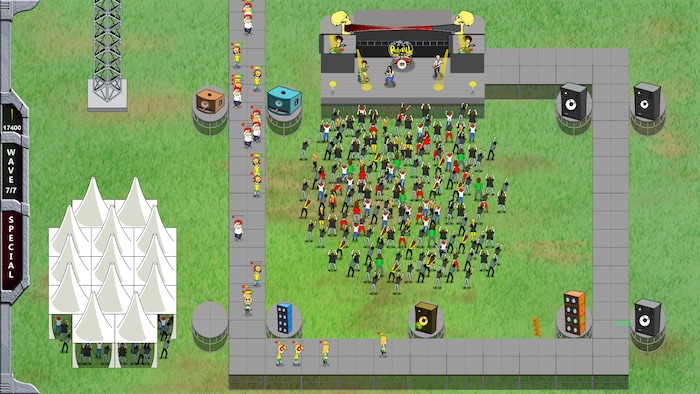 While the gameplay in Rock'N'Roll Defense provides simple rules, implementing them may turn out to be a bit more challenging. Your job is to defend the rock concert from uninvited guests. To achieve this goal, place more effective speakers on the map and eliminate all enemies with the power of your music!
Key features
Defend a rock concert against powerful enemies and bosses
Earn money and invest in better and better equipment
Decide on speakers placement and design a clever combat strategy
Get carried away by the immortal power of rock and roll
Dungeon Defenders
| | |
| --- | --- |
| Released | 2011-10-18 |
| Genre | Action & Shooter |
| Developer | Trendy Entertainment |
It is an action-packed dynamic fantasy RPG with tower defense elements where you will lead a new generation of ultimate heroes. Choose your character and fight the evil that threatens the entire beautiful land of Etheria.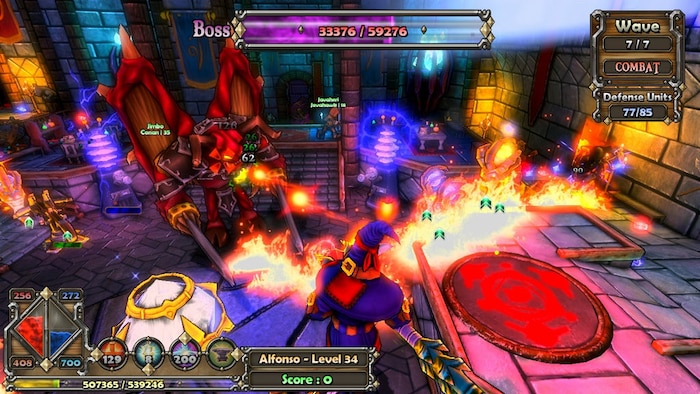 Choose from four character classes and customize its features to play the way you like best. Fight, develop skills, complete missions, and collect valuable items. Adopt a pet, make friends and immerse yourself in the rich history of this land. Dungeon Defenders will give you everything every RPG and tower defense fan dreams of!
Key features
Create a character and go into an epic battle against evil
Explore the magical world, complete missions, and collect valuable items
Gain experience and develop skills
Best tower defense games are truly successful in the gaming industry. Many of them are available not only for computers or consoles but also for mobile phones so you can engage in them anywhere and at any time. They also combine original features, fast-paced gameplay, and the need to crack the brain. So if you want to continue exploring the world of most popular tower defense gaming recommendations.