Delivered to you the studio that gave you League of Legends, Valorant is enjoying a successful run. This hero shooter, owing a lot to Counter-Strike: Global Offensive (or CS:GO) and Overwatch, became an esports sensation and a highly popular title. One of the coolest things about it, though, are totally rad customization options. We picked the 11 coolest skin packs that you can purchase using Valorant Points (VP).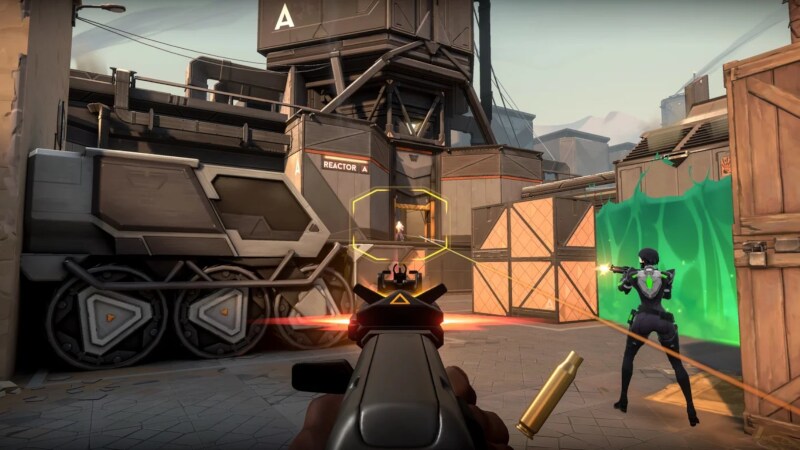 What are these VPs, you might ask? Well, they're premium points that you can buy using real currency and then spend on various skins and other cosmetics in-game. You can also obtain the so-called Radianite Points with them and use them to upgrade your weapons with new VFX, animations or skin variants. Bear in mind that these upgrades do not give you any in-game advantages over other players, they're purely cosmetic in nature as well.
Valorant weapon skins usually come in bundles known as Collections. These packs usually feature a new look for the melee weapon and a selection of cosmetics for the firearms (not every gun will have a dedicated skin, keep that in mind), as well as a bunch of other items, such as themed gun buddies, kill banners, player cards and sprays (again, not every pack features these, but they usually do).
Looking for cheaper Valorant gift cards and Points or a great gift for a Valorant fan? Here's a selection of deals that you can get on our marketplace:
Valorant Points and Gift Cards
Once you purchase a Valorant gift card, here's what you have to do to redeem it:
Log in to the Valorant game client.
Click the game's icon located right next to the Store tab.
Choose Prepaid Cards & Codes.
Input your gift card's code and click on "Submit."
Done! You're ready to spend some VPs on cool-looking stuff!
Always remember to pay attention to the regional restrictions of the gift cards or Valorant Points you're purchasing. For example, if you're from the United States, but you purchase a card for the EU region, you won't be able to redeem it.
As a side note, you can also use Valorant gift cards to purchase Battle Passes (a system that lets you unlock new cosmetics by gaining enough experience points during matches).
As another side note, remember that bundles come out every two weeks and they're usually available for a two week period. Once time's up, you can get individual skins from these bundles as long as they end up in a daily rotation in Valorant's Store. Still, we included the prices of these bundles to give you a rough idea on how much bundles cost when they get released.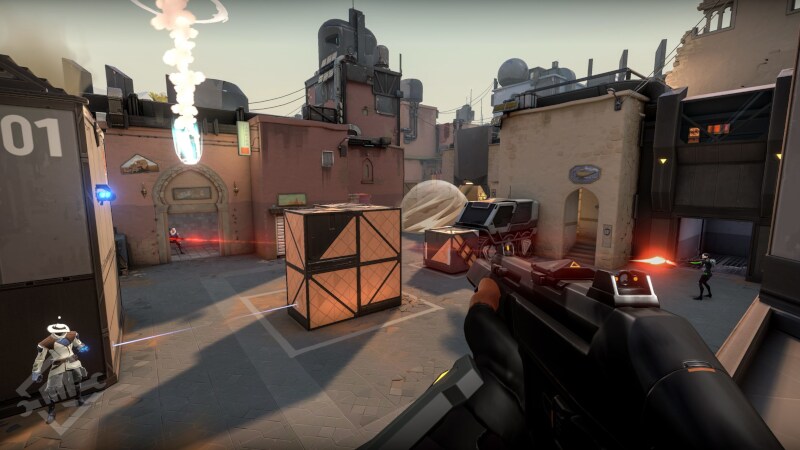 With these things in mind, here are eleven Valorant gun skins that we've picked, because we think they're simply great. Feast your eyes on these beauties:
Protocol 781-A
This dystopian theme is one of the freshest bundles on this list. It's sci-fi, but in a completely different way. Dark and dreadful looking, this collection is inspired by works such as The 5th Element, Battle Angel Alita and Elysium. If Glitchpop is something for underground resistance forces, Protocol 781-A seems like a government response to it.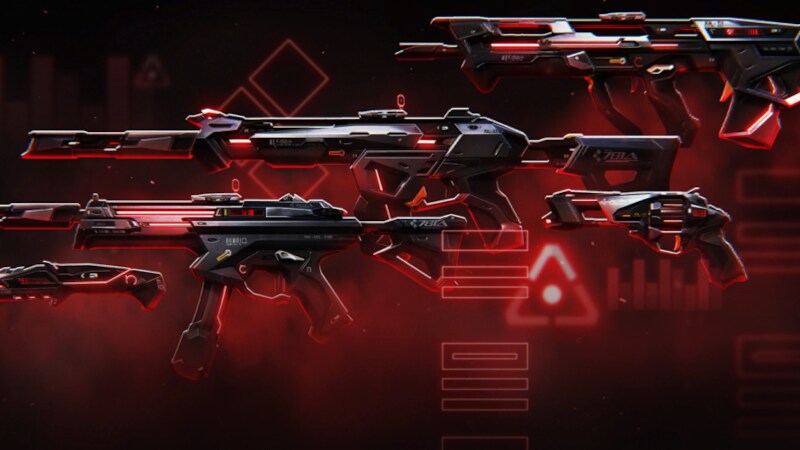 This bundle cost 9,900 Valorant Points, which made it the second most expensive skin collection in Valorant, right after the Spectrum pack and on par with the Elderflame one. Still, you can get skins for various weapons – Sheriff, Spectre, Bulldog, and Phantom – for 2,475 VP each. The knife costs a whopping 4,950 VP.
By the way, one of the coolest things about this pack is that your guns talk! They have an AI installed that monitors your performance and barks out commands during the game. Nice!
Magepunk
Valorant is pretty much a futuristic game with its style being reminiscent of Overwatch, so skins from this collection might seem out of place. Steampunkish, magic-imbued weapons reminiscent of retrofuturistic Wild West? How the heck do they fit in all this?
Still, these gizmos boast an undeniable charm. You just have to admit: Magepunk skins are simply drop-dead gorgeous. If you love science fantasy stuff, this collection is a must-have for ya.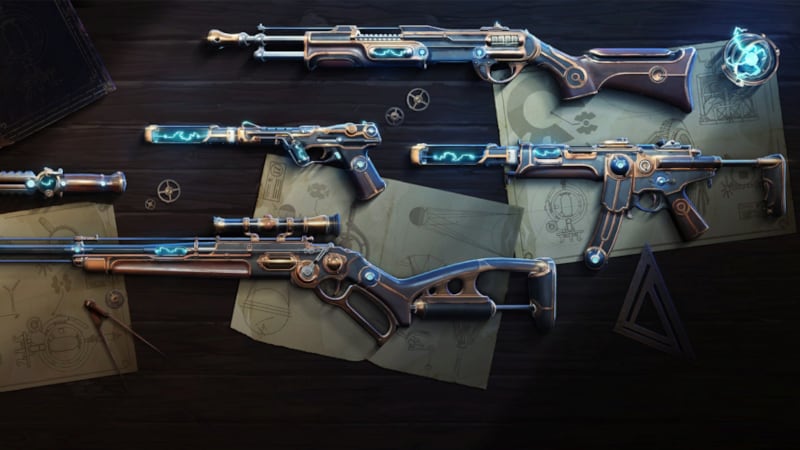 You can grab separate weapon skins for 1,775 VP each (except for the knife, which costs 3,550 VP) or the entire set for 7,100 Valorant Points. Magepunk and its updated version, Magepunk, EP 3, apply to the following guns: Ghost, Sheriff (EP3), Spectre, Bucky, Guardian (EP 3), Marshal, Operator (EP 3) and Ares (EP 3). EP 3 also features a different melee skin: the Shock Gauntlet. Guns come in four distinct colors that you can choose from.
You can get the entire Magepunk, EP 3 set for another 7,100 Valorant Points. Who knows, maybe we'll get a Magepunk 3.0 bundle in the future?
Ion
Time for something actually futuristic. Actually, the Ion Collection looks like something straight out of a high-tech version of the kingdom of Atlantis. Or maybe something that would totally fit the Kaminoans from Star Wars. Either way, a mixture of white, gray and blue with flashy stuff and sleek designs is just very pleasing to the eyes.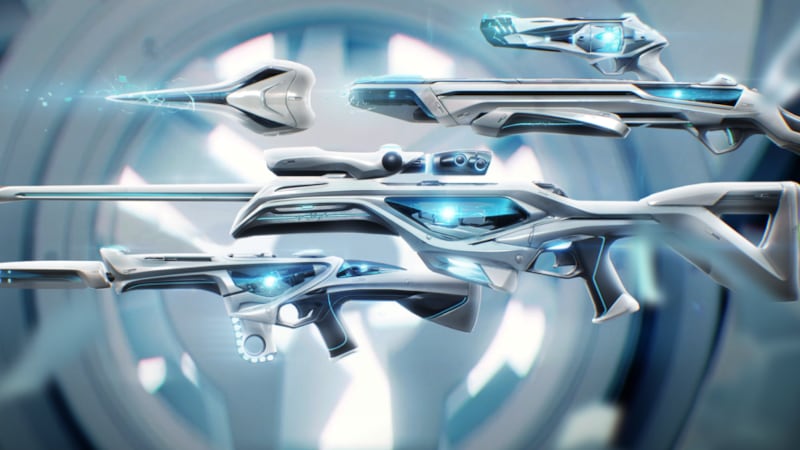 If you're a sci-fi afficionado, be sure to grab this skin pack. You can get the whole Ion Collection for 7,100 Valorant Points or separate skins for each firearm for 1,775 VP (3,550 VP in case of the melee weapon). As far as the guns are concerned, Ion is available for the following: Sheriff, Bucky, Phantom, and Operator.
Spline
This skin bundle is one of the most beautiful, hands down. Sporting this otherworldly, alien look – dare we say chthonian, even? – Spline is a mixture of glowing orbs and twisted, winding frames. Each skin is a beauty and a sight to behold.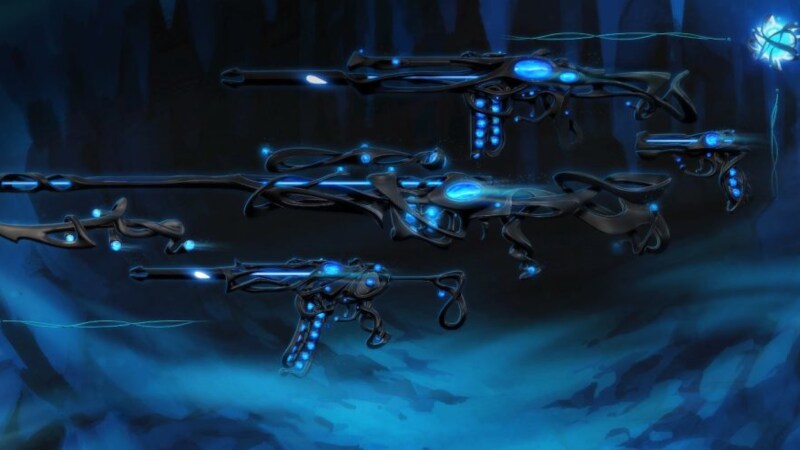 So, if you're into alien stuff, the Spline Collection is exactly what you've been looking for. Again, 1,775 VP for each gun skin (Classic, Spectre, Phantom, Operator), 3,550 VP for the knife, and 7,100 Valorant Points for the complete bundle and all the cosmetics it contains. Well worth the purchase!
Elderflame
Alright, we've seen realistic stuff, retro futuristic stuff and some truly otherworldly stuff. How about something straight out of a fantasy work, like Skyrim, Game of Thrones, Lord of the Rings or Warcraft? The Elderflame Collection turns your guns into fire-breathing metal dragons. Cool! It's just as if someone turned Deathwing from World of Warcraft into a freaking gun.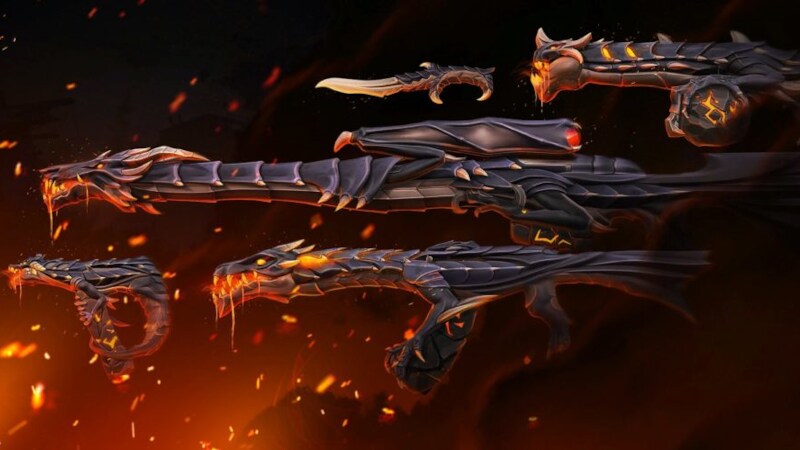 This skin pack features new look for the following guns: Frenzy, Judge, Vandal and Operator. You can get these skins for 2,475 VP each. You can also get a new knife skin for 4,950 VP. The entire set costs 9,900 Valorant Points, which makes it the second most expensive collection released so far, following the Spectrum set created in collaboration with Zedd, a renowned producer of EDM music. Still, it's totally worth it if you're a high fantasy aficionado.
Spectrum
Yep, this one's the most expensive, but it's also one of the most popular skin bundles in Valorant. The design is reminiscent of stuff like kiddie blasters such as Nerf and the like (BTW if you love these, you should totally check out the BlastX Collection). This set is also very musical, featuring various little tunes composed by the above-mentioned Zedd and played by your guns.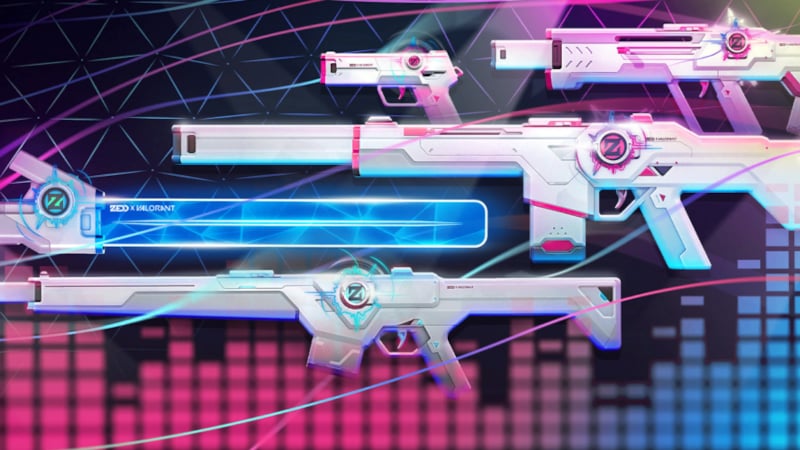 The Spectrum pack features skins for the following: Classic, Bulldog, Guardian, and Phantom (each for 2,675 VP). There's also a Waveform skin for the melee weapon and it costs 5,350 VP. The full bundle was available for 10,700 Valorant Points, which is a lot more than other collections, still, fans went crazy about it and it the Spectrum pack is super popular to this day.
If you're looking for a cheaper alternative, try out the Glitchpop collection instead.
Oni
This is an unusual skin set, mixing Japanese Oni masks with pirate-style muskets (at least that's what they look like). The result? This bundle looks sick! Each gun skin in this pack – Shorty, Bucky, Guardian and Phantom – are incredibly detailed and beautifully combine the antiquated look with hints of modernity.
This collection is once again one of the cheaper ones. You can get each gun skin separately for 1,775 Valorant Points, the melee weapon for 3,550 VP, and the entire set for 7,100 Valorant Points.
Infantry
Now, this one is a unusual skin pack, as it turns some of the guns – Ghost, Spectre, Guardian, Operator, and Ares – into firearms straight out of World War II-era US Army depots! While historical guns may seem out of place in Valorant, you can't deny they look absolutely stunning. They aren't customizable, but you can turn your guns into a Luger (yeah, it's not exactly a US weapon, since it's of German production, but it's a WW2 relic nonetheless), a Garand or a Browning Automatic Rifle (BAR), depending on the weapon. The Infantry Guardian even features the famous "ping" sound once the clip is depleted! OK, maybe the guns aren't exactly 1:1 replicas of the WW2 firearms, but they certainly are very convincing and well-made.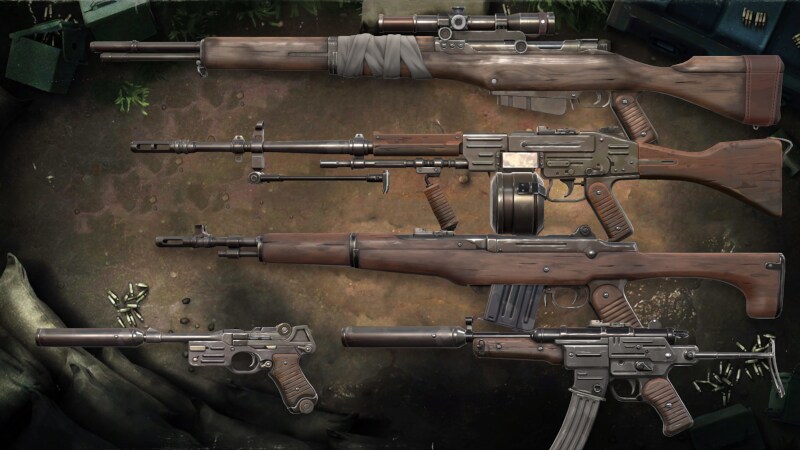 There are no customization options, gun buddies, kill banners, sprays or player cards here, but this collection is insanely good-looking. And it's one of the cheapest bundles out there, too, since it cost just 2,930 Valorant Points. Each skin costs 875 VP (no knife this time around).
Gravitational Uranium Neuroblaster
If you absolutely adore science fiction from the 30s and the 40s, as well as the iconic (and famously impractical) ray guns, you're in for a real treat. The somewhat long-named Gravitational Uranium Neuroblaster Collection features skins for these guns: Classic, Spectre, Bucky and Operator. It also has a baton skin for the melee weapon. This stuff looks fantastic and is incredibly pleasing to the eye.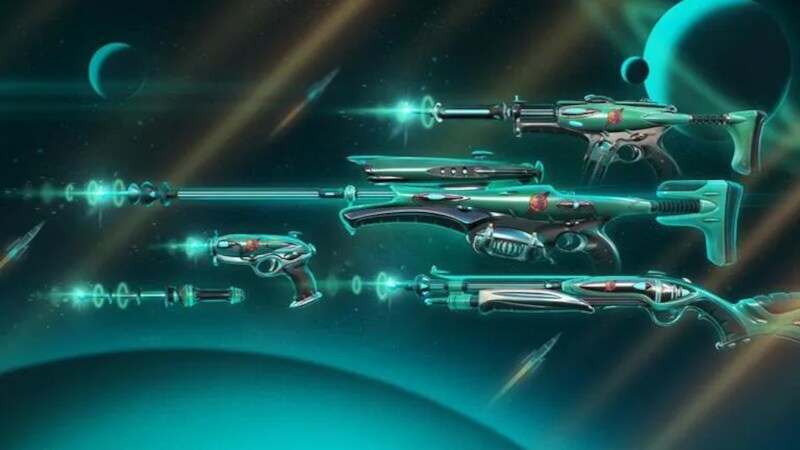 The bundle has been retired some time ago (it was available for 7,100 Valorant Points), but you are still able to obtain individual weapon skins once they pop up in the Store's daily deals. Guns are for 1,775 VP and the melee weapon – the baton – costs 3,550 VP.
Sovereign
If you're interested in Atlantean stuff, this bundle is even more like it than the Ion Collection listed above. Everything about this pack screams royal: the sleek, elegant design, the colors, the overall feel, etc. The Sovereign Collection is truly an eye-candy, so if you want to feel like one of the Mengsks or something, this bundle's a great pick.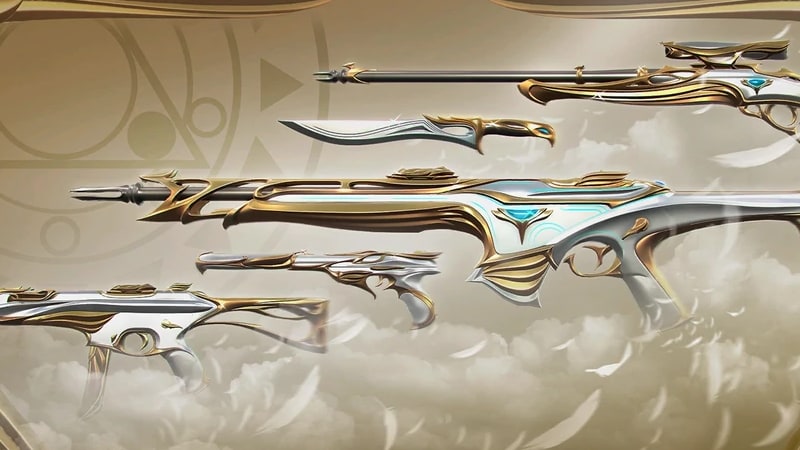 The Sovereign Collection features skins for these guns: Ghost, Stinger, Guardian, and Marshal (each for 1,775 VP). You can also grab a cool-looking sword for 3,550 VP. The complete bundle costs 7,100 Valorant Points, so it's a regularly-priced pack.
Wasteland
Our last pick is a post-apocalyptic-themed set containing skins for these weapons: Shorty, Sheriff, Spectre, Vandal, and Marshal. And they look great. They are kind of reminiscent of the 2013 Tomb Raider game, too, with guns looking as if they were made of random scrap and cables. The effect is rather unsettling, but that's what makes this skin pack so good.
The Wasteland Collection doesn't contain any extra cosmetics aside from gun skins (there's no melee skin here, either) and the bundle is no longer available for purchase, but you can still obtain individual pieces for 1,275 Valorant Points each.
Want to spruce things up and make your guns look even better? We're pretty sure you'll love the skin packs we picked for you. If not, well, there's a whole bunch of other collections that you can check out in Valorant's Store.