Vampires have a certain alluring quality about them, don't you think? Even the grotesque ones, such as Count Orlok do benefit from the mystique surrounding the bloodthirsty (and often just thirsty) undead. Sometimes it might be their hypnotic gaze, sometimes it's just the fact that living for centuries is enough time to give someone weapons-grade charisma.
It should be no surprise, then, that vampires have found their way into video games in many forms. Sometimes they are the main villain, other times: just a common problem to deal with, and every now and then we even get games where you can play as a vampire and become the terror stalking the shadows.
| | Game | Release | Genre | Developer | Sale | |
| --- | --- | --- | --- | --- | --- | --- |
| | V Rising | 2022-05-17 | MMO | Stunlock Studios | 10% | Read more |
| | Legacy Of Kain Defiance | 2003-12-17 | Adventure | Crystal Dynamics | 67% | Read more |
| | Legacy Of Kain Soul Reaver | 2012-12-06 | Adventure | Crystal Dynamics | | Read more |
| | Legacy Of Kain Soul Reaver 2 | 2001-11-20 | Adventure | Crystal Dynamics | 70% | Read more |
| | The Witcher 3 Wild Hunt Goty Edition | 2015-05-18 | RPG | CD PROJEKT RED | 65% | Read more |
| | Code Vein Deluxe Edition | 2019-09-27 | Action | Bandai Namco Studios | 84% | Read more |
| | Castlevania Anniversary Collection | 2019-05-16 | Adventure | Konami Digital Entertainment | | Read more |
| | Vampire The Masquerade Bloodlines | 2004-11-16 | Adventure | Troika Games | | Read more |
| | Vampire The Masquerade Redemption | 2000-07-08 | RPG | Nihilistic Software | | Read more |
| | Vampire The Masquerade Swansong | 2022-05-19 | RPG | Big Bad Wolf Studio | | Read more |
| | Vampyr | 2018-06-05 | RPG | DONTNOD Entertainment | 88% | Read more |
| | The Elder Scrolls V: Skyrim Anniversary Edition | 2021-11-11 | RPG | Bethesda Game Studios | 64% | Read more |
| | The Elder Scrolls V Skyrim Dawnguard | 2012-08-02 | Adventure | Bethesda Game Studios | 55% | Read more |
| | Bloodrayne | 2003-09-09 | Adventure | Terminal Reality | | Read more |
| | Bloodrayne Betrayal | 2014-04-30 | Action & Shooter | Abstraction Games | 35% | Read more |
Embrace the thirst for blood with the games we've assembled on our list of…
Games about vampires
V Rising
| | |
| --- | --- |
| Release date: | 2022-05-17 |
| Genre: | Survival |
| Developer: | Stunlock Studios |
V Rising is an unusual mix of genre for a game about a stylish Gothic horror vampire. Rather than a third-person action-adventure or perhaps an RPG, this is a mix of hack'n'slash and a survival game. Not only do you have to hunt for blood to stay satiated, you also get to build you own spooky custom castle, team up with your friends in online multiplayer, and unleash vampiric arts on some fools.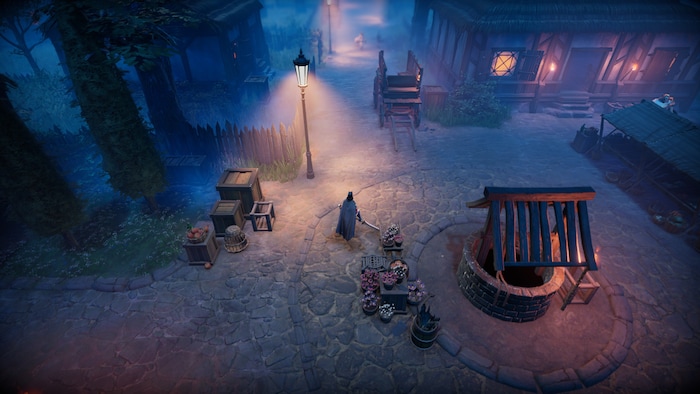 The vampire you'll be controlling in V Rising has been sleeping for a long, long time, and reawakens in a weakened state. However, with some effort and planning, you'll quickly become the nightmare and a constant thread to helpless villagers, monsters of the wilderness, and any bandit stupid enough to stand in your way.
Key features
End your centuries of slumber and remind people why they fear vampires
You get to build your own Gothic castle
Survival elements, like avoiding sunlight and sating your hunger for blood
Playable in multiplayer
Legacy of Kain Defiance
| | |
| --- | --- |
| Release date: | 2003-12-17 |
| Genre: | Adventure |
| Developer: | Crystal Dynamics |
The final (at least so far, almost twenty years later) installment of the amazing Legacy of Kain and Soul Reaver series, LoK Defiance stars the protagonists of both. Kain and Raziel chase each other and their destinies across several ages of the Gothic world of Nosgoth. They face not only ancient prophesies and timeless gods, but also very mundane mortal knights and vampire hunters.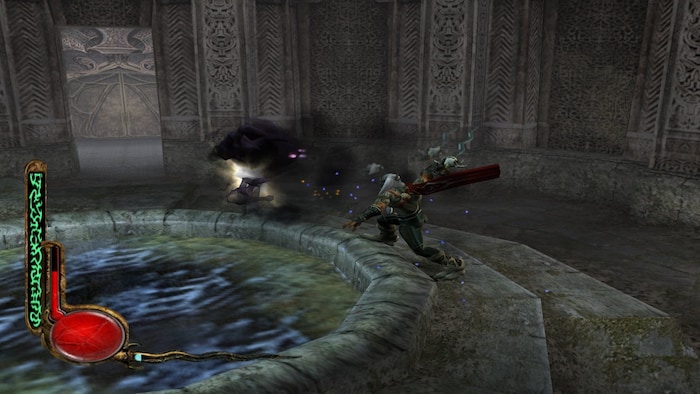 Kain is a centuries-old vampire, who was supposed to save the world, but instead doomed it in his egoism. Raziel is his former lieutenant, now a fateless wraith, because in ages past Kain betrayed him and cast him into the Lake of the Dead. Their paths start separate in time and space, but when they collide, the fate of the world and the vampires' enemies, the Hylden, will be decided.
Key features
One of the finest vampire stories in all of gaming
Two protagonists on their own journeys, with their own unique abilities
The world twists and warps when Raziel shift between material and spirit worlds
Many satisfying environmental puzzles and challenging boss fights
The Witcher 3: Wild Hunt – Blood & Wine
| | |
| --- | --- |
| Release date: | 2016-05-31 |
| Genre: | Adventure |
| Developer: | CD PROJEKT RED |
Although Blood & Wine is "just" an expansion, not a full game, it provides easily enough additional playtime on tis own that it might as well have been a spin-off. And what a spin-off it is, taking Geralt of Rivia, the monster slayer, to Toussaint, a stunning, vibrant duchy which suffers from a terrifying vampire problem. Geralt is of course hire to solve it, but things are not that simple.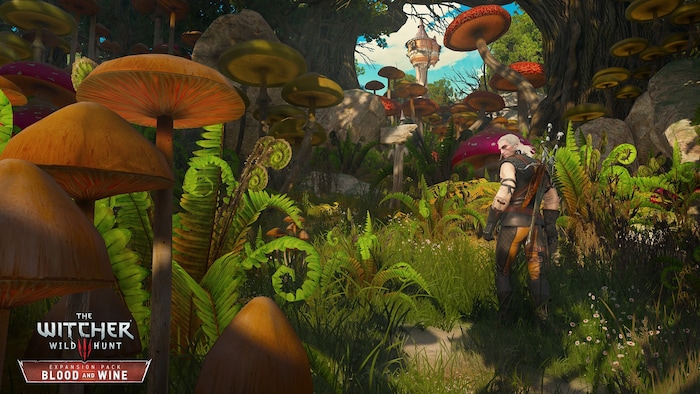 Vampires have always featured in The Witcher games, but in Blood & Wine they take center stage, and we learn about them much more than the source material has ever provided. Thankfully, Geralt not only find some friends to help him solve this mess, but also gains access to new abilities through means best left for you to discover. Let's just say: Geralt gets really impressive.
Key features
A huge expansion for an already massive game
The main story revolves fully around solving a vampire vendetta
Very early on Geralt gets a very fancy mansion for his troubles
Many funny and touching side-stories, as expected of The Witcher 3
Code Vein
| | |
| --- | --- |
| Release date: | 2019-09-27 |
| Genre: | Action |
| Developer: | Bandai Namco Studios |
Code Vein stands out among other games on the list. Not just because of its challenging combat system and a postapocalyptic setting, but also because of its very strong anime-inspired aesthetic. Otherwise, it has all the hallmarks: enhanced abilities, weird and spectacular magic, hunger for blood, and being stylish. Perhaps it's not your sense of style, but it is stylish nonetheless.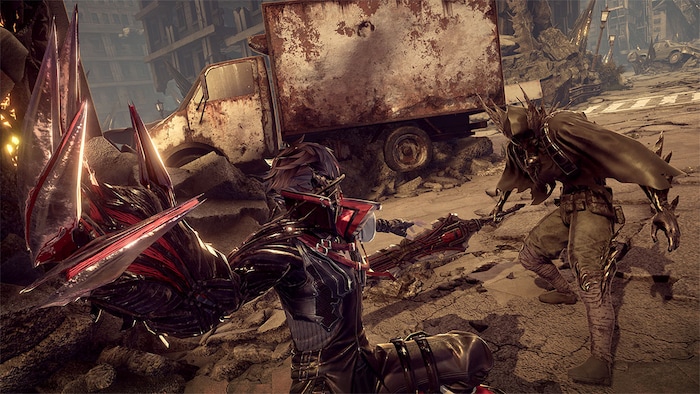 CV takes some inspiration from the Soulsborne games, especially regarding the combat system, but has a few ideas of its own, such as flexible progression powered by Blood Codes and Gifts. The setting is also interesting, featuring the last enclave of humans who created a caste of vampiric Revenants as guards against monster-infested outside world.
Key features
Very detailed character customization, enabling truly imaginative creations
Intensely anime-like aesthetic
Great combat system with customizable ability loadouts
Interesting story tying together many elements of the setting
Castlevania: Symphony of the Night
| | |
| --- | --- |
| Release date: | Jul 19, 2007-07-19 |
| Genre: | Adventure |
| Developer: | Konami |
In terms of vampire content, there probably is no series that can challenge Castlevania. Not only does it really care about its vampiric mythos, but also has many installments which make for many hours of fun. Perhaps the greatest example of the series is the Symphony of the Night, a sequel to Rondo of Blood, starring Alucard, Dracula's own son investigating his father's castle.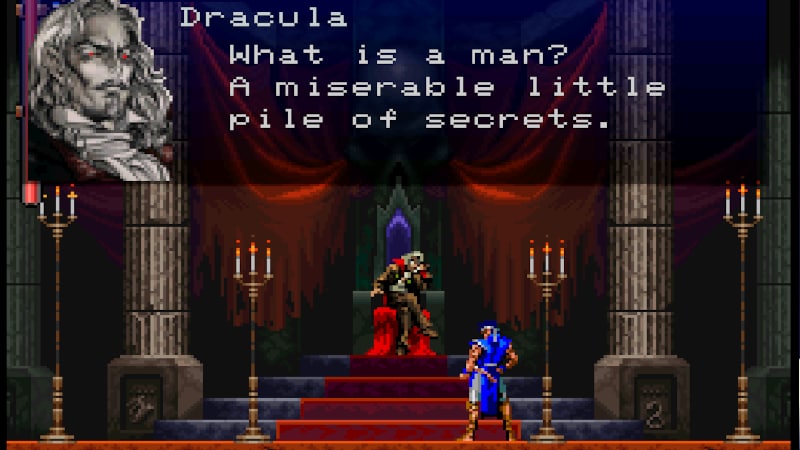 Not only is it a phenomenal game, but it's also one of the parents of the Metroidvania genre, giving it a lasting legacy. Having launched on 1997, SofN is now pretty old-school, which certainly isn't a problem, but if you want to play something more modern, you could go for Castlevania: Lords of Shadow, or go sideways and check out the Bloodstained series.
Key features
Play as Alucard, Dracula's son trying to figure out why his father's castle has reappeared
Widely considered to be one of the best games of all time
Contributed to the creation of the Metroidvania genre
Large, complex map filled with engaging challenges
Vampire: the Masquerade - Bloodhunt
| | |
| --- | --- |
| Release date: | 2021-09-07 |
| Genre: | Shooter |
| Developer: | Sharkmob |
For a change of pace from moody vampire lords and lads, how about some vampiric battle royale? Vampire: the Masquerade – Bloodhunt takes the worldbuilding of the classic tabletop RPG and applies it in a way never before seen for the license. Instead of a deep roleplaying or even a visual novel, Bloodhunt is a fast-paced, action-packed, blood-powered PvP. And it rocks.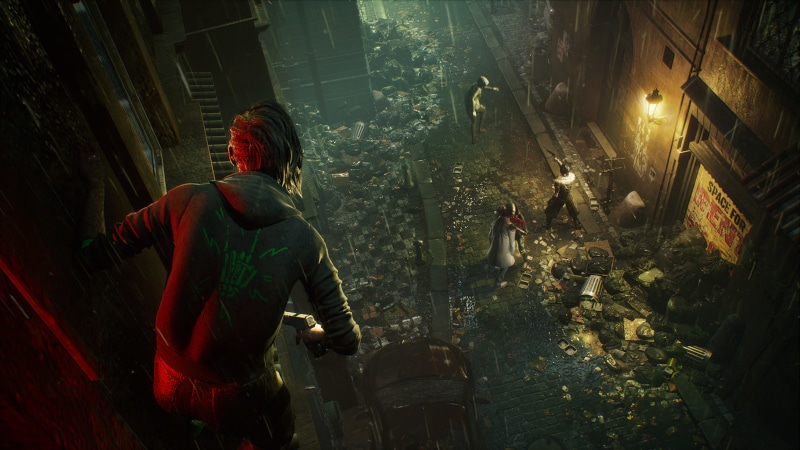 There are several clans you can choose from, steeped in decades of lore, and with their own unique powers split between two clan archetypes. Your goal is simple: diablerize (drain the blood) the hell out of other vampires to be the last one standing. The game takes place in Prague, and the map skillfully mixes real locations with places created specifically for the game.
Key features
Four clans, two archetypes each, each with unique powers and abilities
Deep cosmetic character customization
Fast, exciting vampiric PvP
Based on the setting of a legendary tabletop RPG
RedFall (upcoming)
| | |
| --- | --- |
| Release date: | 2023 |
| Genre: | RPG |
| Developer: | Arkane Austin |
There's also one upcoming vampire game you should have you eyes on: Redfall. Coming from Arkane Studios (Dishonored, Deathloop) it will take place on an island which all of a sudden became a vampire-controlled territory. Players will be local human survivors fighting back against the monsters using a creative set of skills and powers in addition to the old reliable method of shooting vamps in the face.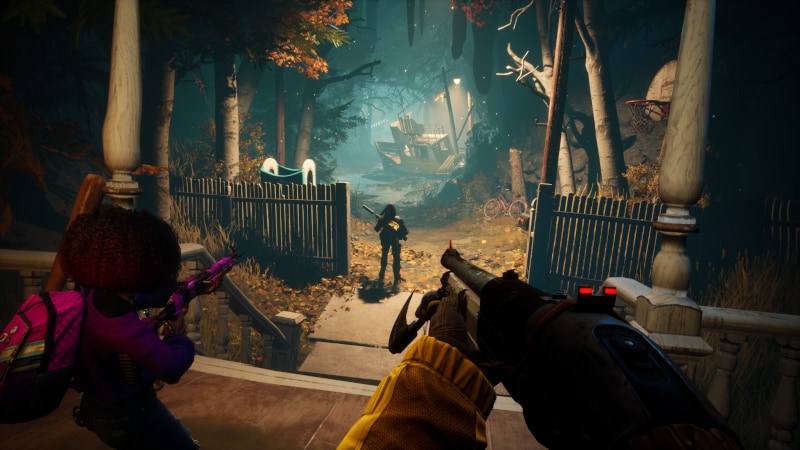 Redfall is scheduled for 2023, but it's already worth paying attention to.
Vampyr
| | |
| --- | --- |
| Release date: | 2018-06-05 |
| Genre: | RPG |
| Developer: | DONTNOD Entertainment |
Dontnod's Vampyr is an excellent action RPG set in the England of 1918, during an devastating outbreak of the Spanish flu. The story is about doctor Jonathan Reid who was turned into a vampire, and now has to decide how to mix his newly obtained curse with his professional life. It's not just fluff: the number of people Reid drains affects both his abilities and the way the story ends.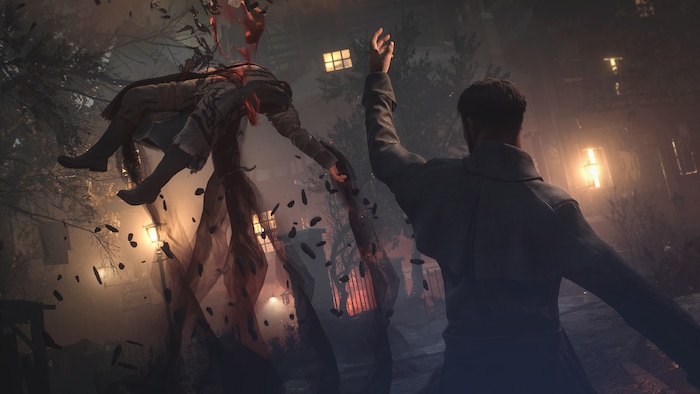 The story is quite interesting, by the way. It encourages the player to get involved in the lives of Reid's patients, even if it's just to make their blood tastier, leading to more XP you can spend of improving the doctor's skills and abilities. Will you spare the innocent and uphold your oath, or embrace the monster within and risk both attracting vampire hunters and a bad ending?
Key features
Become a doctor-turned-vampire in London of 1918, amid the epidemic of Spanish flu.
Help your patients, and remain hidden, or let your vampiric self break free and gain power
Several endings affected by your thirst for blood
Semi-open world with dynamic combat and satisfying exploration
The Elder Scrolls V: Skyrim – Dawnguard
| | |
| --- | --- |
| Release date: | 2012-08-02 |
| Genre: | Adventure |
| Developer: | Bethesda Game Studios |
Dawnguard was the first official DLC for TES V: Skyrim. It adds a new location, Fort Dawnguard, complete with a branching questline, more perks and fancy new gear, including crossbows. You can choose your side in this conflict: ally yourself with the vampires or join the Dawnguard, a group of dedicated vampire hunters and save Skyrim from this menace.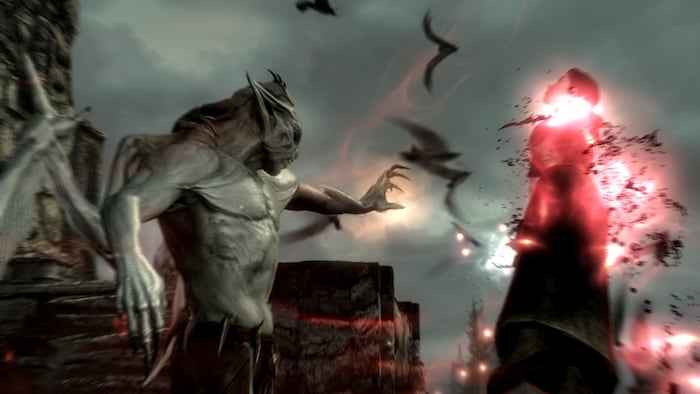 In addition to the new questline, the developers also to introduced two completely new skill trees covering the Dawnguard-added vampirism and expanding lycanthropy. This means that this DLC not only provides you with additional hours of Skyrim gameplay, but it also allows you transform yourself into a vampire lord, terrify innocent people of Skyrim, and drain their blood.
Key features
Join the Dawnguard vampire hunters or help Lord Harkon in "extinguishing" the Sun
Dedicated perk trees for vampires and werewolves
Join the Dawnguard to add crossbows to your arsenal
A great, story-driven expansion of a fantastic open world action RPG
Vampire: The Masquerade – Bloodlines
| | |
| --- | --- |
| Release date: | 2004-11-16 |
| Genre: | Adventure |
| Developer: | Troika Games |
Another VtM-based game on the list, Vampire: the Masquerade – Bloodlines is a cult-classic RPG from the early 2000s. It puts you in an unenviable position of a freshly turned vampire whose sire is destroyed before they can even talk to you properly. Now you're more or less left to your own devices, with a few tasks, and many lingering questions. Welcome to L.A.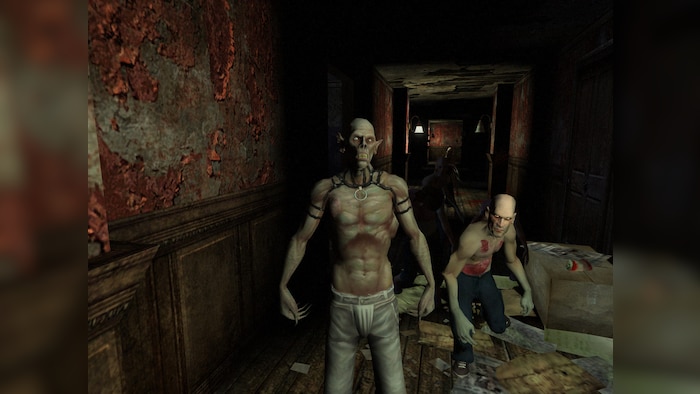 Bloodlines is a role playing game through and through. Most of the game is spent navigating the factions, schemes, and plots of the vampire society represented by memorable NPC. The clans available to you not only offer different abilities, but might also influence the dialogues themselves, in one notable case: very drastically so. Just remember to install the community patch.
Key features
One of the most beloved RPGs in general
Flexible progression: spend XP as you get it, develop skills and vampiric gifts
Many possible endings influenced deeply by your choices
Great writing and great freedom to join factions, betray allies, plot and scheme on your own
BloodRayne & Bloodrayne 2
| | |
| --- | --- |
| Release date: | 2002 & 2004-2006 |
| Genre: | Action, hack'n'slash |
| Developer: | Terminal Reality |
The Bloodrayne games star Rayne, a dhampir (half-vampire) who despite her vampiric origin choose to fight on behalf of the Brimstone society protecting humans and tracking malicious occult activity. The first game in the series takes Rayne to the 1930s pitting Rayne against Nazis and their vile experiments, while the BR2 takes place in modern times, and has Rayne hunting her siblings.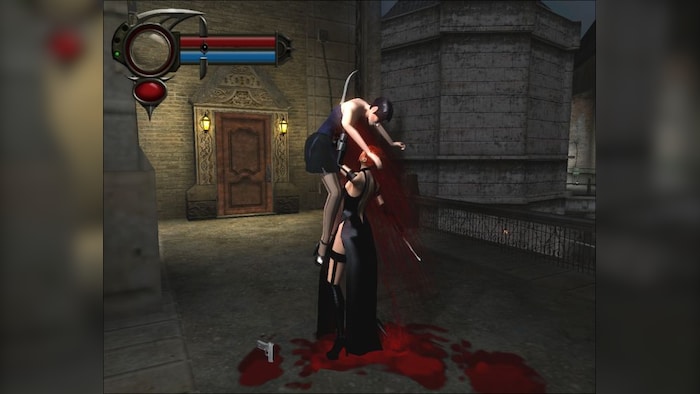 In both cases, you get to play fast-paced, bloody as hell slasher games, since Rayne's main weapon are two very sharp armblades. You also get to you more mundane weaponry, but why would you? Both main (there is a 2D spin-off as well) Bloodrayne games got surprise "Terminal Cut" remasters in 2020, bringing both games up to speed with modern technology.
Key features
Become a dhampir dealing with the plots and schemes of Nazis and her own vampire father
Extremely bloody combat powered by twin armblades and Rayne's superhuman athleticism
Two remasters bringing the series to modern PCs
You might be just a half-vampire, but blood is just as refreshing for you
Cool vampires for everyone
That concludes our list of the best vampire games and the best games where you get to hack off a vampire's head, so in other words: fun for (almost) all ages, teens and adults alike!
While none of these games would count as a simulator, some do come quite close, like Bloodlines simulating the politics of vampirism in the VtM setting, or indie hit V Rising which puts a survival-like spin on a vampire game.
Hopefully, you found something that gets you excited and you're ready to begin your hunt, one way or another.