It's December and Christmas decorations are most likely everywhere already. Games are no strangers to festivity, either. We've prepared a short list of some of the best video game holiday events taking place this year. Expect fun in-game modes and gifts, as well as plenty of festive spirit.
Such festivals come in all shapes and sizes, but they have one thing in common: they're super fun! The developers hand out nice gifts like crazy and there are usually tons of activities related to the holiday season. Let's take a look at our picks, shall we?
New Life Festival – The Elder Scrolls Online
| | |
| --- | --- |
| Release date: | 2014-04-04 |
| Genre: | MMO |
| Developer: | Zenimax Online Studios |
This event lets you claim lots of rewards unavailable otherwise: items, skins, pet runeboxes, writs and so on. 
If you want to take part in the festivities, you can join the festival via a tent located in Eastmarch. You'll find it close to the Kynesgrove Wayshrine. A quest giver named Breda awaits you there, ready to task you with stuff related to this holiday. Completing missions will grant you the aforementioned rewards.
And if you're looking forward to creating the Sacred Hourglass of Alkosh, you'll be pleased to learn that the New Life Festival is an opportunity for you to obtain the last piece needed to craft it. What does it do, anyway? It's a special item that will let you change the time of day at your house as you see fit. It's great if your place looks fantastic at a specific hour.
By the way, you can also get a double XP buff if you complete the "Breda's Bottomless Mead Mug" quest. What's great about it is that it stacks with other XP buffs, so this is a perfect opportunity to level up quicker.
The 2022 New Life started on December 15, 2022 and will last until January 4, 2023.
Winter Wonderland – Overwatch 2
| | |
| --- | --- |
| Release date: | 2022-10-04 |
| Genre: | FPS |
| Developer: | Blizzard Entertainment |
This event is notable because it introduces various new game modes that are only available during the holiday season.
One of the characters in the game, Mei, is known for her frost-related powers. No wonder she's become the centerpiece of the Winter Wonderland festival. This festival adds several new game modes to the mix, all built around the snowball fight and brain freeze themes.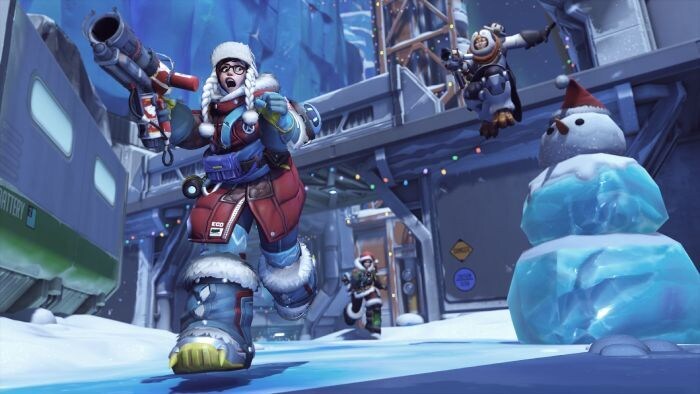 For example, you can play Elimination where two teams of six players each hurl frosty projectiles at each other. Whoever gets hit is instantly taken out. There is also a Deathmatch mode for eight players. If you're looking for something more unusual, there is Mei's Yeti Hunt where five players are tasked with tracking down and freezing the titular Yeti. Catching it is not going to be easy, as this requires some coordination between the teammates and preventing the beast from stealing too much meat, which causes it to go on a rampage. And then there is Freezethaw Elimination: you need to freeze the enemy team and unthaw any unlucky allies. Lots of fun, for sure!
In addition to these new modes, there are also various cosmetic items that you can unlock by watching Twitch streams and logging in to the game while Winter Wonderland lasts, as well as some holiday bundles and deals in the in-game shop.
The Winter Wonderland event started on December 13, 2022 and will last until January 4, 2023.
Winter Roadmap - Hitman 3
| | |
| --- | --- |
| Release date: | 2022-01-20 |
| Genre: | Stealth |
| Developer: | IO Interactive |
As cold-blooded as he is, Agent 47 loves the holiday season, anyway. Get ready to deliver some really explosive presents this year!
Yeah, aside from a bunch of some new assassination tools, inconspicuously disguised as Christmas gifts, and a Santa suit that you can unlock and proudly prance around in, there's a couple other fun things lined up for December and January.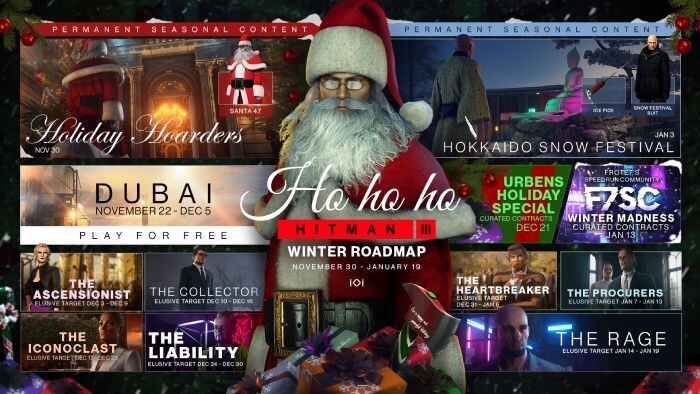 For example, you can complete the Elusive Target Arcade and get a lovely Shashka A33 Gold Assault Rifle. There will be some Featured Contracts to complete as well. You'll get some special targets to assassinate.
What's interesting is that the end of January is when a new update titled Freelancer will drop. It's going to be a roguelike-style mode that'll change the way you play HITMAN 3.
The Winter Roadmap event started on December 1, 2022 and will last until January 26, 2023.
The Dawning - Destiny 2
| | |
| --- | --- |
| Release date: | 2020-11-10 |
| Genre: | Action RPG |
| Developer: | Bungie |
Another cutesy holiday event, the Dawning is all about the celebration of the winter season and giving presents to others!
The Dawning has Eva Levante bring her Holiday Oven and some baking supplies, so that players can craft some nice gifts that can then be given to vendors. In order to create those gifts, however, they'll need to embark on a quest that involves defeating different enemies to obtain the necessary crafting materials.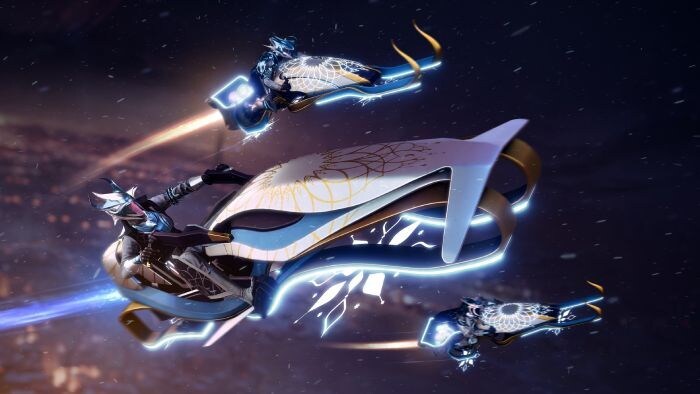 Aside from all that festivity stuff, there are various new bounties and upgrades, as well as Event Cards and Stasis Snowballs. Launch Destiny 2 now to find out what these things are all about. This should be fun!
The Dawning started on December 13, 2022 and will last unitl January 3, 2023.
Winterblessed - League of Legends
| | |
| --- | --- |
| Release date: | 2009-10-27 |
| Genre: | MOBA |
| Developer: | Riot Games |
For this year's holiday season event, Riot took a different approach to the whole thing. Say goodbye to Snowdown Showdown and all those kitschy Santa skins and step right in to the world of the Winterblessed!
In order to kind of differentiate themselves from the rest of the pack, League of Legends took a darker turn with its winter holiday skins. After all, European folk tales are a major source of creepiness that'll surely fuel your nightmares.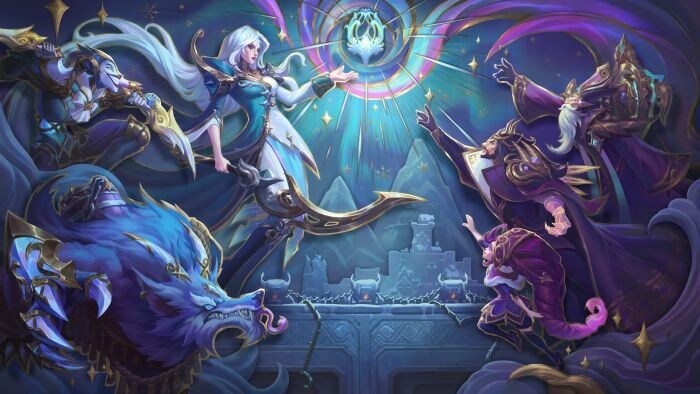 That's right, the new Winterblessed skins look pretty amazing and unlike anything else we've received so far in the game. Fans especially love the Winterblessed version of Warwick, but there are plenty other fantastic designs in here as well.
Fans of League of Legends have surely gotten used to Snowdown Showdowns, so this might be a surprising change for them. Still, the new Champion skins look totally fantastic and there are other goodies that you might get as well.
The Winterblessed event started on December 8, 2022 and will last until January 4, 2023. The Event Shop will be open until January 11, 2023.
Feast of Winter Veil - World of Warcraft
| | |
| --- | --- |
| Release date: | 2009-10-27 |
| Genre: | MOBA |
| Developer: | Riot Games |
Azeroth is full of festive spirit as well! The Feast of Winter Veil, the in-game take on Christmas, is back as Greatfather Winter sets out to spread joy and hand out as many presents as he can!
What can you expect this year? Well, plenty of festive food from Smokywood Pastures, as usual! Be sure to dance a lot, too. Aside from all the costumes and decorations all over the world, there is also a bunch of quests for you to complete.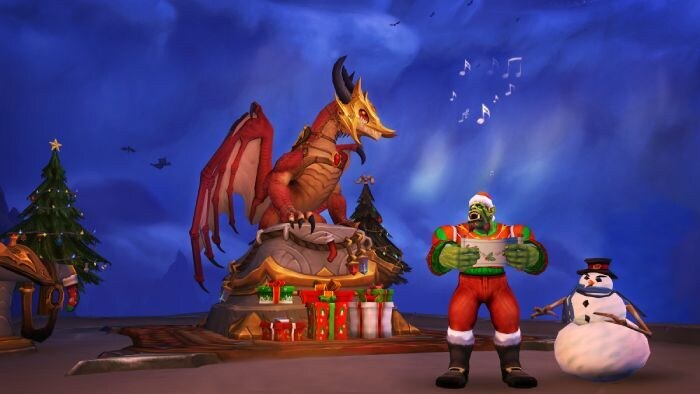 And then there is also the Abominable Greench! You'll need to stop his reign of terror in Hillsbrad Foothills as well. All in all, it's a lovely holiday event, as usual. Seasoned and new World of Warcraft players will probably enjoy it a lot!
The Feast of the Winter Veil started on December 16, 2022 and will last until January 2, 2023.
Holiday Ops 2023 – World of Tanks
| | |
| --- | --- |
| Release date: | 2010-08-12 |
| Genre: | Tank MMO |
| Developer: | Wargaming |
Tanks and holidays go well together. Plus, your garage could use a little more festive spirit! Holiday Ops 2023 brings all that to World of Tanks and even more. Once again, Arnold Schwarzenegger himself dropped in to say hi. Heck, he even brought Mila Jovovich with him!
That's right: two of the greatest action movie stars of all time have graced World of Tanks this year. You'll meet them in your Garage, which has been turned into a festive Village where you can collect Holiday Ops resources that'll boost your place's holiday feel.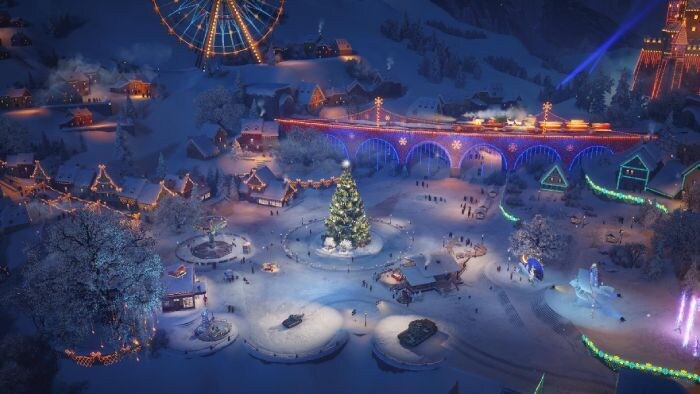 Arnold and Mila will task you with special missions whose completion will reward you with exclusive decals and 2D styles, as well as various bonuses to credits and experience in Random Battles. And if you want Mila to become a tank commander, she will also join your crew once you complete enough missions.
Get ready for a whole lot of festive bonuses and gifts!
The Holiday Ops 2023 event started on December 1, 2022 and will last until January 9, 20223.
This is of course only a small fraction of in-game festive events that are taking place right now. We're pretty sure that all of your favorite titles have one. Let the gamer holidays commence!