Since everybody's tuck home right now self-quarantining, finding anything interesting to do might be a problem.
Even worse, if you're self-quarantining with your significant other. Prolonged time spent cooped-up within a small space can put a strain on the most stable of relationships.
Games to play in relationship
| | Game | Release | Genre | Developer | Sale | |
| --- | --- | --- | --- | --- | --- | --- |
| | Borderlands 2 GOTY | 2012-09-20 | Action & Shooter | Gearbox Software | 85% | Read more |
| | Minecraft Windows 10 Edition | 2015-07-29 | Adventure | Mojang | | Read more |
| | Stardew Valley | 2016-02-26 | Adventure | ConcernedApe | | Read more |
| | Don't Starve Together | 2016-04-21 | Economy | Klei Entertainment | 65% | Read more |
| | Portal 2 | 2011-04-18 | Adventure | Valve | | Read more |
| | Mario Kart 8 Deluxe | 2017-04-28 | Racing | Nintendo EAD | | Read more |
| | A Way Out | 2018-03-23 | Adventure | Hazelight Studios | 59% | Read more |
| | Overcooked 2 | 2018-08-07 | Indie | Team 17 | 77% | Read more |
| | Rayman Legends | 2013-08-29 | Adventure | Ubisoft Montpellier | 72% | Read more |
| | Fortnite Standard Edition Epic Games | 2017-07-25 | Action & Shooter | People Can Fly | | Read more |
| | Castle Crashers | 2012-09-26 | Adventure | The Behemoth | | Read more |
| | Cuphead | 2017-09-29 | Indie | StudioMDHR Entertainment Inc. | 22% | Read more |
| | Left 4 Dead 2 | 2009-11-16 | Action & Shooter | Valve | | Read more |
| | Guacamelee Super Turbo Championship Edition | 2014-08-21 | Adventure | DrinkBox Studios | 95% | Read more |
What do we do when the tensions run high, and there's no way to get out of the house? We play video games, of course! In this article, we're going to discuss the best titles that couples can play to distract themselves from the issues of daily life under the quarantine. Here you'll find the games that'll relax you test your cooperation skills and also tickle your competitive bone. Just not too much, though, or one of you will spend the rest of the year on the couch!
So. grab your partner and the second controller and take a look at the cooperative games we have found for you!
Guacamelee!
| | |
| --- | --- |
| Release date: | 2014-08-21 |
| Genre: | Adventure |
| Developer: | DrinkBox Studios |
If you and your SO are fans of Metroidvania-stall games and Mexican wrestlers, Guacamelee provides both for your gaming pleasure! In Guacamelee! the player controls the character of Juan Aguacate, a farmer whose love interest is kidnaped by an evil skeleton, Calaca. Juan perishes trying to save the girl and is transported to the Land of the Dead, where he receives a mask that turns him into a mighty luchador. Juan returns to the world of the living to save the love of his life and stop Calaca's evil plans.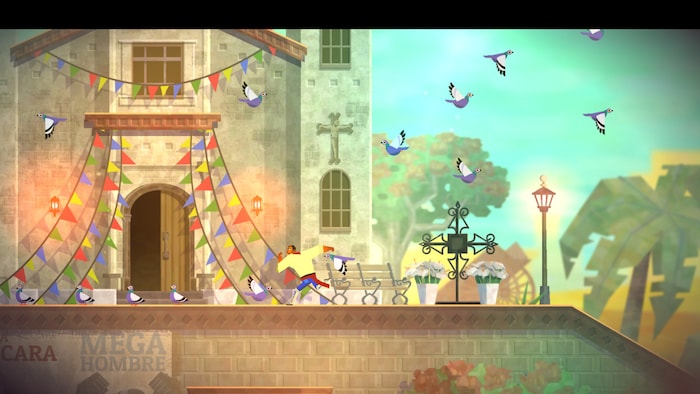 The game features the mechanics of classic Metroidvania games. The player operates on a 2D plane, collecting coins and fighting enemies. The coins can be spent on upgrading the character's skills, unlocked by destroying special Choozo statues. Guacamelee's! romantic plot and cooperative multiplayer for up to 4 participants make it a perfect game to play together with your love. Guacamelee! was met with positive critical reception.
Key features
Become a powerful luchador and save the love of your life
Fight on 2D levels, unlocking and upgrading your skills
Experience the game with other players in co-op multiplayer.
Left 4 Dead
| | |
| --- | --- |
| Release date: | 2008-11-17 |
| Genre: | Action |
| Developer: | Valve |
For the lovers of horrors and gore, we've got a special treat. Left 4 Dead will keep you on your toes and test your cooperation skills, as well as your patience. Left 4 Dead is set in a world ravaged by a zombie apocalypse. As a member of a group of survivors, the player's task will be to make it to the extraction point, from where they will be taken to safety. The task won't be easy as the zombies will waste no time to tear the player to pieces and sometimes force them to make difficult decisions – save themselves or risk helping others.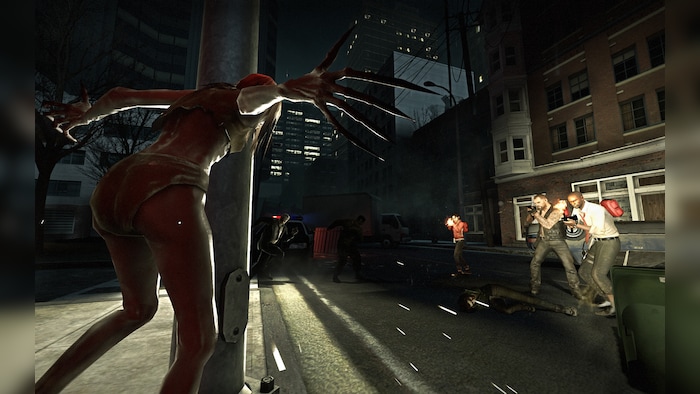 L4D is a cooperative game, where up to 4 players control each member of the group. The game offers several modes of gameplay, including campaign, versus, and survival. Each mode follows different rules. For example, in the campaign, the players must cooperate to make their way through the game, while in versus mode one group of players controls the survivors while the other plays as the zombies. What's more, L4D features friendly fire, forcing the player to be extra careful not to hit their partner. Especially if said partner is sitting within slap-upside-the-head distance. L4D received positive reviews for its cooperative gameplay mechanics and won several awards, including IGN's Best Multiplayer Game of the Year 2008.
Key features
Fight through the zombie hordes and make your way to safety
Play a variety of cooperative and competitive game modes
Check your fire so you don't hit your friends
Cuphead
| | |
| --- | --- |
| Release date: | 2017-09-29 |
| Genre: | Indie |
| Developer: | StudioMDHR Entertainment Inc. |
Cuphead is a perfect game…for those with nerves of steel and patience of a saint. Meet Cuphead and Mugman – two carefree brothers from Inkwell islands. When their carelessness costs them their souls in a game of craps, they make a deal with the Devil – if they manage to bring the souls of the Prince of Darkness' debtors, they will be spared. After receiving magical, finger blasting potion from their caretaker, Elder Kettle, Cuphead and Mugman embark on the quest to collect the Devil's due.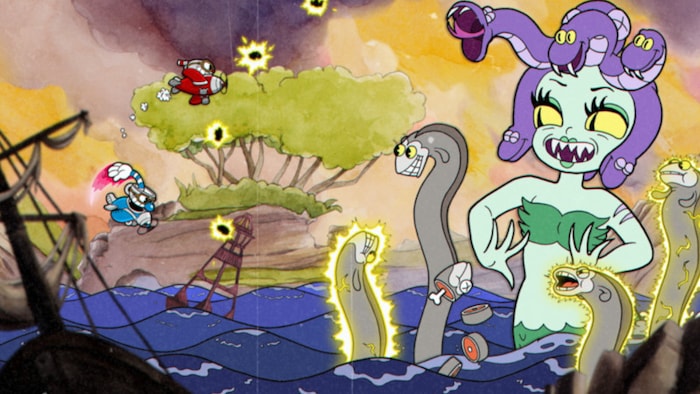 Known for its 1940's cartoon visual style and horrendously difficult gameplay, Cuphead is a perfect game for couples who don't mind a bit of a challenge. In cooperative multiplayer mode, the player controls Cuphead and Mugman traversing levels filled with danger, culminating in a nightmarish boss fight. And while infinite lives are helpful, the irritation of losing against the same boss for the umpteenth time might get on a person's nerves. Cuphead was met with critical acclaim, with reviewers praising the game's challenging gameplay and stunning visuals.
Key features
Stunningly animated visuals, resembling the 1940's cartoons
Challenging gameplay mechanics
Cooperative multiplayer
Castle Crashers
| | |
| --- | --- |
| Release date: | 2012-09-26 |
| Genre: | Adventure |
| Developer: | The Behemoth |
A mix of beat 'em up mechanics and RPG elements, decorated with cute cartoony visuals – what's not to like here? Castle Crashers put the player in control of four knights: Red, Blue, Orange, and Green. During a party thrown by the king of the land, four princesses – the knights'' betrothed – are kidnapped by an evil wizard. The knights embark on an adventurous quest to take back the princesses and defeat the wizard.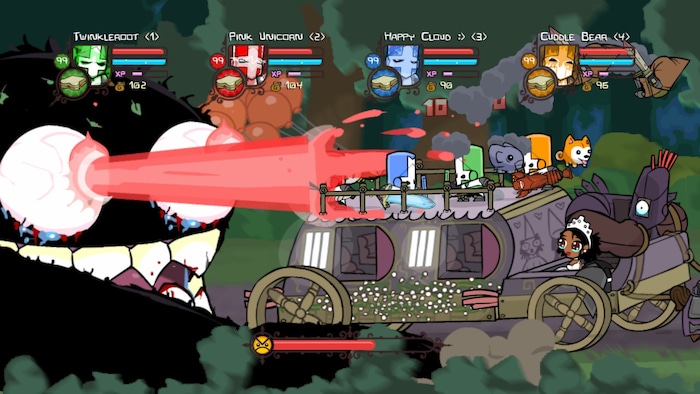 By combining beat 'em up combat mechanics and RPG leveling system, Castle Crashers provides quite a unique gameplay experience. Completing the levels occurs independently for each character, although some stages need to be completed by all four knights before the next one is unlocked. Defeating enemies grants the player experience points which can be used to upgrade the character's skills. Each of the knights possesses a different magical ability, which can be helpful while fighting the bosses. Castle Crashers received positive reviews from the critics.
Key features
Rescue kidnaped princesses and prove your valor
Fight through colorful levels and gain experience to upgrade your abilities
Team up with friends on a noble quest in a cooperative multiplayer
Fortnite
| | |
| --- | --- |
| Release date: | 2017-07-21 |
| Genre: | battle royale, survival, sandbox |
| Developer: | Epic Games |
Why choose between three games, when you can play three-in-one? Fortnite offers a variety of modes to satisfy the players' tastes. At first considered merely a free-to-play version of Overwatch, Fortnite managed to grow into a global phenomenon thanks to its uncomplicated gameplay mechanics and various gameplay modes the player can participate in.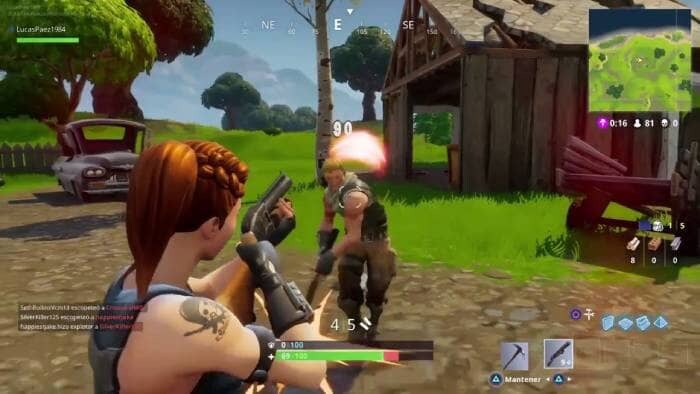 Save the World is a PvE cooperative mode where players work together to complete a variety of mission objectives. Battle Royale, as the title suggests, pits the player against one another in an open-world arena. Creative mode, similar in gameplay mechanics to Minecraft, allows the players to create their own entertainment – battle arenas, racing courses, constructions, etc. All that, enhanced with a colorful visual style, will draw the player in for hours. Fortnite was met with positive reviews and quickly gained popularity among the players.
Key features
A variety of competitive and cooperative modes
Robust character customization options
Creative freedom
Rayman Legends
| | |
| --- | --- |
| Release date: | 2013-08-29 |
| Genre: | Adventure |
| Developer: | Ubisoft Montpellier |
The cult-classic series returns, filled to the brim with platforming action you can enjoy with your significant other through cooperative multiplayer. Rayman Legends is a continuation of Rayman Origins and retains much of its gameplay mechanics while also adding some new ones.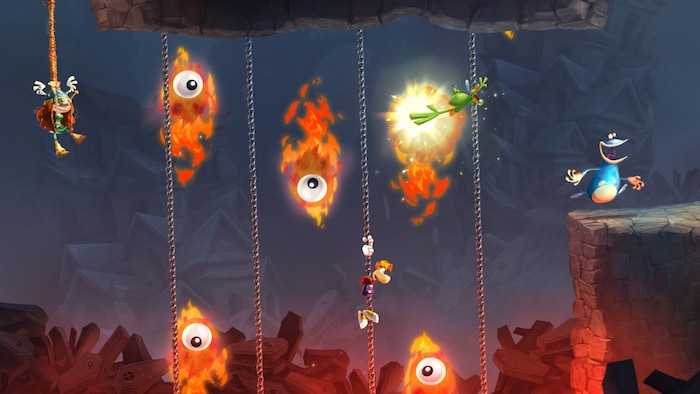 The game can be played in cooperative multiplayer, with up to four players controlling the characters of Rayman, Globox, the Teensies and the newcomer Barbara. The levels contain a variety of challenges, including rhythm-based challenges, shooting sections, and others. Altogether, the game offers 120 stages of fun gameplay for the couples to enjoy. Rayman Legends was met with universal critical acclaim.
Key features
Up to four player cooperative gameplay
Join Rayman and his friends across 120 levels filled with content
Try out different challenges and game modes
Overcooked 2
| | |
| --- | --- |
| Release date: | 2018-08-07 |
| Genre: | Indie |
| Developer: | Ghost Town Games Ltd. |
Try out new recipes and do your best to satisfy the guests' palates in this absurd cooking simulator! The setting of Overcooked 2 puts the player in charge of running a restaurant, with all that it entails: managing the kitchen, serving dishes, etc. The cooking team will have to deal with anything from gathering chopping the ingredients, to cooking them and serving to the guests.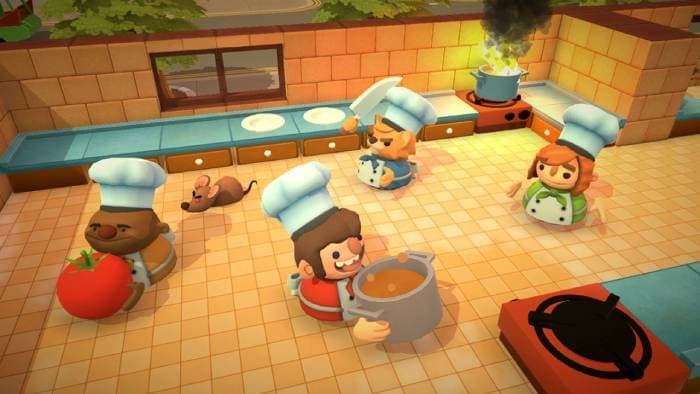 To make the already arduous task even more complicated, various obstacles are placed in the players' way to hinder the cooking process. Moving floors, fires, and many other challenges await the player on his quest to serve a perfect dish. Luckily for them, they won't be alone, thanks to cooperative multiplayer mode. Overcooked 2 was met with positive reviews and won several awards, including the Game Critics Award for the Best Family/Social Game.
Key features
Find your inner chef and provide the best meals possible to your hungry patrons
Chop, cook and serve the dishes while surrounded by a minefield of obstacles
Work together with friends to make the best food ever
A Way Out
| | |
| --- | --- |
| Release date: | 2018-03-23 |
| Genre: | Adventure |
| Developer: | Hazelight Studios |
Experience the thrills of planning and pulling off a prison break! Vincent Moretti and Leo Caruso couldn't meet in worse circumstances – both of them are incarcerated for serious crimes. When a hit on Leo sends both men to the infirmary, Vincent realizes that Leo is planning an escape, and offers help in return for freedom. Begrudgingly, Leo agrees, and both inmates begin their long preparations to break out of prison.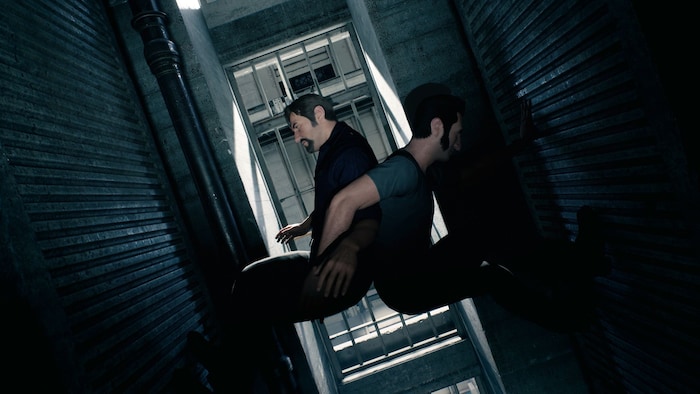 A Way Out puts a heavy emphasis on cooperation between the players, thus making it a perfect choice for couples who want to find out how well they work together. The game is played on split-screen, with both players given a specific role at a given time, e.g., one distracts the guard, while the other steals an item, etc. The game allows the players to interact with NPCs through dialogue trees, gaining information that might help plan the escape. A Way Out received favorable reviews from the critics.
Key features
Plan your escape from prison and don't get caught in the act
Work together with your accomplice to figure out your way out
Interact with NPCs to gain useful information
Mario Kart 8 Deluxe
| | |
| --- | --- |
| Release date: | 2017-04-28 |
| Genre: | Racing |
| Developer: | Nintendo EAD |
Mario Kart 8 is widely known as a game that ruins relationships. See if yours will survive after the Blue Shell is deployed! MK8 Deluxe core gameplay focuses racing around colorful tracks.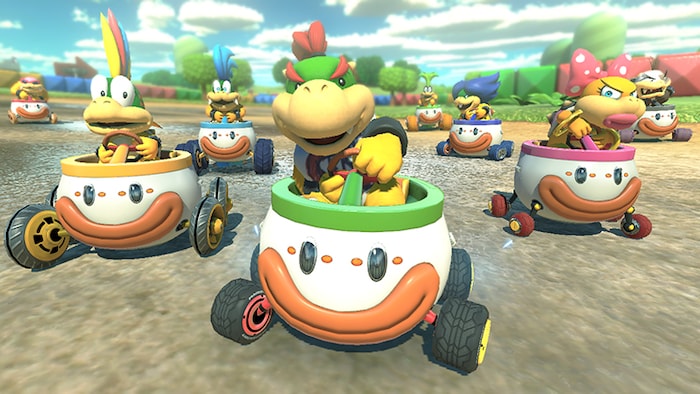 The players choose their character from one of the racers representing various Nintendo titles, including Mario, Luigi, Bowser, and many others. During the race, the players can use multiple items to stop their rival in their tracks. Said items include classics like the dreaded Blue Shell, as well as new items: Boomerang, Piranha Flowers and the Super Horn. Try them out and see which one will send you sleeping on the couch! Mario Kart 8 Deluxe was met with a universally positive reception.
Key features
Race on colorful tracks as characters from various Mario titles
Collect items and use them against your rivals
Play against others online or in local multiplayer
Portal 2
| | |
| --- | --- |
| Release date: | 2011-04-18 |
| Genre: | Adventure |
| Developer: | Valve |
Portal 2 is a real test of the couple's cooperation and problem-solving skills. See if you can manage to pass GLaDOS' test without clawing each other's eyes out. The gameplay of Portal 2 is based around solving puzzles using the portal gun.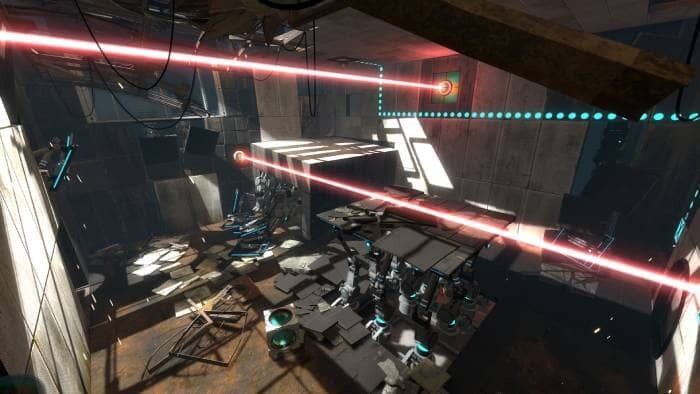 Two players are placed on an obstacle course, and to pass it, they must work together in solving a variety of environmental riddles. Placing portals in the right places, the players can reach the exit and proceed forward. The players have at their disposal a range of commands they can use to guide each other through the puzzles, including the ping tool, which draws attention to highlighted objects or area. Several gestures are also available, such as high-fiving and hugging. Isn't that nice? Portal 2 received positive reception from the critics.
Key features
A spin-off of Half-Life game series
Use portal guns two solve environmental puzzles
Cooperate with your partner to solve all the tests set by GLaDOS
Don't Starve Together
| | |
| --- | --- |
| Release date: | 2016-04-21 |
| Genre: | Economy |
| Developer: | Klei Entertainment |
Once a DLC for Don't Starve, now a stand-alone title, Don't Starve Together offers a unique Don't Starve experience in a co-op for up to 6 six players, either in public or private games.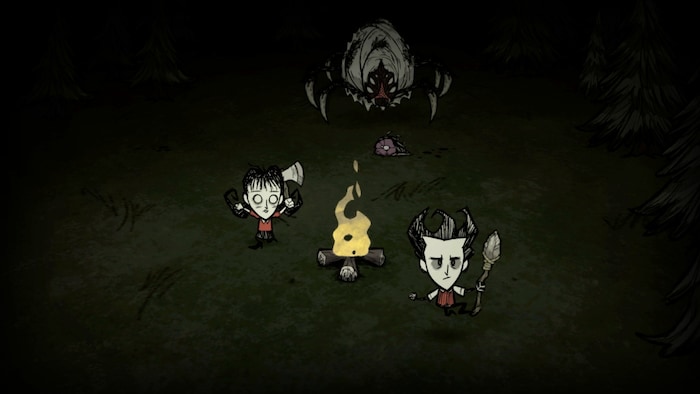 Although it does support a group of 6 people, Don't Starve Together is a great two-player co-op, too. The rules are basically the same as for the original Don't Starve game – gather resources, hunt for food, fight enemies, and, first of all, survive.
Key features
Survive in the harsh world.
Play together with your friends or with strangers if you like.
Take advantage of the bonuses each character possesses.
The game includes three game modes: "Survival" offers the fullest Don't Starve experience, "Wilderness" lets players who die to resurrect as a new character with their map progress wiped, and "Endless" mode is the most peaceful one, without the strict emphasis on players' cooperation.
Playing the standard "Survival" mode will require you to think twice before you act as most of what you do affect your partner (e.g. dying turns you into a ghost who inflicts insanity to the living players).
Stardew Valley
| | |
| --- | --- |
| Release date: | 2016-02-26 |
| Genre: | Adventure |
| Developer: | ConcernedApe |
Stardew Valley is a mixture of a farm simulator and a role-playing game in which the player takes control over a corporation worker who decides to take a rest from the urban hustle and take it to his deceased grandfather's farm.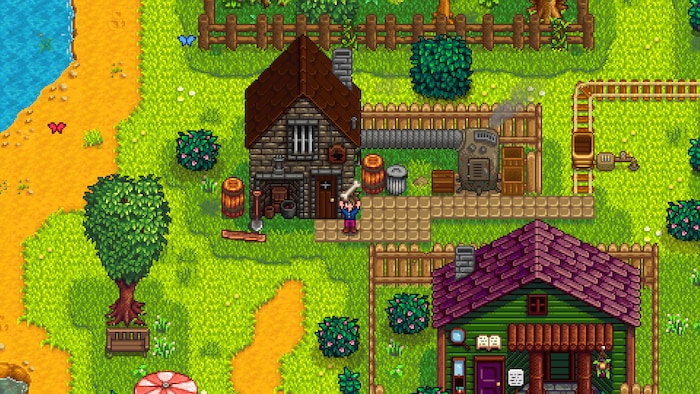 As it is typical for farm simulators, the game requires the player to plant and harvest the crops as well as take care of the whole homestead. The multiplayer mode can support up to 4 players, either over LAN or on the Internet.
Key features
Choose your farm type and then clear all the obstacles (such as bushes and rocks) in order to start using it.
Tend to crops and your livestock to generate the revenue from your farm.
Engage in various activities, such as cooking, fishing, and exploring the caves.
Host your own multiplayer game or join your friend's game to play together.
Hosting your own server lets you set some rules, like, for example, whether the players should share the budget, or have separate wallets.
Minecraft
| | |
| --- | --- |
| Release date: | 2015-07-29 |
| Genre: | Adventure |
| Developer: | Mojang |
When thinking about a perfect co-op title, one cannot miss Minecraft, of course! The game offers so many possibilities that it can't be fully described in this short article.
Whether you would prefer to play on a big, official server, or you would rather host your own game to play just with your friend or partner – Minecraft can easily turn out to be the perfect match here! Build your base, explore the unknown, collect resources, or even embark on the journey to the End.
Key features
The ultimate sandbox in the world of cubes and bricks – build your own world and explore!
Play it like a standard survival game, gather food and other resources, build your base, and set out on the adventure to find hidden treasures, friendly villages, and horrific monsters.
Play it like a sandbox – forget about gathering resources and go Creative. Creative Mode lets you actually do whatever you like, and gives you access to a special creative menu.
Regardless of your playstyle – invite your friend or your partner, and whatever you do, do it in tandem!
The game offers so many possibilities that you can never feel bored with your co-op partner!
Borderlands 2
| | |
| --- | --- |
| Release date: | 2012-09-20 |
| Genre: | Action & Shooter |
| Developer: | Gearbox Software |
A big commercial success, acclaimed for its role-playing mechanics, world structure and characters. Join Vault Hunters and liberate Pandora from the reign of Handsome Jack!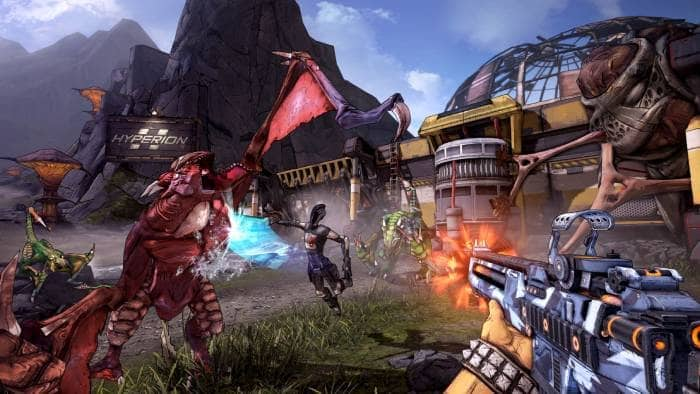 The game features four distinct playable characters, each with his or her own special ability and unique style. The gameplay focuses on fighting enemies, exploring the game world, looting items, and developing your characters. All of this is much more fun if you do it in co-op.
Key features
Save the Pandora and stop the evil Handsome Jack.
Choose your character from four distinct Vault Hunters.
Tons of weapons, shields, and other loot to be collected!
Enjoy the acclaimed co-op mode – you can either play online, or by LAN.
You can drop in and drop out of your partner campaign whenever you like (and no restart needed at all).
Well, here you go. Here are the best games that you can play together with your honey. Some of them will have you laughing at the crazy antics of the characters. Some will keep you on the edge of your seats with suspense and horror. Some will test your patience with one another. But in the end, isn't that what being in a relationship is all about, facing challenges together? And who knows, maybe through playing video games you'll find new levels of appreciation for your significant other. Anything is possible when love is involved.